Age Islam News Bureau
8 Dec 2012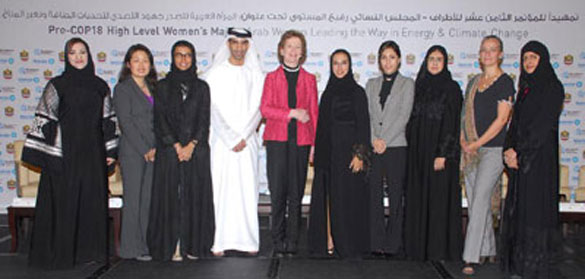 • Woman Groped and Molested by Mob in Bangalore, India
• Indian Director to Make Biopic on Malala Yousufzai
• 70-Year-Old Woman In Sindh, Pakistan Accused Of Having Affair With Teenager
• Malian Refugee Women Recount Ordeal
• Girls' Mutilation Is Not Conclusive: Sydney Court
• Majority of Youth in Pakistan Unaware Of Adult Education
• Christian Man's Plea for Custody of Daughter: HC Says Can't Thrust Religion upon Child
• Two Women, Two Faiths and Lady Mary: Interfaith Dialogues
• UAE Backs Role of Women In Climate Meet
• Saudi Women Attacked By African Maid Recovering
Compiled by New Age Islam News Bureau
Photo: UAE Backs Role of Women In Climate Meet
URL: https://www.newageislam.com/islam,-women-and-feminism/new-age-islam-news-bureau/honour-killing-in-kolkata--man-beheads-sister-with-sword-and-takes-the-head-to-police-station/d/9585
------------
Honour Killing In Kolkata: Man Beheads Sister with Sword and Takes the Head to Police Station
New Age Islam News Bureau
December 7, 2012
Kolkata, Dec 7: In a horrible incident of honour killing in Kolkata, the capital of West Bengal in India, a man beheaded his sister with a sword and then took her head to the police station.
According to report, Sheikh Mehtab Ali, 35 who resides at Dr A. K. Road, Shafi Kath Gola, killed her sister Nilofar, a mother of two, with a sword after an altercation over her 'licentious' ways in broad daylight in a Kolkata street on Friday. He then surrendered to the local police station with her sister's severed head. According to the reports, Mehtab had married off her younger sister Nairufa to a man called Akbar Ali about ten years ago. Nilofar, 25, was not happy with her married life and always complained about her in laws. Over the years she gave birth to two children.
A few days ago she went missing from her in laws. As Mehtab got the news, he set some of his men to trace her. Yesterday, someone informed him that Nairufa was living with another man in Ayub Nagar area. Mehtab caught up with her at Ayub Nagar bus stand where an altercation started. In a fit of rage, he pulled out his sword and struck off her head in one strike. His other sister wanted to save her but she was also assaulted and got seriously injured. She was admitted to the SSKM Hospital in a serious condition. After that Mehtab took the severed head to the police station and surrendered before the police.
According to deputy commissioner of police, Mahbubur Rehman, Nilofar was in love with a man called Firoz before her marriage and so she was not happy with her marriage to Akbar Ali. The love continued even after the marriage. Recently she was living with Feroz in Ayub Nagar. Further investigations were going on, he said.
The police says it may be the first case of honour killing in the city.
-------------
Woman Groped and Molested by Mob in Bangalore, India
By Sonal Bhadoria
December 7, 2012
Bangalore, Dec 7: "A Piece of meat, just for fun". We ran this article 4 months ago when the whole nation was outraged at the sight of a 15 year old girl being sexually assaulted at the hands of a mob of nearly 30 shameless men in Guwahati. Shouts for justice and damnation of the accused followed. In lengthy opeds, there were calls to the Indian society to wake up and respect women. What followed? Of the 15 men arrested, 13 were released on bail , the main accused-the unrepentant Amar Jyoti Kalita justified his actions saying that the girl was drunk and the event moved out of public memory. But then this happened. On Wednesday, a 32-year old woman was groped and sexually assaulted by a mob in Bangalore, even as a traffic policeman beat her, following an accident as reported in The Hindu.
The women's car was rear-ended by a speeding motorcycle at the traffic light at the DVG Road junction in Basavanagudi. When she got down to check the damage, the bike rider started abusing her using vulgar language. Soon after, emboldened passerbys joined in on the abuses and started teasing her. Expecting help, she rushed to the traffic policeman. To her shock, her pleas were ignored by the indifferent traffic cop who then pushed her aside. She quoted the policeman as having told her, "You don't know Kannada. You don't belong to this place." Confused? It seems her crime was not only that she was a woman, but that she was a North Eastern woman. Hailing from Manipur, the victim is a theatre artiste and playwright.
The policeman also encouraged the motorcycle rider to leave the scene. When the woman tried to stop him, the policeman dragged her to the side and slapped her. And then, displaying the same type of scary mob mentality that was witnessed in Guwahati, the crowd proceeded to pulling at her clothes and jeering her."While one among the crowd removed his shirt, another man, wearing a lungi, exposed himself, she said. Many in the mob made indecent gestures", she was quoted as saying.
It was only after a patrol vehicle reached the spot 15 minutes later, that the crowd dispersed. One must acknowledge the bravery of the lady in question, who, after this highly traumatic experience, proceeded to the police station to file a complaint against the traffic policeman.
The lechers in the mob got away. The policeman might get a temporary suspension. The woman in question, too, will be forced to move on and treat it just as an accident and an unfortunate incident. One of the few incidents that actually get a mention. Why we say so? Because the high frequency of these sexual assaults (it's high time we moved on from terming them as mere molestation and eve-teasing cases) makes them less impactful in the public consciousness. It is as if they have become a part of the Indian culture. So even after 4 months, the woman was still 'a piece of meat', out there 'just for fun'.
http://www.indiatimes.com/more-from-india/woman-groped-and-molested-by-mob-in-bangalore-49553.html
-------------
Indian director to make biopic on Malala Yousufzai
By Web DeskPublished: December 7, 2012
Indian director Amjad Khan has announced that the next project he will work on will be a biopic on teenage education activist Malala Yousafzai, NDTV reported on Friday.
Khan, of Le Gaya Saddam fame and subject of a fatwa, is currently casting actors and refuses to reveal the name of the child actor who will portray the 15-year-old. "It's not the right time because so many things are happening at once. We have shortlisted a few names. And I'm sure it will be a courageous effort that will help shed some light on the age old issues facing South Asia," says Amjad.
Dilating why he chose to base his film on the brave activist, the filmmaker said, "As of today, Malala is the name of a revolution not only in her own country but around the world."
"She proved that age has nothing to do with courage."
"I'm writing this film as a tribute to this young girl and not only she but also for the million others who are inspired by her act," Khan said.
The film is expected to start pre-production shortly and will be shot in Iran, Bhuj and other parts of India.
http://tribune.com.pk/story/476646/indian-director-to-make-biopic-on-malala-yousufzai/
-------------
70-Year-Old Woman In Sindh, Pakistan Accused Of Having Affair With Teenager
December 7, 2012
GHOTKI: The absurdity of some allegations knows no bounds.
While Karo-Kari charges are almost always reserved for victimising young men and women, a case in Behram Pitafi village, Sindh, provided a startling departure from convention.
Here, a 70-year-old woman has been declared 'Kari' for allegedly being involved in an affair with her 17-year-old relative. The elderly woman, who can barely even walk without support, has denied the allegations levelled by her husband. Hanifan's husband, Bashir Ahmed, had claimed that she was involved with her niece's son, Rashid.
She, however, approached the Pitafi tribe Sardar and Pakistan People's Party MPA Ahmed Ali Pitafi to provide her protection and justice.
Hanifan said Ahmed was in debt and had asked Rashid's parents to pay Rs400, 000 or else he would kill their only son. After being declared as 'Karo', Rashid moved with his family to an undisclosed location.
Ali Pitafi assured Hanifan that justice would be provided to her.
Ahmed, along with his brother, Hazoor Bux, and cousin, Luqman, declared Hanifan as Kari on Tuesday, after which they tortured her and eventually threw her out of the house.
According to sources, Ahmed got married for the second time a few months ago, and asked Hanifan's brothers to take her back. On top of it all, he also asked the brothers to repay him the Rs20, 000 he spent on their wedding.
Following reports of the incident in local newspapers, police officials visited the village and found the reports to be true.
Hanifan registered a case against her husband and his two companions on Thursday. However, no arrests have been made so far.
http://tribune.com.pk/story/476362/karo-kari-70-year-old-accused-of-having-affair-with-teenager/
-------------
Malian refugee women recount ordeal
2012-12-07
By Jemal Oumar for Magharebia in Nouakchot
07/12/12
Displaced Malian women narrate their harrowing stories of escape as their normal way of life was upended and liberties crushed by armed Islamists.
Scores of Malians have found havens in neighbouring Mauritania to escape the months-long conflict. But while the first batch of refugees fled the effects of the civil war, the more recent exiles had a different motive.
Full report at:
http://www.magharebia.com/cocoon/awi/xhtml1/en_GB/features/awi/features/2012/12/07/feature-02
-------------
Girls' Mutilation Is Not Conclusive: Sydney Court
November 8, 2012
The medical evidence against eight people charged over the genital mutilation of two young sisters is inconclusive, a Sydney court has been told.
Four relatives of the girls appeared in Parramatta Local Court on Thursday, taking the total number of those facing charges to eight.
The girls' parents, their local Islamic leader and a retired nurse have also been charged with the female circumcision of the sisters, aged six and seven at the time.
The father is a GP and the mother is a pharmacist.
Solicitor Elee Georges represented retired nurse Kubra Magennis, 69, who has been charged with performing the alleged circumcisions.
Full report at:
http://news.smh.com.au/breaking-news-national/girls-mutilation-is-not-conclusive-court-20121108-290je.html
-------------
Majority of Youth in Pakistan Unaware Of Adult Education
December 08, 2012
KARACHI - Only 29 per cent girls and 41 per cent boys have access to correct information about puberty and hygiene in Pakistan. Lifeline Chief Executive Omer Aftab said this during an awareness and advocacy campaign on reproductive health rights of Pakistani youth named 'HAYAT' launched here the other day.He said lack of reliable information was shaping behaviour and practices of majority of the youth who had no skills and confidence to turn knowledge into decision-making.He said that multimedia campaign would disseminate messages through TV, radio, community theatres, outdoor and musical events and that will focus on relevant messages for youth.
Full report at:
http://www.nation.com.pk/pakistan-news-newspaper-daily-english-online/karachi/08-Dec-2012/majority-of-youth-unaware-of-adult-edu
-------------
Christian Man's Plea for Custody of Daughter: HC Says Can't Thrust Religion upon Child
Dec 08 2012
Rejects jailed Christian man's plea for custody of daughter.
The argument that a man's religion must prevail upon his offspring was "directly contrary to the freedom of religion under Constitution of India and will be gender discriminatory", Bombay High Court (HC) observed recently and granted custody of a three-year-old born of a Christian father and Hindu mother to her maternal grandfather.
The father, convicted for harassing and stabbing his wife to death on May 25 in their Andheri (West) flat, has been in jail since.
Full report at:
http://www.indianexpress.com/story-print/1042229/
----------
Two Women, Two Faiths and Lady Mary: Interfaith Dialogues
02 December 2012
Volunteer for Woman's Voice and Exchange, Blackburn Cathedral
This dialogue was the first in a series of three dialogues which are being held between Anjum Anwar and Canon Sue Penfold, on the figure of Mary in Christianity and Islam.
The dialogue was held in the South Transept in front of an audience made up of: pupils from Beardwood Humanities College, Muslim scholars from the Muslim Seminary in Blackburn and members of the public.
Full report at:
http://www.onislam.net/english/back-to-religion/customizing-religion/457123-two-women-two-faiths-and-lady-mary.html
-------------
UAE backs role of women in climate meet
8 December 2012
Regional and international leaders in the energy and climate change sector convened in Doha to discuss the empowerment of women in the United Nations' climate change negotiations.
The meeting was hosted by Masdar, the UAE Ministry of Foreign Affairs' Directorate of Energy Climate Change, and Mary Robinson Foundation – Climate Change. The meeting, which took place during the 18th session of the Conference of the Parties (COP 18) currently being held in Doha, Qatar, highlighted the lack of gender balance in addressing climate change and the need to secure ministerial support to reinforce women's participation in the negotiations.
Full report at:
http://www.khaleejtimes.com/nation/inside.asp?xfile=/data/nationgeneral/2012/December/nationgeneral_December128.xml&section=nationgeneral
-------------
Saudi Women Attacked By African Maid Recovering
8 December 2012
Two Saudi women allegedly stabbed by their African housemaid are recovering at a hospital in Yanbu.
The maid was working in her victims' house after her recruitment nine months ago, Al-Madinah daily reported yesterday.
"The woman employer and her daughter, who were admitted to the hospital with stab wounds on Wednesday, have improved remarkably. They could be discharged after two days even though the younger woman needs further check-up as she has some blood sugar problem," said Director of Public Relations at the Yanbu General Hospital Abdul Aziz Hadi.
Full report at:
http://www.arabnews.com/women-attacked-maid-recovering
-------------
URL: https://www.newageislam.com/islam,-women-and-feminism/new-age-islam-news-bureau/honour-killing-in-kolkata--man-beheads-sister-with-sword-and-takes-the-head-to-police-station/d/9585