New Age Islam News Bureau
23 Jun 2014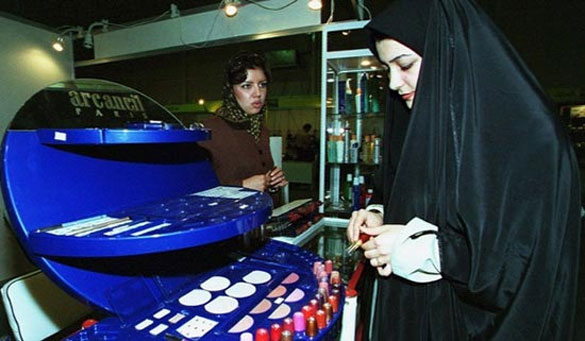 An Iranian woman shopping for lipstick at a beauty fair in Iran. The cosmetics industry fares well as women beautify themselves as a form of self-expression. — AFP pic
-----------
• "Why Can't Your Husband Go With You?" Ask Pakistan Officials
• Malaysia Ticked Off For Arresting and Jailing Transgender Women
• Kingpin, 6 Arab Women Nabbed As Police Bust Prostitution Ring
• Female Muslim Students Living In Fear after Nahid Almanea Stabbed To Death In Essex
• 50 Percent of Divorce Cases in Saudi Arab Due To Compatibility Issues
• 2nd Saudi Woman Gets Pilot's License
• Parade of Beauty in Islamic Republic: Makeup Market Booms in Iran
• Documentary 'Soccer Queens of Rani' Tells Story of Assam's Football Girls
Compiled by New Age Islam News Bureau
URL: https://www.newageislam.com/islam,-women-and-feminism/new-age-islam-news-bureau/'honour'-crimes-in-pakistan--couple-slain-six-years-after-they-eloped/d/97691
-------------
'Honour' Crimes in Pakistan: Couple Slain Six Years After They Eloped
June 23, 2014
QUETTA: Three brothers murdered their sister, the man she was married to and the couple's 30-month-old child in the provincial capital, a police official said on Sunday.
The couple, identified Ulfat Bibi and her spouse Noor Muhammad, eloped and married of their own free will six years earlier. Since then, they had gone into hiding.
Head constable at the police control room in Quetta, Abdul Hameed Mengal, told The Express Tribune that the couple belonged to the Haji Shehr area of Bolan district. He said the woman's brothers discovered where the couple was living after they eloped. The couple was living in within the remit of Zarghoonabad police station.
"The names of the brothers of the murdered woman are Hidyatullah, Nasrullah and Shakarullah. They managed to escape after the cold-blooded murders," added Mengal. "The man killed was identified as Noor Muhammad, son of Chita Khan, while the woman was identified as Ulfat Bibi," he said, adding that this was an honour killing.
SHO Almas police station Aashiq Khattak spotted the bodies and shifted them to the Civil Hospital Quetta where they were handed over to their relatives after medico-legal formalities.
Police have registered a case and are conducting further investigations
http://tribune.com.pk/story/725675/honour-crimes-couple-slain-six-years-after-they-eloped/
-------------
"Why Can't Your Husband Go With You?" Ask Pakistan Officials
June 23, 2014
KARACHI: Every Pakistani married woman who wants to proceed abroad on a work visa needs a signed NOC from her husband before she receives the Protectorate of Emigrants' approval, The Express Tribune has learned.
The office requires the husband's presence before a director as he signs the NOC and often, officials will question why the woman wishes to travel abroad alone. "Why can't your husband go with you? Have you two had a fight? Are you separated?" are some of the questions that women say they are asked during the application process. "I have never been humiliated like this before," said a senior executive of a company.
Leading Pakistani lawyers were baffled to hear about this requirement, which is diligently enforced by the seven protectorates around the country. The Emigration Ordinance 1979 and its rules do not say anything about this particular condition, the lawyers say. There is no law in Pakistan that bars a woman from going abroad to work without a husband's permission, says Farooq Ahmed, a Supreme Court lawyer. "The NOC is only needed when the couple is separated and there is a dispute over the children," he said.
"I am really not sure about this. I would have to check with the relevant officer," said Director General of Bureau of Emigration and Overseas Employment Habibur Rehman when asked about the verification process.
"We were lenient but a few months ago a woman went to Saudi Arabia and her husband went to court and said that she left without his permission. Now the lawyers and even FIA are grilling us. Why should we suffer?" an official at the Protectorate explained.
But those seeking work permits insist that the 'rules' are just a money-making scheme. "The officials don't accept just any NOC. You're told you have to buy a standard NOC form from the Protectorate and only that form is accepted. Why is that?" questioned one male applicant.
Many women say they have resorted to making applications through travel agencies. The rate for processing, including official fees of Rs6,500, averages Rs18,000.
http://tribune.com.pk/story/725693/why-cant-your-husband-go-with-you-officials-grill-female-applicants-for-work-permits/
-------------
Malaysia Ticked Off For Arresting and Jailing Transgender Women
Human Right Watch
June 23, 2014
Bangkok – An Islamic law court in Malaysia has sentenced 16 transgender women to seven days in prison and a fine for "cross-dressing," in violation of their rights to freedom of expression and privacy, Human Rights Watch said today.
On June 9, 2014, a Sharia court in Malaysia's Negeri Sembilan state sentenced the 16 women in a hearing in which they had no access to a lawyer. State religious department officials arrested the women, along with one transgender child, at a wedding party in a private home on the night of June 8 and 9 under the state's Sharia law, which criminalizes "a male person posing as a woman." All pleaded guilty, except the child, who was released.
"No one should go to prison because of the clothing they wear," said Neela Ghoshal, senior researcher on lesbian, gay, bisexual, and transgender (LGBT) rights at Human Rights Watch. "Malaysia's religious department officials should never have arrested these women, and the judge should never have sentenced them."
The religious department officials had infiltrated the wedding party and arrested the transwomen, several of whom were wedding planners, known locally as mak andam, while others were invited guests at the wedding. The officials beat one of the women – choking her and kicking her – and tore another woman's clothing in the course of the arrest, according to Justice for Sisters, a Malaysian transgender rights group. After they were sentenced on June 9, because they are legally considered "men," they were transferred to the male ward of Sungai Udong prison. There, prison authorities forcibly shaved their heads in what the women said was an effort to negate their gender identity.
On June 11, a defense lawyer filed a request to have the women's sentences re-evaluated and to secure their release on bail. According to Justice for Sisters activists at the hearing, the judge's actions appeared to reflect considerable personal bias in the case. The judge asked the accused, "Wouldn't it be better if [you] are in prison?" He told them that their shaved heads made them "handsome." He set bail conditions that were impossible for many of the women to meet, including that their parents – some of whom lived in distant states or were ill – physically come to court within 30 minutes to bail them out. The women served five days of their sentence before prison officials released them early on June 13 since their release date fell on a weekend.
Muslims in Malaysia are subject to both federal criminal law and to state-level Sharia criminal enactments, which vary from state to state. All 13 states and the federal territories criminalize transgender women, and at least three states criminalize transgender men, solely on the basis of how they dress. Section 66 of the Negeri Sembilan Syariah Criminal Enactment states, "Any male person who, in any public place wears a woman's attire and poses as a woman shall be guilty of an offence." The law imposes a sentence of up to 1000 ringgit (about US$300) and six months in prison.
Malaysia's National Registration Department refuses to allow transgender people to change the gender markers on their identity cards in order to match the gender they identify with, leading to unending cycles of arrest.
The constitutionality of the law has been challenged in a case currently before the Putrajaya Court of Appeal. The petitioners – three transgender women who have been arrested under the Negeri Sembilan law in previous incidents – argue that the law violates rights protected by Malaysia's constitution, which is superior to state Sharia law. These include freedom of expression (article 10), equal protection (article 8), and freedom of movement (article 9). Human Rights Watch has submitted an amicus ("friend of the court") brief, arguing that the law also violates the rights to nondiscrimination, privacy, and freedom of expression and movement recognized by the Universal Declaration of Human Rights. The constitutional challenge was heard in part on May 22, and has been adjourned until July 17.
"The discriminatory behavior of both the religious department officials and the Sharia court judge makes it clear that the law against 'cross-dressing' has got to go," Thilaga Sulathireh, an activist with Justice for Sisters, told Human Rights Watch. "Not one more of our transgender sisters should be subjected to this kind of brutality, humiliation, and injustice."
The Negeri Sembilan law is not only discriminatory, Human Rights Watch said, but in the case of the 16 women, was applied in an arbitrary manner. One of the women arrested on June 8 was wearing gender-neutral clothing, but was told by the religious department officials that they were arresting her because they judged her mannerisms to be too feminine. Further, while the law refers to what one wears "in any public place," the officials in this case raided a wedding party at a private home. The wedding hosts sought to file a complaint against the religious department officials with the civil police in Negeri Sembilan, but the police refused to receive the complaint.
"State officials and police have long had a free hand to violate the rights of transgender women," Ghoshal said. "The appeals court's ruling next month will have enormous impact on whether transgender people will continue to endure arrests and a barrage of abuse in Malaysia."
http://www.malaysia-chronicle.com/index.php?option=com_k2&view=item&id=307332:msia-ticked-off-for-arresting--jailing-transgender-women&Itemid=2#ixzz35Upyl1mE
-------------
Kingpin, 6 Arab Women Nabbed As Police Bust Prostitution Ring
June 23, 2014
KUWAIT CITY: Personnel from the Vice Squad are said to have busted a gang of criminals who specialized in bringing Arab women into the country for flesh trade, reports Al-Shahed daily.
The daily added, initial police investigations show the leader of the gang is Arab and he with the help of a Kuwaiti brings beautiful women into the country on visit visas and then pushes them into prostitution with their consent. quoting security sources said the women after arriving into the country are housed in apartments in Hawalli, Jabriya and Mangaf and the prospective customers are then given the option to choose the woman of their liking.
The woman is selected after seeing her picture made available vide computer technology. Police are said to have arrested the kingpin and six women. During interrogation they have admitted to the charges against them. Police are looking for the others.
17 in flesh trade: The Ahmadi police have arrested 17 Ethiopian women for their alleged involvement in flesh trade, reports Al-Rai daily. According to security sources the arrest came after police received a tip-off from an unidentified person that the women were seen moving suspiciously near apartments occupied by single Americans and other Europeans. a directive was issued for their arrest, all the women in police custody are said to have admitted to the charge. They have been handed over to the concerned authorities for further legal action.
http://www.arabtimesonline.com/NewsDetails/tabid/96/smid/414/ArticleID/207033/reftab/73/t/Kingpin-6-Arab-women-nabbed-as-police-bust-prostitution-ring/Default.aspx
-------------
Female Muslim Students Living In Fear After Nahid Almanea Stabbed To Death In Essex
June 23, 2014
Female Muslim students who wear hijabs and other traditional dress are living in fear after Essex University student Nahid Almanea was stabbed to death on Tuesday morning.
Concerns have been raised the PhD student from Saudi Arabia was killed because she was wearing an abaya - a full length robe - and a hijab. The 32-year-old was found bleeding from head and body injuries on a footpath in Colchester at 10.40am but could not be saved by paramedics.
Detective superintendent Tracy Hawkings said: "We are conscious that the dress of the victim will have identified her as likely being a Muslim and this is one of the main lines of the investigation but again there is no firm evidence at this time that she was targeted because of her religion."
Now, student Islamic societies have warned female Muslims are having to balance their fears of being attacked with taking their exams.
Camillia Khan, head of communications at the Federation of Student Islamic Societies (FOSIS), told HuffPost UK: "This brutal incident, if Islamophobic in nature as suspected, is a massive blow to the Muslim student community.
"It is a major cause for concern as exams loom and large numbers of Muslim women must now balance the fear of stepping outside into a belligerent atmosphere with the broader stress of end-of-semester exams.
"No student should ever have to live in fatal fear of outwardly expressing their faith, and we hope universities will heighten their awareness of Islamophobia and promote the reporting of such incidents on their campuses in the coming weeks.
Khan urged universities to focus on a long-term strategy for tackling Islamophobia as the attack "is a violent manifestation of a broader social shift in attitude towards Muslims".
The Sheffield University graduate added many Muslim students would think twice about moving to a university in a new city.
"University should be the place where the best life experiences are had and this may, unfortunately, cast a shadow over that for many parents and prospective female Muslim students.
"As A-level results loom I certainly believe this will dampen the excitement which comes with the rpospect of moving away from home into a new city."
Muslim author Ed Husain, a former radical turned secularist, said Muslim females should rethink wearing hijabs, a suggestion which has caused wide outrage among both Muslims and non-Muslims.
Khan added: "We need to ensure that we don't fall into the victim blame mentality and work to produce robust systems in our police and institutions to ensure that Islamophobia is dealt with and that everyone feels safe outwardly expressing their faith."
Faisel Alam, head of student affairs at the Islamic society at King's College, London, said he had "no doubt" female Muslim students at his university would fear for their safety following the stabbing.
"Safety concerns among the Muslim community have been flagged up particularly since the post-Woolwich attacks on Muslim places of worship, and more recently, following the series of Mosque 'invasions' by Islamophobic hate-mongering groups like Britain First.
"This brutal murder comes at a time when Islamophobia across the UK is rising at an alarming pace. I cannot imagine what Sister Nahid's family are going through right now, but I and many other students just like her are very deeply saddened by this awful tragic news."
Sahar Al-Faifi, former chair of FOSIS said a combination of "hostile" migration policies and anti-Muslim attacks had created a perception amongst the international student community that Britain is not a welcoming country to study in.
"It has also caused fear and anxiety among British Muslims," she added.
An email sent to students by Essex University read: "There is a police presence on campus, and police are speaking to users of the Salary Brook trail.
"When travelling to and from campus don't walk alone if possible, don't take short cuts and keep to well-lit areas. Stay vigilant and be aware of your surroundings."
A spokesperson for Essex University said: ""It is with great shock and deep sadness that our close community receives the news of the tragic death of our student Nahid Almanea.
"Nahid came to the University from Saudi Arabia to study on the Essex English Language Programme at the International Academy, and was due to finish her studies in August. Nahid died on Tuesday 17 June following a serious incident in the Greenstead area of Colchester.
"Our thoughts are now with Nahid's family, friends and teachers during this extremely difficult time.
"The University continues to help police with their enquiries, and we have been advised by police that a man has been arrested in connection with the incident."
http://www.huffingtonpost.co.uk/2014/06/19/nahid-almanea-student-killed-stabbed-essex_n_5510618.html
-------------
50 Percent of Divorce Cases in Saudi Arab Due To Compatibility Issues
June 23, 2014
Around 50 percent of divorce cases are attributed to the absence of sexual awareness among the community, local media said quoting an academic.
Mohammed Al-Saif, professor of social studies and research methodology at Qasim University, said a growing number of divorce cases have been attributed to intimacy problems.
He added that 40 percent of newly married couples experience problems related to sex.
The professor called for the introduction of sexual education at male and female schools across the Kingdom within Islamic and socially acceptable norms.
Al-Saif indicated that most specialists are reluctant to discuss sexual and emotional problems encountered between married couples, focusing instead on "common" issues. He attributed the tendency to avert such discussions to prevailing Saudi traditions.
He added that sexual crimes registered the highest rates of documented crime in the Kingdom, according to data released by the General Presidency of the Promotion of Virtues and Prevention of Vices (GPPVPV) and the Ministry of Interior.
He stressed the importance of providing sexual education to students in order to raise awareness amongst the new generation.
http://www.arabnews.com/news/590881
-------------
2nd Saudi woman gets pilot's license
June 23, 2014
JEDDAH – Yasmeen Muhammad Al-Maimani has become the second Saudi woman to obtain a commercial pilot license from the General Authority of Civil Aviation (GACA).
Hanadi Zakaria Al-Hindi was the first Saudi woman to become a commercial airline pilot, getting a license to fly within Saudi Arabia earlier this year.
Capt. Al-Maimani got the private pilot license in 2010 from Jordan.
"My dream is to fly an airplane in the Kingdom. I hope the Saudi Arabian Airlines gives me this chance now that I've been properly licensed by the GACA," Al-Maimani said.
In 2010, Al-Maimani returned to the Kingdom and worked for Rabigh Wings Aviation Academy for a year. She got an offer later from Aerosim Flight Academy in US to be their ambassador to the Middle East. The academy also gave her a scholarship to study and obtain the auto commercial pilot license. She accepted the offer and traveled to Florida.
Later she returned to the Kingdom and worked for Nexus Company for flight operation services.
She passed the GACA examination.
Aviation industry is growing rapidly in the Middle East. With an expected delivery of 5,000 aircraft, in the coming years, many experts forecast a global shortage of pilots. Most of them believe that nearly twice as many pilots will be required in the next 15 years.
There are currently two flying academies in Saudi Arabia. Rabigh Wings Aviation Academy located in the Western Province in the northwest of Jeddah. It is close to the coast of Red Sea and minutes away from King Abdullah Economic city, and the Saudi Aviation Flight Academy (SAFA) located at the Thumamah Airport near King Khaled International Airport, Riyadh. Both academies provide training to their students and teach them to fly commercial airplanes, too.
The cost of obtaining a Commercial Pilot License (CPL) is approximately SR300,000. Some students believe that these fees are relatively higher than those of some flying academies abroad. However, training inside the Kingdom saves travel and accommodation costs apart from being close to trainees' families and friends. For safety reasons major airlines require pilots to have at least flown 1500 to 2000 hours; they do not consider an applicant holding a Commercial Pilot License with only 300 hours of flying.
As soon as new pilots obtain their Commercial Pilot License they need to start building hours. This is usually done in a number of ways such as flying tourists around, doing air surveys for different organizations or becoming a flight instructor.
Pilots who have completed the stipulated required hours have more options, and major airlines feel comfortable in employing them.
So, with patience, persistence and determination, one can sit in the cockpit of an aircraft, which is by far the best office in the world.
http://www.saudigazette.com.sa/index.cfm?method=home.regcon&contentid=20140623209347
-------------
Parade of beauty in Islamic Republic: Makeup market booms in Iran
June 23, 2014
Under the compulsory veil and despite hard times, Iranian women are unrestrained in showing off one feature on which they feel a need to spend money. Their faces.
Everyday wearing of makeup is probably more common in Iran, an Islamic republic, than in some liberal western countries. It is a rare opportunity to parade one's beauty without fear of official censure.
With a female population of more than 38 million, Iran is the second-largest cosmetics market in the Middle East in terms of revenue, behind Saudi Arabia, and the world's seventh biggest.
"Iranian women wear makeup as soon as they get up in the morning. Even if they feel ill, they know that they must look beautiful in the street," says Tina Zarinnam, 30, a fashion designer.
The French luxury brand Lancome recently announced a return to Iran after decades away, inviting around 400 industry types and artists to one of the biggest hotels in Tehran to celebrate its comeback.
It was the first time since the 1979 Islamic revolution that a major Western brand -- Lancome is the number one luxury line of the L'Oreal group -- had been launched with such fanfare.
No American cosmetics brands have been sold on the official Iranian market since the US imposed a trade embargo in the 1980s.
US and EU sanctions on oil and other industries remain in force in Iran despite an interim deal aimed at eventually ending the nation's nuclear standoff with the West, but many foreign businesses have blamed the restrictions for hampering trade.
Makeup professionals estimate that Iranian women buy approximately one tube of mascara per month, dwarfing the one every four months bought by the French.
Lancome is presented in Iran by the Safir perfume chain, a leading official distributor of beauty products. Created in 2010, the chain now has nearly 20 branches across the country.
"It's a booming market, which is roughly several hundred million dollars," a brand representative says, adding that this amount is split between its own distribution and the grey market.
Only 40 percent of Iran's market is controlled by official distributors. The rest is divided among bootleggers who operate in parallel in bazaars and small shops that import cosmetics and makeup illegally, says Pegah Goshayeshi, Safir's chief executive.
Imports are costly as regulations are strict and various government officials must approve a product before it is given a label that guarantees its quality.
Wearing makeup does not violate the laws of the Islamic republic, however, because Islam does not prohibit perfumes or cosmetics.
"The Prophet Mohammed himself used perfume," Goshayeshi says.
Makeup is also a form of personal expression in a society where compulsory wearing of Hijab requires women to cover their hair and their body in loose clothing when outside, regardless of their religion.
Tastes in makeup vary in different parts of the country. In northern Iran, coloured mascara and perfumes with a flowery fragrance is preferred, while women in the south tend to buy black mascara and stronger, muskier perfumes.
Iranian men are also gradually leaning toward using more cosmetics.
"They take better care of their skin, because they want to look younger," Goshayeshi adds.
In a country affected by a severe economic crisis, partly because of Western sanctions, makeup is considered expensive but it is often a small salve to help forget everyday problems.
"Makeup has an impact on the one who wears it ... I put on makeup because I love it. I enjoy wearing it. It makes me feel fresh and calm," says Forough Heidari, a 42-year-old physiotherapist.
And the Iranian market is by no means saturated.
"There is still room for luxury goods in the medium or low-end market" despite the presence of 20 Iranian and foreign brands, says Vista Bavar, founder and director of the Caprice brand.
"Iran has a large youth population, most of whom still live with their parents. They do not have to care too much about expenses" and can spend a lot on beauty products, she adds.
http://www.middle-east-online.com/english/?id=66694
-------------
Documentary 'Soccer Queens of Rani' Tells Story of Assam's Football Girls
June 23, 2014
GUWAHATI– Dulumoni Rabha's mother and brother work in stone quarries to make ends meet. Nikumoni Kalita's father digs sand from the river bank to run his family. Popy Rabha's mother pulls a hand-cart and sells snacks in the weekly local market so that her family can have their next meal.
While abject poverty is the obvious commonality here, there is another point that binds these girls of the Rani area, located on the city outskirts bordering Meghalaya, together. They are looking at the game of football to take them out of their drudgery.
And they have to thank Hem Das, a veteran coach from Guwahati, who spends his own money to teach football to some 40 girls like them.
Now, even as the world is under the grip of the FIFA World Cup fever, their story has come alive in a documentary – Soccer Queens of Rani – by film critic-cum-filmmaker Utpal Borpujari, made for Rajya Sabha Television. The 26-minute film was commissioned by RSTV channel as part of a series on developmental and aspirational stories of modern India.
In a sense, it is a real-life Bend It like Beckham story, in that it is also about the passion among some girls to play football. But the similarity ends there. The girls of Rani come from poor, agrarian families of villages, which, despite not being very far from Guwahati, remain so backward that quite a few hamlets in this tribal-dominated region do not have access to power supply even today.
"For these girls, football provides an outlet to go beyond their mundane lives, and as the film reveals, quite a few of them also see it as an opportunity to get a better life in the future. They walk or cycle several kilometres every day to practice football, which speaks volumes about their dedication. And they practice it in the time they find after attending school and doing household chores," says Borpujari.
The film, says the director, is also about the dedication of Das, a former Assam player who runs the Young Star Football Coaching Club in Guwahati.
"There are many coaches who are as dedicated as Das towards the game, but what made the story interesting for me is the fact that he spends a major portion of his earnings in going about 20 days a month to Rani to teach football to these girls, and even buying kits for them," says Borpujari, whose documentaries Mayong: Myth/Reality and Songs of the Blue Hills have earned international acclaim.
"The film, apart from focusing on the story of aspirations of a bunch of young, underprivileged citizens of modern India, also focuses on how individuals can play a role in shaping the nation's future, even if in small ways," he says.
While the research work for the film was done by Guwahati-based journalist Abdul Gani, the cinematography has been done by Biswajeet Changmai, editing by Umesh Kumar and music by Anhad Imaan and his team. The executive producer of the film is Jayanta Goswami, the producer of Mayong: Myth/Reality and National Award-winning feature film Mon Jaai.
What makes the subject really interesting is the fact that Das had initially gone to the area in search of young boys interested in playing football, but he found that instead of boys, girls were flocking to him to learn the sport. While telling the stories of the girls, the film also captures the socio-economic life of the area they come from, thereby trying to show how fruits of modern development have not equitably reached all the people.
The film's subject is also important in the context of the North-East India, where football is a passion and States like Manipur and Mizoram and clubs like Shillong Lajong FC have proved themselves to be major players on the national scene.
http://www.assamtribune.com/scripts/detailsnew.asp?id=jun2314/city06
-------------
URL: https://www.newageislam.com/islam,-women-and-feminism/new-age-islam-news-bureau/'honour'-crimes-in-pakistan--couple-slain-six-years-after-they-eloped/d/97691