New Age Islam News Bureau
19 Jul 2019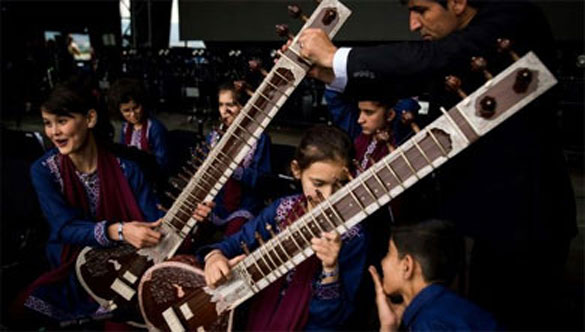 Some members of Afghanistan's first all-female orchestra Zohra have gone missing in Slovakia
-----
• BJP's Ishrat Jahan Using Islam to Boost Political Career
• Saudi Female Footballers Show Will To Succeed
• Members of First All-Female Afghan Orchestra Missing In Slovakia
• South Africa Army Reviews Uniform Policy, Allows Women to Wear Headscarves
• How to Protest Hijab Bans and Support Muslim Women around the World
• SANDF Headscarf Case: Muslim Major May Get Interim Relief As Policy Talks Continue
• Amid Rising Hate Crimes, Muslim and Jewish Women Travelled To Auschwitz Together
• Female security guard makes women take off their Burqas in St George's Hospital, Mumbai
• 500 new drivers' licenses obtained by women
• 91st Woman Executed in Iran during Rouhani's Presidency
Compiled by New Age Islam News Bureau
URL: https://www.newageislam.com/islam-women-feminism/hindu-woman-pakistan-gets-security/d/119238
--------
Hindu Woman in Pakistan Gets Security after Conversion to Islam
Jul 19, 2019
A court in Pakistan has ordered security for a Hindu woman who converted to Islam last month, the media reported.
Payal Devi, now known as Noor Fatima, is a resident of Thatta in Pakistan's Sindh province where kidnapping of Hindu girls and their religious conversion often happens.
On June 29, she converted to Islam, and willingly married one Kamran Ali. Her family, however, is not happy with the alliance.
She said her community members are upset and she claimed threat to her life, Express News reported.
The Sindh High Court has ordered security cover to the newly-wed couple and listed the matter for next hearing on August 6. IANS
https://www.tribuneindia.com/news/nation/hindu-woman-in-pakistan-gets-security-after-conversion-to-islam/804518.html
--------
BJP's Ishrat Jahan Using Islam to Boost Political Career
July 19, 2019
NEW DELHI: All India Imam Association (AIIA) President Moulana Sajid Rashidi on Thursday said Ishrat Jahan is using the Islam religion to move forward in her political career hours after she claimed that she was allegedly threatened for attending a Hindu religious event.
"Ishrat Jahan is resorting to Islam to advance herself in the politics of Bengal and is trying to defame Islam. Islam clearly states that participating in any such program is not wrong but participating in the worship ceremony of any other religion is wrong. Ishrat participated in the Hindu ceremony while wearing a Hijab which is not allowed in the Islam religion," he said.
However, the Bharatiya Janata Party National Secretary Rahul Sinha supported Jahan and said that she is free to follow and participate in any religion of her choice.
"She is free to follow any religion. Anybody who is threatening her should be arrested immediately. But due to the Mamta Banerjee's government in the state, no action is being taken which is why this incident happened with her today. Banerjee has created communal violence between Hindu's and Muslims in the state. This is totally illegal and they should be arrested. She should be provided security and government should take stern actions against such acts," Sinha said.
BJP leader Ishrat Jahan was allegedly threatened by locals and asked to vacate her rented house for attending a Hindu religious event wearing hijab in Howrah, police said on Thursday.
In her complaint filed on Tuesday (July 16), Jahan had said that she went to attend BJP's Hanuman Chalisa Path in the AC market. But, when she returned home she was accosted by people of her community for attending the Hindu event. "They said that I have demeaned the Muslim community as I attended the function in hijab," she said in her complaint.
"A group of people gathered outside my house had asked me why I went to attend a Hanuman Chalisa Path event wearing hijab," Jahan told ANI.
"Everyone said I should leave the house immediately else they will push me out of the house forcefully. I am receiving death threats. I demand protection. I live alone with my son, anything can happen to me anytime," she added.
Meanwhile, Howrah ACP North Pratiksha Jharkaria confirmed that they have received Jahan's complaint and an investigation is underway.
Jahan, who was divorced by her husband over the phone from Dubai in 2014 by uttering 'talaq' thrice, was one of the petitioners in the triple talaq case.
https://www.siasat.com/news/bjps-ishrat-jahan-using-islam-boost-political-career-1552744/
--------
Saudi Female Footballers Show Will To Succeed
DEEMA AL-KHUDAIR
July 19, 2019
JEDDAH: Football fans around the world celebrated the recognition of women in sports after the recent FIFA Women's World Cup (WWC) final match, in which the US beat the Netherlands 2-0. One country where the US victory struck a powerful chord among female sports enthusiasts is Saudi Arabia.
Women are participating in sports in increasing numbers in the Kingdom as the reforms being introduced under the Vision 2030 plan enable women to take on different career paths.
Members of Jeddah Eagles, a women's football squad with 39 players, watched the July 7 WWC final in anticipation of an exciting finish. In the end, they celebrated not only the US team's victory but the recognition of women in sports as a whole.
Johara Al-Sudairi, who has been playing for Jeddah Eagles as a winger since August 2017, said she is thrilled that football is gaining popularity among women in the Kingdom.
"I've been a fan of women's football ever since I was a kid. Watching Mia Hamm play, then watching Marta Vieira da Silva play for Brazil when I was a teenager got me hooked," the 26-year-old Saudi told Arab News. "I have never missed a women's World Cup since. I'm so happy that now the sport is getting more and more recognized. This is a huge step forward."
Al-Sudairi said women have the drive to succeed in the sport more than their male counterparts.
"I believe that hard work pays off. And from what I've seen, I believe women want it more," she said.
Hala Khashoggi, a Saudi who has also played on the wing for the team since February 2019, said the US team's victory struck a blow for women's empowerment worldwide.
"I feel incredible that female empowerment is increasing and it enlightens a lot of young girls and inspires them to play football," she told Arab News.
Khashoggi believes both men and women can excel equally in the sport. "Comparing the men's and women's games is already old hat," she said.
"Every individual player has their own uniqueness and quality. Every team has its own ability to score well and play incredibly. Thus, comparing is not the solution. Playing better is."
In conclusion, Khashoggi said: "Every woman should follow her dreams, whatever it is and whatever it takes, because football is not just for men or for women. Football is for footballers."
Fatimah Gari, who joined the team as a striker in 2014, was happy for her fellow female football players in the US for their victory.
"It is a very good feeling," the 28-year-old Saudi told Arab News. "I wish one day we will have a Saudi team and will be in their place."
Gari's views are echoed by Farah Jefry, a Saudi who has been playing for Jeddah Eagles for over a year now. "As a female soccer player I am delighted to see this amount of attention given to women's sports. I hope it continues to grow," she said.
The 16-year-old midfielder believes Arab women would perform better than their male counterparts with the right support.
"With the right amount of funding and support, Arab women for sure can be better at playing," she told Arab News.
"Saudi Vision 2030 is giving us lots of opportunities. I would totally encourage women in the Kingdom to learn to play football."
The US team's victory in France was a memorable event for members of another Jeddah female football team, The Storm, which a squad of 18 players.
Dona Adel Rajab, the head coach of The Storm since February 2018, who was born and raised in the US, has played football most of her life. "Women's sports has been around me and I never felt any difference until I moved to Jeddah in 2015," the 28-year-old Saudi told Arab News.
Women's sports have grown in recognition and awareness in Saudi Arabia since then, Rajab said.
"The popularity of football is increasing. However, the initiative in taking the next step is needed," she said.
Rajab said what really matters in sports most is discipline and seriousness, not gender or ethnicity.
"Since we are talking about sports, ethnicity and gender are not good indicators to differentiate between male and female. As a football coach, I look at performance and discipline," she said.
Rahaf Al-Hazmi, a 21-year-old Saudi who co-founded The Storm and plays in defence, is enthusiastic about the future of the sport for women in the Kingdom.
"The mentality of Saudi women has changed a lot. Women have started to participate in all kind of sports and requests to join our team are increasing," she said.
"The love of football is increasing among women in the kingdom. Especially now that the government is focusing on sports for women."
"Women who take part in sports in general, and play football in particular, felt blessed to have witnessed this achievement in women sports, " Al-Hazmi told Arab News, referring to the WWC final results.
"Watching women not only play for fun but also as a career and a calling can give us a motivation to move forward. Women have an amazing capacity to reach their aim. If we really focused on developing our skills and we made this our first priority, we can be so much better."
Johara Hamad, 21-year-old Saudi winger for The Storm, said: "I was surprised at the amount of people who watched and showed an interest. It actually made me even more motivated to improve my skills so that one day I will be a part of such a great event."
Hamad is against comparing genders in sports, but she too believes Saudi women can play better than their male counterparts with the right support and equal opportunities.
"I don't like comparisons but in the context of Saudi Arabia, we can be better than the men's teams if we get the same chances and support," she told Arab News.
"I believe that we have it in us to scale far greater heights with the support of the General Sports Authority."
Danyah Al-Othmany has witnessed a steady increase in the number of women interested in football in Saudi Arabia since she took up the sport.
The 24-year-old Saudi, who plays at right back for The Storm, calls the US team's victory "a great accomplishment."
"Women have the potential and can become great players if they set their mind to it," Al-Othmany told Arab News.
"Honestly, it's all about the commitment. Regardless of whether the player is male or female, what matters is if they are willing to spend time on themselves to improve and become better."
Al-Othmany's message to women in the Kingdom who want to take up football is simple: "Commitment is what really counts."
Perhaps Al-Hazmi, who co-founded The Storm, spoke for many Saudi female footballers when she said: "Years ago no one in the world imagined having a World Cup tournament for women's football, so nothing is impossible. We need every single talent we have in the Kingdom so that we can collaborate in order to reach the WWC and play alongside the best professional players of the world."
http://www.arabnews.com/node/1527721/saudi-arabia
--------
Members of First All-Female Afghan Orchestra Missing In Slovakia
July 19, 2019
BRATISLAVA: Police in Slovakia said on Thursday they were searching for four members of Afghanistan's first all-female orchestra who went missing from their hotel after performing at a local festival.
Zohra, an ensemble of 35 teenagers and young women musicians, played a concert on Saturday at a festival in the western town of Trencin, some 130 kilometers (80 miles) north of Bratislava, near the Czech border.
Four members went missing from their hotel on Sunday, Slovak police said.
"I can confirm that the search for two female teenagers and two female adults from Afghanistan is ongoing," Pavol Kudlicka, a spokesperson for the Trencin regional police, told AFP on Thursday.
He added that the musicians returned to their hotel after the concert but went missing the next morning.
"Due to legal reasons and the ongoing investigation no names can be disclosed for now," Kudlicka added.
Local Slovak media reported that some orchestra members had said that one of the girls had a cousin in Germany.
Some members of Zohra are orphans or from poor families.
They have faced death threats in their homeland where music was banned during the Taliban's repressive 1996-2001 rule.
Music is still frowned upon in much of Afghan society, which is tightly segregated by gender.
Despite the disappearance, the Zohra orchestra, named after a Persian goddess of music, played several concerts in western Slovakia this week.
They have performed at home and abroad, notably at the closing the World Economic Forum in Davos two years ago.
http://www.arabnews.com/node/1527796/world
--------
South Africa Army Reviews Uniform Policy, Allows Women to Wear Headscarves
Jul 19, 2019
The South African National Defence Force is reviewing its uniform policy for the first time in history.
It has entered into negotiations with the Muslim Judicial Council after a soldier was threatened with dismissal for refusing to remove her hijab and an interim agreement has been reached.
The army says Muslim women will be allowed to wear headscarves with their uniforms while talks continue over a possible permanent change to the policy.
Major Fatima Isaacs who has served as a forensic pathologist in South Africa's Defence Force for 10 years appeared in a military court earlier this month where she was charged with disobeying a direct command to remove her headscarf.
TRT World's Melanie Rice reports from Cape Town, South Africa
https://www.trtworld.com/africa/south-africa-army-reviews-uniform-policy-allows-women-to-wear-headscarves-28348
--------
How to Protest Hijab Bans and Support Muslim Women around the World
By Syeda Khaula Saad
Jul 19, 2019
Muslim women who choose to wear the hijab face discrimination worldwide, and sometimes, this discrimination is systemic and comes in the form of a hijab ban. After Quebec passed a bill banning some public servants from wearing religious symbols at work, thinking about fighting back can seem overwhelming. But there are a handful of simple ways you can protest hijab bans and support Muslim women— in Quebec and around the world.
Quebec's ban, also known as Bill 21, was passed on June 16 and will impact teachers, police officers, and judges, just to name a few occupations. Although the ban includes all religious symbols, it could disproportionately affect Muslim women, seeing as hijabs are one of the most outward and visible types of religious garb. After the bill passed, Canadian Muslim organizations challenged it in front of the Superior Court, which will make its final decision on July 19. And these organizations aren't the only ones pushing back against the ban.
Malak Shalabi, a law student at Washington University, launched the Hands Off My Hijab campaign on July 11 to urge the Superior Court to reject the bill. "We have a responsibility to stand up and to speak against these laws because our voices are becoming increasingly powerful and increasingly unionized," Shalabi tells Bustle.
Quebec's religious symbol ban is not the first of its kind. France has a long history of banning the hijab and different variations of the hijab, and still has a ban on the niqab. In recent years, Belgium upheld a burka ban, along with other European countries. And even in the United States, a headdress ban on the floor of chambers was lifted after 181 years, only after Congresswoman Ilhan Omar drew attention to it.
As a Muslim woman, it's disheartening to see women in my religion face discrimination because of how they choose to express their faith. If you're enraged by discriminatory bans and want to show your support for Muslim women worldwide, here are six ways you can help.
Educate Yourself
Before you take a stand against hijab bans, it's important to understand the laws, what they mandate, and who they're directly affecting. This can start by merely understanding the history of the hijab and why it's so important to Muslim women.
"Studying modesty as a concept in Islam enhances one's understanding of the hijab and its manifestations in forms other than religious wear," Shalabi says. Once you learn about the origins and importance of the hijab, you can be a better advocate for a Muslim woman's right to express her beliefs through it.
Talk To Muslim Women
The only way you can truly understand what Muslim women's lives are like every day is by acknowledging and listening to their real experiences. Reading about statistics on hate crimes against them is one way to gain insight. There are also online publications and blogs such as Muslim Girl that you can read to learn about the lives, struggles, interests, and concerns of Muslim women everywhere.
On top of that, there's a large presence of Muslim fashion bloggers on Instagram. Accounts like @shahdbatal, @hautehijab, and @neelam_ aim to make Muslim women more visible in mainstream and social media and advocate for women's rights. You can follow accounts like these to see how everyday women maneuver wearing the hijab in such digital and public platforms.
Shalabi also suggests talking not only to Muslim women who are affected by hijab bans, but also to ones who are actively fighting against them. "Listen to people who are part of the community who are actively working against this type of stuff," she suggests. "Find women who are working on independent platforms and with networks to actively fight against them, and then help them fight their fight." It's crucial to take lead from the women facing these issues, so you can help their cause without silencing their voices.
Advocate On Social Media
Shalabi explains that the ability to make things go viral holds a lot of power on social media. In fact, that mindset is what helped her build the platform for Hands Off My Hijab. She tweeted out the hashtag (#handsoffmyhijab), voiced her frustrations, and built a community. "Although we can't be there in person, we can most definitely make a statement online and show every Muslim woman and every person who represents a faith that we're behind them," Shalabi says.
By utilizing social media, you can bridge a divide between people in different regions, and help them feel more connected to the same cause. If you need some guidance, there's a plethora of Muslim influencers who use social media to advocate for themselves and their communities, and they are very forthcoming about how they use digital media to spread their message.
Furthermore, if you're looking to protest hijab bans through social media, it's important to have Muslim people and non-Muslim people alike share the message. Ask your friends to retweet your tweets about why you're fighting the ban, and ask them to repost pictures on their stories and pages. The more other people are exposed to your message, the more they'll be curious to learn about what you're fighting for. This eventually, will help you garner a greater following and support system for the movement. And if you keep posting and sharing, odds are, someone with a greater social media presence will follow, and spread your message even farther.
Sign A Petition
Signing a petition is a great way to band people together and create a tangible sense of unity. In fact, Shalabi says she felt a petition was the best course of action for her campaign. The petition asking the Canadian government to reject Bill 21 garnered over 23,000 signatures in a week.
If you want to use a petition to protest a hijab ban in another country, it is important to lay out every detail of the law you're trying to fight. Secondly, it's crucial to link out to articles by reputable sources that demonstrate the relevance of what you're protesting. After that, it's up to you to get your petition to as many people as possible, which you can do through social media. While social media is a great way to spread the message about why something is significant or concerning, coupling it with a petition allows people to read about the issue and then do something about it.
Donate To Orgs That Support Muslim Women
You don't have to start your own movement or campaign to protest hijab bans. There are plenty of organizations you can join that are already fighting everyday discrimination against Muslim women. One of these organizations is World Hijab Day, which was started in 2013. The organization works to raise awareness about why Muslim women wear the hijab and what it means to them. It also encourages those who don't wear the hijab to wear it for a day, in order to experience what it feels like to go out in world as a visible Muslim woman. You can donate to the organization here.
Additionally, you can get involved with groups like Invest in Muslim Women, Shirzanan, the ACLU, and the Islamic Relief Fund's programs for Muslim women.
Keep The Conversation Going
Once you've educated yourself, voiced your support on social media, and signed your name, the job still isn't done. "It's important to keep the conversation going even after signing the petition as cycles of discrimination will come and go," Shalabi advises. "We must remain organized and ready to mobilize to protect the rights of religious groups around the world." Continue educating yourself and listening to others even after the fact, and stay determined should new laws or obstacles arise.
It's difficult not to grow discouraged when it seems like the laws that are meant to protect you are being used against your, but that doesn't mean you should give up. "We, as young people and activists and all kinds of people from around world need to recognize how much our voice matters and our voices collected especially matter and that we have the power to leverage pressure on governments, on politicians, and people committing injustices around the world," Shalabi says. "Hopefully this is only the first step."
https://www.bustle.com/p/how-to-protest-hijab-bans-support-muslim-women-around-the-world-18199842
--------
SANDF Headscarf Case: Muslim Major May Get Interim Relief As Policy Talks Continue
2019-07-18
A determination is under consideration to allow female Muslim members of the SA National Defence Force (SANDF) to wear headscarves under their berets while the dress code policy is revisited, it emerged on Thursday.
This possible interim relief, which is yet to be approved by the SANDF chief, was mentioned in a joint briefing by the military and the Muslim Judicial Council (MJC) in Cape Town.
"The parties have resolved to continue to work together to find a solution which will address and resolve the issues related to this matter," said SANDF chaplain general, Brigadier General Monwabisi Jamangile, after an agreement to work together was signed on Thursday.
The MJC, SANDF and legal representatives held talks on Tuesday to discuss the situation of Major Fatima Isaacs, who faces a military court hearing for her refusal to remove her headscarf, also known as a hijab.
She was formally charged for "disobeying a direct command" and was due to face a senior military judge for her full case in August.
The parties said the talks were "amicable and constructive" and the SANDF made a commitment to address the headscarf issue in their policies within a set time frame.
"The SANDF has categorically declared that Islamophobia and discrimination has no place in the SANDF, since it is representative of all peoples of our rainbow nation," the joint statement read.
The MJC first deputy president Moulana Abdul Khaliq Ebrahim said they were happy that all the parties were working out a pathway for the future.
Second deputy president Shaykh Riad Fataar added his appreciation for the issue not being brushed aside.
"We don't expect the military to be soft and easy, we expect them to be tough. But we also expect justice," he said.
On Wednesday, Minister of Defence and Military Veterans Nosiviwe Mapisa-Nqakula had requested that an "amicable solution" be found.
Isaacs' lawyer Igshaan Higgins told News24 last week that he had hoped for "ministerial intervention" and that the matter be resolved amicably among the parties.
Last month, the SANDF had said in a statement that all members of all religions were expected to abide by its dress code, but that will now be addressed as the policy talks continue.
The major, who has been a member of the armed forces for 10 years, and works as a clinical forensic pathologist at 2 Military Hospital in Wynberg, is still expected to appear before the military court at the Castle of Good Hope on August 7.
Isaacs' legal advisor Nazeema Mohamed said they had tried to have the charges withdrawn, but also understood it was a separate legal process that had to be followed.
"We are going to be writing to the NPA (National Prosecuting Authority) after she appears on the 7th... providing them with a copy of the agreement that has just been signed, authorising interim permission to don the headscarf, and on that basis they don't have a prima facie case against her."
https://www.news24.com/SouthAfrica/News/sandf-headscarf-case-muslim-members-may-get-interim-relief-as-policy-talks-continue-20190718
--------
Amid Rising Hate Crimes, Muslim and Jewish Women Travelled To Auschwitz Together
By Samantha Facciolo
JUL 18, 2019
Sheila Sonnenschein had never been to Auschwitz, but last week, she and her daughters gathered at the infamous concentration camp for a memorial service honoring those who had been killed there. They stood hand-in-hand with 50 other Muslim and Jewish women and teen girls, the first-ever North American contingent to make such a trip. Sonnenschein, a Jewish woman from Kansas City, Mo., had grown up with the legacy of the Holocaust and carried with her the loss of her father's extended family, who were murdered by Nazi and Latvian soldiers.
The Sisterhood of Salaam Shalom — the organizer of these Building Bridges trips — is the brainchild of Sheryl Olitzky and Atiya Aftab. The Sisterhood strives to build trust and respect between Muslim and Jewish women and teenage girls across Canada and the United States. They hope to foster relationships that will, in turn, encourage greater understanding among these communities, and to promote collaboration against an increasing tide of hate.
"I knew I could not change history," Olitzky explained. "But…it was my goal to ensure that the hate of the past was not continued into the future." Since that first meeting ten years ago, the Sisterhood has grown to over 170 local chapters and more than 3,000 members.
The group gathered in Berlin, where women met one another and shared their reasons for participating. They toured memorials, learned about non-Jewish victims of the Nazis (including Muslims), and visited Syrian refugees. They attended prayer services at synagogues and mosques and spoke with a local organization developing curricula to combat anti-Semitism. In Krakow, they met with Muslim, Jewish, and Christian leaders and helped clean up a vandalized Jewish cemetery.
Margaret Johnson, a convert to Islam from greater Washington, D.C., said she wouldn't have made the trip without the support of her Muslim and Jewish sisters. "I wanted to be there to support my Jewish sisters and [understand] the Shoah from their perspective," Johnson explained, acknowledging that the experience hits that much harder "when you know people affected [by the horror]."
Recently, Johnson was a guest in the home of an older Jewish woman she befriended on a previous Building Bridges trip. As a child, this woman lost several of her extended family members in the Holocaust and has dedicated her life to honoring their memory. Touched by her friend's devotion, Johnson carried the names of those family members with her and read them aloud at the memorial service at Auschwitz.
Though much of the trip was spent studying the past, at no point was the connection to present day more striking than when the group returned to their hotel after Auschwitz and turned on CNN. The news segment featured the detention centers along the U.S.-Mexico border and the deplorable conditions there. Though Johnson is quick to point out that in today's "call-out culture" people should be mindful of their words, she maintains that the dynamics that gave rise to the Holocaust inform what is happening today. "Some of what happened to the Jews early on in Germany is now happening to asylum seekers in the U.S.," she said. Johnson insists that she doesn't believe that the United States' end game is anywhere near comparable to that of Germany in the 1930s, but whether it's the current administration's handling of refugees, the persecution of Muslims in Myanmar and China, or the rise in hate crimes since the 2016 presidential election, the theme is the same, the dehumanization of others.
Miniimah Bilal-Shakir, a Muslim sister from New Jersey, agrees. "Though the majority of the victims of the Holocaust were Jewish, the Nazis didn't only kill Jews. Theirs was an attack against all of humanity." A warning, in other words, about what happens when we don't stand up to hate.
Dr. Mehnaz Afridi, Director of the Holocaust, Genocide and Interfaith Education Center of Manhattan College and the trip's resident educator, sees particular significance to this trip being taken at this moment in time. Both the U.S. and Europe are experiencing elevated Islamophobia and anti-Semitism, making this trip a "perfect synergy in bringing Jewish [and] Muslim women to historical moments of persecution, suffering, and reconciliation.
Both Johnson and Sonnenschein participated in the Sisterhood's 2018 Building Bridges trip to the American South, and since then, they've noticed encouraging change. Meeting with former leaders of the Civil Rights movement, Sonnenschein was struck by the idea of reparations to African-American communities. Upon returning home, she connected with a mentoring program and now volunteers weekly in a predominantly African-American elementary school. Three other women from local Sisterhood chapters have joined her.
Johnson reports that the group from the 2018 trip are in constant communication about ways they can act upon what they learned and are engaging in initiatives dedicated to getting out the vote, educating the public about civil injustices — particularly surrounding the disproportionate incarceration of African Americans — and supporting those targeted by hate crimes.
Participants in this year's program have barely touched down after their overseas flights, but the group texts are already flying. Women want to know how to act upon what they've spent the last week immersed in: standing up to hate and being an ally to those in need.
"What we learned was devastating," said Bilal-Shakir. "But it's important to move past that horror and find hope."
Several sisters have committed to helping children and asylum seekers at the border, and others wish to help Muslims being victimized in China. Gabriella Sonnenschein, a student at the University of Minnesota, wants to create projects to dismantle Islamophobia and promote better Muslim-Jewish relations on campus. As an organization, the Sisterhood of Salaam Shalom has committed to opening its first-ever chapters in Krakow and Berlin, spreading its mission of respect, understanding, and relationship-building to these communities.
Heather Ciociola, a Jewish woman from New Jersey, knew she had to attend this trip, both for its historical significance and relevance today. "We have both the knowledge and the responsibility to make sure that the horrors of the past don't even come close to repeating themselves," she said. One day, Ciociola anticipates someone asking her what she did in these times of turmoil and hate. She is dedicated to ensuring her answer is one she can be proud of. Those who understand the origins and legacy of the Holocaust must do all they can to prevent the perpetuation of hate. In Ciociola's words: "Our history is being written today."
https://sojo.net/articles/amid-rising-hate-crimes-muslim-and-jewish-women-traveled-auschwitz-together
--------
Female security guard makes women take off their Burqas in St George's Hospital, Mumbai
Jul 18, 2019
On Thursday, a video surfaced on social media which allegedly showed a female security guard asking women to take off their burqas before entering a hospital ward.
The video, which has been accssed by Zee, and shot by a Chembur resident shows a woamn taking off her burqa.
The incident occurred on July 17, 2019 in Mumbai's St George Hospital. The video shows a Muslim woman taking her burqa off and it appears that a female security guard of the hospital asked the Muslim women wearing burqas take them off.
She allegedly only allowed women to enter the delivery ward after they took off their veils.
Following the inciden, Mukhtar Sheikh, a Chembur resident who had come for his treatment in St George's Hospital's, recorded the incident.
Recently, Sri Lanka banned the burqa following the deadly serial blasts that killed 250 people in April.
Shiv Sena, BJP's ally and a prominent party in Mumbai had asked for a ban on the burqua in light o 'national security' in its mouthpiece Saamna
https://www.dnaindia.com/india/report-watch-female-security-guard-makes-women-take-off-their-Burqas-in-st-george-s-hospital-mumbai-2773407
--------
500 new drivers' licenses obtained by women
July 18, 2019
AL QASSIM — A new batch of 500 women received driving licenses from Al-Qassim after passing training at the driving school. They underwent 11,500 hours of training, including 2,900 theoretical hours, 7,000 hours of practice and 600 hours in simulators.
The trainee will be enrolled in the program for 6 hours on 3 days of training, after which the license can be obtained. The non-trainee will join the program for 30 hours in 12 training days to obtain the license.
The driving school's Executive Director Dr. Majid Al-Enezi said that they are working to increase the capacity and increase the number of trainees in the next phase.
"We have 20 Saudi trainers enrolled in the school recently and currently are in the process of training and qualifying a new batch of trainers," he said.
He added, "The figures included in the report are promising, as 90% of the trainees successfully completed the tests at the first time after undergoing training."
"This indicates the efficiency of those who train them, pointing out that the current capacity of the school increased by almost 50%, with a new batch of more than 500 trainees expected to receive driving licenses in the next two months, " he said.
http://saudigazette.com.sa/article/572272
--------
91st Woman Executed in Iran during Rouhani's Presidency
Jul 18, 2019
A Kurdish woman named Maliheh Salehian was executed in the central prison of Mahabad. She is the 91st woman to be executed in Iran during Rouhani's term in office since 2013.
Maliheh Salehian from Miandoab was hanged on Tuesday, July 16, 2019, on charges of murder in the central prison of Mahabad.
In the last two days, 13 people have been executed in different cities of Iran.
On Wednesday, July 17, 2019, another female prisoner, Zahra Safari Moghadam, 43, was hanged in the Prison of Nowshahr, in northern Iran. Zahra Safari Moghaddam was in prison since July 2016.
Less than a month ago, on June 19, a woman identified as Fatemeh Nassiri was hanged in Gohardasht (Rajaii-Shahr) Prison of Karaj. She had been imprisoned since 11 years ago in Qarchak prison. She was said to have undertaken the crime committed by her son. There are unconfirmed reports of the hanging another woman by the name of Fariba, along with Fatemeh Nassiri on June 19.
Maliheh Salehian is the 91st woman to be executed during six years of Rouhani's presidency.
Iran is the world's record holder in per capita executions. More than 3700 persons have so far been executed during six years of Rouhani's terms in office.
The Iranian regime deploys execution and the death penalty as a tool for maintaining its grab on power and for silencing a disgruntled populace the majority of whom live under the poverty line, while unemployment is rampant in the country and there is no freedom of speech.
Rule 61 of the United Nations Rules for the Treatment of Women Prisoners and Non-Custodial Measures for Women Offenders (the Bangkok Rules) reads, "When sentencing women offenders, courts shall have the power to consider mitigating factors such as lack of criminal history and relative non-severity and nature of the criminal conduct, in the light of women's caretaking responsibilities and typical backgrounds."
Mrs. Maryam Rajavi, the President-elect of the National Council of Resistance of Iran, has consistently emphasized the need for abolition of the death penalty in Iran.
https://women.ncr-iran.org/2019/07/18/91st-woman-executed-in-iran-during-rouhanis-presidency/
--------
URL: https://www.newageislam.com/islam-women-feminism/hindu-woman-pakistan-gets-security/d/119238
New Age Islam, Islam Online, Islamic Website, African Muslim News, Arab World News, South Asia News, Indian Muslim News, World Muslim News, Women in Islam, Islamic Feminism, Arab Women, Women In Arab, Islamophobia in America, Muslim Women in West, Islam Women and Feminism