New Age Islam News Bureau
3 Sept 2016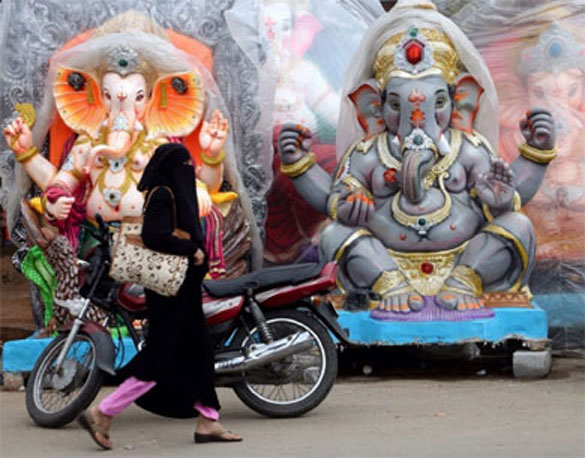 An Indian Muslim woman walks past Hindu idols in Bangalore, the capital of the state of Karnataka. There have been protests by Hindu students on college campuses in Karnataka against women wearing burqas and hijabs. (Jagadeesh NV/European Pressphoto Agency)
------
• Ban on Polygamy Encourages Illicit Sex, Indian Muslim Law Body Tells Supreme Court
• The Muslim Women Creating and Leading Their Own Places of Worship
Compiled by New Age Islam News Bureau
URL: https://newageislam.com/islam-women-feminism/hindu-students-protest-burqa-wearing/d/108461
---
Hindu students protest against burqa-wearing Muslims on campus in southern India
SEP 2 2016
NEW DELHI — As the world debates whether the Burkini is appropriate beachwear, a new fight is brewing in India over Burqa-wearing students on college campuses.
This week, some Hindu students began wearing saffron-colored scarves to the classroom in a college in the southern state of Karnataka in protest against the Hijab and Burqas that Muslim students are allowed to wear on campus.
Saffron, or deep orange, is considered to be an auspicious color in Hinduism and is also the color that member of many Hindu nationalist groups in India use in their flags, bandanas and scarves to assert their religious identity.
It all started last week when a pharmacy college in the southern city of Mangalore banned its first-year female students from wearing the Hijab or Burqa and the male students from sporting long beards on campus.
Almost immediately, the Muslim student group Campus Front of India began protesting the ban, saying the Indian constitution allows them the right to practice their religion.
Groups of Burqa-clad students pressed against the gate of the college, shouting slogans and holding placards saying: "We are not silent, we want justice." Some parents of students joined the protests against the ban as well.
The college responded by ending the ban — angering many Hindu students in the region.
Since Monday, some Hindu students have begun wearing orange scarves to college in the small town of Bellare.
Across Indian campuses, Hindu nationalist student groups have been on the rise since Prime Minister Narendra Modi's Hindu nationalist party came to power two years ago.
B.V. Seetaram, the editor of a local newspaper, Karavali Ale, called it "a tug-of-war" on campuses.
"It is an attempt by both sides to push college managements into a corner. Both sides want to assert their religious identity and muscle power through their attire,'' Seetaram told news portal Firstpost.com on Friday.
Tensions between Hindus and Muslims have been on the rise in Karnataka state in recent years. Conservative Hindu and Muslim groups in the region have opposed romantic relationships between the two religions and have also been against women going to bars in recent years.
A noted writer who attacked Hindu orthodoxy was killed last year by unidentified men. Investigations are still ongoing.
Muslims constitute over 12 percent of the state's population, India's census says.
Last year, the government's board of education imposed a ban on students wearing hijabs, burqas and long sleeved clothes to medical school entrance exams. The ban was imposed to prevent cheating in tests. Several Muslim groups protested against the ban at the time as well and petitioned the court. But the Supreme Court upheld the ban.
"Your faith won't disappear if you appear for exam on one day without a head scarf," said the judge.
https://www.washingtonpost.com/news/worldviews/wp/2016/09/02/hindu-students-protest-against-burqa-wearing-muslims-on-campus-in-southern-india/
--
Ban On Polygamy Encourages Illicit Sex, Muslim Law Body Tells Supreme Court
Sep 3, 2016
NEW DELHI: Sharia has granted the triple talaq mode of oral divorce+ to husbands because men are better at controlling emotions and, therefore, unlikely to take impulsive decisions, All India Muslim Personal Law Board (AIMPLB) has said.
"Sharia grants right to divorce to husbands because men have greater power of decision making. They are more likely to control emotions and not take hasty decisions," the board said in its affidavit filed in the Supreme Court in response to petitions from Shayara Banu and other Muslim women+ who have urged the apex court to declare triple talaq unconstitutional.
While asserting that triple talaq was part of Islamic religious practice protected by fundamental right to religion+ and that the SC was barred from adjudicating its validity, the AIMPLB also launched into a vigorous defence of polygamy and said the practice, which allows a Muslim man to have four wives, was necessary to curb illicit sex and was meant to protect women.
The 68-page affidavit argued that the court's concern for protection of Muslim women from alleged arbitrary divorce was erroneous as their rights were protected by Muslim Women (Protection of Rights on Divorce) Act, 1986, which was enacted by the Rajiv Gandhi government to annul the SC's Shah Bano judgment in 1985.
Defending triple talaq rights given to Muslim men, the board said the practice provided an easy mode to end marriages that had irretrievably broken down. It said keeping the husband and wife together when the husband did not want the woman made the husband and his family inflict mental and physical torture on the woman.
Defending triple talaq in an affidavit filed in the Supreme Court, the All India Muslim Personal Law Board has said it is a very private method of divorce without going to court and making public the differences between the couple and then awaiting a long process for the outcome. Court proceedings and trading of charges by the couple harmed the reputation of the woman more than that of the man, it said.
It said in the western world, as a result of gender parity and securing divorce through courts alone, the divorce rate had shot up.
Through advocate Ejaz Maqbool, the board said it was a misconception that Muslim men enjoyed unilateral and unbridled power to divorce.
"A Muslim man can delegate his power of pronouncing talaq to his wife or to any other person. However, such delegation does not deprive the husband of his own right to pronounce talaq. A Muslim husband may delegate the power absolutely or conditionally, temporarily or permanently," AIMPLB said.
On the practice of polygamy, the board said, "Quran, Hadith and the consensus view allow Muslim men to have up to four wives." It said Islam permitted polygamy but did not encourage it.
"However, polygamy meets social and moral needs and the provision for it stems from concern and sympathy for women," it said.
"Since polygamy is endorsed by primary Islamic sources, it cannot be dubbed as something prohibited," it said. "Where women outnumber men and polygamy is not permitted, women will be forced into leading spinster's life. In sum, polygamy is not for gratifying men's lust, it is a social need," the board said.
"Women should appreciate this point that if the ratio of women is higher, would they prefer wedlock , or let them be illicit mistresses of men, without any of the rights which a wife gets," it said. Citing census reports till 1991 and other surveys, the board said polygamy was equally prevalent among Muslims, Hindus, Buddhists and tribals.
http://timesofindia.indiatimes.com/india/Ban-on-polygamy-encourages-illicit-sex-muslim-law-body-tells-Supreme-Court/articleshow/53987666.cms
--
The Muslim Women Creating and Leading Their Own Places of Worship
SEP 2 2016
Despite increased Islamophobia and fear of the Islamic State, groups of Muslim women are striding towards equality by creating their own mosques and becoming imams, or leaders of prayer.
One week ago today, history was made as the Friday call to prayer, or the adhan, rang out in a woman's voice from Denmark's first women's-only mosque, Mariam Mosque. Though it's a first in the region, the new place of worship continues the legacy of numerous Islamic spiritual spaces dedicated to women.
Still, there remain mosques where women are not allowed inside, mosques where women are technically allowed in but not encouraged to attend, and those where women's sections are diminutive in comparison to those of men. "In some places, women have no access [to mosques] at all granted to them," explains Islamic scholar and professor emerita Dr. Amina Wadud. Conversely, however, "there are places in the world where a significant effort is made to make sure there is comparable space and conditions for women's attendance," she notes.
For More Stories Like This, Sign-Up for Our Newsletter
In the Arab world, women by and large are allowed to pray in mosques, and many do so regularly. In South Asian countries, such as Pakistan and India, far fewer mosques are built with separate prayer sections, meaning they can't accommodate female worshippers—in most mosques, like in Orthodox synagogues, women are forbidden from praying alongside men. Women are challenging their exclusion, though: In India, Muslim women's rights groups are fighting for more gender inclusive places of worship, while elsewhere, such spaces have existed for years. There is a long history of female-only mosques in the Far East. According to Marion Katz, professor of Islamic studies and author of Women in the Mosque, China has a "well-known tradition of women's mosques in the sense of having a full set of personnel and religious teaching as well as congregational prayer for women." The country has been home to women's mosques for over a century. In addition, the Women's Mosque of America became the first of its kind in the United States when it opened its doors last year, and has since been hailed as a welcoming space for women from all walks of life, be they Muslim or not.
While female-only mosques exist throughout the world, there's a lack of consensus regarding religious leadership. Opinions vary amongst Muslims when it comes to one crucial question to which women's mosques give rise: Can women permissibly be imams? An imam is the person who leads prayers in a mosque, gives religious guidance, and is considered extremely well-versed in the Qur'an and other religious texts. There is no verse in the Qur'an that specifically addresses this question nor the general attendance of women in mosques; similarly, the Qur'an contains no section which explicitly requires men to lead prayer.
I don't see change as only happening in one way. I see all efforts that are being made in order for women to experience equality and dignity as equally impressive and beneficial.
Still, many famous scholars put limitations on female imams, if they entertain the idea at all. Egyptian theologist and host of his own talk show Dr. Yusuf al-Qaradawi believes that a woman can only lead members of her own household in prayer, while Imam al- Nawawi, whose books are still studied today despite his death in the 13th century, said, "If a woman leads a man or men in [a congregational] prayer, the prayer of the men is invalid. As for her prayer, and the prayer of the women praying with her, it is sound."Opponents of female imams argue that there's a longstanding, traditional justification for their interpretation of the Qur'an. "The Prophet is supposed to have emphasized that piety and knowledge of the Qur'an are the key qualifications for an imam, and at least a couple of pre-modern Muslim authorities took this to be a gender-neutral principle," explains Marion Katz, "but the majority of classical (male) scholars... argue that having male leaders for public prayer is a community practice that has been continuous since the time of the Prophet."
According to Dr. Wadud, these scholars and their supporters have founded this belief on the basis of a societal patriarchy. "There is a rationale that has been constructed in Islamic jurisprudence, or fiqh, that gives men a priority in a number of ways, including in the family, in society, and in leadership," she says, "It is based on passages in the Qur'an that ostensibly give men authority over women."
Muslims and scholars who believe in keeping with classical interpretations of fiqh have criticized female imams and female-only mosques. In 2005, when Dr. Wadud led a non-gender segregated prayer service in New York City, the location was changed twice until it was decided that the service would be held at a cathedral due to safety threats. In 2008, when she led a prayer in the UK, a small group of protesters gathered outside. A Danish lawmaker, Naser Khader, recently called his country's new women's mosque not "good enough," in reference to the mosque's exclusivity to women, according to The Local DK.
Read more: How Islamophobia Hurts Muslim Women the Most
When asked if she feels that women-only mosques, rather than non-segregated, gender-inclusive mosques, were a step in the right direction, Dr. Wadud responds, "I don't see change as only happening in one way. I see all efforts that are being made in order for women to experience equality and dignity as equally impressive and beneficial."
It is a tumultuous time to be a Muslim woman. Western politicians dictate what we can wear under the guise of protecting individual liberty and threaten us with mandated religious identification cards while terrorist groups attempt to justify their obscene acts of violence in the name of our faith. Despite this, Muslim women have stood in the face of both Islamophobia and the Islamic State and moved forward with pride.
"Any time a person's dignity and identity is being thwarted in any way, shape, or form—be it Islamophobia or the Islamic state—there is a natural response to stand up for one's self, honor, and dignity," says Dr. Wadud. It seems the rise in both female imams and women's mosques amidst these turbulent times is a testament to that.
https://broadly.vice.com/en_us/article/the-muslim-women-creating-and-leading-their-own-places-of-worship
--
URL: https://newageislam.com/islam-women-feminism/hindu-students-protest-burqa-wearing/d/108461
New Age Islam, Islam Online, Islamic Website, African Muslim News, Arab World News, South Asia News, Indian Muslim News, World Muslim News, Women in Islam, Islamic Feminism, Arab Women, Women In Arab, Islamophobia in America, Muslim Women in West, Islam Women and Feminism