New Age Islam News Bureau
12 Dec 2017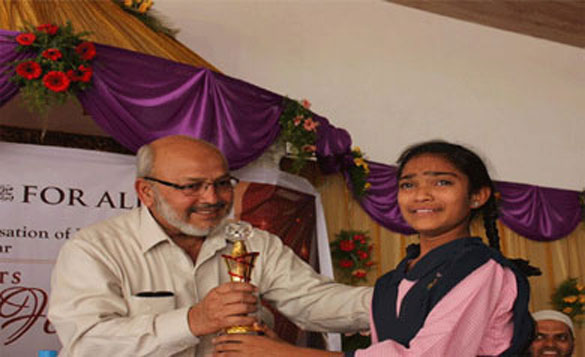 An emotional Akhila accepting her award from the chief guest after her speech on Prophet Muhammed (PBUH)
-----
• Pakistani Girl Dressed In School Uniform Walks the Ramp
• Afghanistan Women Officers Gun For Equal Rights
• Who Are the 'Descendants of Zainab', The Houthis' All-Female Brigade?
• Pak 'Govt Committed To Fight Crimes against Women'
• Effat Holds Girls' Sporting Competition For Universities, Schools
• Honour Killing In Pakistan: 19-Year-Old Kills Sister, Brother-In-Law In Rawalpindi
• Young Saudi Man Gets Chaillot Prize for His Women Empowerment Program
• Iran: Women's Presence in Stadiums out Of Question for Good
• Iran: Kurdish Woman Fined and Sentenced To 50 Lashes of the Whip
Compiled by New Age Islam News Bureau
URL: https://www.newageislam.com/islam-women-feminism/hindu-girl-wins-award-speech/d/113543
--------
Hindu Girl Wins Award for Speech on Prophet Muhammed (PBUH)
Dec 11, 2017
Hyderabad: An eighth standard girl, Akhila from Telangana Minorities Residential Educational Institutions Society - Girls Charminar 2 strengthened the feel of secularism with her speech on Prophet Muhammed (PBUH). She bagged the first prize at the elocution contest 'The Students Seerat Fest 2017' recently that was conducted by Students Islamic Organisation of India (SIO), Babanagar Unit as part of the campaign "Muhammad (PBUH) for All".
An emotional Akhila, who spoke for four minutes in Telugu about the Prophet and his teachings about women's rights, said, "I always wanted to learn about him. When I got to know about the competition I referred books and prepared the speech in 30 minutes. This was my first time on stage and it was overwhelming for me to win it for such an important topic."
Up to 14 schools, both government and private, participated in the quiz and elocution following an essay writing competition on the topic "Inspired by Muhammed".
Speaking on the occasion, Anwar Khan, President of All India Teachers Association (AITA), said, "It is important for children to know about all religions and respect them with sincerity."
Chief organiser Abdullah Azher along with members of SIO that included Abdul Mannan among others were present.
http://www.thehansindia.com/posts/index/Telangana/2017-12-11/Hindu-girl-wins-award-for-speech-on-Muslim-Prophet-/344668
--------
Pakistani girl dressed in school uniform walks the ramp
December 12, 2017
Islamabad: Fashion aficionados at this year's Pakistan bridal week were surprised to see a little girl walk the ramp in school uniform after several models strutted at the Hum Bridal Couture Week 2017 in Lahore.
People stopped and stared for a long time as the girl emerged wearing a school uniform embellished with bridal motifs. This little girl symbolised all the child brides, highlighting the problem of child marriages which remains a grave issue in Pakistan.
This controversial dress worn by the child as the show stopper was developed by Ali Xeeshan, a renowned Pakistani dress designer, in collaboration with the United Nations Entity for Gender Equality and the Empowerment of Women (UN Women).
The campaign stresses on the fact that little girls should be in school wearing uniforms not wedding dresses and aims to end child marriages by raising public awareness.
"This symbol, the bridal uniform was used to question the unfortunate nature of many marriages that should not be a cause of celebration for the brides, or even the nation as a whole. The horrible trade-off that takes place when a child is deprived of her right to an education, and instead is being dressed to be someone's wife, is what this campaign targets" reads the statement by UN Women.
With this startling campaign, UN Women aims to make people aware of the issue of child marriages in Pakistan, its life-long implications and preventive measures to address it and help the potential and present victims.
The campaign was further launched through a website and on social media after the live showcase of the bridal uniform to evoke emotions within people to take action. A donation fund has also been set up on the website and funds will directly go to the Kashf Foundation.
Pakistan's Child Marriage Restraint Act (CMRA) sets the legal age of marriage to be 16 for women and 18 for men. However, an estimated 20 per cent of women are married off before the age of 18 and 3 per cent overall do not even cross the age of 15 before they get married, according to Unicef.
"It's astounding how women aren't allowed to drive or vote before the age of 18 and at the same time, they're forced into this lifelong commitment way before they reach that age" said Jamshed Kazi, Country Representative for UN Women Pakistan.
In May 2017, the National Assembly rejected the draft Child Marriage Restraint Act that would have increased the legal age for marriage from 16 to 18 nationwide.
Now, the Child Marriage Restraint Act (Amendment) to raise the legal age of marriage from 16 to 18 will be voted upon by the Senate which is why the campaigners are urging people to sign the petition to generate greater momentum of public support for its passage both at the Senate and eventually at the National Assembly too. So far, 1600 people have signed the petition which is striving for 10000 pledges.
http://gulfnews.com/news/asia/pakistan/pakistani-girl-dressed-in-school-uniform-walks-the-ramp-1.2139304
--------
Afghanistan women officers gun for equal rights
V Ayyappan
Dec 12, 2017
CHENNAI: For its Taliban past, Afghanistan may still be inching its way towards women's emancipation, but the Afghan National Army seems to have already made a mark on that front. Women in army play an equal role as men when it comes to fighting on the front line.
To hone their skills further, a group of 20 officers is learning the basics of military training as part of a 21-day course at Chennai's Officers Training Academy (OTA). This is the first time women officers from Afghanistan are being trained by the Indian Army.
Many of them, who love Amitabh Bachchan and Shahrukh Khan movies, explored the city on their first day before they started training at the academy. Training module will crunch a year's course at OTA into 21 days which includes aerobics, physical and mental training, obstacles, tactics, firing, use of weapons, simulator training, map reading, compass reading and identifying landmarks.
The one thing Captain Sahkina Zahidi said she likes is that women in defence forces need to wear only the headscarf unlike others for whom a full hijab is mandatory in Afghanistan.
https://timesofindia.indiatimes.com/india/afghanistan-women-officers-gun-for-equal-rights/articleshow/62030889.cms
--------
Who Are the 'Descendants Of Zainab', The Houthis' All-Female Brigade?
11 December 2017
The 'Descendants of Zainab', an all-female armed brigade established by the Houthis in Yemen, has played a significant role in detaining and pursuing members of the General People's Congress after late President Ali Abdullah Saleh announced the end of his alliance with the Houthi movement.
The brigade first began to operate in Saada before Sanaa collapsed in September 2014. Its members wear ordinary clothes and a long cloak and the Neqab, and their main tasks are: raiding houses, detecting electronic activity, pursuing those who oppose the Houthis and attacking peaceful protests and marches.
Ali al-Bukhaiti, a former member of the Houthis' political council, said that during a protest demanding the release of politician Mohammed Qahtan, the brigade attacked the protestors and beat them up using sticks.
Bukhaiti added that the brigade's members once beat up women who were protesting against the Houthis' abduction of their children.
According to a statement issued by the Yemeni army, the 'Descendants of Zainab' has also been tasked with planting mines and explosives.
A report published by 26sepnews.net, which is affiliated with the Yemeni army, quoted a military source as saying that two women who planted mines in the market in Al-Masloub directorate were arrested. He added that the women were being interrogated to expose any other sleeper cells.
https://english.alarabiya.net/en/features/2017/12/11/Meet-the-Descendants-of-Zeinab-the-Houthis-all-female-brigade.html
--------
Pak 'Govt Committed To Fight Crimes against Women'
December 12, 2017
Rawalpindi-Additional Deputy Commissioner (ADC) Rawalpindi Division, Tariq Salam Marwat, said that government under the directions of Chief Minister (CM) Mian Shahbaz Sharif is committed to protecting the rights of women.
He said that Punjab Commission on the Status of Women (PCSW) has also established its set ups at divisional level to receive complaints against violation of laws.
He directed the heads of government departments and other organizations to strictly implement laws for the protection of women and ensure proper facilities for women employees in their departments.
He said this at a press briefing attended by a large numbers of female representatives of NGOs, at Commissioner Office here on Monday. He was flanked by PML-N MPA Tehsin Fawad and PCSW Coordinator Qaiser Mehmood Rana.
ADC Tariq Salam said that government is striving to enforce the laws promulgated by Provincial Assembly to protect women at their work places. He stressed on the cooperation of media for implementing these laws. Adding that the government has started collecting data about female workers in various departments to protect them from work-place harassment, he said that the government would soon establish Gender Based Violence Courts in the city for dispensing speedy justice.
Speaking on the occasion, MPA Tehsin Fawad said that it is our religious and moral obligation to give respect to women in all spheres of life. She stressed on the punishment of those who commit domestic violence against women. She informed that any such complaints could be lodged at toll free number of PCSW 1043. She asked media persons to play their role in highlighting crimes against women violence, creating awareness of sexual harassment, domestic violence and immoral attitude besides educating masses about the laws promulgated by Punjab Assembly to protect women rights.
Coordinator PCSW Qaiser Mehmood Rana briefed media persons about the mechanism of evolve to receive the complaints against women violence and the procedure which has been adapted to process such complaints. He informed that awareness activities were being conducted to educate people, especially women as well as heads of government departments, to ensure appropriate implementation of women protection laws in letter and spirit. Rana informed that 2000 complaints against murder, women harassment, acid throwing, etc. had so far been received in Rawalpindi division which had been properly processed. After taking legal action, 48 applications were disposed off accordingly. Of 48, four complaints were about women whose dead bodies were found packed in sacks in limits of Police Stations Airport and Taxila.
A victim of domestic violence, named Noshin Asim turned up before ADC Tariq Salam during media briefing and registered a protest against those allegedly involved in her character assassination. She told ADC that she has been running a beauty parlour at Range Road while Dr Adnan, along with his wife Naila Adnan and two servants Hamesh and Azim have been involved in a character assassination campaign against her. She told ADC that the culprits had pasted posters in the locality accusing her of running a brothel house in cover of a beauty parlour. She told that the accused had also threatened to kill her 12 year old daughter. Noshin lamented that she registered a case against the accused with Police Station Westridge, but the police were protecting the culprits instead of arresting them. ADC assured her of full cooperation.
http://nation.com.pk/12-Dec-2017/govt-committed-to-fight-crimes-against-women
--------
Effat holds girls' sporting competition for universities, schools
NADA HAMEED
12 December 2017
JEDDAH: Princess Lolowah bint Faisal and Lina Al-Maeena, founder of the Kingdom's first female sports club, were guests at a sporting competition for girls at Effat University on Sunday.
The competition was divided into three categories between four private schools and two universities, including Effat University, under the theme "Champion of the Day."
The sports categories were running, basketball and swimming.
Princess Lolowah, deputy chairman of the board of trustees and general supervisor of Effat University, is considered one of the most publicly visible female members of the Saudi royal family.
She told Arab News: "I am always proud of what Saudi women do, and today I am way happier than any time because we saw how creative the participants were. We encourage all the youth — males and females — to serve their countries from the bottom of their hearts."
Lina Al-Maeena, one of the most famous champions for women and girls' sports in Saudi Arabia, founded the first women's sports club in Saudi Arabia, basketball team Jeddah United. She told Arab News: "There was a lot of amazing energy; I really felt involved and the future looks great. I am proud to be here in Effat. I started my words today by saying it is very symbolic that we are in a university that carries the name of Queen Effat, who was the leader behind women's education in Saudi Arabia, and also for the sports complex that she built in the 1960s.
The competition was hosted by Hind Boumshammer, a Moroccan-French broadcaster. She is working for the MBC Group as a producer and presenter.
Noor Sahaab, a 10th grade student and a member of the winning Jeddah Private School basketball team, told Arab News: "Such a challenge is something really great and new… it is the first time for us to participate in something this big, and we are really proud to win. Even if we hadn't won, being part of the competition is wonderful."
Dana Al-Nahdi, from Nobles International School, told Arab News: "I think this is a really great experience for women since this country doesn't have a lot of similar activities. It is great for women to expand beyond their limitations."
In the running competition, Layl Bakhshab from Jeddah Private School won the gold medal, Aya Abu Al-Jadayel, also from Jeddah Private School, came second with the silver medal, while Dor Jamjoom, from Dar Al-Fikr School received the bronze medal.
In the swimming competition — schools category, Nilli Mansour was awarded the gold medal, Mayar Aziz the silver medal, and Farida Ahmed took the bronze medal, all of them are students of Al-Koon International School. In the swimming competition — university category, the gold medal was won by Ghadeer Hariri from Dar Al-Hekma University, while Ghofran Abdulrahim from Effat University won the silver medal, and Tahani Banaja from Dar Al-Hekma University won the bronze medal.
In basketball, the team that won the first place was Jeddah Private School, while Al-Marjan International School came second and Nobles International School came third.
http://www.arabnews.com/node/1207626/saudi-arabia
--------
Honour killing in Pakistan: 19-year-old kills sister, brother-in-law in Rawalpindi
Dec 11, 2017
An angry Pakistani youth has allegedly shot dead his sister and her husband for marrying without the family's consent, in the latest incident of honour killing in the country, police said.
The accused, identified as 19-year-old Saeed Anwar, had been upset at his sister, Mismat Musarrat, 18, for marrying Qaiser, 25.
The incident took place in Nagyal in Rawalpindi's Gujjar Khan tehsil and police described it as an 'honour killing', Dawn newspaper reported.
The Station House Officer Ishtiaq Masood Cheema said the suspect had been waiting for an opportunity to kill the couple ever since they married a few months ago without the consent of his family.
He said that when Anwar found the couple alone in their house, the accused fired at them with a pistol, killing them both on the spot.
He later tried to flee the scene, but was apprehended by the police along with the murder weapon.
Cheema said police have booked Anwar for a double murder. Police will present him in court tomorrow to seek physical remand. The bodies of the victims have been shifted to a local hospital for a postmortem.
Last month, a newly-wed couple in Sindh province who married without the consent of their elders were killed allegedly on the orders of a jirga (village elders).
In September, police had exhumed bodies of a 15-year-old girl and a 17-year-old boy, who had reportedly been electrocuted by their families on the orders of a jirga in Karachi.
Activists say around a thousand Pakistani women fall victims to so-called honour killings every year in which the victims, mostly a woman, are usually killed by a relative or on the orders of village elders for bringing dishonour to the family or the community.
http://www.hindustantimes.com/world-news/honour-killing-in-pakistan-19-year-old-kills-sister-brother-in-law-in-rawalpindi/story-FL1LuvfoH1trOUytnT7nqO.html
--------
Young Saudi man gets Chaillot Prize for his women empowerment program
12 December 2017
MOHAMMED RASOOLDEEN
RIYADH: An enterprising young Saudi man has been honored with the prestigious Chaillot Prize in the GCC region for his untiring work in finding work for 30,000 women in the Kingdom.
Khalid Al-Khudair, founder of Glowork, a company that supports women's rights, was given the award by EU Ambassador Michele Cervone d'Urso at a special ceremony held to mark the 70th Human rights day at the EU headquarters in Riyadh.
Speaking to Arab News, d'Urso said: "We are really happy to note that this young man has contributed a great deal in ensuring the rights of women."
Addressing the audience, the ambassador said: "Glowork supports women empowerment, and in this sense also all the important reforms undertaken by the Saudi authorities in transforming the country and its society."
He recalled that Al-Khudair, a couple of years ago aged 28, left a comfortable auditor job and set up Glowork, a company that focuses on solving female unemployment in Saudi Arabia.
Glowork has now helped more than 26,000 women find direct jobs in the Kingdom, while a far greater number have benefited from access to the firm's advice and career fairs.
In the process, he said, Glowork has grown from having three employees to more than 60 and is building on its extensive database from e-commerce to apps, and from gyms to rapid regional expansion.
"Glowork has set an important precedent in the region, one which we acknowledge and recognize with this Chaillot Prize," d'Urso concluded.
Speaking to Arab News, Al-Khudair said that Glowork has been responsible for coordinating employment opportunities for more than 30,000 women throughout the Kingdom. "We have 68 workers in the company and 60 of them are women," he added.
Al-Khudair told the audience: "It's an honor today to receive this distinguished award from the European Union where over 28 countries unanimously nominated Glowork. We are so proud to be recognized and hope that this is just the start for us and we continue showcasing great Saudi strides in the fields of human rights and women rights.
"Our goals are aligned with Crown Prince Mohammad Bin Salman's Vision 2030 and we hope that we become a key player in achieving those goals together with the government."
The Chaillot Prize is for outstanding actions, campaigns, projects and lifetime achievements that favor human rights promotion and awareness in the GCC region. The Prize is named after the Palais de Chaillot in Paris, where the Universal Declaration of Human Rights was adopted on Dec. 10, 1948, by the United Nations General Assembly.
http://www.arabnews.com/node/1207436/saudi-arabia
--------
Iran: Women's presence in stadiums out of question for good
11 December 2017
In the wake of verdicts issued by a number of religious scholars including Makarem Shirazi and the decision made by the Supreme Council of Cultural Revolution, "women's presence in sports stadiums is out of question for good." This was announced by Minoo Aslani, head of the Women's Society Bassij (affiliated with the IRGC) in an interview with the state-run news outlets.
Aslani said, "Since the views of religious scholars stand equal to the verdicts of the Quran and Islam, the demand for presence of women in sports stadiums is a fabricated demand to raise uproar. This case has been closed for ever by the fatwa issued by Ayatollah Makarem Shirazi."
She added that the Social-Cultural and Family-Women Council of the Supreme Council of Cultural Revolution also indicated that the opposition by Makarem Shirazi is the last word, and as a result, believed that the adoption of any bill on women's presence in stadiums would be unnecessary.
The Supreme Council of Cultural Revolution has removed the issue of women's presence in stadiums from its agenda, altogether and announced that women's society faces numerous other problems that enjoy priority. (The state-run Fars news agency – December 9, 2017)
Some of the regime's officials in charge of women's affairs had previously promised that the government would pass a "directive" on women's presence in sports stadiums.
http://www.women.ncr-iran.org/iran-women-news/4566-iran-women-s-presence-in-stadiums-out-of-question-for-good
--------
Iran: Kurdish woman fined and sentenced to 50 lashes of the whip
11 December 2017
A woman student activist, Zamaneh Zivi, was sentenced to 50 lashes of the whip and payment of 800,000 toumans ($225) as cash fine.
Ms. Zivi has been charged with participation in rallies in support of the referendum on the independence of the Kurdistan of Iraq and disruption of public order.
After the successful referendum on September 25, 2017, Kurdish citizens of Iran took to the streets and celebrated.
A large number of Kurds were arrested and interrogated under torture, including dozens of women.
http://women.ncr-iran.org/iran-women-news/4565-iran-kurdish-woman-fined-and-sentenced-to-50-lashes-of-the-whip
--------
URL: https://www.newageislam.com/islam-women-feminism/hindu-girl-wins-award-speech/d/113543
New Age Islam, Islam Online, Islamic Website, African Muslim News, Arab World News, South Asia News, Indian Muslim News, World Muslim News, Women in Islam, Islamic Feminism, Arab Women, Women In Arab, Islamophobia in America, Muslim Women in West, Islam Women and Feminism