New Age Islam News Bureau
31 Jan 2017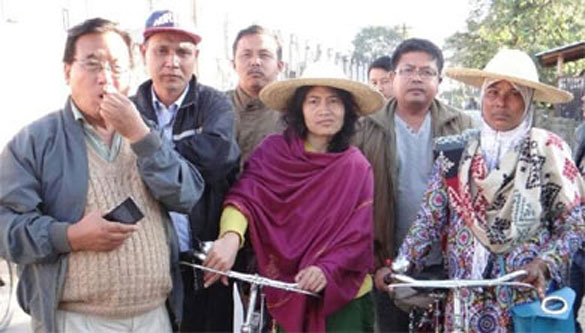 Najma Bibi (extreme right), Manipur's First Muslim Woman Candidate, with Irom Sharmila. (HT Photo)
---
• Elderly Sufi Woman Found With Throat Slit In Bangladesh
• 'Grave' Trouble Created by Muslim Clerics for Manipur's First Muslim Woman Candidate
• Bride with Burned Face Sparks Debate on Social Media Sites Selling Beauty Products
• 'Jealous' Maids Sentenced To Death for Killing Driver In UAE
Compiled by New Age Islam News Bureau
URL: https://newageislam.com/islam-women-feminism/hindu-girl-secures-custody-muslim/d/109904
--------
Hindu Girl Secures Custody of Muslim Girlfriend
Jan 31, 2017
AHMEDABAD: In a sort of reverse of the 'love-jihad' motif, a Hindu girl has secured custody of her Muslim girlfriend by approaching Gujarat high court.
The 23-year-old Muslim girl from the city repeatedly told the high court that she was happy with her friend from Jamnagar and wanted to stay with her only. She flatly refused to live with her parents. The HC almost failed to comprehend their relationship because they told the court that they were just friends for the last few years "in connection with the business of selling women purses".
As the Muslim girl, whose custody the Hindu girl was seeking, is an adult she is free to decide on her own, the HC said, "Though we are not fully convinced whether the corpus's decision is in her best interest or not, nor are we fully convinced about the reason for the petitioner to take her under her fold, being an adult person of sound mind, ultimately, the corpus has the freedom of movement which the law guarantees and which the court always protects."
In this case, the Muslim girl had in the past written letters to the chief justice requesting for court's intervention in freeing her from her family, where she was allegedly sexually exploited. She even sent an SOS to a city-based NGO, but refused to leave her house because of pressure from the family. A couple of months ago, she left home and moved to the NGO's shelter home with all her belongings, sources said.
During her stay there, her friend from Jamnagar would come to see her with gifts. Administrators at the shelter home even objected to the gifts on several occasions. When the girls felt that the NGO's staff was creating obstacles to their relationship, the girl from Jamnagar filed a habeas corpus petition in the high court and sought its intervention to free her friend.
When the HC asked the Muslim girl what was her wish, she expressed her willingness to join her friend in Jamnagar. The high court permitted her to go and live with her friend in Jamnagar. While the court kept questioning the petitioner why she was interested in keeping the city-based girl with her, the corpus told the HC that she would not go to her parents, neither would she continue to live at the shelter home. The Muslim girl on her own requested the court not to put an end on litigation and volunteered to return to court a month later and the HC may ask about her wish. Accordingly, the court summoned her on Monday to ascertain her well-being and her wish too.
The girl turned up in courtroom on Monday and reiterated that she liked to stay at Jamnagar and will continue to live there. She even told the HC that her friend was taking good care of her. The Muslims girl requested the HC to fetch her the documents that she had left at the NGO's shelter home, but the court was reluctant to act on this request in a habeas corpus petition.
http://timesofindia.indiatimes.com/city/ahmedabad/hindu-girl-secures-custody-of-muslim-girlfriend/articleshow/56880945.cms
--------
Elderly Sufi woman found with throat slit in Bangladesh
Jan 31, 2017
DHAKA: An elderly woman believed by followers to be a Sufi mystic has been found with her throat slit in Bangladesh, police said Monday, amid a wave of religiously motivated attacks.
The body of 72-year-old Nurjahan Begum was found in her shanty home in the capital Dhaka late Sunday, local police chief Faruqul Alam told AFP. "Her throat was slit," he said.
The woman was considered a "pir", or Sufi leader, by her followers who built her a home and donated food and cash, the English-language Daily Star newspaper reported. But police said she was not a leader of the mystical sect but a mentally unstable woman, attracting followers who believed she had supernatural powers. Fourteen Sufi leaders have been found with their throats slit in Bangladesh since 2013, with police blaming homegrown extremists. In one of the worst cases a Sufi cleric, his son and four followers were found with their throats cut at their Dhaka home.
The Muslim-majority country of 160 million has been reeling from a wave of attacks on foreigners, rights activists and members of religious minorities.
Many of those have been claimed by the Islamic State group or Al-Qaeda. But Prime Minister Sheikh Hasina's secular government has blamed local militants, denying that international militants have gained a foothold.
http://nation.com.pk/international/31-Jan-2017/elderly-sufi-woman-found-with-throat-slit-in-bangladesh
--------
'Grave' Trouble Created by Muslim Clerics for Manipur's First Muslim Woman Candidate
Jan 31, 2017
Manipur's first Muslim woman candidate, representing the political party co-founded by former marathon faster Irom Sharmila, has run into 'grave' trouble.
A troika of Meitei Pangal (Manipuri Muslim) clerics has warned Najima Phundreimayum, popularly Najima Bibi, that she will not be given space for her 'kabr' (grave) in her village in Manipur's Thoubal district.
They refused to give Najima a reason, but it is believed they are not happy with her decision to contest the Wabgai assembly seat on a People's Resurgence and Justice Alliance (PRJA) party ticket.
Of Manipur's 60 assembly seats, Wabgai and Lilong are Muslim-dominated. Muslims are a deciding factor in two others — Keirao and Kshetrigao.
Najima and other PRJA leaders, including Sharmila, had on Saturday met Manipur governor Najma Heptulla to let her know about the stand the clerics have taken against her.
PRJA members said Najma Bibi, in her 40s, apprised the governor about the persecution she has been facing in her home constituency from clerics. The people of her village, Santhel Mamang Leikai, are discouraged to even talk to her because of her political involvement.
"I have been sidelined by opponents from the village because I am a woman, but the villagers continue to support me," Najima told Hindustan Times.
She added the governor advised her to write a formal complaint so that necessary action can be taken and that she will not be deterred by a diktat denying her a final resting place after she dies.
Read | Irom Sharmila to fight CM Ibobi in Manipur elections, vows to repeal Afspa
For Muslims, in general, the thought of being denied a burial space is unnerving. But progressive clerics say Islam gives none the right to make graveyards, which are Wakf properties, out of bounds for any person.
"Every Muslim, man or woman, has the right to proper burial. Second, religious leaders have no business interfering in politics. And third, this is a democratic country and every man or woman has the right to contest," Lucknow-based Maulana Khalid Rasheed said.
Clerics giving ridiculous fatwas should be ignored, he said.
This is not the first time that Najima has weathered radicals, though. Maulvis in her area, she said, had tried to ostracise her because she had helped women self-help groups prosper and be self-reliant enough to raise issues such as domestic violence.
One of Najima's ideas of cooperative growth was the cheng marup (rice fund) for women in her locality. It required each woman to contribute a handful of rice for one of them — chosen by lots — to sell in the market twice a month for money to be invested in livestock.
"This is the kind of struggle women from the minority community have to go through in their day to day life. It is not about women's issues, or fighting patriarchy. The struggle begins with things as insignificant as riding a bicycle," Najima said.
She had turned this basic mode of transport into a tool for women empowerment.
"We were not allowed to ride a bicycle just to slow us down and I realised I can fight much of it (gender discrimination) by riding a bicycle. I was also able to make it on time everywhere and get a lot of things done," Najima said while talking to women in her constitutions.
"When they made fun of me, I got encouraged instead. I told myself there is something special in what I am doing, which they can't handle, that is why they are making fun of me," she said.
From being the only girl in her class and the first girl in her family to complete her Class 10 amidst taunts and harassment in school, Najima has fought odds at every step. She was being forced to get married as soon as she completed high school, so she took a chance and eloped with a man she had met only twice.
Her husband turned out to be abusive and she walked out of the marriage in six months. After the divorce, she realised the importance of self-reliance and economic independence for women.
The rice fund she initiated helped women in her village and surrounding areas improve their economy substantially. But orthodox elders did not approve of what the women were doing.
"As I was divorced, our saving from the rice fund was considered as theft. But we were determined to keep it running," Najima said.
Determination – and support from women's organisations and progressive Muslim students' bodies – is helping Najima counter clerics discouraging her from contesting the Wabgai assembly seat.
Election for Wabgai is in the first phase on March 4.
http://www.hindustantimes.com/assembly-elections/elections-2017-grave-trouble-for-manipur-s-first-muslim-woman-candidate/story-NJehXM2WsKnrAVceEgvpoJ.html
--------
Bride with burned face sparks debate on social media sites selling beauty products
Jan 31, 2017
By Shahd Alhamdan
JEDDAH — A new debate started on Twitter over the pros and cons of buying cosmetic products using social media apps.
Many women these days prefer to make purchasing decisions based on product reviews on a particular site. They increasingly tend to buy fashion items, beauty products and other accessories from online stores.
The debate started after news reports about a young woman who had her face and parts of her body burned after she used a whitening cream she had purchased from an Instagram account.
According to a local newspaper, the woman's wedding was just three months away. She used the product for a month without any side effects. Yet, in the second month the side effects started to be shown and the would-be bride noticed her skin darkening, which persisted until her skin color completely changed.
The woman's dermatologist explained that the patient had no previous history of skin diseases or allergies. After running several tests and examinations on the cream, the doctor said he found out that the chemical component that caused the skin mutation was not licensed in the Kingdom. This component was mixed with other ingredients. He said the patient might take up to five years to be completely cured of the effects of the cream on her skin.
Saudi Gazette interviewed several women to know about their experience of buying cosmetic products from social media applications.
Tahani Qoqandi, a Saudi patient relations officer, explained that in general, she does not recommend buying cosmetic products from Instagram or any other social media site. However, if she got good reviews of a product with really good recommendations from people, she may consider buying it.
When asked whether she ever ended up buying a fake product, she answered, "I buy a lot of stuff from clothes and abayas to fat burning supplements and cosmetic products. I was terrified at the beginning from the whole process of how to get products from people who only owns an Instagram account without making sure if they are honest or they will just run away with my money. Yet, at the end I was really chocked with the quality of some products I ordered through the app but definitely not all of them. I couldn't discover how fake some products were especially with the good photographing/displaying of them, which give out a picture close to original products."
Sara Khalid, another Saudi female working in the private sector, mentioned that females who are buying cosmetic products such as whitening creams or any other product that includes chemicals without a medical consultation is making a massive mistake. "Buying these products from social media is another major fault since she is risking her skin, beauty and health," Khalid said.
"I don't trust accounts selling products on Instagram any more because of the stories I hear. I will never buy cosmetic products from Instagram. Not at all, buy it from an actual web store or a local shop," said Rana Rozi, a Saudi student.
Dalal, another Saudi teenager, said she recommends buying cosmetic products from social media. "If an Instagram account has a good reputation, then why not? And it's easier and faster to get. I have never ended up buying a fake product because I am really careful," she said.
http://saudigazette.com.sa/saudi-arabia/bride-burned-face-sparks-debate-social-media-sites-selling-beauty-products/
--------
'Jealous' maids sentenced to death for killing driver in UAE
Amira Agarib
January 30, 2017
The murder of the Indian driver was reported on October 14, 2014.
A Sharjah court has sentenced two maids to death for murdering a driver. The convicts, C.Q. and N.A., said they wanted to get rid of the victim, who had blackmailed and threatened them.
In addition, both maids came to know that the driver was sleeping with both of them, without the other's knowledge.
The murder of the Indian driver was reported on October 14, 2014.
The Sharia court presided by judge Hussain Al Ousofi ruled that the evidence leaves no doubt about the criminal intent behind the murder. The maids' confessions matched even the minutest details of the crime. The convicts strangled the victim to death with a phone cord and left him on his bed to make it look like he was sleeping.
The victim's brother, who has been attending and following all court hearing, expressed satisfaction at the ruling.
The maids - an Indonesian and a Filipina - were found guilty of adultery and premeditated murder of the 43-year-old driver at the house of their Emirati sponsor.
On the day of the murder, the police received information that an Indian man was found lying on his back in his room located in Al Qarain area. Since initial investigations showed no criminal motive, the body of the victim was shifted to Al Qasimi hospital in Sharjah.
According to reports, the man stopped breathing for some unknown reason. The body was then referred to the Sharjah laboratory, where it was found that he was strangled.
The police then visited the site and began investigations which soon led to the maids. When confronted, the Filipino maid confessed that she had helped the Indonesian maid kill the driver, M.M.R. However, the Indonesian maid denied the accusation. But on the second day, she confessed to the crime.
How the murder was planned
The maids, who had been working with the family for three years, said their room was next to the victim's. Later, the Indonesian maid claimed she had been in a relationship with an Afghani driver for two years.
One day, M.M.R. saw her in the Afghani man's company and started abusing her, threatening to inform their sponsor about her relationship. He also started taking advantage of her, began touching her after watching porn movies in his room and coercing her into having sex with him.
The two maids then hatched plans to murder the driver. They decided that the Indonesian maid would have sex with M.M.R. first and then drug him, so that they could carry out the murder fast. On the day of the crime, a Friday, taking advantage of the fact that the family was out, the Indonesian maid went to the driver's room, watched a movie, had sex with him and then drugged him.
She called the Filipino maid after M.M.R. had fallen asleep. The women then brought out a cord they had hidden under his bed earlier and strangled him. Once they made sure that the man was dead, they cleaned up the room and left.
They pretended as if everything was normal and the next day, took breakfast to his room as usual. Once there, one of the maids shouted that the man was not waking up and informed the sponsor. The sponsor went to his room and on seeing the body, called the police.
On interrogation, the two women said they chose the cord since it would not leave any traces.
http://www.khaleejtimes.com/news/crime/jealous-maids-sentenced-to-death-for-killing-driver
--------
URL: https://newageislam.com/islam-women-feminism/hindu-girl-secures-custody-muslim/d/109904
New Age Islam, Islam Online, Islamic Website, African Muslim News, Arab World News, South Asia News, Indian Muslim News, World Muslim News, Womens in Islam, Islamic Feminism, Arab Women, Womens In Arab, Islamphobia in America, Muslim Women in West, Islam Women and Feminism, Moderate Islam, Moderate Muslims, Progressive Islam, Progressive Muslims, Liberal Islam