New Age Islam News Bureau
16 October 2021
• All Afghan Girls Will Be Allowed To Attend Secondary Schools: UN Official
• Female Former Afghan Lawmakers, Judges Meet Greek PM
• Tanzania's Cash Scheme Lifts Rural Women Out Of Poverty
• Two Deaths Shine Spotlight On Violence Against Women In Kenya
• 15 Nigerian Women, Children Escape From Boko Haram Captivity
• Saudi Arabia's Role In Empowering Women Highlighted At Euro-Asian Forum
Compiled by New Age Islam News Bureau
URL: https://www.newageislam.com/islam-women-feminism/hindu-muslim-women-sindur-khela/d/125590
--------
Hindu And Muslim Women Participate In Sindur Khela Wearing PPE Kits In Kolkata Pandal
Indrajit Kundu
October 15, 2021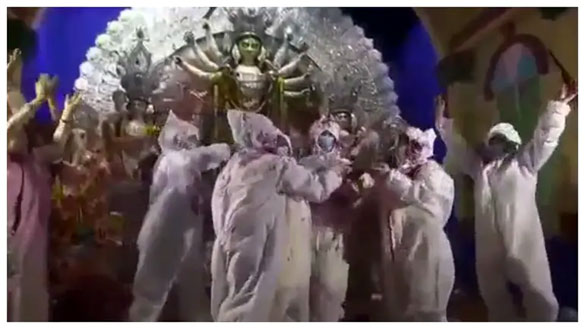 Amarpalli Sarbojanin Durga Puja Committee organised Sindur Khela while wearing PPE kits. (Photo: Indrajit Kundu)
------
The five-day-long festivities of Durga Puja have come to an end with Vijaya Dashami. However, Bengalis have made sure to enjoy these last few moments to the fullest. Since the pandemic has still not allowed people to heave a sigh of relief, puja pandals have taken their own measures to let people enjoy the festival. One such pandal in Kolkata's Dumdum area has come up with a safe way to play Sindur Khela, an important ritual done by women before Devi Durga's visarjan.
Videos from Amarpalli Sarbojanin Durga Puja Committee have now gone viral as the women there were seen playing with sindur while wearing PPE kits.
The organisers focused on the fact that they wanted to spread the message of harmony and awareness against Covid-19 in such a safe way. And that's not all! Both Hindu as well as Muslim women were spotted taking part in the ritual.
As per tradition, on Vijaya Dashami, Devi Durga will be immersed in the River Ganga as people chant 'Asche bochhor abar hobe' (It'll happen again next year).
Source: India Today
https://www.indiatoday.in/trending-news/story/hindu-and-muslim-women-participate-in-sindur-khela-wearing-ppe-kits-in-kolkata-pandal-viral-video-1865227-2021-10-15
--------
All Afghan Girls Will Be Allowed To Attend Secondary Schools: UN Official
Oct 16, 2021
UNITED NATIONS: A senior UN official said Friday the Taliban told him they will announce "very soon" that all Afghan girls will be allowed to attend secondary schools.
UNICEF Deputy Executive Director Omar Abdi, who visited Kabul last week, told reporters at UN headquarters that five of Afghanistan's 34 provinces -- Balkh, Jawzjan and Samangan in the northwest, Kunduz in the northeast and Urozgan in the southwest -- are already allowing girls to attend secondary school.
He said the Taliban's education minister told him they are working on "a framework" to allow all girls to continue their schooling beyond the sixth grade, which should be published "between a month and two."
"As I speak to you today, millions of girls of secondary school age are missing out on education for the 27th consecutive day," Abdi said. "We are urging them not to wait. Any day that we wait -- it's a day lost for those girls that are out of school."
During the Taliban's previous rule of Afghanistan from 1996-2001, they denied girls and women the right to education and barred them from working and public life. Since their Aug. 15 takeover of Afghanistan as U.S. and NATO forces were in the final stages of their chaotic withdrawal from the country after 20 years, the Taliban have come under increasing international pressure to ensure women's rights to education and work.
Abdi said that in every meeting he pressed the Taliban "to let girls resume their learning," calling it "critical for the girls themselves and for the country as a whole."
When the Taliban were ousted from power in 2001 by a US-led coalition for harboring Osama bin Laden who masterminded the 9/11 attacks on the United States, only one million Afghan children were in school at all levels, he said.
Over the past 20 years, that figure rose to almost 10 million children at all levels, including 4 million girls, Abdi said, and in the last decade the number of schools tripled from 6,000 to 18,000.
"Education gains of the past two decades must be strengthened and not rolled back," he said.
But the deputy chief of the United Nations Children's Fund said despite this progress, 4.2 million Afghan children are out of school including 2.6 million girls.
If all girls are allowed to attend secondary school, Abdi said, efforts must still be made to overcome resistance from conservatives to allowing them to get a secondary education.
"The authorities that I've met said that when they put in place the framework that they are working on, it will convince more parents to send their girls to school" because it will address concerns in conservative societies about separating girls and boys and female teachers, he said.
"So, that has to be seen," Abdi said.
While in Kabul, the UNICEF deputy chief said he also visited a children's hospital "and was shocked to see how packed it was with malnourished children, some of them babies."
Abdi said the health system and social services are on the verge of collapse, medical supplies are running dangerously low, outbreaks of measles and watery diarrhea are increasing, and polio and COVID-19 remain serious concerns.
"Even before the Taliban takeover, at least 10 million children across the country were in need of humanitarian assistance to survive," he said, "and at least one million of these children are at risk of dying due to severe acute malnutrition if they are not treated immediately."
UN Secretary-General Antonio Guterres urged the world to prevent the Afghan economy from collapsing and help the Afghan people, an appeal echoed by Abdi who said "the situation is critical and it will only get worse."
Source: Times of India
https://timesofindia.indiatimes.com/world/south-asia/taliban-to-announce-secondary-school-for-girls-un-official/articleshow/87054684.cms
--------
Female former Afghan lawmakers, judges meet Greek PM
15 October ,2021
Six female former lawmakers and judges from Afghanistan were received Friday by Greece's prime minister, Kyriakos Mitsotakis, after fleeing their homeland in the wake of the Taliban takeover.
The three former lawmakers and three former judges arrived in September, assisted by Greek and international charities, and are expected to be resettled in other European countries. They met with Greece's first female president, Katerina Sakellaropoulou, earlier this week.
Afghanistan's twin-chamber parliament was effectively dissolved after the Taliban seized control of the country in August. The future of the national assembly and the question of whether women will be allowed to hold any positions of authority remain uncertain.
The Greek government has taken a tough line on illegal immigration, and recently announced plans to hire more border guards in an effort to deter Afghan migrants from reaching the European Union.
In Washington Thursday, US Secretary of State Antony Blinken thanked Greece for sheltering the former lawmakers. He made the remarks after a meeting with visiting Greek Foreign Minister Nikos Dendias.
Among the former parliament members present Friday was Shagufa Noorzai from Afghanistan's southern Helmand province.
Speaking at an event in Athens to promote democracy earlier this month, she vowed to try to continue helping Afghan women.
"We struggled for 20 years, but this all, I think, went to zero. We lost. They killed our thoughts, our freedom of expression," she said. "Our country has darkened."
Source: Al Arabiya
https://english.alarabiya.net/News/middle-east/2021/10/15/Female-former-Afghan-lawmakers-judges-meet-Greek-PM
--------
Tanzania's cash scheme lifts rural women out of poverty
Kizito Makoye
16.10.2021
MTWARA, Tanzania
When Rukia Mtawali was chosen to join a conditional cash transfer program and began to receive money for purchasing food items for her family, she did not imagine a small fund would change the life of her family.
But after a year, the 41-year-old mother of five, who lives in the impoverished Lyenje village in the southern Tandahimba district, saved enough money to start a poultry farm where she rears and sells indigenous breed chicken and runs a small shop selling consumer goods.
"I am very happy to receive the capital. It has opened the door for me. I earn a good income to support my family," she said.
Mtawali's family is among millions in rural Tanzania, with the majority headed by women, who have received cash giveaways to fight poverty.
Extreme poverty
As part of a broader strategy to empower rural women, the government has injected Tanzanian shillings 130 billion ($56.4 million) to be rolled out as conditional cash transfers to lift extremely poor families from poverty.
Minister of State, Public Service Management and Good Governance Mohamed Mchengerwa said the government is committed to helping extremely poor families benefit from the initiative.
"I would like to see these funds spent in accordance with the intended purposes to help poor citizens," Mchengerwa told a rally in northern Sengerema district.
Funding is seeking to improve consumption and livelihoods while increasing children's primary school enrolment and completion, let alone improving access to health care, according to the government.
Despite attaining impressive economic growth figures, poverty is widespread in rural Tanzania where 30 million people live.
Across Africa, evidence shows cash transfer programs are effective tools to increase the quality and quantity of consumption of poor households, improve education, health and nutritional outcomes.
Based on the lessons learned from the successful implementation of a pilot project, the government has since 2010 scaled up the program to reach 1.1 million extremely poor households (6 million people) in 10,000 villages.
Increasing resilience to shocks
A recent assessment conducted by the World Bank suggests the initiative, run by the Tanzania Social Action Trust Fund (TASAF) which aims to increase income, food consumption and strengthen people's ability to cope with shocks, has lifted families from poverty and contributed to improved access to health, consumption of food and education services.
Since 2001, East Tanzania has been running conditional cash transfer programs to support a broader social protection strategy.
Families chosen receive a small amount of cash of approximately $18 each month as an incentive to increase household consumption of food and enhancing health and education services that poor families would otherwise shun.
The innovative program identifies and gives money to families to facilitate positive change.
Under the initiative, beneficiaries are given up to $18 per month depending on the family size, conditioned on keeping their children enrolled in school and taking children younger than 7 for regular check-ups.
The initiative has had a significant effect on her children's health and on household saving, according to Mtawali.
"Before getting this money, I couldn't afford medical costs for my children," she said.
Despite efforts to fight poverty, analysts said the real number of people living in extreme poverty in Tanzania increased between 2007 and 2018 due to rapid population growth.
"Poor families face many barriers to access livelihood opportunities. We place stronger focus to remove those barriers," said Muderis Mohammed, senior World Bank Protection officer.
The social safety net program help beneficiaries save money and get more assets, he said.
"This support is critical to improving the lives of many more people in need," Mohammed told Anadolu Agency.
Affordable and cost-effective
Ladislaus Mwamanga, the head of TASAF, said the initiative targeted more than 10% of the population, approximately 650,000 households living below the food poverty line and an additional 350,000 on the verge of crossing that red line.
Mwamanga said cash transfers are affordable, cost-effective and more efficient than food or other types of aid.
Cash hand-outs can easily be scaled up to help millions of poor people without making an effort, he said.
Mwamanga said the aim is to permanently lift extremely poor families from poverty by building their asset base, human capital and resilience necessary to keep them afloat longer.
"We are very confident to achieve our mission. Tanzanians deserve to live a decent life," he said.
Source: Anadolu Agency
https://www.aa.com.tr/en/africa/tanzania-s-cash-scheme-lifts-rural-women-out-of-poverty/2393813
--------
Two deaths shine spotlight on violence against women in Kenya
October 15, 2021
NAIROBI: Cynthia Makokha was a 17-year-old student and volleyball player. Agnes Tirop was a 25-year-old rising athletics star, who finished fourth in the 5,000m race at the Tokyo Olympics and had won two World Championship bronze medals.
Both women were found dead in Kenya this week, and while their murders are not linked they have shone a spotlight on violence against women, which the government says has grown worse since the start of the COVID-19 pandemic.
Tirop was found in her bed at her home in the town of Iten, with multiple stab wounds to the neck. Police on Thursday arrested a man they described as her husband, whom they called "the main suspect."
Makokha, who was a student at the Kibera Girls Soccer Academy in Nairobi, was raped, killed and then dumped in a river. She had been on her way to visit family in Western Kenya on Oct. 4 when she disappeared. Her body was found days later.
One suspect is in custody, Mumias East sub-county police commander Stephen Mwoni told Reuters.
Nearly half of women in Kenya experience gender-based violence over the course of their lifetimes, and a third of Kenyan girls experience some form of sexual violence before turning 18, according to the Gender Violence Recovery Center at the Nairobi Women's Hospital.
"I'm scared," said 17-year-old Latifah Shaban, who shared a bunk bed with Makokha. She said Makokha often woke up at 3am, cracked the hallway door open, and used that light to study. "I've heard a lot of rape cases. I'm just always scared about men… it's worse," she said.
The school's dorms are only a few months old, created to help protect the girls, many of whom come from vulnerable living situations, administrators said.
"As much as we are trying to ensure that the girls are safe, outside they…. are not safe," said Claris Akinyi, the school's principal.
Tirop's family told Kenya Television Network that she had separated from the man suspected of killing her because she suspected he had cheated on her when she was competing in Japan.
Police say that after Tirop's murder, they found a new athletics trophy, still carefully wrapped, in her living room.
On social media, fellow athletes and politicians shared messages of condolence, as did sportswear manufacturer Adidas and the World Athletics governing body.
"Agnes was an incredible person, a record breaking athlete and a beloved member of our family," Adidas posted https://twitter.com/adidasrunning/status/1448344158087827457?s=20 on Twitter.
At Makokha's school, rows of seated girls passed around tissues to wipe their tears as they remembered their fellow student. One girl untied her sweatshirt from around the waist to cry into it; another clutched a poster saying: "STOP KILLING."
Source: Arab News
https://www.arabnews.com/node/1948711/world
--------
15 Nigerian women, children escape from Boko Haram captivity
OCTOBER 12, 2021
Six women and nine children abducted by Nigeria's Boko Haram extremist rebels in the country's troubled northeast have escaped after months in captivity, according to a Borno state official.
The 15 former hostages met with Borno Governor Babagana Zulum in the state's capital, Maiduguri.
"Today is one of our happiest moments for us to see these young girls and women that were abducted by the insurgents," Mr. Zulum said Monday, attributing their freedom to "prayers and ongoing reconciliation and reintegration programs" in Borno state.
The governor said he is hoping for "absolute peace" that would bring an end to the 10-year-old extremist insurgency in which thousands have died and many others kidnapped.
The 15 women and children were abducted in two separate incidents in October 2020 and May this year when the extremists attacked their villages in Borno and Adamawa states, both of which have been badly affected by the extremist violence, Zuwaira Gambo, the commissioner for women affairs in Borno state said.
The women and children hiked for six days through the Buni Yadi forest until they were discovered by security forces and taken to safety in Borno state, said Mr. Gambo.
Boko Haram and its offshoot the Islamic State West Africa Province have targeted women and children in attacks in northeast Nigeria. More than 1,000 children have been kidnapped since 2013, according to the U.N. development agency. That includes the 2014 abduction of 276 girls from a school in Chibok which drew international outrage. More than 100 of the Chibok girls are still missing.
"Abducted women have been subjected to violence and abuse and used as spies, fighters, and suicide bombers," the UNDP said in a 2020 report.
"Women who have escaped or been released are not always welcomed back to their communities and those returning from captivity or involvement with armed groups do not have access to the training, counseling, and reintegration programs that target men," said the report.
Source: The Hindu
https://www.thehindu.com/news/international/15-nigerian-women-children-escape-from-boko-haram-captivity/article36963259.ece
--------
Saudi Arabia's role in empowering women highlighted at Euro-Asian Forum
October 15, 2021
SAINT PETERSBURG: Saudi Arabia participated at the Third Euro-Asian Forum for Women's in Saint Petersburg to highlight critical economic roles. Saudi women played vital roles in entrepreneurship, leadership positions and participation in decision-making in the public and private sectors, and more.
Organized by the Federation Council of the Federal Assembly (the Senate) of the Russian Federation in cooperation with the Inter-Parliamentary Assembly of the CIS Member States. A delegation from the Saudi Shoura Council, headed by assistant-speaker Dr. Hanan bint Abdulrahim Al-Ahmadi, highlighted the Kingdom's role in empowering women and their essential role in society and their contribution in different fields.
The Forum, inaugurated in 2015, is the largest international platform uniting female leaders from all continents to discuss women's role in the modern world and work out new approaches to solving global problems.
Russian President, Vladimir Putin, attended the second day of the Forum. In his speech, he stressed that the Forum brings together women who are political leaders, entrepreneurs, and activists in the public sector from more than 100 countries worldwide, which is unbelievable in light of the current circumstances in the world today.
Putin underlined that due to women's great awareness of the value of life and their compassion, they have always had a special mission in the field of healthcare. He stressed his confidence that this will continue in the future and that women will have a role in developing the healthcare sector, medicine, and protecting public health, considering the lessons learned from the pandemic.
He also showed his gratitude to the world's doctors and healthcare workers for everything they do to fight COVID-19 in the whole world.
In her speech at the open session titled "The Group of Women in the Work of the G-20 Summit (W20), and the Role of Women in Restoring Stability," Dr. Al-Ahmadi praised Saudi Arabia's role in hosting the G20 meetings and G20 summit meetings, including the women's Group (W20) during a difficult time due to the onset of the COVID-19 pandemic.
She noted that empowering women is a journey that has no end and that all countries are working hard to reach and achieve their goals in women's empowerment.
Dr. Al-Ahmadi noted that there is a great legislative movement in the Kingdom regarding women's rights. It includes the issuance of a law related to fighting harassment, laws supporting women who provide for their families, and decisions that give them the ability to travel, such as the right to drive, in addition to many supportive and possible choices for women. She added that this was only possible with the great support of the Saudi leadership, emphasizing the critical legislative role of the Shoura Council in this great movement through its legislative, supervisory, and parliamentary functions.
Source: Arab News
https://www.arabnews.com/node/1948716/saudi-arabia
--------
URL: https://www.newageislam.com/islam-women-feminism/hindu-muslim-women-sindur-khela/d/125590
New Age Islam, Islam Online, Islamic Website, African Muslim News, Arab World News, South Asia News, Indian Muslim News, World Muslim News, Women in Islam, Islamic Feminism, Arab Women, Women In Arab, Islamophobia in America, Muslim Women in West, Islam Women and Feminis