New Age Islam News Bureau
2 Feb 2018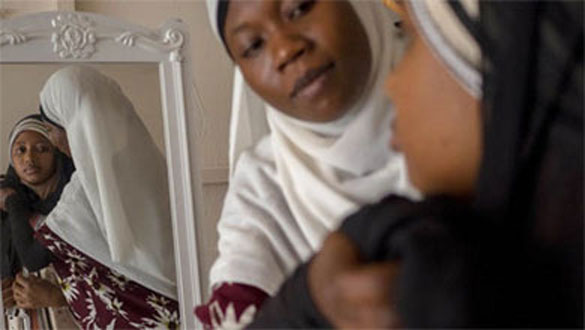 Sekina Abam a muslim hijab fashion designer helps a customer to set up a hijab in her workshop in Accra, Ghana. (AP)
------
• Ghana Sisters Blending Style, Tradition for Muslim Women
• Register Islamic Marriages under Civil Law, Sharia Review Says
• World Hijab Day 2018: Women across the World Don Islamic Headscarf
• Saudi Justice Ministry Launches Legal Issue Fairs for Women and Families
• First-Ever Career Fair Paves the Way for Women In Pakistan's Khyber Pakhtunkhwa Province
• Tehran Hijab Protest: Iranian Police Arrest 29 Women
Compiled by New Age Islam News Bureau
URL: https://www.newageislam.com/islam-women-feminism/hijabs-held-aloft-iranian-women/d/114145
--------
Hijabs held aloft as Iranian women protest compulsory cover-up
1 February 2018
BEIRUT: As images of Iranian women holding their hijabs aloft spread on social media, an influential activist said women are symbolically rejecting the wider "interference of religion" in their lives.
"We are fighting against the most visible symbol of oppression," said Masih Alinejad, who hosts the website My Stealthy Freedom where women in Iran post photos of themselves without hijabs.
Under Iran's Islamic law, imposed after the 1979 revolution, women are obliged to cover their hair with a scarf, known as a hijab, and wear long, loose-fitting clothes. Violators are publicly admonished, fined or arrested.
"These women are saying, 'It is enough — it is the 21st century and we want to be our true selves,'" the Iranian activist told the Thomson Reuters Foundation.
The trend picked up momentum after video and images were posted online of one woman waving a white scarf on a stick in December — a day before demonstrations erupted against economic conditions in eastern Iran, said Alinejad.
Unrest quickly spread across the country and the focus broadened as protesters began calling for Iran's supreme leader, Ayatollah Ali Khamenei, to step down.
The video went viral as police cracked down, and Alinejad said the woman was arrested. She has since been released, according to a Facebook post by Iranian human rights lawyer Nasrin Sotoudeh.
Although the wider anti-government demonstrations have ended, women across Iran are "fed up" and continue to protest against "the interference of religion in our personal lives," said the activist.
Alinejad said she is now flooded with videos and photos of women imitating the viral video and she shares them on the My Stealthy Freedom Twitter account and Facebook page.
"These people are not fighting against a piece of cloth, they are fighting against the ideology behind compulsory hijab," said Alinejad, who called the movement the "true face of feminism."
To campaign against the obligatory wearing of headscarves, Alinejad last year encouraged women to take videos or photos of themselves wearing white and upload them on social media with the hashtag #whitewednesdays.
The #whitewednesdays campaign is part of a larger online movement started three years ago by Alinejad, a journalist who has lived in self-imposed exile since 2009. She has received death threats since her campaigning started.
"I wake up everyday with the voices of these women in my inbox," said Alinejad from New York where she now lives.
"I am full of hope. Civil disobedience is the first step to gain our victory."
http://www.arabnews.com/node/1237741/middle-east
--------
Ghana sisters blending style, tradition for Muslim women
1 February 2018
ACCRA: Two sisters in Ghana are creating Islamic-friendly fashion from the locally produced fabrics that are wildly popular across West Africa.
Sekina Abam, 27, said it can be difficult for women in Ghana to avoid discrimination when wearing the Islamic headscarf known as the hijab. Muslims make up 18 percent of the population.
She and her 32-year-old sister Nefisa found that many hijab options sold in the markets of the capital, Accra, came from outside the country. None came in the vibrant print fabrics for which Ghana is internationally known.
"I said to myself, 'Why not come up with something from myself that will meet the hijab rules while using African prints?'" she recalled.
Now she and her sister share a workshop where they turn out colorful headscarves and flowing, conservative dresses. Sekina is in charge of the clothing line known as Libaas Hilaan that includes everything from casual wear to special occasion apparel, while Nefisa directs the Nefeesah Hijab brand.
Hijabs sell between 30 ($6.50) and 100 ($22) Ghana cedis, while dresses and abayas can sell for as much as 850 cedis. To meet the steady demand for their product after five years, the sisters are now helped by their mother and two other workers.
In recent years, Muslim women in Ghana have been able to wear the hijab more freely at school and in the workplace. In 2015, former President John Mahama proclaimed freedom of faith, opening the way for more displays of religion in the secular country.
For the Abam sisters, the struggle is to find the right balance between fashion and Islam, being mindful of tradition while making something that younger women will feel comfortable wearing on the streets of Accra.
"A woman naturally wants to look beautiful, and coming from an African setting where is Islam is minimal like in Ghana here, it's difficult for her to wear black or something that is print-less, design-less," Sekina said. "She wants to fit in but she also wants to try to obey God a bit. So I decided to come up with these designs that would meet such needs.
"The idea is to make it easy for our Muslim sisters and mothers to wear their hijab so that they will be always motivated to wear the hijab," Nefisa added.
http://www.arabnews.com/node/1237606/lifestyle
--------
Register Islamic marriages under civil law, sharia review says
1 Feb 2018
Muslim couples should undergo a civil marriage as well as a religious ceremony to give women protection under the law, an independent review of sharia councils has recommended.
A report following the 18-month review called for an awareness campaign informing Muslim women of their legal rights, and said sharia councils should be subject to regulation with a code of conduct.
However, the Home Office said it would not adopt the recommendation on regulation.
The closure of sharia councils was "not a viable option", the report concluded.
The review, led by Prof Mona Siddiqui, presented its findings to parliament on Thursday. It was launched by Theresa May in 2016 when she was home secretary to examine whether sharia law was being misused or applied in a way that was incompatible with the rule of law in the UK.
The review said nearly all those using sharia councils were women, and in the vast majority of cases, they were seeking an Islamic divorce. As a "significant number" of Muslim couples do not register their marriages under civil law, "some Muslim women have no option of obtaining a civil divorce".
Muslim women's groups have accused the councils of being discriminatory and regressive. Some councils pressure women to stay in abusive marriages and ignore their rights under British legal systems, they allege.
The report's key recommendation is that Muslim couples should be legally required to civilly register their marriage before or at the same time as their Islamic ceremony.
This would ensure "a greater number of women will have the full protection afforded to them in family law and the right to a civil divorce, lessening the need to attend and simplifying the decision process of sharia councils".
It also said "cultural change is required within Muslim communities so that communities acknowledge women's rights in civil law, especially in areas of marriage and divorce".
The report recommended awareness campaigns and educational programmes to inform women of their rights and responsibilities.
A majority of the review panel backed a proposal for a self-regulatory body, consisting of sharia council panel members and specialists in family law, which would construct and implement a code of practice for sharia councils. One member of the review panel dissented from this recommendation.
In a statement, the Home Office said: "We will not be taking forward the review's recommendation to regulate sharia councils. Sharia law has no jurisdiction in the UK and we would not facilitate or endorse regulation, which could present councils as an alternative to UK laws.
"In Britain, we have a long tradition of freedom of worship and religious tolerance, where many people of different faiths follow religious codes and practices, and benefit from their guidance. The government has no intention of changing this position."
The Home Office said it would carefully consider the review's findings and other recommendations.
Estimates of the number of sharia councils in England and Wales range from 30 to 85, the report said, adding that, to the best of its knowledge, there were none in Scotland.
It defined sharia as "an all-encompassing term which includes not only law in the western sense of the word, but religious observances such as fasting and prayer, ritual practices such as halal slaughter, and worship in general".
Sharia councils have no legal status and no legally binding authority under civil law, the report said. If decisions are made that are inconsistent with UK legislation, the law will prevail.
"Sharia councils will be acting illegally should they seek to exclude domestic law. Although they claim no binding legal authority, they do in fact act in a decision-making capacity when dealing with Islamic divorce," it said.
Siddiqui said the review's findings were based on evidence from an array of individuals and organisations.
In her foreword to the report, she said sharia had been "regarded by some as keeping many Muslims isolated, entrenched and with little social and psychological stake in wider British citizenship and civic life".
She went on: "During the course of the review, it soon emerged that religion, culture and gender relations are inextricably intertwined, especially when it comes to family matters and personal law."
The panel included family law experts, a retired high court judge and two imams.
https://www.theguardian.com/law/2018/feb/01/sharia-councils-review-islamic-marriages-uk-law
--------
World Hijab Day 2018: Women across the World Don Islamic Headscarf
Feb 1, 2018
Today is World Hijab Day, a worldwide initiative to fight negativity and discrimination against women who wear the Islamic head covering.
Women from 190 countries are expected to participate in the event, which encourages Muslims and non-Muslims alike to experience life as a hijabi (a woman who wears the hijab).
World Hijab Day is the brainchild of Nazma Khan, a US citizens who moved from Bangladesh to New York City with her family at the age of 11.
Khan told Al Jazeera that the prejudice and hostility she encountered as a hijab-wearing woman ramped up following the 9/11 attacks.
"I was chased, spit on, surrounded by men, called a terrorist, Osama bin Laden," she said.
After discussions with other Muslim women who had undergone similar experiences, in 2013, Khan launched the first World Hijab Day.
The annual event expresses solidarity with Muslim women who wear the hijab, which has become a flashpoint for tensions between secular societies and religious Muslim communities within them.
In addition to a spate of "burka bans" targeting the full-face veil, several countries, including France, Egypt, Syria and Turkey, have seen social and legal debates about the place of the hijab in public life.
A report last year by the Council on American-Islamic Relations found that out of more than 350 Islamophobic hate crimes in the US in the first half of 2017, "15% described a Muslim woman's headscarf as a trigger", Mic reports.
Women of other faiths or none are also encouraged to don a headscarf for the day to gain insight and empathy for women who wear the hijab.
"By walking in my shoes for one day on February 1, women would see that I am no different from them," Khan said.
Supporters of the initiative say it is does not push a certain interpretation of Islam or pressure Muslim women to cover their heads, but simply provides visible support and positivity to counter the stigma which surrounds the hijab in non-Muslim societies.
However, the event has been criticised within the Muslim community as giving succour to hardliners who see head coverings a mandatory element of Islam.
In 2016, Maajid Nawaz, founder of counter-extremist thinktank Quilliam, wrote in The Daily Beast that World Hijab Day ignored the complexities surrounding Islamic modesty codes which are enforced on millions of women, whether through legal or social pressure.
Nawaz added that progressive non-Muslim women were inadvertently playing into this agenda, urging them to remember that "their counterparts in Saudi Arabia, Iran, and under Taliban or Isis rule also require our solidarity in taking their hijabs off".
http://www.theweek.co.uk/91353/world-hijab-day-2018-women-across-the-world-don-islamic-headscarf
--------
Saudi Justice Ministry launches legal issue fairs for women and families
2 February 2018
JEDDAH: The Ministry of Justice on Thursday launched its first legal culture exhibition titled "Knowledge and Enrichment," part of a series aimed at families and women in the Kingdom.
The fairs aim to introduce judicial procedures and services, and raise awareness of women's legal and Shariah rights.
The first exhibition was being held at the Granada Commercial Center in Riyadh from Feb 1-3, before being rolled out to other Saudi cities.
Majid bin Mohammed Al-Khamis, the ministry's general supervisor of media and institutional communication, said that the fair — directed by Justice Minister Walid Al-Samaani — aimed to spread awareness of legal culture to society in general, and especially to raise awareness of legal and Shariah rights and duties to women.
Al-Khamis added that the exhibitions are part of the initiative to highlight the advantages of the justice system, and disseminate legal culture, form part of the ministry's contribution to the National Transformation Program (NTP) 2020, the initiative launched in 2016 to spur growth.
He explained that the first fair includes informative and interactive platforms focusing on the topics the society needed. A team of female experts in Sharia requirements, the law and sociology, will take part.
"The fair will include four main platforms: culture, services, reconciliation and laws — and the specialists will answer visitors' questions. The cultural platform will provide the information needed for better awareness and knowledge of personal status issues, while the services platform will explain the ministry's digital services," he said.
A reconciliation platform has been set up to educate visitors on the importance of settling disputes before going to court, while the laws platform introduces and explains several laws. In addition, English-language speakers will be on hand to assist non-Arabic-speaking visitors.
http://www.arabnews.com/node/1237876/saudi-arabia
--------
First-ever career fair paves the way for women in Pakistan's Khyber Pakhtunkhwa province
2 February 2018
SHAHID SHALMANI
PESHAWAR: A two-day career fair that ended on Thursday will encourage women to expand their work horizons in traditionally male-dominated Pushtun society, organizers believe.
The Women's Employability Summit and Career Fair, organized by Shaheed Benazir Bhutto Women University in Peshawar, was the first of its kind in Pakistan's conservative Khyber Pakhtunkhwa (KP) province.
Students and graduates from 21 women's colleges of KP and Federally Administered Tribal Areas (FATA) attended the fair, where they met more than 30 employers who offered jobs to graduates and internships to students, said Sehrish Zafar, assistant director university advancement and media.
She said that the university had signed an agreement with the Small and Medium Enterprises Development Authority (SMEDA) that will allow it to take over the Women Business Development Center of SMEDA, which helps students and graduates launch startups.
About 30 stalls offered promotions at the fair. Sana Ikram, of Fazaia College of Education for Women, who was managing a Montessori education stall, said: "Our institution offers one-year diploma and also short courses in the Montessori method of education. We are here to raise awareness among people about this method of education because we offer training for teachers."
Items on display in the stall had been brought from Australia and included numerical rods to teach numeracy to children and geometrical insets that help pupils learn how to hold pencils.
Ikram said that women in KP mostly prefer teaching jobs and face problems in other fields.
Zahwa Khan, a 22-year-old student at the university, runs a business from home cutting and polishing gemstones with help from her brother. She said online videos had taught her techniques to improve her work.
Women had been given the role of housewife in society, but events such as the career fair sent a message that they could do many other things, including jobs and businesses, she said.
Fariha Jaffar Bajwa, a member of the National Commission on the Status of Women, told Arab News that the event was unique in KP because it was exclusively for women. She said there was a time when women would be barred from education but now their education rate was improving.
"It's the same in the case of jobs," she said. "Although jobs and businesses at one time were not considered appropriate for women, now society is changing — but change doesn't come overnight," she said.
"According to law, women also have a 10 percent quota in jobs, in addition to open merit, but the implementation of the law is an issue," said Bajwa, a lawyer based in Islamabad.
The university's Vice-Chancellor, Professor Dr. Razia Sultana, said that the province would have a strong job market in future and that the region would be a business hub under the China-Pakistan Economic Corridor project.
"The special economic zones being developed in KP require people with professional and other skills and hopefully these will employ a good number of women," she said.
Sultana said several companies had offered jobs and internships to graduates and students at the event, including Jubilee Insurance, with 100 positions, and Pearl Continental, with three positions.
"Boys often have networks and job opportunities. Today's career fair for female graduates and students is like a network to raise awareness among both employers and students, and to bridge the gap between the academic and applied sides," she said.
Students often married during or shortly after their studies, and the career fair also provided graduates with "soft" jobs they could do at home to support their families, Sultana said.
http://www.arabnews.com/node/1237781/world
--------
Tehran hijab protest: Iranian police arrest 29 women
2 Feb 2018
Police in Iran's capital have arrested 29 women accused of being "deceived" into joining protests against a law that makes wearing the hijab compulsory.
Women across the country have been protesting by climbing onto telecom boxes, taking off their headscarves and waving them aloft on sticks.
Although women in Iran have fought against the hijab for nearly four decades, the new wave of protests has grabbed more attention and sparked a debate rarely seen before over personal freedoms.
One recent image taken from Mashhad shows a religious woman, in full chador, standing on a telecoms box holding up a headscarf, in solidarity with women who - unlike her - don't want to wear it.
Tehran police said on Thursday that the campaign had been instigated from outside Iran through illegal satellite channels. "Following calls by satellite channels under a campaign called White Wednesdays, 29 of those who had been deceived to remove their hijab have been arrested by the police," the semi-official Tasnim news, which is affiliated to the elite Revolutionary Guards, reported on Thursday.
The reformist Shargh newspaper covered the protestsunder the headline "Reactions to the removal of headscarves in the streets". Such discussions have rarely reached national newspapers, which operate under heavy censorship, but comments by judicial officials allowed Shargh to write about the matter.
Soheila Jolodarzadeh, a female member of the Iranian parliament, said the protests were the result of longstanding restrictions. "They're happening because of our wrong approach," she said, according to the semi-official Ilna news agency. "We imposed restrictions on women and put them under unnecessary restrains. This is why ... girls of Enghelab Street are putting their headscarves on a stick."
Iran's prosecutor general, Mohammad Jafar Montazeri, described the protests on Wednesday as "childish", "emotionally charged" and instigated "from outside the country".
Masih Alinejad, a US-based journalist and activist, started the White Wednesdays campaign in May 2017, encouraging women to wear white headscarves or take them off in protest at the rules.
"The Iranian police announced in 2014 that they've warned, arrested or sent to court nearly 3.6 million women because of having bad hijab, so these arrests are not new, if people are protesting it's exactly because of such a crackdown," she told the Guardian.
Iranian officials have accused her of receiving money from foreign governments to fund her two separate anti-compulsory hijab campaigns – the first one is My Stealthy Freedom. Alinejad denied it, saying that although she works for the US government-funded Voice Of America service, she has received no funds for either of her campaigns.
https://www.theguardian.com/world/2018/feb/02/tehran-hijab-protest-iranian-police-arrest-29-women
--------
URL: https://www.newageislam.com/islam-women-feminism/hijabs-held-aloft-iranian-women/d/114145
New Age Islam, Islam Online, Islamic Website, African Muslim News, Arab World News, South Asia News, Indian Muslim News, World Muslim News, Women in Islam, Islamic Feminism, Arab Women, Women In Arab, Islamophobia in America, Muslim Women in West, Islam Women and Feminism