New Age Islam News Bureau
20 Feb 2017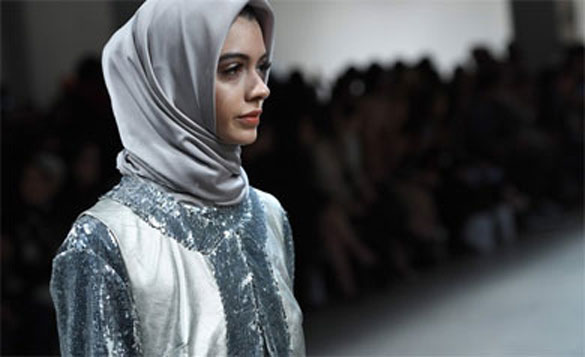 A model walks the runway for the Anniesa Hasibuan show during New York Fashion Week on February 14, 2017, in New York City. / AFP PHOTO / Angela Weiss
-----
• 'Leave the Muslim Woman Alone'
• Pak Female Journalists Demand Resolution of Their Problems
• 95% Muslim Women Unaware Of Personal Law Board: Study
• Syrian Men Urged To Take Up Second Wife
• ISIS Rapes and Tortures Sunni Arab Women Too: Human Rights Watch
• Against All Odds: Pakistan-Born Woman a Leading Engineer At NASA
Compiled by New Age Islam News Bureau
URL: https://newageislam.com/islam-women-feminism/hijabs-modest-style-made-powerful/d/110141
--------
Hijabs and modest style made a powerful statement at New York Fashion Week
February 20, 2017
In just two seasons, Indonesian Muslim designer Anniesa Hasibuan has made the hijab her trademark – and dazzled New York fashion week's catwalk this week by styling it with flowing, iridescent gowns fit for a princess.
Like in her New York show last fall – which cemented her status as a rising star – all of the models who showcased Hasibuan's Autumn/Winter 2017 collection sported lustrous grey hijabs that sculpted the facial features while carefully covering the hair.
Other than the hijab, the traditional head and neck covering many Muslim women wear, the 30-year-old designer's clothes evoked nothing of the "modest Muslim" style that sometimes stirs controversy and exacerbates anti-Muslim sentiment in western countries.
On the contrary, Hasibuan's collection features shimmering, on-trend pleats, silver and golden ruffles, and long trains adorned with pearls, glitter or embroidery that recalled royalty of the Middle Ages.
The models were not chosen at random – the young designer held casting calls specifically seeking first and second-generation immigrants, seeking to show that "fashion is for everybody."
"There is beauty in diversity and differences – something we should not be afraid of" she said through an interpreter.
"I believe being a fashion designer can bring a lot of changes – and beautiful changes, of course."
She unveiled her second New York collection amid controversy over US President Donald Trump's recent executive order on immigration, currently blocked by a US court, that bars refugees and migrants from seven Muslim-majority nations. The decree ignited mass protests and global condemnation.
Hasibuan, however, aims to keep her work, which is primarily geared toward Muslim women, "separate" from politics.
"I'm here bringing the beautiful voice of the Muslim women, the peace and the universal values that fashion can offer," she said.
Her dream, she said, would be to dress Kate Middleton, whom the designer said is "like a queen," adding that she admires the Duchess of Cambridge for "her elegance."
Hasibuan won worldwide praise for her fall collection in New York last September, the first to feature a hijab in every look.
Since then she has opened new stores in her home country Indonesia as well as in Malaysia, Turkey and Abu Dhabi – proffering modern Islamic clothing dripping in glamour.
Chiara Sari, Indonesia's vice consul in New York, donned a white hijab atop a black, velvet top and black pants to attend the show, pulling her contemporary look together with a statement necklace.
The hijab, Sari said, is Hasibuan's "trademark, and I don't think she will lose that."
Since Trump's contentious decree Sari said she has spent significant time reassuring her fellow Indonesians in the United States, while also urging them to "avoid traveling abroad" to reduce the risk of not being able to re-enter.
For Sari, Hasibuan's growing fame is a gift. "Hopefully that will increase familiarity with Islam in general, especially now when it is getting a lot of bad press," she said. – AFP Relaxnews
http://www.star2.com/style/2017/02/20/hijabs-and-modest-style-made-a-powerful-statement-at-new-york-fashion-week/
--------
'Leave The Muslim Woman Alone'
FEBRUARY 20, 2017
Writer seeks to challenge the myth that Muslim women are oppressed
Nearly three decades ago, Qaisra Shahraz wrote a story about how a young Muslim girl called Miriam's choice of apparel — a pair of jeans and a small top — upset her prospective parents-in-law. That story, A Pair of Jeans , has been translated into many languages, including Malayalam, and is studied in colleges. The Pakistan-born Qaisra, who is living in England, has gone on to write more fiction, including a critically acclaimed novel The Holy Woman . She is a feminist and educationist. She spoke to The Hindu during her recent visit to Kozhikode. Excerpts from the interview:
How do you think life has changed for the Muslim woman since you wrote A Pair of Jeans ?
For the better, from a Muslim girl's point of view. Muslim women have gained better identity around the world. If they are wearing a veil, or hijab , that is mostly their own choice. Only in some countries like Iran, Saudi Arabia and Afghanistan, they are forced to wear it.
I am fighting to challenge the myth that the Muslim women are oppressed. I have interviewed around 100 women around the world, including 32 in India and 31 in Indonesia, besides those in Germany and England. Every single Muslim woman is unique. She is a product of where she lives, her family background, the culture she lives in and the generation she belongs to. At the moment, however, in countries like England, where I live, many Muslim women are victimised. In the West, there is a lot of Islamophobia. Many Muslim women are targeted for wearing the veil. I do not wear a veil, but my sister does, though our father tried to stop her. Leave the Muslim woman alone.
Are women in Pakistan happy and free?
Eighty per cent of them are free. In Lahore, every woman is free, but when you go to a tribal area, where there is the influence of the Taliban, things could be different.
There have been a lot of issues regarding cultural exchanges between India and Pakistan. Indian films were banned — till recently — there, while artists from that country find it difficult to work here.
I am not happy about it. For me, coming to India is like coming home. When I go to Pakisan, I tell, even at government functions, that I love India.
What has been the reaction to it?
They are surprised.
I am always dismayed when politicians try to create conflicts for us. We want to live in peace; we want to communicate with each other.
I want to come here any time I want to. I feel at home in India. I watch Starplus and love all those Indian television dramas. To me, Indian films are the best in the world. My favourite music is Indian.
Were you surprised when Great Britain voted to exit Europe?
I was one of the Remainists. I go to Germany and work there as an educationist. It is better to be part of the bigger market than isolate yourself on a small island. As a migrant, as a foreigner, I would feel better protected, because there are European courts for my human rights.
But, I am more concerned with what is happening in America. President Donald Trump has legalised hatred. It is frightening.
U.S. President Donald Trump has legalised hatred. It is frightening.
http://www.thehindu.com/todays-paper/tp-national/tp-kerala/leave-the-muslim-woman-alone/article17332197.ece
--------
Pak Female Journalists Demand Resolution of Their Problems
February 19, 2017
Karachi - A delegation of female journalists and publishers met with secretary information at his office here on Saturday and discussed the issues pertaining to them. Acknowledging female journalists' positive role, Secretary Information Imran Atta Soomro assured them that their problems would be solved on priority basis. He termed it his moral and ethical responsibility to solve the problems of female journalists and publishers. The delegation consisted of Women Publishers (APNS) Chairperson Fauzia Shaheen, Zahida Abbasi, Haseena Jatoi and Sidra Khattak. Members of the delegation complained that they were not invited to the government programmes. Secretary information replied that he would look into it and in future they would be invited. On this occasion, Press Information Director Zeenat Jehan was also present.
http://nation.com.pk/karachi/19-Feb-2017/female-journalists-demand-resolution-of-their-problems
--------
95% Muslim women unaware of personal law board: Study
Niyati Parikh
Feb 20, 2017
AHMEDABAD: While there have been nationwide signature campaigns by Muslim groups against the abolishing of Triple Talaq practice, a nationwide study shockingly states 95.5% of Muslim women across the country have not heard or are unaware of the All India Muslim Personal Law Board (AIMPLB).
The board has been long opposing the abolishment of Triple Talaq. In fact, last year in October, the organization 'Jamiat-e-Ulma-I-Hind' in Ahmedabad claimed they have garnered the support of at least 2.50 lakh people, which included a large number of Muslim women, for whose rights votaries of a uniform civil code law and advocates of triple talaq have been campaigning. However, the findings of the study, conducted by Bharatiya Muslim Mahila Andolan (BMMA), paint a different picture, as most Muslim women are not even aware of the board's existence.
Commenting on the issue, Zakia Soman, founding member, BMMA, said, "The entire premise of the signature campaign to garner support for the triple talaq issue is questionable here because when women are not aware of the board, how are they supposed to know what it propagates and stands for," said Zakia Soman, founding member, BMMA.
Soman, who is also leading the campaign to abolish the oral divorce practice, said, "There is a need for a comprehensive reform in Muslim personal law. Therefore, the government must bring in Muslims Family Law which is based on Quran, and which also confirms upon the constitutional principles of justice and equality."
Members of AIMPLB recently criticized the central government over its stand to ban the 'triple talaq' practice claiming that Muslim community is in support of the practice. However, contrary to this, the findings of the study indicate that 92.1% women want a total ban on oral/unilateral (which also includes divorce declared through phone, letter, SMS or even, e-mail, according to the survey) divorce. They are demanding equal status for women legally and socially since the beginning.
Mufti Abdul Qayyum Mansuri, vice-president of Jamait-E-Ulma-IHind's, Gujarat chapter, who led the signature campaigns, said, "Women of Muslim community are often being exploited in the name of triple talaq and this is solely due to the mistakes and irresponsibility young men show. In fact, we are making attempts to spread awareness and sensitize members of our own community regarding the issue."
"Our fight is not against the triple talaq, but rather against the Uniform Civil Code. We don't want that in the name of issuing a ban on triple talaq, the advocacy groups are making way for the implementation of the uniform civil code as it comes in the way of the religious rights of people from different religions and not just Muslims," he added.
http://timesofindia.indiatimes.com/city/ahmedabad/95-muslim-women-unaware-of-personal-law-board-study/articleshow/57240257.cms
--------
Syrian men urged to take up second wife
February 19, 2017
Damascus: The First Sharia Judge of Damascus is a religious authority who presides over the six Islamic courts at the Palace of Justice — a post that rarely gets exposure in the media.
However, last week he became the talk of the town overnight when he ruled that Syrian men should take a second wife in order to help unmarried women make ends meet in times of war.
"A second marriage is one of the ways to deal with spinsterhood (or 'unusah' in Arabic; a term used in reference to an unmarried woman past the usual age for marriage)" said Judge Mahmud Maarawi.
A six-year civil war has seen hundreds of thousands of men die, thousands languishing in jail and millions flee the country in order to secure jobs abroad or avoid the military draft.
Syria's population is now estimated at around 18 million, down from its pre-war population of 24 million — although no official figures have been released.
Woman now make up approximately 65 per cent of the population and millions of women are finding it increasingly difficult to find a husband.
Despite a slew of abusive attacks directed at him on social media, Maarawi defended his ruling as "a realistic approach" while admitting that it is a solution "women will not like".
In Islam, a man is allowed to take four wives at the same time, if of course, he treats them equally and justly — a monumental responsibility that few men can live up to or dare to take on.
According to Akram Al Kash, dean of the Higher Institute for Population Studies, "Before the crisis, there was a steady rise in the marriage age of both sexes.
Women would be married, on average, by the age of 25 while men would be married by the age of 30.
After the civil war, the average went up to 35 years for women and 37 years for men.
Abu Al Huda Al Khatib, a Damascus-based cleric, added: "We support Maarawi. He said nothing that contradicts with the laws of Sharia. This is a major problem that we are facing and we need to deal with, seriously and boldly. We have women who are drifting into traditionally male dominated professions, like cab drivers and labourers. They need to get married and are finding a hard time doing so because of economic hardships and the shortage of men in society."
As a result of the war, many women are delayed in getting married because men can no longer afford it, fleeing the country or fighting. Conversely, many families who can no longer afford to feed their female daughters have been forced to marry them off while they are still underage.
The situation in rebel-held areas is particularly dire due to the higher number of male deaths, disappearances and arrests.
Rebel leaders often gave sizeable stipends to men who marry widows or daughters of deceased fighters.
http://gulfnews.com/news/mena/syria/syrian-men-urged-to-take-up-second-wife-1.1981164
--------
ISIS Rapes And Tortures Sunni Arab Women Too: Human Rights Watch
February 20, 2017
BAGHDAD: Fighters from the terror group ISIS, whose abuses against Yazidi women have been well documented, are raping and torturing Sunni Arab women too, Human Rights Watch said Monday. The watchdog documented cases of arbitrary detentions, beatings, forced marriages and rape by the terrorists on women who have fled the Iraqi town of Hawijah, which is still under ISIS control.
HRW recounted the story of Hanan, 26 , whose husband had already fled Hawijah, who was captured by ISIS along with other women when they also attempted to escape the town.
ISIS terrorists told her that her husband's flight made her an apostate and that she should marry the local terror leader.
When she refused, she was blindfolded, beaten with plastic cables, suspended by her arms for some time and then raped.
"The same guy raped me every day for the next month without a blindfold, always in front of my children," Hanan told Human Rights Watch.
The group said the issue was not given enough attention and that too little was being done to tackle the stigma that prevents many more victims from coming forward.
"Little is known about sexual abuse against Sunni Arab women living under ISIS rule," said Lama Fakih, deputy Middle East director at HRW.
"We hope that the international community and local authorities will do all they can to give this group of victims the support they need," she said.
ISIS terrorists believe the mass rape and sexual enslavement of women from the Yazidi minority - who are neither Arab nor Muslim - are legitimate as they are "polytheists". The accounts collected by Human Rights Watch often refer to ISIS accusing the women of apostasy, or abandoning their faith, before abusing them.
http://www.ndtv.com/world-news/isis-rapes-and-tortures-sunni-arab-women-too-human-rights-watch-1661369
--------
Against all odds: Pakistan-born woman a leading engineer at NASA
AADIL SHADMAN
The story of a Pakistani born woman, who survived the war in the Gulf, lived as a refugee in the desert and then went on to become a part of NASA is definitely heart-warming.
Hibah Rahmani is a rocket engineer at NASA and her tale serves as a role model to girls all over the world, that no matter how bleak things appear at times, they have it within themselves to defy all odds and break stereotypes.
Background
Rahmani was born in Pakistan. Her family moved to Kuwait when she was barely a month old. She spent a peaceful childhood in the Arabian Gulf, until war broke out between Iraq and Kuwait in the early 90s.
"My fondest memory growing up is taking walks with my family at night, either in the desert or on the sidewalk by the Arabian (Persian) Gulf, looking up at the sky to admire the moon and stars, and thinking about astronauts such as Neil Armstrong who have stepped on the moon," she said. "It was around this time I developed a passion for science, space and astronomy."
However, those memories came to an end when Iraq invaded Kuwait in 1990 and she had to flee with her family to no man's land near the Iraq-Jordan border. They reached at night and the camp was out of tents. Her family had to spend the nights under an open sky in the desert.
While that time was characterised by misery and hardships for her and her family, it was also the start of something pure – her newfound love for stars.
"Even though this was a tough time for us, one of the things I remember from that night was having a nice view of the sky with the golden moon and stars, while trying to sleep on the cold desert sand. It reminded me of my goals and dreams."
After a brief stay in Jordan, she traveled with her mother and sister to Pakistan. Her father was in the US at the time of the invasion but the family got reunited back in Pakistan. This incident served as the catalyst for her newfound dream, and she was determined to make it to where she can take her study of stars further – NASA.
Educational Background
The US-led coalition brought an end to the Gulf War and a ceasefire was signed in February 1991. Rahmani moved back to Kuwait with her family and decided to become an engineer.
After completing high school in Kuwait, she moved to the US in 1997 and completed her bachelor's in computer engineering at the University of Central Florida (UCF). After graduating in 2000, she started working for Boeing as a systems engineer for the International Space Station (ISS).
"I was involved with integrated testing of the ISS components and sometimes astronauts would stop by to either view or participate in the testing," Rahmani said.
"It is during this time that I developed a strong desire to become an astronaut and started taking steps toward that goal."
This led her to complete a more advanced degree, this time a masters in electrical and computer engineering from Georgia Tech between 2002 and 2005.
Career in NASA
In 2008, Rahmani accepted her current position at NASA's Engineering and Technology Directorate at Kennedy.
"I support NASA's Launch Services Program, working on expendable launch vehicles such as the Pegasus XL and Falcon 9," she said.
"I provide technical expertise, follow launch vehicle testing, perform data reviews and provide technical assessments of engineering issues."
Pegasus is the Orbital Science Corp's rocket used for launching payloads while the Falcon 9 is a SpaceX launch vehicle used to boost the Dragon spacecraft to the space station for resupply missions.
Hibah says "The happiest and most exciting moment of my job is to watch a rocket take off from the launch pad and go into space."
Her strong passion for her work is evident from her voluntary public affairs activities to inspire others. She says "I love to inspire others. I speak to students at local schools about my career and have volunteered as a science fair judge."
She also provides real-time updates to NASA's LSP Twitter and Facebook accounts during launch countdowns when she is not providing engineering support to the mission staff. \
Her Message
"I have the privilege of working with an amazing team, while doing what I love," she says. Her key to success is that she sets some very high goals.
"The experiences of my life have taught me to always dream big and to never give up, because you can achieve whatever you want if you work hard."
She asks the youth, especially girls, to "stay focused and dream big." That is the philosophy she followed ever since she fell in love with the stars in a desolate Jordanian desert.
This article originally appeared on ProPakistani and has been reproduced with permission.
http://www.dawn.com/news/1315725/against-all-odds-pakistan-born-woman-a-leading-engineer-at-nasa
--------
URL: https://newageislam.com/islam-women-feminism/hijabs-modest-style-made-powerful/d/110141
New Age Islam, Islam Online, Islamic Website, African Muslim News, Arab World News, South Asia News, Indian Muslim News, World Muslim News, Womens in Islam, Islamic Feminism, Arab Women, Womens In Arab, Islamphobia in America, Muslim Women in West, Islam Women and Feminism, Moderate Islam, Moderate Muslims, Progressive Islam, Progressive Muslims, Liberal Islam