New Age Islam News Bureau
18 Nov 2018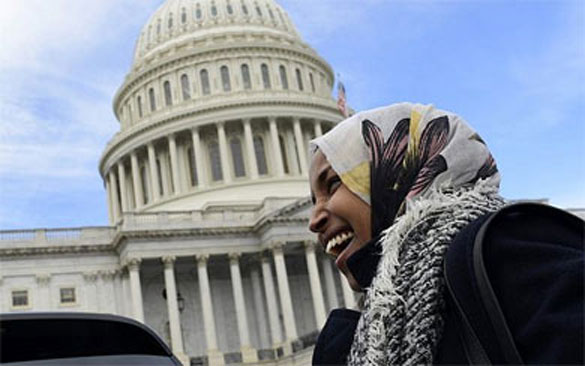 Rep.-elect Ilhan Omar, D-Minn., smiles during an interview following a photo opportunity on Capitol Hill in Washington, Wednesday, Nov. 14, 2018, with the freshman class. (AP/Susan Walsh)
------
• Saudi Ground Services Reveals Plans to Hire 2,000 Women in Five Years
• Rojava Women Demand Role In Drafting Syria's Constitution
• Banning Headscarf-wearing Nigerian Girls from School Amounts To 'Religious Bigotry,' Nigeria's Apex Muslim Body
• The Shifting Narrative of Women's Role in Jamaat-ul-Mujahideen Bangladesh's Islamic Jihad
• Arab Women Protest Began To Wear Clothing Backwards
Compiled by New Age Islam News Bureau
URL: https://www.newageislam.com/islam-women-feminism/hijabs-kippas-be-allowed-us/d/116910
--------
Hijabs and Kippas May Be Allowed In U.S. Congress for First Time Since 1837
Nov 18, 2018
Democrats in Congress are looking to roll back a 181-year-old rule banning head coverings under the Capitol dome, allowing Jewish skullcaps and Muslim headscarves to be worn by legislators.
The rule change, part of a larger reform package, is being pushed by Ilhan Omar, one of two female Muslims who became the first to be elected to Congress this month.
Omar, a Somali-born Minnesotan, wears a hijab, a head covering favored by some religious Muslim women. Michigan's Rashida Tlaib, the other Muslim woman elected to Congress earlier this month, does not wear a head covering.
"No one puts a scarf on my head but me. It's my choice—one protected by the first amendment. And this is not the last ban I'm going to work to lift," Omar wrote on Twitter Saturday.
The proposal, which is backed by top Democrat Nancy Pelosi and Massachusetts Rep. Jim McGovern, the incoming rules chairman, would create a religious exception on the no-head covering rule, according to Roll Call magazine.
Aside from hijabs, Jewish skullcaps, also known as kippas, would be allowed, as well as other religious headgear, according to the report.
The hat ban, which only covers the House of Representatives, was put in place in 1837, after several unsuccessful tries, including in 1822, when the rule was shot down because members complained there would be no place to put their hats, according to Politifact.
The Senate does not have a formal rule barring hats, but informal rules keep heads in the upper house bare.
It's not clear if the rule would help Florida Rep. Frederica Wilson, who has had to legislate without her stylish collection of sequined cowboy hats since coming to Washington in 2010.
That year, Wilson unsuccessfully tried to get the hat rule revoked so she could sport her headpieces on Capitol Hill.
"It's sexist," Wilson told the Miami Herald at the time. "It dates back to when men wore hats and we know that men don't wear hats indoors, but women wear hats indoors."
https://www.timesofisrael.com/hijabs-and-kippas-may-be-allowed-in-congress-for-first-time-since-1837/
--------
Saudi Ground Services Reveals Plans to Hire 2,000 Women in Five Years
November 17, 2018
JEDDAH: Saudi Ground Services, which provides services to airlines and passengers at airports, is planning to step up its recruitment of Saudi women by hiring almost 2,000 in the next five years.
The company hired its first Saudi woman in December 2017. Since then it has employed dozens and plans to recruit more, which it says reflects its awareness that empowerment of women is a key priority of the Kingdom's's Vision 2030.
"Today we have about 170 female employees, and in the five years to come we will be hiring about 5,000 women," said CEO Omar Najjar. He added that the company's belief in equal employment opportunities for both genders is in keeping with Vision 2030's aim to empower and encourage women to work in the government and private sectors.
The company is following a well-prepared recruitment plan to maintain the quality of its services he said, and added that women could work for SGS in administrative, planning, marketing, communication, public relations, human resources, information technology and legal affairs jobs.
"They can also be helpful at airport lounges as customer-services officers and they provide the necessary soft care to people with special needs," he added.
To meet the objectives of the Kingdom's National Transformation Program (NTP) 2020, Najjar said SGS is working hard to implement its own transformation plan, which aims to make SGS the preferred choice of ground-handling company in the Kingdom and the region, by restructuring the company and enhancing its services to meet world-class standards.
"The company sees the human element as one of the key success factors for the transformation plan," he said. "We have recently, through the SGS Academy, introduced a range of new specialized training programs for both male and female employees."
http://www.arabnews.com/node/1406506/saudi-arabia
--------
Rojava Women Demand Role In Drafting Syria's Constitution
Nov 18, 2018
ERBIL, Kurdistan Region – Women in Qamishli, northern Syria held a workshop on Saturday to highlight their role in the future of Syria and the need to include them in the drafting of the country's new constitution.
The international community and regional states are preparing to set up a committee to draft a new constitution for Syria, seven years after the brutal repression of anti-regime protests in 2011 plunged the country into civil war.
Saturday's workshop was organized by the pro-opposition magazine Bercav, established in Kobane in 2013. It addressed the rights and obligations of women in the future of Syria and asserted the role they must play in the peace process.
"We discussed in the workshop the need for the inclusion of women in the committee that will be set up to draft the constitution," said Rohim Mustafa Bakir, who took part in the workshop. "And we also highlighted what would be the role of women in the future Syria, and Kurdish women in particular."
They also stressed that Kurdish rights must be fixed in the new constitution.
"We understand that those who should draft a constitution must have experience and expertise in it, but women's rights must be enshrined in it," said another participant, Esmehan Dawud, who called for more such workshops to be organized around northern Syria – known to Kurds as Rojava.
Attendees hope to raise the demand for their inclusion with the United Nations.
The Kurdish National Council (ENKS) – which is supported by the Kurdistan Region of Iraq's Kurdistan Democratic Party (KDP) – is the only Kurdish organization participating in the Syrian armed opposition's UN-led peace process.
Since the outbreak of civil war in Syria, large parts of the country's north have been controlled by the Democratic Federation of Northern Syria – dominated by the Democratic Union Party (PYD), the Syrian Democratic Council (SDC), and its military wing, the Syrian Democratic Forces (SDF).
The SDF – an Arab-Kurdish force – liberated swathes of territory from ISIS control. Women played a central role in anti-ISIS operations – particularly the all-women YPJ – capturing the public imagination worldwide.
Syrian President Bashar al-Assad, who has secured a string of victories against ISIS and the armed opposition in recent months thanks to Russian military backing, has threatened to retake the northern provinces by force.
Concerned their US allies may withdraw from northern Syria following the defeat of ISIS remnants in Deir ez-Zor, the SDC has held tentative negotiations with Damascus officials.
http://www.rudaw.net/english/middleeast/syria/171120182
--------
Banning Headscarf-wearing Nigerian Girls from School Amounts To 'Religious Bigotry,' Nigeria's Apex Muslim Body
Nov 18, 2018
Shutting out Muslim girls from school for wearing headscarves amounts to unacceptable religious bigotry and a violation of the Constitution, Nigeria's apex Muslim body said on Saturday, a day after nine pupils were told to leave a school in the southwest Oyo State.
The nine Muslim teenagers were prevented from entering the International School Ibadan (ISI) compound on Friday because they wore headscarves, barely a week after the government in southwestern Lagos officially approved the wearing of headscarves by Muslim girls. The government decision came two years after its circular banning headscarves was struck down on appeal.
In a statement on Saturday, the Nigerian Supreme Council for Islamic Affairs (NSCIA) said the action of the school, located in the premises of the country's premier University of Ibadan, amounted to official discrimination against Muslims and threatened to sue the violators.
"The denial of the Muslim girls of the right to use their hijab is just a ring in a long chain of institutionalised religious discrimination against Muslims in the school, which should ordinarily be a centre of excellence where learning, probity, excellence and character are respected," NSCIA spokesman Salihu Shehu said in a statement.
"We strongly condemn the management of ISI and warn the principal that she will be held responsible for whatever her administrative incompetence and religious intolerance precipitate in this matter.
"Muslims in Nigeria can no longer fold their arms and watch their rights being unabashedly trampled upon by minions and tin-gods who find themselves in some positions of authority," the statement read.
Headscarves have increasingly become a symbol of Muslims' rejection of the British colonial legacies in Nigerian public life.
In 2017, a Muslim female law graduate was barred from a call to bar event in the capital Abuja for wearing a headscarf, precipitating anger from the Muslim community and a debate over the country's controversial secular status.
Barrister Firdaus Amasa was later called to the bar with her headscarf after the country's council on legal education backed down. In a 2016 ruling, a court said wearing headscarves qualifies as a human right under the country's Constitution.
https://www.dailysabah.com/africa/2018/11/17/banning-headscarf-wearing-nigerian-girls-from-school-amounts-to-religious-bigotry-muslim-body-says
--------
The Shifting Narrative of Women's Role in Jamaat-ul-Mujahideen Bangladesh's Islamic Jihad
By: Animesh Roul
November 17, 2018
Bangladesh's most lethal home-grown militant organization, Jamaat-ul-Mujahideen Bangladesh (JMB)—which has multiple ideological and operational factions, including the Islamic State (IS)-inspired neo-JMB and al-Qaeda linked core Jamaat-ul-Mujahideen (JM)—has gained notoriety over the last few years for recruiting and nurturing a network of women militants. Despite robust counter-terrorism operations following the July 2016 Holey Artisan Bakery attacks in the capital Dhaka, an alarming number of women are taking up the cause of militancy. The intermittent arrests and events involving JMB's women operatives across the country and beyond in the last couple of years have become a major headache for Bangladesh's security establishment.
Two cases in 2018 involving JMB's female operatives made national and international headlines. In February 2018, two sisters linked to the neo-JMB faction and inspired by the IS's jihadist ideals were arrested and charged for carrying out separate knife attacks in both Melbourne, Australia and in Dhaka. On February 9, Momena Shoma, a Bangladeshi student enrolled to study linguistics at La Trobe University stabbed her homestay's landlord Roger Singaravelu in the neck to fulfil a moral obligation to the Islamic State's call for jihad (Sunday Morning Herald, February 14; Prothom Alo [Dhaka], September 21). Her sister, Asmaul Husna, carried out a similar knife attack targeting Dhaka Police's Assistant Commissioner Tohidul Islam on February 12 when the local police officials were enquiring about the Melbourne incident and possible JMB-IS links (Daily Star, February 14). Both sisters were in their early twenties and admitted to their neo-JMB links and IS inspiration during the following investigations.
In Bangladesh, myriad militant extremist groups such as the JMB, Ansar al-Islam (formerly Ansarullah Bangla Team) and Hizbut Tahirir-Bangladesh (HT-B) have been engaging women operatives mostly for religious teaching and as supporting members like couriers and informants. A new trend has been emerging since mid-2016, where women operatives are found to be carrying out violent combat operations. One media estimate suggested that by December 2016, Bangladesh police had arrested at least 20 women militants from different groups including JMB, with evidence of a possible all-women suicide team (The Independent, December 25, 2016).
Evidently, JMB is a pioneer in engaging women for jihadist activities that include suicide missions in addition to supporting tasks. They even trained the women cadres to use hand grenades and knives. Between July and September 2016, Bangladeshi authorities arrested around 12 women JMB operatives. [1] In early September 2016, the detective branch of the Bangladesh police arrested four female members of JMB belonging to a suicide group from the Kazipur area of Sirajganj district. They were arrested in the house of senior JMB leader, Faridul Islam, while holding a meeting to discuss the recruitment of new women cadres to carry out violent attacks (Poriborton News, September 5, 2016).
After two months investigating the suicide bombing conspiracy, Bangladesh police encountered an actual female suicide bomber for the first time. In late December 2016, Shakira, a female neo-JMB member detonated her suicide vest during a search and sweep operation in a JMB safe house located in the Ashkona area of Dhaka while feigning surrender (BanglaNews24.com, December 24, 2016). During this police raid—code-named Operation Ripple 24—the Dhaka Metropolitan Police's Counter-Terrorism and Transnational Crime (CTTC) department arrested two other female neo-JMB jihadists. Not surprisingly, Shakira had been radicalized by her husband, fugitive neo-JMB militant Rashid-ur Rahman Sumon. Like Shakira, most of JMB's women members who were arrested were found to be closely related to the JMB's leadership (Bangladesh News 24, December 27, 2016).
Until April 2018, the counter-terrorism unit, Dhaka Metropolitan Police (DMP), had little to no information on the top leaders of the women's wing of the neo_JMB. With the arrest of Humaira Jakir Nanvi on April 5, the police unearthed the working of the women wing—or "Bat Women" squad—as they were called. Humaira was arrested for her involvement in a foiled suicide attack on August 2017, targeting a National Mourning Day program in Dhanmondi (Bangladesh News 24, August 15, 2017; Daily Star, April 5). The investigations into the foiled suicide attack revealed Humaira as the chief financier of the neo-JMB. She was also in charge of recruiting new women into the rank and file of the group.
Interestingly, in October this year, two neo-JMB operatives identified as Khadija Akhtar Meghna and Israt Jahan—accused in the Holey Artisan Bakery attack case—surrendered after a raid on their hideout in Madhabdi area in Narsingdi district (New Nation, October 18). The irony is that these two female operatives had been arrested earlier, in mid-2016, under suspicion of being involved in militant activities, but were later released as the investigating agency could not establish their militant links.
Like Khadija and Israt, many others were released from custody earlier without any charges. Later, the police found that several female operatives who had been released were becoming involved in these subversive activities. Cases such as this demonstrate law enforcement agencies' lenient attitude toward female suspects, which is commonly exploited by the JMB.
Interrogations with several women operatives suggested that they nurture a specific anger against the Bangladeshi security forces. One of the apprehended militants, Aklima Rahman, confessed to having been trained to target Bangladeshi police and the elite Rapid Action Battalion. During the training, she learned how the security agencies arrested jihadists and tortured their male counterparts in custody and how to avenge those acts.
It is not clear, however, whether the women cadres are pressured into following their husbands, lovers and brothers already waging jihad in the country and beyond, or if they are voluntarily attracted to Islamist ideals. While the police versions depict a narrative of coercion and forced recruitment, the February 2018 knife attacks involving sibling sisters illustrated a different picture of individual motivation, without material assistance or moral push from the neo-JMB.
It is also found that neo-JMB recruited women from beyond their established family networks. The group focused on recruiting those with moderate educational background and who belonged to elite schools and universities. For example, the three female members of the neo-JMB— Aklima Rahman Moni, Khadija Parveen Megna, and Ishrat Jahan—who were arrested on August 15, 2016, were students of Manarat International University in Dhaka. Khadija Akhtar and Ishrat Jahan were arrested again in October this year from Madhabdi in Narsingdi district. Another member arrested around the same time was Istishna Afroz Oishee, an intern at Dhaka Medical College Hospital. Similarly, the sisters involved in the knife attacks in February this year are also well educated and belong to affluent families of Bangladesh. The chief financier and recruiter of the neo-JMB, Humaira Jakir Nanvi, was an alumnus of the North South University (NSU) and had been educated in Malaysia as well (Daily-Sun, April 9).
Unlike the old, core JMB, the neo-JMB faction went a step further in recruiting female militants by romanticizing the concepts of jihad, foreign fighters and martyrdom. The new wave of recruitment and indoctrination of female militants into the fold materialized virtually through the use of various social media platforms such as Facebook, WhatsApp and other encrypted social media applications like Threema and Telegram (Daily Star, August 20, 2016).
While the participation of women in militant violence in the subcontinent (Indian Kashmir and Sri Lanka) is not completely unusual, Bangladesh began witnessing this trend in 2004 when the JMB core established a dedicated women's branch. This so-called "sister branch"—under the guidance of the wives of the top leaders of JMB—was mostly responsible for daawa activities (proselytization) and religious teachings. Between February and April 2009, security officials in Bangladesh arrested nearly 25 suspected JMB female militants who were later released from custody without any charges. These women arrestees never admitted to being a part of the JMB but were family members and relatives of JMB's male operatives (Daily Star, February 21, 2009; Indian Express, April 23, 2009). Bangladeshi agencies, however, admitted that prior to these arrests, they did not have any evidence that JMB had a woman wing or trained female members.
Certainly, the traditional women's roles in Islamic militancy in the country have evolved dangerously over the last few years. Young girls have joined the rank and file of jihadist organizations and have redefined their role in groups like the neo-JMB. With effective female combat units along the lines of al-Qaeda inspired jihadist sisterhood or Islamic State's "jihadist brides" (or for that matter Al-Khansaa brigade), the increasing trend of female participation in militancy or Islamic jihad in Bangladesh is likely to take a novel turn in the coming years.
https://jamestown.org/program/the-shifting-narrative-of-womens-role-in-jamaat-ul-mujahideen-bangladeshs-islamic-jihad/
--------
Arab Women Protest Began To Wear Clothing Backwards
17.11.2018
Some women in Saudi Arabia has decided to Express protest against the Abaya, and more precisely the rule that all women have to wear a long traditional dress in public places. In protest, women will wear the Abaya topsy-turvy.
Using the hashtag "Abaya upside down", they place the photos inside-out dresses that they are forced to wear against their will. And these photos came about 5000.
Most of the posts made in Saudi Arabia. In March, the crown Prince of Saudi Arabia Mohammed bin Salman said that the obligation to wear the Abaya is not legally justified.
He noted that Arab women have to dress modestly, but the Abaya is not the main condition of the dress code as black. One of the wearer of Twitter has said it wants to protest against the customs and state regulations, which endanger the woman's life, if she wants to Express their individuality.
Arab women are forced to work all day in niqab (veil) and the Abaya because they took jobs mixed type. And this is a very heavy burden for a person.
http://micetimes.asia/arab-women-protest-began-to-wear-clothing-backwards/
--------
URL: https://www.newageislam.com/islam-women-feminism/hijabs-kippas-be-allowed-us/d/116910
New Age Islam, Islam Online, Islamic Website, African Muslim News, Arab World News, South Asia News, Indian Muslim News, World Muslim News, Women in Islam, Islamic Feminism, Arab Women, Women In Arab, Islamophobia in America, Muslim Women in West, Islam Women and Feminism