19 December 2021
• Hijabi, Shatu Garko, Becomes First Muslim To Win Miss Nigeria Since Its Inception in 1957
• It's Easier to Wear the Hijab in Moscow than in St. Petersburg or Kazan, Muslim Residents Say
• Israeli police detain Palestinian woman accused of stabbing settler
• Iraq: After Tragedy, New Freedoms, Opportunities For Yazidi Women
• Uyghur Women In China Labor Camps Recall Horror Of Rape, Forced Sterilization
Compiled by New Age Islam News Bureau
URL: https://www.newageislam.com/islam-women-feminism/hijabi-shatu-garko-nigeria/d/125987
--------
Hijabi, Shatu Garko, becomes first Muslim to win Miss Nigeria Since Its Inception in 1957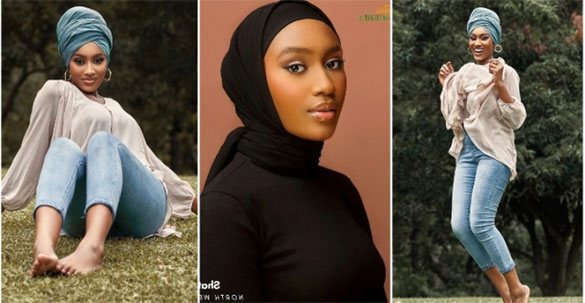 Shatu Garko, an 18-year-old hijabi the first Muslim to win the Miss Nigeria pagean
-----
Abiodun Sanusi
19 December 2021
Shatu Garko, an 18-year-old hijabi has become the first Muslim to win the Miss Nigeria pageant since its inception in 1957.
Garko, who hails from Kano State, was crowned the 44th Miss Nigeria after beating 17 other finalists at an event on Friday, December 17, 2022, in Lagos. She was also the youngest contestant this year, winning N10m, a one-year residency at a luxury apartment, a brand new car and brand ambassadorship opportunities.
Speaking shortly before being crowned Miss Nigeria Garko said, "Winning this competition means a lot to me. I have always wanted to be a Miss Nigeria. I'd like to thank Miss Nigeria and its sponsors. I would also like to thank my mum for supporting and loving me.
Garko had earlier stated that she loves riding horses and is passionate about proving that religion and culture are not barriers to following one's dreams.
Nicole Ikot was the first runner-up, while Kasarachi Okoro emerged the second runner-up. The winner of the 2020 edition of the pageant, Etsanyi Tukura, was present to hand over the crown to her successor at the ceremony.
According to the organisers, thousands of applications were submitted before it was pruned down to the top 37 and an additional three wildcard semi-finalists. Members of the public were also given a chance to contribute to the process of choosing the 21 finalists who made it into the Miss Nigeria Bootcamp, which was further cut down to the top 18 finalists.
Source: Punchng
https://punchng.com/hijabi-shatu-garko-becomes-first-muslim-to-win-miss-nigeria/
-----
It's Easier to Wear the Hijab in Moscow than in St. Petersburg or Kazan, Muslim Residents Say
December 18, 2021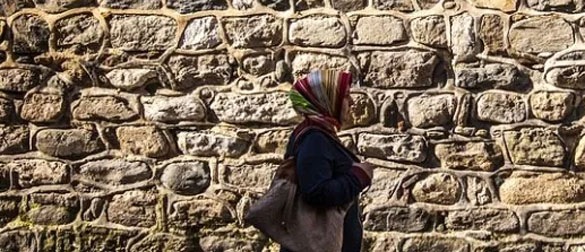 A woman wearing a hijab
----
Paul Goble
Staunton, Oct. 30 – Muslim women say it is easier for them to wear the hijab in the Russian capital than in St. Petersburg where there are few Muslims or in Kazan, the capital of Tatarstan, where the hijab is viewed by many as a foreign import rather than part of the national tradition.
Katyra Dikova of the Muslim feminist site Daptar spoke with four Muslim Muscovites who said that with only rare exceptions residents of the Russian capital either ignore their special form of dress or even view it with interest and express curiosity about Islam and Islamic traditions (daptar.ru/2021/10/31/hijab-v-moskve/).
Karolina Pavlovskaya, who has worked in the capital as a stylist for many years, originally feared she would lose work if she began wearing the hijab. But that hasn't happened. Only once did something untoward happen when the police harassed her. She was ready to give up wearing this Muslim headgear but was persuaded to continue. She's had no problems since.
A second Muslim Muscovite, Elvina, who did not give her last name, says she has been wearing the hijab only a few months, has had no problems because of it, and thinks the reason is that there are lots of Muslims in the capital and people have gotten used to the idea. Any discrimination she is victim of is only what "anyone with a non-Slavic visage" gets.
A third Muslim, Bella, says she started wearing the hijab when the pandemic began. Because so many were covering their faces to protect against covid, few have taken notice of her doing so. She said that the only time she has had difficulties is when she has travelled to St. Petersburg which has fewer Muslims and is less comfortable with them.
And a fourth, "N," says the pandemic has had another impact on her. She only wears her hijab when she is not wearing a mask. She adds that she is more aware of the boorish behavior of people from Central Asia who make assumptions about her when they see she is a Muslim because of her headgear.
Source: windowoneurasia2
http://windowoneurasia2.blogspot.com/2021/12/its-easier-to-wear-hijab-in-moscow-than.html
-----
Israeli police detain Palestinian woman accused of stabbing settler
AFP
December 18, 2021
JERUSALEM: A Palestinian woman on Saturday stabbed an Israeli settler near a disputed holy site in Hebron in the southern occupied West Bank, wounding him slightly, a border guard spokesperson said.
The attack took place near a flashpoint site known to Jews as the Cave of the Patriarch and to Muslims as the Ibrahimi mosque, a place revered by both faiths.
Source: arab News
https://www.arabnews.com/node/1989046/middle-east
-----
Iraq: After tragedy, new freedoms, opportunities for Yazidi women
Cathrin Schaer
18.12.2021
"We really appreciate your visit," Luqman Suleiman told a group of tourists from around Iraq and Germany recently, when he met them at the entrance of the Yazidi temple, Lalish. For the ethno-religious Iraqi minority this site in northern Iraq is the equivalent of the Vatican to Catholics, or Mecca to Muslims. Every Yazidi is expected to come here at least once in their lifetime. And these days, more outsiders are coming here too.
"It is really so important that people come here and listen to the Yazidis," Suleiman, a spokesperson and guide at the temple, said. "You shouldn't listen to other people. They may speak falsely about us."
Suleiman was talking about long-standing prejudices against his community in Iraq. Their highly secretive and ritualistic religion — traditions and rules are passed on orally and outsiders are prohibited from knowing most of them — has made the minority a target of the Muslim majority in the country.
A stall inside the entrance to the Lalish temple in northern Iraq, selling souvenirs to a group of visitors from Iraq and Europe. The spokesperson for the temple, Luqman Suleiman, can be seen facing the camera, second from the left.
The Yazidi faith has been described as "dualist" because they believe that good and evil are part of the same divinity. This is also why some Iraqis have described them as "devil worshippers" and, for example, won't eat any food prepared by Yazidi hands.
It is the same sort of prejudice that made the small religious community, which is thought to number around half a million inside Iraq, a target for the extremist group known as the "Islamic State" (IS). As the extremists took over swathes of the country in 2014, the minority's marginal status was part of the reason why the IS militants felt they could kill, rape and enslave thousands of members of the community with impunity.
The Yazidi minority was forever changed by the IS group's brutal assault on them. By the time the extremists were more or less pushed out of northern Iraq in 2017, thousands of Yazidis had been killed or kidnapped. Several international bodies now classify the events as a genocide. Today, around 240,000 are still living in camps for the displaced, many in grinding poverty.
"The Yazidi community has transformed toward more openness," said Murad Ismael, head of the Sinjar Academy, an institute in northern Iraq providing education to locals in the area. "The Yazidi community has nothing to hide but I believe, in the past, many thought it was better to not discuss identity or faith. I also think the world today is more passionate and supportive to the Yazidis, which encourages them to be more open."
"Before the IS group came, a woman was not free to leave her village without a male guardian," Suleiman said. "But after the IS time, people have more of an open mind. Women can leave their village and catch a plane to Europe, if they want to," he said, smiling and gesturing at the sky above the hills surrounding the 4,000-year-old temple.
"In the past, the community would not have accepted that," confirmed Naven Symoqi, a Yazidi activist and journalist from Sinjar, the district where many Iraqi Yazidis reside. " But after many Yazidis became displaced, they ended up in different parts of Iraq and they saw different ways of doing things."
That experience, said a local in northern Iraq, who worked with Yazidis in a displaced persons' camp, has had impact. "Imagine if you come from a really isolated agricultural community without many resources, where many people were not educated beyond primary school level. And then you've been displaced, you're in a camp, and there are all these NGOs running programs on education and women's rights," the source told DW. The person requested anonymity in order to speak candidly about the community with which they still work.
Symoqi marvels at the fact there are now driving schools for women in town. She also knows of Yazidi women studying at universities and praises Amera Atto, a Yazidi who competed in 2021's Miss Iraq contest.
Yazidi women involved in local survivor networks are also doing things they never would have before, such as traveling to cities to meet male politicians to discuss justice and compensation.
Because of the murders of their male relatives, many Yazidi women became heads of their own households, pointed out Abid Shamdeen, executive director of Nadia's Initiative.
His nonprofit organization, founded by Nadia Murad, a Yazidi survivor and Nobel Peace Prize recipient, has been able to help Yazidi women set up their own small businesses, rebuild homes and access education. "We have seen that these kinds of projects have a profoundly positive impact on Yazidi women," Shamdeen told DW. "After IS' destruction, Yazidi women have very much taken the lead in advocating on behalf of their community, both locally and globally."
Yazidi women are also benefiting from better access to education and job opportunities, the Sinjar Academy's Ismael added. "There are more women employed and some even own small businesses or lead NGOs. This is really something new to the Yazidis of Iraq."
Despite it's awful origins, this new attitude could be seen as a positive development. The Yazidi religion has strict rules. You cannot convert into it, nor can you leave it. Adherents may not even marry out of their own caste within the community, let alone outside of the religion.
In one high-profile case from 2007, Dua Khalil Aswad, a young Yazidi woman, who was thought to have converted to Islam for love was beaten to death in public, including by members of her own family.
In 2011, after a growing number of suicides among young Yazidi females, researchers from the International Organization for Migration conducted community interviews to find out why this was happening. They concluded "the marginalization of women and the view of the woman's role as peripheral" were to blame, alongside isolation, unhappy arranged marriages, unemployment among females and community and sectarian tensions.
For one thing, the former camps worker explained, there's still a big difference between the way Yazidi survivors and other women in the community are treated.
A woman mourns by a grave during a mass funeral for Yazidi victims of the Islamic State group whose remains were found in a mass grave, in the northern Iraqi village of Kojo.
"Some are welcomed back by their families, others are not. Although the community doesn't like to talk about it like this, it's a bit of a disaster," the source said. "And all this [the new rights Yazidi women have] is still only possible with the permission of male family members. It's still deeply patriarchal here. Then again," they concluded, " these things take time. And once people are given opportunities, it's very hard to take them away again."
"Definitely there is still some social friction," Ismael agreed. "It will take time and education," he argued. "But I think in many ways Yazidi women led by example, during and after the genocide. [They] were at the forefront of everything that happened and in many ways became symbols of the people."
Source: Dw.com
https://www.dw.com/en/new-freedoms-yazidi-women/a-60130898
-----
Uyghur women in China labor camps recall horror of rape, forced sterilization
By Michael Kaplan
December 18, 2021
In 2017, Tursunay Ziyawudun was arrested off the street in northern China's Xinjiang region, forced by police officers to turn over her passport and taken to a prison camp about 30 minutes from her village. There, she was made to sing communist songs of patriotism and repeatedly told that her Muslim religion does not exist. After a month, she developed stomach issues, fainted and was released.
"They sent me to the hospital," Ziyawudun, who came to the United States as a political refugee in 2020, told The Post. "If they hadn't I might have died."
The year after she was arrested off the street, still in China, she was summoned to a police station and told that she needed to complete her training. She was sent back to the "re-education" camp, where her hair was shorn — likely to be sold as a wig — and her earrings were ripped out. "They pulled it so hard that my ears were bleeding," Ziyawudun recalled. "I was being treating like an animal."
Breaking down and crying, she said: "I was gang-raped and my private parts were tortured with electricity. You're left with marks on your body that make you not want to look at yourself."
Her story is, tragically, not uncommon for members of the minority Uyghur religion, with Turkish roots, in President XI Jinping's China. Since around 2016, they have been pulled off the street and sent to reeducation camps — where reports have surfaced about people being tortured, raped and even killed. They are sent there under the auspices of learning a trade and having their patriotism reinforced.
On Thursday, the US Senate followed the House's lead in passing the Uyghur Forced Labor Prevention Act, which promises to ban imports coming from the Xinjiang region — home to some 12 million Uyghur people — unless there is proof the goods were not produced by forced labor. It's now waiting to be signed by President Biden.
Amelia Pang, author of "Made in China: A Prisoner, an SOS Letter, and the Hidden Cost of America's Cheap Goods," acknowledged that the act is a huge deal that "hurts China's plan. China has invested a lot of money into making an important trade route [that goes through Xinjiang] a key part of what is called its Belt and Road Initiative. It's a trillion-dollar project to connect China to Central Asia and Europe and the Middle East. It's almost too big to fail.
But she pointed out that, to be effective, the act needs the teeth of corporate executives: According to a study published by the Australian Strategic Policy Institute, companies such as Nike, BMW and Apple use components and materials produced directly or indirectly by forced labor.
"The supply chain is murky … and there is not a whole lot of accountability," Pang told The Post, adding that large corporations often look the other way and avoid asking the right questions. "They need to think about whether the money they are paying [for manufacturing] can realistically meet the wages from that region. Factories follow the bottom line and outsource to prison camps where workers are basically slave labor."
An Apple spokesman told The Post, "We conducted over 1,100 audits, including surprise audits, and interviewed more than 57,000 workers to insure that our standards are upheld … We have found no evidence of forced labor anywhere in our supply chain." Representatives for Nike and BMW did not respond to requests for comment.
The next time you're tempted to purchase a pair of leather gloves made in China, think of Gulzira Auelkhan. She spent two and a half months in a forced labor camp near the country's northern border, working for pennies per hour stitching gloves.
"There were cameras and police and you could not sit," she told The Post. "I worked constantly, 14 hours a day, and was yelled at so much that it began to feel normal."
Amazingly, what kept Auelkhan, who received political asylum in the United States earlier this year, from slowing down on the assembly line was a fear that she would be relieved of her labor.
"If you said you did not want to work, you went back to the [prison] camp, where you would be tortured," she said. "I felt like a slave but it was better than being in the other camp."
Indeed, Ziyawudun recalled the looming threat of being summoned to a space that women in her prison camp referred to as "the dark room."
"We were all scared of it. When the police wanted to threaten us, they'd say they were going to take us to that room," Ziyawudun said. "Anything you can think of, including rape, takes place in that room."
Pang is not surprised: "Rape is pretty standard in forced labor camps," she said. "The goal is to brainwash prisoners into being patriotic and extremely aligned with the Chinese state."
Bob Fu, founder and president of China Aid, an organization with the mission of advancing religious freedom in China, was told by a former prisoner that the sexual brutality comes with a commercial component.
"We rescued a woman who was eyewitness to a program that the government organized for prostitution," Fu told The Post. "She was handcuffed to the bed, the man did his thing and she cried. She said she heard the man shouting and complaining that he had paid good money for this and she was crying."
Fiendishly convenient for the Chinese, according to Kuzzat Altay, CEO of Cydeo, an international software-coding boot camp, the use of forced labor in hundreds of camps and factories scattered around the country allows the Chinese government to undercut manufacturing costs around the world.
"China keeps prices low and Americans keep buying Chinese products cheaply," said Altay, a former resident of Xinjiang who moved to America in 2008 and is an outspoken opponent of the country's human right abuses.
"China's entire supply chain of manufacturing involves forced labor. They make shoes, pants, solar panels in these forced-labor factories," he told The Post. "The Chinese economy is a vehicle for oppression and a source of influence in Silicon Valley, Hollywood and Wall Street. That money comes from slavery."
Altay's 67-year-old father was kept in a prison camp for two years, held there, supposedly, so the government could teach him a trade that could help the Communist Party.
Fortunately. Altay's father emerged with his organs intact. "Organ harvesting is normal in the Chinese Communist Party," Altay said. "They are known for this. There are some rich Middle Eastern clients who want Muslim kidneys" — which are free of alcohol and pork. "So Uyghur people were having their kidneys taken."
In 2019, a group called the China Tribunal offered testimony to the United Nations Human Rights Council, maintaining that "forced organ harvesting from prisoners of conscience has been committed for years throughout China on a significant scale."
Altay views this as more than pure cruelty — saying it's also a form of slow-motion genocide. "The women get sterilized because the Chinese government wants to minimize the Uyghur population," he said. "Right now the population growth is almost zero percent. In 10 years it will be zero."
Pang believes that the way to help put a stop to all of it is for Western consumers to stop buying goods that have been made with forced labor — a movement she calls "ethical consumerism" — and for the Nikes of the world to respond appropriately.
"If it's not lucrative for the Chinese factories to use forced labor, if they can lose major contracts," she said, "it will have an impact on these camps."
And it will allow American manufacturers to compete on a more level playing field. As Altay put it: "You buy something made in China, you are giving China a bullet to shoot back to America."
Source: Nypost
https://nypost.com/2021/12/18/uyghur-women-recall-horrors-of-chinas-labor-camps/
-----
URL: https://www.newageislam.com/islam-women-feminism/hijabi-shatu-garko-nigeria/d/125987
New Age Islam, Islam Online, Islamic Website, African Muslim News, Arab World News, South Asia News, Indian Muslim News, World Muslim News, Women in Islam, Islamic Feminism, Arab Women, Women In Arab, Islamophobia in America, Muslim Women in West, Islam Women and Feminism