New Age Islam News Bureau
29 Jul 2015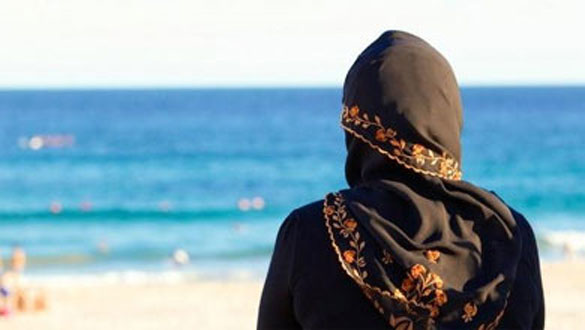 Many deemed the ban as "discriminatory" against practicing Muslim women in Egypt (courtesy: nairaland.com)
-------
• Arab Female Bodybuilder, Haifa Musawi, Looks Abroad For Recognition
• Don't Discuss Minimum Marriageable Age Much
• Shoura Women Members Get Poll Lessons
• Saudi Girls Learn Martial Arts to Fight Harassment
• Nigerian Army Frees Dozens of Women, Children from Boko Haram
• In Pakistan, Solar Lamps Turn Women into Green Energy Entrepreneurs
• Acid Attack Victim of Pakistan Battles for Life
• Abolition of Women Reserved Seats in Pakistan Opposed by Religious Political Parties
• 'Forced Marriage a Hindrance to Girl Education' In Pakistan
• 33% of Jeddah Women Want To Be Entrepreneurs
• 14 Buildings for Women in Need in Sharjah
Compiled By New Age Islam News Bureau
URL: https://www.newageislam.com/islam,-women-and-feminism/new-age-islam-news-bureau/hijab-wearing-women-are-being-'turned-away'-at-egyptian-resorts/d/104079
---------
Hijab-wearing women are being 'turned away' at Egyptian resorts
July 29th, 2015
MANY Egyptian women say they are facing a difficult summer season as Hijab-free zones seem to have soared in popularity, as more restaurants and high-end resorts enforce a de-facto ban on wearing headscarves.
Social media users in Egypt flocked to Facebook and Twitter over the past week to condemn the apparent decision by some venues to deny veiled women entry.
Many deemed the ban as "discriminatory" against practicing Muslim women in Egypt — a country in which 90 percent of its 80-million population are Muslim.
The ban is not completely new, it was reportedly common at resorts and restaurants frequented by foreigners, in cities such as Sharm El-Sheikh and Hurghada.
Recent reports suggest that several swimming pools and restaurants at five-star resorts lining the Egyptian north coast are also restricting the entry of veiled women to their services.
'Violation of freedom'
Several veiled women who were rejected at the door spoke to Al Arabiya News and described the act as a 'violation of freedom.'
Reem, a 28-year-old woman who wears the hijab, said she was turned away at the doors of two different beaches at upscale north coast resorts for being veiled, she told Al Arabiya News.
"I was with my husband when I was told I cannot come in because I'm veiled. "The outing was quickly cut short when the security at the door told me guests complain about the appearance of veiled women," she added. Reem said such door-selection policies are never written.
Sally Nashaat, a 26-year-old mother of two girls, said she was also not allowed to enter a beach club house at a five-star north coast resort for being veiled.
Among a group of friends, she was told: "Everyone can enter, except her. "It feels degrading, we are in our own country and we are not happy.
"I was about to cry," Nashaat said, "no one has the right to deprive me of entering. This never happened to me anywhere else, even in the United States.
"Some friends told me to take it off on the day, but I refused. Do I have to take it off to enjoy entry to such places?"
Nashaat said in some beaches that permitted access to veiled women, she was allowed to sit on the beach wearing the "Islamic" swim suit but not into the swimming pool.
An "Islamic" swim suit is commonly known as a full-length lycra outfit that covers the whole body except for the hands, face and feet.
"I was told I cannot enjoy swimming while being covered," Nashaat said. Furthermore, Reem said it was ironic that these restrictions were imposed on veiled women when Egypt was an Arab state with a majority of Muslims. "I don't want to be stopped for being veiled. I don't want any of us to feel ashamed. We are not doing anything wrong," she added.
Dina Sherbini, who owns a chalet at an upscale resort in Ain Sukhna, about 200 km east of Cairo, told Al Arabiya News she was threatened by staff members if she swam wearing an Islamic swim suit.
They threatened "they would throw excess chlorine in the water" and that they would "shut off fountains and Jacuzzi in the pool," Sherbini said.
When she bought the chalet three years ago, Sherbini said, nothing in her contract mentioned that swimming while covered was unacceptable in the resort.
"It was allowed before but now they changed their mind. What can we do now? Neither myself or my daughters are now allowed to swim."
Sherbini also recalled a recent incident where the same administration refused to sell a friend of hers a unit at the resort for being veiled.
Unconstitutional?
When asked if a ban imposed by venues on hijab-wearing women was lawful, Egypt's Tourism Ministry spokeswoman Rasha Azaizi told a talk show Sunday that the ministry had not "issued any instructions or decisions in that regard."
She reportedly demanded citizens to file complaints to the ministry against hotels or resorts that impose such bans.
However, forbidding veiled women from enjoying some beaches or restaurants is not seen as a problem by everyone.
Those who argue against the policy say it violates the Egyptian constitution, which prohibits actions that discriminate between people or against a sect due to gender, religion or belief. Others believe privately owned establishments are free to have their own rules.
Mervat Tallawy, the head of Egypt's state council for women, said Egyptian law did not regulate on such issues.
Tallawy added she does not view such acts as discrimination, adding that each establishment has the right to impose its own dress code.
"An establishment that prevents Hijab-wearing women is just like any other that would ban a man for not wearing a suit," she told Al Arabiya News.
"There are resorts that provide women-only beaches. We cannot tell them why you are not allowing men to come in."
Tallawy said some establishments are trying to "maintain their interests" and "keep up with a certain image" which "must be taken in consideration."
"We do not want to blow the issue and hype it, let's discuss the new planet discovered by NASA." — Al Arabiya News
http://www.saudigazette.com.sa/index.cfm?method=home.regcon&contentid=20150729251727
---------
Arab female bodybuilder looks abroad for recognition
July 28, 2015
DUBAI — Flexing her muscles in defiance of the Gulf's conservative cultural stereotypes, bodybuilder Haifa Musawi has lost all hope of pumping iron for Bahrain so now is looking elsewhere for recognition.
The 32-year-old began working out a decade ago after finding a personal trainer to help her overcome obesity — a widespread problem in the oil-rich region.
"I had a problem with obesity and I used to like bodybuilding," says Musawi, a square-jawed woman with curly hair pulled back in a tight ponytail.
As a young girl, she would seek out publications with articles and pictures about bodybuilding.
"At that age, I didn't have the experience or knowhow to become a bodybuilder," she recalls. "It wasn't easy... bodybuilding for women in our society is rare."
But "I was at the gym every day and to me it was more important than anything else".
Musawi's family encouraged her efforts to shed weight and despite worrying about the supplements she took as part of her training program, she said "they finally accepted" what she was doing.
Ten years on, Musawi has several certificates from international fitness and bodybuilding associations and has been working as a weights specialist in Dubai, where she trains both men and women.
In June, she came sixth in the physique category of the International Natural Bodybuilding Association championships, a drug-free competition held for the first time in Dubai.
Musawi and a Jordanian woman were the only Arab female bodybuilders at the event.
She is now seeking a pro-card so she can take part in professional competitions around the world and join the International Federation of Bodybuilding and Fitness.
But Musawi cannot represent Bahrain or any other countries in the Gulf, where there is no national bodybuilding team to represent for women, let alone competitions to enter.
In October she plans to travel to Portugal to obtain residency and represent the European country, with the help of her Portuguese trainer Andreia Sousa.
"This is my dream and I want to fulfill it," says Musawi. "If Portugal offers me my dream, then why not? But I hope to represent Bahrain" one day.
Sousa, who has been Musawi's trainer for more than a year, says that "as an athlete I can understand the passion" and that it is "worthwhile to go on stage".
"I think Haifa has a lot of talent and... possibilities," says Sousa, who oversees Musawi's rigorous fitness regime and diet, and acts as her manager.
While more and more Arab women are developing interest in the sport and some come to her, mainly seeking weight-loss training, many are still burdened by "social restrictions", says Musawi.
She says that many of her male clients also find her "strange" at first but they have slowly become more accepting. "I have proved it to them."
Lifting weights at the same gym is Shaza Jamil, a British-born girl of Yemeni-Pakistani origin.
"Men usually ask me: 'Why are you building muscles? You're a girl. Why are you ruining your body?' But I am not. I love my body and this is why I do lifting," she says.
"Society has put in their heads that a woman should not have muscles." A relative newcomer, Jamil has already won a silver medal in the bikini category of a British competition after only a year of lifting weights.
Like Musawi, she took to the sport after struggling with her weight and shape.
Her mother had first rejected the idea of her going on stage as a bodybuilder.
"We had drama at home but when she attended the competition and saw how happy I was and that I had won," she began to accept it, says Jamil.
"It is true we wear bikinis on stage but we do nothing wrong. We just show off our bodies that we worked so hard on," the brunette says, defending the sport which she says has "changed my life". — AFP
http://www.saudigazette.com.sa/index.cfm?method=home.regcon&contentid=20150729251717
---------
Don't discuss minimum marriageable age much
July 29, 2015
State Minister for Women and Children Affairs Meher Afroz Chumki yesterday urged people not to discuss much the minimum marriageable age of females as stated in the draft Child Marriage Restraint Act because it may deepen the confusion over the issue.
"I have been noticing for quite some time that magazines and newspapers are citing 16 or 15, mostly 16 (as the minimum age). I would request you not to discuss this issue much," she told a national consultation on "Way Forward to End Child Marriage".
"There won't be any change to 18 (as the minimum age). It will remain how it is," she stressed, adding too much focus on the matter would make people think that the minimum marriageable age had actually been decreased.
The draft law, sent to the law ministry, cited 18 as the minimum age but a clause which permitted marriage at 16 under special circumstances was also included. The minister did not say whether the clause was removed.
Women's rights activists including former chairperson of CEDAW Salma Khan, President of Bangladesh Mahila Parishad Ayesha Khanam, Unicef consultant Mira Mitra, and former caretaker government adviser Rasheda K Chowdhury noted that the proposed law should not allow any exception to the minimum age.
Brac organised the consultation at Spectra Convention Centre in the capital's Gulshan.
Asked about the clause, Begum Nasrin Jahan Ratna, member of the parliamentary standing committee on women and children affairs, told The Daily Star by phone that the matter was still under discussion.
Sheepa Hafiza, director, Gender Justice Diversity and Migration Programme of Brac, presented recommendations from 19 district and upazila level workshops on prevention of child marriage.
A total of 1,305 kazis (marriage registrar), 227 imams (who lead prayers), 110 government officials, and 65 local government representatives participated in the workshops.
The recommendations include using the Expanded Programme on Immunization (EPI) card to confirm age and making online birth registration mandatory.
Other recommendations from kazis, imams, purohits (Hindu priests) and union parishad chairmen included stopping affidavits of marriage and divorce by notary public advocates, making registration of Hindu marriages mandatory, training marriage registrars and specifying geographical areas for kazis to prevent registration of early marriage in another area.
Journalist Farzana Roopa said mobile court drives against early marriage could make enforcement of the law visible.
Mira Mitra urged using electronic media to launch a mass campaign against child marriage and Rasheda K Chowdhury suggested using social and folk media to create awareness.
Mili Biswas, deputy inspector general of police; Sarah Cooke, country representative of UK development organisation DFID; and Muhammad Musa, executive director of Brac, also spoke.
http://www.thedailystar.net/city/dont-discuss-minimum-marriageable-age-much-118459
---------
Shoura women members get poll lessons
29 July 2015
JEDDAH: Six female members of the Shoura Council participated in a training program to raise awareness among citizens on the municipal elections in which women will participate.
The program was organized by Al-Nahda Philanthropic Society for Women under the patronage of King Khalid Foundation (KKF), a leading philanthropic institution.
It will be the first time in the history of the Kingdom that women will take part as candidates and voters in a civic poll.
Prominent among the Shoura members who attended the training program are Princess Moudi bint Khalid, Latifa Al-Shalan and Dala Al-Harbi. The program focused on the importance of community participation in the elections.
Al-Shalan said: "Our experience will be shared with the citizens to familiarize them with their rights and obligations in the upcoming electoral entitlement."
The municipal elections will allow the Saudi woman to play a bigger role in society, she said, hailing the efforts of the Al-Nahda society and KKF in organizing the program.
Salma Al-Rashid, a trainer, said the program appealed to the female Shoura members to attend the program because of the importance of women's participation in the decision making process and their role in raising awareness on the electoral process.
A total of 25 female employees of the Shoura Council were also trained on the details of the electoral process and the importance of participation.
http://www.arabnews.com/saudi-arabia/news/783416
---------
Saudi girls learn martial arts to fight harassment
29 July 2015
SULTAN AL-SUGHAIR
DAMMAM: After the recent increase in verbal and physical harassment of women and girls in the Kingdom, they have turned to martial arts in order to protect themselves.
Amani Yassin, a coach at Taekwondo Training Institute, said: "Saudi women are interested in taekwondo to defend themselves from abuse and harassment; in addition, taekwondo is good for physical fitness and muscle flexibility."
She said that the institute is providing the first taekwondo program in the Eastern Province throughout the year due to the demand among girls and young women.
A taekwondo trainee said that it was an intellectual and physical sport, and the best self-defense for girls. "Now I have learned how to defend myself, I am no longer afraid at all. I enjoyed it, and I think that every girl should join a self-defense course."
Another trainee said: "I encourage all girls to practice this sport to defend themselves from abuse and harassment in workplaces or markets," adding that some girls, who suffer from abuse, were unable to protect themselves nor report the problem for fear of social stigma, and they silently suffer from what they experience.
Taekwondo is a Korean martial art and is characterized by its comprehensiveness and integration. It is an elegant and unique sport, not an aggressive as some people believe. Most taekwondo practitioners are distinguished by very high morals.
Masomah Abdul-Reda, social researcher is, however, opposed to girls learn martial arts: "Women are able to protect themselves from harassment with good morals, modest clothing and avoiding mixed places. Taekwondo courses are not the solution to the problem and I do not recommend that women confront their harassers," she said.
She said that taekwondo should be practiced from an early age as girls' enrollment in courses for only a limited time is not sufficient.
A citizen, Mona Al-Bori, opposed the idea of girls' enrollment in self-defense courses, saying that society would not accept such ideas due to taekwondo's inappropriateness for girls. She advised all girls to protect themselves by keeping away from mixed gatherings with large numbers of young people.
http://www.arabnews.com/saudi-arabia/news/783406
---------
Nigerian army frees dozens of women, children from Boko Haram
JULY 29, 2015
Abuja: Nigeria's army said on Tuesday it had liberated 30 hostages held by Boko Haram, including 21 children and seven women, amid ongoing offensives against the extremists in the country's northeast.
Army officials said the operation to free the captives took place in the town of Dikwa in Borno State, which had fallen to Boko Haram twice since April, and was recaptured by Nigerian troops last week.
"As a result of ongoing operations under the aegis of Operation Lafiya Dole to clear Dikwa and its environs from Boko Haram ... [the] Nigerian Army yesterday rescued 30 persons from the hands of the terrorists," army spokesman Sani Usman said in a statement.
"They include 21 children and a six-day-old infant, seven women including three nursing mothers, and two elderly male adults," he said.
Dikwa is located around 90 kilometres [56 miles] east of Borno state capital Maiduguri.
Earlier on Tuesday, 11 Boko Haram militants were killed in clashes with the military in a village in southern Borno state, a local resident and a member of the militia fighting alongside the army said.
Three militia fighters were also killed in the battle.
"On Monday afternoon around 2pm (1300 GMT), Boko Haram gunmen on motorcycles attacked our village," said Markus Yohana, a local militia member fighting the Islamists in the village of Dille.
Yohana said that soldiers ambushed the raiders as they tried to flee, killing 11.
Another local, Bitrus Damina, confirmed the account.
"Soldiers went after them and killed 11 of them in the bush," Damina said.
Boko Haram has stepped up its attacks since Nigeria's new president Muhammadu Buhari was sworn in May.
The wave of violence has claimed 830 lives in just two months, dealing a setback to a four-country offensive launched in February that had chalked up a number of victories against the jihadists.
On Tuesday, Nigeria's military spokesman said a new regional force tasked with fighting the jihadists will go into action soon.
The 8,700-strong Multi-National Joint Task Force, drawing in Nigeria, Niger, Chad, Cameroon and Benin, is expected to be more effective than the current alliance in the battle to end Boko Haram's six-year insurgency that has claimed some 15,000 lives.
"Any moment from now, the operations or the Task Force will be manifest. In other words, we may not tell you (when it will commence), you will just see it," Nigeria's military spokesman Major General Chris Olukolade said, who declined to give further details for strategic reasons.
The force will have its headquarters in Chad's capital N'Djamena. A Chadian military source said offices had been set up in an army camp there for the new force's chief of staff.
http://gulfnews.com/news/africa/nigeria/nigerian-army-frees-dozens-of-women-children-from-boko-haram-1.1557907
---------
In Pakistan, solar lamps turn women into green energy entrepreneurs
JULY 28, 2015
Bahalwapur: As the sun sets and darkness falls over a village outside Bahawalpur, Shama Bibi switches on her solar lantern and starts sewing clothes for an upcoming family wedding.
Not long ago, nightfall would have forced her to stop working. But now with access to solar-powered lamps, Bibi can sew as long as she needs to.
"The solar lantern has changed my life," said the 35-year-old widow and mother of three. "I can sew clothes even in the night and earn enough to make both ends meet." Bibi has recently become a "Light Lady", one of the women that the Buksh Foundation, a non-profit organisation in Lahore, has trained to help spread the benefits of solar energy throughout rural Pakistan.
Under the foundation's project Lighting a Million Lives, in collaboration with The Energy and Resources Institute in India, women are taught how to operate and maintain solar charging stations in their homes.
The two "Light Ladies" in each of the focus villages also are given 50 solar lanterns to rent to others in their community.
The one-time cost of around $5,500 (Dh18,366) to set up a solar charging station and set of lanterns is funded by donors.
Bibi says she charges a daily rent of Rs4 (14 fils or $0.04) per lantern and earns around 5,500 rupees ($54) each month.
"I've started sending my youngest son to school as I earn enough now to meet all the expenses," she said.
Villagers can also charge their mobile phones at the solar station, instead of having to travel to Bahawalpur and back.
The foundation has so far installed solar charging stations in 150 off-grid villages around the country and plans to reach 4,000 villages by 2017.
Light beyond the grid
According to the World Bank, about 44 percent of households in Pakistan are not connected to the grid. More than 80 percent of those are in rural areas.
There, almost half of households use kerosene as a primary or secondary source of lighting, a 2012 World Bank survey found.
Some use candles, due to the high cost of kerosene.
"Our target is to provide sustainable energy to far-flung rural off-grid areas of Pakistan and we especially want to empower women in these areas through the project," said Fiza Farhan, CEO of the Buksh Foundation.
She said the solar lanterns not only are convenient and a source of income for some villagers but also help reduce climate-changing carbon emissions, as each lantern replaces around 500 to 600 liters of kerosene during its 10-year lifespan.
The foundation has a permanent help line at its central office in Lahore to keep in touch with the "Light Ladies" and provide them technical assistance round the clock, Farhan said.
She said dozens of people contact the foundation daily asking for more solar lanterns in their villages and requesting the installation of charging stations in nearby villages.
"More women want to become Light Ladies, but for the moment we have been training only two women in each village," she said, to ensure that each woman makes a decent income once the profits are split.
More solar, fewer blackouts?
Qamar-uz-Zaman, a climate change advisor to the sustainable development organisation LEAD-Pakistan, said Pakistan's energy shortages could be reduced substantially if the government would provide technical and financial assistance for sustainable development initiatives such as Lighting a Million Lives.
Pakistan faces a year-round electricity shortfall that hits around 7,000 megawatts in the summer. The country's rural areas often suffer blackouts of more than 14 hours a day while urban areas can experience up to 10 hours a day without power.
To tackle the crisis, the government needs to support off-grid solar projects and encourage people to use renewable energy sources to decrease the stress on the national grid, said Zaman.
"The government can subsidise the projects by claiming international climate financing and reaching out to international donors to fund them," he said.
Gul Mohammad, 62, a farmer in the village outside Bahawalpur, can attest to the benefits of solar energy. The lantern he hires from one of the "Light Ladies" has allowed him to cut the amount of kerosene he uses to light his farm, saving him Rs350 ($3) each month.
The availability of cheap, portable light also means he can irrigate his farmland during dusk and dawn, times of day that previously were too dangerous due to the presence of snakes in the area.
"I can now work three to four hours extra on my farmland," he said. "And this is helping increase my income too."
http://gulfnews.com/news/asia/pakistan/in-pakistan-solar-lamps-turn-women-into-green-energy-entrepreneurs-1.1557602
---------
Acid Attack Victim of Pakistan Battles for Life
July 24, 2015
KARACHI - The status which a society accords to women has always been considered a pertinent yardstick to measure the standard of the civilisation and now, in present era, it is deemed to have achieved.
Women have remained in the limelight to assume the status of the society.
Thinkers and philosophers of all ages have expressed various opinions to upgrade the position of woman.
Apart of this many laws of woman empowerment are framed in the constitution of Pakistan but sadly discrimination and petty tyrannies to which they have been subjected is a very sad chapter of human life.
Even today, the fight is not over.
Acid attack on a 19-year-old girl, whose ex-fiancé threw acid on her, is one such example of male dominance over the woman gender.
Raheela came under brutal attack by her ex-fiancé Zeeshan Umar, alias Ali, who completed his training as a police officer and is sent for a remand (till August 3) by an ATC judge Bashir Khoso on the first hearing, but Raheela's family feared that the accused might be freed by using his power.
Talking to The Nation, the victim's uncle Javed said, "Raheela and Zeeshan got engaged one year ago and the engagement lasts for three to four months, after which Zeeshan used to threaten Raheela and her family to re-enact the relation otherwise they have to face worse consequences.
Now he has proved his words and ruined the life of my nephew.
"
"Police are not cooperating with us.
They are letting him eat food with them.
He is using his mobile phone in the police station and no one can touch him.
"
"A day before Eid, my daughter was going to the market to apply mehndi and Zeeshan attacked her by throwing acid on her face when she was standing outside her house with her brother, carrying her six-month-old nephew.
Now my daughter is on the ventilator and she spent her Eid in the hospital.
Her face is completely burnt and her right eye is also damaged.
She can only have a blur vision from her left eye.
Her six-month-old nephew is also under treatment in Patel Hospital," Abdul Raheem – father of the victim told The Nation.
The government high-ups comprising Saeed Ghani (Senator), Shehla Raza (Deputy Speaker Sindh Assembly), Aslam Bhuttani (former speaker, Balochistan Assembly), Salik Bhuttani (MPA in Balochistan) and Ahmad Shah (president Arts Council Karachi) visited the hospital.
Some of them talked to the family of the victim to encourage them and to inquire the condition of the patient on the second day of Eid.
They have pledged full justice to the victim's family.
AUTHORITIES PLEDGED JUSTICE
Senator Saeed Ghani, who shared the grief of the family on call, while talking to The Nation said, "The criminal is already behind the bars and no mercy petitions will be granted to the culprit.
We are standing behind the victim's family.
No one can stop them to raise their voice for justice and government will also take action against the threats given to the victim's family, if the family will report the threats.
"
Zafar Abbas – SHO, Mubina Town (where the FIR of the case is reported) assured that the accused will be treated in a way like other criminals are treated.
"Though the accused was a police officer and most of his family members are also in police force but he will be treated impartially.
We have charged his case under the section-324," he added.
A growing and worrying trend of acid throwing attacks on women in Pakistan has seen a surge which left them with disfigured faces and blinded for life.
The aforementioned case is one of those few cases which are brought in front of everyone with great courage (shown by the victim's family).
There are many other examples of such cases but government has failed to apprehend the culprits or stop this inhumane crime.
http://nation.com.pk/karachi/24-Jul-2015/acid-attack-victim-battles-for-life
---------
Abolition of Women Reserved Seats in Pakistan Opposed by Religious Political Parties
July 29, 2015
ISLAMABAD - Religious political parties on Tuesday opposed the proposal floated by other political parties' members in the Electoral Reforms Committee regarding abolition of reserved seats for women, preferring direct elections on women seats.
The 13th meeting of the Electoral Reforms Committee was held at the Parliament House with Finance Minister Ishaq Dar in the chair. Dar promised that the draft of electoral reforms would be ready in a month and would be forwarded to parliament for approval.
Some participants of the meeting told The Nation that Pakistan People's Party (PPP) and Pakistan Tehrik-e-Insaf (PTI) suggested that women should contest directly in election instead of reserving them a quota.
Members of Pakistan Muslim League Nawaz (PML-N) too showed no objection if women could contest direct election. However, Jamiat Ulema-e-Islam Fazal (JUI-F) and Jamaat Islami (JI) members vehemently opposed the idea, saying seats should remain reserved for women.
Being an in-camera meeting, reporters are not allowed to attend the committee. But JUI-F MNA from Mardan Naeema Kishwar, beneficiary of the reserved seats for women, told this reporter that there should be no direct election on seats reserved for women.
JI's MNA Tariqullah also said that he opposed the suggestion that women should directly contest on seats reserved for them, adding it would further complicate the things. "The government will have to carve out more constituencies if women are directly elected," he argued.
Members of the committee privy to the meeting said that the 29-member committee was almost near to making draft of electoral reforms that would be sent to party heads later so that each political party has its view on the recommendations.
They said that five constitutional reforms would be carried out, including the mechanism to include overseas Pakistanis in casting votes during election, introduction of electronic voting machines (EVMs) and biometric verification of voters.
The committee agreed that biometric machines would be used as pilot project in the upcoming by-elections in Haripur where voters would cast votes on 50 polling stations using biometric system.
Some members also said article 62 and 63 should be abolished as there were non-Muslims too who are not required to learn some Quranic verses by heart.
Chairman of the committee Ishaq Dar assured the members that recommendations would be ready in a month, adding there was a pause in convening meeting of the committee after PTI lawmakers boycotted attending proceedings of the National Assembly and subsequently remaining absent as members of the electoral reforms committee.
He, however, assured that meetings of the committee would be convened timely so that electoral reforms could be introduced at the earliest. A special working group was formulated that would help in reforming the electoral system.
MNA Tariqullah said that it was recommended that Election Commission of Pakistan (ECP) should be made financially independent as currently, the commission has to rely on funds released by the Finance Ministry.
Besides, the ECP should take direct action against officials from other government departments found irresponsible while performing their duties during elections. "At present ECP has to file complaint with the parent department of the officer in case he is found guilty during dispensing their duty in election. We think ECP should directly punish those who are lazy in election duties," the lawmaker said.
Lawmakers also showed their resentment over the slow progress on census arguing electoral reforms would not see light of the day until the authorities have no authentic data.
http://nation.com.pk/islamabad/29-Jul-2015/abolition-of-women-reserved-seats-opposed
---------
'Forced Marriage a Hindrance To Girl Education' In Pakistan
July 29, 2015
Islamabad - Forced marriages are a major obstacle in accessing girls' right to education in rural areas of Pakistan, said Sameena Nazir, Executive Director of Potohar Organization for Development Advocacy (PODA), at an event organised to underscore the importance of making practical steps to implement article 25 (a) of the Constitution of Pakistan.
The event was also organised by PODA to celebrate Malala's birthday in July. She welcomed the recent steps taken by the government of Punjab and Sindh to criminalise early and forced marriages as it will reduce denial of girls' rights.
The event was organized here at National Library Pakistan by Pakistani Alliance of Rural Women for Action and Zenith (PARWAZ), a project of PODA, in collaboration with the public affairs section of the US Embassy in Islamabad.
The event also paid tributes to activist and educationist Malala Yousufzai, the youngest Nobel Peace Prize winner from Pakistan. The seminar was attended by over 70 participants, which included teachers, students, social activists, government and civil society members, and diplomats.
Maaham Mirza, a nine-year-old student from USA, stole everyone's heart by making a passionate appeal "Please speak up for girl's right to education." She said education is the basic right of all girls and no one can take away girls' right to education.
The highlight of the event was a thought-provoking speech by 11-year-old Amna Abeer from Chakwal in which she said it is the duty of the government, the society and all the people to ensure that girls are not discriminated and have full and equal access to education. She said, "I ask my government to give me education that makes me courageous." She also read a poem for Malala and wrote her a happy birthday card.
District Social Officer Tanveer Safdar said no society can progress if girls are not educated and in today's time gender discrimination is not an option."
Baela Raza Jamil, Director Programmes of Idara-e-Taleem-o-Aagahi, said the young people are full of dreams and aspirations. It is a crime to deny them a bright future. She regretted that although many laws are passed for making education a right and policies are made on paper but necessary infrastructure and resources are not put in place to make them a reality for the children of Pakistan. She said it is critical that those who deny children their right to education are punished so that state authority is asserted. She said the government must make a priority to invest in education for all children.
Saba Ghouri, Senior Gender Officer from US Embassy in Islamabad said Malala's courage and resilience are a driving force for girls and women all over the world. She said that USAID is helping and establishing schools all over Pakistan. She said the real indicator of progress of any country is its educated people, especially women."
Maryam Bibi, Chief Executive Officer of Khwendo Kor Peshawar, said, "The world needs to listen to Malala when she says we need more pens and books not more guns." She said this world has seen enough bloodshed and there is need to give peace a chance. She said.
"We must remember that Islam insists on education for all but unfortunately our society has not accepted this basic message of Islam and many illiterate elders are denying girls their right to education in the name of culture and anti-women practices such as exchange marriages even though they have been declared illegal in Pakistan."
Dr Ghazala Anwar, Professor of Islamic Studies in California University, said access to education on equality basis is a must and teaching of critical thinking has to be a part of the curriculum so that there is maximum learning for children of all groups in Pakistan.
The meeting ended with a message of optimism by educationist Bela Raza Jamil who said in her conclusion that youth will change the face of Pakistan. Malala is an inspiration for everyone all over the world and Pakistan will change when we will change.
http://nation.com.pk/islamabad/29-Jul-2015/forced-marriage-a-hindrance-to-girl-education
---------
33% of Jeddah women want to be entrepreneurs
29 July 2015
RIYADH — About one-third (33 percent) of female students surveyed recently have shown their inclination to become entrepreneurs than to work in government or the private sector.
This is part of a recent study released by Glowork, the leading organization for women employment in the region, that highlighted perception of females before their graduation.
The survey that covered a total of 2,000 women from 10 universities across the Kingdom revealed some interesting statistics: 49 percent of women in Riyadh showed their eagerness to work in a supervisory or managerial position after graduating. It was much higher in Dammam with 70 percent of women expecting the same.
When it came to factors that influence women selecting their majors and education, in Riyadh 71% mentioned their own personal interest helped them in selecting their majors, in Dammam 27% mentioned they selected their majors based on the labor market needs and the same response was received from women in Jeddah.
Another aspect surveyed was the factors influencing women's career choices when it came to selecting the job after graduation. In Jeddah only 4 percent mentioned that salary was a major influence in selecting a job with 61 percent mentioning that professional development at a company was important to them. In Dammam 33 percent mentioned that they would follow their passion when choosing their career.
The most interesting statistics came on the question of seeking employment. In Riyadh 34 percent of women want to work for government entities whilst in Dammam 51 percent want to work in the private sector and the most interesting response is 33% of women in Jeddah prefer to be entrepreneurs than to work in government or the private sector.
"This study showcases how each region is different," said Khalid Alkhudair, CEO and founder of Glowork. "I believe it is down to education and lifestyle, as we can see in Jeddah women have more of a tendency to become job creators than to work which is great and I think that's due to the great practicality that universities in Jeddah are enlisting in their students. The issue regarding women's high expectations after graduation I believe also falls under an area where we need to develop more part-time jobs and internship programs in universities for women to understand the complexity of the workplace."
Riyadh-based Glowork is a leading organization tailored to create opportunities and solutions for women employment throughout the region. Glowork has over 60 employees and it assists in placing an average of 26 women a day into the workplace through its various initiatives.
http://www.saudigazette.com.sa/index.cfm?method=home.regcon&contentid=20150729251774
---------
14 Buildings for Women in Need in Sharjah
JULY 27, 2015
Sharjah: The Ministry of Public Works in Sharjah is building 14 commercial buildings in Maliha area to benefit widowed, divorced and underprivileged women.
The project, which cost Dh12 million, is spread across 2,255 square metres and comprises residential apartments as well as shops.
The project is being built under the directives of His Highness Dr Shaikh Sultan Bin Mohammad Al Qasimi, Member of the Supreme Council and Ruler of Sharjah, with the objective of providing this segment of women with a decent and stable means of living.
The project is expected to be completed in the last quarter of next year
http://gulfnews.com/news/uae/society/14-buildings-for-women-in-need-1.1556802
---------
URL: https://www.newageislam.com/islam,-women-and-feminism/new-age-islam-news-bureau/hijab-wearing-women-are-being-'turned-away'-at-egyptian-resorts/d/104079