New Age Islam News Bureau
6 Aug 2018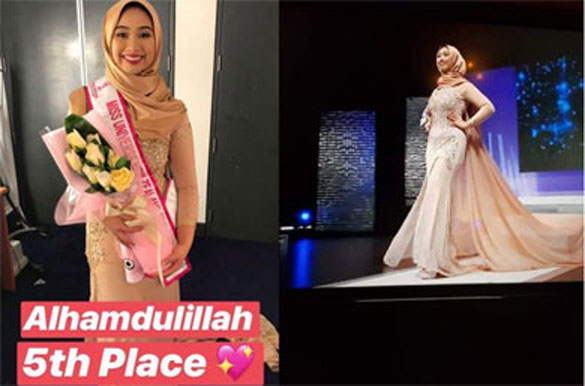 Nurul is reportedly the first to wear a hijab during the beauty pageant's final round. — Pictures by Ahmad Zamzahuri
-----
• This Young Progressive Could Become the First Palestinian-American Member of Congress
• Saudi Women's Football Team Defies Stereotypes
• Persian Stories Illustrate Afghan Women Clashing With Their Patriarchal Society
• Suicide Took the Lives of Five More Women and Girls in Iran
• Remembering Iran's Brave Women in the Constitutional Revolution
• US-backed SDF Ready to Help Sweida's Women Taken by IS
• Remarkable Bahraini Women Doctors Presence Hailed
Compiled by New Age Islam News Bureau
URL: https://www.newageislam.com/islam-women-feminism/hijab-wearing-malaysian-born-nurul/d/116052
--------
Hijab-Wearing Malaysian-Born Nurul Placed Fifth In Miss Universe NZ
06 August 2018
KUALA LUMPUR, Aug 6 — Nurul Zuriantie Shamsul made it to the finals and took fifth place at the Miss Universe New Zealand 2018 which she participated in while wearing a hijab or a Muslim headscarf.
Nurul, who was born in Malaysia to a Malaysian father and Indonesian mother, is reportedly the first to wear a hijab during the beauty pageant's final round.
"Alhamdullilah. I am very happy. It was an amazing experience that has helped me as an individual," the 20-year-old was quoted telling local daily The Star's BM portal mStar when commenting on the pageant results.
The best moment for Nurul was when she could see both of her parents "looking really proud" when the results were announced, she told mStar.
Nurul thanked those who gave their support, reportedly saying: "It would not have happened without the love and support of all of you."
"I am grateful to God who has given me this opportunity and for helping me to reach this level," she was quoted saying.
In an interview before the pageant's finals that was published by Indonesian daily The Jakarta Post yesterday, Nurul noted the potential significance of a win at the Miss Universe New Zealand's grand final.
"If I win Miss Universe New Zealand, I won't be just representing the country, I'll be representing Malaysians, Indonesians, Islam, women wearing the hijab and minorities. If I win I could also be the first hijabi to make it to the international stage of Miss Universe," she was quoted saying.
Nurul also reportedly felt her participation in the beauty pageant would give women globally more opportunities.
"It has always been about breaking boundaries and stereotypes as well as going beyond beauty," the psychology undergraduate was quoted saying, having also noted that many people had messaged her to say that they were happy that she joined the pageant as there was now someone they could relate to.
Nurul said she had never felt that her hijab was a "disadvantage" in any situation, also reportedly saying the beauty pageant went beyond physical beauty.
When commenting on the swimsuit segment of the beauty pageant, Nurul said the organisers had six years ago replaced the "live bikini round" with a calendar shoot.
"However, for this calendar shoot, we were able to wear swimwear or active wear. This year, they've given me something modest to wear," she was quoted saying.
Despite moving to New Zealand since the age of five, Nurul has reportedly been encouraged to keep her roots such as by speaking in the Malay or Indonesian language.
The family meets with those from the Malaysian and Indonesian communities, while her mother and grandmother cook food from the two countries, The Jakarta Post reported.
https://www.malaymail.com/s/1659499/hijab-wearing-malaysian-born-nurul-placed-fifth-in-miss-universe-nz
--------
This Young Progressive Could Become the First Palestinian-American Member of Congress
Allison Kaplan Sommer
Aug 05, 2018
She's a dynamic, minority, young progressive – the new breed of politician grabbing attention in the Democratic Party. And if Rashida Tlaib wins her primary in Michigan on Tuesday, she will be a shoo-in for Congress since her district is so deep blue, no Republican is set to contest the seat in the November midterms.
This would be a double historic first for the daughter of Palestinian immigrants: Tlaib would become not only the first female Muslim to hold national office, but also the first Arab-American Muslim. (The two previous Muslim congressmen came from the African-American community.) Tlaib, along with Egyptian-American Abdul El-Sayed and Lebanese-American Fayrouz Saad – two other Michigan hopefuls aiming to make it to the midterms – fit a different profile.
They are the American-born children of immigrants from the Middle East, reflecting the state's increasingly high profile, well educated Arab-American community. And all are running campaigns fueled by the energy generated by opposition to President Donald Trump.
Of the three, Tlaib appears to have the best chance at victory. Tuesday's contest in Michigan's 13th Congressional District is a tight three-way race to replace Rep. John Conyers, the 89-year-old who resigned from Congress in December following sexual harassment allegations. Polls show the race as being too close to call, but Tlaib is running strong and recently grabbed the key endorsement of the Detroit Free Press – the region's largest local daily.
Tlaib has been a rising star in Michigan politics since 2008, when she became the first Muslim woman in the state legislature. Her mother is from Beit Ur al-Fauqa, outside Ramallah, and her father from Beit Hanina, an East Jerusalem neighborhood. She is one of 14 siblings.
As Election Day draws near, the national spotlight has shone brightly on the state's historic number of Muslim contenders, with The Washington Post describing the primaries as both "tests of the party's progressive insurgency and tests of whether Muslim candidates can win."
The races are also testing the reaction of Michigan's established and heavily Democratic Jewish community to a new generation of Arab-American progressives with whom they agree on the majority of pressing domestic issues, but worry about where they stand on foreign policy – specifically Israel.
Jewish nerves jangled in the final days leading up the primary when, along with new Democratic hope Alexandria Ocasio-Cortez, Women's March leader Linda Sarsour showed up in Michigan to campaign for progressive candidates on the ballot..
Tlaib has mostly avoided comment on the Israeli-Palestinian conflict and declined to answer questions from Haaretz on the subject. She did, however, tell the Washington Post: "We need to be much more honest about the fact that the walls are not working. We need to be honest about the dehumanization on both sides, frankly. And more importantly, we need to be not choosing a side. What I bring to the table, growing up in a Palestinian-American household, and coming to Detroit, is an understanding that there's so much comparison between what happened there and what happened to African-Americans here."
Tlaib's use of the language of intersectionality echoes that of New York candidate Ocasio-Cortez, who was widely criticized in May for comparing Gaza protesters to civil rights activists in the United States.
But it is Sarsour's embrace that has made Jewish Democrats most concerned about Tlaib. The two women are longtime political allies: In a recording for StoryCorps in 2011, Sarsour described Tlaib, four years her senior, as "my friend, my mentor, my role model.""Some people really freaked out," said one Jewish Michigan resident active in Democratic politics.
Even before the July 29 event, Hannan Lis – an Israeli-American businessman active in both the organized Jewish community and the Democratic Party – warned Jewish progressives against embracing the candidate due to her ties to Sarsour.
Lis insists that Tlaib's Palestinian identity and Muslim religion aren't the issue: Neither is particularly unusual in Michigan, where the Jewish and Muslim communities often work together. His problem with Tlaib is that "she has chosen to associate with a person who is divisive and clearly hostile to Israel. Linda Sarsour is very clear in her opinions; she is on record regarding Louis Farrakhan. For American Jews, even liberal ones, it is not something we can overlook."
Steve Tobocman said he was shocked by the "vitriol" directed at Tlaib on social media following the Sarsour visit. Tobocman, the son of Polish-Jewish immigrants, has been a close friend and political mentor to Tlaib, and defends her ties with Sarsour.
"These are two women who have been at the forefront of exposing Donald Trump [as] a threat to the civil rights and comfort that Jews and other minorities in America have enjoyed," said Tobocman. Just because Tlaib and Sarsour have known each other for nearly 20 years "doesn't mean [Tlaib] agrees with all of [Sarsour's] comments on every issue," he noted.
Tobocman pointed out that Tlaib has no political need to pander to either the Muslim or Jewish communities, given that the 13th Congressional District is 70 percent African-American. He added that Tlaib was "focused on dignity of all people and civil rights, and on peace. In that context, of course she is concerned about human rights abuses inflicted by the Israel Defense Forces, as she's concerned about human rights abuses on the other side."
He said that while Tlaib hasn't issued any position papers regarding any other aspects of foreign policy, she has done so on the Israeli-Palestinian conflict, because she "sought out the support and received the endorsement of J Street."
The J Street PAC fundraising page on Tlaib says she is "personally familiar with the costs that the conflict has brought to Israelis and Palestinians." As a result, she advocates the United States being "directly involved with negotiations to reach a two-state solution" and "supports all current aid to Israel and the Palestinian Authority." In addition, she "does not support the expansion of settlements and believes that they make it difficult to reach a sustainable two-state solution."
Source: https://www.haaretz.com/us-news/.premium-could-rashida-tlaib-be-the-first-palestinian-american-congresswoman-1.6342904
------
Saudi Women's Football Team Defies Stereotypes
August 06, 2018
JEDDAH: In the past year, women in Saudi Arabia have been openly participating in various sports. The rising number of female sports enthusiasts and teams is due to social reforms, introduced as part of the Kingdom's Vision 2030 plan, giving women more freedoms.
One football team, the United Eagles, comprises 21 women aged 18-22 years. "We formed the team in 2016," Captain Nouf Al-Shammari told Arab News on a sports field in the city of Alkhobar, where they practice three times a week.
"We started out with 12 college students who were brought together by our love for the sport," she said.
"We played friendly matches with other female teams, and along the way more women from outside the college started to join. As our team grew, we went on to create the United Eagles."
The team has participated in a number of unofficial friendly matches regionally. It took part in its first regional tournament in 2017.
Its second regional tournament was this year, organized by Sport Box, an academy based in Alkhobar that introduced female sports to its facility last year.
Sport Box representative Essam Moustafa said rising demand drove the academy to create facilities for women, including tennis, basketball, volleyball, swimming and football. One of the most popular sports at the academy is football, he added.
"Previously we held female football tournaments in Bahrain, but as the number of participating female teams started to grow, we decided to hold the tournament at our own football field," Moustafa told Arab News.
"There has been a great turnout of Saudi women at the tournament, with 10 female teams that participated."
United Eagles member Waad Al-Dhowayan said: "When we saw the level of professionalism of the other teams at the tournaments, we knew we had to start training vigorously and consistently with a specialized trainer in order to move forward and compete at a professional level."
The team said it still lacks the skills necessary to play at an elite international level. Even in the summer heat, the women routinely practice on cement, with a coach and gear that they have self-funded.
They say there is still a taboo in Saudi Arabia about female professional footballers. "There's not enough awareness about female sports in the country," said United Eagles member Kawthar Abu Askr.
"People usually think of football and other sports as something that should be practiced by men only. We still get criticized for practicing it."
Social taboo
The team members grew up playing football with their male relatives, but as they got older it became socially unacceptable due to certain customs and traditions that do not allow men and women to mix.
Most of the team members said initially even their parents and close family members did not accept them playing football, but with all the changes occurring in Saudi Arabia, they are slowly starting to accept the idea of female footballers.
However, they said they receive more support from their female friends, who cheer them on at all their matches.
The players said people are starting to understand the health benefits of sports. "I started to play football due to health concerns," said United Eagles member Najd Al-Thunyan.
"I had anemia and I wasn't very fit, but after playing football regularly I noticed that my fitness and stamina improved and I felt more energetic. For me football is a lifestyle, not just a hobby."
Lina Almaeena, a well-known advocate for women's sports who in 2003 founded Jeddah United — Saudi Arabia's first private female basketball team — said the future of women's sports in the Kingdom is promising.
"We've had basketball tournaments since 2003, but they were all held unofficially. However, in 2017 we held a tournament in Al-Jawhara stadium under the General Sports Authority and the Sports Ministry," she told Arab News.
"It's beautiful to be part of the sports movement in the Kingdom under Vision 2030, and it's important to advance while preserving our national identity."
The United Eagles players said there is a bright future ahead for female footballers in the Kingdom.
They hope to see official national teams and leagues, as well as more sports facilities for women so they can train at the same level as men.
http://www.arabnews.com/node/1351746/sport
--------
Persian Stories Illustrate Afghan Women Clashing With Their Patriarchal Society
August 5, 2018
Zahra Nuri, an Afghan woman who lives in Tehran, is the author of "Red Thread Instead of Her Lips", which is composed of eleven short stories.
In the collection, she tells stories about the shackles of a patriarchal society, which are seen in Iran and other countries in the Middle East.
Reading between the lines, the stories also feature problems facing the Afghan men who live in exile.
The stories also are also full of Afghan proverbs and terms, which have been explained by footnotes.
Paydayesh publishing house in Tehran is the publisher of "Red Thread Instead of Her Lips".
Photo: Front cover of Afghan writer Zahra Nuri's short story collection "Red Thread Instead of Her Lips".
http://www.tehrantimes.com/news/426175/Persian-stories-illustrate-Afghan-women-clashing-with-their-patriarchal
--------
Suicide Took the Lives of Five More Women and Girls in Iran
05 August 2018
Suicide took the lives of five more women and girls in Iran.
A teenage Kurdish girl from Saqqez who had committed suicide 40 days earlier by taking pills, lost her life on Monday, July 30, 2018. Elham Fatemi, 17, suffered a brain stroke as a result of her attempt and died 40 days later in hospital.
Two young women --Maryam Rostami, 17, from Saffron Village, and Noushin Rostami, 16, from Qolkhani Village, in Sarpol-e Zahab-- committed suicide with pills on Sunday, July 29, 2018, and died within a few hours.
Both girls suffered from depression due to the pressures of life after the earthquake which destroyed hundreds of cities and villages in western Iran in November.
Six months after Kermanshah's earthquake, 60 per cent of the residents of the stricken areas continue to live in tents and the ruins of their homes as the government has not provided them trailers. The numerous problems caused by the earthquake have made life especially difficult for women. Studies show that anxiety and depression are greater among women than in men, both in quality and quantity. (The state-run salamatnews.com - March 15, 2018)
In another case of suicide in North Khorasan Province, eastern Iran, a 15-year-old girl from Bojnord jumped off a building in Al-Qadir residential complex on July 28, 2018, and died.
A young woman from Marivan, Arezoo Delangiz, 23, took her own life by hanging herself on Wednesday, July 18, 2018. She was mother to a three-year-old girl. Marivan is one of the major cities of the Iranian Kurdistan in western Iran.
Psychologists and sociologists believe that the main reasons of suicide among young women and girls are despair, depression, anxiety, and feeling of insecurity and disdain.
In the interval beginning in March until the end of July, at least 46 young women and girls in Iran have taken their own lives by committing suicide. Iran stands first in the Middle East for the rate of suicide among women.
https://women.ncr-iran.org/iran-women-news/5395-suicide-took-the-lives-of-five-more-women-and-girls-in-iran
--------
Remembering Iran's Brave Women in the Constitutional Revolution
August 06, 2018
August 5th marks the anniversary of the 1906 Constitutional Revolution in Iran which aimed to establish democracy, the rule of law, and a parliament of people's elected representatives, and push Iran towards progress and advancement.
Before the Constitutional Revolution, women in Iran were not entitled to any rights and were completely excluded from social activities, restricted to household chores.
The Qajar King, Naser al-Din Shah, did not allow his numerous wives to take part in society, even though he had traveled to Europe three times and had become familiar with women's freedoms and their social engagements. Once a year, the Tehran bazaar used to be closed to the public on his order, and that was the only day his wives were allowed to shop in the market with all the shops run by female salespersons. No men were allowed in. He also ordered a shrine to be constructed at the Shah's palace so that the women of the court could practice their religious vows inside the palace; no woman had the right to leave the king's haram for visiting and prayers at a Shrine because it would expose them to men.
The Constitutional Revolution changed that, and women gradually engaged in social activities. The Revolution had an amazing impact on the society. The obstacles to women's progress were gradually removed or minimized. According to Morgan Shuster in his book The Strangling of Persia (New York: The Century Company, 1912), "Women in Iran have been the most progressive (if not the most radical) women of the world since 1907." Shuster continues, "the veiled women of Iran, with a little prior experience, instantly became teachers, journalists, founder of women's clubs, and spokesman in political affairs," the same rights and social status for which "the women's movement in the West had spend tens or perhaps hundreds of years to achieve."
Pioneers of the fight for women's rights
After the Constitutional Revolution, activists of the women's rights movement, many of whom were from the upper classes, were gradually organized in associations, and established new girls' schools, adult education classes, clinics, and other types of women's institutions.
Progressive men of the time, including the intellectuals, journalists, poets and parliamentarians (such as Vakil-or Ro'aya and Taghizadeh), were powerful supporters of women's rights. Dehkhoda's satirical articles in Soor-e Esrafil, Iraj Mirza's poetry, the writings of other writers in Habl ol-Matin, Iran-e No, and Mosavat newspapers all showed solidarity and support of newspaper writers and staff with the women's movement.
The intellectuals of that time insisted on the establishment of schools for girls. They argued that when mothers are illiterate and unaware of the needs of their time, they cannot be expected to be good role models for their daughters. They argued that education helps girls learn the new sciences and traditions of the advanced world.
Foundation of girls' schools
In April 1910, fifty girls' schools were established in Tehran.
In 1913, a women's magazine, Shokoufeh, published a list of 63 girls' schools in Tehran with about 2,500 students. According to Shokoufeh, girls made up one-seventh of the students in Tehran.
The leading women who founded the girls' schools in Tehran, included Bibi Khanum Astarabadi. Astarabadi was a pioneering educator who founded the Dooshizegan Primary School. The school had five teachers and students were from seven to twelve years old.
Astarabadi also created a nursery home for the disadvantaged and orphaned girls. Astarabadi was an author and wrote a book entitled, "Maayeb al-Rejeal" (literally, The Men's Flaws).
Another founder was Safiah Yazdi, one of the famous women of the time who established the Effatieh school in Tehran in 1910. Yazdi won fame for her bold speeches in defense of women's rights.
Establishment of the girls' schools faced opposition from fanatic, reactionary mullahs who incited the unaware masses of the public who insulted the female students, teachers and staff, and at times physically harassed and beat them.
Formation of women's associations
The Association for the Liberation of Women was one of the first women's groups formed on December 30, 1906, after the constitution was approved. The Association's meetings were held twice a week, and a number of famous women and men also attended their meetings.
Two of Naser al-Din Shah's daughters, Taj ol-Saltaneh and Eftekhar ol-Saltaneh, were among the association's activists who passionately defended women's rights.
Other famous women, including Sedigheh Dolatabadi and Shams ol-Muluk Javaher-kalam, were also members of this association.
Another participant in the Association's meetings was Mrs. Park Jordan. Mrs. Park and her husband, Martin Jordan, had co-founded the Alborz College for boys in Tehran in 1894 and ran the college until 1940.
The meetings of the association were held secretly. Once, a group of fanatics who had learned of the news of these meetings, mobilized a mob to raid and disrupt the meeting. But before they arrived, a young Armenian informed the participants of the news and they fled in time.
Another women's association was the Patriotic Mokhaddarat Association, founded by 60 women in 1910 in Tehran. They mainly worked to establish girls' schools, adult literacy classes, and orphanages. They built a school and orphanage in Tehran for 100 female children. One of the members of the Patriotic Mokhaddarat Association was Agha-Baigom, wife of the prominent orator of the Constitutional Revolution, Malik ol-Mutekalemin, and daughter of the free thinker clergy, Hadi Najmabadi. Sheikh Hadi had also founded a girls' school in South Tehran.
Other individuals involved in the Patriotic Mokhaddarat Association included Anahid Davidiyan, wife of Yefrem Khan, a prominent Armenian leader and Tehran's Police Chief after the conquest of Tehran and the overthrow of the last Qajar King, Mohammad Ali Shah's regime. Mrs. Davidiyan was a powerful speaker.
Sadigheh Dolatabadi, sister of poet and author Yahya Dolatabadi, was a member of the Association of Liberation of Women and a secretary of the Patriotic Mokhaddarat Association. In 1918, she founded a girls' high school in Isfahan, and in the following years, she formed the Union of Women in Isfahan, and published a women's weekly called, Women's Language.
Sadigheh Dolatabadi traveled to France in 1922 and studied at the prestigious Sorbonne, wrote articles in European newspapers and delivered lectures on women and politics. She spoke at the International Women's Conference in 1926 as the representative of Iran.
Mohtaram Eskandari (b. 1895, d. 1924), was from the Qajar family, whose father was one of the founders of the Adamiyat Association. She was a pioneer of the women's movement, despite her short life. She founded the "Patriot Women's Society." The society published a magazine called Women Patriots.
Dorrat ol-Ma'ali, whose father was a personal physician of Naser al-Din Shah, was a leading teacher and a member of the Patriotic Mokhaddarat Association. She established Tehran's Mokhaddarat School by using her personal wealth, and asked the educated female in her family to help her in teaching the students.
Dorrat ol-Ma'ali and Sedigheh Dolatabadi were among of the strongest opponents of the colonial treaty between Russia and Britain to divide Iran into Russian and British zones of influence in the north and south, respectively. Dorrat ol-Ma'ali who was in touch with members of Majlis (parliament), asked them to take a stand against the deal.
Dorrat ol-Ma'ali's home was a center for women's meetings and conferences where poetry and cultural sessions were held and well-known poets such as Iraj Mirza and Malek os-Shoara Bahar actively participated.
Women's active role in the Constitutional Revolution
After the bombing of the parliament in July 1924 and the beginning of the uprising in Tabriz against the tyranny of Mohammad Ali Shah, women wearing men's clothing actively participated in the 11-month resistance and uprisings led by Sattar Khan and his comrades. Women took part in the fights in the Amirkhiz neighborhoods and streets, and some died confronting the enemy.
Behzad Taherzadeh, a member of the resistance movement of Tabriz, was cited as saying that one of the wounded soldiers refused to remove her clothes for treatment. When Sattar Khan asked him the reason, he told him that she is a woman and does not feel comfortable.
Habl ol-Matin, one of the well-known newspapers of that era, once reported, "In one of Tabriz's battles, twenty women were identified among the dead who wore men's clothing."
Bibi Maryam Bakhtiari, (b. 1847, d. 1937) was a revolutionary and active member of the Iranian Constitutional Revolution in 1909. Her father was Hossein Gholi Khan and his brother was Sardar (Commander) As'ad Bakhtiari. Bibi Maryam was a strong supporter of her brother Sardar As'ad in capturing Tehran and the triumph of the Constitutional Revolution on July 25, 1909. Bibi Maryam was an educated and enlightened Iranian woman, a pioneer in demanding equal rights for women, and one of the very early activists for freedom. She was also a campaigner for the Iranian national interests against the occupation forces from Russia and Britain during WWI. Bibi Maryam learned military warfare and shooting skills at a young age (like other Lor tribal and nomadic forces) and became a military commander. Bibi Maryam was opposed to the despotism of Mohammad Ali Shah, and in various letters, telegrams and lectures, she educated and advised the leaders of the Bakhtiari tribes to fight the Qajar tyrants.
On November 29, 1911, the Russian government won agreement of the British and gave a warning to the Iranian parliament to expel Morgan Shuster from Iran within 48 hours.
William Morgan Shuster was an American lawyer, civil servant, and publisher, who was serving as the treasurer-general of Iran by appointment of the Iranian parliament, or Majlis. Morgan Shuster was there to help manage Iran's financial system, but he also opposed the colonial rule of Britain and Russia in Iran and was active in supporting the Constitutional Revolution.
To protest the ultimatum in Tehran, 50,000 people rallied in the streets and announced a general strike. Thousands of women wore white shrouds, showing their readiness to sacrifice their lives for their country. On December 10, 1911, the Patriotic Mokhaddarat Association called for a massive demonstration outside the Majlis. Thousands of women participated in the rally.
In his book The Strangling of Persia, Morgan Shuster wrote, "Free from traditional confines and surrounded shrines, three hundred rebel women pour on to the streets. They had black hijab and white scarves. They held pistols under their skirts and hijabs. They went directly to the parliament and gathered there and called on the Speaker of the Majlis to accept all of them. Some of the women were allowed inside the parliament. These mothers, wives and girls displayed their pistols to show they were determined in their beliefs. They removed their hijab and threatened that if the MPs failed to demonstrate their duty to protect the freedom and pride of the nation and the country, they would kill these husbands and sons with the same pistols."
On the anniversary of the Constitutional Revolution, we commemorate the brave women of Iran who played an active role in the Constitutional Revolution and thereafter; courageous women who were the vanguards and pioneers of the equality movement and took risks to hoist the banner of women's liberation in the darkest eras of patriotic rule. Their struggles became the beacon for Iranian women in the modern time who have fought against both regimes of the Shah and the mullahs. With such role models, the PMOI women are now leading the Iranian Resistance movement to topple the mullahs' misogynist regime and to the final victory.
https://women.ncr-iran.org/articles/5398-remembering-iran-s-brave-women-in-the-constitutional-revolution
--------
US-backed SDF Ready to Help Sweida's Women Taken by IS
August 06, 2018
KOBANI (Kurdistan 24) – The US-backed Syrian Democratic Forces (SDF) on Sunday said they are ready to exchange Islamic State (IS) prisoners for civilians kidnapped by the militant group from Sweida.
Experts say it is a sign the Kurds are reaching out to the autonomy-minded Druze minority.
On July 25, IS killed over 250 people in the city of Sweida, inhabited by the Druze religious minority, which is an offshoot of Islam incorporating elements of other faiths.
During the attacks, IS kidnapped hundreds of other people, mostly women.
"We, the Syrian Democratic Forces, and in our belief in the unity of the common destiny of all the people of Syria, express and assure our people in Sweida city and the families of the abductees our full readiness for any exchange with elements of [IS] we have detained to liberate the abductees and return them to their families," the SDF said.
The SDF is holding hundreds of IS fighters, women, and children captured in the fight against the extremist group.
The Kurdish-led People's Protection Units (YPG) also said they are ready to defend the Druze people.
"We declare that we are ready to protect them wherever necessary. This attack is as burdensome and painful for us as an attack on Kobani and Jazira," the YPG said.
"We do not distinguish between these attacks and those against Sweida. The YPG is ready to dispatch forces to liberate it from terrorism," Sipan Hemo, the head of the YPG, told Asharq Al-Awsat.
According to Qusay Sheikho, a member of the Kurdish Centre for Studies, civilians have always been a priority for SDF forces. "In my opinion, the SDF forces see the case of the abducted Druze civilians [as] an ethical responsibility," he said.
"They have done so previously in Raqqa, where mostly Arabs were the victims of the terrorist group. Furthermore, SDF is an alliance that contains all Syrians from all religious and ethnic groups."
Nicholas A. Heras, a Washington-based analyst for the Center for a New American Security, told Kurdistan 24 that the SDF believes it is a movement for all Syrians.
"Of course, the SDF would want to help the Druze, regardless of some political differences they might have because of the Druze connection to Assad," he concluded, referring to the Syrian President.
However, experts say the statements by the YPG and SDF also have a political purpose.
Hans Scholl, a researcher on local history and politics in Syria, told Kurdistan 24 that the recent statement comes against the backdrop of detente and talks between Damascus and the Syrian Democratic Council (SDC).
"It shows a gesture of goodwill to the central government, signaling the willingness of SDF to commit its forces alongside SAA and other loyalists under some kind of unified command," he said.
Earlier, Kurdish officials also said they were willing to fight militant groups in Idlib.
According to Scholl, there is a longstanding pattern of attempted outreach by Syrian Kurds to the Druze, which can be traced back at least to the founding of the SDC, if not earlier.
"The PYD and other parties backing the DFNS [Democratic Federation of Northern Syria] project remain at least nominally committed to the dream of building a new, decentralized order for all of Syria, not just the North," he said.
Just like the Kurds, the Druze of Sweida are already known to be somewhat inclined toward autonomy.
"This makes an obvious choice for another minority-led regional autonomist movement to reach out to."
The researcher added that these recent moves show "that as the SDF negotiates an uncertain future with Damascus, it's already scanning the room for any potential friends it can make to build whatever strength it can in a hostile environment."
http://www.kurdistan24.net/en/news/159781b7-88ca-4b9f-b434-3eb6a18e09b4
--------
Remarkable Bahraini Women Doctors Presence Hailed
01/08/2018
Manama, Aug 1 (BNA): Secretary-General of the Supreme Council for Women, Hala Al Ansari, today received the newly elected chairperson and members of the Bahrain Medical Society, and discussed cooperation.
A number of proposals were also discussed, including the establishment of a committee on the integration of women's needs and an equal opportunities committee at the BMS, in addition to ideas related to supporting women in the workforce.
Al Ansari pointed out the Bahraini women's presence in the medical sector, taking pride in the 64% Bahraini women doctors of total Bahraini doctors in public hospitals, 26% in private hospitals.
She said the National Plan for the Advancement of Bahraini Women related to the health sector focuses on improving health services for Bahraini women, developing preventive health care programs and early identification of risk factors, as well as intensifying health and safety awareness programs for women in home and in the workplace and.
BMS chairperson Dr. Ghada Al Qassim praised the SCW's supportive efforts, led by President HRH Princess Sabeeka bint Ibrahim Al Khalifa, wife of HM the King, to Bahraini women to contribute to the national prosperity march.
She welcomed cooperation in support of the SCW's efforts to empower Bahraini women in various fields, chiefly health sector, stressing to continue the BMS's strategy to support national efforts to develop the health sector.
http://www.bna.bh/portal/en/news/851395
--------
URL: https://www.newageislam.com/islam-women-feminism/hijab-wearing-malaysian-born-nurul/d/116052
New Age Islam, Islam Online, Islamic Website, African Muslim News, Arab World News, South Asia News, Indian Muslim News, World Muslim News, Women in Islam, Islamic Feminism, Arab Women, Women In Arab, Islamophobia in America, Muslim Women in West, Islam Women and Feminism