New Age Islam News Bureau
07 February 2022
• Girls Being Denied Right to Education in Afghanistan, Pak, PoK: J&K Women Protesters at UN Office
• Hijab-saffron shawl controversy continues to linger in Karnataka colleges; two arrested for carrying lethal weapons
• Iran shuts down news website over image of decapitated woman in Ahvaz city
• 'Arbitrary' dismissal of women employees in Saudi Arabia sparks outrage
• Forbes list: Seven Emiratis among 50 most powerful businesswomen in Middle East
Compiled by New Age Islam News Bureau
URL: https://www.newageislam.com/islam-women-feminism/hijab-unwilling-uniform-dress/d/126320
--------
Hijab row: Those unwilling to follow uniform dress code can explore other options, says Karnataka minister
February 06, 2022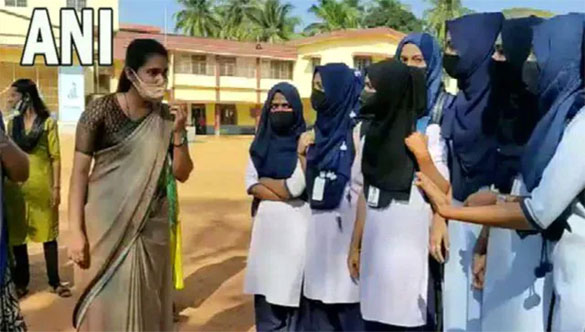 Students wearing hijab denied entry to Government PU College in Karnataka's Kundapur. ANI
-------------
Bengaluru: Amid the raging row over wearing 'Hijab' in educational institutions in Karnataka, state Education Minister B C Nagesh on Sunday said students who are unwilling to adhere to the uniform dress code are at liberty to explore other options.
"Just as rules are followed in the military, the same is to be done here (in educational institutions) as well. Options are open for those who are not willing to follow it, which they can make use of," Nagesh told reporters in Mysuru.
The minister appealed to the students not to become 'tools' in the hands of political parties. The Bommai government had on Saturday issued a circular banning clothes which disturbed peace, harmony and, law and order in the educational institutions across the state.
On the circular, Nagesh said the government felt the need to clarify on this matter and issued a circular. He also clarified that the students can to come to the school wearing Hijab, but inside the campus they have to place it in their bags.
Wondering why the problem emerged all of a sudden when students of all the faiths were coming to schools wearing uniform, he said everyone was learning and playing together with a sense of equality but never ever have religious differences cropped up.
According to Nagesh, trouble began in December when some children in Udupi were instigated to wear Hijab saying 'Sharia' (Islamic law) prescribes such dress code and they were duty-bound to abide by it.
The minister further claimed that many children were asked to do so but a majority of them did not agree. "In Udupi school where the incident occurred, out the 92 Muslim children only six girls came wearing Hijab and succumbed to the 'poisonous seeds'. Other children came to the school wearing their school uniform," he said.
Rejecting the Congress party's charge that the BJP government does not want Muslim students to continue their studies, Nagesh pointed out that the Karnataka Education Act was not brought by the BJP but Congress, which had ruled for maximum years in the state.
The minister urged the grand old party not to create divisions in the society for political gains. In December last year, some girl students started coming to a government school in Udupi district wearing Hijab, against the prescribed uniform norm.
In protest against the violation of dress code, a section of Hindu students also started coming to classes wearing saffron shawls.
Even before the matter could be resolved, the hijab-saffron shawl controversy spread to more pre-university colleges in the state.
In Kalaburagi district headquarters town, Muslim girls led by the Congress MLA Kaneez Fathima staged a protest on Saturday demanding permission to allow female students in the schools and pre-university colleges to wear Hijab.
The issue took a political turn with the political parties in the state indulging in mudslinging.
While the Congress backed the Muslim girls citing constitutional rights guaranteed, the BJP stood against wearing of 'Hijab' in classes with its state president saying the state government will not allow Talibanisation of the education system.
The Karnataka High Court on February 8 will hear the petitions filed by five girls studying in a Government Pre-university College in Udupi, questioning hijab restriction in college.
Source: Firstpost
https://www.firstpost.com/politics/hijab-row-those-unwilling-to-follow-uniform-dress-code-can-explore-other-options-says-karnataka-minister-10353981.html
--------
Girls Being Denied Right to Education in Afghanistan, Pak, PoK: J&K Women Protesters at UN Office
FEBRUARY 07, 2022
The memorandum said since the Taliban took over Afghanistan, all schools and educational institutions for girls have been shut down.
----------
Young girls and women protested at the United Nations' office in Srinagar on Monday, demanding the right to education for Muslim women in Afghanistan, Pakistan and Pakistan-occupied Kashmir.
In their memorandum to UN officials, the women said: "Since the Taliban took over Afghanistan, all schools and educational institutions for girls have been shut down. The two decades of enforced peace under an international mandate had provided a glimmer of hope to thousands of girls and their families that Afghan girls could finally have access to education without fear."
"A lot of propaganda is carried out across the United Nations and other multilateral platforms about the human rights situation in Jammu and Kashmir. The proponents and buyers of this propaganda conveniently ignore the wide gap in the educational opportunities afforded to the girls of J&K in comparison with their sisters in those parts of J&K which are illegally under foreign occupation. Pakistan Occupied Kashmir and Gilgit-Baltistan today have been sadly left behind on the education front, depriving our sisters of the right to modern and secular education," it said.
The memorandum stated that over the years, the Pakistani leadership has resorted to spreading religious conservatism as a means of political domination.
"A vast majority of Pakistan's population only have access to religious education through a flourishing chain of Madrassas. Education cannot be fettered by dogmatic ideas and students have a right to the vast expanse of knowledge that exists. Absence of modern schools and colleges in PoK and G-B has deprived our sisters the opportunity that we have come to take for granted in India. Not just in J&K, we have access to any institution of our choice anywhere in India. It is our fervent appeal that the United Nations take note of the deplorable condition of girls' education, a right that has been cruelly and forcibly snatched away from them for reasons of history, for which they are not responsible nor should they be made to pay the price for it," it stated.
The memorandum stated that madrassas offering free education have mushroomed in Balochistan. The poor and unemployed families of one of the most richly endowed Provinces have no choice but to send their children to these Madrassas, where their "fragile minds are poisoned with retrogressive ideas and information".
It stated: "The situation is no better in Khyber Pakhtunkhwa where all moderate and progressive political forces have been sacrificed. The Province has seen a level of Talibanization that is not there even in Afghanistan. The educational prospects of the girl child in KP can be described in two words: Malala Yusufzai. Our sisters in KP face as bleak a future as those in Afghanistan. Unless the rot is stemmed, very soon most of our Pakistani sisters, barring the rich and powerful, would be subject to the same future."
Source: News18
https://www.news18.com/news/india/girls-being-denied-right-to-education-in-afghanistan-pak-pok-jk-women-protesters-at-un-office-4745129.html
--------
Hijab-saffron shawl controversy continues to linger in Karnataka colleges; two arrested for carrying lethal weapons
February 07, 2022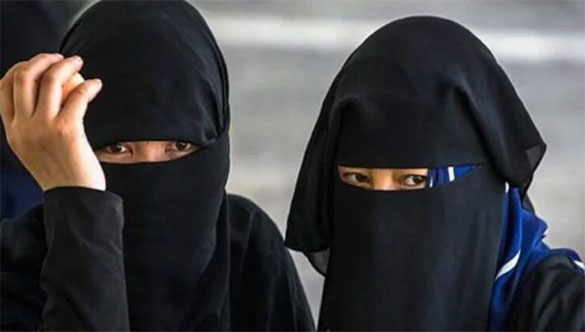 India's hijab row. PTI
----------
The hijab-saffron shawl row in the junior colleges at Kundapur in Karnataka's Udupi district continued on Monday, with students in two junior colleges trying to defy the government order mandating uniforms stipulated by the state government or respective managements of the institutions.
The state education department had issued the order on 5 February, 2022.
Two people have also been arrested in Kundapur in Karnataka's Udupi district for allegedly carrying lethal weapons during a protest at a government college over students' right to wear a hijab in classrooms.
A group of students studying at Venkataramana College in Kundapur came in a procession to the college on Monday wearing saffron shawls. They were prevented from entering the premises by the college principal and the police personnel present there.
The students said they will wear the shawls if hijab-wearing girls were allowed in classes. They agreed to enter the classes removing their shawls only after the principal assured them that no hijab-wearing students will be allowed to enter classrooms.
At the Government PU College in Kundapur under Udupi district also, the principal talked to Muslim girl students who came wearing hijabs and explained to them the government's order.
As the students continued to insist on wearing the headscarves, they were asked to go to a separate room arranged for them.
The protests are over the alleged denial of entry to students wearing hijabs to a college in the Kundapur area of Udupi on 4 February, 2022.
The protests have triggered a political row with the Congress and the BJP attacking each other over the issue.
According to an ANI report, two people were arrested, on Monday, for allegedly carrying lethal weapons near Government PU College where students are protesting against disallowing hijab in educational institutions, informed local police.
According to police officers, out of five men carrying weapons, three managed to flee from the spot.
Police told NDTV one of the accused is from a nearby village. Police also said they were searching for the other three accused. It is unclear at this time if they have any political affiliations.
The two arrested have been identified as Haji Abdul Majid and Rajjab who hail from Gangolli, a village near Kundapur.
There was widespread criticism against the way the girls were made to protest outside the college gate last week.
Source: Firstpost
https://www.firstpost.com/politics/hijab-saffron-shawl-controversy-continues-to-linger-in-karnataka-colleges-10355081.html
--------
Iran shuts down news website over image of decapitated woman in Ahvaz city
07 February ,2022
Iran has shut down a news website after it published an image of a man holding what was said to be the head of his wife in his hand, the state-run IRAN newspaper reported on Monday.
According to the report, a media supervisory board on Sunday decided to close Rokna website because of its continuing to "publish images and issues that violate public decency."
Authorities have arrested the man who is accused of killing his wife on Saturday in the southwestern city of Ahvaz.
The photograph, in which the man holds a large knife in the other hand, has had tens of thousands of views on social media. The case is under investigation. Rokna was started in 2016 and has more than 20,000 subscribers on Telegram, a free social instant messaging service that provides video calling, file sharing and other features.
Iran has had a long history of closures of media outlets. In 2020, authorities shut down Jahan-e Sanat newspaper after it quoted a former member of the national coronavirus taskforce as saying that the country's death toll from the pandemic could be 20 times higher than officially provided figures.
Source: Al Arabiya
https://english.alarabiya.net/News/middle-east/2022/02/07/Iran-shuts-down-news-website-over-image-of-decapitated-woman-in-Ahvaz-city
--------
'Arbitrary' dismissal of women employees in Saudi Arabia sparks outrage
06 February, 2022
A Saudi company has come under fire for dismissing five women employees and appointing a "foreigner" instead, the Saudi daily Al-Watan reported, without clarifying the gender or nationality of the person who assumed their post.
The women, who worked for a health company in the southwestern port city of Jizan, described the decision to sack them as "arbitrary".
The women employees filed a complaint with three local authorities and demanded an investigation over their dismissal and a restoration of their work rights, as well holding the company accountable.
In their official complaint, the women said that their place of employment committed nine violations, which include "forcing [them] to to conclude a new work contract, and subjecting [them] to a stressful experience, which violated Article 8 of the Labour and Human Resources Regulations".
They said that they were also subjected to violations of Article 20, which concerns work regulations abuses, coercion to resign and harassment, and Article 46, which refers to favouring foreign workers over Saudi ones, as well disrupting the workplace.
The women also accused the company of delaying their salary payments and making them sign papers without knowing what they entailed.
The incident drew criticism from Saudi citizens online, some describing it as "unreasonable". The Arabic hashtag #Dismissal_of_Saudis_and_appointment_of foreigner also trended on Twitter.
Saudi Arabia once had one of the lowest female employment rates in the world, however recent statistics showed that the employment rate increased to 33% by the end of 2020.
Source: The New Arab
https://english.alaraby.co.uk/news/dismissal-women-employees-saudi-arabia-sparks-outrage
--------
Forbes list: Seven Emiratis among 50 most powerful businesswomen in Middle East
Feb 7, 2022
Seven Emiratis have been named among Forbes' 50 most powerful businesswomen in the Middle East in 2021.
The UAE, along with Egypt, had the most entries in the list of the Middle East and North Africa's most influential and successful female entrepreneurs.
Some are leaders of multinational companies, while others helped their organisations achieve major milestones in 2021.
The list includes women of 19 nationalities working in 17 sectors, with banking and financial services featured most.
Raja Easa Al Gurg, an Emirati who is the group managing director and vice-chairwoman of Easa Saleh Al Gurg Group, ranks first on the list.
Her organisation owns 27 companies that have been operating for more than 60 years in retail, lifestyle, construction and real estate.
Ms Al Gurg is also the president of the Dubai Business Women Council and a member of the board of directors of Dubai Chambers.
Hana Al Rostamani, an Emirati who is the group chief executive of First Abu Dhabi Bank, ranks third on the Forbes list.
She is the first female chief executive of the bank, which is the UAE's largest, with total assets of $268 billion as of September 2021.
With more than 23 years of experience in banking and financial services, Ms Al Rostamani is also a board member of her family business AW Rostamani Group.
Women leading companies based in the UAE are also on the list.
Renuka Jagtiani, chairwoman and chief executive of the Landmark Group, was ranked in second place.
The Dubai-based organisation operates in 21 countries and has more than 50,000 employees working in more than 2,200 outlets.
The full list is available online.
Forbes also released a list of the top five Arab women that made history in 2021. It included Emirati engineer Nora Al Matrooshi, who is the first Arab female training to be an astronaut.
Emirati women on the list:
Raja Easa Al Gurg, group managing director and vice-chairwoman of Easa Saleh Al Gurg Group
Hana Al Rostamani, group chief executive of First Abu Dhabi Bank
Maryam Buti Al Suwaidi, chief executive of the Securities and Commodities Authority
Huda Al Rostamani, managing director of AW Rostamani Group
Saeeda Jaffar, senior vice president and GCC group country manager of Visa
Najla Ahmed Al Midfa, chief executive of Sharjah Entrepreneurship Centre
Rola Abu Manneh, chief executive of Standard Chartered Bank in UAE
Source: The National News
https://www.thenationalnews.com/uae/2022/02/07/forbes-list-seven-emiratis-among-50-most-powerful-businesswomen-in-middle-east/?92B60D35-75CB-AF40-B1DB-7BE1AE06ACDE_kis_cup_C6FA3ED5_6D17_47D1_B6E2_F4B02CC905E0_
--------
URL: https://www.newageislam.com/islam-women-feminism/hijab-unwilling-uniform-dress/d/126320
New Age Islam, Islam Online, Islamic Website, African Muslim News, Arab World News, South Asia News, Indian Muslim News, World Muslim News, Women in Islam, Islamic Feminism, Arab Women, Women In Arab, Islamophobia in America, Muslim Women in West, Islam Women and Feminism