New Age Islam News Bureau
16 February 2022
• Qandeel Baloch Case Pakistan's Acid Test for Blood Money Law; Acquittal Shows It Has Failed
• Saudi Arabia Embraces Its First-Ever Female Basketball Generation
• Shah Bano judgment comes to woman's rescue
• Yemeni Coalition of Independent Women demands designating Houthi as terrorist organization
• UAE: Emirati Women in Government, Private Sector Should Get Uniform Leave, FNC Member Says
• Civil Society, Rights Activists Protest Constant Harassment of Women Students in Pakistan's Sindh
• Pak Witnesses Four Heinous Crimes against Women In One Week
• Woman Stabs Cab Driver in Gurgaon, Punches Cop; Claims She Is From Egypt
Compiled by New Age Islam News Bureau
URL: https://www.newageislam.com/islam-women-feminism/hijab-row-muslim-qandeel/d/126383
--------
Hijab Row: Muslim Girl Asked to Remove Hijab, Boycotts Exam in Response to the Diktat
Photo: Representative Image
-----
15th February 2022
Bengaluru: The Hijab row continued to simmer in Karnataka on Tuesday over alleged denial of entry for girl students into schools with their headscarves on in some places, as one such girl announced boycotting her exam in response to the diktat.
Scenes of angry parents of such children arguing with police and school authorities and an instance of a student trying to flaunt a saffron scarf as an apparent retaliation were also reported.
The Karnataka High Court, in its interim order last week restrained all the students from wearing saffron shawls, scarves, hijab and any religious flag within the classroom.
High schools were reopened across the state on Monday, even as there were instances of students turning up in Hijab and burqa then, only to be denied entry or asked by officials to remove them, citing the High Court order.
On Tuesday, at a school in the district headquarters town of Shivamogga, a Burqa-wearing girl refused to write her exam when the school authorities asked her to remove her Hijab first.
"We have grown up wearing Hijab since our childhood and we cannot give it up. I will not write the exam and I will go home," the girl told reporters.
In a government school in Indavara village in Chikkamagaluru district, Muslim girls were not let inside the school and were asked to go back.
Soon, their parents reached the school and staged a protest. They barged into the campus, raised slogans and demanded that the order should be given to them in writing.
As the protest intensified, another student pulled out a saffron scarf from his school bag. On the direction of his teachers, he put it back inside.
Sensing the situation, the principal closed the school for the day.
In another institution in Chikkamagaluru town, tension prevailed over denial of entry to the students with hijab. Parents swarmed the school and questioned the school authorities how their children were not allowed inside.
Policemen deployed there told the crowd that there was a High Court order not to let anyone wearing Hijab or saffron scarves but the parents were not ready to listen and insisted that their wards be allowed to write the exam.
In SVS School in the district headquarters town of Tumakuru, Muslim parents thronged its premises after their daughters were turned away for wearing hijab.
Subsequently, policemen rushed to the spot and made the parents and girls leave the school. They too cited the High Court order.
Meanwhile, in Udupi district, parents of students staged a protest before the Maulana Azad high school at Mallar Pakirnakatte against the authorities for forcing hijab-clad students to sit in a separate room.
The parents demanded that the students be allowed to sit in classes wearing the hijabs. They also told the authorities that their children will not be sent to school without headscarves.
According to sources, at least 20 students who had arrived at the school on Monday with their hijabs on and were made to sit separately, were absent on Tuesday.
However, eight students of the government Urdu primary school in Mallar, who came wearing hijabs were allowed to write their examinations today. Education department officials visited the school.
The full bench of the Karnataka High Court, hearing the matter pertaining to the Hijab ban, had in its interim order restricted the entry of anyone wearing Hijab and saffron scarf till the final order.
Students from Udupi and Kundapura who had approached the court had said Hijab was an essential religious practice and questioned the government order of February 5 which prohibited any student from wearing cloth that can disturb peace, harmony and law and order.
The government order then came following tension in the schools and colleges over Hijab versus saffron scarves row.
On January 1, six girl students of a college in Udupi attended a press conference held by Campus Front of India (CFI) in the coastal town protesting against the college authorities denying them entry into the classroom wearing Hijab.
This was four days after they requested the principal permission to wear Hijabs in classes which was not allowed. Till then, students used to wear Hijab to the campus and entered the classroom after removing the scarves, the college principal Rudre Gowda had said.
"The institution did not have any rule on Hijab-wearing as such and no one used to wear it to the classroom in the last 35 years. The students who came with the demand had the backing of outside forces," Gowda had said.
Source: Siasat Daily
https://www.siasat.com/karnataka-muslim-girl-asked-to-remove-hijab-boycotts-exam-2276288/
--------
Qandeel Baloch Case Pakistan's Acid Test for Blood Money Law; Acquittal Shows It Has Failed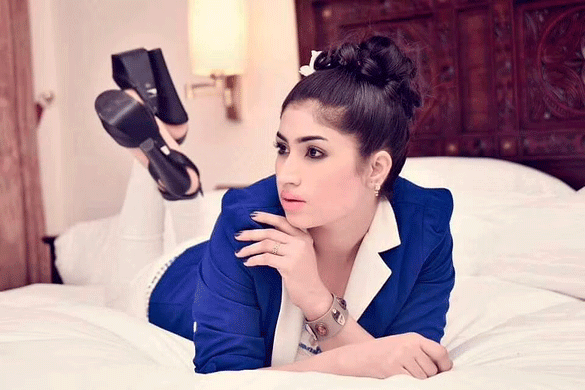 File photo of Qandeel Baloch | @realQandeelBaloch/Facebook
-----
Tenzin Zompa
15 February, 2022
New Delhi: Qandeel Baloch's murder case became Pakistan's acid test for its controversial "blood money" or "forgiveness" laws. A high court has now allowed the murderer — her brother Muhammad Waseem—to walk free. Waseem had admitted to killing his 26-year-old sister for posting "shameful" pictures on Facebook in 2016.
Under Pakistan Penal Code's Section 311, which is based on the Islamic concept of "Qisas" or retributive justice, a murderer who may be punished with a death sentence can be pardoned if he or she provides "Diyat" (blood money), a compensation payable to the victims or their legal heirs.
In a report published in Pakistani daily Dawn, Waseem's lawyer Sardar Mahboob said: "The trial court had "wrongly exercised its power" and sentenced Waseem under the Pakistan Penal Code's Section 311, dealing with fasad-fil-arz (mischief on earth), even though he had been pardoned by the deceased's heirs".
Qandeel Baloch's parents had announced a pardon for their son in 2019 but the court went ahead with the sentencing, Dawn report said.
Activists and journalists in Pakistan have denounced the acquittal order and said the case showed "how severely the criminal justice system is broken" in the country.
In an oped article for Dawn — titled the 'honour' in murder — Pakistani lawyers Sahar Bandial and Nighat Dad wrote, "Qandeel asserted her independence. For that, she was seen as someone who deserved to be killed". They further elaborated on how things may still go wrong after amendments in the existing laws if the Supreme Court continues to uphold "treating the 'affront' to his honour" and "culpable homicide" like it did in a case in 2018.
Pakistani film actor Osman Khalid Butt wrote: "We are in the concluding stages of a high-profile and incredibly brutal murder case even now – how does this ruling inspire any confidence (except to the guilty) in our judicial system?"
Questioning the loopholes in their judicial system that spares these murderers, Butt further said, "This is not the first time sentences for heinous crimes have been reduced or overturned. Why do these loopholes still exist in our judicial system whereby murderers can eventually walk free?"
A Twitter user by the name Yasmine Mohammed pointed out how Islam enables people in Pakistan to commit honour killing: "Islamic law in #Pakistan allows for a man who murdered his sister in an 'honor killing' to walk free. Remember this when they tell you honor killings have nothing to do w Islam".
"The brother who confessed to killing his sister Qandeel Baloch was acquitted today. He was the prime suspect in this case since the murder. Men here will tell you how bad Valentine's day is and how we should observe haya sharam. They will conveniently ignore femicide in PK", said another user.
Expressing shock, a user by the name Nighat Dad wrote, "This man who confessed of killing Qandeel, his own sister, is a free man today in the same country where Qandeel couldn't live her life freely & was honor killed for the choices she made as a free citizen of this country. #qandeelbaloch #honourkilling".
Source: The Print
https://theprint.in/go-to-pakistan/qandeel-baloch-case-pakistans-acid-test-for-blood-money-law-acquittal-shows-it-has-failed/832604/
--------
Saudi Arabia embraces its first-ever female basketball generation
February 15, 2022
JEDDAH: With basketball in hand, Saudi basketball player Mohanned Shobain has successfully scored many hoops in life and on the court.
Shobain is the CEO of the Jeddah Swish Basketball Academy and one of the first Saudi coaches to train Saudi female basketball players. He is also a licensed coach from FIBA (International Basketball Federation), and is currently in the second year of pursuing his FIBA Europe Coaching Certificate, which will enable him to coach anywhere in the world.
A Saudi Premier League champion, Shobain said: "I am the only Saudi and one of the two people selected from Asia to take this course. I am so thankful that I've been picked along with another Japanese coach because only NBA coaches take this course. It's a very, very powerful license."
For Shobain, basketball is more than just a sport.
"It's a passion, and I feel like I can influence a lot of people to change the way they think, their mind toward the sport itself. It is not just a hobby, but it's a lifestyle, and we can learn a lot from being inside the court such as dealing with people during the game, communication, leadership, sportsmanship, and anger management among others. It has taught me a lot of life lessons."
After Shobain completed his master's degree from Cleveland State University in 2016, he wanted to help the Saudi community through sports. "I saw there was a lot of demand in basketball as both male and female were hungry to learn," he said, adding, "and, the programs that we had were exactly what they needed."
In 2017, Shobain opened the doors to the Jeddah Swish Basketball Academy for budding basketball players both male and female. The academy played a pivotal role for Saudi female basketball players and coaches as it offered them both training programs and opportunities to grow.
The teams from the Swish academy have participated in national and international tournaments. "We have taken the girls' team to Romania, Bucharest to play a three-on-three World Cup qualification tournament in 2019. We also took our boys team to Dubai once in 2018, and we've hosted the Saudi Kingdom Cup here in Jeddah in 2021," he said proudly.
Shobain feels the new generation of Saudi female basketball has great potential, they just "need fine-tuning."
"I do see that there's a lot of skill, a lot of good talent, a lot of good potential. They just need the right training, the right equipment, and opportunity, such as this opportunity of playing in the Saudi Basketball Tournament to develop their game, gain experience, and influence others to love and start playing basketball."
The Jeddah Swish Basketball Academy has organized its first ever female Saudi Basketball Tournament with the Saudi Basketball Federation in Jeddah and Riyadh, which started on Jan. 22 and will finish on March 3.
During this summer, Shobain will take the girl's basketball team to Europe for a basketball camp to further develop their skills. "The aim of this basketball camp is to get them ready for next year's female Saudi Basketball Tournament," said Shobain, who has previously assisted in coaching the Cleveland State basketball female team.
Saudi Arabia is embracing its first-ever female basketball generation.
"The performance is not expected to be of any comparison to WNBA level, but still, it's just incredible to see these girls do what they do since they don't have existing face-to-face role models here that they can talk to and see when it comes to female sports," he said.
Dareen Sabban, 28, has been playing basketball since she was 17. She now wants to become a certified basketball player, recently joining one of Swish's coaching programs. "I played with my university team at the first women's basketball tournament at Al-Johara for an event that was organized by the Ministry of Health and the General Sports Authority in 2021, and we won first place," said Sabban, who was also part of the Swish girls' basketball team that went to Romania.
Sabban wishes to represent Saudi Arabia in basketball internationally and bring laurels to her country by winning championships and setting an example for future generations to take up the sport professionally. "Currently, I'm playing with my Swish team at the female Saudi Basketball Tournament and we have qualified for the semifinals," she said.
Abrar Alghamri, 33, is another member of the Swish team and has been playing basketball since she was 10.
She told Arab News that basketball had taught her how to be patient, how to keep putting in efforts until you succeed and are satisfied with your performance. "It taught me sportsmanship, and how to deal with failures and successes. I realized that while I'm playing basketball, I'm learning about life as much as I'm learning about the game," she said.
Source: Arab News
https://www.arabnews.com/node/2025541/sport
--------
Shah Bano Judgment Comes To Woman's Rescue
Dhananjay Mahapatra
Feb 16, 2022
NEW DELHI: A Muslim man leading a luxurious life went disappointed from the Supreme Court, which chided him before dismissing his plea seeking reduction of monthly maintenance to his first wife, whom he had given Talaq 12 years back, from Rs 15,000 to 10,000 on the ground that he had to maintain his second wife and children.
Importantly, it was the landmark Shah Bano judgment — which ruled that though under Shariat law Muslim men are obliged to give maintenance to the wife only during the Iddat period, under the secular criminal procedure code they have to giv e alimony to the divorced wife till she remarries — came to the rescue of the first wife.
A bench of Chief Justice N VRamana and Justice A S Bopanna pooh poohed the man's claim that he had an income of only Rs 25,000 and0 that it was difficult for him to dish out Rs 15,000 every month to the first wife. His counsel P R Kovilan Poongkuntran said that the first wife did not have any children and lived with her parents. "She does not need any financial assistance from the husband, who has remarried and has to support his second wife and their children. Please reduce the monthly maintenance from Rs 15,000 to Rs 10, 000," he pleaded.
A livid bench asked, "Does the first wife vanish in thin air after divorce? Does she not need money to survive?" The bench then referred to the Madras HC judgment, which said that "even from his (the petitioner M S Khader Basha) own disclosure, it is seen that the firm in which he is the partner has an annual turnover of Rs 1,48,00,625. But he stated that the said turnover of the firm generates only a net income of Rs 3, 54,349. "
The HC also said, "It is difficult to understand that a firm which is having a turnover of Rs 1. 5 cro e is getting only a profit of Rs 3, 54,349. So it is understandable that the petitioner has given some low figures just to create a make-belief that he has no sufficient income."
Pointing out that the man lived a "luxurious life" and had paid bills up to Rs 1 lakh after getting treated at a premier hospital in the city, the HC said, "No person having just Rs 25,000 as monthly income could meet such huge medical expenses by opting to get admitted in a costly hospital."
Dismissing the petition, the SC said, "When you live in luxury, you need to main tain your divorced first wife. Rs 15,000 per month is not such a huge sum for the SC to interfere with. If the first wife had stayed with you, you would be spending much more than Rs 15,000 per month.
Source: Times Of India
https://timesofindia.indiatimes.com/india/shah-bano-judgment-comes-to-womans-rescue/articleshow/89603703.cms
--------
Yemeni Coalition of Independent Women demands designating Houthi as terrorist organization
February 12, 2022
GENEVA — The Yemeni Coalition of Independent Women in partnership with 90 local, regional and international civil society organizations published Human rights statement on Saturday to demand the designation of the Houthi group on the list of terrorist organizations.
The Coalition called on the United Nations General Assembly, with its 193 members, to designate the Houthi coup militia as a terrorist group, given the fact that the approach of the militias affiliated with this group represents a real threat to peace and security in Yemen as well as the building of the modern Yemeni state.
"We are following with a great concern the crimes of the Houthi group, that it deliberately commits on a daily basis by bombing civilian objects in populated Yemeni cities and in Saudi Arabia as well as the United Arab Emirates with ballistic missiles and drones. The resulting is killing and injury of civilians and those are war crimes," the statement read.
They urgently demanded the international community to stop these crimes with decisions that ensure that they will not be repeated in the future.
"Dealing with the Houthi group has contributed to the exacerbation of the humanitarian situation, starting with the increase in the number of displacement of thousands of families who have become homeless as a result of the devastating wars waged by the Houthi group, in Ma'rib, Shabwa, Al Dhale', Al Jawf, Al Hodeidah, Taiz and other areas.
"In addition to that the victims of mines reached, within a month last January, 73 civilians dead, and a number of wounded in various Yemeni cities and in the countryside."
The Houthis has recruited more than 35,000 children since 2014, and used schools, mosques, and summer camps to brainwash at least 60,000 children, train them and send them to the fronts for its wars on behalf of the Iranian regime.
This group has turned airports and ports into military barracks for operations targeting the security and safety of international navigation, targeting international shipping lines, attacking piracy of commercial humanitarian ships, Blowing boats, and trying to control waterways.
"The quick response of the international community to classify the Houthi militia as a terrorist group, placing it on the international terrorist lists, and prosecuting its leaders in the International Criminal Court, will contribute to the success of the pressure policy on the Houthi terrorist group to stop its crimes and its sources of support." — SG
Source: Saudi Gazette
https://saudigazette.com.sa/article/617019
--------
UAE: Emirati women in government, private sector should get uniform leave, FNC member says
by Ismail Sebugwaawo
15 Feb 2022
A member of the Federal National Council (FNC) has proposed for a uniform maternity leave and other leaves for female Emiratis working in government and private sector.
Sabreen Hassan Al Yamahi said in a parliamentary report addressed to the Ministry of Human Resources and Emiratisation that the difference in the leaves, especially those related to mourning, childbirth, breastfeeding hours, and work, significantly and negatively affect the social and job stability of citizens working in the private sector.
It also affects the attitudes and convictions of fresh graduates looking for jobs in the private sector.
Al Yamahi says maternity leave period granted to female government employees also be extended to citizens working in the private sector firms so they get equal benefits.
According to the federal law on maternity leave in the federal government, a female employee in a permanent position shall be granted maternity leave of three months (90 days) with full salary. After that, for 4 months from the date of the employee resuming work, she is entitled to 2 hours' reduced working hours to nurse her child either at the beginning or at the end of the working hours. Maternity leave may not be combined with leave without pay.
A female worker in the private sector is entitled to a maternity leave of 60 days. The first 45 days with full pay and the next 15 days with half pay.
"The child whose mother works in a government job enjoys 240 hours of breastfeeding reduced from their mother's working hours, while the one whose mother works in the private sector gets 180 hours of breastfeeding," Al Yamahi explained adding that there should be uniformity in the maternity leave days and breastfeeding hours for citizen mothers working in government and private sector jobs.
The FNC member also urged the Ministry of Human Resources and Emiratisation to address this issue of Emiratis in private sector jobs getting lesser maternity leave days compared to their colleagues working in public departments, by taking advantage of Article No. (4) of the Decree-Law Regulating Labour Relations No. (33) of 2021, which calls for putting place measures that would attract Emiratis to the private sector jobs.
"How can we apply double standards in dealing with a citizen working in the government sector and another one working in the private sector? Let us apply the existing provisions of the law to make these changes so all citizens get equal benefits," she said.
In January, Al Yamahi had requested that the government extend the two-and-a-half-day weekend granted to government employees to citizens working in the private sector firms so they get equal benefits following the recent weekend change in the UAE.
Federal government departments in the UAE moved to a four-and-a-half-day working week from January 1, 2022. Friday half-day, Saturday and Sunday had formed the new weekend in the country, aligning it with global markets.
Al Yamahi said her proposals are in line with what the UAE leadership seeks to achieve, including; stability and job satisfaction for UAE nationals working in the private sector, and to achieve maximum equality in job privileges between the public and private sectors, especially in light of the comparisons between the two sectors.
Source: Khaleej Times
https://www.khaleejtimes.com/uae/uae-emirati-women-in-government-private-sector-should-get-uniform-leave-fnc-member-says
--------
Civil society, rights activists protest constant harassment of women students in Pakistan's Sindh
14 February, 2022
Karachi [Pakistan], February 14 (ANI): Expressing concerns over the constant harassment of female students at Sindh's universities, rights activists have staged a protest criticising Pakistan's provincial government for its failure to stop these kind of incidents.
The News International reported that a large number of civil society and women's rights activists took part in the demonstration on Sunday.
Sindh Women Development Minister Syeda Shehla Raza, and the Muttahida Qaumi Movement-Pakistan's Senator Khalida Ateeb and MNA Kishwer Zehra also attended the protest to show solidarity with the victims of gender-based violence at the province's academic institutions.
Quoting the speakers at the protest, The News International reported that the civil society and women's rights groups view sexual harassment at educational institutions with great concern, adding that the recent case of Parveen Rind, a nursing house officer at the Peoples Medical University Nawabshah, is reminiscent of the atrocities committed against Noshin Shah, Nimrata Kumari and Naila Rind.
Furthermore, they said that the literacy rate is already low in the country, but it is even lower for girls, adding that after rising harassment cases, the civil society is afraid that girls who have access to education can also be forced to stay at home. "Because of it, the country will lag far behind in the race for development," civil society groups said in a joint statement cited by The News International.
The speakers demanded that the provincial government find those responsible for sexual harassment at higher educational institutions and punish them severely.
The incident comes amid the annual report of State of Human Rights in Pakistan released by the Human Rights Commission of Pakistan (HRCP) for the year 2020 that has set alarm bells ringing over the plight of women in the country. (ANI)
Source: The Print
https://theprint.in/world/civil-society-rights-activists-protest-constant-harassment-of-women-students-in-pakistans-sindh/831548/
--------
Pak witnesses four heinous crimes against women in one week
12-02-2022
Pakistan has witnessed four horrific incidents against women in different parts of the country in one week, suggesting a rise in crime against women. A young woman in Lahore, who had chosen to marry of her own free will, was attacked by her father in court. Later, she was rescued, and the father was arrested, according to The News International.
In Kot Momin, in the same province, a young girl who had been gang-raped, was murdered by her brother on the grounds of 'honour'. In yet another horrific incident, two women were kidnapped, paraded naked and then gang-raped in Pakistan's Sindh province, according to local media.
A woman in Pakistan's Khyber Pakhtunkhwa province was admitted to hospital in Peshawar with a nail hammered into her head, on the direction of a fake 'peer' (faith healer), in order to give birth to a baby boy. In Pakistan, at least 11 rape cases are reported daily with over 22,000 rape cases reported to police in the last six years from the country, as per the data obtained from various bodies including the Police, Law and Justice Commission of Pakistan, Human Rights Commission of Pakistan.
Only 77 of the accused in the 22,000 cases were found to be convicted and the conviction rate is around 0.3 per cent. "Sadly, rape culture is predominant in Pakistan -- one that blames the victims of sexual assault and frames all men as naturally violent. Many are working to try to change this discourse, but it is an uphill battle," said Nida Kirmani, a professor at Lahore University of Management Sciences, as saying. (ANI)
Source: Devdiscourse
https://www.devdiscourse.com/article/international/1920671-pak-witnesses-four-heinous-crimes-against-women-in-one-week
--------
Woman Stabs Cab Driver In Gurgaon, Punches Cop; Claims She Is From Egypt
February 15, 2022
Gurgaon: A woman, believed to be a foreigner, allegedly stabbed a cab driver in Gurgaon on Tuesday, police said.
The incident took place at Gurgaon's Rajiv Chowk around noon, they said. The burqa-clad woman tried to flee the scene but police chased her down.
After being cornered by on-duty PCR staff, the woman, who claims to be from Egypt, started shouting in her native language. A video of the incident also shows her punching and manhandling a policewoman.
The suspect was taken to Civil Lines police station, where she is being questioned. However, no FIR was registered till filing of this news report.
The woman had thrown her knife while running away and police had yet to recover it.
No passport or visa has been recovered from her possession, police said. She doesn't understand English or Hindi so police are arranging a translator.
The cab driver, Raghu Raj, said he runs his vehicle to Anand Vihar in Delhi on a sharing basis.
"I was inside the cab with one passenger when she came from behind. I lowered my pane, thinking that she had to go somewhere. But, she stabbed me in the shoulder and ran away. I pursued her, but she scratched my face. Police caught up and cornered her," Mr Raj told news agency PTI.
Police said they were waiting for the driver to lodge a complaint against the woman so that action can be taken in accordance with the law.
Source: ND TV
https://www.ndtv.com/india-news/woman-stabs-cab-driver-in-gurugram-punches-cop-claims-she-is-from-egypt-2769893
--------
URL: https://www.newageislam.com/islam-women-feminism/hijab-row-muslim-qandeel/d/126383
New Age Islam, Islam Online, Islamic Website, African Muslim News, Arab World News, South Asia News, Indian Muslim News, World Muslim News, Women in Islam, Islamic Feminism, Arab Women, Women In Arab, Islamophobia in America, Muslim Women in West, Islam Women and Feminism