New Age Islam News Bureau
13 Jun 2014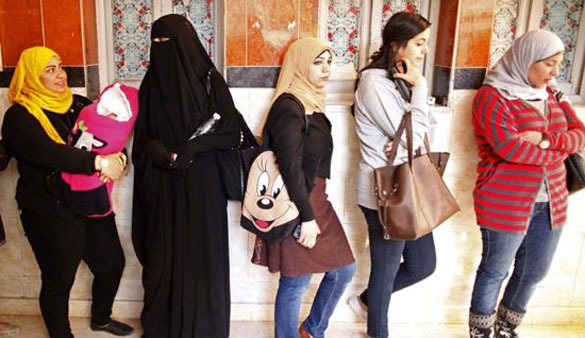 Women have made the hijab into a symbol of Islamic feminism and empowerment. Photo by Reuters
---------
• Nigerian Girls Symbols of Sexual Violence
• Saudi Female Applicants' Leaked Personal Information Being Used For Blackmail
• Syrian Bride Wants 15 Pro-Assad Heads as Dowry
• Qataris Warning Foreigners to Dress Modestly
• Women Shut Out From Fatah-Hamas Reconciliation Deal
• Social Awareness Is a Must in Eradication of Child Marriage
• Global Issues Tackled At International Muslim Women's Conference
• 3 Saudi Women Bag 'Mother's Blessing' Award
• Iraqi Women Make Gains in Parliamentary Elections
• Militants Sweep Towards Baghdad: Women's Rights Groups Mobilize
• Human Rights Defender Blames Pakistani State for 'Barbaric' Honour Killing
Compiled by New Age Islam News Bureau
URL: https://newageislam.com/islam-women-feminism/hijab-protests-rock-east-jerusalem/d/87520
-------------
Hijab Protests Rock East Jerusalem's Christian Schools' Famed Openness
Jun. 13, 2014
Christian schools' refusal to let female students wear a Hijab on school grounds has threatened to disrupt the institutions' famed openness.
The church-run schools in East Jerusalem are considered the best schools in that part of the city — some would say in the entire city. Their Christian administrators are proud of the religious tolerance and openness that typifies their institutions, where a majority of the students are Muslim.
But in recent years, these schools' adamant refusal to let female students wear a hijab on school grounds has threatened to disrupt this openness. The tensions reached their peak in the lead-up to this year's graduation, with parents and student protests against the ban escaping school grounds and marring Christian-Muslim relations throughout East Jerusalem.
Two incidents ignited the protest. The first was the refusal of Schmidt College for Girls, a German Catholic school near Damascus Gate, to let a girl wearing the traditional Muslim head scarf into the graduation ceremony. The name of the student, a graduating senior, was deleted from the program, and when her parents protested, they were removed from the auditorium. Other parents who were there say that members of the Palestinian Authority's preventive security force helped eject the couple, in cooperation with school administrators.
The second incident was a demonstration against the decision by the Rosary Sisters School, in Beit Hanina, to add to its ban on wearing a hijab on school grounds a provision prohibiting all items of clothing that hint at the wearer's religious or political affiliations. The new rule set off a parent protest on Facebook and a demonstration that took place three weeks ago.
"The parents are fed up. There were 11 girls at the school who wanted to attend commencement in hijab and were forbidden to do so," said a person involved with the matter who spoke on condition of anonymity.
Demonstrators held signs saying, "I won't give up the hijab," and participants demanded that Palestinian President Mahmoud Abbas intervene on their behalf.
After the demonstration, social media sites were abuzz, and one anonymous poster even threatened to burn down the school. Residents of East Jerusalem speak of unprecedented tensions between the small Christian community and the Muslim majority. "Wise people from both sides are trying to calm the waters and limit the topic to the school campuses," says the Executive Secretary of the Jerusalem Inter-Church Center, Yusef Daher, adding, "I hope it succeeds."
It's not only in Jerusalem that the hijab is a hot-button issue, of course. In France, after a long public debate, a law banning the wearing of all "conspicuous religious symbols" in public schools famously went into effect in 2004, as part of the strict separation of church and state.
During the school year, the students of East Jerusalem's church schools wear uniforms, and the ban on hijab is generally accepted without complaint. In any event, all the students are female, decreasing the discomfort that observant Muslim girls might feel about being in public with their heads uncovered. But attending the commencement ceremonies are many men who are strangers to most of the girls; in such circumstances, observant Muslim girls and women would normally cover their heads.
Adding to the increasing tension surrounding the issue is the general rise in religious observance among East Jerusalem Muslims.
In the early 1990s, then-PA head Yasser Arafat spoke to a number of senior education officials in the city about the subject to no avail. Four years ago, a teacher was fired from Schmidt after insisting on attending the graduation ceremony wearing a hijab herself. The teacher, Nadra Nimri, took her case to the Jerusalem Labor Court, which ruled in the school's favor, upholding its decision. After Nimri appealed to the National Labor Court, the parties reached an out-of-court settlement that included a more generous severance package for the teacher.
But in court, the school's director, Nikolaus Kircher, said by way of explaining the principle that guided him: "This policy was very successful for 125 years and I am very proud when visitors come from abroad and ask about the relations between Muslims and Christians, students and teachers.
I tell them, look in the yard, do you see differences? The school's board is very clear that there be no difference between teachers and students, and we were very successful at keeping it that way until this case."
In recent years the church schools, like many other private educational institutions in East Jerusalem, have begun receiving funds from the Education Ministry, as a result of the so-called Nahari Law, whose original purpose was to increase funding to ultra-Orthodox Jewish schools. Parents of students at church schools hoped that the money would be accompanied by increased state supervision that would keep administrators from enforcing the prohibitions against hijab wearing, but the government is in no rush to intervene.
The Latin Patriarchate, which is responsible for both Schmidt and Rosary Sisters, declined to issue a response. In a statement, the Education Minister said the schools supervisor and the ministry's legal department are dealing with the matter.
http://www.haaretz.com/news/middle-east/.premium-1.598578
-------------
Nigerian Girls Symbols of Sexual Violence
June 12, 2014
London - Boko Haram's abduction of hundreds of schoolgirls is a "heinous example of the scourge of sexual violence", Nigeria and its neighbours said Thursday as they reaffirmed their commitment to defeating the militant group.
Representatives from Nigeria, Chad, Cameroon, Niger and Benin gathered in London to discuss progress on an action plan agreed last month in Paris, when their countries pledged to "declare war" on the Islamic insurgency.
They met on the sidelines of a global summit on combating sexual violence in conflict; co-hosted by British Foreign Secretary Hague and Hollywood star Angelina Jolie, which they said was directly related to the schoolgirls' plight.
"The abduction of the Chibok schoolgirls was a heinous example of the scourge of sexual violence, which we are determined to eliminate around the world," they said in a communique.
They were joined by representatives of the European Union, United Nations, African Union, France, Canada, Britain and the United States, which are providing support.
In a video released after the kidnapping Boko Haram said it would sell the girls as slaves.
Hague pledged further British training and tactical assistance for the Nigeria armed forces in their search for the girls, although his office would not give details.
The minister himself refused to give a "running commentary" on the search, but said a "great deal of work continues with multi-national support".
He also announced a fresh initiative with the United States to boost by one million the number of children going to school in northern Nigeria, where Boko Haram is based.
"We want to ensure that Boko Haram does not succeed in its twisted mission to deny education to girls," Hague said.
The minister said that defeating the group would be "a long and difficult task".
"But the atrocities committed against innocent and vulnerable communities are too important to ignore," he said.
"And all the countries gathered here today have shown that we are certainly not going to ignore them and our resolve to defeat them has been further increased."
Sapa-AFP
http://www.iol.co.za/news/africa/nigerian-girls-symbols-of-sexual-violence-1.1702809#.U5uO_3JdU4U
-------------
Saudi Female Applicants' Leaked Personal Information Being Used For Blackmail
June 12, 2014
THE resume is considered to be one of the most important requirements for job seekers to have. Resumes can contain a lot of personal information, which, if leaked, can do great damage. According to a report in Al-Riyadh daily, young female job applicants' personal information, including telephone numbers, e-mail addresses and even pictures, are being leaked and used to harass and even blackmail them.
Awadh Al-Assaf, a Saudi lawyer, said the exploitation of resumes by organizations that advertise job vacancies for women is a violation of privacy and anyone who exploits this information for any purpose other than employment, must be held accountable and punished.
"The Shariah considers such actions to be a violation of a young woman's privacy. In his farewell sermon, the Prophet (peace be upon him) forbade transgression of honor and wealth. Those who exploit a young woman's resume are transgressing her honor and all regulations in force in the Kingdom forbid this act," he said while calling on young women who have been blackmailed due to a privacy breach to report the matter to the Commission for the Promotion of Virtue and Prevention of Vice (the Hai'a) so that it carries out its role by referring the case to the Bureau for Investigation and Public Prosecution in order to punish the blackmailer.
Al-Assaf said when a woman's personal information is leaked, blackmailers may inundate her with calls, threaten to tell made up stories to male relatives or flood her inbox with sexually explicit content.
"Usually, the blackmailer tries to get detailed information on his female victim so that he is able to have full control over her. It is regrettable that resumes can be leaked and put women in a vulnerable position. Both the private and government sectors are to blame for this because resumes pass through their departments and it is obvious that this is where privacy breaches occur," he said while urging companies and organization to take extra steps to ensure that applicants' personal information does not end up in the wrong hands.
Administrative consultant Abdulghani Al-Sheikh said many companies collect resumes so they can sell the information to third parties, which are sometimes other companies.
"This occurs in small establishments or companies that cannot employ more people due to their limited activities. Personal information is sold to big employment companies within the country and abroad. There are international and local employment offices that use resumes to promote products and since resumes contain detailed information, they can target certain age groups, sexes and nationalities," he said while adding that female jobseekers should only present their resumes to verified persons, avoid including their pictures and use the contact information of a male relative.
http://www.saudigazette.com.sa/index.cfm?method=home.regcon&contentid=20140613208329
-------------
Syrian Bride Wants 15 Pro-Assad Heads As Dowry
June 12, 2014
A Syrian bride-to-be has asked her fiancé for 15 decapitated heads of pro-Assad troops as her dowry and set up a marriage termination clause worth 50 more decapitated heads.
The 50-year old Aicha Faaourya, who lost her husband and four sons in anti-Assad demonstrations, made her demand to 75-year-old Hajj Ahmad Ramilat during a sit-in outside the Syrian embassy in the Jordanian capital Amman this week.
The woman nicknamed Umm Shouhada, meaning the mother of martyrs, vowed to dedicate the rest of her life to the fighting the regime of President Assad.
Hajj Ramilat – member of a Syrian tribal council and is nicknamed "the council's wise man" – also lost two sons in fighting against Assad's forces.
He accepted the heavy dowry challenge and pledged to have 15 pro-Assad troops beheaded for her love. In case of divorce he pledged to also provide the additional 50 decapitated heads of pro-Assad forces.
The Syrian civil war has killed more than 160,000 displaced more than 2 million outside the country after four years of fighting.
http://english.alarabiya.net/en/News/middle-east/2014/06/12/Syrian-bride-to-be-wants-15-pro-Assad-heads-as-dowry.html
-------------
Qataris warning foreigners to dress modestly
June 12, 2014
Doha: Mariam Saleh avoids malls and outdoor markets on the weekends because the low-cut tops, sheer dresses and miniskirts that foreign women wear reveal much more than she would like her impressionable young children to see.
Mariam is part of a campaign in Qatar that was spurred by locals who are fed up with the way many tourists and visitors dress, especially as temperatures soar in the Gulf Arab nation. The campaigners say Qatar is, after all, their country, and they should not be the ones feeling uncomfortable because visitors want to show some skin or dress like they would back home.
The campaign is aimed at encouraging foreign women to dress more conservatively. However, it is not spearheaded by religious hard-liners, but by moderate locals who are concerned that a steady influx of foreigners is threatening to uproot their customs and traditions that are deeply rooted in Islam.
The campaigners say they are mothers and wives, but also gatekeepers of Qatar's Islamic society. Most Qatari women cover their hair and wear long, loose black robes. Many also cover their faces as is common in neighbouring Saudi Arabia, where morality police enforce the region's strictest dress code on locals and foreigners alike.
The campaigners began handing out flyers this week. They will set up booths on June 20 throughout Doha and plan to distribute more than 200,000 flyers to raise awareness about local sensitivities with slogans such as: "Leggings are not pants" and "If you are in Qatar, you are one of us."
Children will be wearing the slogans on T-shirts, and men and women will be passing out traditional coffee, chocolates and roses along with the brochures.
The government, which allows alcohol in hotels to accommodate foreigners, is not involved in the campaign, which is being funded by volunteers as well as a women's business club in Qatar.
The campaigners say it is a grassroots effort aimed at spreading information among foreigners rather than pressing for new laws or reforms. Political activism of any kind is heavily restricted in the country.
Four years ago, concerned citizens launched a campaign called "One of Us" to encourage foreign women to cover from their shoulders to their knees, but the campaign had little impact on visitors who felt out of touch with Qatari society.
This time around, the theme is "Reflect Your Respect." The flyers that will be passed out have one central plea: "Help us preserve Qatar's culture and values."
Businesswoman Suhaila Al Harab, a supporter of the campaign, said: "We're not telling you not to dress up. Get dressed up, but with respect, with modesty. "I'm coming to a conservative country. I have to respect the culture of this society. This is a sensitive society and one has to be considerate of this point."
Speaking from her home in Doha, Al Harab says her sons are inundated with Western movies, music and fashion trends. She says Qatar is used to foreigners and is ready to welcome people from around the world for the World Cup, but she is urging visitors to be open to learning and embracing new ideas.
"It's very nice for a woman to dress modestly," she said.
British tourist Roger Maynard recently visited Doha's old souk, or market, with his Spanish wife, who wore a sleeveless dress that came down to her knees. He said they were being careful not to dress inappropriately.
"I think, when in Rome, you should behave like the Romans, and I think you should be conscious of the local culture, and I think it's quite reasonable," he said of the campaign's request.
"That doesn't mean to say I agree with the culture or particularly the way women are, in a sense, discriminated against. But nonetheless, you come to visit a country, you should accept the culture of that country."
Islamic teachings hold that most or all of a woman's body should be concealed from people outside her immediate family.
"The earth has an outer sphere, an atmosphere, to cover and protect it. The egg has its shell. Everything has something that protects it," Mariam said. "We feel that a woman is like a pearl. She has to have a shell to grow and flourish."
http://gulfnews.com/news/gulf/qatar/qataris-warning-foreigners-to-dress-modestly-1.1346274
-------------
Women shut out from Fatah-Hamas reconciliation deal
June 12, 2014
GAZA CITY, Gaza Strip — The reconciliation scene in Gaza City and the declaration of an agreement between Fatah and Hamas in April was devoid of women. There were no women invited, from Islamic, secular or leftist parties, to the dialogue table. It was as if such a process were the preserve of men.
Activist Yafa Abu Aker, 23, did whatever she could to enter the first session of the new dialogue, which was held on April 22 at the house of former Prime Minister Ismail Haniyeh — to no avail. The security men did not believe her when she said, "I sent a letter to the Reconciliation Commission and President Mahmoud Abbas, and they allowed me to participate in the meetings."
Abu Aker was lost between her phone calls and her attempts to tell the security men that the head of the reconciliation dossier, Azzam al-Ahmad of Fatah, was expecting her to join them, and she failed to get through the checkpoints. But someone finally got out and accompanied her to the sessions.
Abu Aker told Al-Monitor at the time, "I noticed the lack of women or youth in the reconciliation meetings, and I wanted to represent both categories to know what's going on backstage."
Abu Aker's personal initiative succeeded, but what about those female names that are prominent in the field of politics and parties, why haven't they participated?
Nadia Abu Nahla, director of the Women's Affairs Technical Committee (WATC) Gaza branch, told Al-Monitor during an interview in Gaza that it was not only today that women were absent from the reconciliation dialogue, but it has been this way since the Cairo Agreement in 2009.
"Two names of independent women were mentioned in the reconciliation committee, but they have not attended any of the reconciliation meetings," she said. Abu Nahla emphasized that no women were invited to any of the reconciliation meetings or the agreement conference held on April 23.
"In this regard, I am being self-critical, as the largest feminist coalitions in Palestine, namely the General Union of Palestinian Women and WATC, failed to offer a feminist vision of work for reconciliation. They settled for paying tribute to the reconciliation agreement while expressing timid reservation about the nonparticipation of women."
As for the other reason behind this lack of women's participation, Abu Nahla believes that women affiliated with political parties do not criticize the extent of representation and empowerment of women in these parties and they lack strong platforms in the media. She said, "Unfortunately, during the reconciliation [meetings], reporters were searching for the most prominent male political figures, as if women had nothing to do with the process, although they were demonstrating outside these meetings to put an end to division."
Ahmed Youssef, a Hamas leader, believes that the issue is much simpler than that. He sums up everything that happened in one sentence, "Those who were representing Hamas and Fatah in those meetings were from high, leading positions, which are not occupied by women." He added that what happened is the result of a political culture and the nature of Arab societies, which believe that women are less mature, aware and tolerant than men, describing this as a poor social culture.
Youssef told Al-Monitor that he was surprised about the declining political role of women, while the largest percentage of students in Palestinian universities are women: "We are unfortunately suffering from a national and Islamic belief whereby women are less able to work and give."
Youssef admitted that there wasn't a single woman in the Hamas political bureau, and added, "But there may be some in the near future, as they are present now at the level of consultation and organizational structure related to women, [but] not to the movement in general."
Regarding Islamic movements, the lack of female representation in their leadership is more understandable because of their declared ideology, according to which the role of women mainly consists of raising children. But what about the progressive and leftist parties, which attended these meetings without the female members of their parties?
"In December 2012, these parties signed a memorandum of understanding to integrate women in the reconciliation negotiations, both at the level of Arab and local meetings. But these parties failed to comply with [this memorandum], although its secretaries signed the document and it was published in the newspapers," Abu Nahla said.
Abu Nahla said this was due to the pro forma role that women play in these parties, as well as to their limited representation in the higher bodies of these parties. "Moreover, there isn't thus far any feminist political movement, and the strength of Hamas in the political scene makes other parties, such as Fatah, more conservative," she said.
Faisal Abu Shahla, a Fatah representative in the Palestinian Legislative Council, rejected these statements altogether and said, "Women are an integral part of our movement, and we are not ashamed of our women. They are part of the reconciliation government and the two revolutionary and national chambers, and these words aim at portraying Fatah as a reactionary movement."
He stressed that the absence of women from the reconciliation meetings and agreement was not intended by the participants, and continued, "Even the leftist parties did not bring any woman to attend these meetings. This will be taken into consideration in the future, given the importance of women's presence with us."
Abu Shahla pointed out that the unity government that resulted from the reconciliation includes three female ministers. He acknowledged that their number might be less than the previous government, but said it was the skills that counted, not the gender.
The Minister of Women's Affairs in the new unity government, Haifa al-Agha, agreed with Abu Shahla. Al-Monitor's correspondent met with her at her office at the Ministry of Women's Affairs, and it happened to be the day she was taking over her functions from the former minister in the Hamas government, Jamila al-Shanti.
"Who said that the presence of women in certain places means that we are fine and vice versa? This is not a criterion to measure the participation of women," Agha said.
"Women here have obtained their rights. There are three female ministers in the new government, as well as female general managers, attorneys and undersecretaries of ministries, and it is not fair to say that they have not obtained their rights. Yet still, we strive to further empower women," she said. "It is not the gender that counts, but the ability to give, the skills and the efficiency."
The minister has not formulated her plans for the ministry yet, and when she does — according to her — her view of women will be neutral. Also, none of the committees that are supposed to emerge from the reconciliation have developed a plan to empower women. These committees include the Election Committee, the PLO Committee, the Reconstruction of Gaza Committee, the Security Committee and the Government Jobs Committee. So, how are women supposed to play a role during the next stage?
Youssef believes that the solution requires more struggle and pressure on the part of feminist leaders to strongly restore their representation on the political scene. For her part, Abu Nahla believes there ought to be cooperation between the minister of women's affairs and the feminist coalitions within the framework of a single feminist vision toward reconciliation. She urged the committees to work on having women present, since it was these committees that would determine their future.
Abu Aker is not expecting any plans or visions; she just does what she feels, and this is what the feminist arena awaits: an effective leadership, not a pro forma leadership that belongs to partisan men.
http://www.al-monitor.com/pulse/originals/2014/06/palestine-reconciliation-deal-women-absence.html#ixzz34ZDaZPrY
-------------
Social awareness is a must in eradication of child marriage
June 12, 2014
Parents are continuing to marry off their underage daughters as they are not aware of the adverse impact of early marriage, says speakers
Speakers at a meeting stressed the need for creating mass awareness in order to launch a vigorous social movement for eradicating child marriage from society.
They made the opinion while addressing a rally held in front of the Rajbari press club yesterday afternoon.
The Jatiya Mohila Songstha, Rajbari district unit, supported by Department of District Women Affairs and Department of Social Service of Rajbari organised the programme.
The program was addressed by Member of Parliament, reserved seat, Kamrun Nahar Chawdhury Lovely, as the chief guest.
Deputy Director of Department of Social Service Depok Kumer Shaha and Officer of Women Affairs Department Azmir Hossain, among others, addressed the event.
Terming child marriage as a violation of human rights, Lawmaker Kamrun Nahar Chawdhury Lovely said, early marriage has an adversely affect on education, health and wellbeing of girls and perpetuates the cycle of poverty.
Early marriage causes girls to drop out of schools and limits their opportunities for social interaction, said Depok Kumer Shaha, adding that most of girls could not enrolled in secondary school because of early marriage as the in-laws are not interested in continuation of education for the girl after marriage.
Expressing frustration, the speakers said despite various government and non-governmental initiatives to check child marriage in the country, parents are continuing to marry off their underage daughters as they are not aware of the adverse impact of early marriage.
"We should initiate a movement at every sphere of life to stop child marriage in the society," said Azmir Hosain.
Apart from the speakers, journalists both from print and electronic media, social elite and NGO activists took part in the rally.
http://www.dhakatribune.com/law-rights/2014/jun/13/social-awareness-must-eradication-child-marriage#sthash.OckhBAEq.dpuf
-------------
Global issues tackled at international Muslim women's conference
June 12, 2014
Feminism, political revolution and 'honour based' violence affecting Muslim women are among the issues to be discussed at an international conference.
The Muslim Women's Activism Conference will feature speakers from Turkey, Belgium, America, Jordan, Bengal, Pakistan and the UK; and will be held on Thursday June 26 at the University of Derby's Enterprise Centre in Bridge St, Derby.
It has been organised by the University's research Centre for Society, Religion and Belief; and New Horizons in British Islam, a charity working for reform in Muslim thought and practice.
Speakers will include Tahera Shireen Rahman, an American Muslim broadcast journalist who regularly appears on TV and radio in her native Chicago; Zeynep Jane Louise Kandur, a senior Turkish politician and speaker on her country's foreign policy; Dr Juliane Hammer, academic and author of American Muslim Women, Religious Authority and Activism; and Sughra Ahmed, the first female president of the Islamic Society of Britain.
Dr Sariya Cheruvallil-Contractor – Research Fellow at the University's Centre for Society, Religion and Belief, and one of the conference organisers – said: "Across the globe, Muslim women are active in society.
They run anti-war campaigns, are protest artists, establish women's refuges and girls' schools, and assert their rights to decide themselves whether to wear traditional religious clothing such as the niqab or hijab (full body covering).
"We believe our conference will be one of the first of its kind in the UK to discuss what Muslim women's activism has done and may do in the future. We have attracted women speakers in senior roles in politics, education and the media who are true 'firsts'; leading the way for others to follow."
Rabiha Hannan, of New Horizons in British Islam, added: "The perception among people today, including some Muslims, is that Muslim women have a very limited role in the public sphere.
"This event demonstrates how women are taking action to reclaim their right to interpret their faith for themselves, in very diverse ways, and act accordingly".
Places are still available to attend the conference; at a cost of £30 for speakers and delegates, and £15 for students, those from voluntary organisations and the unemployed.
To book online and for further information about the conference go to website www.derby.ac.uk/education/centre-for-society-religion-and-belief/events/conferences-and-events/muslim-womens-activism
http://www.asianimage.co.uk/news/united_kingdom/11276303.Global_issues_tackled_at_international_Muslim_women_s_conference/?ref=var_0
-------------
3 Saudi women bag 'Mother's Blessing' award
June 12, 2014
JEDDAH — Three Saudi women, each with a touching story of resilience, patience and determination, have won the special "Mother's Blessing" award offered by Dallah Albaraka Group. A special ceremony was held in Jeddah on Wednesday evening to distribute the awards worth around SR1.5 million. Husn Seif Shaie Al-Qahtani won the first prize of SR1 million. She is a widow and a cancer patient who was able to raise her six children by shepherding sheep in the Tathleeth desert in the south of the Kingdom. Asrar Shawqi Abdullah, who lived in a small room in Jeddah with her seven children, won the second prize of SR300,000. She sold food and sweets to raise her children, who have completed their studies and are now holding good jobs. The third prize of SR200,000 went to Iman Sail Al-Thibaiti Al-Otaibi from Riyadh, who was able to overcome the pains of kidney failure to raise up her three children. She suffered from kidney failure when she was only 16. The winners were picked from more than 7,000 entries from Saudi Arabia and other countries including Egypt, Sudan, Libya, Algeria and others. A panel of three judges decided the winners. They were social activist Muna Abu Sulayman, journalist Turki Al-Dakheel and Ali Al-Malki, a senior Dallah Albaraka official. The panel chose the winners from a shortlist of 30 applicants.
http://www.saudigazette.com.sa/index.cfm?method=home.regcon&contentid=20140613208303
-------------
Iraqi women make gains in parliamentary elections
June 12, 2014
During the Iraqi parliamentary elections held April 30, female candidates outperformed many of their male peers and transformed themselves into key players in the electoral scene. In the previous elections, there were 73 female candidates, while on the April 30 elections, there were 83.
According to the Independent High Electoral Commission in Iraq, 22 out of 83 total female members of parliament (out of a total of 328 seats), won their parliamentary seats without relying on the quota system. However, only three out of these 22 women won through independent votes and not through the votes granted to their lists.
Hanan Fatlawi, a candidate from the Babil province for the State of Law Coalition led by Prime Minister Nouri al-Maliki, ranked first among female candidates with 90,781 votes. She also came in seventh place overall and was the only woman listed among the top winners. Most of the rest was occupied by leaders of coalitions, with Maliki at the top with 721,782 votes.
In accordance with the amended Sainte-Lague method, like other coalition leaders, Fatlawi's winning of more votes than needed to secure a seat contributed to the victories of other male candidates on the State of Law list in Babil.
Another candidate for the State of Law Coalition in Diwaniyah, Houda Sajjad Mahmoud, ranked second on the female winners list with 39,691 votes, followed by Najiba Najib, a candidate for the Kurdistan Democratic Party in Dahuk, with 29,486.
Many believe that because women proved able to compete with coalition leaders in terms of votes reflects a change among Iraqi voters, especially after three rounds of elections were held post-2003 in the male-dominated society.
Najib told Al-Monitor: "Women winning parliamentary seats without the help of a quota system indicates that there is a shift in the awareness of Iraqi voters. Many of them are taking into consideration the ability of the candidate to convince them and express their will, regardless of the candidate's gender."
Najib, who also won a parliamentary seat in the previous round, explained: "As we all know, the women's quota system is usually applied in male-dominant societies to preserve the share of women. If we compare current and past results, one can note the relative shift in the way Iraqis are dealing with the issue of women running for parliamentary elections."
She added: "Women proved that they are no different from men if circumstances were suitable for them to perform their parliamentary task in the best way possible."
The female winners hope for the next round of elections to be more just for women, notably in terms of executive posts, contrary to the composition of the last government.
Said Fatlawi: "Votes grant women more power, enthusiasm and popular support within the parliament. This should also be reflected on the representation of women in the three premierships and executive positions."
Fatlawi told Al-Monitor that women are "seeking to assume ministries and key positions, contrary to the last government, whose form was unjust toward women," explaining, "In the 2010 government, women were granted the Ministry of Women's Affairs only. Plus, women were not represented in the three premierships.
"We hope to overcome the sexist complex characterizing [Iraqi] political coalitions."
http://www.al-monitor.com/pulse/originals/2014/05/iraq-parliamentary-elections-women-gains.html#ixzz34ZF2Mh8y
-------------
Human rights defender blames Pakistani state for 'barbaric' honour killing
June 12, 2014
TANYA NOLAN: She's been a fearless advocate for women and a pioneer of human rights law in her home country of Pakistan for more than 30 years.
Pro-democracy lawyer and campaigner Hina Jilani says she's always felt a need to speak out against injustice otherwise she says she has no right to complain about it.
That outspokenness has led her to found Pakistan's first legal aid centre and Human Rights Commission, it's earned her the Milenium Peace Prize for Women, and led to her appointment as a UN Special Representative on Human Rights and advocate of the Supreme Court of Pakistan
But Hina Jilani is much more than her impressive CV.
She's in Australia as a guest of the Human Rights Law Center and she spoke to me from Melbourne earlier today.
Well, Hina Jilani, as a human rights pioneer in Pakistan, you must despair at the state of human rights in Pakistan right now.
HINA JILANI: Yes I do, but as you know, human rights defenders can never afford to despair of anything, so we have to find a way to hope always that things will improve.
One of the bright sides of this whole situation in Pakistan is that we have a very strong human rights movement and a very strong and a very credible women's rights movement.
TANYA NOLAN: So how can you explain or reconcile the recent stoning to death of 25-year-old pregnant woman, Farzana Parveen?
HINA JILANI: I think mostly it is the failure of the state, in fact, where the state agents present at the place were not able to stop this kind of barbaric incident from happening.
It wasn't actually stoning to death in the sense that, you know, people usually understand it as a form of punishment. It was actually the opportunistic use of bricks laying around to kill that woman because they tried to shoot her down and when she wasn't shot they picked up whatever they could to hit her with it but, and the police were there.
I think in some ways it's very important to understand that, while some action has happened in terms of bringing new legislation in to confront this issue of honour killings, the state has never really used the law to deter incidents or to make the law an instrument of social change and here I think the civil society also, despite all its efforts, doesn't seem to have gained much in terms of changing the mindset.
TANYA NOLAN: So how can you explain these killings of women? What do they tell us about life in Pakistan?
HINA JILANI: Well, they certainly tell us that the Pakistani state certainly needs to do much more than it had done so far in terms of making laws operational so that there is a complete sense that there will be no impunity for violating women's right to life, violating their right to liberty and their freedom of movement and in fact giving women more dignity.
TANYA NOLAN: But the Human Rights Commission in Pakistan which you founded says that at least 860 women were victims of these murders last year. The estimate, that's a gross underestimate from what you and others say. How is it that people carry out these killings with relative impunity?
HINA JILANI: It's because, as I said the failure of the state. At the local level, the police does not respond and you know, when a woman is killed by her own family, there's no one really to pursue the case and the state either turns its face away or actively helps those who have perpetuated the crime to escape any kind of punishment.
TANYA NOLAN: I want to get where the state's falling down in prosecuting these crimes in a moment, but if we can go back to how does a society exist where people feel that they can carry out these crimes against their own family members? Can you try and explain to us, who don't understand life in Pakistan, how on earth people believe that this is a just way to carry out justice, if you like?
HINA JILANI: You know, I really don't think it's important to explain it. It's more important to fight it and that's what I do and a lot of people like me do. We know that this is not a state of affairs that is any way acceptable to the society at large and particularly to the women of Pakistan.
TANYA NOLAN: But that same mindset that exists that allows these people to carry out these crimes must also pervade the people in power, the institutions, the legal institutions that fail to act on them so can you explain that mindset?
HINA JILANI: You see that mindset is there, but as I explained earlier, we have brought the class that's ruling for instance legislators etc to a state where no legislator will now get up in the Parliament and say this is a part of our culture and we will not do anything about it, which is what they did say.
The Senate in Pakistan resisted a resolution against honour killing 1999 and by saying this, but now this is not what they can ever say. They will pass a number of resolutions, they will pass laws. The question is will they put the support of social policy of the state behind the law that they create.
TANYA NOLAN: Well, you're a member of the Elders, a group of World Elders including Kofi Annan, Lakhdar Brahimi, Jimmy Carter; Nelson Mandela was its founder and the idea of this group if I understand it correctly is to guide countries on issues of democracy and human rights. Have you had much influence in Pakistan?
HINA JILANI: Well, my influence in Pakistan doesn't really start with my becoming a part of the Elders. I am a part of the human rights movement which is one of the most credible movements in Pakistan and does enjoy a public credibility, but you know in a country like Pakistan where you have intermittent democracy only, usually it's a military regime, how much of an influence can you have on a military dictator who has come into existence as a result of a coup where democratic values do not prevail? So really it's an unresponsive state in most of the times.
TANYA NOLAN: And I suspect as a woman too, you probably get short shrift in a country where women's rights are not upheld?
HINA JILANI: Well, yes generally that's true, but I think that by now women's rights have been put on a priority agenda of all political elements in Pakistan, including the very conservative Islamic elements, so nobody can now say that there's no need to give attention to women's rights.
TANYA NOLAN: Have you had direct dealings with the government of Nawaz Sharif?
HINA JILANI: Yes, on many issues, especially on women's rights issues. Unfortunately again, the situation in Pakistan is such that rights right now are not a priority with the government that's fighting for its own life with the dominating question of civil-military relationship. And we have a state where terrorism is rife. It is a state which has unfortunately been unwilling or unable to deal with the question of religious extremism.
TANYA NOLAN: Well you rightly mentioned Nawaz Sharif's government being unable to quell the violence and the recent attack on Karachi's airport is testament to that fact that they are unable to deal with the persuasive influence of the Taliban.
How precarious is Nawaz Sharif's grip on power in that country, do you think?
HINA JILANI: You know the election dates bring forward a very clear mandate in his favour, but at the same time, I think people need to understand that no civilian government is really stable unless and until the military is either able to get it to subscribe to some of the priorities and the agenda that the military has so that's one problem.
The other of course is its own hesitation. In taking on issues where he would really have to show real leadership and turn the population from a confused, you know, perception of what the Taliban are and make sure that the state remains secure against these forces.
I see no reason why any government including that of Nawaz Sharif cannot do that. The question is not the fact that they cannot. The question is will they, is there a political will to do it?
TANYA NOLAN: Hina Jilani, lovely to talk to you. Thank you so much for your time.
HINA JILANI: Thank you.
TANYA NOLAN: The despairing but ever hopeful Hina Jilani, and she will be the guest speaker at tonight's Annual Human Rights Dinner, hosted by the Human Rights Law Center.
And a longer version of that interview is available on our website and it includes discussion of her views on the use of drone strikes to fight terrorism.
http://www.abc.net.au/worldtoday/content/2014/s4024643.htm?site=melbourne
-------------
URL: https://newageislam.com/islam-women-feminism/hijab-protests-rock-east-jerusalem/d/87520