New Age Islam News Bureau
04 November 2021
• Iran's Female Soccer Fans Still Can't Attend Games
• Women's Prayer Halls in Sharjah Mosques to Reopen after Covid Shut Down
• Pakistan Senate Body Rejects Bill Declaring Women's Inheritance Fundamental Right
• Female Refereeing Team Takes Charge of Jordan Men's Game For First Time
• Muslim Woman Forced To Remove Hijab by Police Files Lawsuit against Ferndale in the US State Of Michigan
• First Afghanistan Female Pilot, Shaesta Waiz: Dream of Aviation School in 'Taliban Land' May Not Take Off
• Afghan Women Athletes Worried About Their Future, Urge Taliban to Continue Sports
• Saudi HR Fund Helps 120,000 Women into Work since January
Compiled by New Age Islam News Bureau
URL: https://www.newageislam.com/islam-women-feminism/hijab-diversity-campaign-french-politicians/d/125710
--------
Hijab Diversity Campaign Tweets Removed amid Backlash From Senior French Politicians
November 04, 2021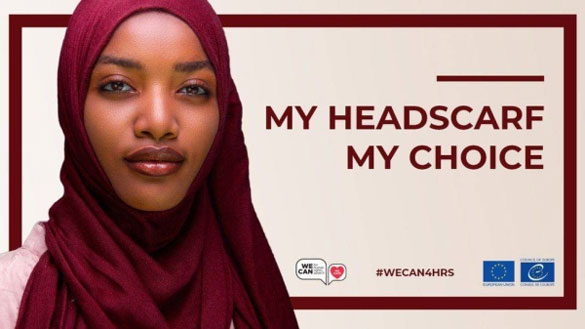 Posters featuring young women wearing Islamic headscarves were removed from Twitter just days after the project's launch.
-----
STRASBOURG — The Council of Europe has withdrawn images from a social media campaign promoting diversity among women and their freedom to wear the hijab.
Posters featuring young women wearing Islamic headscarves were removed from Twitter just days after the project's launch.
The campaign has prompted a strong backlash from senior French politicians over secular values.
The continent's top human rights body confirmed that the social media posts had been removed while they "reflect on a better presentation."
But the Council did not confirm that the decision to withdraw the campaign elements was a direct result of French criticism.
Some Muslim women have criticised the response in France, saying it showed a lack of respect for the right of women to choose what to wear.
The Council of Europe says the "Freedom in the hijab" project aimed to celebrate Europe's diversity and inclusivity.
The project was launched last week by the Strasbourg-based human rights organization through their Inclusion and Anti-Discrimination Programme.
The campaign was also co-financed by the European Union, which is distinct from the 47-country body.
Social media posts featured split images of young women, with one side of their face wearing an Islamic headscarf, and the other not. Messages alongside the videos and images read, "beauty is in diversity as freedom is in hijab."
"How boring would the world be if everyone looked the same?" another slogan read.
The campaign initially went relatively unnoticed, but after a few days, the project generated a major backlash in France among politicians.
Secularism and symbols of Islam have generated debate in the French parliament for months, ahead of the country's presidential election in 2022.
In 2011, France became the first European country to ban full-face Islamic veils in public places.
On Wednesday, the French government spokesperson Gabriel Attal said the Council of Europe campaign went against "common sense."
Speaking to reporters after a Council of Ministers meeting, Attal said that Paris did not agree with the "identity-based approach."
"[This is] opposite to the freedom of belief that France defends in all European and international forums," Attal said.
"We can consider that this campaign was made in spite of common sense, because we must not confuse religious freedom with the promotion, de facto, of a religious sign."
Marine Le Pen, a presidential candidate for the far-right Rassemblement National party, had earlier described the campaign as "scandalous and indecent."
"It is when women remove the veil that they become free, not the other way round," Le Pen said on Twitter.
The former EU Brexit negotiator Michel Barnier -- another right-wing presidential candidate -- also called for the campaign to be "withdrawn."
"The veil is not an instrument of freedom," Barnier said in an interview with France 2 television.
France's women's rights minister -- Socialist senator Laurence Rossignol -- also stated that the campaign had "promoted" the hijab.
"It is one thing to point out that women are free to wear the hijab ... to say that freedom is in the hijab is another," Rossignol tweeted.
Although the social media posts were removed following political condemnation in France, the Council of Europe did not confirm there was any link.
In a statement to Euronews, a spokesperson confirmed that the campaign was part of a joint project with the EU.
The project aimed to "raise awareness for the need to respect diversity and inclusion, and to combat hate speech of all kinds," the spokesperson said.
"The tweets reflected statements made by individual participants in one of the project workshops, and do not represent the views of the Council of Europe or its Secretary-General [Marija Pejčinović Burić]."
"We have taken down these tweet messages while we reflect on a better presentation of this project."
The European Commission, which has contributed €340,000 euros to the overall project, has also distanced itself from the campaign images.
A spokesperson said on Wednesday that Brussels "has not validated" the controversial images and called for "other actions" to be considered in tackling hate speech.
"Our position is extremely clear: women must be able to wear what they want, according to the laws of the country where they live," a statement added. — Euronews
Source: Saudi Gazette
https://saudigazette.com.sa/article/613149/World/Europe/Council-of-Europe-removes-hijab-diversity-campaign-tweets-amid-backlash
--------
Iran's Female Soccer Fans Still Can't Attend Games
November 3, 2021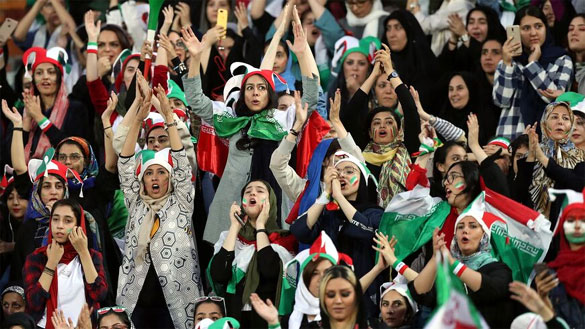 Female football fans show their support during of the FIFA World Cup Qualifier match between Iran and Cambodia at Azadi Stadium on Oct. 10, 2019 in Tehran. - Amin M. Jamali/Getty Images
-----
Exactly one week after the national Iranian men's soccer team tied South Korea 1-1 in a crucial 2022 World Cup qualifier in the empty Azadi Stadium in Tehran, Saudi fans — both male and female — loudly cheered at Prince Faisal Bin Fahad Stadium in Riyadh as Saudi Al Hilal club took on Iran's Persepolis in the quarterfinals of the AFC Champions League.
Just a few years ago, it would have been hard to believe that in women in Saudi Arabia, where they did not even have the right to drive until recently, can now watch soccer games in person. But while Iran enjoys a much more progressive and robust civil society than the kingdom, Iranian women still are denied the right to watch sports events in stadiums — a ban that has persisted for the past 40 years.
Prior to the Iran-South Korea match, world soccer governing body FIFA issued an ultimatum to the Iranian Football Federation on Sept. 9 that women had to be allowed in the stadium, or it would ban Iran from hosting matches.
On Oct. 10, the Iranian Football Federation officially announced that the match against Korea would be held Oct. 12 without any spectators, Previously, they had announced that as many as 10,000 fully vaccinated spectators would be allowed to enter the stadium.
"After a lot of discussions, we decided that the game would be without any spectators," Hassan Kamrani Far, secretary general of the Iranian Football Federation, said on Oct. 11. "We would have to observe a lot of coronavirus protocols and would have to ask [fans] to show [negative COVID-19] PCR tests."
These remarks were met with skepticism, and many fans were of the opinion that the federation had barred spectators because it could not meet FIFA's demand for female spectators.
Faezeh Hashemi, the daughter of late President Akbar Hashemi Rafsanjani, who always supported the presence of women in stadiums, said on Oct. 11, "I hope FIFA is not fooled and follows up on this issue. This is a ploy."
Hashemi, who called for boycotting the June 18 presidential elections, added, "Coronavirus is an excuse. They wanted to prevent women from going to the stadium, and they used coronavirus as an excuse."
Female fans were allowed into the stands for the first time on Oct. 10, 2019 in the match between the Iranian and Cambodian national football teams when moderate president Hassan Rouhani was in office. But the moderates and reformists have been replaced by hardliners who have no interest in such breakthroughs.
Eventually, the national Iranian football team tied the South Koreans 1-1. However, less than a week later on Oct. 16, Persepolis FC was destroyed 3-0 by the Al Hilal Saudi Football Club — which has professional Brazilian and French players on their roster — in Riyadh.
Saudi women were supporting Al Hilal from the stands of Faisal Bin Fahad Stadium alongside men. While some were fully veiled, others were not wearing a headscarf at all. Saudi women, many wearing blue Al-Hilal T-shirts, cheered for their team with enthusiasm. Their deafening applause could be heard by the Persepolis players, who have been playing without spectators for more than a year.
This prompted widespread response from Iranians on social media, who criticized their leaders for not granting minimal rights for women, and posted pictures of Saudi female fans in the stadium who were not wearing hijabs. Head coverings have been compulsory for women in public since the 1979 revolution.
While Iran has a strong history of social movements to bring about more rights for women, activists have yet to make a breakthrough on this issue.
"The efforts of women and civil society activists in Iran in recent years have not led to a fundamental change in the restrictions on entry to stadiums," Iranian journalist Fahimeh Miri told Al-Monitor. "Unfortunately, there is very serious resistance to creating an opening for women's rights in the Islamic Republic."
It's not clear whether the Iranian Football Federation's decision was to repel FIFA pressure to admit female fans or over concerns of implementing necessary health protocols. Nevertheless, the juxtaposed scenes of the empty Azadi Stadium in Tehran and the cheering Saudi women at the Riyadh stadium frustrate many women's rights activists in Iran.
Source: Al Monitor
https://www.al-monitor.com/originals/2021/11/irans-female-soccer-fans-still-cant-attend-games
--------
Women's Prayer Halls in Sharjah Mosques to Reopen after Covid Shut Down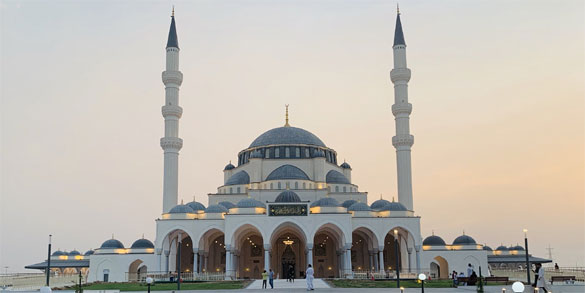 A general view of a mosque in Sharjah.
-----
By Afkar Ali Ahmed
3 Nov 2021
Women's prayer halls at Sharjah's mosques are set to reopen, the authorities announced on Wednesday.
Even though mosques across the country reopened with Covid safety protocols in July last year, women's prayer halls remained shut.
The Sharjah Emergency, Crisis and Disaster Management Team (SECDMT) has also approved the reopening of washrooms and ablution spaces at the mosques.
The authority urged mosque-goers to follow all Covid safety measures, including wearing a mask during prayer and observing a safe social distance.
A top official of the Sharjah Police told Khaleej Times that the reopening has been approved as Covid cases continued to drop across the UAE.
The number of violations of safety measures has also been on the decline, the official said.
The SECDMT noted that they have also been receiving a 'large number' of requests for women, who were appealing for the prayer halls' reopening.
The decision was taken in coordination with the Sharjah Islamic Affairs Department, in line with the emirate's efforts to facilitate a safe, gradual return to normal life.
Source: Khaleej Times
https://www.khaleejtimes.com/uae/womens-prayer-halls-in-sharjah-mosques-to-reopen
--------
Pakistan Senate Body Rejects Bill Declaring Women's Inheritance Fundamental Right
Amir Wasim
November 4, 2021
ISLAMABAD: The Senate Standing Committee on Law and Justice on Wednesday rejected two constitution amendment bills, including the one seeking to declare women's inheritance a fundamental right, with a majority vote.
The committee, however, approved two other constitution amendment bills, including the one seeking to authorise advisers to the chief ministers to participate in the proceedings of the provincial assemblies.
The committee which met under Syed Ali Zafar of the ruling Pakistan Tehreek-i-Insaf (PTI), was to take up a heavy legislative agenda that included 11 private member's constitution amendment bills, but it had to defer most of them due to the absence of the movers.
Through the bills, mostly tabled by the opposition members, the movers had suggested some crucial changes to various provisions of the Constitution related to the promulgation of ordinance, increase in the powers of the Senate, ensuring meaningful participation of the provinces in the affairs of the federation and fundamental rights of the citizens of Pakistan.
The committee members were found divided in their opinion while discussing the bill moved by Pakistan Muslim League-Nawaz (PML-N) Senator Saadia Abbasi seeking to include the right of inheritance for women as the fundamental right under the Constitution.
Through the bill, Ms Abbasi had suggested insertion of a new Article 24A in the Constitution and the proposed amendment read "no women shall be deprived of her share from the inheritance in Pakistan".
While arguing in favour of her bill, Ms Abbasi said Islam had prescribed well-defined shares for the male and female descendants of a deceased person, according to an official handout issued by the Senate Secretariat.
She said Islamic law entitled women to inherit immovable and movable properties, yet the practice had been to deny women their share in inheritance. She termed it an unjustified practice that had become a norm.
She said the purpose of her bill was to acknowledge, declare and assert the right of women in inheritance as a fundamental right in consonance with principles of Islam. She further said if the said amendment was approved it would enable women to directly approach the Supreme Court on matters related to inheritance.
Railways Minister Azam Swati was of the view that relevant laws already existed and there was no need for listing the matter of inheritance as fundamental right.
On the other hand, Pakistan Peoples Party (PPP) Senator Mustafa Nawaz Khokhar, while supporting the bill, said this amendment reinforced the state's commitment towards protecting women's right to inheritance.
However, another PPP senator and former law minister Farooq Naek also endorsed the minister's viewpoint, saying they needed to work towards better implementation of the existing laws. Later, the chairman put the bill before the members for a vote and it was rejected with a majority.
The committee rejected another constitution amendment bill, also introduced by Ms Abbasi, regarding citizens' right to bail and also declaring it a fundamental right in the Constitution.
The committee, however, approved the bill moved by Ms Abbasi regarding identification, preservation, conservation, restoration and access for all to national heritage sites of Pakistan.
Source: Dawn
https://www.dawn.com/news/1655782/senate-body-rejects-bill-declaring-womens-inheritance-fundamental-right
--------
Female refereeing team takes charge of Jordan men's game for first time
Nov 04, 2021
An all-female refereeing crew took charge of a men's soccer match in Jordan's Pro League for the first time on Tuesday as part of the country's efforts to promote the game among women.
Referee Esra'a Al-Mobideen and assistant referees Islam Al-Abadi, Sabreen Al-Abadi and Haneen Murad handled Sahab's 4-1 win over Al-Baqa'a in the final round of the competition.
"At the beginning, the players were smiling in the tunnel when we first walked in because a girl was officiating and they were surprised by the idea," Al-Mobideen said.
"But as soon as the game started, there were no jokes and everyone became serious."
The Jordan Football Association wants more women to be involved in the sport and Al-Mobideen said she was keen to make a difference.
"To have an influence on society is an ambition of mine," she added.
"It is important to have a positive impact on the society that I live in. Taking part in the professional league will give a good image of female refereeing.
"I can send a message that women can work in any field." —Reuters
Source: Tribune India
https://www.tribuneindia.com/news/sports/female-refereeing-team-takes-charge-of-jordan-mens-game-for-first-time-334190
--------
Muslim Woman Forced To Remove Hijab by Police Files Lawsuit against Ferndale in the US State Of Michigan
November 3, 2021
A Muslim woman has sued the city of Ferndale in the US state of Michigan, arguing the city violated her religious rights by forcing her to remove her hijab for a booking photo following her arrest.
The Michigan chapter of the Council on American-Islamic Relations (CAIR-MI) filed the lawsuit last week in US District Court on behalf of Helana Bowe, who was pulled over by Ferndale police on June 21 for allegedly driving with an expired license plate tag. During the traffic stop, she told police she had a Taser for self-defense after she had been mugged earlier in the year.
Police arrested her, saying state law requires people to have a permit to possess a Taser.
At the police department, a male officer searched Bowe, even though she requested a female officer. She was then required to remove her hijab for a booking photo, which is a violation of her religious beliefs, CAIR-MI said.
CAIR-MI Executive Director Dawud Walid said the group decided to file the lawsuit after Ferndale officials declined to discuss the violation of Bowe's religious beliefs.
"By failing to formally respond to our concerns raised on behalf of our client's civil rights having been violated, we were left with no other option but to sue the Ferndale Police," Walid said in a statement. "Though the city touts itself as being a municipality of diversity and inclusion, it appears that its police department is not serious about this claim when it comes to Muslims."
CAIR-MI staff attorney Amy Doukoure said police mishandled the case from the time they pulled over Bowe.
"The Ferndale Police Department's entire conduct on June 21, 2021, was problematic, starting with its dragnetting of the city of Detroit side of Eight Mile road looking to engage in traffic stops of individuals who have no connection with the city of Ferndale," Doukoure said. "The Ferndale Police's problematic conduct only escalated when officers allegedly violated Ms. Bowe's constitutionally protected religious rights by subjecting her to a cross-gender search unnecessarily and forcibly removing her hijab for a booking photograph. It is surprising that a city that prides itself on its vast diversity and claims to strive for inclusivity finds itself silent on its own insensitive treatment of a religious minority in their care and custody."
In a statement in September, Ferndale Police Chief Dennis Emmi defended his officers but acknowledged there was room for improvement.
"Our officers were simply following departmental policy, which includes a photographing hair as an in important identifying feature," Emmi said. "Now, in reviewing the case and circumstances, I see the opportunity for our policies to evolve to better meet the needs of our community."
Source: ABNA24
https://en.abna24.com/news//muslim-woman-forced-to-remove-hijab-by-police-files-lawsuit-against-ferndale_1194897.html
--------
First Afghanistan Female Pilot, Shaesta Waiz: Dream of Aviation School in 'Taliban Land' May Not Take Off
Nov 4, 2021
MELBOURNE: Circumventing the globe solo in a single-engine airplane is a challenge even experienced pilots would balk at. But hailing from a war-torn country and growing up as a refugee in another, Afghan-American Shaesta Waiz, 34, learned how to overcome adversities at an early age. At 30, Waiz became the youngest woman to pilot a single-engine airplane solo around the globe, with her home country among the pit stops she made during her145-day sojourn in 2017. For the last few months, memories of her trip — she won admiration from many while the Taliban sent threats — and concerns for her extended family have kept Waiz up at night.
Years ago she had earlier sent a letter to the Afghan government, asking to be put in touch with female pilots who could mentor her. "The government wrote back saying in the history of Afghanistan, there had never been a certified civilian woman pilot. I would be the first. This was the motivation I needed to really stick through it," she said. "It hurts my soul when I think of Afghanistan," said Waiz, who has another achievement to her credit — she is the first female certified civilian pilot of Afghan-origin. Following the withdrawal of US military forces, Taliban took control of Afghanistan in August. Waiz said some of her family has fled to the US while others are still stuck in Afghanistan. "Taliban says women can study, but the situation seems to be quite different on the ground," said Waiz, whose parents migrated to the US as refugees in 1987 during the Soviet War. "For many, history is repeating itself," she told TOI from California.
Waiz rued that her dream of opening an aviation school in Afghanistan ruled by Taliban is unlikely to take off now. "After I came back in 2017, I tried several times to get the project off the ground, but every time, I was told it was not the right time as it was not safe for women to learn flying outside the military environment as there was no protection and they would become targets." The pilot's visit in 2017 was also not free from such risks. The venue for her talk had to be changed to a more secure TV recording studio following threats from the Taliban. "That day, 300 girls showed up and I thought they could teach me about bravery. Sadly, the country is not set up for these girls to really succeed." Waiz's aviation record is currently being challenged by 19-yearold Belgian Zara Rutherford who is flying across the planet solo on a single engine plane.
Source: Times of India
https://timesofindia.indiatimes.com/world/south-asia/first-af-female-pilot-dream-of-aviation-school-in-taliban-land-may-not-take-off/articleshow/87519192.cms
--------
Afghan Women Athletes Worried About Their Future, Urge Taliban To Continue Sports
By Anurag Roushan
3rd November, 2021
A number of Afghan women athletes have requested the Taliban administration to allow them to continue their sports activities. Worrying about their uncertain future, they have expressed their anxiety about safeguarding their accomplishments so far, reported TOLO News. 17-year-old Qadria, who competed in martial arts for two years and won three gold medals in national tournaments, urged the current regime to allow athletes to conduct their activities publicly. "We don't want our two years of hard work to go in vain," she stated who is reportedly held inside the country.
Another athlete called Karima said she has been confined within her home since the Taliban's take over, and she is worried that her hard work and accomplishments would fade away. "We are neither able to practise nor participate in any sporting event. We live in constant fear of being attacked by the Taliban. Even our trainers are adamant about not training us," she was quoted as saying by outlet. Meanwhile, several women athletes have urged the international community to help in preserving their achievements. "We want the UN and human rights organisations to speak out about our rights," said Parisa Amiri, another athlete.
'Female athletes allowed to participate in sports under Islamic norms'
According to the Taliban-led government in Afghanistan, female athletes are allowed to participate in sports under Islamic norms and guidelines. "No one's rights will be infringed upon. We grant everyone the right and status based on Sharia and Islamic regulations," Bilal Karimi, the deputy spokesman of the Islamic Emirate was quoted as saying by TOLO News. It is important to mention that last month, the Taliban prevented female staffers from entering Kabul's Ministry of Women Affairs, allowing only males to enter.
According to a report, last month the extremist outfit beheaded an Afghanistan junior women's national volleyball team player. This development was confirmed to the Independent Persian by one of the coaches of the team. Since the Taliban formed the government in Afghanistan, women have been restricted from taking part in sports, politics and other things. On several occasions, women have taken to the streets to demand their inclusion in political and social developments. The Taliban is struggling to gain recognition from the international community after taking control of Afghanistan and announcing its interim government.
Source: Republic World
https://www.republicworld.com/world-news/rest-of-the-world-news/afghan-women-athletes-worried-about-their-future-urge-taliban-to-continue-sports.html
--------
Saudi HR fund helps 120,000 women into work since January
November 03, 2021
JEDDAH: A Saudi government fund has helped get more than 120,000 women into jobs in the private sector since the beginning of the year, according to the Saudi Press Agency.
The Human Resources Development Fund (Hadaf) also supported 80,000 men to find work in the commercial world.
The Kingdom established reforms dedicated to the promotion of women's engagement in economic development by preventing gender discrimination in terms of wages, occupation, work field and hours, according to the Unified National Program.
The rate of women's participation in the labor market doubled from 17 to 32 percent by the end of 2020, exceeding the Vision 2030's goal to reach 30 percent, according to the ministry of human resource and social development.
Source: Arab News
https://www.arabnews.com/node/1960751/business-economy
--------
URL: https://www.newageislam.com/islam-women-feminism/hijab-diversity-campaign-french-politicians/d/125710
New Age Islam, Islam Online, Islamic Website, African Muslim News, Arab World News, South Asia News, Indian Muslim News, World Muslim News, Women in Islam, Islamic Feminism, Arab Women, Women In Arab, Islamophobia in America, Muslim Women in West, Islam Women and Feminism