New Age Islam News Bureau
15 Aug 2017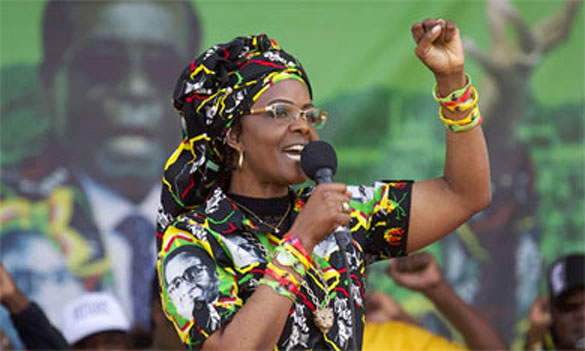 Grace Mugabe, pictured at a rally last month, is alleged to have attacked the woman with an extension cord. Photograph: Tsvangirayi Mukwazhi/AP
------
• Hijab-Clad Toon in Road Safety Books Removed Over Accusations Of 'Sexualisation'
• Michigan Woman Accuses Pastor Of Sexual Assault During In-Home 'Anointing' Visit: Reports
• Breaking the Code: How Women In Nigeria Are Changing The Face Of Tech
• Zimbabwe's First Lady, Grace Mugabe to Appear in Court in South Africa over Alleged Hotel Assault
Compiled by New Age Islam News Bureau
URL: https://www.newageislam.com/islam-women-feminism/hijab-clad-toon-road-safety/d/112205
--------
Hijab-Clad Toon in Road Safety Books Removed Over Accusations of 'Sexualisation'
By: PTI | London: August 15, 2017
A road safety campaign in the UK that uses images of a young cartoon character wearing a hijab has dropped the pictures after it was accused of "sexualising "children. The 2 million pounds campaign, promoted by Transport for London, includes children's books distributed in nurseries as well as an interactive website. The stories are illustrated with characters from ethnically diverse backgrounds.
The Muslim girl, aged three or four, is called Razmi and always shown wearing a religious headscarf. Razmi is seen indoors in the home of a Chinese girl and that child's grandmother and on outings, The Times reported.
The Children's Traffic Club London, promoted by Transport for London (TfL), has recruited more than 66,000 children across the capital. TfL, which is chaired by Sadiq Khan, the capital's Labour mayor, has apologised and said that it would stop using the images, the report said. The books were introduced under his Conservative predecessor Boris Johnson, now the foreign secretary, in 2015.
Gina Khan, an advocate of Islamic women's equality, was Gina Khan, an advocate of Islamic women's equality, was quoted as saying, "You are sexualising a four-year-old girl. It is as simple as that. The reason a female is covered is so men don't look at her. How can you integrate in society if you have a four-year-old girl wearing a hijab?"
Shaista Gohir, chairwoman of the Muslim Women's Network UK charity, said, "It's like trying to get that child to try to grow up far too quickly. A child needs to be treated like a child." Aisha Ali-Khan, a Muslim feminist campaigner, said the publishers of the book need diversity training."The hijab is a Saudi-isation of British Muslim identity," she said.
"If you are a Muslim girl and look at these images and"If you are a Muslim girl and look at these images and see this girl is Muslim and she is wearing a hijab and you aren't, you will think there's something wrong with you. It is far too young. You are a child. What are you being modest for?" she added.
Dame Louise Casey, the government's integration tsar, intervened in a row in Birmingham this year when a Catholic school came under pressure to let a four-year-old girl wear a Muslim headscarf. She has expressed concern that "time and again I found it was women and children who were the targets of these (kind of)regressive practices" against the vulnerable.
A TfL spokeswoman was quoted as saying, "We apologise for any offence caused by this content and we will not use these designs in future."
Source: http://indianexpress.com/article/trending/trending-globally/hijab-clad-toon-in-road-safety-books-removed-over-accusations-of-sexualisation-4798113/
----
Michigan Woman Accuses Pastor Of Sexual Assault During In-Home 'Anointing' Visit: Reports
By Ken Shepherd - The Washington Times - Monday, August 14, 2017
A Michigan woman has alleged her pastor inappropriately touched her during a visit to her home last summer, the Times Herald of Port Huron reported recently.
According to St. Clair County Sheriff's Office documents obtained by the Times-Herald, in July 2016, Mitch Olson, a pastor at the Grace Ministry Center of Kimball, Michigan, suggested to the then-19-year-old woman that he anoint her with oil in a prayer service, but said he had no oil at the church and asked instead to visit her at her residence.
The Times Herald does not disclose the names of alleged sexual assault victims, but the woman, Justine Morden, has since gone public on a local TV station with her story.
"Later on that night, around like 8 or 9, he texted me and asked what my address was," the woman, the newspaper reported on Wednesday. "I gave him the address and didn't think anything of it since I trusted him … He got there and said, 'I have the anointing oil if you want to be anointed,' so I said 'OK.' "
"I trusted him. He has been my pastor since I've been in sixth grade," she told Detroit's WXYZ-TV.
It was at Miss Morden's residence, according to the police report, that Mr. Olson proceed to anoint the woman, first on her head and shoulders, but then working down her body, allegedly touching the woman's breasts, buttocks and pubic region, slipping his hands under her pants.
Miss Morden says at the time she consented, believing it was needed for the forgiveness of her sins, but that a subsequent discussion with her mother made her reconsider what had happened that night.
"When I explained it to my mom, she said it wasn't right," she told the Times Herald. "I believed it was what really had to be done, but he grabbed, groped my boobs."
Grace Ministry Center board member Gordon Farnsworth does not dispute that Mr. Olson anointed the victim and touched her on her breasts and pubic region, but said that "the intent and extent of the touching" is in dispute, according to the police report.
Grace Ministry's board conducted a disciplinary hearing in March attended by Mr. Olson, the alleged victim and the victim's stepfather, and the resulting action was a mere "slap on the wrist," according to the stepfather, who recorded the proceedings.
WXYZ reported that Mr. Olson in the same board meeting described the anointing ceremony as an exorcism as he considered Miss Morden possessed.
"Do you want your daughters coming to this church where this could possibly happen … I feel like it (has) been covered up," he said, the Times Herald reported.
According to the police report, Mr. Olson's misconduct may not be an isolated incident of impropriety involving a member of his flock: Another young woman has come forward to relay an incident from four years ago when the pastor attempted to record her changing her clothes on a cellphone left in a church changing room.
Prosecutors are currently reviewing the evidence and will decide on whether to move forward on the case in the next few weeks, WXYZ reported last Wednesday.
Meanwhile, the Times Herald is requesting that other individuals who have either a "story of sexual assault or of an inappropriate occurrence" to contact the paper's investigative reporters.
Source: http://www.washingtontimes.com/news/2017/aug/14/michigan-woman-accuses-pastor-of-sexual-assault-du/
-----
Breaking The Code: How Women In Nigeria Are Changing The Face Of Tech
Tolu Ajiboye
Monday 14 August 2017
The Nigerian tech scene is booming. Last year, Lagos-based startup Andela received $24m (£18.5m) in funding from Mark Zuckerberg. In 2015, financial technology startup Paystack – one of the first Nigerian tech companies to be accepted into renowned California-based startup accelerator Y Combinator – secured approximately $1.3m in seed investment from international investors.
Within this growth, women are emerging as influential forces, and changing the face of technology in Africa, especially in the fields of agricultural and financial tech. This is despite the fact that, as recently as a decade ago, women were grossly underrepresented in and excluded from the industries they are now helping to shape.
"I think those who are joining the tech world today have an easier path to tread," says Nnenna Nwakanma, a Nigerian activist for accessible internet. "There were situations where people would refuse to recognise my authority, but would patronise or objectify me, or refuse to fulfil contracts they had willingly entered into – all because of my gender." Despite this, Nwakanma co-founded the Free Software and Open Source Foundation for Africa (FOSSFA) and is now a senior policy manager for the World Wide Web Foundation, where she supports digital equality and promotes the rights of Nigerian women online.
The negative attitude towards women's involvement in science, technology, engineering and mathematics (Stem) is starting to change, thanks partly to initiatives such as the Stem outreach and mentoring programmes established by the Working to Advance Science and Technology Education for African Women (WAAW) Foundation, which operates in 11 countries. There is also Intel's programme She Will Connect Africa, which has trained more than 150,000 women in Nigeria, South Africa and Kenya in digital literacy since it launched in 2013.
The demand for tech talent is now such that it cannot be met by men alone. Rapid digitalisation in Nigeria is heavily concentrated in the country's metropolitan megacity, Lagos. Here, the startup culture flourishes, while big business have moved in: in 2015, global tech supplier Bosch opened a subsidiary in Ikeja, the capital of Lagos region, and Microsoft has an office in the affluent Lagos neighbourhood of Ikoyi.
Ire Aderinokun – the author of web development blog bitsofco.de, a front-end developer and Nigeria's first female Google Developer Expert – says her love of tech started as a hobby. "I used to play an online game called Neopets, which had some HTML capabilities. From there, I got really interested and continued to learn more." But, despite Aderinokun's enthusiasm, her interest was not always encouraged. "It's definitely not what society expected of me. I studied psychology for my undergraduate and law for my master's. When I said I wanted to pursue this, there were many people who told me not to."
Rukayat Sadiq, a software engineer and a technical team leader at Andela, also faced opposition. She chose to study electrical engineering – a subject in which a class of 150 students might include only 15 women – to the surprise of friends and family, who had expected her to become a doctor.
While women entering and participating equally in the labour market is commonplace in Nigeria, computing and engineering are still industries dominated heavily by men. But many women who work in the tech industry are keen to offer support to those coming up. Aderinokun, for example, is funding full scholarships to five women for online programming "nanodegrees". These qualifications do not guarantee employment, but they give those who have earned them a distinct advantage in the workplace and are endorsed by top employers, including Google, AT&T and Amazon. Sadiq also spends time "teaching and mentoring newbies".
"Removing the stigma and assumption that tech is only supposed to be for men is necessary, and I think we need to start from as early in children's lives as possible," says Aderinokun. "We should work towards eliminating negative statements and mindsets that perpetuate the myth that women can't be involved in Stem."
It is hopeful that we will one day get to a point where tech-related fields are level playing grounds for both sexes.
It is a challenge that continues around the globe, but it is one Nigeria is well equipped to handle.
Source: https://www.theguardian.com/lifeandstyle/2017/aug/14/breaking-the-code-how-women-in-nigeria-are-changing-the-face-of-tech
-----
Zimbabwe's First Lady, Grace Mugabe to Appear in Court in South Africa over Alleged Hotel Assault
Kevin Rawlinson and agencies
Tuesday 15 August 2017
Zimbabwe's first lady, Grace Mugabe, is to appear in court in South Africa on Tuesday after handing herself in to police over allegations that she assaulted a woman in a Johannesburg hotel.
Mugabe, 52, allegedly attacked Gabriella Engels, 20, with an extension cord, wounding her forehead and the back of her head.
Mugabe went to a police station on Tuesday, Agence France-Presse reported. According to the local eNCA TV channel, she will appear in court later on Tuesday.
The police minister Fikile Mbalula said Mugabe would appear at Wynberg magistrates court on Tuesday afternoon. "She's not under arrest because she co-operated and handed herself over to the police," he said.
Earlier in the day, Mbalula told the local Eyewitness News agency: "If she came here with her diplomatic passport, she'll have diplomatic immunity. This doesn't mean she cannot be arrested."
A Zimbabwean intelligence source said Mugabe was travelling on a normal passport. "She was here on business," the source told Reuters.
Pictures on social media appear to show Engels bleeding in Capital 20 West hotel in the upmarket district of Sandton.
Mugabe allegedly arrived with bodyguards at the hotel on Sunday and accused Engels of living with her sons, Robert and Chatunga, both in their 20s, who are based in the city.
"We were chilling in a hotel room, and [the sons] were in the room next door. She came in and started hitting us," Engels, a model, was quoted as saying by the TimesLIVE website.
"The front of my forehead is busted open. I'm a model and I make my money based on my looks."
Mugabe, who is 41 years younger than her husband, Robert, has two sons and a daughter with the Zimbabwean president.
The national police spokesman Vish Naidoo told AFP: "There was a criminal case opened in Sandton at Morningside [station] yesterday, but I can not release any name. Right now we have not arrested anybody."
South Africa's foreign affairs spokesman Clayson Monyela said Mugabe's trip was "a private visit so government cannot get involved if an alleged crime is committed".
Sizakele Nkosi-Malobane, a provincial minister in Gauteng province, told Jacaranda FM that the case should be pursued through the courts.
"We hope that it will send a strong message to all leaders who abuse their power and assault innocent people in our country," she said.
Grace Mugabe regularly speaks at rallies in Zimbabwe and is seen as a potential successor to her increasingly frail husband.
The Zimbabwean government made no immediate comment.
Agence France-Presse contributed to this article
Source; https://www.theguardian.com/world/2017/aug/15/zimbabwe-first-lady-accused-attacking-woman-staying-grace-mugabe-sons
-----
URL: https://www.newageislam.com/islam-women-feminism/hijab-clad-toon-road-safety/d/112205
New Age Islam, Islam Online, Islamic Website, African Muslim News, Arab World News, South Asia News, Indian Muslim News, World Muslim News, Women in Islam, Islamic Feminism, Arab Women, Women In Arab, Islamophobia in America, Muslim Women in West, Islam Women and Feminism