New Age Islam News Bureau
22 Oct 2015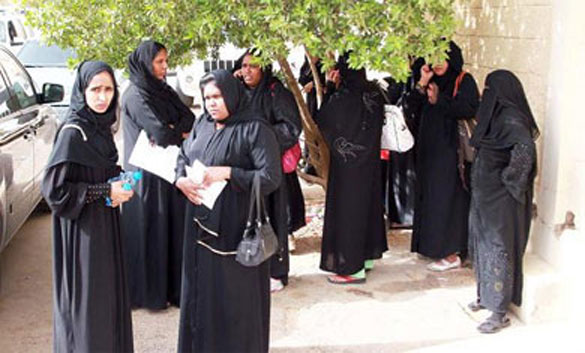 In this May 2013 file photo, runaway maids wait outside the Labour office in Riyadh to legalize their visa status during an amnesty program granted by the government.
----------
• Hijab Brought Me Serenity: German Actress
• Why 86,000 Housemaids Ran Away From Saudi Arabia In A Year!
• White House to Be Friendlier To Maryam Nawaz than Sharif
• Bitiya Was Just Another Dalit Girl Raped in a Village. Till She Became Her Rapists' Worst Nightmare
• Aboriginal women's claims of police sex abuse under investigation
Compiled By New Age Islam News Bureau
URL: https://newageislam.com/islam-women-feminism/hijab-brought-serenity-german-actress/d/105012
-----
Hijab Brought Me Serenity: German Actress
21 October 2015
CAIRO – Playing the role of a Muslim student in her latest film, a young German actress has revealed that she felt a strange serenity when she put on Hijab for the first time, despite of people looks at her.
"When I put on my headscarf and saw only my pure face, I had initially a strange feeling," Ava Celik told Bild newspaper reported.
"It may have been due to the preparation for the role, because when I wore the costume, I went upright at once and had an unusual serenity.
"On the road again, I saw turns and looks at me, for two or three times. But I could not really interpret the looks," she added.
Celik, a 25-year-old young German actress, is playing the role of Sevda, a young Muslim high school student in Berlin who dons a hijab in the film produced by German official TV channel, ZDF.
She plays an intelligent Muslim who has a liberal, non-religious parents. This girl opted voluntarily for life as a devout follower of Islam.
In the film, Sevda refuses to sit next to a boy or participate in physical education. The teacher allowed Sevda this special treatment, thus bringing the other students against himself.
The movie tackles integration in the German community, portraying Muslim women as not suppressed.
"I was born in Berlin and did not personally experience exclusion. The term is of course far interpretative nature and so I think tolerance is always something individual," Celik said.
"Good will alone is not enough, but I think if both sides have it, that's a good start."
Germany has Europe's second-biggest Muslim population after France, and Islam comes third in Germany after Protestant and Catholic Christianity.
It has between 3.8 and 4.3 million Muslims, making up some five percent of the total 82 million populations, according to government-commissioned studies.
http://www.onislam.net/english/news/europe/495337-hijab-brought-me-serenity-german-actress.html
--------
Why 86,000 Housemaids Ran Away From Saudi Arabia In A Year!
22 October 2015
RIYADH: Shoura Council members have called for an investigation into the reasons why 86,000 housemaids ran away from their employers in one year alone.
"This is a serious problem which has adverse effects to the local economy and security as well," the Shoura members said.
Abdullah Al-Otaibi, vice president of the health committee, suggested the formation of a special committee to study the recruitment file and make recommendations to solve the problem.
Some claim that housemaids run away from their employers but a local community leader said that they escape because of non-payment of salaries, lack of food and maltreatment.
Based in Hail, this community leader has been involved in helping housemaids after they run away from their employers.
The Shoura members slammed the Ministry of Labor for its performance, including the implementation of the employment strategy endorsed by the Cabinet six years ago.
Fadwa Abu Mureefah warned of malpractice in the recruitment file that goes against Saudi citizens.
Mureefah also asked about the "delay in addressing the problem on recruitment and that why the Kingdom is still experiencing difficulties and obstacles on this issue."
"Are there problems in activating the agreements signed by the Ministry of Labor to expand the number of countries exporting labor?" she said.
She also called for the generation of jobs with good salaries.
Mansour Al-Kredes called on the Labor Ministry to clarify its position on the matter and asked about the problems of unemployment.
He added that it's the ministry's responsibility to control the labor market and address the problems that include unemployment among Saudi citizens.
Records show that the labor force in the Kingdom is 11,912,209-strong but of the number, only 47 percent are Saudis while 57 percent are foreigners.
http://www.arabnews.com/saudi-arabia/news/824001
--------
White House to Be Friendlier To Maryam Nawaz than Sharif
October 22, 2015
ISLAMABAD -In all probability Prime Minister Nawaz Sharif's daughter Maryam Nawaz will have more fun at the White House today when they visit US President Barrack Obama's principal office.
The father and the daughter have separate scheduled meetings with President Obama and First Lady Michelle Obama with distinct agendas under the same roof.
While nuclear weapons could come into play in the Sharif-Obama sitting, the other meeting in the same house would focus on women empowerment and literacy.
The Sharif-Obama meeting comes days after the US President announced to extend military presence in Pakistan amid resurgence of the Taliban.
The two leaders are set to discuss Pakistan's alleged role in the war in Afghanistan, tension with India, Pakistan's nuclear programme and other issues.
Not far away from the possible heated discussion, Michelle Obama – who especially invited Maryam Nawaz Sharif for a one-on-one meeting a few weeks earlier, will exchange views on the world-wide children's education programme - for which they have already agreed to work – and women empowerment.
The US First Lady told Maryam in August she would work with her to promote education in Pakistan. This programme is aimed at facilitating girls between the age of 12 and 19 to complete their education and pursue careers. With the help from the US, Maryam will try to extend the programme to the deprived sections of the society.
PM Sharif and President Obama meanwhile would be doing the brainstorming to solve some issues that require urgent attention. Pakistan is considered by the US and the West as a major player in the war in Afghanistan. Washington has always accused it of being deeply involved in supporting the Afghan Taliban, particularly the Haqqani Network.
Bruce Riedel, who authored the Obama administration's Af-Pak policy, alleged if the Pakistani army was not supporting the Afghan Taliban; it would have been a wholly different kind of war.
On the Thursday's talks Reidel said, "During these talks, President Obama will see Nawaz Sharif not as the problem but perhaps not also the solution."
He added 'not the problem' in the sense that it is not Nawaz Sharif who supports the Taliban and by 'not the solution' he means it's not clear if he can make the army do what he wants it to do.
Obama says 5,500 troops would stay on until 2017, amid a deteriorating situation in Afghanistan. Ahead of the meeting, the US President emphasised the need to end the sanctuaries for the Taliban and other terrorists and said he will urge Prime Minister Sharif to press the Taliban to return to peace talks.
Currently, the US pays close to $500 million every year to Pakistan as reimbursements for the operations against militancy. In the past 14 years they have paid Pakistan more than $20 billion in military support.
There are many who fear this financial assistance is a must for the US to stay engaged with Pakistan - a nuclear power – as the safety of Pakistani nuclear weapons has been a major concern for Washington and Obama.
There are reports that the White House will discuss a potential deal to limit Pakistan's nuclear programme in return for easier entry into the Nuclear Suppliers Group, a body that controls the export and trade of fissile material. Pakistan has ruled out any compromise on the nuclear programme.
In public, Pakistani officials say the visit would be about boosting bilateral relations and Sharif will have a wish list ranging from access to the US market, economic and defence ties, and support against its neighbour India. But in private, they have been less upbeat.
Close aides suggest Sharif will try to convince Obama to use his good office to cool down tension between Pakistan and India and a resumption of dialogue on conditions acceptable to both the sides.
Analyst Nadeem Yaqoob said three broader issues will be discussed during the Sharif-Obama meeting - the law and order situation of Afghanistan, Pakistan's efforts to counter terrorism and the growing tension between Pakistan and India.
"The US wants to involve Pakistan in Afghan peace process because the role of Islamabad is quite significant in holding talks with Taliban," he said.
Yaqoob added Pakistan should take up the issue of Indian nexus with terrorists, who were operating in Karachi and Balochistan.
"Nawaz Sharif should urge the leadership of the US to pressurise New Delhi to stop its negative role in the region. The bilateral cooperation between Washington and New Delhi has increased in the last few years. Pakistan should also ask the US to enhance bilateral relations in several fields including energy, defence and economy," he said.
Senior analyst Professor Ghulam Mustafa was optimistic the visit of the Prime Minister to the US will prove successful because all issues will come under discussion including the unrest in Afghanistan.
Furthermore, he said, the bilateral cooperation between Pakistan and the US is quite significant because both are fighting against terrorism.
"As far as India is concerned, it is promoting terrorism and Shiv Sena's attitude with minorities particularly with Muslim community is not only very shameful but also a great threat for peace in the region. This must be discussed," he emphasised.
http://nation.com.pk/national/22-Oct-2015/white-house-to-be-friendlier-to-maryam-than-sharif
-------
Bitiya Was Just Another Dalit Girl Raped in a Village. Till She Became Her Rapists' Worst Nightmare
Shreya Pareek October 22, 2015
She was just 13 when four upper-caste men raped her in 2012. They filmed the act and threatened to leak the video and also kill her brother if she told anyone about it.
Fearing for her brother's life, she kept quiet. But this was just the beginning of her long and arduous journey. Six weeks later, her father chanced upon a 15-year-old boy watching a pornographic film that featured his daughter. The men were selling the video in a local video store for some money.
When her father saw his daughter crying in the video and four men forcing themselves upon her, he was shocked.
He went to the police station to file a report. But the police seemed uninterested in following up on the case.
In fact, village elders too did not support the young girl. They barred her from school saying she was "the wrong kind of girl and would affect other girls too". But, unlike many girls who stay indoors and cut themselves off from the world as victims, this girl took the culprits head on and has been fighting for justice ever since.
Since Indian law does not permit the naming of rape victims, she prefers being called 'Bitiya'. After winning support from a few villagers, she managed to rejoin her school. She is not just another 'victim' but a portrait of a courageous teenager who is willing to fight against all odds and not let others tell her that she is to blame for what happened to her.
After some investigation took place, the four accused were sent to jail but were later released on bail. The case has been dragging since then and Bitiya's family, especially her brother whom they threatened to kill, live in terror. He can't go out of the house, take up a job or lead a normal life due to the death threats. Bitiya's father too could not take the pain of the court hearings and died of a heart attack.
In spite of facing challenges at every step, Bitiya refused to give up. She continued attending the court hearings and bravely spoke out against the wrong done to her.
She was even offered Rs. 9, 72,000 – an amount she had never seen in her life, to drop the case. But being on a mission, Bitiya refused the money saying that she would not even accept double the amount and will only rest once she sees the culprits behind bars.
While Bitiya continues to fight for justice, the suspects have had to sell some land to arrange the money for bail. This has made everyone in the village realise that rape can lead to consequences and people cannot easily get away with it anymore.
Bitiya's efforts now seem to be showing results. Many rape cases have occurred in the village but none are believed to have occurred since Bitiya raised her voice. All it takes is one voice.
http://www.thebetterindia.com/36828/bitiya-rape-victim-dalit-rapists-worst-nightmare/?utm
----
Aboriginal Women's Claims of Police Sex Abuse under Investigation
CBC News Posted: Oct 22, 2015
Allegations of abuse of power and assault by Quebec provincial police officers in Val-d'Or, Que., have led to an internal investigation, a spokeswoman for the Sûreté du Québec has confirmed.
It comes after Radio-Canada's investigative program, Enquête, uncovered stories of sexual violence toward aboriginal women in the Quebec town of 32,000. Val d'Or, about 500 kilometres northwest of Montreal, is located close to several Algonquin communities.
Speaking publicly for the first time, alleged victims told Enquête about a pattern involving the provincial police over a period of at least two decades.
They say officers routinely picked up women who appeared to be intoxicated, drove them out of town and left them to walk home in the cold. Some allege they were physically assaulted or made to perform sex acts.
Allegation of drugs for sex
Bianca Moushoun recounted how male officers would give her beer they kept stored in the trunk of their vehicles. She said the men would later take her to a remote area.
"We went to a road in the woods, and that's where they would ask me to perform fellatio," said Moushoun. They would pay her "$100 for the service" and "$100 to keep quiet," she added.
"Sometimes they paid me in coke. Sometimes they paid me in cash, sometimes both."
She said the incidents occurred about two years ago.
Another woman, who spoke on condition her name not be used, said she was assaulted by an officer in his car on the road between Val-d'Or and Waswanipi, a Cree community about 275 kilometres northeast of the town.
"He wanted a blow job. I said no," she wrote. "He threw me out and grabbed my hair. He left me alone on the highway."
Photos of the woman, which she says were taken after that incident, show a cut above her right eye and a wound on the top of her head. Both were sustained in the altercation with the police officer, she said.
Not all 'bad apples'
Carole Marcil, a bartender at Le Manoir in Val-d'Or, has heard such stories from aboriginal women countless times. She estimates as many as 30 women in the area have had similar encounters.
"If they don't perform fellatio … they get massacred," Marcil said. The women "show up with bumps, bruises, punches and burns."
Marcil stresses "not all" provincial police officers in Val-d'Or act that way.
"There are two or three or four bad apples [among them]," Marcil said.
Officers questioned, but still on the job
Since the women spoke to Enquête, some have filed formal complaints, and an internal police investigation has begun.
"Fourteen files have been opened for allegations related to the behaviour of our officers," said police spokeswoman Martine Asselin. "These are allegations, not charges for now," she added.
"All the files will be transferred to [the Crown prosecutor's office], and we'll see what happens after that," Asselin said.
About 50 officers are based at the Val-d'Or Sûreté du Québec detachment. Eight among them have been questioned by investigators, Asselin said. They remain on the job.
The investigation is being led by the force's professional standards directorate.
The investigators involved are not based in Val-d'Or, Asselin said.
http://www.cbc.ca/news/canada/montreal/aboriginal-women-s-claims-of-police-sex-abuse-under-investigation-1.3282845
-----
URL: https://newageislam.com/islam-women-feminism/hijab-brought-serenity-german-actress/d/105012