New Age Islam News Bureau
28 January 2022
• Sacked Belly-Dancing Teacher, Aya Yousef, Sparks Egypt Debate Over Women's Rights
• Iranian Women Attend Iran-Iraq Match In Tehran Stadium; For The First Time In Almost Three Years
• Nine Of The World's Top 10 Female Players Announced For Dubai Duty Free Tennis Championships
• Rabata, Henna And Hijabs Named To Innovative 'Muslim Start-Ups' List
• UN Chief Calls On Taliban To Uphold Women's Rights
Compiled by New Age Islam News Bureau
URL: https://www.newageislam.com/islam-women-feminism/hijab-ban-catastrophic-muslim-sport-france/d/126258
--------
Hijab Ban Will Be Catastrophic To The Participation Of Muslim Women In Sport In France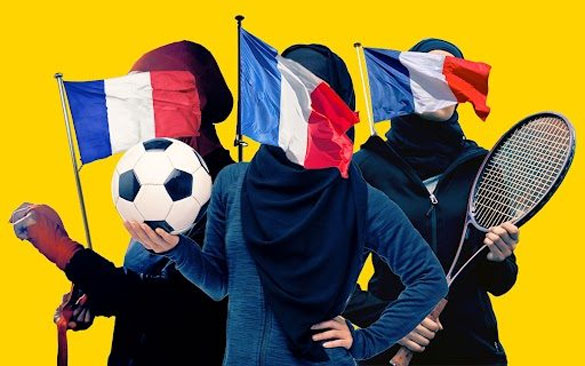 Meshkatolzahra Safi has made history as the first player from Iran to win a match in the main draw of a Grand Slam CREDIT: Custom Image
----
By Fadumo Olow
27 January 2022
Meshkatolzahra Safi may not be a name you know yet, but she broke new ground at the Australian Open this week. The 17-year-old is the first Iranian national to hit the top 100 in the world junior tennis rankings, making history – and global newlines - on Sunday as the first player from Iran to win a match in the main draw of a Grand Slam tournament.
Just five days before Safi's win in Melbourne, where she played wearing a headscarf, the French senate voted in favour of banning the wearing of hijabs in sports competitions. The amendment, proposed by the right-wing political party Les Republicains, argued that headscarves undermine French values and put the safety of athletes at risk.
Approved by a 160-143 vote in the French Senate, the rule – if implemented – will be catastrophic to the participation of Muslim women in sport in France, and women worldwide. For elite athletes, like Safi, France could instantly become a no-go zone.
Khadijah Mellah, who became the first hijab-wearing jockey to win the Magnolia Cup in 2019, hopes to return to racing in 2022 and dreams of one day competing in the Prix de l'Arc de Triomphe. Now, she may have to rethink. "It's straight-up Islamophobic," Mellah told the Telegraph. "It causes me as an athlete to think twice about whether I want to train or compete in France. It limits my options which is frustrating. Essentially, it's dictatorship over women's bodies and what they can and cannot wear and it's wrong. I'm lucky I live in the UK and it doesn't affect me massively but honestly, a lot of talent will be wasted because of this decision."
France's war on the hijab is not new, of course. The French Football Federation already bans women from wearing the hijab in matches. Headscarves are prohibited in schools and government buildings.
West Ham United Women's defender Hawa Cissoko recently made her return to the French national team for their 2023 World Cup Qualifiers and is frustrated about the proposed change in legislation.
"My first thoughts were, 'What is their problem?'" said Cissoko, who wears the hijab outside of playing football. "They said they did this for equality but where is the equality for Muslim women? Where is our equality in this story?"
Cissoko's move to London from French team Soyaux in July 2020 saw her recalled to the French national team after a three-year hiatus, but a move to the UK also aided her spiritual journey. Finally, she said, she has freedom of religious expression – something that her fellow female footballers do not have in France.
"I have professional friends in football who would like to wear the hijab but can't. Now we say that when we stop playing football, we're going to wear the hijab," she pauses, and chuckles to herself. "It's difficult because you have to choose between your faith or your career. In France, we always have to choose."
It will not only impact individuals like Mellah, or the aspiring tennis players hoping to reach the French Open. For a nation that is set to host the 2024 Olympics, the audacity of seeking to exclude a group of women in this way is shocking. How can Paris open its doors to the best of the world's sporting talent yet actively reject women for what they choose to wear?
At previous Games, Muslim sportswomen such as American fencer Ibtihaj Muhammad, who won bronze at Rio 2016, and Feryal Abdelaziz, who won Egypt's first gold medal in Tokyo, lit up the competition. But with this rule, the influence of hijab-wearing Muslim sportswomen is set to be erased for Paris 2024. The International Olympic Committee has so far failed to comment on how this change in legislation could impact athletes, an insult to the ethos the Games promotes.
As a Muslim woman I know the power of sport, and have seen it with the young people I have worked with. But when legislation like this is approved, with no outcry or opposition, it feels like we can never win.
When Muslim women are silent, we are deemed to be victims of our faith, shackled by our hijabs and oppressed. Yet when we speak or take ownership of our choices, we are perceived as if we are enforcing Islam onto the world, or told we do not belong. A woman's strength and her ability to play are not minimised by the layers she chooses to wear.
Source: Telegraph UK
https://www.telegraph.co.uk/womens-sport/2022/01/27/hijab-ban-could-make-french-sport-no-go-zone-muslim-women/
--------
Sacked Belly-Dancing Teacher, Aya Yousef, Sparks Egypt Debate Over Women's Rights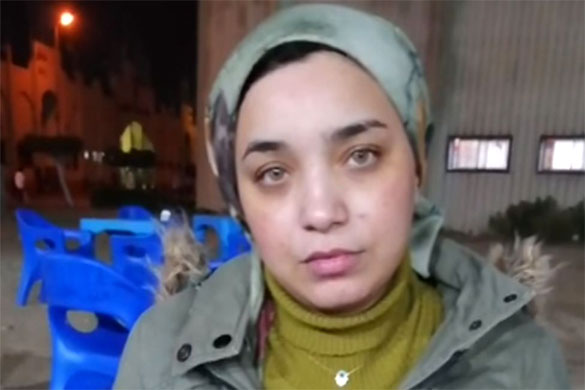 Aya Youssef said she had returned to work as a teacher on Tuesday
----
By Yolande Knell
11 January 2022
In Egypt, a viral video of a teacher belly-dancing has sparked a national debate about women's rights and the country's socially conservative values.
Aya Yousef was sacked, and divorced by her husband, after she was filmed by a colleague at a work social event on a Nile boat without her permission.
Footage shows her moving to the music alongside male teaching staff.
Belly-dancing is said to date back to Pharaonic times but it is often frowned upon now for women to dance in public.
The video of Ms Yousef, who is wearing a headscarf and a long-sleeved dress for the daytime river trip, looks very tame by Western standards.
However, as it was widely shared on Arab social media in the past week, it prompted an outcry among Egyptian conservatives.
Her critics claimed she had acted shamefully: "It clearly expresses the poor times we live in!! Anything is permitted," wrote one Twitter user.
"Education has reached a low level in Egypt," another commented, calling for intervention by the relevant authorities.
Ms Yousef was then sacked by the primary school in Dakahlia Governorate in the Nile Delta, where she had worked for several years teaching Arabic.
She has vowed she will never dance again and said that she had contemplated suicide during her recent ordeal.
"Ten minutes on the boat in the Nile cost me my life," she told journalists.
Women's rights advocates in Egypt also spoke out strongly, insisting the teacher did nothing wrong and saying that she was the victim of a witch hunt.
In her support and in defence of personal freedoms, the deputy head of another school posted photographs on social media of herself dancing at her daughter's wedding.
The head of the Egyptian Centre for Women's Rights, Dr Nihad Abu Qumsan, offered Ms Yousef a job in her office and asked her to bring her contract from the education ministry in order to file a legal complaint against her dismissal.
This may have helped prompt a rethink. Local authorities have now appointed Ms Yousef to a position at a new school.
The teacher complained the affair was "a transgression of [her] privacy".
She pointed out that she did not dance at a public institution or in front of students and said she planned to sue the person who filmed the video last month.
Source: BBC News
https://www.bbc.com/news/world-middle-east-59960477
--------
Iranian Women Attend Iran-Iraq Match In Tehran Stadium; For The First Time In Almost Three Years
January 27, 2022
TEHRAN: Iranian women were allowed Thursday for the first time in almost three years to attend a football match of their country's national team in a Tehran stadium.
"I am very happy. This is the first time I have attended a match at Azadi Stadium," said a 26-year-old civil engineer who gave her name only as Mahya. She carried the national green, white and red flag, and covered her head with a grey scarf.
The Islamic republic has generally barred female spectators from football and other stadiums for around 40 years. Clerics, who play a major role in decision-making, argue women must be shielded from the masculine atmosphere and sight of semi-clad men.
World football's governing body FIFA ordered Iran in September 2019 to allow women access to stadiums without restriction and in numbers determined by demand for tickets.
A month later women were able to attend a 2022 World Cup qualifying match between Iran and Cambodia in Azadi Stadium.
For the first match since then, 2,000 of the 10,000 tickets were exclusive to women on Thursday for the 2022 World Cup qualifier between Iran and Iraq, ISNA news agency reported.
"I bought the tickets online and got an SMS confirming it," Mahya said, adding that "if we win, we will go celebrate the victory in the streets."
She got her wish, witnessing a 1-0 home side win over Iraq.
"There is nothing strange or complicated" about a woman going to the stadium, said Mahya.
"It should have happened earlier," she said. "I hope that this will continue."
The female fans entered through a special entrance via a car park, controlled by policewomen wearing black chador robes and red badges on their arms.
"I wished to have my husband beside me but they said men and women are segregated," said another female spectator, Golnaz Bahari, 24.
"It will be a lot better if families can come together," said Bahari, carrying her child in one hand and a vuvuzela horn in the other.
Iran's female fans sat behind the Iraqi goal.
Wearing thick coats against winter's chill, some had the national colors painted on their cheeks, and many carried Iranian flags or horns in the national colors.
They sat apart from the men but united with them in supporting their side, with shouts of "Iran! Iran!" drowning out the few fans from Iraq. The two countries were at war for years in the 1980s.
The 2019 FIFA directive, under threat of Iran's suspension, came after a fan named Sahar Khodayari died after setting herself on fire outside a court in fear of being jailed for trying to attend a match.
Dubbed "Blue Girl" because of the colors of the club she supported — Esteghlal FC — she had reportedly been detained in 2018 when she tried to enter a stadium while dressed as a boy.
Her death sparked an outcry, with many calling for Iran to be banned and matches boycotted.
Since Iran's Islamic Revolution in 1979, women have borne the brunt of swift changes in the nation's moral codes.
Women are subject to a strict dress code, and while deemed more liberal than that of many Arab countries, Iranian legislation since the revolution has been criticized as detrimental to women in cases of marriage, divorce and inheritance.
Women may hold high positions, including in parliament and the government, but cannot serve as judges and have not been allowed to run for president.
FIFA had been pushing for years for Iran to open its stadiums to women, but Tehran had until 2019 only allowed a limited number of them to attend matches on rare occasions.
Since October 2019, when women last attended a national match, Covid-19 restrictions put an end to attendance by any fans — until Thursday.
Source: Arab News
https://www.arabnews.com/node/2013416/offbeat
--------
Nine of the world's top 10 female players announced for Dubai Duty Free Tennis Championships
January 25, 2022
DUBAI: Nine of the world's top 10 — and 17 of the top 20 — women players will compete for the Dubai Duty Free Tennis Championships trophy next month, with no less than five Dubai winners seeking to lift the trophy once again.
Following a week of women's action, the tournament will then celebrate the 30th anniversary of the ATP Tour event, featuring many more star names.
"We are immensely proud to have hosted so many of the very best players in the world at the Dubai Duty Free Tennis Championships, and every year the tournament has witnessed fantastic entertainment and great drama," said Colm McLoughlin, executive vice chairman and CEO of Dubai Duty Free. "Competition has always been fierce and this year will be no different with the world's best women's players returning to Dubai once again. We are also looking forward to an equally exciting 30th anniversary year of the men's tournament in which competition is certain to be as strong as ever."
In the women's tournament, reigning champion Garbine Muguruza, two-time winners Simona Halep and Elina Svitolina, 2013 champion Petra Kvitova and 2019 winner Belinda Bencic will all be hoping to repeat their success, but they face a formidable challenge against one of the strongest fields assembled outside of the four Grand Slams.
Among the top contenders bidding for their first Dubai title will be 2021 Wimbledon and US Open semi-finalist Aryna Sabalenka, who after winning in Doha in 2020 and Abu Dhabi in 2021 will be hoping to claim a Middle East treble. Another top challenger will be Barbora Krejcikova, who won the WTA Most Improved Player of The Year award after her run to the 2021 Dubai final inspired her to win her maiden Grand Slam title at the French Open and further titles in Strasbourg and Prague, before she continued her success in 2022 with a recent appearance in the Sydney final.
Former Dubai runner-up Karolina Pliskova went all the way to the Wimbledon, Rome and Montreal finals in 2021, and she will clearly be someone to watch. Eyes will also be on Paula Badosa, who will be making her Dubai debut after winning Indian Wells and Belgrade and reaching the semi-finals of the WTA Finals, and she already has a 2022 title to her name after she won in Sydney.
Further star names include Iga Swiatek, who by winning the 2020 French Open became the youngest singles champion at the tournament since Rafael Nadal in 2005, and the youngest women's singles champion there since Monica Seles in 1992. Maria Sakkari has emerged as one of the world's best by reaching the semi-finals of the French and US Opens and at the WTA Finals in 2021, and everyone will be wary of 2021 WTA Finals runner-up Anett Kontaveit, who last season celebrated victories over Dubai winners Simona Halep, Garbine Muguruza, Petra Kvitova and Belinda Bencic.
Many local fans will cheer on Ons Jabeur, the highest-ranked Arab player in WTA and ATP Tour history. In 2021, she enjoyed victories over Dubai champions Garbine Muguruza and Venus Williams at Wimbledon and Elina Svitolina in Chicago. And many eyes will also be on rising star Cori Gauff, who last season not only reached the quarter-finals of the French Open and the semi-finals in Rome, but won the Emilia-Romagna Open in Palma, where she became the youngest player to win both the singles and doubles titles at an event since 2004 when Maria Sharapova won both titles in Birmingham.
"The Dubai Duty Free Tennis Championships has once again attracted an incredible field of women players which is second to none," said Tournament Director Salah Tahlak. "Despite so many of the game's very top names competing, success is never guaranteed and over the years many hopeful contenders have sprung a surprise and produced some stunning and unexpected upsets. With this year's entries stronger than ever, we look forward to not only finding who will emerge as our winner from such a star-studded WTA field, but also seeing who will become our 30th year ATP champion."
Source: Arab News
https://www.arabnews.com/node/2011626/sport
--------
Rabata, Henna And Hijabs Named To Innovative 'Muslim Start-Ups' List
By Naasir Akailvi
Jan 27, 2022
The Centre for Global Muslim Life has named three organizations based in the Twin Cities to its list of Top 100 Innovative Global Muslim Start-ups to Watch in 2022.
The San Diego-based non-profit, which announced the list on Tuesday, said the list is about changing the narratives around Muslims.
"We're so consumed with defining what we're not, there's very little articulating what we actually are, what our vision is for the world, what the vision is for our future," said Mustafa Dustin Craun, founding executive director of CGML.
The CGML selected companies based on six criteria including diversity, their focus on Muslim consumers and their social and spiritual impact.
The organizations based in Minnesota that were included in the Top 100 list include:
Henna & Hijabs: This Minneapolis-based, Black-owned company focuses on filling the gap in retail stores by offering casual and luxury hijabs. Through a partnership with Nordstrom Inc., the company's products are sold nationwide. I
Rabata: This Arden Hills-based nonprofit aims to provide a platform to encourage Muslim women into the fields of scholarship and leadership. Rabata offers youth programs and teaching aids to further develop students into leaders.
RISE Sisterhood: The Minneapolis organization was created to acknowledge the work of Muslim women who are teachers, activists and professionals, while also addressing Islamaphobia and a rise in hate crimes against the Muslim community.
To see a complete list of the top 100 startups, as well as a list of financial backers, click here.
Source: Biz Journals
https://www.bizjournals.com/twincities/news/2022/01/27/3-twin-cities-firms-named-to-top-100-startup-list.html
--------
UN chief calls on Taliban to uphold women's rights
26 Jan 2022
The Taliban must uphold the fundamental human rights of women and children, the United Nations chief has said, urging the international community to release frozen Afghan aid to prevent families from selling their babies to buy food.
Secretary-General Antonio Guterres also warned on Wednesday that "Afghanistan is hanging by a thread" as millions of impoverished citizens struggle to survive amid deteriorating humanitarian conditions.
"We urge the Taliban to seize this moment and garner international trust and goodwill by recognising – and upholding – the basic human rights that belong to every girl and woman," Guterres told a UN Security Council meeting.
He expressed concern about recent reports of arbitrary arrests and abductions of women activists, saying, "I strongly appeal for their release."
At the same time, he added, "I appeal to the international community to step up support for the people of Afghanistan," including by releasing aid funds in Washington that remain frozen by the World Bank and the US government.
Some $9.5bn in Afghan central bank reserves remain blocked outside the country and international support given to the previous government has dried up since the Taliban seized power last August.
More than half of all Afghans face "extreme levels of hunger," Guterres told the council, and "some families are selling their babies to purchase food."
China's UN Ambassador Zhang Jun mentioned the case of one woman who "sold her two daughters and a kidney" to feed her family.
"This is a human tragedy", he said, implicitly urging Washington to lift "unilateral sanctions" and ease the freeze on Afghan assets.
The UN continues to call for "a relaxation of those sanctions" which squeeze the economy and prevent the full delivery of essential services, UN Envoy to Afghanistan Deborah Lyons told the council via video link.
Guterres said international aid agencies and donors "need to jump-start Afghanistan's economy through increased liquidity," including $1.2bn from a World Bank-managed fund for Afghanistan's reconstruction that has been frozen.
"Without action, lives will be lost, and despair and extremism will grow," he said.
The UN earlier this month appealed for $4.4bn in humanitarian aid for Afghanistan in 2022. On Wednesday, it said it needed a further $3.6bn for health and education, basic infrastructure, promotion of livelihoods and social cohesion, specifically the needs of women and girls.
Taliban officials recently held talks with Western powers in Oslo to address the humanitarian crisis, with Western diplomats linking humanitarian aid to Afghanistan to an improvement in human rights.
Store, whose country currently chairs the Security Council, Wednesday's session of the 15-member body sought to clarify the mandate of the UN political mission in Afghanistan.
The mandate expires March 17 and must be reviewed to account for the Taliban's return to power.
Source: Al Jazeera
https://www.aljazeera.com/news/2022/1/26/un-chief-calls-on-taliban-to-uphold-womens-rights
--------
URL: https://www.newageislam.com/islam-women-feminism/hijab-ban-catastrophic-muslim-sport-france/d/126258
New Age Islam, Islam Online, Islamic Website, African Muslim News, Arab World News, South Asia News, Indian Muslim News, World Muslim News, Women in Islam, Islamic Feminism, Arab Women, Women In Arab, Islamophobia in America, Muslim Women in West, Islam Women and Feminism