New Age Islam News Bureau
22 Jun 2020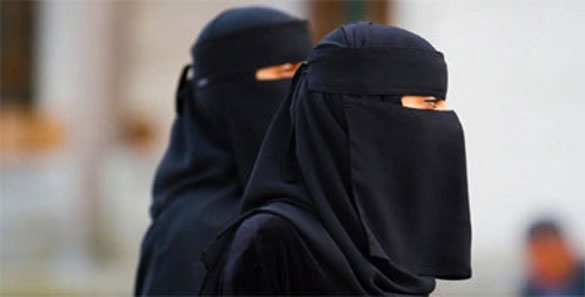 The campaign recently paid off as ten Belgian universities declared that they will flout the rules set on June 4 when a court order prohibited the use of head-coverings in higher education. (Shutterstock/ File Photo)
-----
• 'Why Not A Black Woman?' Consensus Grows Around Biden's VP
• Iranian Hijab Protester Speaks Up About Cruelty Of Fugitive Judge
• 93-Year-Old Woman of Nagpur, Living with A Muslim Family in Damoh,Reunites with Family After 40 Years
• Add Women to Peace Talks, EU and Others Tell Taliban, Afghan Government
• Women Political Prisoners Start Hunger Strike Over Basic Rights
• TaslimaNasreenMeets Characters fromThe Novel That Earned Her A Fatwa
Compiled by New Age Islam News Bureau
URL: https://www.newageislam.com/islam-women-feminism/hijab-ban-hindering-belgian-muslim/d/122185
--------
Hijab Ban Is Hindering Belgian Muslim Women's Social Participation
June 21st, 2020
Fatima-Zohra Ait El Maâti, a 24-year-old student and documentary filmmaker, is at the forefront of a campaign that has put Belgian universities under pressure to announce whether they will uphold the controversial headscarf ban on campuses or join a small group of universities who have opted to defy it.
The campaign recently paid off as ten Belgian universities declared that they will flout the rules set on June 4 when a court order prohibited the use of headcoverings in higher education. The Belgian Constitutional Court's ruling sparked a backlash on social media. People protested it by using hashtags such as, #TouchePasAMesEtudes (Don't touch my studies) and #HijabisFightBack.
"We have to be politically involved -without wanting to be- because our basic rights are being taken away from us and we have no representative to do this for us. We only have CCIB (The Collective AgainstIslamophobia in Belgium), who have been doing enormous work for years. We are not grassroots in this movement, but we have to confront the politicians that are not doing their job" said El Maâti, a founder of feminist collective, Imazi.Reine.
El Maâti and her friends are organising a legal protest called, "Hijabis Fight Back". It will take place on July 5 in the middle of their final exams, despite the fact that she and some of her peers may still be in the process of sitting examinations at the time. But, she explains, as members of Imazi.Reine, they are also busy with their advocacy work.
Fatima-Zohra Ait El Maâti (second from the left) along with her fellow activists associated with the feminist collective, Imazi.Reine.
The constitutional court did however maintain during the ruling, that banning headscarves in higher education was not contrary to the Constitution and the European Convention on Human Rights (ECHR).
The legal tussle began as Muslim students petitioned the Francisco Ferrer Brussels University college for prohibiting people from wearing headscarves within their grounds, citing the general ban on wearing visible religious symbols as an explanation.
The CollectifContrel'Islamophobie en Belgique (CCIB) published a statement condemning the court decision, calling it "an unprecedented breach of fundamental rights in terms of religious and philosophical convictions."
CCIB claims that this decision is proof that Belgium does not respect its international engagements when it comes to human rights, nor does it truly uphold the basic principle of non-discriminatory behaviour towards all Belgian students.
Speaking to TRT World, Layla Azzouzi, a first-line assistant responsible in the CCIB said, "We hoped for a decision of the Belgium Constitutional Court that reaffirmed a strong constitutional framework, a type of common ground of mutual respect and of openness, in which the high schools and all of the institutes of social promotion have to elaborate inclusive solutions. Instead, this unbelievable decision has the effect, if not the intention, of maintaining the structural discrimination in our educational system and of putting many Muslim adult women wearing a headscarf in precariousness or of keeping them on the margins of society".
Ironically, while Belgian institutions deny Muslims their right to wear headscarves on campuses, in May Belgium saw anti-racism protests in solidarity with the Black Lives Matter movement against the police brutality that claimed George Floyd's life in the US. The Constitution's "discriminatory legislation" came just a week after. One twitter user said, "Belgium is sooooo retarded, 10,000 people have started protesting against racism and what is Belgium doing? Prohibit headscarves. Good job".
Someone else tweeted urging universities to confirm their position against the ban. "Now and not after you've received the entry fees," the tweet added. This prompted a trend for various institutions to respond below outlining their position.
El Maâti argues that such suppression is hindering Muslim women's social participation.
"Is it up to us now to bring the neutrality? But we are citizens, we are already entitled to be at these institutions. It is not our responsibility to make higher education a safe space for everybody. This is their job! What we have to do is; to go to university, be ambitious, prove our intellectual capacities and get a diploma. Rather than striving for our ambitions now we have to address the limitations of the state. This is unfair and again it is exposing us to mental pressure than Muslim women experience "
The Islamic headscarf has been a contentious issue for many years in several European countries, notably France, where the laïcité (or secularism) principle is an integral part of their contemporary political DNA. However, similar anti-Muslim, anti-immigrant rhetorics are found elsewhere across Europe, notably in nations whose far-right political parties appear to carry clout.
But for Muslim women like El Maâti, lives feel as though they are in limbo: "Mentally it's very hard for Muslim women completing to think of their future as possibilities like which schools will accept me or which employers will choose me. Now we have lists circulating on social media with the names of companies or institutions that are accepting us with headscarf. This proves how much effort we need to put into to be able to invest in our futures."
https://www.albawaba.com/editors-choice/hijabisfightback-belgium-continues-war-against-headscarf-1363674
--------
'Why not a Black woman?' Consensus grows around Biden's VP
June 20, 2020
Democratic strategists say there's growing consensus that the pick should be a Black woman
Joe Biden is facing growing calls to select a Black woman as his running mate as an acknowledgement of their critical role in the Democratic Party and a response to the nationwide protests against racism and inequality.
The shifting dynamics were clear on Thursday when Amy Klobuchar took herself out of contention for the vice presidency. The Minnesota senator, who is white, told MSNBC that "this is a moment to put a woman of colour on that ticket."
Biden, the presumptive Democratic presidential nominee, has already pledged to select a woman as his vice president to energise the party's base with the prospect of making history. But following the outrage over the police killing of George Floyd last month, many Democratic strategists say there's growing consensus that the pick should be a Black woman.
"Like it or not, I think the question is starting to become, 'Well, why not a Black woman?'" said Karen Finney, a spokesperson for Hillary Clinton's 2016 campaign.
Finney, who was one of 200 Black women who signed a letter to Biden encouraging him to select a Black woman for his ticket, warned that the former vice president could face a backlash if he chose a white woman.
"That puts a lot of pressure on Biden. It puts a lot of pressure on who he selects, no question," she said. "The country is recognising the gravity of this moment, the significance of this moment."
Biden's team has been vetting potential candidates for weeks and has begun whittling down their list of choices. Several of the potential contenders are Black, including California Sen. Kamala Harris, Florida Rep. Val Demings, Atlanta Mayor Keisha Lance Bottoms and Susan Rice, who served as President Barack Obama's national security adviser. New Mexico Gov. Michelle Lujan Grisham, a Latina, is also in the mix.
Massachusetts Sen. Elizabeth Warren, who is white, is also leading contender. Another possibility who is white, Michigan Gov. Gretchen Whitmer, said last month that she had opening conversations with Biden's team about potentially serving as vice president. In a Thursday interview, she said, "Beyond that, there's just not much new to report."
AntjuanSeawright, a veteran Democratic strategist, said the current moment calls for someone who understands the challenges faced by Black Americans.
"There's a renewed sense of urgency around the need to have someone who can speak to the experiences of today and advocate for the promises of tomorrow when it comes to populations of constituencies in this country who've been left out for a very long time," he said.
Klobuchar's decision was in part a reflection of the fact that her own chances at getting the VP nod diminished after Floyd's killing.
She was a prosecutor years ago in the county that includes Minneapolis, and during that period, more than two dozen people - mostly people of colour - died during encounters with police. Floyd's death last month set off days of protests across the country and criticism that as the county's top prosecutor, Klobuchar didn't charge any of the officers involved in citizen deaths.
Officer Derek Chauvin, who was charged with Floyd's murder, was involved in a fatal October 2006 shooting of a man accused of stabbing people and aiming a shotgun at police. Klobuchar's successor as prosecutor, Mike Freeman, sent Chauvin's case to a grand jury, which was customary practice for the office at the time, and the grand jury in 2008 declined to prosecute. Freeman has said Klobuchar, who won election to the Senate in November 2006 and took office in January 2007, had no involvement in the Chauvin case.
But her decision this week to endorse a woman of color is certain to complicate the pitches of other white contenders.
In conversations with a half-dozen Democrats, none would rule out Warren, who's been actively engaging with Black activists and leaders since exiting the Democratic presidential race and won plaudits from some former skeptics for her outreach. But privately, many acknowledged that her chances have dimmed following Klobuchar's remarks.
"I think Elizabeth, if she wants the job, has got to make the case for not only why she would be the best vice president of the people he's considering, but why she would be the best person to put on the ticket electorally," said Heidi Heitkamp, a former Democratic senator from North Dakota who served with Warren. "If she can make that persuasive argument, you can't rule her out.
Heitkamp said she's long believed Biden should choose a Black woman, in part because of the current political climate, but also because Black women are some of the Democratic Party's most loyal voters. And she suggested Klobuchar's comments Thursday night reflected the views of many of those within the party.
"I think it was incredibly generous of her to bow out and to say what I think a lot of us are thinking, which is that the time has come to recognise the contributions and the capabilities of a lot of women who may otherwise get passed over," she said.
The debate among Democrats about Biden's vice presidential pick has divided among competing and sometimes contradictory views within the party about the best path to victory in November.
Those who believe Biden must take into consideration geographic concerns advocate choosing a candidate from a swing state. Those who believe Biden should focus on winning over and turning out young and liberal voters suggest he should choose a progressive. And those who believe demographics are key argue in favor of a woman of colour.
Warren was long the favourite of those who felt strongest that Biden needed to win over skeptical progressives. But Seawright argued that Klobuchar's comments helped refocus the conversation.
"I think that when Klobuchar and others use intentional commentary like she did, I think it helps push back on some of these conversations being had about geographics, the flavor within the party, progressive versus moderate, etc.," he said. "When intentional conversations like she had last night come about, it really turns down the noise and really focuses on the lyrics of what's important."
https://www.khaleejtimes.com/world/americas/why-not-a-black-woman-consensus-grows-around-bidens-vp
--------
Iranian Hijab Protester Speaks Up About Cruelty Of Fugitive Judge
June 21, 2020
Victims of the notorious judge and prosecutor who was found dead in suspicious circumstances at a Bucharest hotel on Friday have begun speaking up. AzamJangravi, one of the women activists against compulsory hijab was a victim who has told Radio Farda about her ordeal.
Judge GholamrezaMansouri put many Iranians, both men and women, behind bars after arbitrary trials, took huge bribes -- 500,000 euro in one case -- and fled the country only to be found dead while Iran claimed it wanted to extradite him.
On December 27, 2017 during anti-government protests in Iran a young woman climbed on an electricity transformer box on Tehran's Revolution (Enghelab) Avenue, removed her white headscarf, tied it to a stick and started waving it at the crowd that gathered in protest to compulsory dress code for women (hijab). She was immediately arrested by the police but her civil action was the starting point of a movement known as the Girls of Enghelab Avenue.
AzamJangravi was one of the dozens of women arrested for re-enacting what Vida Movahed started on December 27 and posting photos of their protest action on social media. She worked as a researcher at Tehran University's Center for Women's Studies and was studying for a master's degree in artificial intelligence and robotics.
The police dragged her down from when she also climbed on an electricity transformer box and took her to a police station, put her in solitary confinement and left her there for four days. She was then taken to see the prosecutor in the case. After waiting for a while, a husky man walked in. It was Mansouri.
Azam says the he first called her names and told her she was an agent of the United States and Israel and, threatened her with jail when he did not succeed in persuading her to write a letter of repentance.
"I told him what I did was in protest to the unfair compulsory hijab law and had nothing to do with espionage. The officer who was taking me to the court told me not to protest because Judge Mansouri could easily send me to prison, " Azam told Radio Farda.
"Judge Mansouri shouted at me rudely to get up from the chair as soon as he entered the room. Then he looked me in the eye, called me a prostitute and a nutcase and threatened to ruin my life," Azam says. "He threatened to take away my driving license, have me fired from work and from the university where I studied to get a master's degree," she adds.
Judge Mansouri made all his threats come true. Azam's car was confiscated so she couldn't drive any more, her boss was forced to fire her, and she was kicked out of the university. But the worst was the threat to take away her daughter.
"I got divorced from my husband in absentia and had full custody of my daughter. He threatened to take away my daughter and hand her over to social services," she says.
Judge Mansouri threatened to send Azam to the notorious Qarchak prison where hygiene and security standards are appalling. She was, however, taken to another notorious prison, Evin. She was put on trial twice, once for protesting against the compulsory hijab and again to deprive her of the custody of her daughter "because, he said, I was a nutcase and wasn't fit to look after my daughter", Azam says.
Azam knew that courts had no power, in theory, to build a case against her to take away her daughter because her divorce was legal but Mansouri was omnipotent and had a lot of influence and his command would be carried out. The hearing for depriving Azam of her daughter's custody was held an hour after the trial for protesting hijab which ended up in a three-year jail term.
In the hearing they said the divorce had to be annulled "due to insufficiency of evidence and documents" and the child's custody had to be given to her husband who had never visited the child in five years. They claimed that the documents and evidence she had offered to get her divorce were lost. Eventually, the judge ruled that the child had to be handed over to her father within ten days. That was when she decided to flee the country.
"I had a few very hard months in Turkey and was worried all the time that Mansouri could locate us".
Azam eventually moved to Canada where she lives happily with her daughter now but hearing that Judge Mansouri was dead came as a shock.
"I can't say I'm happy about his death. I really wished he would be put on a fair and transparent trial. I wasn't his only victim. He had tens or maybe even hundreds of other victims who still live in Iran and can't do anything to get justice," she says and adds: "There are still many others like him in the system that need to be brought to justice".
https://en.radiofarda.com/a/iranian-hijab-protester-speaks-up-about-cruelty-of-fugitive-judge-/30682805.html
--------
93-Year-Old Woman of Nagpur, Living with A Muslim Family in Damoh, Reunites with Family After 40 Years
June 21, 2020
Bhopal, Madhya Pradesh: Around 40 years ago, Panchubhai was 53 when she landed in a small village in Madhya Pradesh accidentally after a local saved her from a bee attack. Separated from her family, she lived with the villagers over the past four decades and developed a bond with the locals, who did not understand her native language - Marathi. Last week, when she reunited with her family from Maharashtra, a large group of men and women gathered to give her a tearful send-off.
A video shows women from the Damoh district's Kota tala village weeping as they say a tearful goodbye to the 93-year-old woman, better known as "Mausi (aunt)" to them. Panchubai is seen sitting in a red car.
The locals were overwhelmed and many of them wept inconsolably when Prithvi Kumar Shingle, her grandson, came from Nagpur to take her back home on Thursday amid coronavirus lockdown.
AnuragDwary
@Anurag_Dwary
93 years old PanchuBai in MP, reunited with her family in Vidarbha after " #lockdown googling, she was living with a Muslim family in Damoh. They wept inconsolably when her grandson drove her home @ndtv @ndtvindia @sohitmishra99 @RajputAditi @sanket #HappyFathersDay2020
Embedded video
977
10:23 AM - Jun 21, 2020 • Bhopal, India
Twitter Ads info and privacy
377 people are talking about this
Last month, she was sitting with the elder son of Noor Khan, the man who had saved Panchubai 40 years ago, when she murmured something in Marathi. She had become a member of the family after Noor Khan brought her home in the 1980s.
He died in 2007 but the entire family was deeply attached to Panchubai, who was treated no less than a "grandmother", according to them.
Israr, Noor Khan's son, on May 3 was browsing on his mobile phone when he asked Panchubai about past, name of her village, as he tried to help her find her roots.
"Khanjnama", "Pathrot", she whispered and Israr typed both the words on Google. Pathrot turned out to be her native village. He contacted a villager.
Israr sent her pictures to them using WhatsApp and her family was located within a few hours.
"The villagers are crying, we are crying but they (Panchubai's family) are refusing to send her back but now that his family traced her, they also want to be with her. It's good for her that she finally can meet with her grandchildren," said Israr.
Prithvi Kumar Shingle who drove his 93-year-old grandmother to Nagpur was surprised to see the affection of the villagers. He was not even born when her grandmother who was taken for treatment in Nagpur disappeared. 40 years later, it's still not clear how she reached Damoh.
"I am going with her, I am happy that we got this opportunity and really happy how the villagers took care of her," he said.
Bidding goodbye to Panchubhai for villagers was not easy. Dressed in a new sari last Thursday, as she sat in the car, one woman was seen hugging her. Another local put a garland and burst into tears as"Mausi", who had been part of their lives for four decades, set off for a new journey.
https://www.ndtv.com/india-news/93-year-old-woman-panchubai-reunites-with-maharashtra-family-after-40-years-amid-lockdown-2249764
--------
Add Women to Peace Talks, EU and Others Tell Taliban, Afghan Government
June 5, 2020
Eight countries and the European Union have encouraged the Afghan government and Taliban to make sure women participate in upcoming peace negotiations.
The grouping welcomed recent developments that seem to have smoothed the path toward the start of intra-Afghan talks, where Afghans from various political and social factions are expected to negotiate the future of the country with the Taliban.
The embassies of Australia, Canada, the Kingdom of Denmark, the Federal Republic of Germany, the Kingdom of the Netherlands, the Kingdom of Norway, Sweden and Britain, and the delegation of the EU issued a joint press release calling for the inclusion of women in the process.
"History shows peace agreements are more durable and successful when women are fully integrated and engaged. The Islamic Republic of Afghanistan and the Taliban must actively include women in all dimensions of the peace process; leadership councils, negotiating teams, consultative shuras, technical and advisory teams," the press release read.
The document, tweeted Thursday by Swedish Ambassador to Afghanistan Caroline Vicini, also emphasized the role of men as advocates for gender equality.
"The fundamental rights of Afghan women enshrined in the Afghan constitution must be preserved and strengthened as part of the peace process. These include women's rights to work, education, freedom of movement and association and access to health care," it said.
Activists in Afghanistan have long feared that some of the human rights — in particular, the rights of women — may be compromised in the name of peace when negotiating with the Taliban.
The Taliban claim they believe in women's rights to education and work but link them to Islamic laws.
In the 1990s, when the Taliban ruled Afghanistan, women were not allowed to go to school and had to cover themselves in public with a special loose gown called a burqa.
The militant group, through statements and interviews, has led people to believe it has evolved since then and is now more flexible on women's rights and human rights in general.
Intra-Afghan negotiations were supposed to start on March 10 of this year, 10 days after the militant group signed a deal with the United States, but they were delayed.
The end of a political deadlock late last month between President Ashraf Ghani and his rival, Abdullah Abdullah, the announcement of a three-day cease-fire over the Muslim holy festival of Eid al Fitr, and the release of prisoners from both sides has given rise to hope the talks may start sometime this month, albeit via video conferencing due to the novel coronavirus.
Meanwhile, humanitarian aid group Médicines Sans Frontiéres, known as Doctors Without Borders, says 15 mothers were killed in last month's attack on a maternity hospital it ran in Kabul.
"Five of these women were in labor and were minutes, or at most hours, from giving birth to their babies," said an MSF press release issued Wednesday.
https://www.newdelhitimes.com/add-women-to-peace-talks-eu-and-others-tell-taliban-afghan-government/
--------
Women Political Prisoners Start Hunger Strike Over Basic Rights
June 21, 2020
Three women went on hunger strike in Qarchak Prison to protest the deplorable conditions under which they are being held.
The prisoners, SakinehParvaneh, SoheilaHejab and ZeinabJalalian have gone on hunger strike in the past days to protest the inhumane treatment of prison officials, unfair prison sentences, and failure to comply with the principle of separation of prisoners by the type and duration of their sentence.
Political prisoner ZeinabJalalian has started a hunger strike since Saturday, June 20, to demand her transfer to the central prison of the city of Khoy, West Azerbaijan Province.
The ethnic Kurdish prisoner, who was transferred from Khoy Prison to Qarchak Prison on May 10, had recently announced that she will go on a hunger strike in the coming days if she is not transferred back to Khoy Prison.
The political prisoner was recently diagnosed with the Coronavirus but is being held in the quarantine ward of Qarchak Prison with no access to medical treatment.
On June 16, 2020, a Tehran-based human rights activist posted the news about ZeinabJalalian's transfer to Qarchak Prison on his Facebook page. "Despite being infected with the Coronavirus, the conditions of her imprisonment have not changed. Even when she was taken to the hospital to be tested for the Coronavirus, she was kept in handcuffs, including during the examination. She has sent letters to many authorities, but no one has paid any attention to her difficult circumstances," he wrote.
ZainabJalalian, who comes from a Kurdish family in Maku, northwest Iran, has been in prison for 13 years.
SoheilaHejab, another political prisoner has also started a hunger strike since June 16 to protest her detention in Qarchak prison in Varamin and the authorities' denial to transfer her to Evin prison.
Ms.Hejab was violently arrested by the agents of the Revolutionary Guard after attending an appeals court hearing on May 23.
She was first arrested in January 2018 in Shiraz on charges of "assembly, collusion and propaganda against the system". She was rearrested on June 6, 2019 by the Revolutionary Guard Intelligence Organization and taken to Evin Prison where she said she was so badly beaten by prison guards that she had to be taken to hospital. However, they returned her to prison before any treatment.
On March 14, Ms.Hejab was temporarily freed on heavy bail. A court presided by the notorious judge Mohammad Moghiseh on March 18 sentenced her to 18 years in prison for "propaganda against the system", "forming a women's rights group" and "calling for a referendum to change the Constitution". The Court of Appeals has now upheld the sentence.
Political prisoner SakinehParvaneh has also been on hunger strike since May 25, to protest her five-year prison sentence and being unlawfully held with prisoners convicted of violent crimes. The Revolutionary Court of Tehran has sentenced the Kurdish political prisoner to five years in prison and a two-year ban on membership in political groups.
She was recently beaten by several criminals in prison. They targeted the prisoner after prison officials in Ward 3 of Qarchak Prison incited them.
SakinehParvaneh comes from a Kurdish family in Khorasan Province of northeast Iran.
She was transferred to the women's ward of Evin Prison after the interrogation period.
In March 2020, the political prisoner was transferred to the women's ward at Evin, where she scrawled anti-regime slogans on the walls and for which she was punished. She was later sent to Qarchak Prison.
There have been several reports of the appalling ill-treatment of prisoners at Qarchak Prison. The facility is a disused chicken farm that holds prisoners in overcrowded and unhygienic conditions, without access to safe drinkable water, decent food, medicine, and fresh air.
Known for its "inhumane" living conditions, the facility was intended for imprisoning common criminals, but the judiciary has also used it to detain activists and dissidents.
There have been numerous reports of assault towards inmates both by other inmates and prison staff, as well as rampant drug use and infectious diseases.
https://iran-hrm.com/index.php/2020/06/21/women-political-prisoners-start-hunger-strike-over-basic-rights/
--------
TaslimaNasreen meets characters from the novel that earned her a fatwa
SomakGhoshal
22 Jun 2020
In 1993, TaslimaNasreen published the novel Lajja (translated into English, most recently in 2014 by AnchitaGhatak, as Shame), which changed her life forever. Hounded out of her homeland Bangladesh by Islamic fundamentalists for allegedly offending their religious sentiments, she was forced to go into exile, with a fatwa on her head. After an itinerant life in Europe and the US for several years, she moved to Kolkata in 2004, where her outspoken memoirs caused more outrage, leading the state government to ban some of her books.
In 2007, she published Besharam, a sequel to Lajja, while she was forced to live in house arrest in Kolkata, a move that was intended to keep her safe from her potentially violent detractors. Recently published in English as Shameless, elegantly translated by Arunava Sinha, the book continues to chime with the moral tenor of our times, when sectarian violence still wreaks havoc all over the subcontinent.
Shameless is a far more marinated novel than its predecessor but to fully appreciate its sophistication and complexity, it is useful to read Lajja first, in spite of the flashbacks and recapitulations in the text of Shameless that convey a sense of the parent novel. Nasreen, who appears as one of the key characters in Shameless, literally forces herself to confront her characters. These men and women demand answers from her, accuse her of leaving them in the lurch, and making art out of their tragedies. The emotional seesaw between the creator and her creations gives the plot a cerebral intensity, even as it brims over with corporeal feelings of lust, sex and violence.
The immediate trigger for the wrath that Lajja incurred was Nasreen's criticism of the communal violence that broke out in Bangladesh in 1992 in response to the demolition of Babri Masjid in Ayodhya that year. However, her columns and books had been riling conservatives for far longer. In Lajja, a Hindu family living in Dhaka is devastated by the riots that erupt in the city after the destruction of Babri Masjid. Once praised as patriots, Sudhamoy Dutta, a doctor who fought in the Liberation War of 1971, and his family, who have lived in the city for generations, are reduced to pariahs overnight. The son of the family, Suranjan, finds his Muslim friends becoming antagonistic towards him. After his sister Maya is abducted, Suranjan expends his impotent rage by assaulting a Muslim woman in revenge. In the end, the Duttas flee their ancestral home to seek refuge in Hindu-majority India, hoping for a safe haven.
Shameless begins with Suranjan meeting Nasreen in Kolkata, the city they are both exiled in. Suranjan's father has died, in mysterious circumstances; his mother, Kiranmoyee, is struggling to make ends meet by selling saris. Suranjan is divorced, barely employed, and keeping questionable company, while Maya is married to a brute. From being a committed socialist, Suranjan has turned communal, which isn't surprising given the horrors his family faced in Bangladesh and the protection they are given in India by a Hindu nationalist party. Yet he continues to cultivate Muslim friends and decides to live in Park Circus, which is home to many Muslims. Most worryingly for his mother and sister, he forges a relationship with Zulekha, an Indian Muslim woman abandoned by her husband after being raped by Hindu goons. As in almost all of Nasreen's novels, the women in Shameless also emerge in the end with their nobility and humanity intact, in spite of being bruised and battered by social and patriarchal forces.
Into this fraught scenario enters Nasreen, trailed by her desires and demons. Unmoored in a foreign land like the Duttas, she reaches out to the familiar characters from her past for comfort and solace. The dynamics between the creator and her creations keep shifting, each in turn getting the upper hand over the other. If Nasreen tries to wiggle her way into the lives of the Duttas, using her wealth and privilege to express her affection, Suranjan and Kiranmoyee exert their control over Nasreen by granting and withholding access to their lives as they please. This ironic tug of war between the family and Nasreen becomes apparent early on, and evolves sinuously through the course of the narrative. While the so-called safe haven of a Hindu-majority nation seems to bring only poverty and misery to the Duttas and robs them of the vestiges of dignity, the same place entraps and diminishes Nasreen in a different sense. She is kept inside a gilded cage by the state, trailed by the police every hour, with little or no agency at all to do what she wishes.
The politics of Shameless is not hinged on Hindu-Muslim enmity alone but on the deeper anguish that is precipitated by fundamentalist beliefs. Nasreen's opposition of institutional religion and atheism goes beyond her own faith. She recognizes, with searing honesty, that the move from Bangladesh to India, for both the Duttas and her, has been a transition "from one country of religious fanatics to another". Religious extremism isn't contained by borders; it is a contagion that exists across the world, irrespective of community and culture. In Shameless, Nasreen distils this hard-hitting truth through her lived experiences, transforming her individual predicament to strike a universal chord through her deft storytelling.
https://www.livemint.com/mint-lounge/features/taslima-nasreen-meets-characters-from-the-novel-that-earned-her-a-fatwa-11592796656955.html
--------
URL: https://www.newageislam.com/islam-women-feminism/hijab-ban-hindering-belgian-muslim/d/122185
New Age Islam, Islam Online, Islamic Website, African Muslim News, Arab World News, South Asia News, Indian Muslim News, World Muslim News, Women in Islam, Islamic Feminism, Arab Women, Women In Arab, Islamophobia in America, Muslim Women in West, Islam Women and Feminism