New Age Islam News Bureau
24 September 2020
• Saudis Ready for Kingdom's First Women's Soccer League
• In Conservative Kandahar, New Gym Creates Safe Space For Afghan Women
• Has COVID-19 Destroyed The Case For Banning The Burqa In Europe?
• Egyptian TV Host Sparks Controversy after Saying There Is 'Devil' In Unveiled Women
• 'Afghan Women Worry That They Will Be Marginalized'
• Women's Rights in Yemen: Making the Most of the Space Available
• Turkish Men Emerge As the Most Eligible Bachelors for Russian Women
Compiled by New Age Islam News Bureau
URL: https://www.newageislam.com/islam-women-feminism/hijab-work-rekindled-debates-discrimination/d/122934
--------
Hijab at Work Rekindled Debates on Discrimination in Multicultural Singapore
September 22, 2020
By Beh Lih Yi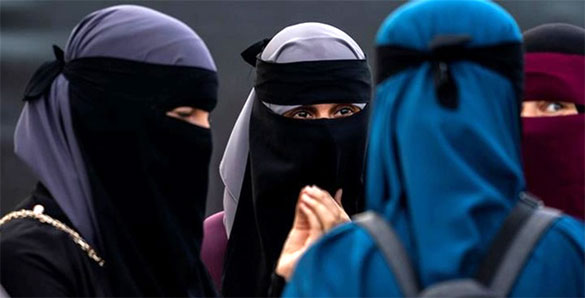 Representational image. REUTERS
-----
Every day before she starts her shift at a government hospital in Singapore, Farah removes her hijab – the Islamic veil she has worn since she was a teenager.
Although minority Muslim women can freely wear the hijab in most settings in Singapore, some professions bar the headscarf – and a recent case has triggered fresh debate on diversity and discrimination in the workplace.
Now Ms. Farah has joined a growing number of Muslims – who account for about 15% of Singapore's 4 million resident population – calling for the ban to end, with an online petition gathering more than 50,000 signatures.
"They told me I can't work here if I wear the tudung," said Ms. Farah, using the local Malay term for hijab, as she recounts her job interview two years ago for a physiotherapist position.
"I felt a sense of helplessness, it's unfair. Why has the tudung become a barrier for us to look for jobs?" asked Ms. Farah, who used a pseudonym for fear of reprisals at work.
She accepted the job eventually, but has to remove her headscarf whenever she is at work.
Farah's case is not an oddity.
There was outcry last month when a woman was asked to remove her hijab to work as a promoter at a local department store.
Halimah Yacob, the country's first female president who herself wears the hijab, said there is "no place" for discrimination when asked her view of the case.
The store reversed its policy, but many took to social media pointing out restrictions remain on wearing the hijab for some civil servants, including policewomen and nurses.
Workplace discrimination is 'disturbing'
The debate surrounding the hijab is not new in Singapore, a modern city-state which takes pride in its multicultural and multiracial background. The country is predominantly ethnic Chinese, many of whom follow Buddhism or Christianity.
In 2013, then Muslim affairs minister Yaacob Ibrahim said wearing a hijab at the workplace would be "very problematic" for some professions that require a uniform.
The following year, Prime Minister Lee Hsien Loong said the hijab issue was about "what sort of society do we want to build in Singapore," according to local media reports.
Singapore's police force and the health ministry did not respond to repeated requests seeking comment.
Referring to the department store case, Singapore's president said discrimination in the workplace was "disturbing" as it deprives a person from earning a living.
"People should be assessed solely on their merits and their ability to do a job and nothing else," Ms. Halimah wrote on her Facebook page, which attracted more than 500 comments.
"During this COVID-19 period when concerns over jobs and livelihoods are greater, incidents of discrimination exacerbate anxieties and people feel threatened," she added.
To wear or not to wear the hijab
The hijab has been a divisive issue for Muslims worldwide.
Many Muslim women cover their heads in public as a sign of modesty, although others see it as a sign of female oppression and in the Middle East women face jail for eschewing it.
In Indonesia's conservative Aceh province, women without a headscarf have been censured. In Malaysia, Islamic authorities have probed a book about Muslim women who refuse to wear the hijab.
But women's rights campaigners in Singapore say they want Muslim women to have freedom of choice.
Such restrictions have hindered women's job prospects, especially when the coronavirus pandemic has pushed Singapore into recession and companies are laying off workers, they say.
About these ads
"Women should be able to practice their religion freely without having to choose between having a job or to practice their religion," said Filzah Sumartono, a writer who helps run Beyond the Hijab, a website focused on Singapore Muslim women.
"This issue in Singapore is only being faced by Muslim women, it's a strong discriminatory policy against Muslim women," she told the Thomson Reuters Foundation.
The hijab as a part of an identity
Others urge consistency, noting that the turban – headgear worn by Sikh men – is allowed at work in Singapore.
"Why the double standard?" asked Nur, a Muslim law student who signed the petition posted online in June. She requested not to use her full name to protect her privacy.
Ms. Nur said her mother and sister, who work as a nurse and in a private security company, respectively, are both banned from wearing a headscarf at work.
https://www.csmonitor.com/World/Asia-Pacific/2020/0922/Singapore-debates-Muslim-women-wearing-the-hijab-at-work
--------
Saudis Ready for Kingdom's First Women's Soccer League
Mostafa Al-Grtly
Sep 23, 2020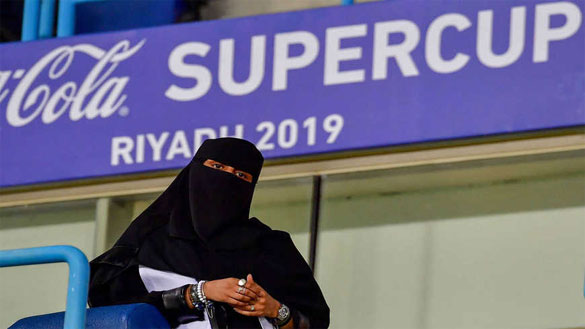 A Saudi woman arrives for the Supercoppa Italiana final soccer match between Juventus and Lazio at the King Saud University Stadium in Riyadh, Saudi Arabia, Dec. 22, 2019. Photo by GIUSEPPE CACACE/AFP via Getty Images.
-----
Saudi Arabia's first female soccer league is set to launch in October, after being put on hold in March due to the coronavirus pandemic. This comes two years after Saudi women were allowed for the first time into stadiums.
On Feb. 24, the Saudi Sports for All Federation (SFA) launched a female soccer league, which was postponed in March as part of the precautionary measures to stem the outbreak of the novel coronavirus.
Arrangements are underway to launch the first season of the league in the second week of October. The tournament will be reserved for women aged 17 and above. The league will play its matches in Riyadh, Jeddah and Dammam. Other cities will be added to the tournament should they have four registered teams of no less than 20 players. The registration is open until the end of September, according to the official website of the tournament, where women can register to join teams.
Saudi Arabia had previously organized a championship that included six women's soccer teams in Jeddah, under the name of "Jeddah Women's League" in October 2019. The games were played as per the 9 versus 9 formations, which will be applied to the upcoming tournament.
The creation of the league comes as part of the increasing support offered to women in Saudi Arabia over the past few years under King Salman bin Abdul-Aziz Al Saud and Crown Prince Mohammed bin Salman. On Jan. 12, 2018, women were allowed for the first time into stadiums in the kingdom to attend soccer matches.
Mashael al-Harbi, a player of the all-female Storm Team, which was founded at the end of 2017 and participated in the Jeddah championship, said that she has been playing soccer from a young age either in fields they rented or at their friend's house.
"When we grow older it is no longer appropriate for young women to play soccer with young men in the streets. I used to stick with my female friends who share the same passion for soccer," she said.
Harbi, who is one of the seven co-founders of the Storm Team, told Al-Monitor, "My parents do not have a problem with me playing soccer. The society's view has also changed. Our coach is a married woman, and she was training us even when she was pregnant. She returned to the team after her maternity leave, and her husband is very supportive. Some less fortunate young women quit, as they did not find the support they needed from their families."
On its official website, the SFA states that it will not provide financial support to teams to rent stadiums nor cover transportation costs. It will, however, support teams by appointing coaches and provide suitable spaces for training.
This does not seem a problem for the Storm Team.
"Our teammates pitch in to rent stadiums. We already played in three or four stadiums. The first one was a bit small. We later rented a larger field for a year so it could be exclusive for us," Harbi, who graduated from the Arab Open University in Saudi Arabia with a degree in information technology, explained.
According to the SFA, the women's league games will not be broadcast on TV and the tournament will be managed by female staff only. No teams are allowed to have male members onboard.
The league does not require a specific weight for the participants and players can register from across the kingdom, provided that they hold a valid resident identification card or a passport.
Azza Jawdah, Storm's playmaker, used to train and play soccer when she visited Egypt, which does not have the same restrictions on female players as in Saudi Arabia. Then she moved with her parents to the city of Jeddah.
"Everyone used to tell me that soccer was a waste of time and that I should be focusing more on my studies. I wanted to start practicing basketball, but a friend had a women's soccer team. I was so surprised that I did not believe her until I joined the training," Jawdah told Al-Monitor.
"We are so fortunate to have witnessed the kingdom's Vision 2030. Many of my friends have told me about their attempts back in 2010 and 2012 to push for the creation of a female league but to no avail. I think this generation is the first of Saudi female soccer players," said Jawdah, who is a big fan of the Spanish professional soccer player Andres Iniesta.
Samira Faisal, Storm's defender, faces the same stigma within her community. "Everything at the beginning is difficult to accept. But we persisted and we stuck to our ideas until society became more accepting of us," she told Al-Monitor. "On the bright side, I did not have any problem with my family. Soccer and sports in general are in our blood; we play tennis and basketball too."
Faisal and her sister first joined the Jeddah Eagles soccer club, before switching to Storm in January 2020, its competitor. Before that, she had been playing basketball and tennis for the past eight years.
Rahaf al-Sharif is a co-founder of the Tiger Academy for women's soccer in Saudi Arabia, and the captain of its team. "I really do not know what to say, but the society's view of women playing soccer at the beginning was very bad. The ugliest comments were made on social media," she told Al-Monitor.
The Tiger Academy was founded in October 2019 by a group of young women who formed a soccer team and decided to turn it into an academy with the increasing interest in soccer, namely among women, and the launch of the Jeddah Women's League in the same year.
Sharif, who started playing soccer at the age of eight, told Al-Monitor, "I faced many hardships to be able to form a team. There are many talents at home but they do not have the necessary expertise and the basics of playing. Many female coaches received training via the internet. This is why at first we had to hire male coaches to start somewhere, as they have more professional experience."
SFA's president, Prince Khaled bin Alwaleed bin Talal Al Saud, said in a televised statement back in February when he announced the women's league that this step is a quantum leap in the kingdom and is in line with Vision 2030, aiming at empowering women and creating jobs.
"We have a training program for women to become coaches and referees," he said.
On April 25, 2016, the Saudi government approved the kingdom's Vision 2030 for economic and social development.
https://www.al-monitor.com/pulse/originals/2020/09/saudi-arabia-women-football-league-coronavirus.html
--------
In Conservative Kandahar, New Gym Creates Safe Space for Afghan Women
Sep 24, 2020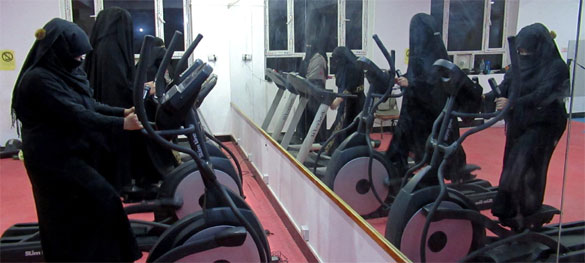 In Afghanistan's southern province of Kandahar, rights activist Maryam Durani has found a fresh outlet for her decades of advocacy – a new fitness centre for women.
------
KANDAHAR, Afghanistan (Reuters) - In Afghanistan's southern province of Kandahar, rights activist Maryam Durani has found a fresh outlet for her decades of advocacy - a new fitness centre for women.
Durani, 36, is a fierce campaigner for women's rights in the conservative stronghold where the Islamist Taliban militant group have major sway and take a conservative stance on the position of women, who mostly wear the burqa in public.
She runs a radio station for women, has served on the provincial council and was presented with the International Women of Courage Award by Michelle Obama for in 2012. Last year, Durani switched tack to open a female-only gym, which draws about 50 women attend each day.
"The reaction of the ladies was very positive because they needed it," she said, shortly after working out with a group of clients. "What bothered me was the reaction of the men...who reacted negatively to our club and even insulted me because they thought our club was in opposition to Sharia."
With a troop withdrawal signed between the United States and the Taliban, who have fought a bloody war for 19 years, many women in Afghanistan worry the militant group may exert its influence through formal political channels.
When the Taliban ruled the country between 1996 and 2001, they banned education for females and barred women from leaving the house without a male relative.
The group says it has changed but many women remain sceptical.
"My only concern is about their view of women's rights and what freedoms and restrictions they will impose on me," said Durani.
For now, her focus is on serving the dozens of women who attend the club, whom she describes as a cross-section of society including housewives and women who work outside the home.
"My only wish is to be seen as a human in this society," she said.
https://in.reuters.com/article/us-afghanistan-women-fitness-gym/in-conservative-kandahar-new-gym-creates-safe-space-for-afghan-women-idUSKCN26F03G
--------
Has COVID-19 Destroyed The Case For Banning The Burqa In Europe?
23/09/2020
The coronavirus pandemic has thrown up an interesting paradox in European countries that have banned the full-face veil.
In some French cities, for example, failure to cover your face and protect against COVID-19 can land you a €135 fine.
Yet, officially at least, you could also be fined as much as €150 for covering your face in public places if the covering is a full-face veil.
In 2011, France became the first European country to ban the full-face veil in public. Other European countries have followed by introducing total or partial bans of the burqa, including Denmark, Austria, Belgium, Bulgaria, Latvia and Norway.
Now, with many Europeans told they must wear face masks to combat the spread of COVID-19, some are highlighting the apparent contradiction.
"What's the difference when you cover your face for religious reasons or when you cover your face for health reasons?" said Moana Genevey, gender policy officer at Equinet. "And when is it acceptable?"
The new 'living together'
In 2014, the European Court of Human Rights (ECHR) dismissed France's arguments to ban the wearing of the full-face veil in public on the grounds of public security and protection of gender equality.
However, it upheld the ban by accepting it constitutes an infringement of the French principle of "living together" ('le vivre ensemble').
Three years later, two Belgian women also took their case to the ECHR, arguing the so-called burqa ban was breaching human-rights law. Samia Belcacemi had stopped wearing the veil in public, fearing jail or a fine, while Yamina Oussar chose to stay at home.
Likewise, the ECHR ruled that Belgium did not violate any right to freedom of religion or discrimination law as it had the right to impose restrictions to ensure the principle of "living together".
In the French case, the violation of the concept of "le vivre ensemble" was defined as "a denial of fraternity, constituting the negation of contact with others".
However, the pre-COVID "living together" has little to do with the current coexistence in European countries based on safety distance.
"The discourse has completely changed and people are asked to cover their faces to be able to live together in a democratic society," said Dr Jone Elizondo Urrestarazu, legal and policy officer at Equinet. "Living together doesn't mean what it used to, so maybe it's time to rethink the volatility of this argument."
Genevey said COVID has raised the issue: "Some women were asking whether or not the ban would apply to them in the context of the pandemic. Now the question is: will we go back to normal afterwards?"
COVID-19 and public safety
Belgium is one of the European countries where covering one's face with a piece of cloth is banned, but wearing a face mask is now mandatory.
The so-called "burqa ban" was first implemented in Belgium in 2011, forbidding any face-covering clothing in public that could conceal someone's identity.
One of the main justifications was that "people in public spaces should be 'recognisable' and 'identifiable' on the grounds of public security". Exceptions are allowed for labour regulations or festivities, but not for health reasons.
But because of the health emergency, this public safety principle seems to have been put to one side.
"In the short term, we might experience an increase in common criminality, as they go unrecognised wearing face masks," said Professor Kenneth Lasoen, an intelligence and security expert.
"To offset the situation, municipalities are investing in CCTV cameras to monitor those wearing a face mask in the streets."
But, in the longer term, there are concerns the coronavirus pandemic has weakened the argument against banning full-face veils.
"We are very likely to face a constitutional challenge, as the current situation sets a precedent for people who want to wear any kind of face-covering in public," added Prof Lasoen.
But on the streets of Brussels, some people question the link between the coronavirus pandemic and the ban on other types of face-covering, including the burqa.
"I see why some would say that, but we are talking about two different levels," says Vanessa, a 21-year-old student. "Wearing a mask now has nothing to do with the fact that people could cover their faces with a burqa".
Her friend Victoria, 20, agrees.
"It is different, we are experiencing a world health crisis and face masks are for everybody's health, it's not just about someone's religion," she said.
Stephanie, a 40-year-old teacher, thinks "some people might find it disturbing, or even scary if they do not see a face".
"Back in Tunisia I used to feel a bit unsettled when I saw women wearing a burqa, as I couldn't see their features," said Samia, a Brussels expat.
"I also had a sense of guilt, because maybe they felt unsettled by the fact that I didn't wear a veil at all."
Samia doesn't think the comparison between masks and full-face veils is fully valid, because "with a mask, you can still see the features, and whether the person is female or male".
"The [main] principle should be not to repress people's rights on [the] grounds of public security," she said.
"European countries should find ways to minimise the security issues without stigmatising part of the population and prevent them from wearing whatever they want."
A question of women's rights?
"If the burqa ban is only justified on religious grounds, it is a discriminatory law," said Genevey.
"And we cannot ignore that this is something that is affecting an intersectional group, which is women of a certain religion," said Dr Elizondo.
The ban affects a minority in Europe: less than 1% of Muslim women wear a burqa or a niqab.
"It's ironic how these measures were supposed to liberate and empower Muslim women who chose to wear a niqab yet it ended up limiting them," said Dr Sanja Bilic, operations and policy manager at the European Forum of Muslim Women.
"Some women are still going out and paying fines. Others decided to stay home. Prior to the ban, they were active citizens, participating in the life of their community and they had to stop doing that after the niqab ban was implemented".
For Dr Bilic, the issue is not the niqab or the hijab per se, but the fact that these bans "criminalise a piece of clothing and no other piece of clothing is criminalised in Europe. This is problematic and it leads to Islamophobia, a gendered Islamophobia because it only targets Muslim women".
She also sees that the ban leads to the growing intolerance towards women wearing a hijab, as was the case of French MP Anne-Christine Lang who walked out of an inquiry meeting because a student union leader wore a hijab.
Some argue these women are pressured to wear a niqab or a burqa by their families or communities. And that the decision to stay at home because they cannot wear a burqa it's not theirs.
"There is always a component of societal pressure, even if not driven by religion" argues Dr Bilic. "We would have to interview each woman to know their motives, but I believe that here in Europe if they were to be forced to wear a burqa or niqab, they have the tools and freedom to seek help".
"In the European context, no other group of women, particularly those coming from the minority and non-Christian background, would be questioned on their ability and capacity to choose yet Muslim women's choices are always treated as suspicious."
Genevey argues the burqa ban is the opposite of feminism: "Pretending to free women by not allowing them access to the public space is a fundamental contradiction."
https://www.euronews.com/2020/09/23/has-covid-19-destroyed-the-case-for-banning-the-burqa-in-europe
--------
Egyptian TV Host Sparks Controversy after Saying There Is 'Devil' In Unveiled Women
Marwa Al-A'sar
Sep 23, 2020
CAIRO — Recent remarks by a well-known Egyptian TV presenter on women's Islamic headgear have stirred up a heated debate between secular and ultraconservative Egyptians.
Radwa el-Sherbiny, who is known for her controversial views, has come under fire because of her statements on women's Islamic veil during her show "Heya w Bas" ("Only Her") on the private CBC satellite channel on Sept. 13.
Commenting on a female viewer who called the show to say that she wanted to remove her hijab, Sherbiny said women who wear the hijab are "100,000 times better" than those who do not. She claimed that there is a "devil" inside unveiled women that is more powerful than their faith.
The remarks of Sherbiny, who is unveiled herself, stirred up mixed reactions and provoked many who criticized her as someone promoting hate speech and segregation.
Nevertheless, ultraconservative Egyptians viewed her as a supporter of Muslim women's rights.
Sherbiny's comments were fiercely criticized by women's rights advocates as well.
"There is a difference between opinion and judgement. Voicing a judgement and stigmatizing unveiled women can open the door for exercising social guardianship … and inciting crimes, such as sexual harassment, under the pretext that those women were not wearing the hijab," said Nehad Aboul-Komsan, a women's rights defender.
"There is a difference between a presenter and an analyst. A TV presenter should be unbiased. She could have brought the two sides of the argument — one for and another against the Islamic veil. What she said, indeed, was against the law as it was a form of bullying, which has been recently outlawed," Aboul-Komsan, also a lawyer, told Al-Monitor.
Such criticism has apparently paid off. On Sept. 13, the Supreme Council for Media Regulation (SCMR) — an independent entity loyal to the regime — decided to question Sherbiny.
"The Complaints Committee at the … council [will open] an immediate investigation … into the complaints it has received over what she said … [about] unveiled women," the regulator said in a post on its official Facebook page.
Social media fiercely responded to Sherbiny's remarks. The conversations online were quickly divided in two camps: users denouncing her comments and others supporting her narrative on the hijab and denouncing the council's move; creating the hashtag "#SupportRadwa."
Even though the TV station removed the clip in question from its online channel, it has since resurfaced on social media.
One day after her controversial comments, Sherbiny apologized during her show, admitting that she may have "overreacted."
"I meant … that women wearing the hijab have done their duty [toward God] better than myself and others who are not wearing it," she said, adding that this does not mean that unveiled women "are not good."
Islamic preacher Abdullah Rushdy, who appears on TV regularly, released a video on his YouTube channel in support of Sherbiny.
"She did not say anything wrong … she was talking about a specific subject — a person's commitment to obey God Almighty who loves the obedient person more," Rushdy argued.
"There is a secular, enlightening bogeyman that attempts to frighten any person wishing to revive the right religious thoughts in society. … Be strong and righteous … and remind people of the right thing," he added sarcastically.
On the other hand, freedom of expression advocates considered the SCMR's move against Sherbiny an attack on media freedom, regardless of her comments that may have offended unveiled women.
Khaled el-Balshy, former head of the Freedoms Committee at the Journalists Syndicate, considered the situation "a real dilemma."
"At the same time, if we talk from the perspective of free speech, I don't think she should be investigated for what she said," Balshy argued.
"I personally disapprove of what she said … as it encourages people to antagonize unveiled women," he told Al-Monitor. "But the idea of having an authority that judges the media or the press for what they say is quite alarming."
This was not the first time that Sherbiny spoke highly of the hijab. She has frequently expressed her constant wish to put it on herself.
"Oh, God … oh God … May I [put on] the veil," she said during an episode of the same show in November last year, while showing her viewers how to wear the headscarf in a stylish way.
However, she has never explained why she has not fulfilled her wish.
In July, Sherbiny criticized the management of tourist sites that do not allow veiled women in, including resorts banning burkinis.
SCMR officials eventually decided to take no action against her. "We questioned Sherbiny, and she explained the situation. She said she meant no offense to unveiled women. That's why we thought there was no ill-intent, especially since she apologized in her show for what she said," SCMR head Karam Gabr told Al-Monitor.
Sherbiny could not be reached for comment on the raised controversy.
Hijab as a principle in Islam has been subjected to several interpretations. Some intellectuals argue it is not obligatory in the first place.
Last year, a female writer's life was threatened by fanatics after she published a book documenting the lives of women who took off their veils.
Dena Anwer's book — "Those Taking Off the Hijab: The Silent Revolution" — was a bestseller at the latest Cairo International Book Fair.
In 2015, prominent journalist and writer Cherif Choubachy called on women to join a protest in Tahrir Square — which witnessed the 2011 uprising — and take off their veils there. His call was met with uproar from Islamic scholars and ultraconservative Egyptians.
The phenomenon of the hijab returned to Egypt after hundreds of thousands of Egyptians were influenced by Salafist ideologies when they worked in oil-rich Gulf countries during the 1970s and 1980s, especially Saudi Arabia, the home of extremist Wahhabism. A hijab-wearing female was a rarity on the streets of the capital Cairo and Egypt's main cities before that time. Even the wives and daughters of several high-profile Islamic scholars during the second half of the 20th century did not cover. Currently, it has turned into a social dress for some social segments, especially among the poor, rather than a religious duty.
https://www.al-monitor.com/pulse/originals/2020/09/egypt-tv-host-criticize-women-hijab-freedom-of-expression.html
--------
'Afghan Women Worry That They Will Be Marginalized'
By Sumitra Nair
September 23, 2020
On September 18, President Ashraf Ghani signed a law amendment that will allow Afghans to have their mother's names printed on their national identity cards. There has been a campaign to bring about this change for a long time.
Until now, only fathers names were allowed to be recorded on ID cards and using women's names is traditionally frowned upon. The move comes at a time when the Taliban and the Afghan government have initiated peace talks. And during the talks, four Afghan women made sure their voices were heard.
While under the Taliban regime, women were threatened with dismemberment for wearing nail polish or lipstick; they were publicly flogged for breaking the dress code and weren't allowed to leave their homes without a male companion. There is fear that these regressive norms could return if the Taliban takes a seat of power. What do women make of the peace talks? What is to be the expected outcome and how will it affect women?
"The Taliban had taken over when I was six years old. We had our fall-winter break. I was waiting for the spring semester to begin. After three weeks, I asked my father to take me to school. When we went, we saw that the school was shut down— everything was empty— I cried a lot. My father moved us to Pakistan, where I finished middle school and came back to Afghanistan in 2002," says Mariam Atahi, a women's rights activist based in Kabul, Afghanistan.
Atari, who holds a masters degree in Peace and Reconciliation, says, "I could continue my education because we were lucky and could move to Pakistan. But, there are tens of thousands of girls who haven't be able to do so."
Atahi says she is concerned about the outcome of peace talks between the Afghan government and Taliban. According to her, considerable progress has been made in women's rights. But she hopes that "women's political participation increases and that there is the participation of various ethnic groups that live in Afghanistan," even after talks between the government and the Taliban.
Hikmat Noori an independent journalist and an advocate of women's rights said, "Twenty years ago if you were a woman in Afghanistan, you could be beaten for laughing in public or flogged publicly for leaving your home without a male guardian. But since the fall of the Taliban regime and the establishment of the new government, Afghan women's rights have become a symbol of progress and development. let's not forget the positive impact of the international community's efforts in Afghanistan. Over the past two decades, many laws, policies and strategies have been developed by the Afghan women such as the National Action Plan for Afghan Women, National strategy for combating violence against women. More recently they secured the rights to include mothers' names on children's National ID. So these changes do improve the situation of Afghan women and help move towards equality among Afghans."
According to Atahi, the government letting people include their mothers name in IDs is a huge achievement as this works in favour of widows, who might want to take their children abroad. This also changes many other things like, when a woman is married, her name does not appear on her wedding invitations. If she falls ill, her name does not appear on her prescription, and when she dies, her name does not appear on her death certificate.
As per a randomised controlled trial of 932 women in February 2019, 14 per cent of women experienced violence from their mother-in-law, while 23 per cent experienced physical violence from their husbands in the last 12 months. As per the Afghanistan Women Affairs Ministry, there have been more than 6,500 instances of violence against women in the country between 2018 and 2019. And in most cases, the violence is inflicted upon by family members in form of sexual abuse in forced marriages to honour killings. Women are also denied rights like inheritance and education, which are guaranteed to them by the government.
Noori however feels, and Atahi agrees, that many issues still need to be worked on, including domestic violence and certain regressive practices that hold women back or discriminate against them. Atahi hopes after the talks conclude, no youth or children would need to face violence or grow up in the face of violence.
According to Atahi, there are women in high-ranking positions in President Ashraf Ghani's cabinet. But, women's involvement in politics needs to increase.
"I personally think one of the most important things that women have been able to do alongside men in the last two decade is joining in the Afghan security forces in fighting for security and stability of Afghanistan, Noori says.
About fears surrounding what will happen to women's freedom if the Taliban does become part of the government, he says, "I am personally very sceptical about their arrival. I am scared of my sisters being beaten for something as trivial as going to the hospital by themselves. I am scared for my niece who may not get access to proper schooling and education. Although there are optimisms about peace agreements between the Taliban and the Afghan government, I also see and hear many concerns. Afghan women worry that they will be marginalized in the agreement and that the Taliban will re-establish their old ways as soon as they reach an agreement with the government. They worry that women will not be allowed to work or get outside the house without a male guardian."
The Taliban has indicated that they will adopt a less draconian stance toward women and women's rights than before. The militant group has said that they would protect women's rights under Islamic Sharia law. And while details on the same aren't available, they have indicated that the system will be different than ones in place in Saudi Arabia and Iran.
On Wednesday, US envoy to Afghanistan Zalmay Khalilzad faced tough questioning from Democrats on women's rights amid talks between Taliban and the Afghan government. Stephen Lynch, chairman of the House Oversight Subcommittee asked Khalilzad, "How do we demonstrate to the Taliban that the status of women and girls is a major priority in restoring that country's stability...when we don't list it as a priority in our negotiations but instead, leave it to the Afghans to fight that fight?"
Khalilzad assured Lynch that women's rights were a top priority for the US, but acknowledged that the country's political future would be determined by talks between the Taliban militants and an Afghan government-led delegation.
Khalilzad also said that the US hadn't abandoned the cause of women's rights in Afghanistan. The US-Taliban agreement that stipulates that American troops will withdraw from Afghanistan as long as Taliban renounced terrorism and agreed to have direct peace talks with the Afghan government had not discussed women's rights.
Atahi on the other hand feels that the situation may not be completely reversed if the Taliban does become part of the government. And if personal freedom is attacked, "women in Afghanistan won't give up without a fight," she says. Talking of personal freedom she says, "even something as simple as wearing a hijab or not, is a personal choice— it has never been enforced by a family member or the police. But this wasn't the case when the Taliban was powerful."
While both the Afghan government and the Taliban follow the Hanafi school of jurisprudence within Sunni Islam, their interpretation of Shari'a are vastly different and this could pose a possible problem for both sides to agree on matters regarding civil as well as women's rights.
https://www.theweek.in/news/world/2020/09/23/afghan-women-worry-that-they-will-be-marginalized.html
--------
Women's Rights in Yemen: Making the Most of the Space Available
Afrah Nasser
23.09.2020
During my early childhood in Sana'a in the 1990s, the idea of gender equality was confusing to me. On the one hand, my mother was teaching me how women must fight for their rights. On the other hand, outside of home, concepts like "gender equality" or "feminism" were portrayed in a negative light.
I recall that, in secondary school, our female teacher told our class how "equality" between the sexes was a notion manufactured by the West to destroy Arab and Muslim communities. I also recall how my religious neighbour urged me to accompany her to a women-only Koran study group in the nearby mosque. We would go and listen to a sheikha (female religious leader) explaining how "gender equality" and "feminism" were against Islam, and how Allah wanted men and women to have different and unequal roles and responsibilities.
When I started college, however, I became exposed to a different kind of discourse about women's rights. Both the independent press and events about women's rights, organised by pro-democracy local civil society organisations (CSOs), opened my eyes to Yemen's feminist women.
Women's rights advocates in political positions or leading CSOs, such as Radhya Shamsheer, Amat al-Alim Alsoswa, Raufa Hassan or Amal Basha, speaking eloquently about women's activism in Yemen, have all been crucial in shaping my feminist consciousness. They were working on issues like child marriage, gender-based violence, discriminatory laws and women's political participation, among many other things.
Resistance from the political and religious spheres
The word feminism, though, was not always explicitly used because it was dangerous and antagonising.
For instance, in 1999, leading feminist figure Raufa Hassan was subjected to an aggressive religious attack over her work and was eventually forced to leave the country. The anti-feminist backlash from some influential religious members of parliament and conservative clerics compelled most feminists to adopt a more pragmatic approach to their activism and to use less antagonising labels, such as women's empowerment advocates. Only a handful would fearlessly continue to call themselves feminists. They were all involved in the same feminist struggle, to be sure.
Yemen's modern history has never seen a coherent and consistent women's movement, but rather temporary and fragmented movements with different priorities, such as women's struggle against human rights violations, and feminists' focus on combating patriarchal tribal structures that discriminated against women. They all stemmed from genuine concerns for human rights and democracy.
In the country's modern history, three major events have influenced these struggles and women's political rights: 1) the unification of North and South Yemen in 1990, 2) Yemen's uprising in 2011, and 3) the war that has been ongoing since 2015.
When the two Yemeni states unified in 1990, a reform of the family law took place that was considered an advancement for Northern and a setback for Southern women, as the South had already introduced more progressive women's rights than the North, for instance legal equality in family affairs.
Then, in the wake of the 2011 uprising, women fought hard for greater and more effective political participation, eventually achieving an unprecedented 30-per cent quota for women in parliament.
Women also took part in the Constitution Drafting Committee for the first time in the state's history.
Where women's political rights stand today
Yet, today, all these advancements in the name of women's rights have been eroded. As the four-year-long war rages on, the political system as a whole has descended into chaos and the push for women's representation has shifted from political institutions to diplomacy and advocacy.
During the time from the Houthis' takeover of Sana'a in September 2014 to the Saudi-led military intervention in 2015, the formal political process has ground to a halt. Militarisation has meant a significant loss for women's political voice and role in decision-making. In fact, the discussion of women's political rights in Yemen right now, in its current apocalyptic state, seems an extravagant thought.
Women and girls bear brunt of conflict
The conflict has made Yemen the site of the world's worst humanitarian crisis. Millions of lives are threatened by famine; but the heaviest toll is taken on women and girls of childbearing age. Females are facing a rise in child marriages and a 63-per cent increase in violence against them.
With dozens of women detainees held in Houthi rebel prisons, facing torture and abuse, the conflict has destroyed some of the tribal safeguards that protected women from abduction or imprisonment. In Taiz, women activists are a target of Houthi bullets. Across many cities, women agonise over their missing male relatives and are barely able to feed their starving children.
What I lament the most is that pre-war Yemen, with all its institutional injustices against women, had nevertheless overtaken Saudi Arabia and the United Arab Emirates (UAE) in its advancement of women's rights – a progress that today is basically undone. Over the course of the Yemeni war, women in Saudi Arabia and the UAE have witnessed some positive developments, such as the lifting of the driving ban in Saudi Arabia and an increase in women's political representation in the UAE, while Yemenis are facing the decline of their rights and freedoms. This is a very important comparison as the disastrous bombing of Yemen is carried out by none other than its neighbours: Saudi Arabia and the UAE.
Independent press and CSOs have disappeared as a venue to raise awareness about women's empowerment. Journalists, activists and aid workers have been harassed, attacked, and/or made to disappear by all warring parties. The space for civil action has shrunk drastically. Voices that dare to speak out in support of women's rights are effectively being silenced.
Women are fighting back
Meanwhile, women are pushing back. At the grassroots level, with some 12,000 men arrested and more than 3,000 forcibly disappeared, mothers, sisters and daughters of those abducted have begun to gather in front of the central prison or police stations across major Yemeni cities in search of their sons, fathers or brothers. They have organised themselves as a collective named "Mothers of Abductees Association". At the political level, UN Women has supported the establishment of the Yemeni Women's Pact for Peace and Security, which calls for women's inclusion in the political dialogue and peace process.
In addition, Yemeni women's political activism has been supported by the three UN Special Envoys for Yemen – Jamal Ben Omar, Ismail Ould Cheikh Ahmed and currently Martin Griffiths – over the past eight years. In accordance with UN Security Council Resolution 1325 – on the full involvement and equal participation of women in conflict resolution processes – Griffiths has ensured the presence of women in the Yemeni peace talks in Kuwait, Geneva and Stockholm through consultancy groups.
Women's future
Even though Yemen has not witnessed a strong women's movement in recent history, women have become an important pillar in the formation of a new democratic Yemen since the 2011 uprising. Their activism under the difficult circumstance of continuing conflict has played an important role in shedding light on gross human rights violations and in peace advocacy.
The future of Yemeni women depends on the future of Yemen. Women activists will therefore not rest until the country is back on its feet and peace prevails. Within the space available to them, Yemeni women are looking to achieve something that is worth the world's solidarity.
Afrah Nasser
© Goethe-Institut Perspectives 2020
Afrah Nasser is an independent Yemeni journalist, living in exile in Gothenburg, Sweden. Her reporting on Yemen's political affairs has been published in numerous international publications, such as the Huffington Post, CNN, Al Jazeera English and The National. Nasser was also mentioned as the 15th most powerful Arab by Arabian Business. In 2017, she won the International Press Freedom Award from the Committee to Protect Journalists. She is also the recipient of the Pennskaft Award 2016 and the Dawit Isaak Prize 2014.
https://en.qantara.de/content/womens-rights-in-yemen-making-the-most-of-the-space-available?nopaging=1
--------
Turkish men emerge as the most eligible bachelors for Russian women
24 Sep 2020
Russian women have married 81 Turkish men just in Moscow since the beginning of the year, according to the capital's civil registry office.
Among the pool of foreigners, Turkish men have been in demand in Russia throughout this year. More than six thousand marriages between Russian women and foreigners have been registered in Moscow, according to the capital's civil registry office, and Turkish men have emerged as the most eligible bachelors in the eyes of Russian women.
At least 81 Turkish men have married Russian women in Moscow since the start of this year. They are followed by Nigeria (63), Vietnam (54), USA (47), England (42), Italy (41), Israel (40) and Germany (32).
International weddings in Moscow have increased compared to last year, from 10 percent to 15.
"Since the beginning of 2020, more than 6 thousand marriages have been concluded with foreign citizens. Marriages with citizens of near and far abroad make up about 15 percent of the total. There are more grooms among foreign citizens than brides," the report said.
According to the statement, foreign grooms hail from about 100 different countries, and women from 60 diverse countries have married Russian men, too.
In the statement, which stated that 'Overseas Princes' come from roughly 100 different places, and foreign brides from 60 countries, the most frequent marriages are made to Turkish men.
The women who wanted to marry Muscovite men were listed as follows: Greece (66), Vietnam (50), Nigeria (15), Latvia (9), Estonia (9), Germany (8) and Cuba (8).
High number of tourist exchange
It's not just Turkish men who end up moving to Russia to achieve nuptial bliss. Russian women move to Turkey for the same reason. Despite a lack of data, it is expected that more than 200,000 Russian brides live in Turkey, mostly in tourist cities such as Antalya.
Since the early 1990s, the number of Russian tourists in Turkey has dramatically increased. In 2019, most incoming tourists, at least seven million people, were flying in from the country. The Mediterranean resort city of Antalya hosted over 5.5 million Russian tourists last year.
On the contrary, the number of Turkish tourists visiting Russia were below 100,000 in 2018.
https://www.trtworld.com/magazine/turkish-men-emerge-as-the-most-eligible-bachelors-for-russian-women-39993
--------
URL: https://www.newageislam.com/islam-women-feminism/hijab-work-rekindled-debates-discrimination/d/122934
New Age Islam, Islam Online, Islamic Website, African Muslim News, Arab World News, South Asia News, Indian Muslim News, World Muslim News, Women in Islam, Islamic Feminism, Arab Women, Women In Arab, Islamophobia in America, Muslim Women in West, Islam Women and Feminism