New Age Islam News Bureau
14 Jul 2019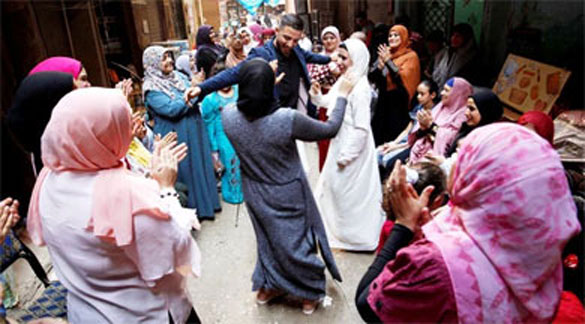 Nadia Mohammad Salem dances with her relatives outside her family home the day before her wedding, in Cairo, Egypt November 2, 2018. (REUTERS)
----
• High Marriage Costs Cause Slump In Egyptian Weddings
• American Muslim Women Are Fighting For the Freedom to Swim
• Saudi Women 'Will Be Able To Leave The Country Without Man's Permission'
• Agony of Yazidi Women Torn Between IS Kids, Or Return Home
• Two Women Thrown Off a Thomas Cook Flight For Complaining About 'Terrorist' Muslim Passengers
• Muslim Head Coverings: The Difference between Hijab, Niqab and Burqa
• Saudi Activist Successful In Helping Women Seek Asylum From Gulf States
• 3,000 Young Saudis Undergo Intensive Guidance and Counselling On Marriage through Al-Zawaj Program
Compiled by New Age Islam News Bureau
URL: https://www.newageislam.com/islam-women-feminism/high-marriage-costs-cause-slump/d/119182
--------
High Marriage Costs Cause Slump In Egyptian Weddings
MOHAMED EL-SHAMMA
July 14, 2019
CAIRO: The number of couples getting married in Egypt has continued to slide due to the high costs involved, according to experts.
New figures released by Egypt's Central Agency for Public Mobilization and Statistics, showed the number of marriages fell from 912,606 in 2017 to 887,315 last year, down 2.8 percent. With 938,526 weddings recorded in 2016, the data highlighted a decrease of more than 25,000 Egyptian marriages a year.
Dr. Hassan Al-Khouli, a professor of sociology, blamed economic and social reasons for the decline, with the high rate of youth unemployment in the country a key factor in making marriage too expensive for many families.
In some cities the cost of getting married can run to almost 1 million Egyptian pounds ($61,326).
Dr. Abdul Hamid Zaid of Fayoum University said the economic situation in Egypt had hit the middle classes hard.
He told Arab News that there were still plenty of couples who wanted to wed and start families, but they did not have enough financial security to follow it through. Soad Hussein, 30, from Cairo, said that prior to her marriage she spent around 80,000 Egyptian pounds on her wedding supplies, including kitchen utensils and other items, and had to save for years to fund it. She and her husband held a small street party to celebrate the ceremony last November.
"If I have a daughter, I hope things are easier for her," Hussein told Arab News.
According to data, the average cost of getting married in Egypt for the bride is between 500,000 and 650,000 Egyptian pounds, with a house costing around 400,000. The bride's gold gift averages between 20,000 to 100,000 Egyptian pounds depending on local and family traditions.
In some parts of Egypt young people have launched campaigns to reduce the cost of marriage by cutting out or scaling back expensive traditions.
http://www.arabnews.com/node/1525181/middle-east
--------
American Muslim Women Are Fighting For the Freedom to Swim
13/07/2019
It was the summer of 2017 when Ruhee Kapadia, a Muslim mother from Long Island, New York, took her 13-year-old daughter to their local pool.School was out, and her daughter was excited to finally enjoy the long-awaited summer break in the water.
But staff at the Echo Park Pool said Kapadia's daughter wasn't allowed to swim, citing her clothing. Her daughter was wearing a bathing suit layered with leggings and a T-shirt, which staff said wasn't appropriate swimwear. When the 39-year-old mother tried to reason with the pool staff, they told her it was out of their hands and to take up her concerns with local West Hempstead officials.
So she did.
Kapadia met with Laura Gillen, a Democrat who was running for Hempstead town supervisor, a suburb of New York City that had been governed by Republicans for more than a century. Though Gillen's candidacy was considered a long shot, she promised that if she were elected, she would address Kapadia's concern.
Over the last decade, Muslim women across the globe have been subject to an increasing amount of harassment when swimming while wearing less-than-revealing swim attire. Just last week in France, where the burkini is banned in several cities, Muslim women staged a protest defying the prohibitions. Although no such bans exist in the United States, Muslim women across the country say they are criticized or denied admittance to their local pools because of their modest swimwear.
In 2018, Gillen won, and, she told HuffPost, she wanted to promote "tolerance and transparency" in her new role. So this summer, there are new signs posted local pools that read, "To respect religious customs, a burkini can be worn."
Kapadia and her daughter were pleased to see the policy in writing when they went back to Echo Park Pool over the Fourth of July weekend.
"It was like a dream that day. It was just this moment of this is it," Kapadia told HuffPost. "I want not only my children, I want every kid here to feel the belongingness. Nobody should feel any different than anybody else."
Ala Yamout, a 21-year-old Dallas resident, told HuffPost that she applauds towns that explicitly allowed modest swimwear at pools, because the policy prevents a type of harassment she has faced. Last summer, Yamout was at a neighborhood pool with her niece and sister-in-law when another resident at the pool yelled at them.
Yamout said the man, who was swimming in a T-shirt and shorts, told the women their swimming attire violated the rules set by their homeowners association. When the women explained their clothing was indeed swimming attire specifically made for the water, the situation only escalated. The man told the women they "weren't even Americans" and needed to "go back to their country."
Distressed by the situation and perplexed by the alleged rules, Yamout sent the homeowner's association an email, seen by HuffPost, documenting what occurred at the pool and inquiring about the rules regarding burkinis. The next day, an official told Yamout that the man was wrong and that her attire was indeed allowed at their pool. In fact, there was even a sign at the gate, showing a burkini as acceptable swim attire.
"People see something that makes them a little bit uncomfortable, and they need to make a big deal about it," said Yamout.
Both women acknowledged having the rules on their side made their situation easier and that accommodations like clearly permitting burkinis should be the norm across the country. If it isn't, they urged Muslims to take action.
"It's easy to sit and talk," Kapadia said. But she encourages people to call their public officials: "We live in this community. We are equal. We share ... the same things as anybody else. So why settle for less?"
https://www.huffingtonpost.in/entry/muslim-women-burkini-pool_n_5d279c95e4b0bd7d1e199769
--------
Saudi Women 'Will Be Able To Leave The Country Without Man's Permission'
July 13th 2019
Reforms planned by the Saudi Arabian government could mean that women living in the country may be allowed to travel without the permission of a man as early as this year.
Currently, legislation means that women of all ages require the express consent of a male relative to hold their own passport or travel abroad. Saudi officials have told the Wall Street Journal that the laws are due to be relaxed as part of a series of gradual social reforms.
A member of the Saudi royal family allegedly told the Wall Street Journal that: "There is no question that the leadership, the government and the people want to see this system changed. The current discussion is about how to make this happen as soon as possible without causing a stir."
A change to the legislation surrounding travel could have a radical impact on life for women in the country, where human rights organisations claim that sexism and misogyny have denied women basic rights for generations.
Saudi women will still require permission from male relative to do other things however, including getting married, divorcing and obtaining their own passport.
Commenting on the potential reforms, executive director of Human Rights Watch, Sarah Leah Whitson, stated: "We certainly hope it's true. It's odd that this news has not come from an official announcement, but it could be a sign that internally there is an effort to leak information like this to pressure Mohammed bin Salman into actually making this move."
Meanwhile, activist and academic Hala al-Dosari stated: "If it does happen it would lead to a spike in women seeking asylum. It would also be a huge fanfare for [Bin Salman's] supposed credentials as a reformer."
The country's alleged human rights violations have come under much scrutiny this month after rapper Cardi B pulled out of a scheduled festival there, after facing significant backlash from irate Saudi conservatives.
https://vt.co/news/world/saudi-women-will-be-able-to-leave-the-country-without-mans-permission/
--------
Agony of Yazidi Women Torn Between IS Kids, Or Return Home
14 JUL 2019
BAADRE, Iraq: Freed after years in jihadist captivity, Jihan faced an agonising ultimatum: abandon her three small children fathered by an Islamic State fighter or risk being shunned by her community.
"Of course I couldn't bring them home. They're Daesh (IS) children," said Jihan Qassem matter-of-factly, sitting in a sparse concrete structure she now calls home.
"How could I, when my three siblings are still in IS hands?," she added, highlighting the harsh reality that the children serve as constant reminders of the brutalities inflicted on the closed, tight-knit Yazidi community by the so-called Islamic State group.
Dozens of Yazidi women and girls systematically raped, sold and married off to jihadists after being abducted by IS from their ancestral Iraqi home of Sinjar in 2014 have faced the same gut-wrenching dilemma. What to do about the children born of these forced unions?
Now freed, the women are desperate to heal from the wounds inflicted on the conservative minority -- but raising jihadist offspring would make closure impossible, they said.
Kidnapped at 13, Jihan was forced to marry a Tunisian IS fighter at 15 and then fled with him and their children from IS's bombarded Syrian holdout of Baghouz four months ago.
When US-backed forces learned she was Yazidi, they whisked her and her two-year-old boy, year-old girl and four-month-old infant to a northeast Syria shelter hosting other mothers from the brutalised minority.
The safehouse, known as the Yazidi House, circulated her photograph on Facebook and her older brother Saman, still in northern Iraq, recognised his long-lost sister.
He wanted her home. But without the children.
After days of an anguished back-and-forth, Jihan decided she would leave her infants with Syrian Kurdish authorities in exchange for what she said was her real family.
"They were so young. They were attached to me and I to them... but they're Daesh children," she murmured.
She said she doesn't have any pictures of her children and doesn't want to remember them.
"The first day is hard, and then little by little, we forget them," she said.
'No one asks about them'
For centuries, Yazidis who married outside the sect -- even against their will -- were ex-communicated.
Girls forcefully taken by IS in 2014 risked suffering the same fate, but a landmark decree by Yazidi spiritual leader Baba Sheikh said survivors of IS's sexual abuse should be honoured by the community.
That compassion however has not been extended to their children.
In April, the Yazidis' Higher Spiritual Council issued an ambiguous decree welcoming "children of survivors," sparking hope of a second reformation to accept those born of a Yazidi mother and IS father.
But a ferocious backlash from conservative Yazidis prompted the Council to clarify that nothing had changed: it would only welcome children born to two Yazidi parents.
Any further reform was seen as a threat, opening the floodgates of change to a traumatised community, said Yazidi activist Talal Murad.
"If there's this kind of change in the creed, other things could change too -- there will be a breakdown, a total collapse of the Yazidi religion," said Murad, who also heads Ezidi24, an outlet covering Yazidi affairs.
Council representative Ali Kheder told AFP the debate wasn't solely about dogmatic reform.
"First, according to Iraqi law, any child with a missing father will be registered as a Muslim, automatically," said Kheder in the Council's headquarters in Sheikhan.
Islamic law, on which the Iraqi constitution is based, stipulates that religion is inherited from the father.
Psychologically too, Kheder said the Yazidi society remained too scarred by the prolonged abduction of their own people to accept raising the children of their abusers.
"Until now, we have thousands of Yazidi women and girls in IS hands. No one asks about them. They ask about a few children that can be counted on one hand," said Kheder.
The Council said it does not keep statistics on returning Yazidi survivors with infants born of rape.
Flesh, blood, tears
While most Yazidi mothers leave their children at the Yazidi House in Syria, some brought IS-born infants home to Iraq. They declined interviews because of the subject's sensitivity.
One woman insisted to her Yazidi family that she would raise her year-old infant fathered by a missing IS fighter, but balked when she discovered she could not acquire Iraqi identification papers for him as his father was not present.
She gave him up for adoption, her doctor said.
Another 18-year-old arrived in Iraq in the spring after finally being freed, but was heavily pregnant by her IS captor, according to a social worker involved in her case.
She spent weeks in a safehouse without her family's knowledge until she gave birth, sent the newborn away and joined her relatives in a displacement camp.
Last year, five children born to Yazidi mothers and IS fathers were left at an orphanage in Mosul, which helped local Muslim families adopt them, according to Mosul's director of women and children's issues Sukaynah Younes.
They are now registered as Muslim.
The psychological impact of this separation will likely be long-lasting. Jihan herself still seemed torn.
Weeks ago, she had described her children to a social worker as her "flesh and blood," saying she missed them.
While she sounded more detached when speaking to AFP, a shy smile crossed her face as she remembered them. When she was out of her brother's earshot, she cried quietly.
"If it was up to me, I would have brought them," she said.
'The genocide goes on'
Yazidis believe the events of 2014 were the 74th "genocide" suffered by the minority in its 4,000-year history, and that it has not ended.
The most painful wound is that hundreds of men, women, and children remain missing, despite hopes they would be found after IS's "caliphate" collapsed in March.
Some 100,000, nearly a fifth of the pre-war community, have been resettled abroad and another 360,000 remain displaced in Iraq with their villages lying in ruins.
"The genocide is ongoing. People can't go home to Sinjar, we still have women and girls missing, everyone is looking to leave to Europe," said Kheder.
Baba Shawish, a cleric and custodian of the Yazidis' holiest site at Lalish, blamed Baghdad.
"The federal government in Baghdad knows very well that thousands of Yazidis remain captive, but it has not decided to arrest the kidnappers. It's not cooperating with us."
A bill introduced in April by Iraq's president proposes reparations for Yazidis and a way to determine children's legal status, but parliament has yet to debate it.
Gripped by such pressing issues, Yazidis expressed frustration with what they saw as misplaced global pressure to enact religious reform and welcome children born of IS.
The best option, community figures said almost unanimously, was for Yazidi mothers to be resettled abroad.
"It's a very complicated issue, and the most appropriate solution right now can be found outside Iraq," said Vian Dakheel, a Yazidi and former parliamentarian.
"In my view, it's for these women to go to Europe with their children."
Dr. Nagham Hasan, an obstetrician-gynecologist who has worked extensively with Yazidi survivors since 2014, said patients with young children had all but given up on Iraq.
"I've been warning that we would be dealing with the issue of mothers for years," she said.
"Everyone wants to leave. The Yazidi community is broken."
https://www.bangkokpost.com/world/1712352/agony-of-yazidi-women-torn-between-is-kids-or-return-home
--------
Two Women Thrown Off a Thomas Cook Flight For Complaining About 'Terrorist' Muslim Passengers
Harry Cockburn
July 14, 2019
Two women were thrown off a Thomas Cook flight from Turkey to Gatwick after they allegedly said three Muslim men in white prayer shawls were "terrorists" and a "threat" to the safety of the plane, other passengers have claimed.
Videos of the incident, which took place after 1am on Friday, show one of the women, who are believed to be British, removing her bag from the overhead luggage rack before being escorted off the plane by police.
The incident meant the flight from Dalman to Gatwick was delayed by over an hour.
Mario Van Poppel, a Belgian father-of-three who was on the flight, said the woman was a "crazy racist".
"A passenger on our Thomas Cook flight refuses to stay on the plane because three bearded men in white prayer robes are on board," he tweeted.
Shanea Kerry, who was also on the plane, said the women had tried to have the men taken off the flight.
She said: "They went to the front of the plane, spoke to the flight attendants & attempted to get the 3 men removed by stating that they are 'disgusting' & 'a threat'."
She said when one of the women "came back to get her bags, abuse was just flying around the plane – quite a few people called her out for the racism … she continued to tell us we are stupid for staying on the plane with the three men."
Ms Kerry also said the woman called her a "fat bitch" when she confronted them for their "disgusting behaviour".
In a statement, Thomas Cook told The Mirror: "Two passengers on flight MT105 from Dalaman to London Gatwick were removed from the aircraft by police following offensive behaviour on board.
"The safety of our customers and crew is always our first priority and we do not accept this kind of behaviour on our aircraft. We are sorry to our customers for the delay this caused to their flight."
https://www.independent.co.uk/news/uk/home-news/racist-women-thomas-cook-flight-turkey-london-muslim-passengers-terrorism-a9003636.html
--------
Muslim Head Coverings: The Difference between Hijab, Niqab and Burqa
By Margot Eliason
Jul 13, 2019
The Hijab
The Hijab is a headscarf worn by many Muslim women across the world. It can come in a variety of colours and most commonly covers the neck, leaving the face visible. Hijab means "cover" in Arabic and the word can be used to refer to a variety of head coverings.
The Al Amira
The Al Amira is a two piece head covering, made up of a tight-fitting cap or large headband, worn under a tube-like scarf.
The Khimar
The Khimar is a long cape-like veil that covers the body until below the hips. Tight-fitting around the head, it leaves the face clear.
The Niqab
The Niqab is a veil that covers the head and the face, but leaves a place cut out for the eyes. It originally comes from the Arabian Peninsula: Saudi Arabia, Yemen, Oman, and the United Arab Emirates.
The Bushiyya
The Bushiyya also originally comes from the Arabian Peninsula. It is a black veil that covers the face completely, with no openings for the eyes. It is worn with an abaya (a type of long dress) or other types of overgarments.
The Burqa
The Burqa is a garment that covers the whole body, from head to feet, including the eyes. It originally comes from Afghanistan.
These are just a few of the types of muslim head coverings. There are also different muslim head coverings worn in Central Asia, the Caucasus, India, Indonesia, Malaysia, and other parts of Asia.
https://www.moroccoworldnews.com/2019/07/278104/muslim-head-difference-hijab-niqab-burqa/
--------
Saudi Activist Successful In Helping Women Seek Asylum From Gulf States
By Zachary Keyser
JULY 13, 2019
Taleb Al-Abdulmohsen, a Saudi Arabian activist, created a website to help former Muslims gain asylum in other countries and abscond maltreatment in their Middle Eastern native countries - wherever they may be, according to a BBC News report.
Al-Abulmohsen is currently living in Germany under asylum, he left Saudi Arabia after renouncing his Muslim faith in fear of persecution, an claims himself now to be an atheist. He created the website wearesaudis.net, in order to help those who have found themselves in a similar situation compared to his own.
"I created a website to help people seeking asylum, especially from Saudi Arabia and the Gulf region," Al-Abulmohsen said in the BBC interview. "I use basically WhatsApp, Twitter, Telegram. If I have time, I spend you know [in total] helping Saudi asylum seekers between 10 to 16 hours a day, if I have time."
In some Arab countries, including Saudi Arabia, disaffiliating, abandoning or renouncing the Muslim religion, also known as apostasy, can be punishable by death.
Al-Abulmohsen's life was threatened back in Saudi Arabia after his renunciation, and now his website has helped hundreds of former Muslims escape victimization themselves in the Gulf region.
"The only Arab country from which I did not have an ex-Muslim seeking help until now from me is Oman," he said, alluding to the fact that many citizens across all the Gulf Arab nations are either experiencing the same victimization he faced or fear the repercussions of pushing back against government or family pressure.
"90% of people who approach me are women between 18 and 30 years old," Al-Abulmohsen stated.
Al-Abulmohsen's website has now become quite popular after dealing with the high profile case of Rahaf Mohammed, a Saudi teen who was detained in Bangkok airport by Thai authorities while attempting to seek asylum in Australia from Kuwait, earlier this January.
Mohammed publicly stated that she left her country in order to escape her family which she claimed both abused and threatened to kill her for leaving the Muslim religion. After an appeal to social media for help, gaining her worldwide attention, Thai authorities decided instead of returning her to back to Kuwait to hand her into the protection of the United Nations High Commissioner for Refugees. Mohammed was granted asylum in Canada just six days after her detainment in Bangkok.
Al-Abulmohsen is now assisting a woman known as "Dina" from the United Arab Emirates on her journey through the asylum process. Dina similarly to Mohammed fled her country to escape her family, and she used wearesaudis.net to decamp from her uncompromising Muslim family, in fear that her relatives will force her to marry.
"I wasn't allowed out with friends. I was forced to wear a hijab. I obviously took it off when I went to school because I didn't like it and most of the girls in school didn't wear it," Dina said. "I enjoyed fasting because other people around me did it but I was forced into that too and as I got older I hated it."
According to Dina, if you renounce Islam in the United Arab Emirates you will be sentenced to fifteen years in prison.
"The UAE is fully committed to tolerance and is extremely proud of its religious diversity," a Spokesperson for the UAE Ministry of Foreign Affairs told the BBC, and claims that there are no repercussions for apostasy in their country.
However, according to the BBC report, Dina's largest fear stems from maltreatment from her family members.
"I decided to leave when my mother started bringing up marriage. I made it clear to her that I didn't want to so I decided to leave right there and then," Dina said to the BBC. "I was scared that my family would go tell on me. I was scared that they wouldn't get me out if I did get in jail."
"I don't miss my mom and dad but I miss my sisters. I mean if my little sister got older and she wanted to come here I'd help her, I'd help her come and be with me," she concluded.
https://www.jpost.com/Middle-East/Saudi-activist-successful-in-helping-women-seek-asylum-from-Gulf-states-595547
--------
3,000 Young Saudis Undergo Intensive Guidance and Counselling On Marriage through Al-Zawaj Program
July 14, 2019
JEDDAH: Al-Zawaj, a civil association helping young Saudi people in marriage and family guidance, has launched an intensive training program for 3,000 young men and women.
The program, which will be held at Al-Zawaj's headquarters in Jeddah, consists of a list of training courses offered by a number of specialists in family rehabilitation.
Ahmed Al-Sultan Al-Omari, chairman of Al-Zawaj, said the courses would help young people to understand the requirements of marriage, and their responsibilities towards each other in order to build a stable family and live a friendly and harmonious life.
Last year, Crown Prince Mohammed bin Salman ordered a social initiative titled "SNAD Mohammed bin Salman" program, based on social and nonprofit initiatives the crown prince has launched in partnership with various parties.
The first initiative was "SNAD marriage," which aims to motivate young people to get married and to ensure a stable family and social life.
The program aims to address the needs of different sectors of society as well as setting up frameworks and rules for Prince Mohammed bin Salman's charitable initiatives.
Recently, the program announced the distribution of more than SR90 million ($24 million) to 4,700 beneficiaries.
Since its launch, the program has given over SR300 million to more than 15,000 Saudis, as part of its aim to support newlyweds, promote knowledge and achieve sustainable social development.
Applications are received via https://snad.org.sa/marriage.
http://www.arabnews.com/node/1525286/saudi-arabia
--------
URL: https://www.newageislam.com/islam-women-feminism/high-marriage-costs-cause-slump/d/119182
New Age Islam, Islam Online, Islamic Website, African Muslim News, Arab World News, South Asia News, Indian Muslim News, World Muslim News, Women in Islam, Islamic Feminism, Arab Women, Women In Arab, Islamophobia in America, Muslim Women in West, Islam Women and Feminism