New Age Islam News Bureau
16 Nov 2016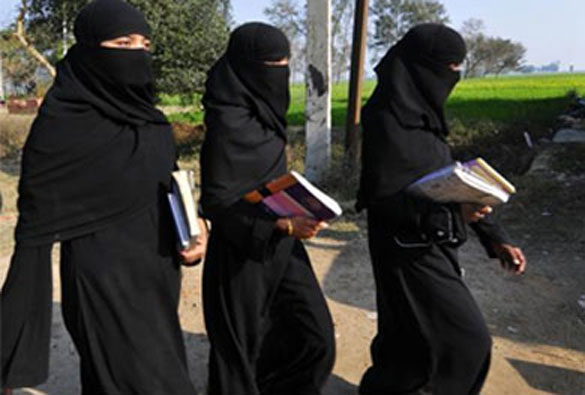 The Delhi High Court on Tuesday refused to entertain a Public Interest Litigation (PIL) seeking a ban on Burqas and other face veils in public places. Photo: Ramesh Pathania/Mint
--------
• 500 Women Empowered To Take Part in Saudi Development
• Kashmiri Girl Tajamul Islam Wins World Kickboxing Gold
• Sikh Woman Mistaken To Be Muslim Targeted In Islamophobic Incident in UK
• Man Threatens To Set Hijab-Wearing Muslim Woman on Fire in US
• Pak Women Demand Nationality for Afghan Husbands
• Why These Minnesota Muslim Women Are Dedicated To Wearing Their Hijabs
• Kuwaiti Women Express Optimism Ahead Of Elections
• UAE Residents Ignorant About Fertility Issues
Compiled by New Age Islam News Bureau
URL: https://newageislam.com/islam-women-feminism/high-court-dismisses-pil-ban/d/109117
--------
High Court Dismisses PIL for Ban on Burqa, Other Face Veils in Delhi
November 16, 2016
New Delhi: The Delhi High Court today refused to entertain a PIL seeking a ban on Burqas and other face veils in public places due to security threat to the capital, saying it is not a public interest matter. A bench of Chief Justice G Rohini and Justice Sangeeta Dhingra Sehgal dismissed the plea saying, "If it is a policy decision, the government will take care of it. How can we entertain it (PIL) under Article 226 (power of High Courts to issue certain writs).
"We cannot interfere in this writ petition. The same is dismissed. It is not an issue which deserves consideration by this court under the Article. It is not a matter of public interest."
The plea sought a ban on wearing face veils including Burqas, helmets, hoods etc at public places like transport, government buildings and heritage sites in the capital on the ground of threat from terror activities.
The plea, filed by Sardar Ravi Ranjan Singh, alleged, "the use of face coverings and wearing of full body cover like the Burqa is a serious security issue and citizens are put to constant risk and fear in the capital which is in violation of Article 21(protection of life and personal liberty) of the Constitution of India."
It said, "There is a rapid growth in terrorist activities and that the perpetrators of these criminal acts show no respect to Burqa and ruthlessly use it as an instrument to carry out 'Fidayeen' attacks."
The petitioner also referred to the recent attacks in Uri in Jammu and Kashmir and said public safety and the government offices in the capital are at constant risk.
"Face veils, Burqas can be used to prevent identification at border check-posts etc. Further, criminals and extremists can use Burqas to skip checking at police posts and barricades," the PIL which made Centre, Delhi government and National Security Council as parties, said.
http://www.siasat.com/news/high-court-dismisses-pil-ban-burqa-face-veils-delhi-1065869/
--------
Kashmiri Girl Tajamul Islam Wins World Kickboxing Gold
Nov 15, 2016
SRINAGAR: Eight-year-old Tajamul Islam scripted history at the World Kickboxing Championship in Italy, where she made India proud by becoming the first player ever from the sub-junior category to clinch a gold medal.
Tajamul, who hails from Bandipora district in Jammu and Kashmir, participated in the World Kickboxing Championship which witnessed participation of ninety countries.
Tajamul's coach, Master Fasil Ali, said that Tajamul participated in the world event with support from Kickboxing Federation of India.
"It was five-day world championship in Italy," he said.
In five days, Tajamul won six games grabbing eyeballs across the globe.
Tajamul defeated her rival from the United States to become the world champion in kickboxing.
The wonder kid created a sensation in the valley with her feat and a grand welcome awaits her on her arrival back home.
http://timesofindia.indiatimes.com/sports/more-sports/others/Kashmiri-girl-Tajamul-Islam-wins-world-kickboxing-gold/articleshow/55436821.cms
--------
Sikh Woman Mistaken To Be Muslim Targeted In Islamophobic Incident in UK
November 15, 2016
A British Sikh BBC reporter based in southwest England has spoken out about being mistaken for a Muslim and targeted in an Islamophobic incident. Manpreet Mellhi, whose family hails from India, found packets of pork scratchings in her shopping basket at a Sainsbury's supermarket in Cheltenham, Gloucestershire, on Saturday.
The BBC Radio Gloucestershire reporter and presenter recalls that before finding two packets of the salty snack in her basket she had noticed a pair of shoppers sniggering at her, according to 'Gloucestershire Live'.
"To person who dropped two bags of pork scratchings into my basket in Sainsbury's: your pitiful Saturday activity backfired. I'm not Muslim," she tweeted.
"It shocked me a bit. I think it was deliberate, though I couldn't say 100 per cent, but nothing about it was a normal situation. Did people want to offend me? I don't know. Did they think it was funny? Probably," Mellhi said.
"Had I been a Muslim or had it happened to a Muslim then I would have found it more offensive than I did. It's sad for someone to go into a supermarket on a Saturday and mock somebody," she said.
Muslims do not consume pork because it is forbidden as part of their religion. Mellhi decided not to report the incident to police so Gloucestershire Constabulary said it could not comment on the specific incident.
Police Constable Steph Lawrence, the force's hate crime coordinator, said, "It is extremely important for victims to report hate crime and we encourage them to, no matter how small they think the incident is. These are completely callous and unacceptable crimes which we are determined to tackle."
"It is vital for all hate crimes to be reported, otherwise we struggle to know the full scale of the problem and we cannot measure how significant it is due to under reporting," Lawrence said.
UK Home Office figures released last month revealed that racially and religiously aggravated abuse incidents registered a 41 per cent jump in the aftermath of the Brexit referendum in June.
http://indianexpress.com/article/world/world-news/sikh-woman-mistaken-to-be-muslim-targeted-in-islamophobic-incident-in-uk-4377483/
--------
Man Threatens To Set Hijab-Wearing Muslim Woman on Fire In US
November 15, 2016
A Muslim woman in the US was approached by an unidentified man who yelled at her and threatened to set her on fire if she did not remove her Hijab, prompting police to probe the hate crime incident. "The case is being investigated as a hate crime," Diane Brown of the University's Public Safety Department, was quoted as saying by the New York Daily News. A woman reported that an unknown man approached and yelled at her, making references to her religion and told her to remove her Hijab in Ann Arbor in Michigan, last week.
The woman, who was not named, complied and left the area, officials said. The suspect remains on the run and is described to be in his 20s or 30 with an unkempt appearance, foul body odour and athletic build, police said.
Police also reported the man to be intoxicated. It was not immediately clear if the suspect had a connection with the woman. The Ann Arbor Police Department did not respond to a request for comment, but it's actively investigating the incident, according to campus officials. The incident comes after President-elect Donald Trump's
historic win in US elections, which ignited protesters to revolt across the country.
Last week, a Muslim high-school teacher was told to hang herself with her headscarf in a handwritten anonymous note she received in her classroom. The Council on American-Islamic Relation, a Muslim advocacy group, believes the surge in Islamophobia could be attributed to the President-elect's victory.
http://indianexpress.com/article/world/world-news/man-threatens-to-set-hijab-wearing-muslim-woman-on-fire-in-us-4376754/
--------
Pak Women Demand Nationality for Afghan Husbands
November 16, 2016
PESHAWAR - A group of Pakistani women married to Afghan refugees in Pakistan on Tuesday appealed to the government and federal Interior Minister Chaudhry Nisar Ali Khan to facilitate their deported spouses with Pakistani nationality so that they may come back to Pakistan.
The women hailing from various localities of Peshawar, with their covered faces alongwith their children staged a protest demonstration on Sher Shah Suri road outside Peshawar Press Club. The protesting women were carrying placards inscribed with their demands and an appeal for justice with them.
"We are not willing to go to Afghanistan with our spouses because we have received threats from people living in Afghanistan. Our husbands were deported at Torkham border to their homeland Afghanistan," said one of the women.
"We did not see and even not made a visit to Kabul or any other city of Afghanistan. So how can we live there and adjust ourselves with the people of militancy hit Afghanistan?" asked a woman having a child in her arms. "Almost 14 years have been completed of our marriage. My husband was a driver and earning livelihood for my seven kids but now he has been deported to Afghanistan wherein he is jobless and have not found a job there," she lamented.
She claimed that her husband was born in Pakistan 40 years ago and settled here but due to current Afghan refugee crisis her husband fell victim of expulsion. "I am Pakistani by nationality and have my Computerized National Identity Card. Pakistan is our country. Why government of Pakistan does not introduces a process to give nationalities to those Afghans who were married to Pakistani women?" she suggested. "Every country in the world bestows nationality to emigrants but Pakistan does not provide this facility to our Afghan husbands," she asked.
She said that their kids were also not ready to go to Afghanistan. Their education was also badly affected due to exile process, she added.
http://nation.com.pk/national/16-Nov-2016/pak-women-demand-nationality-for-afghan-husbands
--------
Why These Minnesota Muslim Women Are Dedicated To Wearing Their Hijabs
15/11/2016
Islam is the world's second largest religion, but the faith ― and the women who choose to show their dedication to it with their Hijabs ― are increasingly misunderstood by Western communities.
In Minnesota, just 1 percent of residents are Muslim. The community, which includes many Somali refugees, exists alongside a majority white Christian population, but Muslims still face hateful and misinformed rhetoric.
Although Ilhan Omar, the first Somali-American Muslim woman ever elected to a state legislature had her victory just last week, it came days after Donald Trump blamed "faulty refugee vetting" for the state's "large numbers of Somali refugees" and linked the community to ISIS and extremism while speaking for a cheering crowd.
Unfortunately, the misunderstanding of Islam, compounded by the president-elect's hateful rhetoric, has already resulted in a sharp increase in attacks. Hate crimes against Muslims in America spiked 67 percent in 2015, according to recent FBI statistics. Looking to unpack the stark discrepancy between the way that non-Muslims and Muslims view Islam, Zainab Salbi, author and founder of the humanitarian organization Women for Women International, headed to Minnesota to speak with all members of the community for the first episode of "The Zainab Salbi Project."
"A lot of non-Muslims what they hear of Islam is jihad, sharia law [and] oppression of women," she said. "The disconnect between that understanding and between how Muslims see these issues is huge."
Salbi spoke with residents, both Muslim and non-Muslim, about a variety of issues, ranging from the perception that most Americans have about Islam to women's rights within the religion. The one issue that arose time and time again was the hijab, which is one of the more visible displays of the Muslim faith.
"Though not all Muslim women wear headscarves, a lot of American Muslim women, who are wearing the headscarf are choosing to do that out of a point of identity and out of expression of their own freedom," Salbi said.
Salbi heard from several Minnesota Muslim women about the misperception of the hijab and why they choose to wear the headscarf in spite of it.
Kadra Mohamed
Mohamed is the first Somali woman to become a police officer in St. Paul, Minnesota and she wears a hijab. While she said the responses she receives are "generally very positive," she added that "with every good comes the bad."
"So there have been people with negative comments," she said. "Such as, I am not an American, I should go back to my country. It gets to you because this is somewhere that I was raised. I basically was born here."
Mohamed said she had "absolutely not" been forced to wear the headscarf. In fact, the decision to do so was completely her own.
"I've seen a quote before. If women are free to be naked why should they not be free to be covered?" she said.
Nausheena Hussain
For Hussain, the headscarf is a manifestation of American values. The co-founder of Reviving the Islamic Sisterhood of Empowerment (RISE) told Salbi that her hijab embodies the American right to "freedom of expression and religion."
"I feel that this is my First Amendment right," she said. "The second this is required to be taken off, I think that's when our civil rights are being violated. So this to me is the most American thing I can do."
Ayan Amoud Omar
The hijab gives Omar a way to proudly and visibly proclaim her Muslim faith.
"For me the hijab is a choice. It is a symbol of my faith," she said. "In a way it's my cross. It allows me to stand out and shout to the world, 'I am a Muslim and I am happy to be a Muslim.'"
Omar said she personally combats misperception of the hijab by urging non-Muslims to approach her with questions about her religion. Omar added that an open dialogue is the best way to combat fear of the other.
"Every time I do a panel, I say, 'I want you, I actually need you to ask me those questions you're afraid to ask because if you can't ask me then I don't think you'll ever ask anyone.'" she said. "It is easy to succumb to fear. It's fear of the unknown. And the best way to break that fear is just to simply meet a Muslim."
http://www.huffingtonpost.in/entry/muslim-women-minnesota-hijab_us_5829fb5be4b0c4b63b0daa89
--------
Kuwaiti Women Express Optimism Ahead Of Elections
November 15, 2016
Manama: With ten days left for the parliamentary elections in Kuwait, women are fiercely clinging to the thin hope that women candidates will overcome social challenges and win seats.
"I predict that up to three women will be elected on November 26," Iqbal Al Ahmad, the former editor-in-chief of Kuwait News Agency (Kuna), said. "Some of the candidates are really outstanding and have high levels of education, culture and sense of criticism. They have interesting visions. I just hope that women are not criticised simply because they are women and I look forward to women being treated as candidates or members of parliament, not as women," she said, quoted by Kuwaiti daily Al Qabas on Tuesday.
Layla Thenayyan Al Ganem, an activist, said that she was looking to positive results.
"There is no difference between men and women. Women are well capable of holding their grounds and presenting strong arguments and clear visions that are of great benefit to the nation. We know most of the women who will be running, and so we have good idea of their capabilities," she said.
Awatef Al Eisa, an activist, said that she was optimistic women will win seats in the elections.
"I expect women will win two or three seats, while my wishes are to see women take five or six seats at least," she said. We have in Kuwait some of the most competent women."
Huda Al Mutairi, another activist, said that she fully supported women running in elections.
"We wish them the best of luck so that they are elected and subsequently have an effective role in the next parliament," she said.
Women have taken part in six parliamentary elections since 2006, fielding 117 candidates.
In 2006, 28 women ran in the national polls, making up 11.9 per cent participation rate.
Those records for the number of women candidates and the participation percentage stand until today.
In 2008, there were 27 women candidates (9.9 per cent of the total number of candidates), and in 2009, there were 16 (7.6 per cent). In February 2012, there were 23 women (8 per cent), but the figure dropped to 15 (3.8 per cent) in December when the elections were ordered in the same year. In the last elections in July 2013, only eight women (2.5 per cent) presented their candidacies.
No women won in 2006, 2008, and February 2012, while history was made in 2009 when four women were elected for the first time in the country's history. In December 2012, three women won seats.
The dismal performance by women over the last ten years is often attributed to the formidable challenges they face in elections often dominated by powerful tribal and religious affiliations.
http://gulfnews.com/news/gulf/kuwait/kuwaiti-women-express-optimism-ahead-of-elections-1.1929875
--------
UAE Residents Ignorant About Fertility Issues
November 15, 2016
Dubai: Over 91 per cent of young men and women in the UAE have poor awareness about fertility issues and failed to correctly predict the age at which their biological clocks start ticking, a nationwide survey conducted among 1,000 UAE residents has revealed.
The survey, commissioned by the Orchid Fertility Centre at the Dubai Health Care City, was conducted by YouGov Mena.
Results were announced on Tuesday at the opening of the centre which is affiliated to Northwestern Medicine, Chicago. The survey, which included national as well as expatriate men and women, found only nine per cent of respondents correctly pointed out that a woman's fertility declined in her late 20s, while 38 per cent of men and women believed male fertility only declined in the 50s or 60s.
Explaining the concept of the 'biological clock', Dr Boheira Al Geyoushi, medical director of the clinic, said: "By biological clock we mean the fertility levels of a woman which are measured by the number of eggs her ovaries produce. When a female embryo is conceived a female foetus has two million eggs. As soon as she is born, the number comes down to 500,000. By the time a girl hits puberty, she has 300,000 eggs and by the age of 30 she has a limited pool of 72,000 eggs. Every month as a 100 eggs prepare for fertilisation, only one really matures and gets ready for fertilisation which means that the rest just dwindle and die. By age 35 there is a steep decline."
Dr Al Geyoushi emphasised that it was important for women who postpone pregnancy to know that both egg quality and quantity begin to decline in the late 20s and early 30s. Poor quality of eggs causes miscarriages, fetal abnormalities and other perinatal complications such as pre-eclampsia.
A recent Dubai Health Authority research indicates that around 50 per cent of women in the UAE face issues of infertility and this is not related to just poor reproductive health but to other factors such as obesity and metabolic disorders, consumption of processed and refined foods and a high level of stress.
The clinic provides a holistic approach to treatment of infertility and reproductive health specialists pointed out that poor lifestyle choices were one of the major reasons for rising infertility issues.
Jared Robins, chief of reproductive endocrinology and infertility at Northwestern Medicine, Chicago, said: "Infertility as a disease is set to double worldwide by 2021. Smoking, obesity, diabetes and other metabolic disorders, a high level of stress and depression directly impact male and female fertility."
He also pointed out that at their clinic in Chicago, nearly 48 per cent of patients who came in for In Vitro Fertilisation (IVF) did not need it at all once they cut back on all these factors. "We do not need to pump women with hormones, and a personalised guidance to a male who has a mild suboptimal sperm count helps in resolving his fertility issues. Women report natural pregnancy after effecting a change. That is why at the Orchid clinic we are for the first time here adopting a holistic approach to fertility. IVF, we feel, is just one tool and not the only way to achieve good reproductive health," he said.
The clinic also offers next generation genetic sequencing to screen for genetic anomalies in an embryo.
Survey fact sheet
A woman's biological clock begins ticking once she is 27 years of age and she experiences a good decline in the number of eggs by the age of 30.
38 per cent of men and women who participated in the survey believed that male fertility only declined in the 50s or 60s and 15 per cent felt it did not decline at all.
51 per cent of respondents did not believe that being overweight affected fertility and 41 per cent did not know that smoking, which includes shisha smoking, caused infertility issues among men and women
57 per cent of respondents were not aware that diabetes was a major cause of infertility in both men and women.
http://gulfnews.com/news/uae/health/uae-residents-ignorant-about-fertility-issues-1.1929823
--------
URL: https://newageislam.com/islam-women-feminism/high-court-dismisses-pil-ban/d/109117
New Age Islam, Islam Online, Islamic Website, African Muslim News, Arab World News, South Asia News, Indian Muslim News, World Muslim News, Womens in Islam, Islamic Feminism, Arab Women, Womens In Arab, Islamphobia in America, Muslim Women in West, Islam Women and Feminism, Moderate Islam, Moderate Muslims, Progressive Islam, Progressive Muslims, Liberal Islam