New Age Islam News Bureau
27 Dec 2015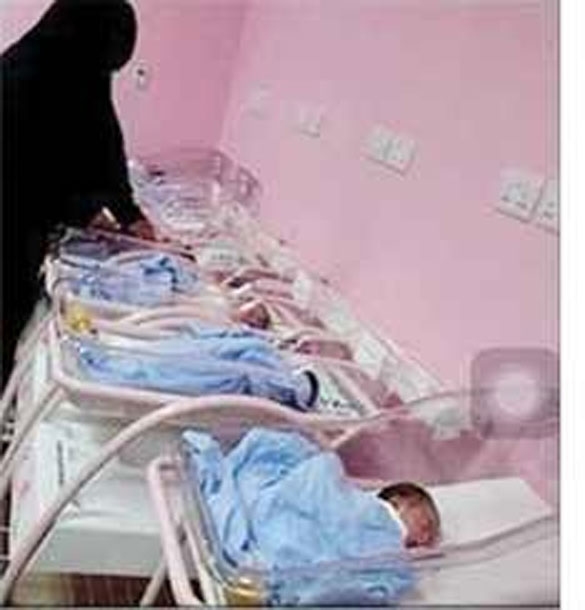 Photo: Amirah Ismail showed exemplary courage ... nation's pride.
----------
• Adultery Case: Sri Lankan Woman to Serve Jail Term in Saudi Arabia
• Child Marriages Remain Major Problem in Turkey
• Expat Women 'Can't Take Up Jobs Reserved For Saudi Females'
• Japan, South Korea Diplomats Meet Ahead Of Ministerial Talks on 'Comfort Women'
• An Ex-Muslim Tells Us What it really means To Be a Feminist
• Muslim Women in Colorado Springs and Nationwide Debate Safety of Hijab amid Backlash
• Indian Home Ministry Asked To Increase Women In Delhi Police To 33 Per Cent
• 'Benazir Rani, Haqoomat Rani'
Compiled by New Age Islam News Bureau
URL: https://newageislam.com/islam,-women-and-feminism/new-age-islam-news-bureau/heroic-nurse,-amirah-ismail,-saved-7-babies-from-blaze/d/105748
------------
Heroic Nurse, Amirah Ismail, Saved 7 Babies from Blaze
ARAB NEWS
Saturday 26 December 2015
JAZAN: The Jazan hospital tragedy saw some heroic acts from staff at the hospital, including nurse Amirah Ismail, who along with colleagues, risked their lives to save seven children who had been in the nursery when the fire broke out on the first floor.
According to a report by an online publication, Ismail, who was clearly traumatized by the events, said that at 1 a.m. on Thursday morning her colleague said she could smell smoke. At first she could not smell anything but when they went to investigate they saw smoke coming out of a room where sanitary items were kept.
Then women security officers came shouting that there was a fire and ordered everyone to leave. When they looked toward the nursery they saw there were flames outside the glass viewing section.
"My colleague and I started crying but I controlled myself and refused to leave the place. I asked the security officers to break down the door of the nursery. I entered and found seven children. I placed four children in a cloth and asked my colleagues to take them outside," she said.
Then she and fellow workers were able to take the other children out, including those found in the intensive care unit. "All children were brought out and are fine," said Ismail. Ismail said she cannot sleep now because of the images she has of bodies and old people inside crying out for help.
http://www.arabnews.com/news/855946
------
Adultery Case: Sri Lankan Woman to Serve Jail Term In Saudi Arabia
AGENCIES: Wednesday 23 December 2015
COLOMBO: A Saudi court has commuted the death sentence passed on a Sri Lankan maid convicted of adultery, the government in Colombo said.
"We have succeeded in getting the death sentence overturned. Our concern was to make sure that the original sentence was not carried out," said Harsha de Silva, deputy foreign minister.
"The government of Sri Lanka wishes to acknowledge and appreciate the good offices of the Saudi authorities.
"The sympathy, understanding and the concern expressed, and assistance extended by many other parties is also noted and deeply appreciated."
De Silva said the woman would now serve a "short jail sentence" but details on the exact amount of time that she would have to remain behind bars were not yet clear.
The 45-year-old married mother of two, who has not been named, was convicted of adultery in August after her arrest in April last year.
The following is a statement posted on the website of the Sri Lankan Foreign Ministry.
The appeal against the verdict of the Sri Lankan domestic worker arrested on the charges of adultery and sentenced to death by the Al-Dwadmi Court in Saudi Arabia was taken up Dec. 22.
The government of Sri Lanka is happy to announce that the appeal for clemency on the sentence was successful and the Sri Lankan national will now have to serve a reduced sentence and serve a term in prison.
The Ministry of Foreign Affairs together with the Ministry of Foreign Employment and the Sri Lanka Bureau of Foreign Employment undertook the responsibility to safeguard the Sri Lankan national and through the Sri Lanka Mission in Saudi Arabia, extended every assistance to provide legal counsel and consular assistance in order to assist the appeal process.
The government of Sri Lanka wishes to acknowledge and appreciate the good offices of Saudi authorities.
The sympathy, the understanding and the concern expressed, and assistance extended by many other parties is also noted and deeply appreciated.
http://www.arabnews.com/world/news/854721
------
Child Marriages Remain Major Problem In Turkey
December 26, 2015
Child marriages continue to be common practice in Turkey, largely due to the lack of awareness of many families regarding the dangers of early marriage, as well as inadequate legal measures.
A convention signed by Council of Europe (CoE) member states at the 2011 Council of Europe Convention that sought to combat violence against women included enacting laws that consider child marriage a crime. According to Article 37, state parties have a duty to criminalize "the intentional conduct of forcing an adult or a child to enter into a marriage." Even though Turkey is a signatory to the agreement, the rate of child marriages in the country is worryingly high.
In a recent parliamentary inquiry submitted by Republican People's Party (CHP) deputy Serdal Kuyucuoğlu to be answered by Family and Social Policies Minister Sema Ramazanoğlu, it was highlighted that child marriages constitute 30 to 35 percent of all marriages in Turkey.
Kuyucuoğlu's parliamentary inquiry asked the following:
- Has there been any research done by the [Health] Ministry regarding the health issues related to child marriages? If yes, would you share the details?
- How many children are there who discontinued their education due to being married at an early age?
- What is the suicide rate among child brides? Is there a special [Health] Ministry study of families living in regions where the suicide rate is high?
In Turkey, although the legal age for marriage is 17, under a legal provision for "exceptional circumstances" a family can apply for the consent of the court to legally marry a child who is younger than the established legal age. However, what is considered an "exceptional circumstance" is rather vague.
It is common for Turkish families to marry off their children in religious ceremonies without an official civil marriage when they do not meet the age required by law. These ceremonies are conducted by an imam and are often not reported to the authorities.
'Child marriage responsible for a broad range of issues'
Speaking to Sunday's Zaman, Kuyucuoğlu said that child marriages are the source of a broad range of issues in society, such as the interruption of a child brides' education, increased rates of suicide and increased incidences of infant deaths as well as the health complications often experienced by young women after giving birth.
According to Kuyucuoğlu, since it is still common in Turkey for some families to have their underage children married in merely religious ceremonies, the government should force religious officials to require that families also have a civil marriage.
"Experts should be assigned to educate families in regions where child marriages are common. The Education Ministry should introduce education in schools to educate children as well as their families [about the dangers of early marriage]," said Kuyucuoğlu.
Young girls are at risk for a number of complications during pregnancy and childbirth when they are still teenagers. These complications are the leading causes of death in adolescent girls. A child she bears at a young age is also at risk for complications during and after birth.
He also called on the government to consult with the opposition parties to introduce serious punishments that would actively deter people from arranging child marriages.
Kuyucuoğlu also pointed out another loophole in the law that could be exploited by those arranging child marriages. He noted that while there is a six-to-24-month prison sentence stipulated by the Turkish Penal Code (TCK) for those who have sexual relationships with children above the age of 15, Kuyucuoğlu pointed out that the victim must file a complaint for an investigation to be opened.
http://www.todayszaman.com/national_child-marriages-remain-major-problem-in-turkey_407929.html
------
Expat Women 'Can't Take Up Jobs Reserved For Saudi Females'
ARAB NEWS ---- Friday 25 December 2015
RIYADH: Expatriate women would not be allowed to take up jobs reserved for Saudi women at shops selling female products, according to Labor Minister Mofarrej Al-Haqbani.
Speaking at the sixth social dialogue in Riyadh, he said: "Foreign women workers will not be allowed to compete with Saudi women for jobs allocated to them. There is no turning back on this issue."
Several owners of stores selling women's clothing and accessories have called on the ministry to allow foreign women to take up positions in their businesses, arguing that Saudi women are reluctant to do so. They have claimed that many businesses have closed down for failing to meet feminization targets.
Al-Haqabani said the ministry was doing everything in its power to ensure that jobs are created for Saudis in the country. It is working closely with other ministries to achieve this goal, he said.
He was addressing the session on the importance of developing SMEs to create sustainable jobs, and eliminate cover-up business.
http://www.arabnews.com/saudi-arabia/news/855531
-----
Japan, South Korea Diplomats Meet Ahead Of Ministerial Talks On 'Comfort Women'
SEOUL | BY JACK KIM
Senior diplomats of South Korea and Japan met on Sunday ahead of talks by their foreign ministers over the issue of 'comfort women', a legacy of Japan's wartime past that has long plagued ties between the two countries.
The row over the Korean women forced into prostitution for Japan's military brothels during World War Two remains the last major obstacle to better ties between the East Asian neighbors.
The two countries have been pushing to improve relations since Japanese Prime Minister Shinzo Abe met President Park Geun-hye last month. That meeting took place partly under pressure from Washington, which is keen to see its two allies get along.
Kimihiro Ishikane, director-general of the Japanese foreign ministry's Asian and Oceanian Affairs Bureau, met with his South Korean counterpart Lee Sang-deok. The two officials have held more than 10 rounds of meetings since April last year to find a common ground on resolving the issue.
The meeting is seen as preparation for Japanese Foreign Minister Fumio Kishida's visit and meeting with South Korean Foreign Minister Yun Byung-se on Monday.
Yun said on Sunday Kishida's visit was very important in its timing coming after more than a year and a half of high-level talks aimed at resolving the comfort women issue.
Park and Abe pledged in November to seek "the earliest possible resolution" to the issue, noting that this was the 50th year of their diplomatic relations.
Japan has said there was no change to its stance that the matter of compensation was settled by a 1965 bilateral treaty.
However, the Nikkei business daily reported that Japan would propose creating a government-backed fund to help the former comfort women as part of a possible agreement.
Abe, like many conservative Japanese politicians, had in the past criticized a 1993 apology acknowledging the role of Japanese authorities in coercing the women. As prime minister, Abe has said he stands by the statement.
South Korea has demanded fresh steps by the Japanese government that it said should be acceptable by the surviving former comfort women and the public in general, without specifying what was needed.
Tokyo wants assurances any resolution to the feud that might be reached will be final, Japanese government sources have said.
Helping to set the stage for Kishida's visit, a South Korean court last week cleared a Japanese journalist of defaming Park. On Wednesday, its Constitutional Court also refused to review a complaint over the 1965 treaty.
(Editing by Jacqueline Wong)
http://www.reuters.com/article/us-japan-southkorea-comfortwomen-idUSKBN0UA04120151227
--------
An Ex-Muslim Tells Us What it really means To Be a Feminist
December 16
Sarah Haider
We all consider ourselves feminists, but what would you say when an ex-Muslim atheist feels that most of America has turned their back on her? David Rubin of Ora TV's Rubin Report recently interviewed activist, atheist, and feminist Sarah Haider about her experiences since leaving Islam, and the current state of the religion.
Sarah urges the true liberal feminist Americans to take a stand with her. "It is very important that it is liberals who stand up for this- because we are the compassionate ones- we're the ones that really are keeping the harm of the people in place. We are not thinking about anti-Muslim bigotry, that is something that is obviously at the forefront of our minds. We know that because that's why not we're saying anything about Islam. We're afraid of this harm. It is particularly those people that need to be speaking up, that need to be making this nuanced discussion."
Dave matches Sarah's pleas for the liberal masses to let their voices be heard. "If we don't speak up, we hand the future to the people on the right." Watch the clip below to learn more about why feminism was a huge part of Sarah leaving Islam.
Be sure to check out Dave's full length interview with Sarah to learn more about her thoughts on the current Islamic states and ISIS attacks in Paris.
What do you think about the role of feminism in religions like Islam?
http://thestir.cafemom.com/politics_views/193983/an_exmuslim_tells_us_what
------
Muslim Women In Colorado Springs And Nationwide Debate Safety Of Hijab Amid Backlash
By: RACHEL ZOLL The Associated Press
Published: December 27, 2015
Suehaila Amen, coordinator of International Admissions and Recruitment at the University of Michigan Dearborn is seen on campus, Thursday, Dec. 10, 2015 in Dearborn, Mich. Amid the high level of harassment, threats and vandalism directed at American Muslims and at mosques, Muslim women are intensely debating the duty and risks related to wearing their head-coverings as usual. (AP Photo/Tim Galloway)
On the night of the California mass shooting, Asifa Quraishi-Landes sat on her couch, her face in her hands, and thought about what was ahead for her and other Muslim women who wear a scarf or veil in public.
The covering, or hijab, often draws unwanted attention even in the best of times. But after the one-two punch of the Paris and San Bernardino attacks by Islamic militants, Quraishi-Landes wanted to send a message.
"To all my Muslim sisters who wear hijab," Quraishi-Landes, an Islamic law specialist at the University of Wisconsin, wrote on her Facebook page. "If you feel your life or safety is threatened in any way because of your dress, you have an Islamic allowance (darura/necessity) to adjust your clothing accordingly. Your life is more important than your dress."
Amid a reported spike in harassment, threats and vandalism directed at American Muslims and at mosques, Muslim women are debating the duty and risks related to wearing their head coverings.
"It's definitely weighing heavily on our minds. Not just with me, but among all of the Muslim women within our community," said Feda Elwazeir, a member of the Islamic Society of Colorado Springs. "For me the hijab represents my personal relationship with God, but when you're hit below the waist - twice, in a matter of weeks - it weighs on you so heavily that you start to question yourself and think, 'Do I take a different direction? What is my next step?'"
Sites for Muslim women have posted guidance on how to stay safe. Hosai Mojaddidi, co-founder of the educational group MentalHealth4Muslims, drew more than 4,000 likes for her Facebook post advising women to "pull out those hooded sweatshirts, beanies, hats and wraps for a while until the dust settles."
Muslimgirl.net posted a "Crisis Safety Manual for Muslim Women," with tips such as wearing a turban instead of a longer, more obviously religious scarf and carrying a rape whistle. Muslim women in several cities are organizing or taking self-defense classes. The ad for one such class in New York features a drawing of a covered woman in a karate stance.
"We're getting so many calls," said Rana Abdelhamid, 22, founder of the Women's Initiative for Self-Empowerment, which offers self-defense and empowerment classes in several cities for young Muslim and Jewish women who face harassment.
Abdelhamid said she had studied karate since childhood and started offering self-defense classes for women after a man tried to pull off her headscarf when she was 16.
"Even now when I think about that moment - I have a lot of anxiety moving through the streets to this day - especially with all of the hateful rhetoric because, I don't know, is it going to happen again?" she said.
A sensitive subject
The question of whether to wear the hijab is already deeply sensitive for Muslim women. Scholars have debated for years whether women have a religious obligation to dress a particular way. And Muslims disagree over whether the hijab is a symbol of piety or oppression.
Women who wear a scarf or veil say they have many motivations for doing so, including demonstrating devotion to their faith and showing pride in their religious heritage.
Their decision makes them among the more visible representatives of Islam, in a way that men with beards are not. Well before the latest uproar, it was common for American Muslim women wearing the hijab to be stared or cursed at, or have strangers tug at their scarves.
But the worries faced by today's Muslim women are on a new level, Elwazeir said.
"There's a fear that's been instilled in us in the last few weeks, the last month and a half. I've been genuinely afraid to leave the house. Lots of my friends have been harassed verbally," Elwazeir said. "After 9/11, we never felt this kind of harassment or retaliation or this threatened."
Many Muslim women say this is the exact moment when they need to make their presence known by wearing the hijab without any modification, as an act of defiance. For Elwazeir, dress is not a statement to the outside world so adjusting in response to current events - even in the name of safety - is a complicated emotional and spiritual proposition.
Wearing the hijab is "not about being a rebel or making a point to anyone. This is between a woman and God," she said. "It is heartbreaking and heart-wrenching for a Muslim woman to stand in the mirror and say, 'I'm walking out without my hijab today due to what's going on around us.'"
Women face harassment
Generally, Islamic law allows people who face persecution over their faith to alter their behavior or even "renounce faith itself" if necessary to survive, said Mohammad Fadel, an Islamic law specialist at the University of Toronto. Each person can determine what constitutes a credible threat.
Omar Suleiman, resident scholar at the Valley Ranch Islamic Center in Irving, Texas, posted a YouTube video this month underscoring that Muslims can take steps to protect themselves, such as wearing a hat instead of a hijab or not praying in public. But he cautioned against assuming there's a risk without examining the circumstances.
Suleiman said he posted the video in response to a Muslim woman he said came to him crying because she took off her veil for the first time out of concern for her safety and was worried God would punish her.
"I'm not going to judge anyone's individual standing," Suleiman said, but "you don't have to resort to completely abandoning your obligation."
The Council on American- Islamic Relations, the civil rights group that most closely tracks bias against Muslims, said it does not have a breakdown of harassment by gender. But "the vast majority" of cases of discrimination and harassment against Muslim women at work, in school and in the public in general are from women who wear the hijab, said Jenifer Wicks, the organization's litigation director.
Since the Paris attacks last month, a New York man was charged with spitting on and shouting anti-Muslim slurs at a woman wearing a hijab after she accidentally bumped him with a baby stroller; a New York pharmacist who wears a headscarf said a customer called her a terrorist and told her to get out of the country; and a San Diego State University student said a man ripped off her headscarf and began yelling racist slurs at her.
Recently, two young Muslim American women who wear headscarves went to an Austin, Texas, restaurant where a male customer harassed them and told them to go back to Saudi Arabia. They said when they asked other customers to help them, no one did, and the man was seated at a table even though the women alerted the host. The owner of the restaurant, Kerbey Lane Cafe, has apologized repeatedly to the women and the public.
Margari Hill, co-founder of The Muslim Anti-Racism Collaborative who lives in San Bernardino County near the site of this month's shootings, said it was important for bystanders to help stop any harassment they witness.
"Just standing there and looking, that's the worst thing that anybody who is being subject to harassment and violent threats can experience. You just feel so alone," Hill said.
Hill said she and most of her friends aren't changing anything about their daily lives.
Elwazeir, as well, has no plans to adjust how she wears hijab, but she understands why some Muslim women in the Springs area, and nationwide, have chosen to do so in recent weeks. "You could put on a hoodie or wear a hat for a while, but my personal reaction to that is where do you draw the fine line?" she said. "I have never questioned or thought, 'Let me take it off so I can blend in.' The most I've ever done is I wore hijab with a hood up over my head, but it was really cold. It's not going to be cold forever."
The Gazette's Stephanie Earls and The Associated Press' Wilson Ring contributed to this story.
http://gazette.com/muslim-women-in-colorado-springs-and-nationwide-debate-safety-of-hijab-amid-backlash/article/1566519
---------
Indian Home Ministry Asked To Increase Women in Delhi Police To 33 Per Cent
Delhi | Press Trust of India | December 27, 2015
NEW DELHI: A parliamentary panel has found that women personnel constitute only a little over 9 per cent of the Delhi Police force and asked the Home Ministry to ensure that their numbers are enhanced and reaches up to 33 per cent.
The department related parliamentary standing committee on Home Affairs said that the set objective of enhancing the representation of the women in Delhi Police to 33 per cent should be achieved within a time-frame.
"The committee notes that as on date, the representation of women in Delhi Police is 9.27 per cent only.
"However, on March 20, 2015, Government of India has approved reservation of 33 per cent for women horizontally and in each category (SC, ST, OBC and others) in direct recruitment in non-gazetted posts from constable to sub- inspector in the police forces of all Union Territories, including Delhi Police," the Committee observed.
The panel noted the steps taken by Delhi Police in the post December, 2012, Delhi gangrape phase to curb crimes against women, including instilling confidence in girls through various gender sensitisation programmes and propagating fear of the law among sexual offenders.
"However, the incidents of crimes against women have a disheartening trend, be it incident of recent murder case of Anand Parvat or alleged molestation of American citizen. The Committee, therefore, feels that there is a need for sensitisation programmes on behaviour towards women," it said.
The Standing Committee, meanwhile, also said that Delhi Police must ensure, through the education department of Delhi government, that all schools designate one teacher as road safety coordinator so that regular road safety programmes are organised for raising awareness among children in this regard.
http://www.ndtv.com/delhi-news/home-ministry-asked-to-increase-women-in-delhi-police-to-33-per-cent-1259359
------
'Benazir Rani, Haqoomat Rani'
MANESH KUMAR — 27 12 15
Thar is one of the most underdeveloped areas in the country, with the lowest Human Development Index. But its rich local culture and traditions are endearing.
The area is known for its quaint landscape, meticulous handicrafts, folklore and poetry, which are passed on from one generation to another. Thar's folk music includes songs and poetry about day-to-day life, and sometimes even revolves around the love between a happy couple. Geech (marriage songs) are frequently sung. Occasionally, geech goes beyond the ordinary.
A song for Benazir
One such example is the geech written for former assassinated prime minister Benazir Bhutto, which was sung by an anonymous poet, and since then has become extremely popular among village women in Thar.
The song titled "Benazir geech" is now sung enthusiastically by women in a local language called 'Dhatki' at marriage ceremonies and on other happy occasions.
Benazir Rani, Haqoomat Rani,
Benazir queen, the queen of power
In the song, the poor and uneducated women of Thar have presented Benazir as a queen and a role model for other women. She is also the only leader to have become a part of folklore in the recent history of Sindh.
When you examine the history of Sindhi folk music and geechs, you will find thousands of songs that are sung on numerous occasions. But you won't find the name of a single poet in history books — they are all unknown. This is the peculiarity of Sindhi folk songs.
Notwithstanding, I was eager to know who sung the geech for Benazir, but my efforts were futile. All the village women singing the song were completely oblivious of its origin.
"Who wrote this song?" I asked Mina Meghwar who, with her group, had just finished singing the Benazir geech at a wedding.
"I don't know," she replied. "I have learnt it by heart recently. I find it very beautiful so I decided to sing it today."
Like folktales, geechs have also been passed down through generations. But it is unclear as to how they originated because there is no written record for these songs in history.
I asked Mina what attracted her towards the song.
"It's definitely Benazir," she said. "She was a brave woman."
She told me that singing the 'Benazir geech' was a token of their love for the former premier. Her death had created a big void, and it was only fitting that they paid tributes to her through songs.
Handicraft designs in Benazir's memory
Thari women's tribute for Benazir does not end at the song. The village women have also created a new design of handmade embroidery in the memory of the former PM. The design boasts of small roses with beads and vibrantly coloured silk and cotton threads.
It did not take long for this design to become popular among women after its inception. These days, many to-be brides pick out dresses with 'Benazir designs' for their ceremonies. Surprisingly enough, the brainchild of 'Benazir designs' is also anonymous.
http://www.dawn.com/news/1228537/benazir-rani-haqoomat-rani
URL: https://newageislam.com/islam,-women-and-feminism/new-age-islam-news-bureau/heroic-nurse,-amirah-ismail,-saved-7-babies-from-blaze/d/105748
New Age Islam, Islam Online, Islamic Website, African Muslim News, Arab World News, South Asia News, Indian Muslim News, World Muslim News, Womens in Islam, Islamic Feminism, Arab Women, Womens In Arab, Islamphobia in America, Muslim Women in West, Islam Women and Feminism