New Age Islam News Bureau
10 March 2019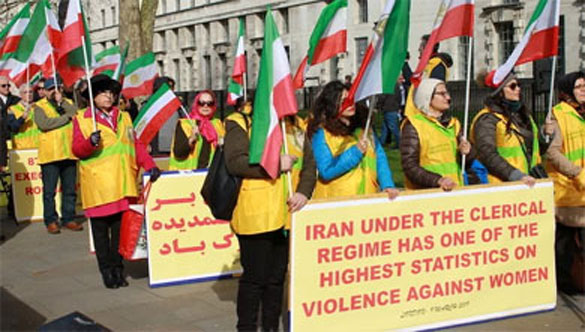 Hundreds took part in a rally on Saturday in support of Iranian women
-----
• Saudi Arabia Celebrates International Women's Day
• Iranian Communities in Britain Celebrate International Women's Day
• Now, Saudi Women Can Work As Flight Attendants
• Bupa Arabia's Day Care Saves Saudi Female Employees SR52,000
• Saudi Saleswomen in Bakeries And Sweet Stalls Lament Lack Of Support
• Thousands of Women March For Equality In Karachi, Pakistan
• Mujahid Shocked Women's Day March Was Used To Promote LGBT
• Lawyers Say Sudan Court Sentences Nine Women Protesters to Flogging
• Gulf Women Have Come a Long Way
• Regulations prohibit guardians from exploiting women under their care
• Woman Biker Dedicates Ride To Brave Pakistani Women
Compiled by New Age Islam News Bureau
URL: https://www.newageislam.com/islam-women-feminism/helping-abused-muslim-women-better/d/117980
--------
Helping Abused Muslim Women Better Than 'Cohabitation' With Corrupt People, PAS Told
10 March 2019
By Yiswaree Palansamy
KUALA LUMPUR, March 10 — PAS should take an interest in and support groups or initiatives that defend the rights of Muslim women instead of attacking them, Hannah Yeoh has said.
The deputy women, family and community development minister expressed her disappointment, after the Islamist party questioned the government's channelling of funds to Muslim NGO Sisters in Islam (SIS), which helps abused Muslim women fight for their rights.
In a Facebook posting, Yeoh said that PAS should rightfully take a keen interest in issues concerning mistreated Muslim women, adding that it is a far better deed than siding with corrupt people.
"As a federal deputy minister in charge of portfolio involving families, children and women, including Muslim women, the provision for those who take the initiative to do the work of defending the rights of Muslim women is very important. Defending the rights of all abused Muslim women and women is far superior than cohabitation with those who defend corruption," Yeoh said.
"Telenisa is a legal aid clinic run by SIS since 2003. They have done advisory work regarding Islamic Family Laws and Shariah Criminal Offences Laws to Muslim women, and those who need it, and they do it for free.
"To date, more than 8,400 women and men have benefitted from Telenisa," she said.
The DAP lawmaker was responding to a statement by PAS deputy president Datuk Tuan Ibrahim Tuan Man who lamented government funding for SIS, after the government announced a RM30,000 allocation for the NGO.
Tuan Ibrahim had remarked that it was unfair to allocate funding for SIS, which he labelled as "controversial" and one that causes "polemic" among Muslims.
PAS organ Harakah Daily quoted him reportedly as saying that any movements that contradict the country's policies, such as human rights bodies, including the Malaysian Human Rights Commission (Suhakam), must instead be reviewed.
However, Yeoh defended the move, saying that the money from the deputy minister's allocation was to support those who compile data and statistics which can aid in planning and intervention work that addresses the country's social issues.
She said SIS had also compiled a 2019 Telenisa Statistics Book which collected details of divorce cases involving Muslim women, as well as cases of women and children who are faced with financial issues owing to failed marriages.
"Only a truly caring government will give importance to data and statistics to solve issues.
"As a party which claims to fight for the right of Muslim women, PAS should be more objective and attentive to statistics and findings from Telenisa.
"Muslim women, or non-Muslim, they are both faced with abuse and must be defended by all, and it is my responsibility and desire to help to the best of my ability," Yeoh added.
https://www.malaymail.com/news/malaysia/2019/03/10/helping-abused-muslim-women-better-than-cohabitation-with-corrupt-people-pa/1731028
--------
Saudi Arabia Celebrates International Women's Day
9 March, 2019
Many government agencies and private sector institutions in Saudi Arabia celebrated International Women's Day in numerous events, while government and private websites witnessed a review of the successes and achievements of Saudi women in the country.
In this context, the "Trust" initiative was launched in Jeddah, during which four Saudi women recounted their success stories in the field of entrepreneurship and self-development. .
The initiative aims at empowering women to enter the Saudi labor market and activate their role in society under the Kingdom's Vision 2030.
With the support of the Saudi Federation for Community Sports, a number of women's sports competitions were organized from March 1-6. An exhibition was also held at King Saud University to highlight achievements by Saudi women at all levels. The event featured dialogue sessions with the participation of leading female Saudi figures.
The Riyadh Chamber will mark International Women's Day in a forum on women's empowerment on Saturday. The forum will highlight the role of Saudi women in various fields of work and their active participation in the development process.
While King Saud University organized a marathon as part of the promotion of Saudi women's presence and empowerment in sport, Saudi Aramco celebrated International Women's Day within the company's quest to include and empower women in various positions and to create a better gender balance.
The Public Prosecution participated in International Women's Day through its Twitter platform, where it said that women occupy key positions as the number of female prosecutors is 200. The Public Prosecution also touched on the women's legal rights of protection from any kind of violence, abuse and harassment.
Taif University, west of the Kingdom, is organizing a forum entitled "Saudi Women ... Ambitions and Achievements under the Kingdom's Vision 2030". The forum is held under the patronage of Dr. Hossam bin Abdul Wahab Zaman, Rector of the University.
https://aawsat.com/english/home/article/1626006/saudi-arabia-celebrates-international-women%E2%80%99s-day
--------
Iranian Communities in Britain Celebrate International Women's Day
March 10, 2019
LONDON: Hundreds took part in a rally on Saturday in support of Iranian women, who are at the forefront of the ongoing popular protests and strikes against the regime across the country.
Members of the Anglo-Iranian Communities and supporters of the National Council of Resistance of Iran (NCRI) organized a rally outside Number 10 Downing Street in London to mark International Women's Day.
Highlighting the decisive role of women in Iran protests, they called on the UK government to support the democratic aspiration of the Iranian people.
Representatives of different Anglo-Iranian associations addressed the rally and highlighted the significant role that women have played in Iran's freedom movement for more than 100 years.
Speakers condemned the regime's systematic suppression and discrimination against women in Iran that has reduced women and girls to second class citizens.
Speakers also called on the UK government to proscribe the Revolutionary Guard Corps (IRGC) and the regime's Intelligence Ministry (MOIS) in their entirety as terrorist organizations "because they are the main repressive forces behind the intensified domestic repression and recent surge in terrorist plots and espionage against Iranian dissidents, activists and NCRI, outside Iran," the NCRI said.
"I support the cause of human rights and democracy in Iran. The appalling situation of women in Iran is why we need reforms and change. So I am here to support your just demands for justice, democracy and freedom," said Theresa Villiers, Conservative MP for Chipping Barnet and former secretary of state for Northern Ireland.
"We stand here today on International Women's Day to honor Iran's strong, committed, courageous women in Iran. To the brave women of Iran, who have to endure revolutionary guards harassment, we support you and stand beside you in the struggle for human rights, equality and justice. We salute you, we are with you," Dr. Jocelynne Scutt, former judge, jurist and university professor at Buckingham university.
Meanwhile, Roger Lyons, former president of TUC said: "We strongly support the protests by many sectors of the Iranian society. I am proud that TUC has supported the demands of Iranian workers. I am here to fully support the democratic aspirations of the Iranian people, especially women, led by the NCRI and its president-elect Maraym Rajavi."
In February alone, more than 248 protests in 71 cities and towns were reported from Iran, which is an average of nine protests per day. Teachers, including many women, took part in 13 rallies in February and a nationwide sit-in strike in at least 31 cities in March.
The regime has responded by labelling defense of women's rights a crime and considers women's rights activists as "enemies of the state". "87 women have been executed since the so-called"moderate" President Hassan Rouhani took over the presidency in Iran," the NCRI said.
In December 2018, the NCRI's Women's Committee revealed that "only last year, nearly one thousand women were arrested and detained in prisons for their involvement in anti-government protests".
Members of various professions have staged numerous nationwide strikes across the country, including workers, teachers, nurses, students, farmers, retirees, defrauded investors, and families of prisoners.
The Islamic Republic is suffering form extreme poverty, water shortages, environmental decimation, a severe health crisis, 40% inflation, 50% deficit and 40% unemployment.
"So long as the clerical regime is in power, none of these ills will be resolved. The ruling (regime) will become ever more dependent on their devastating policies, namely the suppression of Iranian society, warmongering and destructive meddling in the region, money laundering, terrorism in Europe and the United States, and plundering the assets of the people of Iran," said NCRI president-elect Rajavi.
Speaking via video link on Friday during an opposition rally in Washington, Rajavi said the international community is "duty-bound to respect the struggle of the Iranian people to overthrow the clerical regime. This is essential for global peace and security.
"It is time for the State Department to designate the Revolutionary Guards (IRGC) and the Ministry of Intelligence as Foreign Terrorist Organizations (FTO). Doing so would be a positive message to the Iranian people and a decisive message against the clerical regime," she added.
The NCRI said in a further assault on human rights in the country, Iran's Supreme Leader Ali Khamenei appointed Ebrahim Raisi as the head of the regime's judiciary.
The NCRI said Raisi is one of the regime's officials responsible for the massacre of 30,000 political prisoners in 1988, including pregnant women and girls as young as 15-year-old.
"I join you in condemning the appointment of Raisi and urging the UK government to take the lead and to work with allies at the UN to ask relevant bodies to order an investigation and bring the regime's officials like Raisi to justice for crimes against humanity," said Malcolm Fowler, senior solicitor and former member of the Human Rights Committee of the Law Society of England and Wales.
http://www.arabnews.com/node/1464311/world
--------
Now, Saudi Women Can Work As Flight Attendants
March 9, 2019
It did not take long for Saudis to get used to female cashiers at local supermarkets in 2010 - nor did it take much time to get used to saleswomen explaining the differences among vacuum cleaners, mobile phones, cameras and a variety of electronics from tablets to cameras a couple of year later. Then came women behind the wheel in 2018.
Next, Saudi women working at 30,000 feet to ensure the safety and comfort of airline passengers as cabin crew.
Flynas and flyadeal, two Saudi private national carriers, have shattered the big blue ceiling, graduating recently their first class of female Saudi flight attendants and putting them on their initial flights earlier this year, a statement issued on Saturday said.
Doors to careers in aviation are opening across the sector, but it is flynas and flyadeal that have largely taken the lead in attracting Saudi women to the privatised wild blue yonder. With aviation earmarked as a main component in the campaign for economic diversification, privatisation and increased employment of women, flynas has taken the initiative to pursue those goals through the establishment of its "Future Pilots" and "Flight Attendants" programmes, both of which proactively encourage the participation of women. Until now, passengers on Saudi airlines were attended to by foreigners.
Flyadeal, which had begun posting jobs for Saudi women to work as flight attendants in the second half of last year, graduated its first cadre of female Saudi flight attendants earlier this year, and they have started working soon afterwards.
'Until now, passengers on Saudi airlines were attended to by foreigners.'
"Saudi women are as competent as their male counterparts when it comes to working as flight attendants and ensuring the safety and comfort of travelers," said Mashael Muteb, flynas' first female Saudi flight attendant who actually trained as a dentist before entering flynas' flight attendants program.
Mesha'el, who has a degree in dentistry and public health and no background in aviation, adds: "My love for flying and aviation rose when my sister graduated from flight school and there were no jobs for her in this field in Saudi at the time. And I continued studying health as there were no aviation tracks or courses offered at universities in Saudi yet. But that all changed last September, on hearing FlyNas announcement of introducing more jobs in aviation for women.''
Her first experience of flying as a flight attendant was on the FlyNas Airbus A320. She recalls her first time as a flight attendant in the skies and was shocked at how taxing at times it was to deal with difficult passengers.
"One mother was upset with me because I noticed her toddler running around, in the aisle and as I attended to the child, she was furious that I was taking care of her own child, but this was an opening eye experience on dealing with different personalities and aside from hospitality on board the aircraft I was quite pleased with our performance and how we were all ready as new cabin crew on so many fronts.''
There does not seem to be much dispute about the abilities of Saudi women to play valuable roles in aviation. According to flynas, some 300 women and men are expected to attend its flight attendants' programme over the next two years, and the airline expects to begin employing Saudi female co-pilots in the near future.
It was in January of 2018 that Dr. Eqbal Darandari, an assistant professor of psychology at King Saud University in Riyadh and one of the first female members of the consultative Shoura Council, called for the General Authority of Civil Aviation (GACA) and Saudi airline companies to support employing Saudi women as pilots, co-pilots and flight attendants.
Empowering Saudi women in business and integrating them into a predominantly male job market is a substantial part of fulfilling the Kingdom's Vision 2030, which also intends to increase women's participation in the workforce from 22 per cent to 30 per cent by the end of the next decade. As for the Saudi aviation industry, Dr. Darandari's call for inclusion has, indeed, been heeded.
A recent meeting, part of a "Let's Talk Aviation" campaign organised by flynas in conjunction with Prince Sultan University, attracted women from across the industry.
Raghda Al Sulaimani, Corporate Communications Manager at the small Saudi airline, Nesma, began her professional life as a copywriter before receiving a job offer from the airline. The airline's parent company, Nesma Holding, has a strong reputation for being proactive in employing women and meeting the government's Saudization requirements.
The Kingdom is becoming increasingly clear that female Saudis harbour the same kinds of dreams that infuse the lives of young Saudi males. Esraa Alem, 31, Communication Representative at the Saudi Ground Services Company (SGSC), revealed her path to aviation that is not dissimilar to many around the world who have chosen aviation as a career. ''I got into aviation because my father used to work for Saudia Airlines," she said. "It was always my dream to work in aviation. Now, I have a master's degree in communications, and I'm proud to say that I am among the very first batch of Saudi women to join the staff at SGSC.''
And it is not just the private sector that is opening its doors to women. The Kingdom's General Authority for Civil Aviation (GACA) hired Maha Al Yamani, a specialist in risk management, as its first female employee. Al Yamani told those gathered at the "Let's Talk Aviation" gathering that there is an abundance of positions in the aviation sector for Saudi females and in light of the recent doubling of the number of Saudi women working in the field, the future looks bright.
''We have a couple of aviation schools up-and-running," she said. "Some schools train pilots, some schools train maintenance staff and there are other schools like Prince Sultan University that teach the management side of aviation. In 2015, I was the very first lady to join the civil aviation authority. Since then, we have brought 170 women into the authority itself. Meanwhile, in the private sector women have already been working, whether on the ground or in the air. I mean, it may sound silly, but the sky's the limit for us. First, the dream was to get a job, any job, in any field, including aviation. I got the job in aviation and then I got promoted and now I am a director. Who knows what's next? I, for one, am open to any opportunity. We'll see what we can do.''
A series of reforms in the Kingdom over the past two years has focused largely on empowering women. Notable among these reforms was a Royal Decree issued in September 2017 by King Salman lifting the ban on women driving as of last June 24, 2018. The Saudi Vision 2030 roadmap for the future also mandates an increase in the percentage of women in the workforce. Recently, Saudi women broke down the gender barriers at the Ministry of Justice, as dozens of Saudi women started their new jobs in November at the ministry, marking the latest move in the empowerment of women in the public sector.
Flynas CEO Bandar Al Mohanna announced two new initiatives by the company to empower women in the aviation sector, through enabling them to work in the maintenance department, and allowing married couples to work together within shared roles that suit their work schedules.
https://www.khaleejtimes.com/region/saudi-arabia/another-historic-announcement-for-saudi-women
--------
Bupa Arabia's Day Care Saves Saudi Female Employees SR52,000
2019-03-09
RIYADH — Bupa Arabia designed a day care in accordance with the international standards for its working mothers who have kids from 3 months to 2 years of age and it has helped in these mothers working in an environment that was conducive, while also helping to save money spent of private nurseries, in addition to increasing productivity.
The National Transformation Initiative 2020 has succeeded in supporting and empowering Saudi women and increasing their participation in the labor market locally by providing nurseries for working mothers within the workplace.
Some of the private sector companies were more dynamic than others as many of them have contributed towards establishing nurseries within the working environment. These nurseries cater to kids from 3 months to 2 years of age. Such contribution has helped save SR52,000 spent on private nurseries.
According to the International Labor Organization (ILO), availability of nurseries for female employees at the workplace has played a vital role in increasing their productivity, improving their job performance, and alleviating the challenges they face, especially when their monthly salary does not cover day care expenses.
In October of 2017, the Ministry of Labor and Social Development issued a ministerial resolution under Section 9 of the Labor Code for the Employment of Women, in which the employer is obliged to provide a suitable place and care takers if there are 50 female employees and at least 10 children.
Tariq Al-Amoudi, chief HR officer at Bupa Arabia, said that the idea of workplace day care centers has been applied at Bupa Arabia in 2011 — 6 years before the ministerial decision, as we strongly believe in empowering women and providing care for the children of working mothers.
"We are delighted that Bupa Arabia supports the country's plans to empower working women by setting up children day care, which is in line with the Saudi Vision 2030 and the National Transformation Program 2020," he further added.
Moreover, he has confirmed that Bupa Arabia designed its day care based on international standards, without charging any fees or additional cost. Al-Amoudi also highlighted the fact that only a few companies are providing such suitable and convenient environment, which can strengthen the working
According to Al-Amoudi, Bupa Arabia has succeeded in providing an intelligent model to support its working mothers through Saudi women, who have had prior experience of working with children and teaching positive behaviours.
Therefore, it is essential for them to have advanced certificates in Montessori Education, an approved certificate by the Ministry of Education, first aid license, cardiopulmonary resuscitation methods from one of the approved health sectors, and a health certificate that she is free from any infectious diseases in addition to training in the development of children and infants, and a training certificate in Environmental Health and Safety.
Al-Amoudi talked about the philosophy for the day care, which is based on the approach of teaching 15-months old children the exploration and independence as it leads to a better social integration. Moreover, there are specifically designed programs to cater to the needs of those children who are under 3 years of age. The staff to children ratio at the center is accordance with the international standards, which means that each specialist corresponds to 4 children.
Various new and innovative aspects are also integrated in the day care design such as a monitoring system to protect children from harm and abuse and the evacuation chairs during emergencies - one such chair can carry 4-6 children and can as well slide down stairs.
In addition, there is a control system to enter the day care, which allows access only to the mothers and the concerned employees. One of the most important features of the nursey is a medical center, which is supervised by the paediatricians round the clock. — SG
http://saudigazette.com.sa/article/560799/BUSINESS/Bupa-Arabias-day-care-saves-Saudi-female-employees-SR52000
--------
Saudi Saleswomen in Bakeries And Sweet Stalls Lament Lack Of Support
2019-03-09
JEDDAH — A number of Saudi saleswomen working in bakeries and sweet shops are complaining about many difficulties at the work place including long hours, working without weekend holidays and the absence of support services.
The women started their jobs in bakeries around the Kingdom about two months ago when the decision of the Ministry of Labor and Social Development to nationalize the sector became effective.
Samer Ahmed said she and her other colleagues were bothered by the lack of support services that would enable them do their jobs properly in this vital sector.
«We should be provided with special prayer places and rest rooms,» she said, adding that the place where they should spend their break time only has a prayer rug, some chairs and a table.
Abeer Bandar said they needed special toilet facilities. They often have to leave the work place to go for prayer in nearby mosques, she added.
«When customers see us going out, they start harassing us. We should have our own place for prayer so that we don›t need to go out of the shops,» she said.
Najwa Abdullah said the saleswomen take rest squatting under near the cash counters, which is embarrassing for them.
Badria Munzir said they often had to work two shifts without any weekly off.
Quoting statistics, she said citing these difficulties about 20 percent of the saleswomen quit their jobs in less than two months.
Raja Al-Qahtani, a sociologist, agreed. She sympathized with the demands of the saleswomen saying, «The lack of rest rooms and the continuous work in two shifts without any weekly off are factors that reduce job satisfaction and are also strong reasons for the women to quit their jobs.»
She asked the shop owners and the Ministry of Labor to provide the women with all the facilities and incentives that would enable them to continue in their jobs. Ismail Hamoudah, a member of the committee on bakeries at the Jeddah Chamber of Commerce and Industry (JCCI), strongly supported the demands of the saleswomen and said they should be provided with rest rooms, toilets and special places to perform their prayers.
He said erring shop owners should be punished according to the rules and regulations governing women›s work.
Hisham Linjawi, a member of the human resources committee at the JCCI, blamed the saleswomen for not officially complaining to the concerned authorities to improve their working conditions.
«The women›s silence about their suffering will encourage the owners of the bakeries and sweet shops to continue denying them their rights,» he said.
http://www.saudigazette.com.sa/article/560823
--------
Thousands of Women March For Equality In Karachi, Pakistan
March 09, 2019
By Falah Gulzar
Dubai: Women in Pakistan are breaking stereotypes, and what better day to do it than on International Women's Day. On March 8, women gathered in thousands at Karachi's Frere Hall, to make a bold statement - it was time to claim public spaces. The #AuratMarch or women's march was held for advocating for equality and spreading awareness about gender issues.
However, women were not the only participants, men and transgenders belonging from different economic, social, ethnic and religious backgrounds attended the iconic event. A march led by women was the highlight of festivities that also included speeches, recitals, music and dance performances.
Social media users applauded the participants and the change they are calling for. Many of the women asked for safer conditions in the country.
Twitter user, @pakistanned posted: "I went to the aurat march and it was so amazing, I can't stop smiling and I feel a little safer in this country knowing that so many openly advocate for diversity and empowerment…"
Whereas, @NayaDaurPhotos, shared an image and wrote: "This woman asked her husband to wait while she read the #AuratMarch manifesto."
Tweep, @curlistani, emphasised the importance of such events: "Because I'm tired of being afraid, tired of being stared at, groped, stalked, tired of hearing about child sexual abuse, tired of hearing about women being murdered for choosing whom to love. I'm tired of all the definitions of womanhood that limit us #WhyIMarch #AuratMarch."
However, there were some who seem to hold on to the conservative norms Pakistani society.
And, some others who felt such a march is unnecassary. Tweep @Specterational posted: "#AuratMarch is just an attention seeking agenda. We already get enough attention by playing the woman card. Do we still need to run for rights? Stand in the que same as men in the scorching heat and I bet all men will march with you."
To those who criticised the march, Twitter user @ManalFaheemKhan said: "One person does not represent an entire movement. If you see one feminist behaving inappropriately, that doesn't mean that the #AuratMarch is flawed or deserves to be boycotted. Think of what this march is trying to accomplish. It's bigger than you and your individual differences."
https://gulfnews.com/world/asia/pakistan/thousands-of-women-march-for-equality-in-karachi-pakistan-1.62556272
--------
Mujahid shocked Women's Day march was used to promote LGBT
09 March 2019
By Ida Lim
KUALA LUMPUR, March 9 — A minister today reaffirmed that the government does not accept the lesbian, gay, bisexual and transgender (LGBT) community's practices here, following a march where the community's rights were one of the issues featured.
Datuk Seri Mujahid Yusof Rawa, the minister in the Prime Minister's Department in charge of religion, was commenting on the march today by civil society organisations in Kuala Lumpur in conjunction with International Women's Day.
"I am very shocked with the actions of certain quarters today that misused democratic space to defend things that are wrong in the religion of Islam," he said in a brief statement posted on his official Facebook account, without directly pinpointing what he was referring to.
Mujahid then went on to speak about LGBT practices.
"As I have said before this, the government is very firm that LGBT practices will not be accepted at all in this country. How is it possible that we recognise an act that is wrong in law?
"Prime Minister Tun Dr Mahathir Mohamad has also stressed about this matter," he added.
"In relation to this morning's gathering, I leave it to the Home Ministry that has the legal powers to act and take firm action," he said.
In his Facebook post, Mujahid included a link to a news report by local daily Berita Harian, which quoted Dang Wangi district police chief Asst Comm Shaharuddin Abdullah as saying that no permit was issued for the march as the organisers gave less than 10 days' of advance notice.
Shaharuddin was reported saying that the police will investigate the organisers under Section 9 of the Peaceful Assembly Act 2012.
Following the repeal of Section 27 of the Police Act and the introduction of the Peaceful Assembly Act, organisers of peaceful assemblies no longer need to obtain a police permit, but have to give advance notice of 10 days of the gathering to the police.
Hundreds reportedly showed up for the almost one kilometre-long march today from the Sogo shopping mall to the historic Sultan Abdul Samad building.
The march, which was aimed at pushing for the protection of the rights of women and minorities, went beyond the championing of issues such as the defence of the LGBT community's rights.
The five official demands of the march are for the end of violence based on gender and sexual orientation; child marriages; the protection of the rights and freedom of women to make choices over their own body and lives; a minimum wage of RM1,800; and the destruction of patriarchy.
The march included participation from groups such as the Women's Aid Organisation (WAO), Sisters in Islam (SIS) and political party Parti Sosialis Malaysia (PSM).
https://www.malaymail.com/news/malaysia/2019/03/09/mujahid-shocked-womens-day-march-was-used-to-promote-lgbt/1730905
--------
Lawyers Say Sudan Court Sentences Nine Women Protesters to Flogging
10 March 2019
A Sudanese emergency court on Saturday sentenced nine women protesters to 20 lashes each for participating in an unauthorized demonstration against President Omar al-Bashir's rule, defense lawyers said.
The ruling by the Khartoum court came despite Bashir on Friday ordering the release of all female detainees held during nationwide demonstrations that have rocked the country since December.
The authorities have set up special emergency courts to investigate violations of a nationwide state of emergency imposed by Bashir on February 22 to end the demonstrations after an initial crackdown failed to suppress the protest movement.
The nine women protesters were taken to court after they were arrested on Thursday for participating in a "banned demonstration" earlier that day in the capital's eastern district of Burri, a site of regular protests.
"Nine women protesters have been sentenced to one month jail and 20 lashes," defence lawyer Enaam Atieg told AFP. "They have been taken to women's prison in Omdurman," she said, referring to the twin city of the capital across the Nile.
Atieg said an appeal against the court's verdict will be filed on Sunday. A lawyers' group that is part of the protest movement also confirmed the sentencing.
"Following pressure from their lawyers the court has still not implemented the floggings," the Democratic Lawyers Alliance said in a statement. Saturday's ruling was not the first against protesters since special emergency courts were established.
Eight men accused of participating in a rally were handed jail terms ranging from six months to five years on March 1 in the first such penalties by the special courts. An emergency appeals court on Thursday overturned that decision and freed the eight protesters.
On Friday, Bashir ordered the release of all women detainees held during the demonstrations since they erupted last year, in a move that coincided with International Women's Day.
Protests initially broke out in Sudan on December 19 following a government decision to triple the price of bread. They quickly mushroomed into nationwide demonstrations against Bashir's three-decade rule, with crowds calling on the veteran leader to step down.
Bashir himself has acknowledged that the protests were led by youths, the majority of them women. Officials say 31 people have died in protest related violence so far, while Human Rights Watch has put the death toll at least 51.
https://english.alarabiya.net/en/News/north-africa/2019/03/10/Lawyers-say-Sudan-court-sentences-nine-women-protesters-to-flogging.html
--------
Gulf Women Have Come a Long Way
by Saadia Mufarreh
8 Mar 2019
Over the past few years, the topic of women's rights in the Gulf has attracted much attention in the region and beyond. It has become a favourite subject of public forums, conferences, academic scholarship and the local and international press.
Even those who are most concerned about women's rights in the Gulf and the Arabian Peninsula cannot deny the fact that much progress has been made in the area over the past two decades. The movement for women's rights, which has been joined by men as well, has sought relentlessly to empower women and to secure the same opportunities in education, work and other aspects of public life afforded to men in the region.
Although empowerment has been achieved at different levels in Gulf countries, given the difference in local political and social circumstances, there are a number of remarkable achievements that have to be highlighted.
Education, work, and wealth
Education was the key that opened the door to women's participation in public life. The first girls' schools in the region were established in Bahrain and Kuwait in the 1920s. By the 1950s, educational institutions for girls had been founded across the region.
Education slowly started changing traditional perceptions of gender roles and women's position in society. In the following decades, women secured not only the right to higher education but also the opportunity to pursue studies abroad, eventually supported by government scholarships.
Although the Gulf was relatively late in introducing women's education compared with the rest of the Arab world, over the past 60 years it has not only managed to catch up with other Arab countries, but has even overtaken them.
The region now boasts the highest education rates for women in the Arab world. Gulf women are also more educated than Gulf men. In Qatar, for example, 54 percent of university-age women are enrolled, compared with just 28 percent of men; in Bahrain and Kuwait, women also outnumber men in institutions of higher education.
Gulf women also enjoy higher labour participation rates than women in other Arab countries, with Kuwait, the UAE and Qatar leading in this statistic. Growing access to work and business opportunities for women has also increased their personal wealth. According to a 2012 report, enterprises managed by Gulf women hold assets worth $358bn. Last year, two Saudi women made it to the Forbes' most powerful women ranking: Lubna Olayan and Rania Nashar.
Political opening for women
Being increasingly more educated and active in the labour force, Gulf women have also sought political empowerment. Their attainment of political rights has not lagged too far behind men's given the constricted political space in the region. In the early 2000s, Gulf countries finally started allowing women to pursue and occupy political posts (in some instances, these rights were given at the same time as men).
In 2002, Bahraini women were given the right to vote and run in elections for the first time; four years later Lateefa al-Gaood became the first Bahraini woman elected to parliament.
In 2005, Kuwait also allowed women to vote and stand for election. Four years later, four Kuwaiti women were elected to the parliament: Massouma al-Mubarak, Salwa al-Jassar, Aseel al-Awadhi and Rola Dashti.
In 2003, the Gulf also witnessed the appointment of its first women ministers. In March of that year, Sheikha Aisha bint Khalfan took charge of the National Authority for Industrial Craftsmanship in Oman and in May, Sheikha Ahmed al-Mahmoud became Qatar's education minister.
Now, a decade and a half after this modest political opening, there have been more steps made forward and a few backward. The speaker of parliament in Bahrain and the vice chairperson of the state council in Oman are both women (Fawzia Abdulla Yusuf Zainal and Suad al-Lawati respectively).
The UAE and Saudi Arabia have also started to give opportunities to women to occupy important government posts. In 2013, the late King Abdullah appointed 30 women to the Shura Council and last year King Salman entrusted the post of deputy minister of labour and social development to Tamader bint Yousif al-Rammah. In the UAE, Amal Abdullah al-Qubaisi became the first woman to hold the post of speaker of the Federal National Council in 2018.
The struggle continues
There are still many challenges ahead. Some achievements in the political arena, especially in Bahrain and Kuwait, have been rolled back. Women face a lack of social and financial support that makes it difficult for them to run for office. Various levels of political repression across Gulf states have also affected women and women's rights activists. And despite appointments to official positions, political decision-making largely remains in the hands of men.
Large sections of the Gulf societies are still dominated by views that reduce the importance of women's participation in the public sphere. These are very much reflected in various provisions of family and personal status laws, which can restrict certain social and economic activities of women and put them at a legal disadvantage to men, with Saudi Arabia still retaining a strict guardianship law.
Although Bahrain (2006), the UAE (2008), Qatar (2010) and recently Kuwait (2018) allowed women to become judges, the judiciary and the interpretation of the law is still very much dominated by men.
Despite these major challenges, it has to be recognised my generation witnessed the transformation from "ground zero" to the impressive level of public participation Gulf women enjoy today. The struggle of the next generation will indeed be difficult and change will be slow, but they will be aided along the way by the established consensus in the Gulf that women's socioeconomic empowerment has to be part of any comprehensive development strategy and any "future vision" plans.
Policies on women's participation are no longer just a bunch of nice words that grace reports of international organisations; they are real and tangible despite all the remaining political and social barriers. Indeed, the difficulties that were surmounted to get us where we are today are considerably bigger than the ones that lie ahead.
Saadia Mufarreh is a Kuwaiti writer, journalist and poet.
https://www.aljazeera.com/indepth/opinion/gulf-women-long-190308131344342.html
--------
Regulations prohibit guardians from exploiting women under their care
2019-03-09
Riyadh — The Criminal Procedure Regulations prohibit guardians from exploiting or from any form of psychological, physical, and sexual mistreatment or threats against women related to them or under their guardianship or care.
The Public Prosecution said in a report issued on the occasion of the International Women's Day that a guardian's failure or negligence to fulfill his duties or commitments to provide basic needs to his family members or those under his care by regulation will be considered as mistreatment.
Various Articles of the Criminal Procedure Regulations also protect women's privacy during security inspections and uphold their legal rights, the Public Prosecution said.
A woman suspected of a crime is checked only by a woman deputized by the Criminal Investigations Department (CID).
If a woman is residing in a house which is to be inspected then those in charge of inspection should have a woman officer with them.
Article 54 the Criminal Procedure Regulations ensure that women living in the residence which is to be inspected should be allowed to wear their hijabs.
There are 200 female employees and 300 administrative staff working at the Public Prosecution. There are 150 female university students undergoing training at the Public Prosecution.
As per Article 12 of the Criminal Procedure Regulations, confidentiality of juveniles and girls are maintained during investigations.
Article 36 stipulates that a woman can only be questioned in the presence of her unmarriageable relative (maharam). If this is not possible, then khulwa (illicit seclusion) is forbidden.
The regulations for protection of women from harassment stress that women should be protected from any kind of harassment, violence or insult.
It also guarantees protection of working women against harassment.
http://saudigazette.com.sa/article/560828/SAUDI-ARABIA/Regulations-prohibit-guardians-from-exploiting-women-under-their-care
--------
Woman Biker Dedicates Ride To Brave Pakistani Women
March 09, 2019
Sana Jamal
Islamabad: Pakistani female biker, Guliafshan Tariq, is on a solo motorbike ride with a mission. "This ride is dedicated to Pakistan and its strong women, especially rural women who are the real face of women empowerment," Tariq told Gulf News before embarking on the tour from Islamabad.
The 26-year-old biker aims to travel across Punjab province to be the voice of Pakistan's remarkable yet unheard women who are backbone of the country's agri-economy. "During the bike ride, I will share not only the beauty of the Punjab region but the voices of countryside women whose incredible contribution to economy and society remains unknown and unseen." She will be chronicling the trip on her social media pages.
Sporting a black jacket with gloves and helmet on, Tariq started the ride on March 8 from Islamabad city. "This ride is dedicated to both Pakistan and Pakistani women. This is why I set out on International Women's Day (March 8) to pay tribute to all women and would conclude on Pakistan Day (March 23) which is a special day for all Pakistanis".
The ride will take about 16 days during which she will cover almost 1,500km, riding across eight major cities of Punjab including Lahore, Multan, Bahawalpur, Rahim Yar Khan, Sadiqabad as well as several towns and villages.
Tariq holds three national records including a 2015 cycling journey from Islamabad to Khunjerab Pass, the world's highest border crossing at 16,000 feet. At the age of 24, she entered the National Book of Records by becoming only woman to have travelled to every district of Khyber Pakhtunkhwa (KP) and Gilgit Baltistan (GB) alone on a motorbike covering 3,000km in 20 days. The adventurist also successfully attempted solo paragliding flight in Qaqlasht Plains from height of 7,800 feet in 2017.
The Pakistani biker who hails from Sargodha, Punjab province, is a software engineer by profession and a biker by passion. Tariq draws inspiration from her father's travels over the world, which enthused her to travel alone. Although her family was a little reluctant at first about her riding alone "but now they are fully supportive", she said smilingly looking at her brother who accompanied her at the starting point for the ride in Islamabad.
Talking to Gulf News, she recalled that one of the highlights of her bike trips was meeting people along the way. When she rode across KP province alone, many locals mistook her for a foreigner. "It was probably because of my bike and outfit, otherwise women do ride bikes in Pakistan," she explained. "But when I talked to them in Urdu, they were extremely welcoming. They made my trip memorable." But what made her excursions remarkable was meeting the women in rural areas. "These passionate and dedicated women are the real image and spirit of Pakistan. This is why I want to show the world."
To share the stories of women empowerment from Pakistan, Tariq is all set for the international journey. "Later this year, I have plans to ride a bike from Pakistan to Germany via Iran and Turkey. I want to take the message of peace and women empowerment from Pakistan to global level."
P.S. There's a Dubai connection, too; she was seen on the beach at JBR soaking in the sun not too long ago.
Guliafshan Tariq holds 3 national records
1. Cycling trip from Islamabad to Khunjerab Pass, world's highest border crossing.
2. Only woman to ride a bike alone across every district of Khyber Pakhtunkhwa and Gilgit Baltistan covering 3,000km in 20 days.
3. First Pakistan girl to paraglide from above 7,800 feet.
https://gulfnews.com/world/asia/pakistan/woman-biker-dedicates-ride-to-brave-pakistani-women-1.62554691
--------
URL: https://www.newageislam.com/islam-women-feminism/helping-abused-muslim-women-better/d/117980
New Age Islam, Islam Online, Islamic Website, African Muslim News, Arab World News, South Asia News, Indian Muslim News, World Muslim News, Women in Islam, Islamic Feminism, Arab Women, Women In Arab, Islamophobia in America, Muslim Women in West, Islam Women and Feminism