New Age Islam News Bureau
13 Feb 2018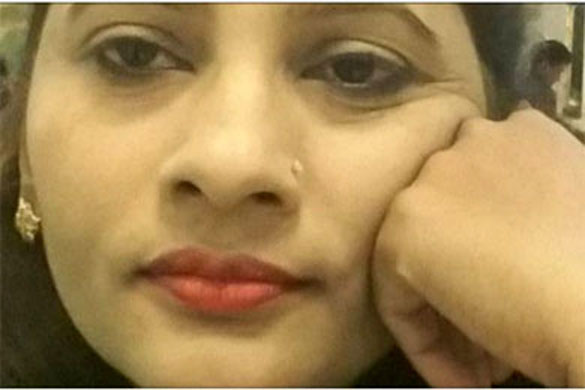 This is happening for the 1st time in Pakistan. A Pakistani spokesman has confirmed that the first woman from the country's tiny minority Hindu community, Krishna Kumar, is poised to become lawmaker next month
----
• 1st Time Ever In Pakistan! This Hindu Woman – Krishna Kumari – Is Set To Become Lawmaker
• Dublin Imam Issues Fatwa against Female Genital Mutilation
• Islamic Centre of Ireland Issues Fatwa against Female Genital Mutilation
• Muslim Women In Hyderabad Ignore Fatwa That Imposes 'Bangle Rules' On Them
• Indian Union Muslim League Panel Gets Women Members
• Only One of 10 Women Released By Boko Haram Is Police Officer – CP
• Pak Police Bust Racket Extracting, Selling Bone Marrow of Girls
• Al Wasl Volleyball Champions in Arab Women's Sports
• Female Iranian MPs Demand Action on Stalled Bill Aiming to Preventing Child Abuse
• Iran: Bazaar Businessmen Admire Women's Role in the Uprising
• Iran: 5 Girl Students Deprived Of Boarding for Protesting Restrictions
Compiled by New Age Islam News Bureau
URL: https://www.newageislam.com/islam-women-feminism/hefazat-e-islam-ameer-denounces/d/114264
--------
Hefazat-e-Islam Ameer Denounces Saudi Arabia's Decision Allowing Women To Drive
February 13, 2018
'Anti-Islamic plotters are always trying to manipulate people's trust in Islamic scholars'
Hefazat-e-Islam Ameer Allama Shah Ahmad Shafi has denounced Saudi Arabia's decision to lift a controversial and longstanding policy by allowing women to drive.
The Hefazat chief firmly denounced the change in Saudi policy while attending the Befaqul Madarisil Arabia Bangladesh (Befaq) Council in Dhaka's Faridabad Madrasah on Monday, according to a Befaq press release.
Prior to the policy being changed, Saudi Arabia was the only country where women were not allowed to drive. However, Saudi King Salman issued a decree lifting the ban in September last year.
The Kingdom's decree said that the ban on women driving would be lifted according to Islamic Shariah criteria. The decision is set to come into effect from next June.
In the Council, Shafi urged the country's Muslim clerics to stay united, and advised everyone to be vigilant and alert to deal with various conspiracies against their unity.
Hefazat's ameer said: "Anti-Islamic plotters are always trying to manipulate people's trust in Islamic scholars."
The Hefazat leader also asked the government to urgently ratify the recognition of certificates of Dawrae Hadith under the Qawmi Madrasa Education Board as equivalent to a Masters Degree in Islamic Studies and Arabic.
http://www.dhakatribune.com/bangladesh/dhaka/2018/02/13/shafi-saudi-arabia-women-drive/
--------
1st time ever in Pakistan! This Hindu woman – Krishna Kumari – is set to become lawmaker
February 12, 2018
This is happening for the 1st time in Pakistan. A Pakistani spokesman has confirmed that the first woman from the country's tiny minority Hindu community is poised to become lawmaker next month after the country's opposition party nominated her for the Senate's upcoming elections. Her name is Krishna Kumari. Nasir Shah, the spokesman in the provincial government of Sindh province, says the opposition Pakistan People's Party has asked all of its lawmakers to vote for Krishna Kumari in the March 3 elections for the upper house of parliament. Shah said on Monday that Kumari will be the first female Hindu lawmaker in Pakistan since 1947. Krishna Kumari is so happy over the development. Her family was so poor. She never dared dream of becoming a lawmaker.
Here are things you may not know about her:-
-The Hindu woman is from Thar in Sindh province
– She has been nominated by Pakistan People's Party to contest for a general Senate seat
– If Krishna Kumari from Nagarparkar district wins the election, she will be the first Hindu woman to become a Senator in Muslim-majority Pakistan.
– Kumari is a Kolhi woman from the family of freedom fighter Rooplo Kolhi, who had waged a war against the British colonialist forces when they had attacked Sindh in 1857.
– She had joined the PPP as a social activist along with her brother, who was later elected as Chairman of Union Council Berano
– Born to a poor peasant Jugno Kolhi in 1979, Kumari and her family members spent nearly three years in a private jail owned by a landlord.
– Kumari was married to Lalchand at the age of 16, when she was studying in 9th grade. However, she pursued her studies and in 2013 she did masters in sociology from the Sindh University
– She also actively participated and worked for the rights of downtrodden people of marginalised communities living in Thar and other areas.
The PPP has provided several women leaders to Pakistan including Benazir Bhutto, the first woman prime minister; Hina Rabbani Khar, the first woman foreign minister and Fehmida Mirza, the first woman speaker of the National Assembly.
http://www.financialexpress.com/world-news/1st-time-ever-in-pakistan-this-hindu-woman-krishna-kumari-is-set-to-become-lawmaker/1063345/
--------
Dublin imam issues fatwa against female genital mutilation
February 13, 2018
A fatwa against female genital mutilation (FGM) "in all its forms" has been issued by Shaykh Dr Umar Al-Qadri, head imam of the Islamic Centre of Ireland at Blanchardstown in west Dublin, making it "religiously impermissible (haram) and sinful."
The fatwa calls "on all Muslims to speak against this practice, stop it if they are aware of its occurrence, and report any knowledge of it to the authorities".
A fatwa, Shaykh Al-Qadri explained, "is a religious opinion by an Islamic scholar" and its effect depends on "the influence of the religious scholar or the institute that he is affiliated to."
The fatwa "doesn't have a binding force on anyone," he said, "it is a religious opinion."
Ifrah Ahmed, who was subjected to FGM at the age of eight, said that for her it was "very important to have the support of religious leaders".
A 29-year-old Irish citizen, originally from Somalia, she said: "We want religious leaders to speak out and say: 'Look, this has nothing to do with Islam and nothing to do with religion.'"
She is the driving force behind the Ifrah Foundation, which aims to have FGM banned around the world by 2030. Consultant obstetrician and gynaecologist Prof Chris Fitzpatrick, who is also an Ifrah Foundation board member, said: "Religious leaders have a moral responsibility to actually make very strong pronouncements" in relation to FGM.
https://www.irishtimes.com/news/social-affairs/religion-and-beliefs/dublin-imam-issues-fatwa-against-female-genital-mutilation-1.3390004
--------
Islamic Centre Of Ireland Issues Fatwa Against Female Genital Mutilation
February 13, 2018
THE ISLAMIC CENTRE of Ireland (ICI) has issued a fatwa to unequivocally condemn female genital mutilation.
The fatwa – which is a ruling on a given topic based on interpretation of the sources of Islamic law – was signed by the head imam of the ICI Shaykh Dr Umar Al-Qadri.
He said that FGM in all its forms is "religiously impermissible and sinful".
"It is binding on all Muslims to speak against this practice, stop it if they [are] aware of its occurrence, and report any knowledge of it to the authorities," he said.
FGM refers to the ritual cutting or removal of some or all of the external female genitalia for non-medical reasons. The practice is most common in Africa, Asia and the Middle East, and carried out due to cultural or religious traditions.
The fatwa comes after an interview on RTÉ's Prime Time last week, with a leading figure in the Muslim community in Ireland Dr Ali Selim, who claimed FGM is acceptable in some cases.
He said that if a parent wants his daughter to undergo FGM, then they should seek the advice of their doctor as it can be necessary for medical reasons.
"We see female circumcision in the same way we see male circumcision. It might be needed for one person and not another, and it has to be done by a doctor and practised in a safe environment," Selim said last Thursday.
Since then, Selim's comments have come under sharp criticism from various quarters, with healthcare professionals, family organisations, and activists campaigning against the FGM culture refuting his claims.
In the fatwa issued by Al-Qadri, he said that while there had been some historical precedent among Muslim scholars accepting FGM, "we now know of the many psychological and physical harms of female genital mutilation".
He added: "There is no doubt that FGM affects the physical, psychological and emotional wellbeing of women, and severely limits their life opportunities."
Minister for Health Simon Harris welcome the "strong statement" which "makes it clear that FGM has no place in any society, it is wrong in all situations and is harmful and a violation and condemns it and rejects the appalling comments of Mr Selim".
http://www.thejournal.ie/fatwa-fgm-muslim-3849097-Feb2018/
--------
Muslim women in Hyderabad ignore fatwa that imposes 'bangle rules' on them
13th February 2018
HYDERABAD: At a time when the ruling government is pushing a Bill to eradicate practices like instant triple talaq to support the fight for liberation of Muslim women, a fatwa issued by a seminary which regards the practice of bangle sellers touching hands of women to help them wear bangles as a sin has triggered a debate among Muslims in Hyderabad. The fatwa issued by seminary Darul Uloom Deoband in Muzaffarnagar on the query of a Deoband resident read, "The women can bring bangles from shops run by men and wear them on their own.
However, if they let the male shopkeeper touch their hands, it is 'haram' (prohibited)." Calling the age-old tradition of bangle sellers helping women wear bangles as `unislamic,' a minority rights activists said, "I support the fatwa as I believe it is about their respect. In Islam, a man who is not the woman's mehram or relative is not allowed to touch her. Nobody is prohibiting them from buying bangles but why allow a stranger to touch them anyway." Where many Muslim scholars in Deoband have supported the fatwa, the clerics and scholars in Hyderabad stayed away from expressing any reaction on the issue hinting that after the expulsion of Salman Nadvi from AIMPLB on the pretext of sharing his view on Babri Masjid issue.
However, a few Muslim women said they are not going to take the fatwa seriously. Humera, who is among the founders of Lamakaan said, "I believe this fatwa like other fatwas is not to be taken seriously. Why should these men impose such restrictions on us? I have the freedom to live my life the way I want. The point that such fatwas get attention only reflects lack of literacy among Muslims."
http://www.newindianexpress.com/cities/hyderabad/2018/feb/13/muslim-women-in-hyderabad-ignore-fatwa-that-imposes-bangle-rules-on-them-1772465.html
--------
Indian Union Muslim League panel gets women members
by Shaju Philip
February 13, 2018
Congress ally Indian Union Muslim League has for the first time given space for women and Dalits in its state secretariat committee. In the 63-member secretariat, which was constituted on Sunday, IUML selected Noorbina Rasheed, KP Mariyumma and Khamarunissa Anwar as the first women members. The Dalit representatives are U C Raman and A P Unnikrishnan.
The IUML move to include women in its top body comes almost a decade after the state started 50 per cent reservation for women in three-tier local bodies in Kerala. The reservation prompted the IUML bring in more women into the political forum, especially in Malappuram district, its stronghold. IUML state general secretary K P A Majeed said the party wanted to give place to women in the secretariat as there was increase in women members.
"Women membership in the party has gone to 40,000 out of 18 lakh members. We have to accommodate more women and Dalits in tune with the changing times. It should be seen as a change in the party's outlook,'' he said.
http://indianexpress.com/article/india/indian-union-muslim-league-panel-gets-women-members-5061442/
--------
Only one of 10 women released by Boko Haram is police officer – CP
February 12, 2018
The Borno State Police Commissioner, Damian Chukwu, said on Monday that the 10 women released by Boko Haram recently were not police officers.
"Only one of the abductees was a police officer," Mr. Chukwu said.
He made this clarification while speaking with journalists in his office on Monday afternoon.
The presidency confirmed the release of 13 people over the weekend including three oil explorers from the University of Maiduguri.
The 10 women and the oil explorers were kidnapped in different incidents.
The police commissioner, however, restated his statement last year that "only one police woman, Inspector Fatsuma Haruna," was abducted alongside other females accompanying the corpse of a deceased police woman to her home town in Lassa village of Askira-Uba local government areas of Borno State.
PREMIUM TIMES reported the kidnap of the women last year after members of the terror group attacked a convoy of vehicles that had a military escort.
"I did mention it last year that when Boko Haram ambushed a military escorted convoy of travelers which also included a burial party taking a deceased police woman to her home town Lassa, one of the police women, Inspector Fatsuma Haruna, a close friend of the deceased assigned to accompany the corpse, was abducted by Boko Haram.
"It is not correct to say that ten police women were released by Boko Haram. We only have one policewoman among the released abductees. The other women, I believe, were relatives of the deceased police woman whose corpse was being transported to her home town before the convoy was ambushed," the police commissioner said.
https://www.premiumtimesng.com/news/headlines/258433-one-10-women-released-boko-haram-police-officer-cp.html
--------
Pak Police Bust Racket Extracting, Selling Bone Marrow Of Girls
February 13, 2018
HAFIZABAD-The police have smashed a racket of imposters involved in extracting and selling bone marrow and other fluid from backbones of scores of girls on the pretext of providing heavy amount from Prime Minister's Jahez Fund.
The police arrested Muhammad Aslam Hunjra, his wife Amina Bibi, ringleader of the racket Nadeem Iqbal and Irfan.
According police sources, Nadeem Iqbal Ghaffari, resident of Mohallah Sharifpura and his accomplices would lure young poor and illiterate girls into visiting the house of Aslam Hunjra on Kassoki Road where they had set up a so-called clinic for medical check-up.
According to complainant Sarfraz Ahmad, the gang members took bone marrow of his daughter Kinza, 17, when they called her for a 'medical check-up', which they said, was necessary for them to financially help the family prepare her dowry.
"The group had approached the family promising to help them prepare dowry for their daughter," the father said. He said he willingly agreed, over which the racket members asked him to sign a form and get a medical check-up of the girl.
The father said the accused told him they would take a blood sample from his daughter for the medical check-up. However, he added, when they returned home, his daughter started feeling weak. They then took her to a doctor who told them her bone marrow had been extracted.
Thereupon, the police raided the so-called clinic and arrested Aslam Hunjra and his wife Amina Bibi and seized large quantity of syringes, copies of CNIC and pictures of scores of the affected girls. The other two members of the gang including ringleader Nadeem Iqbal and Irfan managed to escape from the scene. However, the police chased them and arrested promptly. The ringleader Nadeem Iqbal, who posed himself as an employee of DHQ Hospital, confessed that he had extracted bone marrow and other fluid from the backbones of 15 girls so far and have sold them to one Sajidan, an employee of the Urology Ward of DHQ Hospital Hafizabad.
When questioned, a renowned surgeon admitted that bone marrow can be extracted from the backbone to transplant it for curing Aplaspic Amenia.
Bone marrow is the spongy tissue inside some of the bones in the body, including the hip and thigh bones. Bone marrow contains immature cells, called stem cells.
Many people with blood cancers, such as leukaemia and lymphoma, sickle cell anaemia, and other life-threatening diseases, rely on bone marrow or cord blood transplants to survive.
MINISTER TAKES NOTICE
Meanwhile, Saira Afzal Tarar, Minister for Health Services, Regulations and Coordination took notice and strongly condemned the extracting of bone marrow etc. from the backbones of girls. She also constituted a five members inquiry committee headed by DC Saleha Saeed to carry out a probe and ascertain facts within three days so that strict action could be taken against the accused. Other members of the inquiry committee include Assistant Commissioner Imtiaz Shahid Gondal, DHQ Hospital Medical Superintendent Dr Rehman Azhar, the Saddr Circle DSP and a representative of the Punjab Health Department.
https://nation.com.pk/13-Feb-2018/police-bust-racket-extracting-selling-bone-marrow-of-girls
--------
Al Wasl volleyball champions in Arab Women's Sports
February 12, 2018
Sharjah: Al Wasl Club has emerged champions in volleyball event of the Arab Women Sports Tournament (AWST), defeating Sharjah 3-2 in the final at the sports hall of the Sharjah Women Sports Foundation (SWSF) on Sunday.
Players of both clubs brought their best game at the very onset of the match, scoring points almost simultaneously. As the first set continued, Sharjah emerged the better team, winning it 25-22.
In a bid to make up for the loss of the first set, the Al Wasl ladies fought back and took an early lead with an initial second set score of 5-0. Sharjah tried to get back on track and after two time-outs, Al Wasl continued their scoring carnival that gave them the second set with a 15-point score difference of 25-10.
It was critical for both clubs to win the third set and they approached it with caution. Despite an otherwise winning show by Sharjah, Al Wasl raised their game to win 25-21 in a close finish.
In the fourth period, Sharjah Sports Club was seen competing with all their might to make up for their loss. This gaining of momentum and the extra push worked in their favour as they managed to win the fourth period with a score of 25-20 points, levelling the set score to 2-2.
In the decider, Al Wasl showed an unmistakable flair. They did not give Sharjah too many opportunities to score and had the last laugh at 15-4.
The coronation and closing ceremony of volleyball competition was held in the presence of Shaikha Hayat Bint Abdul Aziz Al Khalifa, Head of AWST Follow-up and Supervisory Committee and Member of Bahraini Olympic Committee; Nada Askar Al Naqbi, Deputy Chairperson of AWST Supreme Organising Committee, Head of its Executive Committee and Director General of SWSF; Ibrahim Abdul Malek, Secretary General of the General Authority for Youth and Sports among others.
http://gulfnews.com/sport/more-sport/al-wasl-volleyball-champions-in-arab-women-s-sports-1.2172570
--------
Female Iranian MPs Demand Action on Stalled Bill Aiming to Preventing Child Abuse
FEBRUARY 12, 2018
Some Iranian female lawmakers have called for immediate deliberations on a bill for the protection of children to prevent future cases of child abuse in Iran.
"The increase in incidents of child abuse is not becoming of the Islamic Republic. We cannot deal with child abuse with our current laws," said Member of Parliament (MP) Masoumeh Aghapour Alishahi, a member of the Women's Faction.
"The existing legal vacuum is causing delays in the prosecution of child abusers," she added in an interview with the official parliamentary news agency, ICANA, on February 7, 2018.
There are 17 female lawmakers in the current parliamentary session, at least 14 of whom (all holding reformist or moderate views) are members of the Women's Faction. It is not known how many MPs support the call.
"In our letter to the speaker [Ali Larjani], we urged the legislature to begin immediate deliberations on the bill for the protection of children," Alishahi said.
The letter has not been made public.
The Bill for the Protection of Children and Juveniles was initially drafted by the Judiciary and submitted to then-President Mahmoud Ahmadinejad's government in 2009. Two years later, it was handed to Parliament where it has been stalled at the committee stage ever since.
In September 2017, MP Hassan Norouzi, the spokesman for the Judicial and Legal Affairs Committee, said he hoped that the bill would be submitted to the full session of Parliament for a vote "in two weeks" but more than four years later, no date has been set.
The bill has not been published but it is believed to contain more than 40 articles dealing with issues such as repeated violence at home, child trafficking and other criminal activities.
The issue received renewed attention following the acquittal of Saeed Toosi, a well-known Quran reciter, of child abuse charges on January 26, 2018.
In July 2017, the rape and murder of seven-year-old Atena Aslani, whose body showed "signs of sexual abuse," also caused public outrage.
An Iranian attorney told the Center for Human Rights in Iran (CHRI) that the real problem is the lack of enforcement of current laws protecting children in the country.
"I have read the bill," said Nemat Ahmadi in an interview on October 20, 2017. "It has a clear objective but lacks details. It would be good to write more complete laws, but that isn't enough. The question is: Does society have the resources to meet the legal requirements?"
Ahmadi, who has worked on many child abuse and discrimination cases, added, "Our current laws are not bad. We can start implementing them until the bill in Parliament is ratified."
Article 5 of the Law for the Protection of Children and Juveniles (2002) states that "child abuse is a public crime that does not require a private complainant." Article 4 prohibits "any form of harm, harassment, abuse or physical or mental torture of a child."
Another Iranian attorney, Farideh Ghierat, pointed out to CHRI that Islamic law protects fathers from being held accountable for child abuse. According to Iran's Islamic Penal Code, fathers are not punished for taking their children's lives.
"As long as in theology the father is considered the owner of his children, nothing can be done to deal with fathers who abuse their children," Gheirat told CHRI.
https://www.iranhumanrights.org/2018/02/female-iranian-mps-demand-action-on-stalled-bill-aiming-to-preventing-child-abuse/
--------
Iran: Bazaar Businessmen Admire Women's Role in the Uprising
12 February 2018
A group of Iranian Bazaar merchants and businessmen in Tehran issued a declaration, laying emphasis on the role of young women and girls in all the scenes of the Iranian people's struggle and paying tribute to those who gave their lives in this uprising.
In parts of this declaration, they said, "Iranian women fearlessly confront oppression and dictatorship. Today, unfortunately, women do not enjoy their minimum rights and they do not have the right to choose their own clothing. They are violently attacked and arrested in the streets. But these problems have not undermined Iranian women's will and determination in fighting in step with their countrymen until until the clerical regime is overthrown."
http://www.women.ncr-iran.org/iran-women-news/4785-iran-bazaar-businessmen-admire-women-s-role-in-the-uprising
--------
Iran: 5 girl students deprived of boarding for protesting restrictions
12 February 2018
The licenses of five young women, students of Tehran University, were not extended to register with Chamran Dormitory for girl students. The students had protested restrictions imposed on women's entry and exit hours.
Hassan Behnejad, dean of students at Tehran University, confirmed that the licenses for the five girl students had been revoked. He said, "All students of Tehran University have been able to register to use the dormitories, but about five students living in Chamran dormitory of Tehran University who had objected to the dormitory rules on girls' entry and exit did not succeed to register since security officials have not accepted their applications." (The state-run Tabnak news website – Feburary 8, 2018)
Girl students residing in Chamran dormitory have protested on several occasions so far to the shortages of the dormitory. Among their demands has been lifting of restrictions on their entry and exit hours.
http://women.ncr-iran.org/iran-women-news/4786-iran-5-girl-students-deprived-of-boarding-for-protesting-restrictions
--------
URL: https://www.newageislam.com/islam-women-feminism/hefazat-e-islam-ameer-denounces/d/114264
New Age Islam, Islam Online, Islamic Website, African Muslim News, Arab World News, South Asia News, Indian Muslim News, World Muslim News, Women in Islam, Islamic Feminism, Arab Women, Women In Arab, Islamophobia in America, Muslim Women in West, Islam Women and Feminism