New Age Islam News Bureau
23 March 2022
• Zanani Masjid, Built By Aurangzeb, in Aurangabad: An Inspiration to Muslim Women to Reclaim Their Space in Mosques
• Taliban Order Afghan Girls' Schools Shut Hours after Reopening: Spokesman
• Turkish Woman Makes History as 12th Superfetation Case
• The Plan Is Hindu Rashtra, My Lords, the Hijab Is A Smokescreen
• NEOM Empowers Women in Tabuk through Financial Support
Compiled by New Age Islam News Bureau
URL: https://www.newageislam.com/islam-women-feminism/heer-soho-tribal-chieftain-sindh/d/126638
---------
Heer Soho Set To Become First-Ever Woman Tribal Chieftain in Sindh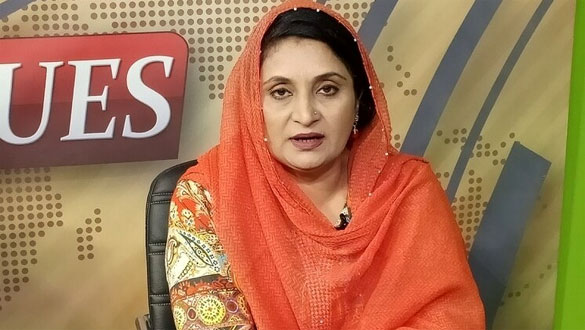 Pakistan Peoples Party (PPP) member of Sindh Assembly Heer Ismail Soho
-----
Ghulam Hussain Khawaja
March 23, 2022
THATTA: Pakistan Peoples Party (PPP) member of Sindh Assembly Heer Ismail Soho is going to become the first-ever woman chieftain of any tribe or clan in Sindh, heralding a paradigm shift in the province's rigid feudal mind-set and the male-dominated society.
Astonishingly enough, her installation as the tribal head has been endorsed by a clergy and spiritual leader, Saen Hafiz Ghulam Muhammad Soho Mehmoodi Qadri, who wields considerable influence in the tribe and has also great respect in the religious and political quarters in several southern districts.
PPP co-chairman Asif Ali Zardari had chosen him as the Nikah registrar for the marriage of his daughter, Bakhtawar Bhutto-Zardari.
The decision to install Heer Soho as the successor of Comrade Ghulam Muhammad Soho was taken at a recent meeting of top Soho elders presided over by the spiritual leader.
Comrade Soho died some time ago in his ancestral town of Mirpur Bathoro in Sujawal district. The elders decided to hold the traditional turban-tying ceremony in the town but did not announce a date.
Sources privy to the meeting said Hafiz Soho would perform the first round of turban-tying and other Soho elders would perform one round each to complete the tribal custom.
A large number of Soho tribesmen and members of the subtribes are expected to attend the ceremony.
Heer Soho is an active political figure. She was first given a reserved seat for women in the Sindh assembly by the Muttahida Qaumi Movement (MQM) in 2002.
She contested for the NA-238 Thatta-II seat in 2008 on the same party's ticket but lost to Ayaz Shah Shirazi. In the 2013 elections, she contested for PS-85 Thatta-II seat again on an MQM ticket but lost to Amir Haider Shah Shirazi.
She left Muttahida in 2018 to join PPP and got a Sindh Assembly seat reserved for women.
Source: Dawn
https://www.dawn.com/news/1681306/heer-soho-set-to-become-first-ever-woman-tribal-head-in-sindh
---------
Zanani Masjid, Built By Aurangzeb, in Aurangabad: An Inspiration to Muslim Women to Reclaim Their Space in Mosques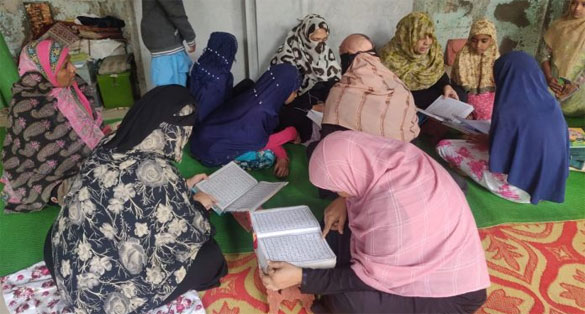 Women learning Quranic lessons at Zanani Masjid in Aurangabad. | Picture by arrangement
------
March 23, 2022
AURANGABAD — There was a time when Muslim women in India not only prayed in mosques but also got them built. Many mosques in medieval India were built by royal women. The wives of the Mughal Emperors played an important role and supervised the construction of mosques, madrasas, and sarais in many parts of India. Historians say that they also adorned the mosques on special occasions such as Eid.
In medieval India, several mosques are said to have been frequented by women from royal families or noble families. Historical evidence does not support the prohibition of women entering mosques.
The Muslim Personal Law Board has also acknowledged that Islam allows women to join congregational prayers. Yet most mosques in India do not accommodate women. An exception is Aurangabad which has three mosques where women offer prayers and also learn recitation of the Quran along with other Quranic courses.
One such Masjid is the Zanani Masjid which was built 350 years ago in the Mughal period by Aurangzeb. Many Muslim girls and women gather at Zanani Masjid to study the Quran and Hadees. These courses are offered for free and taught by qualified women Qaaris.
Girls studying in a nearby government college used to offer namaz in this dilapidated mosque in the afternoons. Gradually other women in the vicinity began gathering in a park near the mosque for prayers. And recite the Quran after their morning walk.
When people objected, these women started visiting the Zanani masjid.
They assessed that they would need around Rs. 20,000/- to get the mosque repaired. They approached a builder for the same but he did it without taking money from them. This was in the year 2012.
In 2013, Afsari Begum, a senior citizen who lived close by joined the group of women to teach and took the initiative to mobilise funds for the mosque. Soon, the small masjid was repaired, electricity and water connection were also given after which it was ready for full-fledged classes. A bore well was dug with support from a generous donor who also connected pipelines so there was flowing water.
What had begun with ten women soon increased to close to 40 women showing an interest in learning to read the Quran with tajweed, learn the Hadith and memorise them.
"These classes are going on for the last 7-8 years and very recently we have also built toilets and places for ablutions. Every morning I and two other alimas teach the women for two hours. And we are happy we have our masjid now" Afsari Begum, popularly known as Afsari Baji, told TwoCircles.net. The first batch is for the women and then the second batch is for adolescent girls who are taught the basics of namaz, good mannerisms and Islam.
Most of the women who come here regularly are above 30 years and belong to BPL (Below Poverty Line) families.
The presence of Zanani Masjid and its activities has inspired other Muslim management schools and masjids to provide Arabic education in Aurangabad city to promote Islamic values.
The women students at this mosque appear for the tajweed exam at the Darul Qirat Kalimiya, a seminary in Aurangabad.
On passing this exam, they are awarded certificates that qualify them to become a qaari and teach others. These certificates are beneficial for women who are looking for an alternate source of livelihood.
"About five of them are currently teaching at various institutes," said Afsari Baji.
Two women apart from Afsari Begum, who have passed the tajweed exams, are Shakeela Begum and Nilofer. "I have been teaching here for the last five years and after finishing classes here, I go to another institute to teach. and teach the children there. I do not take any fee because I am doing it for Allah," said Begum.
Rizwana, 32, one of the women who learn Qirat at this mosque said, "Earlier I did not know the right way to perform namaz or even read Arabic. I am grateful to my ustada for helping me to walk on the right path of Islam".
While many of the girls here have studied up to 10th or Intermediate there is also one lecturer from the Dr Zakir Hussain Junior college named Nasira who comes on weekends to learn to read the Quran with tajweed.
In addition to the Zanani Masjid in Aurangabad, there are a few other mosques like Totiki Masjid and Mohammadiya Masjid in this historical city that allow women to pray and study Islam as there is a space allotted for women. However, the zanani masjid is the only one that is exclusively for women.
Source: Two Circles
http://twocircles.net/2022mar23/445405.html
---------
Taliban Order Afghan Girls' Schools Shut Hours After Reopening: Spokesman
Mar 23, 2022
KABUL: The Taliban ordered secondary girls schools in Afghanistan to shut Wednesday just hours after they reopened, an official confirmed, sparking confusion over the policy reversal by the hardline Islamist group.
"Yes, it's true," Taliban spokesman Inamullah Samangani told AFP when asked to confirm reports that girls had been ordered home.
An AFP team was filming at Zarghona High School in the capital Kabul when a teacher entered and ordered everyone to go home.
Crestfallen students, back in class for the first time since the Taliban seized power in August last year, tearfully packed up their belongings and filed out.
The international community has made the right to education for all a sticking point in negotiations over aid and recognition of the new Taliban regime.
All schools were closed because of the Covid-19 pandemic when the Taliban took over in August last year -- but only boys and some younger girls were allowed to resume classes two months later.
Women are largely barred from government employment under the Taliban -- apart from specialised areas such as health and teaching.
Source: Times Of India
https://timesofindia.indiatimes.com/world/south-asia/taliban-order-afghan-girls-schools-shut-hours-after-reopening-spokesman/articleshow/90390361.cms
---------
Turkish woman makes history as 12th superfetation case
March 23 2022
In a rare medical incident ever recorded in Turkey, a Turkish woman from the western province of İzmir experienced double pregnancy, becoming pregnant with two babies conceived about a month apart.
"This is the only case in Turkey and one of the 12 rare cases across the globe in the last 100 years," daily Milliyet reported on March 22.
According to the report, the rare incident occurred in 2017 when Sevinç Çelik experienced a phenomenon called superfetation, which is the simultaneous occurrence of more than one stage of developing offspring in a body.
"I was pregnant with my boy, Poyraz, when I learned that I got pregnant again with another boy I named Ayaz. I gave birth to both on Oct. 6, 2017," Çelik, who has officially been registered in global medical records as the 12th superfetation case, told the daily.
Technically, the superfetation babies are not twins. But due to successive pregnancies, the babies are "considered" twins.
"I was worried when Ayaz was born weighing only one-and-a-half kilos. He stayed in an incubator for 20 days," she noted.
However, those days are gone. The boys are 5 years old and healthy. "The development of Ayaz is a little behind Poyraz's. We make medical checks often," she added.
When asked about reasons behind superfetation, molecular biologist Korkut Ulucan said, "It may be a hormonal incident."
As Çelik is the only case in Turkey to have experienced superfetation to date, there is not enough data to know the reasons behind the phenomenon.
"Normally ovulation stops after pregnancy. In this case, we see that it did not," Ulucan added.
Source: Hurriyet Daily News
https://www.hurriyetdailynews.com/turkish-woman-makes-history-as-12th-superfetation-case-172407
---------
The plan is Hindu Rashtra, my lords, the hijab is a smokescreen
MARCH 18, 2022
Sudipto Mondal
The order of the Karnataka High Court upholding the BJP government's ban on the hijab was delivered in an atmosphere charged with political passion. The court's 129-page judgement, however, is oblivious to the tense situation that had been created outside, even as the proceedings were on.
The three-judge bench threw out a raft of petitions that tried to make out a case of public interest. Instead, it limited itself to the mandate set by the principal contesting parties — the hijab wearing students and the authorities — and concerned itself with four main issues:
First, whether wearing the hijab is essential to the practice of Islam. Second, would educational institutions be violating fundamental rights by imposing uniforms. Third, was the Karnataka government order proscribing the hijab arbitrary and bad in law. And fourth, whether the college authorities in Udupi were acting outside the law.
Now, one can point at the blindfolded 'Lady Justice' to argue that the court is an impartial entity and should not be concerned with extraneous considerations. But in this case, there was reasonable hope that the judiciary would not be blind to the thuggery of those who literally held Karnataka's streets and public institutions to ransom in the lead up to the judgement.
The order says that wearing the hijab is not essential to the practice of Islam, in that it is not compulsory. By choosing to sit in judgement over the essential practices of a 1,400-year-old religion and examining whether the hijab disrupts public order, the court appears to have completely lost sight of the fact that the government in power watched sympathetically as saffron-clad mobs harassed women in hijab in full public view.
The same judges who thought it fit to investigate the faith of those wearing the hijab, did not find it necessary to go into the religious and political motivations of those viscerally opposed to the hijab. By not taking into account the social and political factors surrounding the case, the court appears to have created an artificial bubble insulated from larger realities. A wider view of the matter would have allowed the judges to see the incendiary role played by elected representatives, ministers and even policemen during the unrest.
The court repeatedly invoked 'public order, morality and health' in arriving at the conclusion that it is reasonable to impose restrictions on the hijab in public spaces. Based on the order, are we then to assume that a woman in robes is a greater threat to public order than a mob threatening to disrobe her?
By reducing it to a dispute between a group of Muslim women and a bunch of government officials, the court did not appreciate that the petitioners carried the aspirations of an entire community with them. It also ignored the fact that the college officials and the government are beholden to a theocratic ideology that is sectarian, anti-Constitution, and more specifically in relation to this case, anti-Muslim.
To go into these matters would require a degree of subjectivity, maybe even broadminded activism on the part of the judiciary. The court's activist zeal is instead invested in seeking out reasons to detach the hijab from the practice of Islam in an unsolicited attempt to liberate Muslim women.
For instance, it quotes the Muslim scholar and jurist, Abdullah Yusuf Ali: "The object was not to restrict the liberty of women, but to protect them from harm and molestation under the conditions then existing in Medina."
Would it be unreasonable to expect a Constitutional court to have a deeper understanding of the conditions existing in India today? Could the judges have also gone into the Hindutva ideology in search of the root of this hatred toward hijabi women? Is there something essential to the practice of Hinduism, or Hindutva, that is offended by a Muslim woman covering her head? What do Hindutva ideologues say in their social media bubbles about Muslim women, the hijab and Islam?
Such an exploration would have led the court into a murky world built on the hatred of every aspect of Muslim life and not just the hijab. There are any number of popular social media handles that promote genocidal theories against Muslims and, more specifically, encourage the sexual degradation of Muslim women. The Sulli Deals, Bulli Bai apps were manifestations of an ideology that seeks to emasculate Muslim men and enslave Muslim women. The latest viral sensation in these spaces is the video of a man making open calls to beget children from Muslim women at a theatre where the controversial film Kashmir Files was screened.
The repeated reference to public order by the court should also lead to an inquiry into what constitutes public order and the nature of our public spaces. The court says that in "qualified public spaces like schools, courts, war room s and defence camps" the freedom of individuals is curtailed for the sake of "discipline & decorum, and function & purpose."
Every year, for close to a week, a Ganesha pandal is set up by Hindu lawyers inside the premises of the High Court of Karnataka. Would public order be disrupted if Muslim lawyers started conducting Namaz in the same space for a month during Ramzan? There is a Hindu temple inside the Vidhana Soudha. Can we countenance a mosque or a church in the same space? Also, going by the definition of 'qualified public spaces', will Hindu fundamentalists now be emboldened to seek a ban on the hijab in other public spaces too?
The absence of a contextual pillar in the judgment is evident from the manner in which it selectively quotes from a chapter on the social stagnation in Muslim society in the 1945 book 'Pakistan or the Partition of India' by the architect of the Indian Constitution B R Ambedkar:
"…A woman (Muslim) is allowed to see only her son, brothers, father, uncles, and husband, or any other near relation who may be admitted to a position of trust. She cannot even go to the Mosque to pray, and must wear burka (veil) whenever she has to go out. These burka woman walking in the streets is one of the most hideous sights one can witness in India…The Muslims have all the social evils of the Hindus and something more. That something more is the compulsory system of purdah for Muslim women… Such seclusion cannot have its deteriorating effect upon the physical constitution of Muslim women… Being completely secluded from the outer world, they engage their minds in petty family quarrels with the result that they become narrow and restrictive in their outlook… They cannot take part in any outdoor activity and are weighed down by a slavish mentality and an inferiority complex…Purdah women in particular become helpless, timid…Considering the large number of purdah women amongst Muslims in India, one can easily understand the vastness and seriousness of the problem of purdah…As a consequence of the purdah system, a segregation of Muslim women is brought about…"
It is appalling that the court would choose to quote from a book by Ambedkar written in the context of the two-nation theory where he was examining the competing claims of two fundamentalist forces: the Hindu Mahasabha and the Muslim League.
Ambedkar was no doubt one of the tallest intellectuals and social reformers of his time. But that does not make his views on the purdah any less problematic. Besides, even his most ardent followers would be reluctant to describe him as an expert on the question of Muslim emancipation.
In the times of global Islamophobia and virulent Hindutva in India, countless Muslim women have reinvented the Islamic veil as a cultural signifier and symbol of resistance against the selective profiling of the community. The young Muslim women who petitioned the court are not "helpless and timid" or "weighed down by an inferiority complex" or "narrow and restrictive in their outlook".
They are above average students. Fluent in at least three languages including English. Their friends and teachers describe them as outgoing and mischievous and not the pitiful creatures Ambedkar describes in his book. By selectively quoting Ambedkar, the court appears intent on taking a moral position on the hijab. But in its eagerness to champion Muslim women and sit in judgment over Muslim society, it has flipped past important sections in the same book.
In page 163, Ambedkar makes a scathing observation about VD Savarkar and his theory of a Hindu Rashtra. It is very much relevant to our times and specifically the hijab case:
"If Mr Savarkar instead of studying the past — of which he is very fond — were to devote more attention to the present, he would have learnt that the old Austria and old Turkey came to ruination for insisting upon maintaining the very scheme of things which Mr Savarkar has been advising his 'Hindudom' to adopt. Namely, to establish a Swaraj in which there will be two nations under the mantle of one single Constitution in which the major nation will be allowed to hold the minor nation in subordination to itself…Suffice to say that that the scheme of Swaraj formulated by Mr Savarkar will give Hindus an empire over the Muslims and thereby satisfy their vanity and pride in being an imperial race. But it can never ensure a stable and peaceful future for the Hindus for the simple reason that Muslims will never yield to so dreadful an alternative."
The court fails to see the anti-hijab agitations in the context of the designs for a Hindu empire. The inheritors of Savarkar's ideology are in power today. They are on a project to establish Hindu dominion over Muslims by stripping them of their distinct cultural and religious identity. But there is no empathy from the judges for the fact that the hijab has become a means for Muslim women to not yield to the 'Hindudom' project of Savarkar's followers.
The court said:
"What the Chief Architect of our Constitution observed more than half a century ago about the purdah practice equally applies to wearing of hijab there is a lot of scope for the argument that insistence on wearing of purdah, veil, or headgear in any community may hinder the process of emancipation of woman in general and Muslim woman in particular."
It is ironic that in the enthusiasm to play saviour, the judges failed to recognise the political assertion of the Muslim women and their passion for self-definition. The spirit of resistance in the young Muslim women and their intelligence should be apparent to anybody who has watched them speak in public.
By taking the view that the hijab is a symbol of Muslim women's oppression, the court gave legitimacy to the absurd idea that the BJP, a rightwing Hindu majoritarian party, is attempting to liberate Muslim women from the clutches of fundamentalists. This view also prepared grounds for the court to come down heavily on the Muslim political organisations that supported the hijabi students.
The order said: "The way, hijab imbroglio unfolded gives scope for the argument that some 'unseen hands' are at work to engineer social unrest and disharmony. Much is not necessary to specify. We are not commenting on the ongoing police investigation lest it should be affected. We have perused and returned copies of the police papers that were furnished to us in a sealed cover. We expect a speedy & effective investigation into the matter and culprits being brought to book, brooking no delay."
It is clear that the court has taken an unquestioning view of the BJP state government's claim that the trouble was created by Islamic fundamentalists. In its submissions, the government said:
This writ petition is filed under article 226 of the Constitution of India, praying to direct the CBI/NIA and/or such other investigation agency as this hon'ble court may deem fit and proper to make a thorough investigation with regard to the massive agitation taking place all over the country and spiralling effect and impact beyond the geographical limits of india in the aftermath of issuance of government order dtd.5.2.2022 issued under Karnataka Education Act 1983 by the state of Karnataka and to find out as to whether there is involvement of radical islamist organizations such as PFI, SIO (Student Islamic Organization), CFI (Campus Front of India) Jamaat-e-Islami which is funded by Saudi Arabian universites to Islamise India and to advance radical islam in India and submit the report of such enquiry/investigation to this hon'ble court within such measurable period of time as this hon'ble court may deem fit and proper and etc.
The court makes no attempt to critically engage with the government's demonisation of legitimate Muslim political parties. If it could perceive "unseen hands" that were "engineering social unrest and disharmony", how could it fail to take cognisance of those militant groups that made no attempt to remain unseen?
The hate speeches against Muslims in the context of the anti-hijab agitations, the open distribution of saffron shawls and incitement of impressionable young Hindu students does not seem to have perturbed the judges. With the court lending credence to the government's conspiracy theories, it becomes important to ask if it is illegal for a Muslim political organisation to back Muslim women who want to wear the hijab.
In the same chapter on social stagnation quoted by the judges, Ambedkar also observed in page 256:
"It seems to me that the reason for the absence of the spirit of change in the Indian Musalman is to be sought in the peculiar position he occupies in India. He is placed in a social environment that is predominantly Hindu. That Hindu environment is always silently but surely encroaching upon him. He feels that it is de-Musalmanizing him. As a protection against the gradual weaning away, he is led to insist on preserving everything that is Islamic without caring to examine whether it is helpful or harmful to society. Secondly, the Muslim in India are placed in a political environment which is also predominantly Hindu. He feels that he will be suppressed…"
The High Court of Karnataka had a historic opportunity to address the feeling of suppression among Muslims and apply the principles of social inclusion introduced by Ambedkar into the Indian Constitution. Such an approach would have allowed the judges to explore ways to remove barriers in the way of Muslim women's education, even if it meant making reasonable accommodation for a garment that carries great sentimental and symbolic value for Muslim women. Far from enabling their education, the court's order has had the reverse effect with thousands of Muslim women staying away from classrooms across Karnataka.
Sudipto Mondal is the Executive Editor of The News Minute. A journalist with over 15 years of experience, Sudipto has reported on caste, communalism, and corruption.
Source: The News Minute
https://www.thenewsminute.com/article/plan-hindu-rashtra-my-lords-hijab-smokescreen-162043
---------
NEOM empowers women in Tabuk through financial support
March 21, 2022
NEOM — NEOM announced on Sunday that it has signed an agreement with the Jana Center for Building Productive Families, in an effort to support women in the NEOM and Tabuk regions, to help set their business projects in motion and to accelerate their progress by marketing their products and services through multiple outlets.
Meshari Almotairi, Executive Director of Government Affairs at NEOM, said: "NEOM has helped streamline Jana Center's operations in Tabuk by collaborating to establish their branch and support the projects of productive families, seeking to empower the sons and daughters of the NEOM and Tabuk regions and enhance their quality of life."
"Among Jana's numerous initiatives are programs supporting small businesses, entrepreneurship, scholarships, education and training, in addition to providing appropriate opportunities for youth and preparing them to enter the job market. NEOM aims to empower women through this agreement and support the projects of about 550 women over a period of two years."
As per the agreement, the Jana Center will manage the initiative, follow up on the progress of the women benefiting from it and continuously supervise their projects to facilitate their development. The center's scope of work further involves marketing and promoting the projects through various means, creating periodic reports and measuring the impact of every project manager.
For his part, Mahmoud Al-Shami, Executive Director of the Jana Center, expressed his gratitude for NEOM's generous contributions and immeasurable support to further its mission and augment its impact in empowering the NEOM and Tabuk communities by facilitating initiatives that benefit families and the upcoming generation, offering them higher living standards and helping them achieve social as well as financial stability. Al-Shami reiterated, "Contributing to the success of micro-businesses and providing support for the families running them will help foster a culture that embraces self-employment and self-reliance."
Founded in 2010 to support women and their projects, Jana Center is a non-profit organization affiliated with the Sulaiman Al-Rajhi Foundation for Development Finance. Now with 20 branches operating across the Kingdom, the center has provided support for more than 181,000 local women with more than SR1.8 billion and achieved a stellar job localization rate that stands at 93%.
Likewise, NEOM has consistently rolled out numerous social programs and initiatives, most notably a recruitment platform that has helped employ 845 young men and women from the NEOM and Tabuk region, a scholarship program that has benefited 387 students by providing international and local scholarships to the world's top universities, and a training program preparing young talent for entering the workplace. Such initiatives reflect NEOM's commitment to support the people of the Tabuk region and ensure their advancement, creating valuable opportunities through a wide range of programs to help them realize their goals and aspirations.
Jana Center's new branch was officially launched in the city of Tabuk on Sunday. Those who would like to benefit from the financial support program can visit the branch to submit their applications.
Source: Saudi Gazette
https://www.saudigazette.com.sa/article/618469/SAUDI-ARABIA/NEOM-empowers-women-in-Tabuk-through-financial-support
---------
URL: https://www.newageislam.com/islam-women-feminism/heer-soho-tribal-chieftain-sindh/d/126638

New Age Islam Islam Online, Islamic Website, African Muslim News, Arab World News, South Asia News, Indian Muslim News, World Muslim News, Women in Islam, Islamic Feminism, Arab Women, Women In Arab, Islamophobia in America, Muslim Women in West, Islam Women and Feminism