New Age Islam News Bureau
6 Aug 2013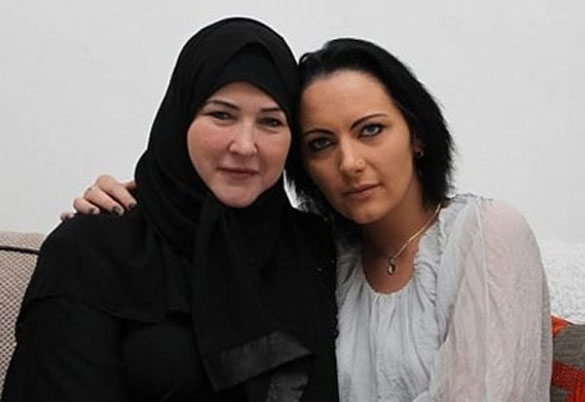 Rescue mission: Alex with Donya Al-Nahi, who has been nicknamed "Jane Bond" for her efforts in helping a string of women rescue children snatched by Arab fathers. (Photo courtesy: FameFlynet.uk.com))
--------------
• Saudi Religious Scholar Urges Eid Honour for Women
• UK Mother Dons Burqa to Rescue Daughter in Egypt
• Syria's First Lady Prepares Ramadan Meals
• J&K Girl Will Get Passport, Home Deptt. Clarifies
• Delhi HC Offers Hope of Eid Reunion with Family To Pak Woman
• US Couple Charged In Qatar for 8-Year-Old Daughter's Death
• Dhaka: Woman to Die for Killing Husband's Another Wife
• Disqualified Beauties Warned Against Attending 'Finals', Says Pageant Organiser
• Social Media Applaud Saudi Woman for Slapping Romeo
• 16 Saudi-Ethiopian Marriages Last Year
• Red Crescent Paramedics in Dammam Accused of Ignoring Woman's Plea For Help
Compiled by New Age Islam News Bureau
URL: https://www.newageislam.com/islam,-women-and-feminism/new-age-islam-news-bureau/heavy-harassment-cases-against-saudi-women-and-children/d/12913
------------
Heavy Harassment Cases against Saudi Women and Children
August 6th, 2013
The number of reported harassment cases against women and juveniles in Saudi Arabia has reached 2,797 in one year, a newspaper stated on Saturday quoting official statistics.
A total of 1,669 cases or 59.9 percent of the total, involved Saudi nationals while there were 1,128 harassment cases involving non-Saudis of various nationalities, Saudi Gazette reported, citing Arabic newspaper Asharq.
The highest number of recorded cases was in Riyadh, topping the list with 650 cases, reported Arabic newspaper al-Sharq.
The source stated that Yemeni nationals were among the top expatriates in luring juveniles and harassing women.
Yemenis were involved in over 100 cases reviewed by the Saudi courts. Other cases involved Egyptians, Pakistani nationals, Bangladeshis and Syrians, with numbers of cases descending in order of the list. The remainders were divided between other Arab and non-Arab nationalities.
The luring of juveniles take many forms, Saudi lawyer Abdul Aziz al-Zamil was quoted as saying, with some cases including involvement in terror activities. Luring girls into prostitution is punishable under the kingdom's laws.
http://www.albawaba.com/editorchoice/heavy-harassment-against-saudi-women-and-children-512024
------------
Saudi religious scholar urges Eid honour for women
August 6, 2013
Manama: A Saudi religious scholar has urged all husbands to show gratitude to their wives on Eid days by offering them gifts.
"Wives have put tremendous efforts throughout the month of Ramadan, especially in the kitchen, even though they were fasting," Shaikh Anas Bin Saeed Bin Misfar posted on his Twitter account. "The least that can be done is to honour them by offering them gifts. They deserve to be pampered after all the fatigue related to their efforts in Ramadan," he said.
Mothers should also be honoured for their efforts, the scholar added.
"In fact, all women in the home, including sisters and daughters, should be treated with generosity. When a man is generous with women, he is truly special," he said.
Muslim men and women are expected to abstain from food and drink throughout the lunar month from sunrise until sunset.
Even though the month is associated with fasting, special care is exerted by all families to ensure that a wide variety of palatable food is served at the end of the fast and throughout the evening when relatives and friends visit.
The culinary traditions have put extra pressure on women forced to spend hours in the kitchen.
Domestic helpers working in the Gulf, mainly from Asia and Africa, have often complained about the extra chores and housework they have to endure to meet the special demands made by families.
The call by the Saudi scholar was hailed as a "highly positive attitude" that would reinforce relations and boost morale.
Eid Al Fitr is the feast celebrated at the end of Ramadan. It usually lasts three days.
http://gulfnews.com/news/gulf/bahrain/saudi-religious-scholar-urges-eid-honour-for-women-1.1217185
------------
UK mother dons burka to rescue daughter in Egypt
6 August 2013
A distraught Polish-born woman donned a burka to travel to Egypt and retrieve her three-year-old daughter who had been snatched by her Egyptian father, British newspaper the Daily Mail reported on Monday.
Alex Abou-El-Ella from Berkshire in England, risked her safety to rescue her young daughter, Mona, two years after the girl was kidnapped and taken to Cairo by her Egyptian father.
She disguised herself in loose clothing and a burka, successfully returning Mona to the UK.
"Despite the fact police, the Serious Organized Crime Agency and Interpol were all put on red alert when Mona disappeared, no one had been able to retrieve Mona after she left on an EgyptAir flight with her father," The Telegraph newspaper reported.
During the two years, Alex's husband would periodically threaten to cut off contact altogether, she said. Police told her she could do nothing since the UK has no extradition treaty with Egypt.
Alex had enlisted the help of British author Donya al-Nahi, author of "Heroine of the Desert," a Scottish born woman, dubbed "Jane Bond" in the British press for helping a string of women rescue their children.
Nahi has particularly masterminded countless "operations" to rescue children snatched by Arab fathers, according to The Telegraph.
Dressed in black robes, with a veil over her face, Alex waited for her daughter to emerge from the apartment she was living in with her father before snatching her off the street and carrying her to a getaway car.
At first, three-year old Mona did not recognize her mother, calling out in Arabic to a woman that had cared for her.
'I felt shocked and upset to hear those words coming out of her mouth about another woman,' she Alex said in an interview with UK-based The Sunday People. 'But after half an hour she looked up at me and said, "Are you my mum?"'
"She finally recognized me and it was a beautiful moment for me, especially after not having her for the past two years," she said.
Alex praised Nahi, thanking her for her help to retrieve her daughter after two long years.
Nahi was quoted as saying: "You only have one mother and no-one has the right to take you away from your mum. But Alex was the real hero here. She took the girl."
http://english.alarabiya.net/en/variety/2013/08/05/-Jane-Bond-to-the-rescue-in-Arab-kidnapping-case.html
------------
Syria's first lady prepares Ramadan meals
6 August 2013
Syria's first lady Asma al-Assad participated in preparing Ramadan meals that were distributed to the needy and poor on Saturday.
The occasion marked Laylat al-Qadr, the night when the Quran was revealed to the Prophet Muhammad, according to Islam.
Photos published on the presidency's Facebook page showed the first lady making fattoush, a Levantine salad, and kabsa, a dish of meat and rice.
She participated in preparing the meals along with women from an orphanage, according to the Facebook page.
Many readers commended the first lady and commented on the published photos.
"Glory to God who created you and granted you morals, sympathy and tenderness," wrote one.
"May God protect these pure hands," wrote another.
http://english.alarabiya.net/en/variety/2013/08/05/Syria-s-first-lady-participates-in-preparing-Ramadan-meals.html
------------
J&K Girl Will Get Passport, Home Deptt. Clarifies
August 06, 2013
The 15-year-old Kashmir girl Sufaira, who was earlier denied passport to fly to US on a one-year scholarship programme because her uncle had militant links, will finally get it as the Jammu & Kashmir home department says her 'verification is clear.'
Sufaira stays in an orphanage in Budgam, 20km from Srinagar, has become an inspiration for the entire orphanage by bagging a scholarship among 40 students selected from India to participate in a one-year long exchange programme in the US.
She applied for the passport last year after she was selected for the programme. However, her application was annulled because her uncle had links with militancy.
When the matter came to chief minister Omar Abdullah's notice, he immediately asked the CID to look into Sufaira's case and revert with the facts.
He even tweeted on the micro-blogging site, "Needless to say she will not be denied a passport because of her uncle's past. All such pending cases of previous denials are being cleared."
Later, a spokesman of the CID wing of the home department clarified that Sufaira had applied for passport on April 25, 2013. As per the procedures, the verification rolls of the applicant were sent to the district police and the special branch of the CID.
Later, the CID received a clear verification in favour of the applicant even though one of her relations had militancy background. He said the current policy of the state government related to the verification of the passport cases is very clear and a number of such cases had been reviewed and cleared.
http://www.hindustantimes.com/India-news/Srinagar/J-amp-K-girl-will-get-passport-home-dept-clarifies/Article1-1103987.aspx
------------
Delhi HC Offers Hope of Eid Reunion With Family To Pak Woman
Aug 06 2013
New Delhi: On May 3 this year, a sessions court ordered the deportation of Pakistani national Nuzhat Jahan, who has been living in India since 1983 after her marriage to Delhi-based Gulfam. She was sentenced to one week's imprisonment, and sent to Tihar Jail. Since then, Nuzhat has been languishing in the beggars' home at Nirmal Chaya, and her husband and family have only been able to meet her only a handful of times. Now, with the Delhi High Court hearing her case, there is a possibility that Nuzhat may celebrate Eid with her family.
On Monday, Nuzhat's husband Gulfam approached the high court with a petition to release her from Nimal Chaya and return her to her family home while the citizenship application was being processed.
During the hearing before the high court bench of Justices Kailash Gambhir and Indermeet Kaur, Nuzhat's lawyer N D Pancholi asked the court to allow her to reside with her family after undertaking a bond under the Foreigners Act. "It is the month of Ramzan and she has been alone in the beggars' home even though she has children and grandchildren here," said Pancholi.
Gulfam, who works at a card printing shop at Kala Masjid in Old Delhi, says that he has not been allowed to meet his wife for more than a few minutes at a time at the Nirmal Chaya home.
The couple got married in 1983 when Gulfam went to meet his extended family in Pakistan. For two years, Nuzhat came to India on visits and then got her first long-term visa in 1985. She renewed her Pakistani passport in 1988, and then applied for renewal again in 1994. The Pakistan High Commission then told her to apply for Indian citizenship, which she did in 1996. Her file has remained "under process" since then.
Labelling life in the beggars home akin to "animal existence," the plea filed before the court seeks the court's directions to the government to expedite the process of grant of citizenship and allow her to stay with family during the pendency of her application.
During the hearing on Monday, the high court seemed to take a sympathetic view of Nuzhat's plight, asking the advocate for the government of India to explain why she was being kept at the Nirmal Chhaya home. What is happening with the citizenship application?" asked the court.
"Can she celebrate Eid with her family?" the court asked while asking the government lawyers to reply to the plea on Wednesday.
The court gave only two days to the government to formulate its reply to enable it to have time to hear the arguments in time
for Nuzhat to possibly go home for Eid.
http://www.indianexpress.com/news/hc-offers-hope-of-eid-reunion-with-family-to-pak-woman/1151628/
---------
US couple charged in Qatar for 8-year-old daughter's death
August 06, 2013
A married couple from Los Angeles have been jailed in the Middle East on a charge of murder with intent and are being accused of starving their 8-year-old daughter to death, according to a coalition of groups that are working on the case from the US and trying to draw publicity to what they say
are unjust arrests.
Matthew and Grace Huang were arrested in Doha, Qatar, shortly after their daughter, Gloria, died Jan. 15, said Alex Simpson, associate director of the nonprofit California Innocence Project. The Huangs adopted the child from Ghana at age 4.
The couple's two other children, also adopted from Africa, have been banned from leaving the country and are being cared for by their grandmother, who is living with them there.
The Qatar Embassy did not return a call or email seeking comment Monday.
The Huangs moved to Qatar in 2012 so Matthew Huang could work as an engineer on two major infrastructure projects associated with improvements for the 2022 World Cup, according to a narrative of the case posted on the family's website, http://www.freemattandgrace.com .
Their daughter, who was severely malnourished in early childhood, would periodically refuse food for several days and then binge eat or get food from bizarre sources, such as garbage cans or from strangers - a behavior her parents traced to her impoverished upbringing and were trying to address. She would also try to leave the house at night in search of food and pick through the medicine cabinet on late-night binges, according to a report prepared in the U.S. by Janice Ophoven, a pediatric forensic psychologist who reviewed the case for the family.
The behavior is not uncommon in adopted children who have suffered from severe malnutrition in their past, the report says.
Gloria, who was slight for her age, also had been treated for an intestinal parasite, and recent blood tests had showed severely low levels of a certain type of white blood cell that could have been a sign of an underlying bone marrow condition, as well as a vitamin D deficiency.
When Gloria died, she was in an anorexic episode and had not eaten in as many as four days, Ophoven wrote in her report.
A Qatari doctor who conducted Gloria's autopsy found that the child's hips, ribs and spine protruded and concluded the cause of death was dehydration and wasting disease.
Supporters in the U.S. say those diagnoses aren't possible and don't take into account the child's long history of eating disorders and malnourishment that caused lifelong health concerns, as well as recent blood work.
In addition, the unconventional family - an American couple of Asian descent with three black children - may have also complicated the situation because Qatar officials were unfamiliar with U.S. international adoptions, said Simpson, whose organization is one of several assisting the family.
An investigative report by Qatari police raised questions about why the Huangs would adopt children who did not share their "hereditary traits" and raised concerns that the children were part of a human trafficking operation or were "bought" for organ harvesting, according to the family's website.
"That's a fairly uncommon thing in any culture and that may have contributed to it and to the concern that something untoward and nefarious was going on," Simpson said.
The California Innocence Project is housed at the San Diego-based California Western School of Law and works to free wrongfully convicted inmates. The group, founded in 1999, is one of 48 loosely affiliated Innocence Projects nationwide in the Innocence Network.
Eric Volz, managing director for the David House Agency, which is coordinating legal and publicity efforts for the family, declined to comment because of the sensitive nature of the case.
http://www.hindustantimes.com/world-news/northamerica/US-couple-charged-in-Qatar-for-8-year-old-daughter-s-death/Article1-1104001.aspx
--------
Dhaka: Woman To Die for Killing Husband's Another Wife
August 6, 2013
A Dhaka court yesterday sentenced a woman to death and her husband to life term imprisonment for killing her husband's another wife and her baby girl at Kashiani in Gopalganj in 2009.
The court handed down the verdict to Khadiza Begum.
The court also sentenced Mohammad Nawshad Fakir in absentia, husband of the two women, to seven years' imprisonment for concealing bodies of the victims.
Nawshad's punishment will be effective from the day of his arrest or surrender, said the court.
According to the prosecution, over a family feud Khadiza killed Taslima Begum and Taslima's six-month-old baby Sadia on January 31, 2009 and concealed the bodies under earth at her house.
Later, Nawshad lodged a general diary with Kashiani Police Station for rescuing the victims. Police arrested Khadiza who later confessed before a magistrate court to the killing.
http://www.thedailystar.net/beta2/news/woman-to-die-for-killing-husbands-another-wife/
--------
Disqualified beauties warned against attending 'finals', says pageant organiser
6 August 2013
PETALING JAYA — One of the four Muslim beauty contestants recently disqualified from the Miss Malaysia World was warned not to attend the finals in Kuala Lumpur last Friday.
Insiders revealed Sara Amelia Bernard was cautioned by the Federal Territory Islamic Religious Department (Jawi) that she would be "arrested on sight" if she attended the event.
"I don't want to talk much about it except that they (Jawi) told me not to go for the event," she said.
Sara Amelia was among four contestants dropped from the beauty pageant. The others were Wafa Johanna de Kote, Miera Sheikh and Kathrina Ridzuan.
Wafa Johanna said she was also "advised" not to go for the finals.
"We got the same warnings from the religious institute as it is not right for us to be there even though we're there to show support," she said.
Miera, however, was unaware of such a warning.
"I didn't even know we were not supposed to go for the event. I received the invite (for the finals) but declined due to a prior engagement in Johor," she said.
Efforts to contact Kathrina were not successful.
Official pageant licensee and Miss Malaysia World organiser Datuk Anna Lim was informed by the girls they would not be attending the finals as to not "create any further problems".
Jawi director Datuk Che Mat Che Ali was quoted by Bernama on Saturday as saying the religious authority had mounted enforcement operations around the venue of the finals.
If they competed in the event, the four would be fined not more than RM3,000 each or jailed not more than two years or both, if convicted.
http://www.themalaymailonline.com/malaysia/article/disqualified-beauties-warned-against-attending-finals-says-pageant-organise#sthash.KWUObb3d.dpuf
------------
Social Media Applaud Saudi Woman for Slapping Romeo
RIYADH: RASHID HASSAN
6 August 2013
Social media websites are full of praise for a Saudi woman who slapped an aspiring Romeo at a shopping mall in Hafr Al-Batin in the Eastern Province in a show of courage while stalked by the young man.
The incident took place when the woman was shopping with her two daughters at the mall. According to an Arabic daily newspaper, a young man followed her around trying to give her a piece of paper with his mobile number. When the young man came close to her to put the piece of paper in her handbag, the woman slapped him.
Social media websites have applauded her prompt action to combat sexual harassment in the Kingdom.
A comment on Facebook read, "May the man learn a lesson or two so he thinks twice before harassing women."
Facebook user Abdullah posted, "This is a lesson for young celibates to leave women alone and not use the shopping mall to bother them. Such strong action is needed to curb this phenomenon."
Sayyed Al-Rifai, a blogger, said, "God bless you and your hand for taking such brave action against such a man."
Saudi women and juveniles face high levels of harassment. According to official statistics, the number of reported harassment cases against women and juveniles in the Kingdom has reached 2,797 in a single year.
An estimated1,669 cases involved Saudi nationals, and 1,128 harassment cases were reported involving non-Saudis of various nationalities.
http://www.arabnews.com/news/460401
------------
16 Saudi-Ethiopian marriages last year
August 06, 2013
RIYADH/DAMMAM — A source at the Ministry of Justice announced that 16 marriages between Saudis and Ethiopians were approved last year. Of these, 14 marriages were between Saudi men and Ethiopian women, while two were between Saudi women and Ethiopian men.
The undersecretary of the Eastern Province explained that men who want to marry foreigners have to file requests in the province they live in.
Faisal Al-Othman said Saudi men seeking to marry foreign women must not be older than 70 or younger than 35.
If the man is already married to a Saudi, he must prove that his first wife is suffering from a terminal illness, deformity or sterility, Al-Othman said, while warning that failure to document marriages will entail an investigation by the Ministry of Interior, which may approve the marriage or invalidate it and punish the parties involved.
Meanwhile, the women's branch of the North Riyadh Daawa (Islamic propagation) office held an event for Ethiopian domestic helpers about the sanctity of life and the religious consequences of assault and murder, Alsharq newspaper reported.
The effort came following a series of violent crimes allegedly committed by Ethiopian domestic helpers. The crimes have seen domestic worker recruitment from Ethiopia suspended.
Scholars Mohamed Hassan and Abulmannan Adam spoke at the event in Amharic and Oromo, two of Ethiopia's most widely spoken languages. One of the non-Muslim attendees decided to convert to Islam at the end of the event.
The manager of the women's branch of the office, Mona Al-Khaldi, said the event included talks about Islam, employer and employee rights in Islam and the historical relationship between Saudi Arabia and Ethiopia.
http://www.saudigazette.com.sa/index.cfm?method=home.regcon&contentid=20130806176142
------------
Red Crescent Paramedics in Dammam Accused of Ignoring Woman's Plea For Help
August 06, 2013
DAMMAM — A Saudi woman has accused Saudi Red Crescent paramedics of negligence, claiming they refused to help her to provide first aid to her sister.
In comments published in Al-Yaum daily on Monday, Abeer Al-Qahtani said after the paramedics came to her home, they left her and her father in a quandary and without any assistance or guidance.
Al-Qahtani said one morning her sister's condition worsened and they needed to take her to hospital. As they were covered by the National Guard Health Affairs, Al-Qahtani telephoned Imam Abdulrahman Al-Faisal Hospital for the National Guard in Dammam to send an ambulance. The reply was, "We do not send ambulances outside the National Guard and your house is in Uhud district, so it is better to call the Red Crescent."
She telephoned the Red Crescent at 9:55 a.m. and gave the details. After 10 minutes an ambulance arrived along with the police.
"We were surprised by the refusal of the paramedics to enter the house. He said, 'We have no orders to transport a severe case. Talk to the police. If they agree we will enter the house'."
After several attempts with the policeman to order the paramedics to enter the house, the policeman declined and said, "I'm not authorized to order them to enter."
Al-Qahtani said she explained to the paramedics that her father was an old man who suffered from diabetes and was not physically able to carry his daughter outside. The paramedic said, "This is none of my business."
After attempts by the woman's father to convince the policeman and paramedics, they reluctantly agreed but on entering the house, the paramedics became adamant and said: "We don't have orders to transport serious cases."
Al-Qahtani alleged that when her father requested a stretcher, the paramedics refused and eventually drove off. "We were in bad need of assistance. This is a humanitarian duty before anything else. At least, he could have guided us on how to give her first aid or he could have called for help from another authority. We don't own a big car to carry her," she said.
After a long time and great suffering, Al-Qahtani found a spacious taxi and the owner agreed to take her sister to hospital.
The policeman volunteered to help Al-Qahtani's father and sisters carry the woman to the taxi.
"We arrived with our sick sister at 11.05 a.m. at the emergency room. During the long delay, my sister's condition worsened. I appeal to the president of the Saudi Red Crescent Authority to penalize negligent personnel for refusing to provide us assistance and their refusal to lend us a stretcher. They left us in a pitiful state," she said.
When contacted by Al-Yaum, a Red Crescent spokesman said they were verifying the information.
http://www.saudigazette.com.sa/index.cfm?method=home.regcon&contentid=20130806176133
------------
URL: https://www.newageislam.com/islam,-women-and-feminism/new-age-islam-news-bureau/heavy-harassment-cases-against-saudi-women-and-children/d/12913