New Age Islam News Bureau
13 Jul 2018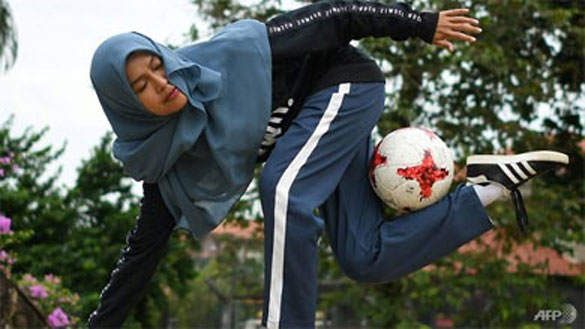 In freestyle football, players use all parts of their body to perform often acrobatic tricks with the ball AFP/MOHD RASFAN
-----
• Addiction of Women in Iran Is On the Rise
• Patriarchal Society Alienates Sex Workers in Egypt
• First Female Bahraini Royal Flies Warplane
• Canada to Help Improve Livelihoods Of Women And Girls In Syria And Iraq
• What Next After Driving For Saudi Women?
• Women Vow To Defy Men Who Banned Their Vote in Pakistan Village
Compiled by New Age Islam News Bureau
URL: https://www.newageislam.com/islam-women-feminism/headscarved-malaysian-girl-wows-with/d/115823
--------
Headscarved Malaysian Girl Wows With Freestyle Football Skills
July 13, 2018
Klang (Malaysia), Jul 13 (AFP) The slick freestyle football moves of a Malaysian Muslim girl have boosted her into the spotlight in a country where the sport is dominated by men.
Sporting a headscarf, Qhouirunnisa' Endang Wahyudi executed deft moves, juggling the ball before balancing it on her soles and later on her forehead. "The headscarf is not an obstacle," the 18-year-old student told AFP at a park in Klang, a city about 40 kilometres (25 miles) southwest of the capital Kuala Lumpur.
"It's normal. It's just how you handle it." In freestyle football, players use all parts of their body to perform often acrobatic tricks with the ball. More than 60 per cent of Malaysia's 32 million people are Muslims. Many Muslim women in the country don the traditional hijab and loose-fitting clothing in line with Islamic requirements of modesty.
Islam does not stop women from playing sports, Qhouirunnisa' said. The teenager started freestyle football in 2016, training and learning tricks by watching videos on YouTube.
"With freestyle, you can be free as long as you don't show (your body)," Qhouirunnisa' said, adding that she has the full support of her family.
Football is one of the most popular sports in Malaysia, despite the national men's team being ranked a dismal 171st in the world. Fans across the country often watch matches live on TV well past midnight, cheering foreign teams in competitions like the World Cup.
"Freestyle in Malaysia is mostly (practised by) men," Qhouirunnisa' said, but added that girls in the country were becoming more interested in it. She trains four to five days a week, balancing, kicking and juggling the ball for up to three hours in every session.
Her freestyle tricks have a growing online audience: her Instagram account has more than 72,000 followers. Qhouirunnisa' hopes to one day meet her idol, teenage French freestyle star Lisa Zimouche.
"Being a woman is not an obstacle," she said. "You can be active in sports." (AFP) HMB
http://www.india.com/news/agencies/headscarved-malaysian-girl-wows-with-freestyle-football-skills-3163790/
--------
Addiction of Women in Iran Is On the Rise
12 July 2018
Addiction of women in Iran is escalating. There is one addicted woman for every 6.6 addicted men in the age range of 15 to 25.
This is according to the statistics presented by Anoushirvan Mohseni Bandpay, head of the National Welfare Organization, on July 11, 2018. The statistics has been compiled in the Persian year of 1394 (March 2015-March 2016).
According to the latest studies on the spread of addiction among Iran's women, only 3.8 percent of addicted women are receiving treatment which shows that women are cautious in reporting their addiction due to cultural and social issues.
In a report published by the state-run salamatnews.com, quoting the state-run Fars news agency regarding the addiction of women in Iran, Mohseni Bandpay said, "Escalation in the number of child laborers and street children, children without a guardian or with bad guardians, moral corruption, divorce and shanty-town dwellling… are consequences of a problem called addiction." (The state-run salamatnews.com, July 11, 2018)
In another development, a gathering was held in Mashhad on socializing the struggle against narcotics by giving priority to the preventive role of the families and women, emphasis was placed on widespread addiction of women in Iran.
Political, security and social deputy of Khorasan Razavi's Governor, Mohammad Rahim Noroozian, confessed that "the trend of women's tendency towards narcotics has accelerated in recent years, which is a cause of concern."
"During recent years, the damages caused by narcotics has become more extensive among the female populace in Iran," Noroozian emphasized, adding, "the addiction of women in Iran and its consequent damages are much more complicated and worrying compared to men. Usually the addiction of women in Iran is concealed, therefore, there is less opportunity for their treatment." (The state-run iraneconomist.com, July 11, 2018)
Earlier, Ahmed Kaheh, general director of public education in the Social Directorate of the State Security Force, had also presented horrible statistics on the addiction of women in Iran. He said, "Men turn to injections after eight years but women reach that point in two years." (The state-run IRNA news agency - May 12, 2018)
https://women.ncr-iran.org/iran-women-news/5325-addiction-of-women-in-iran-is-on-the-rise
--------
Patriarchal Society Alienates Sex Workers in Egypt
SARA MOHAMED
JULY 12, 2018
She rises, disheveled, out of her makeshift mattress and idly puts her clothes on. He hands her money. No words are exchanged as he leaves.
This is not a scene from a movie or an excerpt from a novel, but rather a reality experienced by many Egyptian women who turn to prostitution as a source of income.
"I got used to it and the need to earn money makes me disregard everything else," said Abeer, a saleswoman by morning and a sex worker by night.
Abeer would pick up clients either at the supermarket she works in or from the streets she lives around the area she lives in.
"I started working as a sex worker when my colleague at work proposed I sleep with a client, and I accepted because her offer was tempting," Abeer said glumly.
Most clients lavish sex workers with gifts, clothes and money if they like them, she added.
Abeer's story bears all the hallmarks of the socio-economic trauma that pushes women into the downward spiral that leads them to sell their bodies.
She was involved in a physical relationship with a Christian man, one whom she could not marry. She spent money on him only to find that he married his cousin in Lebanon.
"I felt desperate and frustrated so I accepted my colleague's offer immediately and considered prostitution as a way to get over him."
But her prostitution soon became an economic necessity to "move up the ladder" under the brunt of economic hardship.
"I sometimes earn EGP 200 per night and I could haggle till the price reaches EGP 500, depending on the client," she said.
BETWEEN AGENCY AND SOCIETY
Nada Nashaat, advocacy coordinator at the Centre for Egyptian Women's Legal Assistance (CEWLA), says that this does not mean that Abeer deliberately chose to become a sex worker.
"Ninety percent of the cases that come to the center are living in poverty and they're often forced to become sex workers whether it's due to their low incomes, their families forced them into prostitution, or they were traumatized and considered it a way to get out," she said.
But Nashaat says women forced into prostitution should be referred to as trafficked, and not sex working.
She said that most women forced to turn to prostitution either have children with school needs or have to take care of an elderly or sick member of the family.
In some cases, it is the women themselves who are ill and require money for medicine.
"She's only considered a sex worker when she isn't compelled to do this and she needs no money, she's well-educated, and she's determined to do this because this is her right."
Although sex workers were legally recognized and taxed before the 1950s, today the government's efforts to protect them are minimal, raising the risk of rape and violence against them.
Some are beaten and raped by their pimps or their clients.
Helen Rizzo, chair of the department of sociology, Egyptology and anthropology, highlighted how Egyptian law leaves free-willing sex workers unprotected within a combination of exploitative legislation, neglectful government and an antagonistic society.
CAUGHT UP IN THE LAW
According to Article 9 of the Anti-Prostitution Law (Law No. 10 of 1961), sex workers can be charged with up to three years in jail and a fine of EGP 300.
Nashaat says that if there is a proof of cash exchange for sex, the man involved is not prosecuted, but rather acts as a witness for the prosecution.
"[CEWLA] endeavors to amend this law in terms of also punishing the man since he's the one in need of sex and pays for such act and actually exploits the [sex worker's] need for money but is still considered a witness and she gets prosecuted," she said.
She also referred to the law as "discriminating" since it punishes women without examining their jarring backgrounds and the root causes that often forces them into this field.
Although CEWLA is advocating for increased protection of their right, it is only permitted to offer help to any prosecuted sex worker only if it is determined that they were trafficked into prostitution.
SEX TRAFFICKING
The US State Department defines human trafficking as "the act of recruiting, harboring, transporting, providing, or obtaining a person for compelled labor or commercial sex acts through the use of force, fraud, or coercion."
"There's a lady that would call me if she found a client and I would pay her EGP 200 as a fee for offering her apartment for me to use … I also call her if a client picked me up and doesn't have a place and pay her the same fee," Abeer told The Caravan.
Magda Adly, cofounder of the El-Nadeem Center for the Rehabilitation of Victims of Torture, referred to sex workers as "victims of the community" and said that few women would willingly offer their bodies as capital.
"I spent more than a year in Al-Qanatir prison and during this time only one prostitution ring consisting of college girls was prosecuted. The rest were all people from a level of poverty that infuriates one's conscience," she said.
Research and data about sex trafficking are hard to come by in Egypt largely due to institutionalized social barriers.
Sex trafficking lacks credible statistics in Egypt, which often makes it difficult to combat.
In its 2015 annual report, the US State Department's Office to Monitor and Combat Trafficking in Persons placed Egypt on its Tier 2 Watch List — a list of countries where, despite efforts, trafficking remains an increasingly significant issue.
"Egypt is a source, transit, and destination country for men, women, and children subjected to forced labour and sex trafficking," the report noted.
But within two years, the Egyptian government appears to have taken "significant efforts" in improving its record of combating sex trafficking.
In its 2017 report, the Office to Monitor and Combat Trafficking in Persons said: "The government demonstrated increasing efforts by creating three specialized courts to prosecute human trafficking cases, prosecuting a government official for alleged complicity in trafficking crimes, adopting a new national anti-trafficking action plan, and conducting several trafficking awareness campaigns and training programs that addressed various forms of trafficking."
In the meantime, the government is tracking legal loopholes used by traffickers to circumvent current anti-prostitution laws.
CHILDREN IN THE INDUSTRY
Egypt's morality police say that some prostitution has taken on the form of temporary marriage contracts or misyar – a Sunni marriage contract where the husband and wife both renounce several marital rights such as cohabitation, maintenance money and others.
This loophole has been particularly popular among wealthy Arab men coming to Egypt to look for temporary wives – an issue cited in the US State Department reports.
In December 2015, former Minister of Justice Ahmed El-Zend issued Ministerial Regulation No. 9200 of 2015, which relates to Law No. 103 of 1976, in a bid to regulate the registration of marriage contracts between Egyptian women and foreign men.
In 2009, Minister of Family and Population Moushira Khattab launched a campaign against underage marriage, which has become its own touristic economy in recent years.
Certain districts in 6th of October, such as Hawamdiya, Badrashin and Abu al Nomors, have transformed into active sites for trafficking.
The Ministry found 74 percent of girls below the age of 18 were married to non-Egyptians in these areas.
The Ministry warned that these would become "potential prostitutes in the making."
According to Article 1 of the new Regulation, if a foreign husband is 25 years older than his Egyptian wife, he must create a certificate of deposit in the amount of EGP 50,000 (around $3,000) under the wife's name.
Despite such measures, the government is facing an uphill battle to combat trafficking and stamp out prostitution rings.
SEXING THE ECONOMY
Although a recent revelation from the Morality Police that they broke up more than 140 prostitution rings netting $1 billion in revenue this year, reports from the Bureau for Protection of Public Morals indicated that the number of prostitution rings peaked in 2017.
It is no surprise that a correlation with a struggling economy and soaring inflation exists.
Egypt's unemployment rate has surged exponentially following the 2011 Revolution that ousted former President Hosni Mubarak, rising from nearly nine percent in 2010 to 12 percent in 2017. According to the national statistics agency CAPMAS, 80 percent of unemployed people are youth.
The unemployment rate to just shy of 12 percent in August this year, but with inflation many young men and women find marriage costs prohibitive. Some then turn to having extra-marital sex, fueling the growth of the underground prostitution industry.
Rizzo says prostitution is already a part of the economy, whether it's legal or not, and that criminalizing it adds a layer of exploitation towards sex workers.
"But if it's legal, then maybe there would be better protections. The government could also collect taxes and theoretically provide better services to [sex workers]," said Rizzo.
She said that even if the government provided sex workers with other types of work, prostitution will never disappear entirely, which is why people within the profession should have proper access to services.
https://egyptianstreets.com/2018/07/12/patriarchal-society-alienates-sex-workers-in-egypt/
--------
First female Bahraini royal flies warplane
July 12, 2018
It was the first flight in a warplane piloted by a Bahraini woman.
His Royal Highness Prime Minister Prince Khalifa bin Salman Al Khalifa attended today the first flight in a warplane piloted by a Bahraini woman.
Flown by his Granddaughter Pilot Officer Shaikha Aisha bint Rashid Al Khalifa, the warplane, Hawk, took off today from Shaikh Isa Air Base to perform a one-hour flight in an unprecedented achievement for Bahraini women.
HRH the Prime Minister was keen to follow the major event from take-off to landing. He described it as a unique event and a remarkable accomplishment that embodies determination and the spirit of defiance of Bahraini women. It also reflects resolve to serve the nation and defend it in the most difficult areas.
Commander-in-Chief of Bahrain Defence Force (BDF) Field Marshal Shaikh Khalifa bin Ahmed Al Khalifa, who attended the event, said Shaikha Aisha had made an achievement in the history of the Royal Bahrain Air Force (RBAF).
HRH the Prime Minister congratulated Pilot Officer Shaikha Aisha bint Rashid Al Khalifa on the success of her first flight in a military plane, taking pride in her being the first Bahraini woman to fly a military plane in the history of RBAF. He lauded her strong determination to enter this hard field and become the first Bahraini woman to pilot a warplane after successfully completing hard training in military aviation and graduating from the well-reputed British Royal Military Academy Sandhurst.
HRH the Premier praised BDF as a national edifice that is constantly bringing about multiple achievements thanks to the royal support. He pointed out the development of BDF in all fields, including RBAF which, he said, has become a source of pride with its competencies and successful regional participations. He affirmed that becoming part of BDF personnel is an honour for every citizen, pointing out the role of the BDF personnel in protecting the nation and maintaining its security and stability. He also underlined the BDF's key role in defending the Arab right and stopping interference in its affairs, protecting legitimacy and promoting regional security and stability.
Pilot Officer Shaikha Aisha bint Rashid Al Khalifa expressed heartfelt thanks and gratitude to HRH the Premier for his unlimited support, pledging to exert more efforts to serve the nation under the leadership of His Majesty King Hamad bin Isa Al Khalifa. She described her unprecedented achievement as a dividend of the motivating climate provided by the government for Bahraini women to take part and stand out in various domains of national work.
HRH the Prime Minister received a book from RBAF Commander Air Vice-Marshal Shaikh Hamad bin Abdullah Al Khalifa documenting RBAF history and the pioneering role of HM the King in upgrading its system.
https://www.khaleejtimes.com/region/bahrain/Photos:-First-female-Bahraini-royal-flies-warplane-
--------
Canada to Help Improve Livelihoods Of Women And Girls In Syria And Iraq
13 Jul 2018
In Brussels, Belgium, the Honourable Chrystia Freeland, Minister of Foreign Affairs, participated in the Foreign Ministers Meeting of the Global Coalition Against Daesh. During the meeting, the Minister announced $26.7 million in funding to improve the livelihoods of women and girls.
The funding will be used to provide women and girls with access to sexual and reproductive health services, increase women's roles in decision making in their communities and give them economic opportunities such as small business grants. All of these projects are focused on supporting a more peaceful and prosperous future in the region.
Today's funding will also support projects aimed at helping to remove improvised explosive devices planted by Daesh in public buildings, such as hospitals, schools and water treatment plants, and projects seeking accountability for Daesh crimes in Iraq and Syria.
At the meeting, the Minister reinforced the need for all coalition members to put gender equality, including initiatives surrounding women, peace and security, at the centre of all their operations in Iraq and Syria.
Canada also recently announced that it will expand its leadership role in NATO and assume command of a new NATO training and capacity-building mission in Iraq for its first year. Canada's leadership and contributions will help strengthen Iraqi security forces and create the foundations for longer-term peace and stability in the country.
https://www.devdiscourse.com/Article/56410-canada-to-help-improve-livelihoods-of-women-and-girls-in-syria-and-iraq
--------
What Next After Driving For Saudi Women?
12 Jul 2018
Perhaps the most striking image from Saudi Arabia's historic lifting of the women's driving ban is not that of female motorists taking the wheel, but of them accepting pink roses from police officers in Riyadh's early morning hours of June 24.
In any other city, the pictures that circulated on social media would have been translated as an act of chivalry and support for women's advancement. Some feminists would have even disputed the roses' pink shade, arguing that gender should have no colour associated to it.
The crucial point that many have missed, however, is that this small gesture of kindness goes against the kingdom's strict gender segregation rules, which frown upon even the most basic of male-female interactions.
So while the driving ban's lifting provides women with unprecedented freedom in a society where male guardianship practically renders them second-class citizens, the officers' gesture suggests changing attitudes will not stop at driving.
And more evidence of this can be seen in the outlooks of the country's prominent business titans, including the billionaire Kingdom Holding chairman Prince Alwaleed Bin Talal. In a video posted on his Twitter account, the prince is seen accompanying his daughter Reem on her first ever drive on the roads of Saudi Arabia.
No turning back
The transformational change might never have taken place, of course, if it weren't for Crown Prince Mohammed Bin Salman Al Saud's ambition to modernise the kingdom through a series of reforms to boost its oil-dependent economy through the inclusion of 50 percent of its workforce – the nation's women.
Just allowing women to drive could add as much as $90bn to Saudi's economic output by 2030, according to Bloomberg Economics, impacting sectors ranging from petrol to motor retail.
Princess Reema Bint Bandar, deputy of planning and development for the Saudi Arabian General Sports Authority (GSA), called the strategy "pure economics". "This is the future, this isn't something you go back from. This isn't a singular activity," she told CNN.
She noted the changing attitudes in her own field, where females are now allowed participation in the Olympics and can visit sport arenas for male matches.
In February this year, women were also told they could join the military and intelligence service. In the same month, a senior cleric stated that under Islamic law, women were not required to wear an abaya, urging for it to be regarded as a personal choice.
Other reforms include the re-opening of public cinemas for the first time since the 1980s, as well as the lifting of a ban on music concerts.
The changes met with mixed reactions, however, revealing the long road ahead. Conservative mentalities are so deeply ingrained in Saudi that when it sent female athletes to the 2012 London Olympics, hardliner clerics roundly denounced the competitors.
More to do
Women's ability to learn to drive will still depend on the willingness of theirs male guardians; husbands, fathers, sons or uncles. Once the wave of optimism dies down, they will be reminded that they are subjected to myriad restrictions in everyday life. Women still need their guardian's consent for activities ranging from travel to getting married and signing contracts. More restrictions include trying on clothes when shopping or reading an uncensored fashion magazine.
While it will not be easy to modernise the world's most gender-segregated nation, with the Crown Prince at the helm of the drive, it seems to be the only way forward for the fluctuating kingdom.
As an Arab woman observing these changes from afar, it all goes back to the supportive, rather than dominant, gestures of male police officers handing roses to eager female drivers. It will leave stubborn hardliners no choice but to walk the line – one which will lead to a stronger, sturdier and ever-progressive Saudi Arabia.
https://www.arabianbusiness.com/politics-economics/400533-what-next-after-driving
--------
Women Vow To Defy Men Who Banned Their Vote in Pakistan Village
12 Jul 2018
MOHRI PUR, Pakistan: Men banned women from voting in the village of Mohri Pur sometime around 1947, and they have obeyed ever since - until this year, when changes to Pakistan's election laws and women's attitudes could shift the dynamic.
At least, that is the hope of many women meeting beneath a Jambolan tree in the village some 60km from the central Pakistan city of Multan, its shade protecting them from the blazing sun.
Whether the men watching angrily as the women speak to AFP reporters will allow them to follow through when the nation goes to the polls on Jul 25 is another question.
"They perhaps think that women are stupid ... or there is an issue of honour for them," says 31-year-old Nazia Tabbasum.
Village elders banned women from voting decades ago, claiming that visiting a public polling station would "dishonour" them.
So-called "honour" describes a patriarchal code across South Asia that often seeks to justify the murder and oppression of women who defy conservative traditions by acts such as choosing their own husband, or working outside the home.
"I don't know where their honour goes to sleep while they lie down at home ... as their women work in the fields," Tabbasum adds, scathingly.
But the Election Commission of Pakistan (ECP) has declared that at least 10 per cent of voters in each constituency must be women, otherwise its results will be voided.
Nearly 20 million new voters have been registered in the rapidly growing country, including 9.13 million women, the commission says.
It is another step in women's long battle for rights in Pakistan, a deeply patriarchal country of some 207 million people - though it does little to address the gender imbalance of the 2013 elections, in which male registered voters outnumbered female by some 11 million.
The shift also sets the stage for a stand-off in conservative rural areas, like Mohri Pur.
FEAR OF VIOLENCE
"The main reason is that these are the areas where women are not allowed to even come out of the house," says Farzana Bari, a gender expert and rights activist.
The ECP's rule change should improve things - though Bari warned that within each constituency there could yet be pockets where women are prevented from voting.
There is plenty of precedent: in 2015 men stopped women from voting in a local poll in Lower Dir, in the northwest. The ECP promptly cancelled the result.
In 2013 a court ordered the arrest of male elders in two other northwestern districts over banning female votes in the previous general elections.
In Mohri Pur, located in Punjab province, women do work outside the home and some receive education, yet the vote ban holds.
Many of the younger women under the Jambolan tree are eager to exercise their rights -- but not all.
Widow Nazeeran Mai, 60, says it is not "custom" for women to vote. "(T)here is no one to stop me, but still I don't vote because nobody else does," she says.
Others fear violent reprisals.
"If they go to vote alone, there will be violence and unrest, the men will abuse and beat them, so it's better not to go," explains 22-year-old Shumaila Majeed - though she remained determined to get as many women to the polls "as possible".
Even Mohri Pur's lone female councillor Irshad Bibi - elected under laws stipulating at least one woman on every village council - has never voted.
When asked why, she calls on her husband to speak for her.
"Our elders had set up this custom ... We stand by this today," the husband, Zafar Iqbal, tells AFP.
"NOBODY LISTENS"
"In any civilised democracy, half the population ought not be disenfranchised," says newspaper columnist Hajrah Mumtaz.
But local politicians say they are helpless.
"I can't break their tradition ... the people of this village have to decide when they will allow women to vote," says Raza Hayat Hiraj from the Pakistan Tehreek-e-Insaf party.
Bismillah Noor, a member of the district council who arranged the meeting under the Jambolan tree, says the men are stubborn.
"I've been trying since 2001 but nobody listens to me," she says. "In 2005, men told me their women don't want to vote so I should not force them."
Another attempt in 2013 also failed.
The determination Noor hears from the village women now gives her a glimmer of hope - but progress is fragile.
In 2015, one woman, Fouzia Talib, became the only one in Mohri Pur to vote in local elections. She was ostracised.
Now, she is unsure if voting on Jul 25 for politicians she believes will do little for the area is worth the backlash.
https://www.channelnewsasia.com/news/asia/women-vow-to-defy-men-who-banned-their-vote-in-pakistan-village-10523258
--------
URL: https://www.newageislam.com/islam-women-feminism/headscarved-malaysian-girl-wows-with/d/115823
New Age Islam, Islam Online, Islamic Website, African Muslim News, Arab World News, South Asia News, Indian Muslim News, World Muslim News, Women in Islam, Islamic Feminism, Arab Women, Women In Arab, Islamophobia in America, Muslim Women in West, Islam Women and Feminism