New Age Islam News Bureau
30 Dec 2017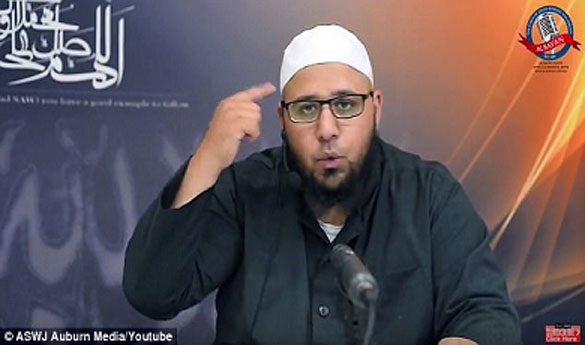 Photo: Hardline Muslim preacher Nassim Abdi says university makes women have premarital sex
-----
• UAE Cancels Tunisia Handball Games amid Row over Women
• From #MeToo to Rape Laws, Women's Rights Advanced Despite Adversity In 2017
• With Polygamy in Practice, Triple Talaq Ban Alone Can't Help Us: Muslim Women
• 7 Women's Rights Victories for the Arab World In 2017
• Berlin to Host New Year's Eve 'Safe Zone' For Women As Authorities Crack Down On Harassment
Compiled by New Age Islam News Bureau
URL: https://www.newageislam.com/islam-women-feminism/hardline-muslim-preacher-says-women/d/113757
--------
Hardline Muslim Preacher Says Women Going To University at Risk of Having Sex
Nassim Abdi, from western Sydney, said young Muslim women in their late teens and early twenties were at risk of having premarital sex if they delayed marriage to finish a degree.
'There is nothing wrong with a woman getting an education, especially if it's needed,' he said.
'There is nothing wrong with a person delaying marriage if there's an appropriate reason.
'But when you know this step is going to lead to the disobedience of Allah, then upon you dear brother is to stop that if you can.
Islamic preacher slams Muslim parents for playing music to...
'Why are you wearing it like this?' Islamic preacher slams...
The Sunni fundamentalist, from the Ahlus Sunnah WalJamaah Association at Auburn in Sydney's west, used the Islamic legal term for premarital sex, Zinnah, to condemn the idea of a woman unnecessarily going to university.
'How many people ended up committing Zinnah because we wanted our reputation to be held up? We wanted a master's degree for our daughter who is never going to use it,' he said.
Mr Abdi, who has previously condemned Muslim women for showing their ears in public and letting children hear music in the car, mocked those who believed their daughters needed to finish their degrees before getting married.
'How many a time, a man comes to ask for a daughter's hand?,' he said.
'"No, she's too young." Too young meaning how old? Twelve, thirteen, maybe too young. The woman's 18, 19, 21 years old, what do you mean too young?
'If a woman is physically and mentally and emotionally is able to get married, then why prevent her? "No, she has to finish her studies".'
Mr Abdi preaches an ultra-conservative version of Salafism, derived from Saudi Arabia, at a mosque which is upstairs from the Bukhari House Islamic Bookstore.
dailymail.co.uk/news/article-5212145/Muslim-preacher-urges-Muslims-stop-women-going-uni.html#ixzz52lRtYviT
---------
UAE cancels Tunisia handball games amid row over women
TUNIS: The UAE men´s handball team cut short a trip to Tunisia Friday, the Tunisian federation said after it appointed female referees for a game in apparent solidarity with women in a row with Emirates Airline.
The Gulf visitors forfeited two games after Emirates received instructions to deny Tunisian women access to its planes over a feared "terrorist attack" involving a woman carrying a Tunisian passport.
In response, the North African country on Sunday halted Emirates flights between Tunis and Dubai.
Handball federation secretary general Amir Saadi said women had been appointed as referees for a friendly match between the two national teams on Friday.
But, according to Saadi, the UAE team announced it was forfeiting that game and another scheduled for Saturday for "technical reasons", citing the absence of 10 players and injuries of four others.
They had said "there was no link with political affairs", he added.
Tunisian social media users have slammed the travel measures against women from their country as "discriminatory" and "humiliating".
A source in the office of Tunisian President BejiCaidEssebsi said the two countries were in talks to find a solution.
Transport Minister RadhouaneAyara on Thursday, however, told Sham FM radio the discussions had not made much ground.
Political analyst Hamza Meddeb said the tensions between Tunisia and the United Arab Emirates were linked in part to Tunisia not choosing sides in the Gulf region´s worst crisis in years.
The UAE was among a group of countries to sever ties with Qatar in June over its alleged support for religious extremism and close ties to Iran. Doha has denied all charges.
Meddeb said the United Arab Emirates wanted to discourage ruling party Nida Tounes from allying with party Ennahda ahead of local elections in May.
geo.tv/latest/174470-uae-cancels-tunisia-handball-games-amid-row-over-women
-------
From #MeToo to rape laws, women's rights advanced despite adversity in 2017
DEC 30, 2017
WASHINGTON – Pink hat-wearing protesters marched in the millions, celebrities called out their abusers as "pigs," and countries from Chile to India passed pro-women legislation, making 2017 a momentous year for women's rights despite setbacks, activists said.
Beginning with the inauguration of U.S. President Donald Trump, who swiftly moved to restrict abortions around the world, 2017 brought a reminder to many that women's rights have a long road ahead.
But the trials ushered in a new era of resistance in the United States and elsewhere, while countries in the Middle East, Africa, and Latin America made strides toward ending gender discrimination, campaigners said.
"It was a year for tackling discriminatory laws," said U.N. Women Executive Director PhumzileMlambo-Ngcuka.
Lebanon, Tunisia and Jordan all scrapped laws this year that allowed rapists to escape punishment if they married their victims, a move activists hope will spread to other Arab states.
In a string of victories against child marriage, Malawi, Honduras, Trinidad and Tobago, El Salvador and Guatemala all amended national laws to ban the practice, Mlambo-Ngcuka said.
And in India, where child marriage is illegal but common, lawmakers ruled that having sex with a wife age 15 to 18 is punishable as rape.
Trump's expansion of the global gag rule — which withholds U.S. funding from foreign clinics or groups that provide information about abortion — dealt a blow to family planning services and women's health worldwide, charities said.
But in a victory for campaigners, Chile ruled to legalize abortion in certain circumstances, leaving only a handful of countries in the world where it is banned outright.
"We continue to see progress in advancing reproductive human rights in a hostile global climate," said Lilian Sepulveda of the global legal program at the Center for Reproductive Rights.
Other women's rights leaders said it was the resistance to sexism that made 2017 noteworthy.
"This year has also been about changing the narrative — from one that blames, disbelieves and stigmatizes victims, to one that holds abusers to account," said the U.N.'s Mlambo-Ngcuka.
Millions of women around the world marched in protest to Trump the day after his inauguration, many wearing pink "pussyhats" in reference to his boast in a 2005 video about grabbing women's genitals.
Months later, millions again joined a popular protest movement by sharing stories of sexual abuse and harassment on social media using the hashtag #MeToo, or in France, #balancetonporc ("expose your pig").
"I think this is just the beginning of a new awakening for women," said Bob Bland, one of the national co-chairs of the Women's March on Washington.
"Going into 2018, we are galvanized for the fight ahead," she said.
japantimes.co.jp/news/2017/12/30/world/social-issues-world/metoo-rape-laws-womens-rights-advanced-despite-adversity-2017/#.WkfGSN-WbIU
---------
With polygamy in practice, triple talaq ban alone can't help us: Muslim women
Published Dec 30, 2017, 9:46 am IST
New Delhi: A day after the Lok Sabha passed the contentious bill on instant triple talaq, the development was hailed by several Muslim women involved in judicial war against the practice, with a rider that the government should have also banned polygamy.
The women, including those who waged the war against the archaic practice in the Supreme Court, said with the passing of the Muslim Women (Protection of Rights on Marriage) Bill in the lower House, "a new beginning has been made" and it will prove to be a deterrent for the husbands from saying talaq-e-biddat to their wives.
They said the new law should have also banned the practice of polygamy among Muslim men which, they said, was "worse than triple talaq."
The women, advocate Farah Faiz, Rizwana, Razia, who were associated in the fight against triple talaq and polygamy in the apex court, expressed satisfaction that at least "a start" has been made by the present NDA dispensation.
The same opportunity had come in 1985 when the Shah Bano case happened, but was lost by the then Central government, they claimed.
"A new beginning has been made which would protect Muslim women from immoral practice of nikahhalala," said Faiz, whose view was shared by Rizwana and Razia with a slight variance.
'Nikahhalala' is a practice intended to curb incidence of divorce. Under this, a man cannot remarry his former wife without her having to go through the process of marrying someone else, consummating it, getting divorced, observing the separation period called 'Iddat' and then coming back to him.
Rizwana and Razia were of the view that the government should have dealt with the issue of polygamy by banning it in the same bill.
"I welcome the move but now men will take undue advantage of the law and indulge in polygamy openly as it is still in practice. With polygamy still in practice, abolition of triple talaq cannot alone help us," said 33-year-old Rizwana, a victim of polygamy.
Razia (24), whose husband divorced her over phone citing birth of daughters as the reason behind it, hailed the law brought by government and hoped that women like her would get justice.
Married at the age of 16, Razia said, "I was given triple talaq by my husband on phone as he did not want to bring up our two daughters. Triple talaq is a crime and has spoilt many lives. I pray that all women like me get justice with this new law. However, I wish that the practice of polygamy is also banned."
Advocate Chandra Rajan who had represented All India Muslim Women Personal Law Board (AIMWPLB) also hailed bringing of the legislation and said it would go a long way in history.
"If this new law is implemented in true spirit then it will go a long way and prove to be a deterrent for the husbands from saying 'talaq-e-biddat' to their wives," she said.
Rajan said the AIMWPLB has, from the very beginning, demanded that there should be a law which should hold the practice of instant triple talaq null and void and impose punishment on husbands practicing it.
"We are disappointed only on one count that Sharia was not defined by the government in the law. As long as Sharia is not defined, confusion and misuse of such practices will prevail," she said, adding to the extent that the government brought this law in haste.
"The best thing the law proposes is that custody of minor child will be given to the mother. This happened with Shah Bano who was the victim of triple talaq and one of the petitioners in the Supreme Court," Rajan said.
She, however, questioned the mention of All India Muslim Personal Law Board (AIMPLB) in the law and said that it is an NGO and by mentioning their name it is like giving them sanctity.
Faiz also shared the view of Rizwana and Razia that the government could have also brought a law making the unethical practice of polygamy null and void and protected lakhs of Muslim women.
"At least this government has done something and a new beginning has been made. Amendments keep on happening in the law but the start has been made," she said.
Faiz who fiercely argued against the practice of talaq- e-biddat (triple talaq) said the government should have enhanced the imprisonment term from three to seven years and made it a sessions court triable offence.
"Misguided husbands, who were able to go scot-free after pronouncing triple talaq to their wives, will now be deterred from doing so. No one will listen to Maulanas and misuse the practice which has been made null and void by the Supreme Court as police can lodge a case and initiate criminal trial against offenders," she said.
Rizwana, a Railway employee who had approached the apex court for abolishing the practice of polygamy, said, "With polygamy still in practice, abolition of triple talaq cannot alone help us."
deccanchronicle.com/nation/current-affairs/301217/with-polygamy-in-practice-triple-talaq-ban-alone-cant-help-us-muslim-women.html
---------
7 women's rights victories for the Arab world in 2017
2017-12-30
There is no doubt that women in the Arab world face a slew of societal and legislative challenges, but it seems as though we are on the right track in our fight for gender equality.
More and more Arab women have taken it upon themselves to stand up for their rights, sometimes even risking their own lives to do so.
Thanks to their efforts, we have seen several victories in the women's rights movement in the region.
This year alone, the Arab world witnessed a number of pro-women changes, especially in the conservative Islamic kingdom of Saudi Arabia.
Here are some of the accomplishments Arab women's rights activists have achieved in 2017:
1. Saudi Arabia lifted the decades-old ban on women driving
وزارةالخارجية🇸🇦
✔
@KSAMOFA
Saudi Arabia allows women to drive
12:32 AM - Sep 27, 2017
693 693 Replies 23,678 23,678 Retweets 15,190 15,190 likes
Twitter Ads info and privacy
Perhaps one of the highlights of the year, Saudi Arabia announced late in September that it will finally allow women to drive starting June 2018.
The long-overdue decision followed multiple campaigns led by female Saudi activists, such as Manal Al-Sharif, Loujain Al-Hathloul, Wajeha Al-Huwaider, and Maysaa Al-Amoudi.
Among others, these women organized protests against the ban and personally defied it by attempting to drive in the kingdom, leading to their temporary arrest.
2. Saudi women made their way into the sports world
Linda Hemby
@LindaHemby
#SaudiArabia to host first #women's basketball tournament bit.ly/2zlpZeV
Jeddah to host first women's basketball tournament
Women s empowerment through sports receives major boost
gulfnews.com
Replies Retweets likes
Twitter Ads info and privacy
Saudi authorities have made several changes that loosen the restrictions on women practicing sports in public.
In the past month, the kingdom has hosted its first-ever football and basketball tournaments.
In February, the General Authority of Sports announced plans to start granting licenses to women's gyms and open female-only fitness centers in every district.
This came after a long history of female sports facilities being denied licenses or shut down.
In July, Minister of Education Ahmad Al-Issa issued a decree that introduced an all-new physical education program for girls' schools.
Additionally, the Saudi General Sports Authority announced in October it will allow women to attend sporting events in stadiums starting next year.
3. Tunisia passed a "landmark" law to end all violence against women
Mona Eltahawy
monaeltahawy
New law recognises "physical, moral & sexual" violence, removes article that allows men to escape punishment for rape if marry their victim twitter.com/aminetais/status/890439112833904640 …
10:43 AM - Jul 27, 2017
2 2 Replies 54 54 Retweets 100 100 likes
Twitter Ads info and privacy
Tunisia is considered a pioneer of women's rights in the Arab world, and in July 2017, it passed a law that endorses that title.
The country's parliament passed a bill that protects women from violence in what the Human Rights Watch (HRW) described at the time as a "landmark step for women's rights."
The new law, which is expected to come into effect next year, introduces new criminal provisions and increases penalties for various forms of violence, sexual harassment, and discrimination against women.
The law recognizes "physical, moral and sexual violence" and includes the necessary measures women need in order to seek protection from acts of violence.
Additionally, under the new law, rapists are no longer allowed to escape punishment if they marry their victim.
4. Tunisia also decided to allow Muslim women to marry non-Muslim men
Rana Jawad
@Rana_J01
A good day for freedom of choice. The 1973 law banning Muslim Tunisian women from marrying Non-Muslims has been scrapped. #tunisia #tunisie
1:32 AM - Sep 15, 2017
4 4 Replies 42 42 Retweets 56 56 likes
In September, the Muslim-majority state decided to lift a decades-old ban that had prohibited Muslim women from marrying non-Muslim men without the latter converting to Islam.
"All articles pertaining to the ban on Tunisian women from marrying non-Muslims have been revoked. In clearer terms, [the ban includes] the 1973 decree and all similar texts," presidency spokeswoman SaidaGarrach wrote on Facebook at the time.
"Congratulations to the women of Tunisia for the consecration of the right to freely choose one's spouse," she added.
While the move was endorsed by Tunisian President BejiCaedEssibsi, it drew heavy criticism from Muslim clerics.
5. Lebanon abolished its controversial rape law
After years of continuous efforts, activists in Lebanon succeeded in pressuring lawmakers to abolish a controversial article that dismissed rape charges if a rapist marries his victim.
In August, Lebanon's Parliament repealed Article 522 of the Lebanese penal code, which allowed rapists to escape punishment if they marry their victims.
The fight to abolish the law had been ongoing for years and had been championed by ABAAD, a MENA based non-profit organization.
While the move is hailed as a victory for the women's rights movement, some say article 522 has only been "partially abolished."
KAFA, a women's rights organization in Beirut described the latest developments as a "partial victory".
"[The article's] effect continues under article 505, which involves sex with a minor who is 15 years of age, as it does through article 518, which concerns the seduction of a minor with the promise of marriage," the women's rights organization said in a Facebook post.
@Petranews
توليإحسانبركاتالدرجةالعليافيالسلكالقضائيpetra.gov.jo/public_news/Nws_NewsDetails.aspx?Menu_ID=&Site_Id=2&lang=1&NewsID=317993&CatID=14 …#بترا
5:06 PM - Sep 14, 2017
3 3 Replies 3 3 Retweets 25 25 likes
Twitter Ads info and privacy
Jordanian Judge IhsanZuhdiBarakat broke the glass ceiling this September as the first-ever female judge in the kingdom's Supreme Court.
Barakat was promoted from the Amman Court of Appeal to the Supreme court, becoming the first Jordanian woman to ever reach the highest position in the judiciary.
According to Jordan Times, Barakat has already made huge strides as a woman in the field of law, as she was the first woman in the kingdom to serve as Amman's attorney general, the first to chair the West Amman Court, and the first to be appointed as an inspector at the Judicial Inspections Directorate.
Born in 1964, Barakat studied law at the University of Jordan, going on to work as a lawyer for 15 years before joining the judiciary.
7. Arab women fearlessly shared their intimate sexual harassment stories
Victims of sexual harassment are often hushed and discouraged from speaking up, but that did not faze the many Arab women who took part in the #MeToo campaign.
The worldwide campaign was led by American actress Alyssa Milano, who asked women to share their own sexual harassment stories in an attempt to "give people a sense of the magnitude of the problem."
This came in response to the controversy surrounding American Hollywood film producer Harvey Weinstein, who was accused of sexually abusing countless actresses.
Arab women took part in the campaign and reminded the world that sexual harassment knows no age, no limits, and no dress code.
stepfeed.com/7-women-s-rights-victories-for-the-arab-world-in-2017-7015
-------
Berlin to host New Year's Eve 'safe zone' for women as authorities crack down on harassment
29 DECEMBER 2017 • 6:45PM
New Year's Eve celebrations in central Berlin will include a women's safe zone for the first time, in the hope of preventing a repeat of mob attacks on female revellers during festivities in Cologne two years ago.
Up to a million guests are expected to attend the open-air event taking place around Berlin's iconic Brandenburg Gate, featuring fireworks and pop acts such as Rednex and Whigfield this year.
The women's safety area is being established at the request of Berlin police. The tent will be set up near a plaza adjacent to the landmark tourist attraction, and manned by German Red Cross representatives.
"There will be three to four (German Red Cross) helpers who are specially trained and can look after women who feel harassed or threatened," a spokesperson for the celebrations, Anja Marx, told German national broadcaster rbb.
A police spokesperson told The Telegraph that patrolling authorities planned to check in regularly with staff at the women's safety tent and tend to instances of criminal offence.
Hundreds of women reported sexual attacks and robberies by men outside the main train station at Cologne's public New Year's Eve gathering in 2016, where law enforcement was heavily outnumbered by dense crowds.
Suspects were largely of North African and Arab background. The incident happened after Germany had accepted a record influx of more than one million migrants in 2015, mostly people fleeing conflict and poverty in the Middle East and elsewhere.
A leaked police report concluded that more than 1,200 women were sexually assaulted in various German cities at the 2015/2016 New Year's celebrations. More than 2,000 men were allegedly involved and around 120 suspects were identified, the bulk of which being foreign nationals who were also new arrivals to Germany.
Cologne officials set up a security point for its 2016 carnival street festival following the attacks, and took security measures such as installing additional street lighting. Herbert Reul, interior minister of North Rhine-Westphalia, the state where Cologne is located, told German news agency DPA that authorities had "done everything" this year to ensure that the events of 2015/2016 would not occur again.
In Berlin, strict safety precautions, including the banning of large bags, rucksacks, glass bottles and alcoholic beverages, will also be enforced. About 500 security personnel will be on the premises, as well as some 1,600 extra police officers deployed throughout the city.
telegraph.co.uk/news/2017/12/29/berlin-host-new-years-eve-safe-zones-women-authorities-crack/
URL: https://www.newageislam.com/islam-women-feminism/hardline-muslim-preacher-says-women/d/113757