New Age Islam News Bureau
09 July 2022
• UAE Honours Sheikha Fatima for Her Exceptional Efforts to Support Emirati Women
• Taliban's New Chaperone Rule Deprives Afghan Women Of Foreign Scholarships
• Saudi Women Participating in Makkah's General Cars Syndicate for the First Time
• Malaysian Islamic Religious Department Probing Viral Video of Muslim Woman 'Insulting Islam'
• 'What's Rightfully Ours': Moroccan Women Petition Reform against Archaic Inheritance Loophole
• Solidarity across Borders: Arab Women Demand Action After Series Of Femicides Bleed Society Dry
Compiled by New Age Islam News Bureau
URL: https://newageislam.com/islam-women-feminism/hanan-issa-muslim-wales/d/127448
--------
Hanan Issa First Muslim Woman Named As National Poet of Wales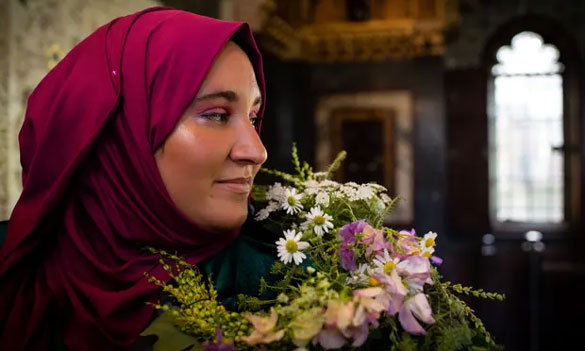 Hanan Issa. Photograph: Camera Sioned/Llenyddiaeth Cymru
----
Sophie Prideaux
Jul 08, 2022
Wales has named Hanan Issa as its fifth national poet, making her the first Muslim to hold the title.
The Welsh-Iraqi poet, filmmaker and artist will serve a three-year term, representing the country's diverse cultures and languages and acting as an ambassador for the people of Wales.
Her recent works include her poetry collection My Body Can House Two Hearts, published in 2019, and her contributions to Welsh (Plural): Essays on the Future of Wales and The Mab.
Issa grew up in Cardiff surrounded by different languages, including Arabic, which was spoken by her Iraqi parents. She described the role as an "incredibly positive step" and said it was "exciting to think that Wales is taking the lead on this aspect of representation".
"Poetry exists in the bones of this country. I want people to recognise Wales as a country bursting with creativity; a land of poets and singers with so much to offer the arts," she said.
"I'd like to continue the great work of my predecessors in promoting Wales, Welshness, and the Welsh language outside of its borders.
"More than anything, I want to capture the interest and inspiration of the public to see themselves in Welsh poetry and encourage a much more open sense of what Welshness is."
Ashok Ahir, who led the selection panel for the National Poet of Wales, said: "This is a hugely exciting appointment. Hanan's is a cross-community voice that speaks to every part of the country. She will be a great ambassador for a culturally diverse and outward-looking nation."
Issa said she hopes that her appointment will allow women from all walks of life, but especially Muslim women, to see her success and think "that's a thing that's achievable for me".
Source: The National News
https://www.thenationalnews.com/arts-culture/2022/07/08/hanan-issa-becomes-first-muslim-named-as-national-poet-of-wales/
--------
UAE Honours Sheikha Fatima For Her Exceptional Efforts To Support Emirati Women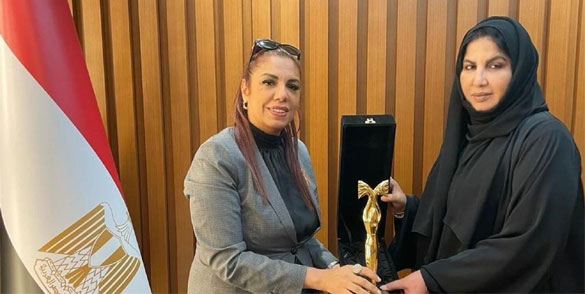 Sheikha Fatima bint Mubarak, Chairwoman of the General Women's Union (GWU), President of the Supreme Council for Motherhood and Childhood, and Supreme Chairwoman of the Family Development Foundation (FDF), the Mother of the Nation, was named the most influential figure in women's rights in 2021 by the Arab Council for Social Responsibility (ACSR).
-----
7 Jul 2022
His Highness Sheikh Mohammed bin Rashid Al Maktoum, the Vice-President and Prime Minister of the UAE and Ruler of Dubai, expressed his satisfaction in gender balance progress in the country and its implementation into the work culture, heralding a more prosperous future under the wise leadership of His Highness Sheikh Mohamed bin Zayed Al Nahyan, President of the UAE.
Sheikh Mohammed added that the UAE President is one of the most influential advocates of women and their role as a major partner in the country's development, advancing the approach established by the late Sheikh Zayed and the stage of empowerment led by the late Sheikh Khalifa which witnessed numerous legal amendments and policies supporting gender balance.
Honouring the winners of the Gender Balance Index
Gender Balance Index Winners
Sheikh Mohammed honoured the winners of the federal government's Gender Balance Index in its 4th round of 2022. The winners were selected in three categories: Best Personality Supporting Gender Balance, Best Federal Authority Supporting Gender Balance, and the Best Gender Balance Initiative.
Sheikha Fatima bint Mubarak, Chairwoman of the General Women's Union, President of the Supreme Council for Motherhood and Childhood, and Supreme Chairwoman of the Family Development Foundation, the "Mother of the Nation", was honoured as the 'Best Personality Supporting Gender Balance'. The award was received by Sheikh Mansour bin Zayed Al Nahyan, Deputy Prime Minister and Minister of the Presidential Court.
"I am pleased to award H.H. Sheikha Fatima bint Mubarak, Chairwoman of the General Women's Union, President of the Supreme Council for Motherhood and Childhood, and Supreme Chairwoman of the Family Development Foundation with the Best Personality Supporting Gender Balance," said Sheikh Mohammed bin Rashid Al Maktoum. "Sheikha Fatima made exceptional efforts to support Emirati women. She is a regional and global role model."
The Ministry of Culture and Youth received the award in the category of 'Best Government Entity Supporting Gender Balance' at a ministerial level. The award was received by Noura bint Mohammed Al Kaabi, Minister of Culture and Youth.
The category of Best Federal Entity Supporting Gender Balance at an institutional level was awarded to The Federal Authority for Identity, Citizenship, Customs and Ports Security and received by its chairman Ali Mohammed bin Hammad Al Shamsi.
The 'Best Initiative Supporting Gender Balance' was awarded to The Ministry of Community Development for its 'AlSanaa' initiative and was received by Hessa bint Essa Buhumaid, Minister of Community Development.
Sheikha Manal bint Mohammed bin Rashid Al Maktoum, President of the UAE Gender Balance Council and wife of His Highness Sheikh Mansour bin Zayed Al Nahyan, Deputy Prime Minister and Minister of the Presidential Court, praised the support provided by the wise leadership and Sheikha Fatima bint Mubarak to women in the UAE and their constant motivation, stressing that it represents an incentive to continue the journey towards more successes both at home and abroad.
This journey will include new initiatives that the Council intends to launch in the next phase, as part of its strategic plan 2022-2026 approved by the UAE Cabinet in March under the chairmanship of His Highness Mohammed bin Rashid Al Maktoum, which aims to progress the UAE's leadership and global influence.
Performance Agreements
Sheikh Mohammed bin Rashid Al Maktoum also oversaw the signing of performance agreements for a number of ministers. The agreements stipulate the completion of 36 transformational short cycles projects within six months to a maximum of 12 months. The projects aim at enabling ministries to respond to all changes quickly and with greater flexibility.
The developments came at the UAE Cabinet meeting chaired by Sheikh Mohammed bin Rashid Al Maktoum, which was held at Qasr Al Watan, Abu Dhabi.The meeting was attended by Sheikh Maktoum bin Mohammed bin Rashid Al Maktoum, Deputy Ruler of Dubai, Deputy Prime Minister and Minister of Finance; Lt. General Sheikh Saif bin Zayed Al Nahyan, Deputy Prime Minister and Minister of the Interior; Sheikh Mansour bin Zayed Al Nahyan, Deputy Prime Minister and Minister of the Presidential Court.
Source: Khaleej Times
https://www.khaleejtimes.com/uae/uae-honours-sheikha-fatima-for-her-exceptional-efforts-to-support-emirati-women
--------
Taliban's New Chaperone Rule Deprives Afghan Women Of Foreign Scholarships
July 08, 2022
For nearly two decades, foreign scholarships provided a golden opportunity for many Afghans to acquire knowledge, new skills, and degrees that few universities in Afghanistan offered.
Women particularly benefited from such international education, which allowed them to establish or enhance their careers. The foreign experience also propelled many to leadership roles in government and civil society.
But Afghan women are now being deprived of studying abroad because the Taliban is not allowing women to travel outside Afghanistan without a male chaperone.
The restriction follows a Taliban ban on education for teenage girls, which has kept millions of secondary-school students from the classroom since the Taliban takeover of Afghanistan in August.
"I had a hellish experience because of this restriction," says Hadia Tuba, who recently went to Pakistan to begin her university education on a scholarship from Islamabad.
The young Kabul resident says the day she crossed the Torkham border crossing connecting eastern Afghanistan to northwestern Pakistan was the hardest in her life.
"The Taliban stopped me at the border and questioned me for the entire day," she told RFE/RL's Radio Azadi. "Eventually, I was let go after a stern warning [that I should never travel alone]."
Tuba says the intimidation she felt was difficult to describe.
"I will never forget what happened, but I don't like to talk about it," she said.
The restriction has forced entire Afghan families to leave the country.
Sonia Ahmadi was forced to bring her parents and siblings with her when she went to the northeastern Iranian city of Mashhad to attend Ferdowsi University.
"It is a major problem that no woman is allowed to travel alone, whether by road or by air," she told Radio Azadi. "The gender discrimination against women is pushing Afghanistan backward."
Officials at the Taliban's Higher Education Ministry and the Promotion of Virtue and Prevention of Vice Ministry did not respond to Radio Azadi's repeated requests for comment.
The Taliban announced in February that women could not travel abroad without a valid legal reason. It also put a complete ban on women traveling alone when they go abroad.
Sources have told Radio Azadi that the Taliban has deployed officials at border crossings and airports to prevent women who are traveling solo from leaving Afghanistan.
The moves are part of a broader Taliban push for Islamization that has kept many women from getting an education, working, or having a visible role in society.
Since marching triumphantly into Kabul nearly 11 months ago, the Taliban has reversed nearly every advance Afghan women made since the collapse of the first Taliban regime in late 2001.
The hard-line Islamists have also detained, harassed, and beaten women protesting for their civil rights.
In the past two decades, scholarships from universities in the West helped many Afghan women overcome adversity in their lives. Recipients of U.S. Fulbright and British Chevening scholarships, in particular, rose through the ranks of the Afghan government and became prominent civil society leaders.
Thousands of others studied at other Western institutions and universities in neighboring countries. India was generous in accommodating thousands of Afghans in its vast network of educational institutions.
But most of the Western scholarship programs were suspended after the Taliban took power, leaving Afghan women to apply for only a handful of scholarships, mainly in nearby South Asian countries.
The latest order forcing women to be chaperoned has made it difficult for most and impossible for others to even take advantage of these diminished opportunities.
Naheed, a pseudonym for a resident of the western province of Herat, was recently awarded a scholarship for a master's degree in India. Obtaining an Afghan passport was just the first hurdle she faced after completing the paperwork for her scholarship.
Accusations of corruption have bogged the Afghan passport office under the Taliban. And passport offices have been crowded, since many Afghans want to flee their country's failing economy and the Taliban's harsh rule.
The closure of most diplomatic missions and the suspension of visa services inside Afghanistan made it challenging to organize a trip abroad.
Naheed was able to overcome all these challenges but is now very nervous about trying to travel to India alone.
Source: Gandhara
"The current government has deprived women of the right to travel independently," she said.
https://gandhara.rferl.org/a/afghanistan-taliban-women-universities-chaperones-/31935115.html
--------
Saudi women participating in Makkah's General Cars Syndicate for the first time
TAREQ AL-THAQAFI
July 03, 2022
MAKKAH: Women will be part of the General Cars Syndicate in Makkah for the first time since it was set up nine decades ago.
The syndicate is an executive body that arranges and organizes pilgrim transportation through affiliated companies.
Khadijah Fida, a journalist and content creator at the syndicate, said: "A lot of women have been assisting with work for Hajj in the Kingdom for decades. I saw my father's work in this sector, along with my brother and husband, and today I have also participated in it. Our leadership has made it possible for women to work, especially in all government sectors, and play an active role in line with Saudi Vision 2030.
"Today, I represent the General Cars Syndicate in the media, public relations, creating quality material, and monitoring the successes of the transport information center during Hajj. I am proud and honored to be a woman from Makkah who works in the syndicate that greatly and actively contributes to the success of Hajj and the safe transport of pilgrims.
"We experience Makkah's Hajj and Umrah seasons, and the syndicate is always working on creating and establishing an institutional framework for this association that has made a dramatic difference in transport in Makkah to bring comfort to pilgrims who (earlier) struggled on dirt roads to reach Makkah."
Mervat Habhab, a customer service specialist at the syndicate's information center, said that women's roles had become more noticeable and significant.
"It is my mission to interact and address the situation of every beneficiary, based on their needs, and transport them to the relevant departments for a quick response and intervention. It is an honorable and wonderful mission to contribute to the service of pilgrims when those services were limited to men. In this prosperous era and these blessed days, I have the opportunity to play an important and active part as a woman from Makkah who loves God and her homeland."
Habhab added that government support motivated them to improve their work performance every year.
Binan Basnan, another customer service specialist at the syndicate, said: "I am proud and honored to work in a great institution such as the General Cars Syndicate that serves pilgrims on their Hajj journey through receiving their inquiries and complaints. I am grateful that women now have more professional opportunities to participate and serve during Hajj. I hope to be rewarded (by God) and thank our government, which gave us these great opportunities."
Source: Arab News
https://www.arabnews.com/node/2115846/saudi-arabia
--------
Malaysian Islamic Religious Department Probing Viral Video of Muslim Woman 'Insulting Islam'
July 9, 2022
KUALA LUMPUR: The federal territories Islamic religious department (Jawi) has conducted a preliminary investigation into a recent viral video, believed to be an act of insult to Islam, committed at a club around Taman Tun Dr Ismail here.
Jawi director Ajib Ismail said his department had taken note of the viral video and a preliminary investigation had been carried out by the Jawi enforcement division.
"This comes under Section 7 of the Syariah Criminal Offences (Federal Territories) Act 1997 (Act 559), which is about insulting or causing contempt against Islam.
"Anyone convicted of this offence can be fined not more than RM3,000 or imprisoned for a term not exceeding two years or both if convicted," he said when contacted by Bernama today.
Ajib said Jawi will not compromise with any act aimed at insulting and tarnishing the image and sanctity of Islam in the federal territories, especially ahead of the Aidiladha celebration tomorrow.
The 54-second long video, which went viral on social media, features a woman wearing a headscarf and baju kurung.
She claims that she had memorised most parts of the Quran and then starts to take off her headscarf and clothes on stage, down to her sexy mini dress concealed underneath.
Her act received cheers and laughter from the club's patrons.
Source: Free Malaysia Today
https://www.freemalaysiatoday.com/category/nation/2022/07/09/jawi-probing-viral-video-clip-of-muslim-woman-in-club-for-insulting-islam/
--------
'What's rightfully ours': Moroccan women petition reform against archaic inheritance loophole
Basma El Atti
08 July, 2022
"Allah decrees a will for your children; the male gets twice the share of the female" (Surah An-Nisa, 4:11). This single verse continues to hamper Moroccan women's path to equality.
Despite emphasising gender equality within the 2011 constitution and Morocco signing the CEDAW (Convention on the Elimination of All Forms of Discrimination Against Women), the debate around inheritance remains a controversial topic in a country where conservativism is king.
In July, Nabila Bouaayach, head of Morocco's council of human rights (CNDH), said inheritance equality enforces poverty among Moroccan women urging a reform of the sexist law.
"Economic, social and cultural inequality is a fact that cannot be denied or ignored. (...) The State must approach this issue from a human rights standpoint," said Bouayach in a debate focusing on the opinions of the Moroccan people about inheritance. His comments have since reignited a dormant debate about inheritance in Morocco.
Religion limits the political debate
As in most MENA countries, religion and politics in Morocco interfere in "mysterious" ways.
The Moroccan constitution states that Islam is the religion of the country. However, Moroccan laws are far from being a mirror of Islamic sharia, except for a few texts that concern personal freedoms and women's rights.
Moroccan king Mohammed VI, 'emir of the believers', remains the highest religious authority in the country.
In 2003, the young Moroccan king at the time Mohammed VI ordered updating the Moudawana, the Moroccan family code that governs areas of family law such as marriage, divorce, inheritance, and child custody.
The newly issued code guaranteed more rights to Moroccan women, driving conservatives and Islamists to the streets in protest.
However, the 'most progressive family code in MENA' kept the rule of Taasib in inheritance.
Taasib, a text inspired by Islamic fiqh, decrees that "female orphans who do not have a brother must share the inheritance with the male relative closest to the deceased … even if unknown and [has] never been part of the family."
This stipulation pushes many Moroccan families to resort to other legal procedures to protect their daughters' full rights in inheritance.
Fatma, a Moroccan mother of two daughters, tries with her husband to secure their daughters' inheritance by transferring ownership of their properties to the two daughters equally.
"Since I don't have a son, my daughters must share the inheritance with the male relative closest to the deceased. In our case, we do not have any relationship with that relative. I don't find this rule fair."
"[Taasib] increases misogyny. That's why you see people upset for having a baby girl, not a boy," she added.
In the seventh century, the Qur'an gave women a share of the inheritance, considered a radical move in a time when women were not allowed to benefit from inheritance at all.
As such, conservative religious scholars argue that since the Taasib rule is derived from the Quran, women should always be financially supported by a male relative.
Today with some 17% of Moroccan houses being female-headed, the Democratic Association of Women in Morocco (ADFM) says it is time to move towards ending Taasib and establishing equality.
"We've moved on from the patriarchal system where the man is the sole breadwinner of the family. And yet, [Moroccan] law continues to consider the man the guarantor of economic security and the protector of the family," Atifa Timjerdine, vice president of the ADFM told The New Arab.
The debate around inheritance first started in Morocco after the signing of the 2011 constitution.
Rocked by the Arab Spring, the palace had urged reform of the Moroccan constitution, declaring, for the first time, that women are equal to men in article 19 of the 2011 constitution.
The constitutional text inspired hope among women's rights defenders for a brighter future for Moroccan women.
However, Islamists who controlled the majority in parliament fought against lawmakers who dared to advocate reforming the sharia-inspired law.
Outspoken homophobe and a defender of child marriage, Abdellilah Benkirane, Morocco's prime minister at the time, watered down all the initiatives aimed to open a debate about inheritance.
"Is inheritance politics or religion? You come to a young religious man and you tell him that you want to change God's words. What are you looking for?" said Benkirane in an interview in 2015, in response to a call issued by the council of human rights to reform inheritance law.
Benkirane has even called on the head of the council to apologise for suggesting that there should be equality between sexes.
Today, now in opposition, Benkirane and his party continue to attack the rising calls advocating equality, which he views as evoking "Fitna" in Moroccan society.
Amina Maa El Ainin, a member of the PJD, was the only politician in the party to endorse the importance of revisiting the inheritance law and Taasib.
Speaking to The New Arab, Mae El Ainine continues to stand by her position today, albeit she argues this is not the right time to tackle such issues.
"Today, we are facing many social issues such as inflation, and unemployment. The debate around inheritance does not really mirror the worries of Moroccan society today," Mae El Ainine told The New Arab.
"I am just suspicious of the timing of tackling such topics. (…) However, I believe that when there is a debate about inheritance it should include all the segments of society and should tackle Taasib first, then equality," said Mae El Ainine.
Only 34 per cent of the Moroccan population supports reforming the inheritance law, with the anti-equality majority arguing that this interpretation of the Quran is perpetually valid.
Nouzha Skalli, a former minister of women's rights and author of A Woman in the country of Fuqaha said in an interview in 2017: "As soon as we said the word inheritance [to clerics], we were accused of blasphemy," she recalled in her experience as a member of the Moudawana reform committee.
Only a few religious voices ventured to support the reform of inheritance, namely Asmae Lmrabet.
In 2018, Dr Lmrabet, Director of the Center for Women's Studies in Islam in Mohammedia's Council for Moroccan Scholars said during a conference: "Giving women an equal share of inheritance is part of the purpose of Islam, it is not against it."
Her statements ignited a heated controversy driving Lmrabet to submit her resignation from the council immediately.
Contacted by The New Arab, Lmrabet said in a written statement:
"I don't want to get into the controversy and political polemic on this topic [equality in inheritance]. I think that I have done my work on this and can't do more than I have [already] done," wrote Lmrabet to The New Arab.
Eyes now have turned towards Morocco's new justice minister Abdellatif Ouahbi, a self-proclaimed progressive politician. Yet, it remains to be seen if he will be anything other than an empty vessel.
In its interview with The New Arab, ADFM [Democratic Association of Moroccan Women] stressed the government's political and social duty in addressing the ongoing debate.
"The government can ease the way for this debate, (...) in recognition of the contribution of women toward the family's income. The law cannot keep being based on presuming solidarity and goodwill of the extended family," Atifa Timjerdine, the vice president of ADFM told The New Arab.
Source: The New Arab
Basma El Atti is The New Arab's Morocco correspondent.
https://english.alaraby.co.uk/features/moroccan-women-petition-reform-archaic-inheritance-law
--------
Solidarity across borders: Arab women demand action after series of femicides bleed society dry
Lara Bellone d'Altavilla
08 July, 2022
On July 6, women throughout the Middle East and North Africa region gathered in response to more than eight crimes of femicide occurring in June, six of whom were killed by their partners.
Sparking the movement was the murders of Nayera Ashraf and Iman Irshaid, who were brutally killed at their university campuses by men for simply refusing their advances.
People in the region were shocked by such violence in public, although femicide is nothing new behind closed doors.
Following Nayera and Iman's murders, the other women killed included media figure Shamia Gamal, Lubna Mansour, and Raneen Sal'ous. And this week, a man in Ramtha, Jordan beat his two daughters to death who were only nine and 12 years old.
These brutal killings led feminist groups across the region to call for a transnational strike, instructing women to stay home from work to show solidarity and condemnation of the ongoing violence.
Organisers also designed a social media campaign with the use of the hashtags #تضامن_عابر_للحدود،# اضراب_نسائي_عام، #نساء_ضد_العنف and #أنا_مضربة to exchange solidarity and enhance engagement through posts and publications on victims' murders.
Along with the strike, protests occurred throughout the region including in Beirut, Tunis, and Amman, where Takatoat, a Jordanian feminist collective group, organised a silent protest outside the Jordanian Parliament building wearing all black to commemorate those murdered.
Protesters' signs read 'Solidarity Across the Border, Stop Killing Women' or listed victims' names with their stories. Most protesters were Jordanian women who wanted to show solidarity with all the victims that had recently been killed and unite with those protesting across the region.
Banan Abuzaineideen, the Executive Director and co-founder of Takatoat, described the protest's message, "Our strike is for those women whose voices have been taken and for our voices to also be heard. Perpetrators think they have the right to end our lives and not be held accountable. We choose to stand here calling out the systematic violence taking place against women in private and public spaces, which is a result of misogyny."
As Banan mentioned, perhaps the most significant difference in the murders of Nayera and Iman was that they were committed in the public sphere for everyone to witness.
To feminist groups, the lack of accountability and consequences for murders committed privately within the home has led to perpetrators not being fearful of killing women in broad daylight, only showing how the law is failing women.
The protest was reminiscent of the women's protest held in July 2020, which was in response to the murder of Ahlam, whose father casually sipped tea after brutally killing her with a brick.
But since COVID, murders of women and girls in Jordan have only increased with protesters not seeming optimistic about the future. A Jordanian woman explained frustratedly, "We are protesting today because, like many other places in the region, there is nothing else we can do. We want the laws to change and for women to be protected, but we know that women will continue being killed."
Men were also present with one protestor explaining that Jordanian society needs to uphold men accountable, "As a male, I do not want women to be afraid of me in my society and run away from me in the street. More men need to speak out about how these murders are wrong and show more support towards women's rights."
This support is desperately needed as the increase in female murders is a mixture of discriminatory legislation and the failure of authorities to enforce the law. Takatoat's team explains, "The Jordanian Constitution guarantees no discrimination against any race or religion but does specify gender. Essentially, there are no legal guarantees protecting women's lives or holding perpetrators accountable. Those that are punished receive lenient sentences."
For there to be change, various Jordanian feminist groups and activists have set a list of demands that are urgently needed to protect women. Banan cited these demands at the protest, which include reforming the women's protection system and not setting limitations on women's liberties in protection centres, including freedom of movement and other basic rights.
"There need to be strict and publicised procedures against anyone that assaults or threatens the security of women and girls. Legislative articles excusing murderers' crimes must be dropped in courts and these cases need to be restricted from entering family courts," she told The New Arab.
Lastly, feminist groups are demanding that hate speech against women must be defined and legally criminalised to fully protect women.
For some of the protesters, the protest was a space for them to commemorate victims they knew personally.
A protester reflected on the death of his friend who suffered years of domestic abuse by her husband and was eventually shot dead by him after relocating to the United States. "The lack of accountability has allowed violence against Arab women to extend beyond the region's borders, making this an international issue." With laws setting the precedent that perpetrators can literally get away with murder, this mindset can travel with them wherever they go.
Banan and other organisers ended the protest by warning everyone to return home safely, but also to remain safe within their homes, sending a clear message that whether in the streets, on social media, or at home, Arab women are not safe. "Our solidarity together will hopefully help to end the violence against women, but we must keep demanding for our safety," concluded Banan.
Lara Bellone d'Altavilla works in the humanitarian field and has published works across various platforms covering social justice issues in the Middle East. She is the founder and content writer for GRLبنت and co-founder of Guardians of Equality Movement (GEM).
Source: The New Arab
https://english.alaraby.co.uk/features/arab-women-demand-action-after-femicides-bleed-society-dry
--------
URL: https://newageislam.com/islam-women-feminism/hanan-issa-muslim-wales/d/127448
New Age Islam Islam Online, Islamic Website, African Muslim News, Arab World News, South Asia News, Indian Muslim News, World Muslim News, Women in Islam, Islamic Feminism, Arab Women, Women In Arab, Islamophobia in America, Muslim Women in West, Islam Women and Feminism