New Age Islam News Bureau
28 Jun 2020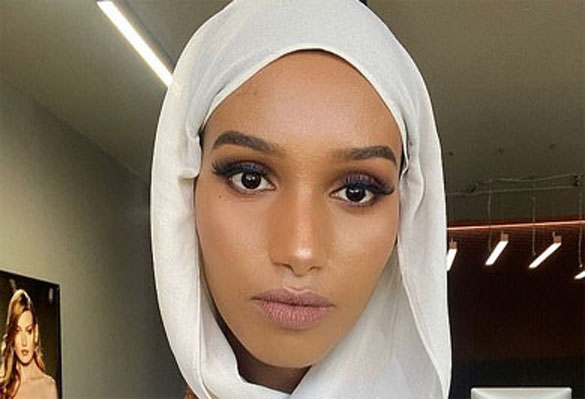 I never imagined it': Hanan Ibrahim (pictured), 27, reflected on being one of few Muslim models to wear a hijab on the Australian runway, in The Sunday Telegraph's Stellar magazine
-----
• Hanan Ibrahim: 'I Never Imagined That A Woman Who Wears A Hijab Would Be Used As A Model'
• Islamabad Police Term US Blogger Cynthia D. Ritchie's Rape Complaint Baseless
• Egypt Court Jails Belly Dancer For 'Debauchery' In Social Media Crackdown
• Husna Abdul Latheef, AMultimedia Professional Trainee Gets Digital Camera As Mehr
• British Mother Who Converted to Islam Before Becoming UK's First Female Suicide Bomb Plotter Got 'Cold Feet' Over Threat to Blow Up St Paul's Cathedral, Court Hears
• Iran's Women Futsal World Tournament Participation in Doubt
• This Egyptian Cartier Laureate Uplifts Arab Mothers
• Maine Women's Fund Grants to Help Survivors, Nonprofits
• Mullins: Lansing Area League of Women Voters Is Working to Correct the Wrongs of The Past
• Chechen leader humiliates mother whose daughter died in suspected lockdown domestic abuse
Compiled ByNew Age Islam News Bureau
URL; https://www.newageislam.com/islam-women-feminism/hanan-ibrahim-i-imagined-that/d/122233
-------
Hanan Ibrahim: 'I Never Imagined That A Woman Who Wears A Hijab Would Be Used As A Model'
27 June 2020
She became Melbourne Fashion Festival's first Muslim model to wear a hijab on the runway last year.
And Hanan Ibrahim told The Sunday Telegraph's Stellar magazine that she never envisioned a career in the industry.
The 27-year-old who previously worked as a full-time radiation therapist said: 'I never imagined that a woman who wears a hijab would - or could - be used as a model.'
The following year she walked the runway at the Melbourne Fashion Festival, balancing her burgeoning modelling career with odd jobs.
'To work in an industry that many of us young Muslim girls have never felt represented in is a huge honour and privilege,' she said.
The social activist told Fashion Journal in August last year that she feels Australia is making waves in terms of diversity in fashion.
'Every photographer, designer and stylist that I've been fortunate enough to work with this past year has just been incredibly open and receptive to me and who I choose to stand in this world as,' she said. It's been such an amazing journey.'
https://www.dailymail.co.uk/tvshowbiz/article-8466157/Muslim-model-Hanan-Ibrahim-wearing-hijab-runway.html
------
Islamabad Police Term US Blogger Cynthia D. Ritchie's Rape Complaint Baseless
June 28, 2020
Malik Asad
ISLAMABAD: The Islamabad police on Saturday described US blogger Cynthia D. Ritchie's complaint in which she sought criminal proceedings against PPP Senator Rehman Malik for allegedly raping her as baseless and opposed registration of a first information report in the matter.
The Secretariat Police submitted the report on Ms Ritchie's case before the additional district and sessions judge (ADSJ), Javed Iqbal Sipra, and suggested that instead of proceeding further Ms Ritchie's application might be filed to record.
The police report stated that Ms Ritchie had neither produced any evidence to prove her rape nor had she placed any material on record to show that she had been harassed.
Ms Richie had on June 17 filed an application with the Secretariat Police Station, stating that former interior minister Senator Rehman Malik in connivance with former prime minister Yousuf Raza Gilani had employed the Pakistan Peoples Party's media cell to intimidate, threaten, harass and defame her on social media.
rman of the Senate Standing Committee on Interior, of raping her at his residence in 2011.
Last week, Ms Ritchie filed an application before the ADSJ for issuing direction to police for registration of a criminal case against Mr Malik.
The police stated in the report that Ms Richie had not filed any complaint with the Secretariat Police Station regarding her rape allegations back in 2011. The police also maintained that no medical report had been attached with the application as evidence to prove that she had been assaulted.
The police termed the stance of Ms Richie doubtful in the absence of substantial evidence and inadequate for registering an FIR as the police found no truth in it.
The US blogger appeared at the police station and was questioned by a team of police officers. According to the police, she failed to give any evidence in support of her claims which seemed to be aiming at damaging Mr Malik's reputation.
https://www.dawn.com/news/1565674/police-term-cynthias-rape-complaint-baseless
------
Egypt court jails belly dancer for 'debauchery' in social media crackdown
June 27, 2020
CAIRO: A high-profile Egyptian belly-dancer, Sama el-Masry, was sentenced to three years in prison and fined 300,000 Egyptian pounds ($18,500) on Saturday for inciting debauchery and immorality as part of a crackdown on social media postings.
El-Masry was arrested in April during an investigation into videos and photos on social media, including the popular video-sharing platform TikTok, that the public prosecution described as sexually suggestive.
Cairo's Misdemeanours Economic Court on Saturday said she had violated family principles and values in Egypt as well as establishing, managing and using sites and accounts on social media with the aim of committing "immorality".
"There is a huge difference between freedom and debauchery," said John Talaat, a member of parliament who asked for legal action against el-Masry and other female TikTok participants.
Talaat told the Thomson Reuters Foundation that el-Masry and the other female social media influencers were destroying family values and traditions, activities that were banned by the law and the constitution.
Several women in Egypt have previously been accused of "inciting debauchery" by challenging the country's conservative social norms, including actress Rania Youssef after critics took against her choice of dress for the Cairo Film Festival in 2018.
In 2018 Egypt adopted a cyber crime law that grants the government full authority to censor the internet and exercise communication surveillance.
A group of female TikTok and Instagram influencers and YouTubers have been arrested by the Egyptian authorities in recent months on charges of promoting debauchery and prostitution on social media.
Entessar el-Saeed, a women rights lawyer and head of the Cairo Center for Development and Law, said women are the only category targeted by the authorities according to this law.
"Our conservative society is struggling with technological changes which have created a completely different environment and mindsets," she told the Thomson Reuters Foundation.
https://www.arabnews.com/node/1696436/middle-east
------
Husna Abdul Latheef, A Multimedia Professional Trainee Gets Digital Camera AsMehr
JUNE 27, 2020
Husna Abdul Latheef, a young multimedia professional trainee from Karuvampoyil, near Koduvally, arguably became the first woman to demand a digital camera as the Mehr (dowry) for her wedding on Saturday.
She married Jawad Hussain, a multimedia software developer from Akkode, near Vazhakkad, by accepting a Sony a7iii mirrorless full-frame camera as her Mehr. "We usually find people asking for gold as Mehr. I wanted something more useful. So I demanded a Sony mirrorless camera, which I had used before," Ms. Husna said.
It was her passion for photography that made her demand a camera as her Mehr. But she became the latest among Muslim women spinning a silent revolution in the community by being assertive of their rights. Mehr in Islam is the right of a woman when she marries a man.
There were several cases in recent times when women asked for a copy of the Koran as their Mehr. There were also two instances during the pre-lockdown unrest over the Citizenship Amendment Act (CAA) of women demanding copies of the Indian Constitution as Mehr.
"But all of them pointed to a perceptible change in the social status of Muslim women. Their education has empowered them and taught them to be assertive," said Arif Zain, Arabic scholar from Areekode.
Ms. Husna's groom Jawad was happy to offer her the ₹1.5 lakh camera she demanded. "In fact, she asked for something simple. And I was particular that I gave her something useful that she wanted. Actually I was thrilled when she specifically demanded a camera," said Mr. Jawad.
Their marriage took place at Ms. Husna's house adhering to COVID-19 protocol. Mr. Jawad's friends defeated his attempts to conceal the photograph of him giving the Mehr. It evoked the curiosity of many as the photo hit the social media.
https://www.thehindu.com/news/national/kerala/bride-gets-digital-camera-as-mehr/article31934748.ece
------
British mother who converted to Islam before becoming UK's first female suicide bomb plotter got 'cold feet' over threat to blow up St Paul's Cathedral, court hears
26 June 2020
A homegrown Islamic State supporter who wanted to 'blow St Paul's Cathedral to the ground' in an Easter terror attack was getting 'cold feet' and would never have gone through with it, a court has heard.
Muslim convert Safiyya Amira Shaikh, a 37-year-old mother from Hayes in west London, kept 'having doubts' about going through with the plot, but said she did not want to disappoint two 'friends' she was conspiring with.
Shaikh was said to have become distressed following her arrest when it was disclosed to her that those two friends were actually undercover police officers.
The Old Bailey heard Shaikh carried out a reconnaissance mission to the central London landmark in September 2019, but pushed the date of the attack back from Christmas to Easter because she 'had doubts'.
She had also gone through the early stages of getting fitted for a suicide vest, saying she wanted to carry out a mass atrocity before becoming a martyr.
However, she cancelled a subsequent meeting with the undercover officers in October as she 'started to get doubts', causing concerned police to swoop in and arrest her.
Shaikh, wearing a hijab, wept as her defence counsel described her 'life of pain and loneliness', and disclosed she suffered a 'truly traumatic childhood'.
Mr Newton said his client went to great lengths in her efforts to please people, even travelling to Pakistan to get married against her will, before backing out at the last minute and being sent home to the UK in disgrace.
Shaikh - formerly known as Michelle Ramsden - admits preparation of terrorist acts and dissemination of terrorist publications on the internet.
But she became increasingly disillusioned by what she saw as the mosques' moderate version of Islam, and 'was keen to boast' about the extremist propaganda she posted online, encouraging others to commit acts of violence in the name of so-called Islamic State, prosecutor Alison Morgan QC said at a previous hearing.
https://www.dailymail.co.uk/news/article-8464535/British-mother-converted-Islam-got-cold-feet-threat-blow-St-Pauls-Cathedral.html
------
Iran's Women Futsal World Tournament participation in doubt
June 28, 2020
TEHRAN – Iran will have to participate at the 2020 Women's Futsal World Tournament but it's not clear whether the Iranian football federation will send the team to the competition.
Iranian women, two-time Asian champions, have participated in the prestigious tournament three times so far.
The Women's Futsal World Tournament is an international women's futsal competition for national teams, organized by national associations and the World Futsal Association.
The first edition took place in 2010 in Spain and was won by Brazil. The tournament has known no other winners besides Brazil, after the country's victories in the first six editions.
The tournament is endorsed by national associations such as the Japan Football Association, Iranian Football Federation and National Football Federation of Guatemala.
https://www.tehrantimes.com/news/449322/Iran-s-Women-Futsal-World-Tournament-participation-in-doubt
-------
This Egyptian Cartier Laureate Uplifts Arab Mothers
28-06-2020
Nadia Gamal El Din has been named as the Middle East and North Africa laureate of the 2020 edition of Cartier Women's Initiative 2020. The Egyptian Founder & CEO of Rahet Bally is one of the seven laureates from around the world making a positive change in the world. With up to 20 percent of new mothers experiencing postpartum or perinatal depression, her all-inclusive platform supports Egyptian ones financially, physically, emotionally and intellectually, whether online or in person.
El Din's name was announced virtually, along with the other laureates and finalists, on the Cartier and the Cartier Women's Initiative's website and social media channels. However, there will be a proper celebratory ceremony in Boston on May 26, 2021, a date that coincides with the 15th anniversary of the initiative.
"As an international luxury Maison, we are global citizens, aware of and listening to the wider world. More than ever, we remain committed to use our voice and actively support those who are trying to make the world a better place, which is the case of these outstanding women entrepreneurs,"CyrilleVigneron, President and CEO of Cartier International, said."Ithas been incredibly inspiring to witness their determination, resilience and creativity. We are immensely proud of their work, and thankful for their global contribution to our society."
Like many other women, Nadia Gamal El Din felt lost, isolated and in need of support and advice after giving birth to a son in August 2014. She had so many important questions about the physical, psychological, emotional and mental transformations that come with having a baby. When she couldn't find any community groups or online resources for new mums, she decided she needed "to put an end to this situation," she explains on the Cartier Women's Inititiative website. El Din, who worked as a Brand Manager at P&G before having her child, started a Facebook page, inviting professionals, including psychologists, nutritionists and paediatricians to promptly answer hashtagged questions. Over 100 professionals and 3,000 mums were using the platform called Rahet Bally, which means "peace of mind," within a month.
As of early 2020, over 150,000 women in Egypt have been connected to Rahet Bally's services, which include financial, physical, intellectual, and social support. The company's discount card helps offset the costs of essential baby items such as clothes, nappies and healthcare, which can be expensive. When it comes to physical support, Rahet Bally offers fitness and nutrition programnes in three Cairo-based facilities. Additionally, its online community provides the information women need to become confident mothers. "Mums need a lot of knowledge, from conception through when their kids are teenagers. We offer the first and only information platform in Arabic and English in Egypt," El Din adds.
Rahet Bally's newest offering, the Cloud, is a physical space where mothers can rest in napping pods or do some work in work pods. They can also attend workshops, socialise and join book clubs while vetted babysitters care for their children. "It's beautiful," El Din also says on the website. "Mums start crying when they come in because it's the first time anyone is taking care of them. They can have a shower. They can drink a cup of coffee while it's still hot. It's a place where they can actually breathe again."
https://www.abouther.com/node/30176/people/leading-ladies/egyptian-cartier-laureate-uplifts-arab-mothers
------
Maine Women's Fund Grants to Help Survivors, Nonprofits
June 27, 2020,
PORTLAND, MAINE (AP) — The Maine Women's Fund is providing more than $130,000 in grants to the Elder Abuse Institute of Maine, MaineTransNet, New England Arab American Organization and others.
The women's fund said it's giving out grants to a total of 16 organizations that invest in women and girls. The fund gives out the grants annually and has given out more than $2.6 million over more than three decades.
The fund said another of the grants will go to ArtVan, which provides art therapy to children in Bath, Brunswick and Auburn. Another will go to The Hope and Justice Project, which is planning to implement recovery action plan workshops in Aroostook County to benefit survivors of domestic abuse.
https://www.usnews.com/news/best-states/maine/articles/2020-06-27/maine-womens-fund-grants-to-help-survivors-nonprofits
------
Mullins: Lansing Area League of Women Voters is working to correct the wrongs of the past
June 27, 2020
On June 4, all local area Leagues received this statement from the national League of Women Voters: "It is time that the League of Women Voters take a stand for social justice for Black lives in America." The members of the Lansing Area League, many who have actively supported social justice, welcome this statement.
The League began 100 years ago when the 19th Amendment was ratified, allowing women the right to vote in the U.S. In order to obtain ratification, the white women fighting for the vote made compromises that would continue to limit Black voters' access to the ballot.
It's not uncommon to juggle principles to achieve progress, but common doesn't make right. Would we have made that compromise? I don't know. I do know that we have benefited from it.
Even a respected organization that envisions "a democracy where every person has the desire, the right, the knowledge and the confidence to participate" has been inextricably involved with the systemic denial of rights to Black members of our society.
We acknowledge having been a part of the problem; we have also been a part of the solution, and we promise to increase our efforts to stand with any organization in support of a more perfect union.
Let us not forget that George Floyd had his hands cuffed behind his back when three officers held him to the ground, one with a knee on his neck for nearly nine minutes. We learned of it from videos taken by bystanders.
In February, AhmaudArbery was jogging when he was hunted down, and then murdered by white men. No action was taken until late May when a video was available to news outlets. Peaceful protests, a hallmark of our democracy, have sometimes been met with unreasonable force.
Every American citizen has a right to equal justice under the law. Every American citizen has the right to peacefully assemble. It's very clear that those rights are being denied to Black citizens in a systemic and often violent manner. In this country, the ballot box is a powerful way to achieve systemic change. That is why so many in power continue to deny the ballot to people likely to vote for change.
The League of Women Voters is a committed ally in the quest for social justice. We pledge to educate ourselves even when it makes us uneasy. We will continue our efforts to make voting accessible to all. We will continue to educate voters and emphasize issues of justice. We will do this in humility, acknowledging our blemished institutional history and the organizational and personal need for constant reflection and growth.
https://www.lansingstatejournal.com/story/opinion/contributors/viewpoints/2020/06/28/lansing-league-women-voters-ally-social-justice-viewpoint/3223022001/
------
Chechen leader humiliates mother whose daughter died in suspected lockdown domestic abuse
28-06-2020
The Chechen leader has publicly humiliated the mother of a young woman who was killed in a suspected domestic violence incident during the coronavirus crisis.
Ramzan Kadyrov brushed off beatings as something that "can happen" in a marriage and urged the victim's mother to provide witnesses to prove she had been killed.
MadinaUmayeva died in the war-ravaged Islamic republic on Russia's southern border under suspicious circumstances earlier this month.
Neighbours of the 23-year-old, who married her husband at the age of 16, say they heard screams coming from her house on the day she died, and saw her lying near the stairs.
MsUmayeva, a mother-of-three, was buried by the family in the middle of the night that same day despite the Muslim tradition of not burying the dead after sunset.
While her in-laws say she had died after falling down the stairs while having an epileptic seizure, her mother says she did not suffer from epilepsy.
Her cousin told a local news site called Caucasian Knot that the young woman described her husband as becoming "unruly, crazed like an animal" during beatings and that she had tried to end the relationship on a number of occasions.
"She returned with black knees, they beat her with a belt," MsUmayeva's mother said. "I asked my girl: 'Will you go back?' She said that she didn't want to."
Rumours that MsUmayeva's husband, ViskhadzhiKhamidov, had killed her started spreading on WhatsApp – with public outrage over the death prompting the local prosecutor's office to launch an inquest and to order her body to be exhumed.
The Chechen leader Ramzan Kadyrov has now accused MsUmayeva's mother of disseminating gossip about the death of her daughter during a meeting with her earlier in the week shown on official TV channel Kadyrov.
Mr Kadyrov, who is allegedly responsible for the killings of several leading critics, said that despite the fact the inquest's results have yet to be released, it demonstrates there is no evidence a violent death occurred.
The Chechen leader, who has been credibly linked to the abduction, torture and murder of LGBT+ people in the Chechen republic, voiced anger she had been dug up and said it contradicted Islam and public agencies' attempt to make sure that "when Chechens die, there is no autopsy".
In Russia, a traditional saying goes: "If he beats you, it means he loves you". The Russian parliament implemented fiercely criticised legislative amendments in February 2017 that decriminalised first battery offences among family members – marking a setback that decreased punishments for abusers and put victims even more at risk.
MsUmayeva's husband, who lives in Gudermes, which is near to the republic's capital Grozny, insisted during a recent TV interview that he was not at home when his wife died.
Tanya Lokshina, associate director of Europe and Central Asia Division of Human Rights Watch, said: "Public humiliation of people who speak out isn't new in Chechnya, but these circumstances were especially egregious. And they will block badly needed justice for a victim of domestic violence and reinforce a dangerous message that those seeking redress for abuse should stay silent. Russian authorities have an obligation to ensure women are safe from violence, including in their homes."
She added: "Chechen traditional laws, often upheld by local authorities even when contravening Russia's laws and international human rights standards, stipulate that children belong with the father and his family. This often dissuades women from fleeing abusive marriages."
https://www.independent.co.uk/news/world/europe/madina-umaeva-chechnya-ramzan-domestica-abuse-death-muslim-a9588941.html
------
URL: https://www.newageislam.com/islam-women-feminism/hanan-ibrahim-i-imagined-that/d/122233
New Age Islam, Islam Online, Islamic Website, African Muslim News, Arab World News, South Asia News, Indian Muslim News, World Muslim News, Women in Islam, Islamic Feminism, Arab Women, Women In Arab, Islamophobia in America, Muslim Women in West, Islam Women and Feminism