New Age Islam News Bureau
02 February 2021
• Ukraine Woman Starts Fresh After Life Under Islamic State
• February 1 Declared Nat'l Hijab Day in Philippines
• Indonesia Detains British Woman On Terror Suspect List
• Saudi Arabia: Jazan Battered Woman Details Her Ordeal
• UAE Law: Women May Not Be Forced To Do Night Shifts
• Pak Women Term Govt's Silence As 'Unending Punishment'
• Tehran To Host National Festival Of Creative, Entrepreneur Women
Compiled by New Age Islam News Bureau
URL: https://www.newageislam.com/islam-women-feminism/halima-kidnapped-nigerian-schoolgirl-phones/d/124207
--------
Halima the Kidnapped Nigerian Schoolgirl Phones Home After Seven Years
FEBRUARY 1, 2021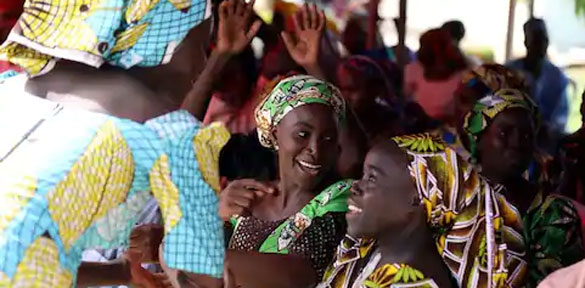 File photo of released 82 Chibok school girls reuniting with their families in Abuja, Nigeria (Thomson Reuters Foundation)
------
ABUJA (Thomson Reuters Foundation) - Nearly seven years since Islamist militants kidnapped two of his daughters from their school in northeastern Nigeria, a hurried phone call let Ali Maiyanga know that his family's ordeal might soon be over.
The call on Thursday evening was from Maiyanga's daughter Halima, who - along with her sister Maryam - was among more than 200 schoolgirls snatched by Boko Haram insurgents in Chibok in April 2014, sparking a global #BringBackOurGirls campaign.
"I was crying, she was crying," said Maiyanga, who was preparing to get married to his fourth wife when he heard Halima's voice down the line.
"We couldn't talk long because I was surrounded by so many people and the place was noisy. Everybody started jumping up and down when I told them," said Maiyanga, father of 18 children, who was reunited with his other kidnapped daughter in 2016.
Halima, 23, told him she had been rescued by the Nigerian army, but Maiyanga said he did not know her exact whereabouts or if she was alone or with more of her kidnapped former classmates.
An army spokesman said on Monday it did not have any Chibok kidnap victims in its custody and the government has not issued a statement about any of the missing women being found in recent days.
About half of the students who were abducted have escaped or been released so far.
Dozens have appeared in propaganda videos by the militants - showing them pleading for their rescue or pledging allegiance to the group - and some have died from illness, in childbirth or military air strikes, according to freed captives.
Reports by Boko Haram's victims of religious indoctrination and forced marriages have fueled concerns about the remaining women as attacks by Islamist militants gather pace in the northeast of the country.
Maryam, 24, said she and Halima - who were among the few Muslims kidnapped along with their mostly Christian classmates - were held captive together at first before they both married insurgents in 2014 and moved into different parts of the forest.
Maryam's husband decided to help his wife escape because he did not want their son to grow up in the forest, and she was found with their 10-month-old baby by troops in the Gwoza district of Borno State in November 2016.
"I always believed I would see my sister again one day," Maryam told the Thomson Reuters Foundation. "When I heard the news, I was jumping up and down. I was very happy. I can't wait to see her."
'I WAS AFRAID'
After the two sisters got married, they saw each other regularly. Halima used to visit Maryam every month, helping her to care for the baby. Maryam said she used to spend a lot of time consoling her sister after she had a stillbirth.
But when her escape was planned, Maryam did not tell her sister.
"I was afraid. I didn't see her before I left," said Maryam, who does not know the whereabouts of her husband since he was arrested by the military at the time of her escape. He had accompanied her out of the forest.
Since then, Maryam and the other freed Chibok girls were enrolled by the government in a special remedial course at the American University of Nigeria in Yola.
After years of mounting criticism about the spread of Islamist violence and attacks by armed gangs, Nigerian President Muhammadu Buhari appointed a new military high command last week.
Hopes were high after army successes against Boko Haram in 2015 and 2016, but with the rise of Islamic State's West African branch, formerly part of Boko Haram, parts of the northeast have been experiencing more frequent attacks.
While Thursday's phone call put an end to the family's agonising wait for news, Maiyanga said he still did not know when they would be able to see Halima.
"I'm hoping to hear more news from the military," he said.
https://www.reuters.com/article/us-nigeria-women-kidnapping-trfn/i-was-crying-kidnapped-nigerian-schoolgirl-phones-home-after-seven-years-idUSKBN2A1373
--------
Ukraine Woman Starts Fresh After Life Under Islamic State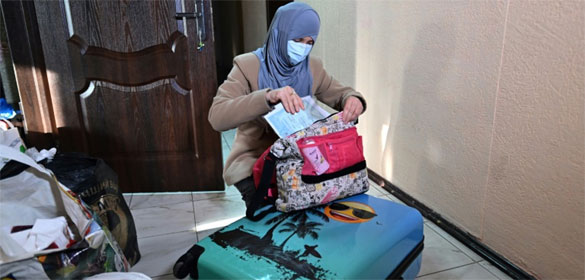 Alime Abbasova, 37, has returned home to Ukraine, six years after following her husband to Syria.
-----
2 FEB 2021
KOZYN, Ukraine: Six years after she left Ukraine to follow her husband and promises of a dignified life under the Islamic State group in Syria, Alime Abbasova arrived home on New Year's Day, hopeful for a fresh start.
The journey that took her from the Crimean peninsula, annexed by Russia, to the so-called Caliphate, and then to camps for IS sympathisers run by overstretched Kurdish authorities, was a miscalculation, she told AFP.
"You know what they say: we all make mistakes. What happened is now behind us, thank God," the 37-year-old mother-of-five said.
At a Soviet-era spa in central Ukraine where she was in quarantine and making plans for the future, Abbasova said: "Now I only hope for the best."
Western countries have been reluctant to repatriate their IS-linked nationals held in northeast Syria, though some have brought home women and children on a case-by-case basis.
But President Volodymyr Zelensky was unambiguous in his country's position when he publicly welcomed Abbasova and another returnee home last month.
"Ukraine will always bring home all of its citizens, no matter who they are and wherever they get into trouble".
- A 'trap' -
The ex-Soviet country is home to hundreds of thousands of Crimean Tatars, a Muslim minority, mostly living in Crimea, who opposed Russia's 2014 takeover of the peninsula and fled, fearing political persecution.
Abbasova said that she and her husband were lured to IS-controlled territory by one of his friends, who promised him he could continue his work repairing shoes in the so-called Caliphate.
"I didn't want to be left without a husband. I had two children at that time," she said, of her decision to follow.
Echoing many returnees and IS-linked detainees, she said that she quickly became disillusioned with life in Syria and was "disappointed" by the terror group's brutal interpretation of Islam.
But there was no way out, she said, describing the so-called Caliphate as a "trap" where "all roads closed".
"If you tried to escape, they could shoot you in the back."
In the four years that she and her husband spent in Syria, Abbasova said that they were never called to take up arms by the terror group's leadership.
But that claim did not resonate with the Kurdish forces that accepted their surrender in 2019 and separated the husband and wife in captivity.
"It was the last time I saw my husband," Abbasova, who took charge of their children, said.
She said she spent nearly two years in the Kurdish-run camps, al-Hol and Roj, where tens of thousands of relatives of IS fighters and sympathisers have been held since the 2019 defeat of IS.
- 'Went through hell' -
She described life in the sprawling tent cities that have been battered by inhospitable weather and lawlessness as "very difficult".
Aid groups, too, have deplored conditions at the al-Hol camp, where the UN recently reported a spate of murders.
Still, the camps, run by Kurdish authorities, are home to at least 10 more Ukrainian women and some 30 children that Tatar community leaders are working to return to Ukraine.
Refat Chubarov, a community leader who spearheaded release efforts in 2019 following pleas from family members, described negotiations involving the foreign ministry, the Red Cross and US diplomats.
He said that "special services were already engaged in this" process too.
He made clear however that neither he nor Ukrainian officials were seeking to fly home men who voluntarily travelled to Syria.
Chubarov told AFP that he had urged the two women who were returned to Ukraine to start again and "grab onto life".
"They might be more successful than those around them, because they saw what many others did not see, they went through hell," he said he had told them.
Abbasova has few other options, since the life she left behind six years ago is all but gone.
She said she planned to go to Kremenchuk in central Ukraine, where her husband's family was awaiting her and the children.
With slim hopes of seeing her husband again, Abbasova said her focus was now on her five children -- three sons and two daughters, aged between two and 14 -- all bustling around.
"I want to take care of my children," Abbasova said. "They need to be raised."
"Each child needs an individual approach, they've missed a lot in their studies."
https://www.bangkokpost.com/world/2061267/ukraine-woman-starts-fresh-after-life-under-islamic-state
--------
February 1 Declared Nat'l Hijab Day in Philippines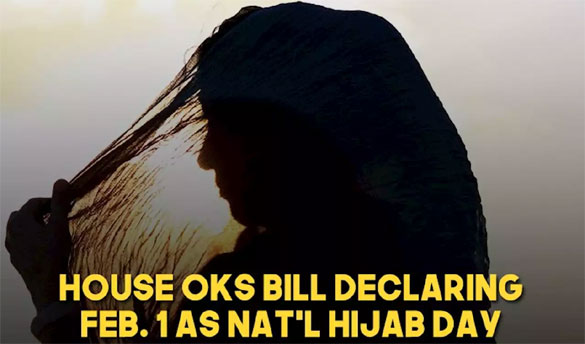 February 01, 2021
Congress unanimously approved the bill, which has yet to become a law, on Tuesday, Jan. 26, with all 203 lawmakers voting for the move.
Anak Mindanao party-list Representative Amihilda Sangcopan, principal author and sponsor of House Bill No. 8249, thanked all lawmakers for passing the legislation and called on members of the Senate to espouse a counterpart measure.
The legislation seeks to promote a greater understanding among non-Muslims about the practice and "value of wearing the hijab as an act of modesty and dignity to Muslim women" and encourage Muslim and non-Muslim women "to experience the virtue of wearing it."
The measure also aims to stop discrimination against hijabis and clear misconceptions about the sartorial choice, which has often been misinterpreted as a symbol of oppression, terrorism and lack of freedom.
The bill also seeks to protect the right to freedom of religion for Filipino Muslim women and "promote tolerance and acceptance of other faiths and lifestyles" across the country.
Sangcopan said that "hijabi women have been facing several challenges across the globe," citing examples of "some universities in the Philippines who had banned Muslim students from wearing the hijab."
"Some of these students are forced to remove their hijab to comply with the school's rules and regulations, while some are forced to drop out and transfer to other institutions. These are clear violations of the student's freedom of religion," she said.
The passage of the bill, she added, would "contribute greatly to putting an end to discrimination against hijabis."
"Wearing the hijab is every Muslim woman's right. It's not just a piece of cloth, but it is said to be their way of life. It has been explained in the Muslim holy book, the Qur'an, that it is obligatory for every Muslim woman to guard their chastity and modesty," Sangcopan said.
Dr. Potre Dirampatan Diampuan, a trustee of the United Religions Initiative's Global Council, welcomed the "milestone" legislation.
"It is an exercise in what we call inclusiveness. I think it's a very welcome move in the eyes of the Muslim community," Diampuan told Arab News.
"A woman wearing a hijab here always gets a second look. This bill will make it so that the sight is a common one. The hijab will become part of our wardrobe as Filipinos," she added.
According to the Philippine Statistics Authority, there are more than 10 million Muslims in the Philippines out of a total population of 110,428,130 based on the latest UN data. Diampuan said that the bill was a "recognition of the Muslim population in the country" and rejected the idea that wearing a hijab was akin to oppression.
"Unless you have embraced the religion and understood it, you will not appreciate the culture," she said, adding that the move could further encourage women's empowerment in the country.
"Women must be appreciated not by their looks but what they know, what they do and what they contribute to society…Where secular society says that beauty is in the eye of the beholder, I think Islam would say that beauty is in the heart of the person," Diampuan said.
The bill mandates the National Commission on Muslim Filipinos to celebrate National Hijab Day by promoting and raising awareness about hijabis in the Philippines.
During the 17th Congress, a similar bill was introduced by Sitti Djalia "Dadah" Turabin-Hataman. It cleared a third and final reading in the House of Representatives. Sangcopan's bill, which was recently approved, was filed in 2018.
The hijab is a veil that covers the head and chest and is mainly worn by Muslim women who have reached puberty, in the presence of adult males outside of their immediate family.
It also refers to any head, face, or body covering conforming to a certain standard of modesty for Muslim women, with those wearing it referred to as hijabis.
Islam is the Philippines' second-largest religion, with most Muslims residing in the Mindanao island.
Within Mindanao is the Autonomous Region in Muslim Mindanao, comprising the Basilan, Lanao del Sur, Maguindanao, Sulu Tawi-Tawi provinces, but excluding Isabela City in Basilan and Cotabato City in Maguindanao.
https://iqna.ir/en/news/3473859/february-1-declared-nat%E2%80%99l-hijab-day-in-philippines-%C2%A0
--------
Indonesia detains British woman on terror suspect list
February 02, 2021
JAKARTA: Indonesia has detained a British woman named in a list of global terror suspects and plans to deport her for visa violations, authorities told AFP.
Tazneen Miriam Sailar — once married to a now-deceased Indonesian extremist— is not charged with terror offenses.
But she and her late husband are on a police list of suspected domestic and foreign extremists, including a Frenchman who appeared in Daesh beheading videos and another close to the brothers who massacred staff at satirical magazine Charlie Hebdo.
Sailar, 47, and her 10-year-old Indonesia born son, were being held in Jakarta after they were picked up last year on allegations she didn't have documents to remain in the Southeast Asian nation, according to her lawyer Farid Ghozali.
"She was put (in detention) while awaiting her return which will be facilitated by the British Embassy," Indonesian immigration directorate spokesman Ahmad Nursaleh told AFP, without elaborating.
The British Embassy in Jakarta declined to comment and it was unclear when the deportation would happen.
The police document does not say why Sailar was listed along with some 400 other terror suspects, including her late husband who was killed in Syria in 2015, sources said.
The couple's 2010 marriage was officiated by radical Indonesian cleric Abu Bakar Bashir, the spiritual head of extremist group Jemaah Islamiyah (JI), according to sources familiar with the case.
JI members were behind the Bali bombings which saw more than 200 people, including nearly 90 Australian holidaymakers, killed when massive blasts ripped through a pair of packed bars on the Indonesian holiday island in October 2002.
Sailar operated a charity named after her late husband, which sent aid to women and children in conflict-wracked Syria, sources said.
She arrived in Muslim-majority Indonesia in 2005 as a medical volunteer for a Christian-based humanitarian foundation that assisted victims of natural disasters, Ghozali and a source said.
Alleged members of the Taliban and Daesh appear on the Indonesian police list, as well as British Islamist Anjem Choudary and Sally-Anne Jones, a Daesh recruiter reportedly killed in a US drone strike in Syria.
Maxime Hauchard, a now-dead French convert seen in a gruesome Daesh beheading video, was listed along with French extremist Peter Cherif, previously charged with the 2011 kidnapping of three French aid workers in Yemen and a close associate of the siblings who killed staff at Charlie Hebdo in 2015.
Sailar was born in Manchester on February 20, 1973 and holds a British passport, according to the list, which also said she goes by at least two aliases.
Indonesia's counter-terror squad questioned Sailar but no charges were filed, her lawyer said.
"So we're now focused on immigration matters," he said, adding that Sailar wants to remain in Indonesia.
https://www.arabnews.com/node/1802426/world
--------
Saudi Arabia: Jazan battered woman details her ordeal
February 02, 2021
Samir Salama
Abu Dhabi: A battered Saudi young woman, known as Jazan domestic violence victim, has revealed the details of her physical and verbal abuse by her father.
Ibtihaj told the Ya Hala show on the Rotana Khaleejia TV her father began abusing her at the age of eight, indicating that she was always trying to tell her mother what was happening.
She said that her father's strikes were always focused on the head area to hide evidence, as he did on a daily basis, and in the presence of family members including her grandmother.
Ibtihaj confirmed that no one was interfering to rescue her.
Lawyer Sheikha Al Balawi said Ibtihaj's father faces a jail term of between one month and a year, in addition to a fine of not less than 5,000 but not more than 50,000 riyals.
Domestic violence cases are a public issue in the country with some husbands and brothers beating their wives and sisters, humiliating them, locking them inside rooms, usurping their legitimate rights, taking away salaries and neglecting children, according to court records.
Serious, long-term domestic abuse can result in a mental disorder called battered woman syndrome. Battered woman syndrome, which is also sometimes called battered wife syndrome, is considered a subcategory of post-traumatic stress disorder (PTSD).
With battered woman syndrome, a woman may develop a learned helplessness that causes her to believe she deserves the abuse and that she can't get away from it. In many cases, it's why women don't report their abuse to police or avoid telling friends and family what's really going on.
Battered woman syndrome is taken into account in homicide cases when women murder their abusive partners.
Stages
There are four stages that women who develop battered woman syndrome typically go through:
Denial: The woman is unable to accept that she's being abused, or she justifies it as "just being that once."
Guilt: She believes she has caused the abuse.
Enlightenment: In this phase, she realizes that she didn't deserve the abuse and acknowledges that her partner has an abusive personality.
Responsibility: She accepts that only the abuser holds responsibility. In many cases, this is when she'll try to escape the relationship.
Some women in abusive relationships never make it past the first 2 or 3 stages, as domestic violence can be fatal.
https://gulfnews.com/world/gulf/saudi/saudi-arabia-jazan-battered-woman-details-her-ordeal-1.76891156
--------
UAE law: Women may not be forced to do night shifts
January 31, 2021
Some categories of female workers may be requested to work at night.
Question: I work for a hospital group in Dubai as a nurse. Despite several requests to exempt me from the night shift, my superiors continue to put me on duty at night. There are male staff who are happy to take the night shift. Is there any legal protection for female medical nurses who do not want to do the night shift?
Answer: Pursuant to your queries, we assume that you are employed as a nurse in a reputed hospital group which is situated in the mainland of Dubai. Therefore, the provisions of Federal Law No. (8) of 1980 Regulating Employment Relations in the UAE (the Employment Law) are applicable.
It should be noted that women in the UAE are not required to work between 10pm and 7am.
This is in accordance with Article 27 of the Employment Law, which states: "Women may not be required to work at night. The term 'night' means a period of not less than 11 consecutive hours, including the period from 10pm to 7am."
However, women employed in medical sectors may have to work during the night shifts. This is in accordance with Article 28 (c) of the Employment Law, which states: "The following cases shall be excepted from the clause prohibiting women to work at night.
"c. Work in medical and other services as may be decided by the Minister of Human Resources & Emiratisation if the working woman does not normally carry out a manual job."
Based on the aforementioned provisions of law, your employer may have the right to call upon you to work during night shifts. However, as a few of your male colleagues are willing to work during the night shifts, you may request your employer in writing that you intend to work during the day. In the said request letter, it is recommended that you include a genuine reason for the exemption from the night shift.
Having said that, it must be noted that it is up to the discretion of your employer to accept your request.
https://www.khaleejtimes.com/legalview/uae-law-women-may-not-be-forced-to-do-night-shifts
--------
Pak Women Term Govt's Silence As 'Unending Punishment'
02/02/2021
Srinagar, Feb 1: The Pakistani wives of ex-militants today protested and appealed the Government to take steps to send them back to Pakistan.
Scores of such women along with their kids reached the Press Enclave and raised slogans in favour of their demands while terming the silence of the Government over the issue as 'unending punishment'.
"We have been protesting for long now and all we want is to be sent back to Pakistan but nobody is paying any heed to our issues. We are appealing India and Pakistan to send us back," said Bushra Farooq currently residing in Kupwara.
They said that after the disqualification of a DDC candidate in Kupwara Soumya Sadaf based on citizenship, they have come to know that the Government is not going to give them the rights of a citizen of India. Click here to watch video
"Keeping that in view, we are demanding that either accept us as citizens or make sure that we are deported back to Pakistan," the women said.
They said that as many of them have been divorced or have been widowed over time, they are facing immense troubles.
"We know that they are not in a mood of addressing our issues. What is our fault? We fail to understand; at least they should treat it is a humanitarian issue and resolve it," they said.
The children of these women also said that they are in a state of agony and want to be deported without any delay as they are suffering.
"We came here in 2015 but after that, we are suffering. My father is a labourer and is not able to earn the livelihood and provide us with education; we demand that we should be deported back to Pakistan. If they do not accept us, then deport us," said Laiba daughter of one the women from Pakistan.
https://www.dailyexcelsior.com/pak-women-term-govts-silence-as-unending-punishment/
--------
Tehran To Host National Festival Of Creative, Entrepreneur Women
February 1, 2021
Coinciding with National Women's Day, the two-day event is held aiming to emphasize the successful presence of women in the development of a sustainable economy in recent years and honor those who are working toward a sustainable economy.
The festival also identifies and introduces the capacities and talents of women in Iran STI eco-system, attracts attention to the role of women in the development of a sustainable economy, models successful and leading patterns in the STI eco-system, and provides platforms and infrastructures for the introduction of hi-tech products by women in creative firms.
Expert meetings and reviewing the experiences of success and failure of women CEOs in high-tech and creative firms, holding an exhibition of hi-tech products and services, and praising selected projects of entrepreneurs and creative women are among the events held during the festival.
Given that women comprise more than half of Iran's university graduates, they can play a significant role in the transition to a knowledge-based economy.
Although the share of women in the country's employment is less than 20 percent, the CEOs of about 11 percent of knowledge-based companies are women. These statistics show the prominent role of women in the advanced fields of science, technology, and innovation.
Women's participation above global average
The participation of Iranian women in research and development fields is higher than the global average, according to the UNESCO 2020 report on Women in Science.
Iranian women's participation in research and development has increased from 27.7 percent in 2019 to 31.2 percent in 2020, which is above the global average of 30 percent.
The increase in the share of women in research and development is mostly due to their increasing share in knowledge-based companies, Masoumeh Ebtekar, the vice president for women's and family affairs, said in August 2020.
https://www.tehrantimes.com/news/457633/Tehran-to-host-national-festival-of-creative-entrepreneur-women
--------
URL: https://www.newageislam.com/islam-women-feminism/halima-kidnapped-nigerian-schoolgirl-phones/d/124207
New Age Islam, Islam Online, Islamic Website, African Muslim News, Arab World News, South Asia News, Indian Muslim News, World Muslim News, Women in Islam, Islamic Feminism, Arab Women, Women In Arab, Islamophobia in America, Muslim Women in West, Islam Women and Feminism