New Age Islam News Bureau
25 Dec 2019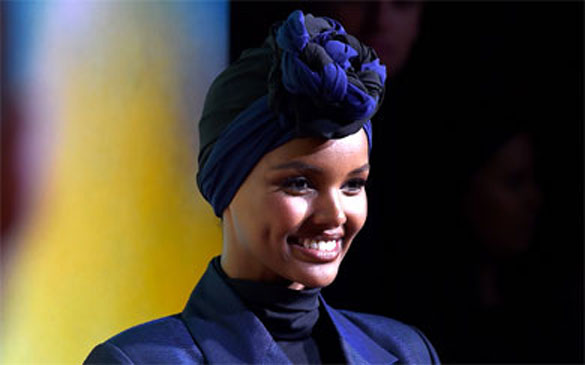 Model Halima Aden is the first black woman to appear on the cover of Essence magazine wearing a hijab.
-----
• Halima Aden Is First Black Woman to Appear On Essence in a Hijab
• Women, Especially Poor Women, Will Suffer the Most If There Is Nationwide NRC
• Pakistan: "Saving One Christian Girl Suffering Persecution Will Help Others"
• Saudi Girl, Indonesian Mum Reunited After 20 Years
• Football Stars Lucy Bronze and Amandine Henry to Discuss Women's Empowerment In Sports During Dubai Conference
• Making Supercars For Women 'A Mistake': Ferrari
• Gulf's Fintech Space Aims For Gender Parity
• New York House Representative: Trump Is a Corrupt Politician Afraid Of 'Strong Women'
Compiled By New Age Islam News Bureau
URL: https://www.newageislam.com/islam-women-feminism/halima-aden-first-black-woman/d/120622
------
Halima Aden Is First Black Woman to Appear On Essence in a Hijab
Dec. 25, 2019
By Janelle Griffith
Model Halima Aden is the first black woman to appear on the cover of Essence magazine wearing a hijab.
Aden said in a tweet Monday that she is thankful for the distinction. The tweet was accompanied by an image of the magazine's January/February 2020 cover.
"A huge thank you to everyone who worked tirelessly on this historic 50th anniversary cover," Aden said.
The Somali American model also said the cover is the first she will appear on in 2020.
A spokeswoman for Essence described Aden, who was born in Kenya and moved to the United States when she was seven years old, as a "beauty disruptor" in a statement to NBC News. Aden could not immediately be reached for comment Tuesday.
"As we get ready to step into a whole new decade, Essence continues to break the mold," the spokeswoman said. The upcoming issue is "just a taste of how Essence is celebrating every black woman in 2020."
Essence shared a first look of its January/February 2020 cover and a statement about Aden on its website.
"There have been several moments in model Halima Aden's life when she's broken a barrier by simply being who she is," the statement said. "The model and activist was the first Muslim homecoming queen at her high school; the first Somali student senator at her college; and the first hijab-wearing woman to be the face of numerous fashion magazine covers, including Allure and British Vogue."
Aden, 22, made history earlier this year as the first woman to appear in the Sports Illustrated swimsuit issue wearing a burkini, a full-body swimsuit worn by some observant Muslim women.
In 2016, Aden became the first contestant to wear a hijab and a burkini while competing in the Miss Minnesota USA pageant, in which she was a semi-finalist.
She told journalist Jeannine Amber, who wrote the Essence cover story: "It's important for me to be visible and to do whatever I can to let girls know that they don't have to change who they are."
"I want them to know the world will meet them exactly where they stand," Aden said.
https://www.nbcnews.com/news/nbcblk/halima-aden-first-black-woman-appear-essence-hijab-n1106926
------
Women, Especially Poor Women, Will Suffer The Most If There Is Nationwide NRC
Laetitia Bruce Warjri
The Citizenship Amendment Act (CAA) has been dominating the news since it was passed on 11 December this year. Protests have rocked the country from north to south, east to west, with particular focus on the Northeast, which shares a long border of over 1700 km with Bangladesh. Bangladesh is one of the countries from which the CAA seeks to accept "persecuted minorities", who will then be granted Indian citizenship.
On the face of it, the CAA seems innocent enough. It seeks to accept and grant citizenship to "persecuted minorities" who are non-Muslims from Pakistan, Bangladesh, and Afghanistan. India has accepted refugees before, most notably Tibetan refugees who were fleeing Chinese persecution. In fact, in 2017, the Ministry of External Affairs allowed for Tibetan refugees born in India between 1950 and 1987 to be granted Indian passports as they would now be considered Indian by birth.
What has alarmed people in the country is the combination of the CAA and the NRC--the National Register of Citizens. The NRC is a register that documents every citizen living in India. It was updated only once in 1951, post Independence. Currently, only the state of Assam has an NRC update in progress. The final list came out on 31 August, 2019.
A staggering 19 lakh people were left out, thus rendering them stateless and without a place to go. Detention centres have already been set up in the state for these newly declared "foreigners" or stateless people. The government has told the Rajya Sabha that 28 people have already died in detention centres across Assam so far.
NRC in Assam is only precedent
The only precedent we have of a post-1951 NRC is the NRC in Assam, which has turned out to be a very costly endeavour with the government spending Rs 1600 crores to implement it. This is not taking into account the detention centres that have been built to detain the ones left out of the NRC.
A subgroup of people who have ended up suffering the most in the entire NRC process has been, predictably, women. Single, married, widowed, transgender… all of them have had more trouble than their male counterparts to prove that they are citizens of India.
A fact-finding team from Women Against Sexual Violence and State Repression (WSS) has found that patriarchal norms, which govern the NRC process, have led to the exclusion of a large number of women from the NRC in Assam.
Only prove citizenship through birth family
The cut-off date to prove citizenship in Assam's NRC is 25 March, 1971--the eve of the Bangladesh War of Independence. You either have to show that you yourself were an Indian citizen at that time or that you are directly related to an Indian citizen of that time.
The NRC in Assam has made one thing quite clear--you can only prove citizenship through your parental family. This has left married women in a bind. Many have married away from their ancestral villages, so they have had to travel to their parental homes to get documents to prove their citizenship.
The primary documents to prove citizenship are called "List A" documents, which include birth certificates, school board or university certificates, or land and tenancy papers. If you have any of these papers and were born post-1971, you then have to prove that you are related to someone who was an Indian citizen at that time.
The thing is, birth certificates are hard to come by, especially in rural areas where people still give birth in their homes and don't register these births. As for school board or university certificates, women from poor backgrounds generally get married before the legal age of 18 and drop out of school in the process. Many don't make it to the matriculation and/or university level.
As is the case in most patriarchal setups, many women don't own land. So the question of land and tenancy papers does not even come into play. Even if they did inherit property, many choose to take cash instead of land as they live away from their ancestral villages and hence find no use for that land.
Considering patriarchy works on the assumption that married women are no longer a part of their parental homes but a part of their in-laws' homes, this has proven to be a death trap for married Assamese women. Speaking to The Citizen, Nisha Biswas, the convenor of WSS said, "They are the worst kind of victims, I believe. Once again, their autonomy has been refused and in this patriarchal system they were told that their in-laws' families, into which they are married, were their own. They have disinherited their parental family, but now they have to go to their parental family to produce documents regarding legacy."
Then playing straight back into the patriarchy's arms, a person's maternal ancestry is immaterial to the NRC process, even if all your documents are in order. If there is a nationwide NRC, a big question mark would be placed over proving the lineage of matrilineal societies like the Khasis of Meghalaya (I am a Khasi myself). We trace our family bloodlines through the mother (not the father) and all our documents do so as well. Will all matrilineal tribes be left out of the NRC then?
Married women, disowned women, and transgender women are out of the NRC
The Wire reports that women have been left out of the NRC because they could not prove that they were the daughters of their own fathers. This is in spite of their brothers using the same legacy data as them and making it into the final NRC. The Wire tells the story of Shoburi, a woman who faced this situation. She said, "My father's name is in the 1951 NRC. My brother used the same legacy data of my father and is in the final NRC but I am out. I was married in the same village and submitted the gaon burrah certificate which was rejected. My name was also not in the final draft. When I was called for re-verification, I gave my paternal family's ration card where I am mentioned as my father's daughter. Yet, I am out of the NRC."
What's worse is that once you have submitted documents, you can't change them. They get "frozen" as there is no provision for the re-submission of documents. So even a simple spelling mistake could result in you being left out of the NRC. The Citizen tells the story of one woman whose father's name was Ramizuddin while another man in the same village was called Ramiznuddin. While this woman's older siblings all found their way onto the list, a simple mistake naming her father as Ramiznuddin instead of Ramizuddin while filling the form cost her her place on the NRC.
Mukul Sangma, former Chief Minister of Meghalaya, raised the issue of women from other states who married into Assamese families being left out of the NRC. "All brides who were from other states have been excluded. Brides born in West Bengal, Nagaland, Bihar, and Meghalaya were excluded from the NRC," Sangma said, during a discussion in the Meghalaya Assembly.
The Citizen reports of a woman who had been disowned because she married a man from another religion. WSS' convenor, Nisha Biswas said, "We met one girl who was married to a person from another religion. She went to her parents for legacy data. Now they say we consider you dead. Humne toh tumhara shraad bhi kar diya. Now you are not in our family." The woman's father-in-law has provided his documents to prove her citizenship, but the NRC only accepts parental--and that too only paternal heritage--as evidence of citizenship. She is now deemed a foreigner and will most likely be sent to a detention camp.
Transgender women who have left their families, changed their names, and built families of their own within the LGBTQIA+ community are also in a bind. They can't go back to their parental homes since they had been disowned. Their families are not going to help them prove that they are related.
If the CAA comes into force along with the NRC, those women who are not Muslim will at least have the chance to regain their citizenship through the CAA. Muslims will suffer in general but it will be Muslim women, transgenders, and poor women who can't afford legal assistance who will really bear the brunt of the situation.
https://www.idiva.com/news-opinion/womens-issues/nationwide-nrc-will-affect-women-most/18005382
------
Pakistan: "Saving one Christian girl suffering persecution will help others"
Dec 24, 2019
By Francesca Merlo
38 year-old Catholic lawyer, Tabassum Yousaf, considers assisting persecuted Christians her mission, and a service to God and her Church. This is why she has not allowed the threats she has received to "stop her", as she defends Huma Younus' parents in their battle to get their daughter back.
Huma's story
Huma is a 14-year-old Christian girl from Zia Colony in Karachi, Pakistan. On the 10th of October, whilst her parents were out, she was abducted from her home and forced to convert and marry a Muslim man.Though her parents received Huma's conversion papers and marriage certificate - to a man named Abdul Jabar - the family are sure the papers are fake, due also to them being dated to the very same day the young girl went missing.
Recently, Huma's abductor has threatened both her parents and their lawyer, Tabassum Yousaf, that he would accuse them of blasphemy. The High Court of Sindh lawyer has worked on many cases of forced marriage, and speaking with Aid to the Church in Need, she says that these threats are common. She explains that the abductors often say, "If you do not stop searching for your daughter, we will rip pages out of the Koran, place them on your doorstep, and accuse you of profaning the sacred book".
Abduction in Pakistan
Abducting for the purpose of forced conversion and marriage is a major issue in Pakistan. Most of the victims are Christian or Hindu girls and young women - both religious minorities in the country - who are forced to wed against their will to much older Muslim men.Of the 159 cases reported between 2013 and 2019, some 16 girls and young women have gone before the Sindh High Court asking for support against their forced marriages.Tabassum Yousaf explains: "Many Christians do not know that they have the same rights as Muslims. The poverty and lack of education of our brothers and sisters in faith allows Islamic fundamentalists to abuse their social, political, economic and religious powers to persecute Christians. And the judiciary is under strong pressure from political parties, which do not provide minorities with the right legal support".
Aid from ACN
This is why the economic support provided by Aid to the Church in Need (ACN) is "fundamental", she adds. With the charity covering costs, the family will be able to pay for an experienced Muslim lawyer, and, if necessary, take the case to the Supreme Court."And if we win and bring Huma home, such a sentence will also greatly help the many other Christian girls kidnapped and forcibly converted to Islam. But to do this we need international pressure, because despite our efforts to draw attention to the case, everything in Pakistan is at a standstill".
Pope and Prince
Just this month, Pope Francis dedicated part of his catechesis during a General Audience to the many Christians today who are "persecuted and marginalised"."Today in the world, in Europe," the Pope pointed out, "many Christians are persecuted and they give their lives for their faith, or are persecuted with white gloves, that is, left aside, marginalized.""Martyrdom," he stressed, "is the air of the life of a Christian, of a Christian community." Along with Pope Francis, offering his support this month is HRH the Prince of Wales. In a Christmas video message specifically aimed at persecuted Christians, Prince Charles highlights that, as Christmas is approaching, those "who carry the cross of suffering today" are held in his thoughts and prayers.--Vatican News
http://www.heraldmalaysia.com/news/pakistan-saving-one-christian-girl-suffering-persecution-will-help-others/51125/1
------
Saudi girl, Indonesian mum reunited after 20 years
December 21, 2019
Ramadan Al Sherbini
Cairo: A Saudi woman and her Indonesian mother were reunited after a separation of more than 20 years, the Saudi embassy in Jakarta said Saturday.
It all started when the Saudi national contacted the embassy in Jakarta to help find her Indonesian mother who had left Saudi Arabia more than 20 years ago, after her Saudi husband's death about three years after she gave birth to their child, Saudi Ambassador in Indonesia Essam Abed told Okaz newspaper.
"The Saudi citizen had asked the embassy to help her search for her mother," the diplomat said.
"After going through old files, the marriage of the two was found to have been officially documented. Afterwards, a search was mounted by the embassy staff until the mother was reached after enormous efforts assisted by a number of Indonesian official agencies," Abed added.
The Indonesian woman came Friday to the embassy where she communicated with her daughter through Skype.
"The reunion was very touching between the mother and her parent, especially that the mother doesn't speak Arabic," the ambassador said.
The embassy said on its Twitter account that it plans a face-to-face meeting between both either in Indonesia or in Riyadh where the daughter is living.
https://gulfnews.com/world/gulf/saudi/saudi-girl-indonesian-mum-reunited-after-20-years-1.68616278
------
Football stars Lucy Bronze and Amandine Henry to discuss women's empowerment in sports during Dubai conference
Wed 25 Dec 2019
Two of the football world's biggest stars Lucy Bronze and Amandine Henry will make their first appearance at the Dubai International Sports Conference on Saturday, ahead of the Dubai Globe Soccer Awards.
The annual football forum and Mohammed Bin Rashid Al Maktoum Global Initiative has been organised under the patronage of Sheikh Hamdan Bin Mohammed Bin Rashid Al Maktoum, Crown Prince of Dubai and Chairman of Dubai Sports Council, since 2006.
Organised by Dubai Sports Council, this year's conference is taking place under the theme, "Future Football Accelerators" at Madinat Jumeirah Conference Centre's Joharah Ballroom, where Bronze and Henry will lead a discussion titled "Empowering Women in Football", alongside history-making official Stephanie Frappart and Italy's Sara Gama.
Manchester United and Ajax legend Edwin van der Sar will headline the opening session titled, "English Football Back to the Top", alongside former England manager Fabio Capello and Ferran Soriano, chief executive of Manchester City Football Club and its parent company City Football Group.
Winner of 11 league and five UEFA Women's Champions League titles with French club Lyon, Henry, 30, started playing football at the age of 5 but played alongside boys until the age of 13 due to a lack of a girls' team for her age group.
Bronze, who now plays alongside Henry in Lyon after spells at Sunderland, Everton, Liverpool and Manchester City, has been one of the biggest stars of English women's football, playing a starring role in the Englishwomen's third-place finish at the 2015 World Cup as well as the 2019 World Cup, where they finished fourth.
Regarded as one of the greatest right-backs in women's football, Bronze, 28, has won the PFA Women's Players' Player of the Year award twice and earlier this year became the first English football player to win the UEFA Women's Player of the Year Award.
Frappart, 36, entered the history books earlier this year in August as the first woman to referee a major men's European match when the Frenchwoman took charge of the 2019 UEFA Super Cup between Liverpool and Chelsea in Istanbul.
Gama, meanwhile, is captain of Italy's national women's football team and plays as a defender for Italian club Juventus, where she has won two league championships (2018, 2019) and a Coppa Italia (2019).
https://www.arabianbusiness.com/sport/436148-football-stars-lucy-bronze-amandine-henry-to-discuss-womens-empowerment-in-sports-during-dubai-conference
------
Making supercars for women 'a mistake': Ferrari
Sun 22 Dec 2019
The world's most popular supercar maker does not want to make cars for women.
Italian automotive champion Ferrari says it would be a "mistake" to design a car for women because its female clients do not want a "female Ferrari" and look to experience the brand's renowned performance and aggressive design.
"We know there's an important number of females who want to drive a Ferrari. The important thing we learned is that they don't want a Ferrari for females," Enrico Galliera told Arabian Business.
"A female that wants a sports car wants to drive a sports car…The mistake that automotive [companies] do and that we're trying not to do is design a car for ladies. I design a car that delivers emotion then male and female have exactly the same need," said the chief marketing & commercial officer at Ferrari NV and senior vice president-sales of Ferrari SpA.
Ferrari also fears a feminine model would drive away male customers which make up a significant portion if its consumer base.
"If you create a female car in the sports car - I'm not talking about a general car, maybe that's different - but in the sports world if I create a Ferrari which is a little bit less powerful and aggressive then all the males will not buy it. They will not buy a female car. And the females won't buy it because why should they be discriminated [against]? Why should they have a less powerful car?" Galliera said.
It takes two to Ferrari
Despite it steering away from designing feminine Ferraris, the brand has seen an increase in female drivers around the world, albeit the rise is unrelated to specific car models but to couples' activities.
"We have seen [a rise in female customers] worldwide. I have to be honest, this is coming because we did a lot of activities where the couple can share the experience… [The activities are] not for the males track who are addicted to the car. It's the possibility to share the experience.
"All the activities we do all over the world… they are done in a way where you can enjoy the environment, have nice food, nice restaurants, these kinds of stuff so that now we have the companion pushing to come to the event and this is reducing the distance between Ferrari and the [female] segment…," he said.
Galliera hinted that female customers are afraid to drive a "very aggressive, very sporty" Ferrari and said the new "more elegant" Roma should reduce their fear, but claimed the new 600 horsepower model is aimed at both men and women.
"What we know and that's why we came up with the new product, the new Roma, is that there is a barrier to buy in some segment of the population. Again, it doesn't make a difference, male or female, that they are afraid to drive a Ferrari - maybe because of its image; it's a very aggressive, very sporty, muscle car.
"So that's why we did the new Roma, the new car we just introduced which is in terms of performance a pure Ferrari and can be driven by anyone. But the design of the car is less aggressive, more elegant so that it should reduce the fear that some segment of the population has, female and male," Galliera said.
Pretty but not in pink
The new Roma is elegant indeed, with a refined design that takes inspiration from 1960s mid-front-engine grand tourers combined with advanced driveability to make longer trips more relaxing.
But it's as far as the arguably feminine model goes and you won't find it in a rosy shade either as Galliera states firmly that pink is off the Ferrari paint menu.
"We're different versus all the other manufacturers. We have an internal commission that decides if [the request] is consistent with Ferrari's positioning or not. In the past, this was not coming from the region, but we had a client that came asking to have the car painted in pink. We said sorry, we're not doing that.
"We are a sports car and there are some colours or combination of colours that we believe shouldn't be put in our car," he said.
https://www.arabianbusiness.com/transport/435831-making-supercars-for-women-mistake-ferrari
------
Gulf's fintech space aims for gender parity
December 21, 2019
By Sonorita Chauhan
Manama: Women in the Gulf are not going to let men dominate the landscape opened up by "fintech", or any other digital space that's getting disrupted.
In Bahrain, these efforts to even up the playing field are being led by Yasmeen Al Sharaf and Fatema Ebrahim. They were named among the "Top 100 women in fintech in 2019" by Lattice 80, one of the world's largest fintech hubs.
Al Sharaf heads Central Bank of Bahrain's Fintech and Innovation Unit, while Ebrahim is on the board of Bahrain's Economic Development Board and Women in Fintech Bahrain Forum.
According to the World Economic Forum, 46 per cent of employees in financial services are women — but less than 15 per cent are in executive positions. While it will not be easy to turn things around, a start has definitely been made.
"I believe in Kuwait and Saudi central banks, women are in leadership positions at the fintech units," said Al Sharaf. "And that is what I would like to see more of — women being represented on the boards of companies.
"If we can make sure our ideas are heard we can affect real change. We need to be seen and be heard … not conform.
"My personal experience has been that people tend to feel threatened by women who are able to speak their mind. My outspokenness has got me in trouble as well, but that is the part of trying to effect a change."
Meeting of minds
This is why Gulf states will need their share of platforms where women with the right skills can be heard loud and clear. One such is the Women in Fintech forum.
"It was the need of the hour because 60 per cent of working women in Bahrain are in banking," said Ebrahim. "The region too has seen a rise of women in this sector, so similar forums have been established in other GCC countries as well.
"Our aim is to build the pipeline by firing up the imagination of young women of tomorrow and get them excited about fintech. We have workshops for school girls, we are also trying to build an internship program and have a fintech series and events. These events are hosted once a month where industry leaders share their insight into the sector and various aspects connected to it.
"We have a lot of people coming to Bahrain to speak on fintech, but when they go back they need something to show their peers. That's my next step — to create that fintech channel. Being on the board of EDB, I want to help more start-ups and companies set up in Bahrain."
Showing the way
Al Sharaf has spent nearly 15 years at the Central Bank of Bahrain. The regulatory entity was awarded as "The Most Innovative Fintech Regulator Of The Year" by Fintech Galaxy, a digital crowdfunding platform, during FinX 2019, an event held in Dubai in October.
The Bank was named for its initiatives in introducing and developing both the regulatory framework needed to support the ambition of fintech start-ups and existing financial institutions.
"I have to continue to invest more time and effort in my research and work harder to ensure Bahrain remains at the forefront of fintech in the region," said Al Sharaf.
All banks in Bahrain became "open banking" compliant as of July last. (For the uninitiated, it means a banking service that provides third-party financial service providers open access to consumer banking, transaction, and other financial data from banks and non-banking entities through APIs (application programming interfaces).
"I believe open banking is just the start," said Al Sharaf. "Data is going to be big and everything else will revolve around it. Our role in helping shape the sector would involve participating in global forums, discussions and joint policy work to collaborate and further develop ideas within the financial services sector.
"Finance and technology have been more male-dominated areas, but that is beginning to change. For young women looking to make a career in these sectors, my advice would be to first ensure that this is where their passions lie.
"It does not matter how many jobs or internships you have in this field unless you are passionate about it. You will not enjoy your work and it is unlikely that you would be very successful in the field."
https://gulfnews.com/world/gulf/bahrain/gulfs-fintech-space-aims-for-gender-parity-1.67642603
------
New York House Representative: Trump Is a Corrupt Politician Afraid Of 'Strong Women'
By ZACHARY KEYSER
DECEMBER 24, 2019
In an interview scheduled to air Monday on Noticias Telemundo, a Spanish-speaking television station that covers both North and Latin America, New York House Representative Alexandra Ocasio-Cortez claims that United States President Donald Trump is 'afraid of strong women,' according to a report by the Daily Mail.
The freshman representative, since her incumbency, has become one of the Trump administration's most vocal critics mainly regarding issues of immigration, racism and corruption. According to the interview, she is OK with that, and to her it means she is on the right path - attempting to invoke change on a daily basis.
"He's a racist and he's anti-immigrants, but more than that, his administration is very corrupt," said in her first interview conducted wholly in Spanish. "I think he has a track record of – I think he's afraid of women, of strong women, of Latina women. It's very antithetic, his values."
In the sit-down interview, Ocasio-Cortez alleges that she would be surprised and somewhat concerned if the president agreed with any of the ideas she as proposed because he is a 'racist' and frightened of 'Latina women.'
"I think that if the president is calling me crazy, that's good. It'd be a problem if he said he agreed with me, because he has a lot of issues," Ocasio-Cortez said.
Ocasio Cortez, a 29-year-old progressive Democrat and former organizer for Bernie Sanders' presidential bid ousted a ten-term party boss from his perch in Congress in 2016, touting a new era in Democratic politics that would shift the party, in her image, sharply to the left.
Four year later, Ocasio-Cortez joined Telemundo, to once again endorse Sanders' candidacy for president in 2020.
When asked by Telemundo's Guadalupe Venegas if it's more significant for Trump to lose or for Bernie to win, Ocasio-Cortez stated it's more important "for Bernie to win. The president was elected for a reason. I might not agree with those reasons, but there was a lack of opportunities, economic issues, healthcare issues, education issues, and I think that's why he was elected. It was a reaction."
Ocasio-Cortez defeated Joseph Crowley in the 2016 primary race in New York's 14th Congressional District by campaigning largely on radical changes to immigration and welfare policy, such as abolishing US Immigration and Customs Enforcement and securing Medicare and federal jobs for all. Crowley was the Chair of the House Democratic Caucus since 2017.
"[Trump is] threatened by women of color, I think he's threatened by Latina women, by black women, by Muslim women, South Asian women, etcetera. We represent the America that he refuses to accept - one that embraces and allows for feminine power," Ocasio-Cortez said in an interview earlier this year at a Spanish campaign rally for Sanders. "An America that allows people of color to have a strong voice at the table, to be treated equally, to fight of the dignity of all people and one frankly that fights the corruption in plutocracy that he represents."
"His views do not represent the majority of this country. It's not to say that he represents no one, there is clearly a base that he has, but I don't believe that his views represent a majority of the American people," Ocasio-Cortez concluded.
Even though Ocasio-Cortez has professed that she approves the candidacy of Sanders first and foremost, believing he is the right fit for the job, she has made it clear that she will give her full support to whichever Democratic candidates earns the Party's nomination to run against Trump in 2020.
"This fight belongs to all of us. This is about a movement. That's why I chose to back Senator Sanders. He knows and understands that this campaign isn't about one person. It's about a movement of American working families and that can only happen with everyone on board," she told Telemundo. "I think we have good candidates in the primary. But I think that we have to support whoever wins the ticket, because we need to get this president out of the Oval Office."
Michael Wilner contributed to this report.
jpost.com/American-Politics/Ocasio-Cortez-Trump-is-a-corrupt-politician-afraid-of-strong-women-611970
------
URL: https://www.newageislam.com/islam-women-feminism/halima-aden-first-black-woman/d/120622
New Age Islam, Islam Online, Islamic Website, African Muslim News, Arab World News, South Asia News, Indian Muslim News, World Muslim News, Women in Islam, Islamic Feminism, Arab Women, Women In Arab, Islamophobia in America, Muslim Women in West, Islam Women and Feminism