New Age Islam News Bureau
01 September 2020
• Loujain al-Hathloul, Saudi Female Activist Goes on Hunger Strike, In One of The Kingdom's Prisons
• Saudi Labour Law Articles on Hazardous Jobs For Women Revoked
• Tommy Hilfiger Embraces Modest Fashion with Launch of First Hijab
• Saudi Painter Calls for Women's Art Museum in The Kingdom
• Start-Up of The Week: Saudi Fashion Designer Combines Beauty and Comfort
Compiled by New Age Islam News Bureau
URL: https://www.newageislam.com/islam-women-feminism/half-uae-mars-mission-leaders/d/122769
--------
Half of UAE's Mars Mission Leaders Are Women: Sarah bint Yousif Al Amiri
Saman Haziq
August 26, 2020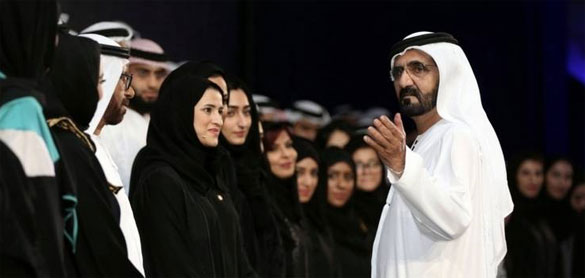 Half of the leadership positions of the UAE's historic Hope probe mission to Mars are held by women
-----
The probe has covered 20 per cent of its 493-million-km journey within a month after it was launched.
Half of the leadership positions of the UAE's historic Hope probe mission to Mars are held by women, a minister and science lead of the mission has revealed. The probe has covered 20 per cent of its 493-million-km journey within a month after it was launched.
Sarah bint Yousif Al Amiri, Minister of State for Advanced Technology and President of the UAE Space Agency, said: "The team behind the UAE's historic Hope probe comprised 34 per cent women, who served in various roles such as engineers, scientists, and academic researchers, and were involved in all stages of manufacturing and design.
"In fact, the only engineer skilled and best equipped to develop the probe's power/force system was an Emirati female engineer - she was the only one across the entire space sector in the UAE who had the skillsets and level of expertise we needed."
She was addressing a webinar conducted by the Dubai Women Establishment (DWE) to highlight women's achievements in various sectors ahead of the Emirati Women's Day.
"Internationally, people often ask me how we were able to have women comprise 34 per cent of the Hope probe's team. In comparison to international teams working in the same field, this percentage is among the highest. I'm proud to say that in the UAE, capacities, capabilities, expertise, and excellence are the main factors and criteria that are taken into consideration when allocating human resources to certain tasks, regardless of gender.
"Half of the leadership positions of the Hope probe were women, which shows the crucial role women in STEM-focused positions play today."
Referring to government support for women in the field, she said: "Today, more than 56 per cent of STEM graduates in the UAE are women, which highlights how our country is committed to encouraging women's active contribution and interest in this field from the very beginning."
Covid impact on mission
Al Ameri said that the pandemic struck at a critical time "in terms of the timeline that was set for the launch of the probe".
Stressing on the importance of flexibility in the time of crisis, Al Ameri said: "We had to transport the probe, as well as the team members themselves, from the UAE to Japan. We realised during this process that we had great capacities for risk management. There was flexibility in the way we worked, and made the necessary amendments to our approaches to ensure a successful and timely launch.
"Flexibility is important when it comes to approaches taken to reach a certain objective. Change is good - change means that we are adapting with the world around us, which is necessary for progress. Ensuring that there is efficient risk management before the launch of any project is crucial."
Thanking the UAE community for working together to fight the pandemic, she said: "It was a difficult couple of months. However, with the cohesive efforts of all relevant local and federal entities in the UAE, all of which worked together as one team to ensure the fruition of this project, it was made easier. I would like to thank the team members of the 'Hope' probe - our team members left their country and their families at a very critical time during the pandemic to ensure the success of this pioneering project. They are a role model in work ethic, professionalism, and excellence."
https://www.khaleejtimes.com/uae/dubai/half-of-uaes-mars-mission-leaders-are-women-minister
--------
Loujain al-Hathloul, Saudi Female Activist Goes on Hunger Strike, In One of The Kingdom's Prisons
September 01, 2020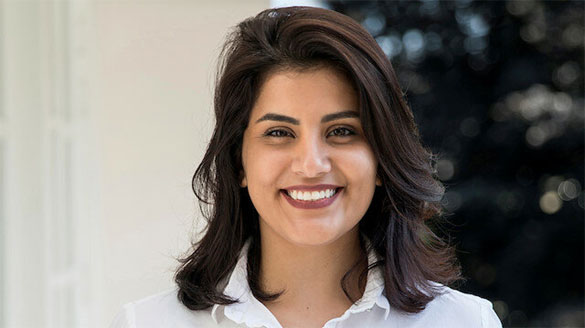 Saudi women's rights activist Loujain al-Hathloul/ Photograph: HANDOUT
-----
Saudi women's rights activist Loujain al-Hathloul has embarked on a hunger strike in one of the kingdom's prisons, according to a statement Monday by her family.
Loujain's sister Lina said on her Twitter account that her parents visited Loujain recently in her prison cell.
"My parents visited Loujain today. She was on the sixth day of a hunger strike to protest against her being prevented from calling her family," Lina said.
She added that her sister's health is "deteriorating," without providing further details.
In a Twitter post in June, Prisoners of Conscience, a Saudi human rights group, demanded that Saudi authorities reveal the health status of Loujain, who has been detained for more than two years in Saudi prisons.
Saudi authorities have yet to comment on the claims of Loujain's family. However, they deny depriving prisoners of any of their rights.
On May 15, 2018, the authorities arrested a number of female human rights activists including Loujain, Samar Badawi, Nassima al-Sadah, Nouf Abdelaziz al Jerawi and Mayaa al-Zahrani.
Several international rights watchdogs have accused Saudi authorities of jailing the female activists for their activism in defending women's rights.
https://www.yenisafak.com/en/news/saudi-female-activist-goes-on-hunger-strike-3538101
--------
Saudi Labour Law Articles On Hazardous Jobs For Women Revoked
August 31, 2020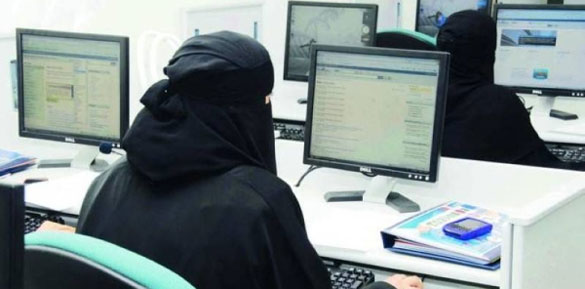 Saudi Arabia's Cabinet last week approved two amendments in the Labor Law related to women's work in hazardous jobs and at night.
------
RIYADH — Saudi Arabia's Cabinet last week approved two amendments in the Labour Law related to women's work in hazardous jobs and at night.
Sources told Okaz/Saudi Gazette that the amendments pertained to abrogation of Articles 149 and 150 of the Labor Law related to the prohibition of employment of women in some dangerous occupations and some period of time during night.
Article 149 states that it is forbidden to employ women in dangerous and harmful occupations and jobs, and the minister would specify the occupations and jobs considered dangerous or harmful and would expose women to specific dangers or harms so as to prohibit their work in such jobs or restrict them under special conditions."
Article 150 states that women shall not be employed in a period of time during night that is not less than 11 consecutive hours, except in cases in which a decision is issued by the minister.
Sources clarified that the new amendments included the addition of an article, of which the order is 131, which stipulates that the minister determines — by his decision — the professions that are considered dangerous or harmful or that would expose the worker to extraordinary dangers or damages.
The minister determines the categories, which are prohibited permanently or temporarily from employing in them or allow to employ therein, under special conditions.
These conditions include the extent of the need to specify working periods for any of these groups, in accordance with the Kingdom's relevant commitments as per the international agreements.
https://saudigazette.com.sa/article/597325
--------
Tommy Hilfiger Embraces Modest Fashion with Launch of First Hijab
Priya Elan
1 Sep 2020
Top American fashion label Tommy Hilfiger has launched its first hijab, in a move that some see as a welcome shift towards embracing more diversity but others see as a canny decision to tap into a growing segment of the fashion market.
The Hilfiger hijab has the letters "TH" initialed throughout the garment, and has been crafted from fine jacquard fabric. It comes in ivory and "sky captain" grey. Last month the label dressed model Halima Aden in a custom-made burkini for Sports Illustrated.
It's not the first time the fashion industry has recognized the significance of so-called modest fashion. In 2016 at New York fashion week Anniesa Hasibuan was the first designer to show a collection where all models wore the hijab. Dolce & Gabbana, DKNY and Mango have done "Ramadan collections", while worldwide Modest Fashion Weeks are happening from Miami to Amsterdam.
After the fashion industry has been criticized for its lack of diversity and racism, following the Black Lives Matter protests, the Hilfiger hijab could suggest major fashion brands are stepping forward with inclusive practices. But Hassanah El-Yacoubi, founder of modest fashion brand PFH, says that it also shows market changes rather than cultural ones.
"It's more indicative of an ever growing Muslim consumer culture that is lucrative and thriving more than ever now," El-Yacoubi said.
The Islamic fashion industry is estimated to be worth $88bn by 2025, according to Grand View Research. "I think the timing reflects the need to address a growing desire in the market by consumers – especially millennials and Generation Z – for greater inclusivity from the brands they support," said Arthur Zaczkiewicz, the executive editor of fashion industry publication Women's Wear Daily.
Research has shown that a younger tranche of consumers are less concerned with "fitting in" and more with making choices that reflect their own values.
After years of being "othered" by mainstream fashion, the perception of modest fashion is altering. "I believe we are experiencing a permanent cultural shift instead of a fleeting style that's in vogue temporarily," said El-Yacoubi.
"More and more retailers are focusing on inclusivity and adding products to their assortment that support modest dressing," said Krista Corrigan from retail market intelligence company Edited. She said that 10% of shops tracked by the company stock such garments compared to just 2% in 2019.
Zaczkiewicz said: "It's important to understand that modest fashion is not a trend. It's how people live."
Yet most observers believe the Hilfiger hijab is only a small step towards a wider acceptance of Muslim dressing.
"No matter how mainstream or celebrated modest fashion has become, the reality remains that Islamophobia and anti-Muslim sentiments have been at an all-time high in the US," said El-Yacoubi.
Hate-crime violence hit a 16-year high last year in the US, while in 2019 52% of UK hate crimes were committed against Muslims.
"Since modest fashion is generally perceived to be a phenomenon spearheaded by hijab-donning women, they usually bear the brunt of such beliefs," said El-Yacoubi.
Muslim clothing continues to be a political lightning rod and a sartorial subtext for Islamophobic rhetoric.
In July, the German state of Baden-Württemberg banned burqas and niqabs in schools. It followed similar bans in Sri Lanka and Denmark. Other countries that have banned Muslim dress include Latvia, Austria, Bulgaria and Belgium.
Last year the French sporting goods label Decathlon dropped plans to sell a sports hijab after politicians' reaction exposed religious tensions there, again focused on Muslim women's attire.
Still, the launch of the hijab follows on from Hilfiger's promises to be more inclusive. Last month its parent company PVH announced a program to increase opportunities for people of color people at the company.
https://www.theguardian.com/fashion/2020/sep/01/tommy-hilfiger-first-hijab-launch-modest-fashion
--------
Saudi Painter Calls for Women's Art Museum in The Kingdom
September 01, 2020
We show you our most important and recent visitors news details Saudi painter calls for women's art museum in the kingdom in the following article
Hind Al Soulia - Riyadh - Sameera Ismail, who is also an entrepreneur, has invited prominent business figures and national banks in Saudi Arabia to contribute to the establishment of the museum.
Saudi artist Safeya Binzagr, Shaving Ceremony, 1975. (Darat Safeya Binzagr Gallery)
RIYADH – Saudi painter Sameera Ismail is pushing for the creation of a museum dedicated to Saudi women in the arts as a means to "preserve the achievements of Saudi women artists in all branches of painting and fine art."
Ismail emphasised the importance of supporting and empowering women in the kingdom by proposing initiatives that can help serve and promote their artistic creation.
"We need realistic ideas that serve art and its artistic culture, by setting up a museum dedicated to women and the achievements of Saudi female artists from all branches and sectors — a celebration of creative and innovative Saudi women — by establishing the first museum for women artists in the region," Ismail wrote on Twitter.
Ismail, who is also an entrepreneur, has invited prominent business figures and national banks in Saudi Arabia to contribute to the establishment of the museum, which she hopes will encourage more Saudi women to innovate and boost art renaissance in the kingdom.
Saudi artist Sameera Ismail (Twitter)
Many Saudi women painters are well established in the international art scene, with their works sold all around the region and the world.
Among them are Bdoor bint Abdullah Al-Sudairy, who has won international awards such as the Excellence Award at the London Biennial Exhibition in 2013 for her painting "Ghat Dates: the Desserts of the Rich and the Food of the Poor," which, like many of her works, is inspired by her Saudi heritage.
Safeya Binzagr is also a pioneer of Saudi painting. In 1970, she became the first woman to organise a solo exhibition of her work in the kingdom, which she was not able to attend because of the restrictions of the time. It was not until Aramco held a private exhibition of her work in 1976 that she was able to take part.
Binzagr owns the "Darat Safeya Binzagr" in Jeddah, an institution that aims to preserve social heritage and folklore, which are often depicted in her paintings. The institute includes workshops for children and adults, training courses and lectures on painting and modern art.
Over the years, Binzagr, who wrote a book about Saudi art titled "Saudi Arabia, An Artist's View of the Past," has also participated in many local and international exhibitions. Her works are displayed in countries such as Japan, Sweden, Spain, Lebanon, England and the United States.
Ibtisam Abdullah Bajabeer is a famous plastic artist from Saudi Arabia whose works are distinguished by their Islamic characters. She left a clear imprint on the development of silk drawings, in which she uses burning wood to draw Islamic lines.
She has participated in many cultural and artistic events throughout the world, such as an exhibition of Saudi women painters in Washington, and Saudi exhibitions in Spain, France and Egypt.
Pioneers of Saudi plastic art also include Hamida Al-Senan, Ahoud Al-Jarid, Fatima Abu Qahhas, Hend Al-Mansour and Ghadeer Hafez. Younger artists include Shatha Al-Omar, Hiba Reda Mari and others who continue to enrich the country's art scene with their creative contributions.
These were the details of the news Saudi painter calls for women's art museum in the kingdom for this day. We hope that we have succeeded by giving you the full details and information. To follow all our news, you can subscribe to the alerts system or to one of our different systems to provide you with all that is new.
It is also worth noting that the original news has been published and is available at The Arab Weekly and the editorial team at AlKhaleej Today has confirmed it and it has been modified, and it may have been completely transferred or quoted from it and you can read and follow this news from its main source.
https://www.alkhaleejtoday.co/saudi-arabia/5037402/Saudi-painter-calls-for-women%E2%80%99s-art-museum-in-the-kingdom.html
--------
Start-Up of The Week: Saudi Fashion Designer Combines Beauty and Comfort
LOJIEN BEN GASSEM
August 31, 2020
RIYADH: Bearing a lotus logo, Saudi designer and stylist Saja Al-Yousef's creations are inspired by the qualities of the flower, which symbolizes beauty, health, comfort, love, and optimism
SAJAS Boutique specializes in luxury jewelry, fashion, and bag collections designed as per international standards. Al-Yousef's designs are a fusion of classical and modern styles.
She opened her main outlet in Al-Ahsa in Saudi Arabia and soon became an icon in the Saudi fashion world.
Al-Yousef said she was not satisfied with the products available around her. This dissatisfaction motivated her to launch her line of products to cater to the needs of the people who thought like her.
"I started to invent my style and challenged myself until I reached where I am now," she told Arab News.
In 2004, SAJAS Boutique entered the fashion world with its first collection. In 2009, Al-Yousef went to Australia to pursue her master's degree. During her 4-year stay in Australia, she attended several fashion courses, and met several fashion designers and icons, which enlightened her and shaped her thoughts and ideas about fashion.
In 2013, Al-Yousef worked as a stylist backstage during Riyadh Fashion Days. She then attended many courses in fashion, jewelry and bag design in the UK, Qatar, France, and Australia.
She started working on her first line of jewelry in 2014. In 2017, she researched leather products and visited several countries to study the feasibility of entering into the industry. In February 2019, she started her leather bags industry in Italy.
Al-Yousef mentioned that she had participated in many international jewelry events in the Gulf countries such as Bahrain's Jewelry Arabia and Qatar's Jewelry International Exhibition.
In 2017, Al-Yousef participated in the Jewelry Salon held in Riyadh and another event in Dubai.
In August 2018, Al-Yousef presented her bags collection at Harvey Nichols, London, during London Fashion Week.
"I participated in several fashion shows in Bahrain and Riyadh. In February 2019, I exhibited my designs in a showroom in Italy. In December 2019, I was selected by the Diriyah Gate Development Authority (DGDA) to represent my brand in a showroom at Ritz-Carlton Riyadh," said Al-Yousef.
Al-Yousef mentioned that her ambitions were boundless. "The sky is the limit," she said.
She added that she hoped to share her vision and imagination with top brands and not confine herself to the local market.
"I think SAJAS products have gone through a lot of phases. Each product has a story and buyers are listeners who can understand the hard work that goes into each product," she said.
https://www.arabnews.com/node/1727551/fashion
--------
URL: https://www.newageislam.com/islam-women-feminism/half-uae-mars-mission-leaders/d/122769
New Age Islam, Islam Online, Islamic Website, African Muslim News, Arab World News, South Asia News, Indian Muslim News, World Muslim News, Women in Islam, Islamic Feminism, Arab Women, Women In Arab, Islamophobia in America, Muslim Women in West, Islam Women and Feminism