New Age Islam News Bureau
23 Jul 2015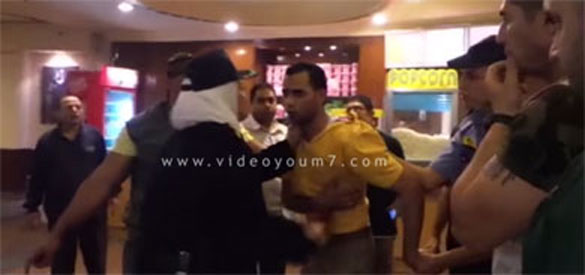 A screen grab from the video shows the officer slapping the suspect during Eid celebrations in Cairo (MEE/YouTube)
--------
• Haji Ali Dargah Shrine Reject Court Suggestion To Reverse Women Ban
• Female Daeshis and Mahram Permit
• Video of Egyptian Policewoman Slapping Alleged Harasser Goes Viral
• WWII Female Spy's Medals Sold at Auction in London
• 9-Year-Old Dies after Being Punished For Not Doing Homework
Compiled By New Age Islam News Bureau
URL: https://newageislam.com/islam-women-feminism/haji-ali-dargah-shrine-reject/d/104002
-------
Haji Ali Dargah Shrine Reject Court Suggestion to Reverse Women Ban
By Zain Awan, Channel NewsAsia
NEW DELHI, 23 Jul 2015: Haji Ali Dargah is one of Mumbai's iconic landmarks.
The 15th century shrine of Sayyed Peer Haji Ali Shah Bukhari unites followers of different faiths as they come to pray and seek blessings from the Muslim saint.
But some feminists are up in arms over what they call a case of gender discrimination.
The trustees of the shrine have refused the Bombay High Court's suggestion to reverse their decision of banning women entry into the inner sanctum, called Mazaar.
In a lawsuit filed by two women challenging the ban in July, the court did not rule on the case but suggested the shrine reconsider the ban. But the trustees of the shrine argued that such a move is not Islamic and puts the safety of women in the crowd at risk.
"As far as touching of the Mazaar is concerned, it was never allowed and it will never be allowed," said Shoaib Memon, lawyer for the Haji Ali Shrine Trust. "There's no question of there being a ban. So there is no question of reconsidering anything."
Women activists say that females could enter and actually touch the tomb until 2012 when the Haji Ali Dargah Trust arbitrarily imposed the ban.
In fact, in 2000 when Khalid Mohammed made the Bollywood movie Fiza on women empowerment, he showed one of the protagonists, played by renowned actress Jaya Bachchan, regularly visiting the shrine for prayers.
However, that now seems a thing of the past.
"The Dargah officials are lying," said Noorjehan Niaz, founder of the Indian Muslim Women's Movement. "I can say that very responsibly because till March 2011, I along with all my colleagues have entered the Mazaar and we have offered our prayers.
"I have been doing this since my childhood. When we checked with the President of the Haji Ali Trust he agreed to the fact that women have now been told not to enter the sanctum sanctorum."
Clerics at the shrine are sticking to their religious and social reasons behind the ban. But its women followers are questioning the differential treatment at the shrine of a saint, who is believed to accept prayers of people irrespective of their caste, colour and gender. - CNA/ec
http://www.channelnewsasia.com/news/asiapacific/landmark-mumbai-shrine/2003188.html
------
Female Daeshis and Mahram Permit
July 22, 2015 10:30 PM
Samar Al-Mogren
Al-Jazirah
A female teacher recently left the country via Jeddah's King Abdulaziz International Airport to travel to Turkey and then onto Syria so as to join Daesh. She is divorced and has three children. Did this Daeshi woman hold a permit from her guardian allowing her to travel? Only God knows. Do the three children have a permit to travel? Nobody knows.
This is not the first time, nor will it be the last, in which women leave the country, without permits from their guardians, whether to travel to join Daesh or elsewhere.
What I want to say here is that if a woman is determined to leave the country without a permit, she will do so. Nothing can stop her, whether she holds a permit or not.
There are many instances that I have seen with my own eyes or heard with my own ears of women and young women travelling without permits. Despite this, and despite all these cases and incidents, the laws are still an obstacle for women, as they necessitate a mahram's permission so they can travel.
As the law is on the Mahram's side, some Mahrams exploit this situation, blackmailing women and bargaining with them. Some Mahrams impose an effective travel ban on women just to exercise their hegemony on them.
How can an adult woman in her thirties, forties, or even sixties, who is economically independent and shouldered with all the financial, household and life commitments of her family, be hostage to her Mahram's approval if she wants to travel abroad for some permissible recreation? If there is a woman who wants to travel abroad for some impermissible activity or illegal conduct, she will not wait for her Mahram's permit. Daeshi women are the best example and the largest evidence.
The continued need for a Mahram's permission for a woman to travel is considered to be among the biggest issues faced by women in the Kingdom that has not improved. The issue has two parts: financial and moral. For the financial aspect, a whole book would still be insufficient in covering all the stories of blackmail and hegemony, practiced by some mahrams, aimed at suppressing women or exploiting them financially.
As for the moral aspect, this is most painful because these laws maintain man's dominance over women, while women are placed in the second row and are not granted the rights of full citizenship. Furthermore, many articles of international agreements protect the individual's right to travel and free movement. This includes the International Declaration of Human Rights, some of whose instruments the Kingdom is a signatory, and has been since it was first established.
The unjust travel laws pertaining to women are unjustified so long as there are no security objections to their travel. Then why should we raise suspicions about women? This falls within the moral aspect I covered above. The mere feeling that she has been placed under guardianship, even if her Mahram does not object to her travel and has granted her a permit for the full validity of her passport, necessitates that we must surpass the idea. This is at a time when Saudi women have made the Kingdom proud, both domestically and abroad. Saudi women have now reached administrative posts that determine the destiny of institutions and hundreds of people.
Not only this, but with their studies and proposals, Saudi women in the Shoura Council now play a central role in determining the fate of the entire country. Yet, at the same time they are forbidden from taking the very simplest of decisions that concern them: free movement.
http://www.saudigazette.com.sa/index.cfm?method=home.regcon&contentid=20150723251154
-------
Video Of Egyptian Policewoman Slapping Alleged Harasser Goes Viral
Thursday, 23 July 2015
A video showing an Egyptian policewoman slapping an alleged sexual molester posted on YouTube Sunday has garnered at least 667,649 views and gained admiration of people on social media, who urged Cairo to employ more policewomen to tackle sexual harassment in the country.
The incident took place outside a cinema in Cairo. The policewoman grabbed the man and shocked him with an electric rod as dozens wait to enter the cinema.
Eighty four individuals were arrested for sexual harassment in the first two days of Eid al-Fitr holiday last week, Egypt's Ministry of Interior said.
https://english.alarabiya.net/en/webtv/reports/2015/07/23/Video-of-Egyptian-policewoman-slapping-alleged-harasser-goes-viral-.html
--------
WWII Female Spy's Medals Sold at Auction in London
AFP
LONDON: A British bravery medal awarded to a female spy who parachuted into France during World War II and was executed by the Nazis was sold with her other awards on Wednesday for 260,000 pound ($406,000).
Violette Szabo, the daughter of a British father and French mother, was one of only four women to receive the George Cross, the second highest British honour.
She was twice sent behind enemy lines with Britain's secret Special Operations Executive, firstly to confirm reports that one of its sabotage operations had been compromised and then to arrange a similar set-up elsewhere.
Slight, pretty, and with a determination and fearlessness that struck all who met her, Szabo was arrested a few days into the second mission in June 1944, but not before engaging in a lengthy gun battle with German soldiers.
She was interrogated and tortured by the Gestapo before being sent to a succession of German camps.
She was killed at Ravensbruck, north of Berlin, in early 1945 at the age of 23.
Before joining the SOE, Szabo had married a member of the Free French Forces and had a daughter, Tania. Her husband, Etienne, was killed fighting in north Africa in 1942.
Their daughter received the George Cross on Szabo's behalf from King George VI in 1947. Then aged four, she wore a dress that her mother had bought in Paris between her two missions.
With no children of her own to pass it on to and concerned about her own financial future, Tania Szabo sold it as part of a collection of her mother's medals and other personal papers at auction in London.
They were bought on behalf of multi-millionaire businessman Michael Ashcroft and will go on display as part of his collection of medals at the Imperial War Museum in London.
"I'm very happy with the result. They're going into a safe place where people will be able to view them — many thousands of people — so a good result," Tania Szabo said.
http://www.dawn.com/news/1195720/wwii-female-spys-medals-sold-at-auction-in-london
------
9-Year-Old Dies after Being Punished For Not Doing Homework
PTI, Karimnagar
Jul 23, 2015
A nine-year-old girl died on Thursday after being allegedly punished by her school teacher for not doing homework, police said.
Kolipaka Ashritha, a student of class V at Vivekavardhani Model School in Huzurabad, about 35 kms from here, was on July 16 "punished" by her Mathematics teacher to "kneel down for about 20 minutes" after she "failed" to do the homework in the subject, Huzurabad Deputy Superintendent of Police P Sanjeev Kumar said.
Later, the girl informed about the incident to her parents and complained of knee pain following which they took her to a neuro-surgeon, he said.
The doctor diagnosed that due to kneeling down, blood clotted near the knee and it affected her nervous system, he said, quoting a complaint filed by the girl's father in this regard.
As her fever and knee pain rose, Ashritha was shifted to the MGM (Mahatma Gandhi Memorial) Hospital at Warangal this morning where she died while undergoing treatment, Kumar said.
Based on a complaint by the girl's father Kolipaka Sammaiah, a case has been registered against the teacher, the DySP said, adding, that no arrest has been made so far in this connection.
http://www.hindustantimes.com/india-news/9-year-old-dies-after-being-punished-for-not-doing-homework/article1-1372434.aspx
-----
URL: https://newageislam.com/islam-women-feminism/haji-ali-dargah-shrine-reject/d/104002