New Age Islam News Bureau
26 Dec 2017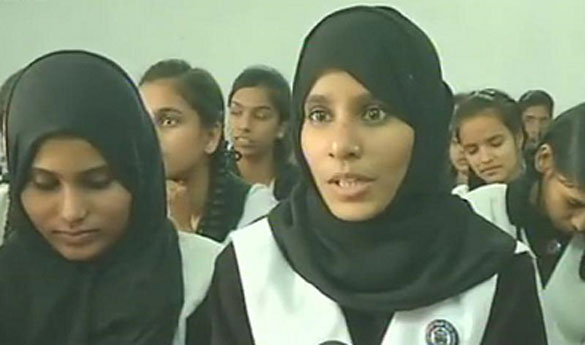 Photo: Afreen's mother said she is very happy with her achievement and said that she never stopped her from following her dreams. (Photo: ANI)
-------
• Muslim Girl Wins Gita Recitation Contest Held by Lucknow Education Board
• Make Triple Talaq Punishable but Not Criminal Offence: Muslim Women Ahead of Bill
• Arab Women's Organisation Condemns Arrest of Teen Palestinian Activist Tamimi, Offers Legal Defence
• Various Measures in Place to Help Indian Women Workers in Distress Abroad: Govt
• Muslim Women Have Been Leaders in Conservative Fashion since Way Before It Was "Cool"
• Tunisia Working With UAE on Terrorist Threat from Female Jihadist Returnees4
Compiled by New Age Islam News Bureau
URL: https://www.newageislam.com/islam-women-feminism/haj-mehram-rule-change-leads/d/113704
-------
Haj Mehram Rule Change Leads to Sharp Rise in Female Applicants
Updated: December 26, 2017
New Delhi/Riyadh, December 26: The changes in Haj 'mehram' (male kin) rule this year has lead to a sharp rise in female applicants. According to an official figure, a record 1,244 Indian women have applied to go for Haj next year. This became possible after the NDA government allowed the Muslim women for the first time to undertake the annual pilgrimage to Mecca without the company of a male relative. Out 1,244 women applicant, 1088 are from Kerala which is also a record figure.
Till now, if Muslim women were willing to go for an annual pilgrimage of Mecca and Medina they had to be accompanied by a mehram, usually a husband or a relative to whom marriage is unlawful.
Earlier this month, the minority affairs ministry said that out of 1,244 applications from single women, 1,016 applications were accepted.
The recommendation to allow women-only groups for the holy pilgrimage was made by the Afzal Amanullah panel constituted to review the earlier Haj policy. The panel's recommendation was accepted by Minority Affairs Ministry in October.
"On this topic, there are many schools of thought in Islam (women going alone) but the religion per se doesn't prohibit it. So I decided to make the recommendation," Amanullah said to media.
However, the demand often outstrips the quota of pilgrims India is allowed to send to Saudi Arabia, applications are picked through a lucky draw. But in the category of women going for Haj without any male companions, there is no quota limit as the Centre wants to give priority to such applicants.
Most of the Islamic scholar's say that there is no restriction in Islam that explicitly bars single women from embarking on Haj. The Kingdom of Saudi Arabia admits women-only groups if the pilgrims are over 45 years of age.
http://www.india.com/news/india/haj-2018-changes-in-mehram-rule-leads-to-sharp-rise-in-female-applicants-1088-women-apply-for-pilgrimage-from-kerala-2799376/
-------
Muslim girl wins Gita recitation contest held by Lucknow Education Board
Published : Dec 26, 2017, 1:13 pm IST
'I heard the PM and Yogiji recite shlokas, it inspired me to learn and recite them. I hope the CM acknowledges my efforts,' the girl said.
Lucknow: Breaking religious barriers, a Muslim girl from Lucknow has emerged victorious in a Gita recitation competition organised by Education Board of the city.
Afreen Rauf, the Muslim girl who started reciting the Gita in Lucknow's Municipal Girls Inter College and said that she got the inspiration to learn the holy book from Prime Minister Narendra Modi and Uttar Pradesh Chief Minister Yogi Adityanath.
"I heard Prime Minister Modi and Yogiji recite shlokas, it inspired me to learn and recite them. I hope the state chief minister acknowledges my efforts," she said.
It is not just Afreen who is spreading the message of harmony with this act, but even her family supports her in this.
Afreen's mother said she is very happy with her achievement and said that she never stopped her from following her dreams.
"We are very happy and the entire school, teachers are happy with her accomplishment. She always wanted to learn this and we never stopped her. There is no difference between Hindus and Muslims, all are one", Afreen's mother said.
Afreen participated in the recitation programme organised to honour Bal GangadharTilak in the state capital, where around 25 students took part.
The finale will be held on December 29 on Bal GangadharTilak Jayanti and Afreen wishes to receive the award from the state Chief Minister who will also be present there.
http://www.asianage.com/newsmakers/261217/down-with-barriers-muslim-girl-wins-gita-recitation-contest-held-by-lucknow-education-board.html
-------
Make Triple Talaq Punishable But Not Criminal Offence: Muslim Women Ahead of Bill
Speaking on the important gender-just provisions that should be included in the Bill, ZakiaSoman from BMMA said that the purpose of this Bill is gender justice, "Criminalization in itself cannot serve the objective."
Updated:December 26, 2017, 9:27 AM IST
New Delhi: Two days before tabling of the Muslim Women Bill in Parliament, some women who came out against triple talaq believe that criminalizing the practice won't get them gender justice, instead the law would only be a ploy for the government to target Muslim men.
However, other victims of the triple talaq practice beg to disagree.
Musli women activists who fought in the Supreme Court and had suffered because of the un-Islamic practice argue that criminalization "cannot serve the objective" as marriage is a civil matter.
The Muslim Women (Protection of Rights on Marriage) Bill, 2017 will be tabled in the Lok Sabha on December 28, 2017 and Ravi Shankar Prasad will introduce the Bill to "protect the rights of married Muslim women" and stop the practice of instant triple talaq.
Bharatiya Muslim MahilaAndolan (BMMA), one of the petitioners in the case titled Muslim Women's Quest for Equality, says that the Bill should be referred to the Standing Committee of the Parliament and amendments should be made.
Speaking on the important gender-just provisions that should be included in the Bill, ZakiaSoman from BMMA said that the purpose of this Bill is gender justice, "Criminalization in itself cannot serve the objective."
Recognizing the importance of deterrence in law, the group further demands, "The deterrence in this law should be guided by the other progressive laws such as the bigamy law, dowry law or the law against domestic violence. Marriage is a civil matter and there is punishment. It should be treated like that and there should be a fear of punishment," said BMMA.
Citing an example of the bigamy law of Section 494 of the IPC, Soman said bigamy is a non-cognizable but bailable offence. "Violation of the triple talaq law should invite penalty and punishment accordingly and proportionately," Soman said.
However, triple talaq victim Arshiya Ismail, who is the chief training officer in a Army College, said, "Marriage is a civil act but instant triple talaq should be criminal. If that does not happen, men will always find a way out."
Ishtar Jehan, who is the crusader against instant triple talaq hailing from Bengal, also believes it should be treated as a civil matter.
NaziaElahi Khan, Ishtar Jehan's lawyer said, "The punishment for triple talaq should be stricter, preferably as a civil matter because there are provisions. The culprit should be put behind bars at least for three years and the Bill should make sure instant triple talaq is punishable."
"The Bill should lay down the procedure of divorce as per the talaq-e-ehsan method involving reconciliation and mediation between husband and wife over a period of at leat 90 days. Besides, in case of divorce following this procedure, the wife should be provided financial support for herself and her children," added Soman.
The Muslim women groups have been calling for a codified Muslim family law based on the Quran and compliant with the Constitutional provisions.
"This would enable Muslim women to get gender justice in family matters. The Muslim women must get legal parity just like Hindu women and Christian women through codified law," added Soman.
Bebaak Collective, one of the women's rights groups who favoured a law against triple talaq on December 21, 2017 spoke out against the criminalization of instant triple talaq. The Bill, in their opinion is a vicious ploy of the BJP government to criminalize Muslim men with the new law.
Formulated in the name of safeguarding women's rights, the Muslim Women (Protection of Rights on Marriage) Bill fails in its primary mission. Activists of Bebaak Collective that was one of the interveners in the Supreme Court case, say, "If this law is passed, it will not only criminalize Muslim men but adversely affect Muslim women and children, whose survival will be at stake."
http://www.news18.com/news/india/make-triple-talaq-punishable-but-not-criminal-offence-muslim-women-ahead-of-bill-1614191.html
-------
Arab Women's Organisation condemns arrest of teen Palestinian activist Tamimi, offers legal defence
AhramOnline , Monday 25 Dec 2017
Palestinian AhdTamimi (2nd-R), a well-known campaigner against Israel's occupation, appears at a military court at the Israeli-run Ofer prison in the West Bank village of Betunia on December 20, 2017. (AFP PHOTO)
The Arab Women Organisation (AWO) condemned on Monday the "inhumane and illegal" treatment of 16-year-old Palestinian activist AhdTamimi by Israeli occupation forces, after she was arrested on 19 December for slapping Israeli soldiers in the occupied West Bank.
Ambassador MervatTallawy, the general manager of the international organisation, said in a statement on Monday that she is prepared to send lawyers to defend and support the Palestinian girl.
Tallawy said that she is ready to "mobilise all women forces in Arab countries to show solidarity with Ahd, who has become a hero and a symbol of a new generation of resistance since she was a child for her constant resistance against the brutal occupation army, with its repeated attacks on the Palestinian people in general and on her family and neighbours in particular."
Ahd first gained international attention in 2012 by defying occupation soldiers who attacked her and her activist mother NarimanTamimi at a peaceful protest against the building of illegal Jewish settlements in the village of Nabi Saleh in Ramallah.
http://english.ahram.org.eg/NewsContent/2/8/286033/World/Region/Arab-Womens-Organisation-condemns-arrest-of-teen-P.aspx
-------
Various Measures in Place to Help Indian Women Workers in Distress Abroad: Govt
By Little India Desk | December 26, 2017
The government has set up shelters, welfare funds and helplines to address issues faced by Indian women workers abroad, Minister of State for External Affairs VK Singh said.
Indian missions take immediate steps to help women workers in distress and to redress their grievances with the foreign employers, labor department and local government authorities, Minister of State for External Affairs VK Singh said.
The government has put in place various measures to safeguard and regulate emigration of Indian women workers holding Emigration Check Required (ECR) passports for overseas employment in ECR countries, including Gulf nations, Singh said in the parliament on Dec. 21 in response to a question about whether the Ministry of External Affairs is aware about the reports that many women, who are often victims of human trafficking, are still trapped in some of the Gulf countries.
Occasionally, reports indicate that some Indian women seek overseas employment, particularly in Gulf countries, without obtaining Emigration Clearance (EC), as per provisions of Emigration Act, 1983, Singh said. "Such women not only travel illegally for Overseas Employment, but become vulnerable to various employment related problems," he added.
Stating a number of rules that are mandatory, he said that every foreign employer desirous of directly recruiting a female ECR worker is required to deposit a bank guarantee equivalent to $2,500 in the respective Indian mission.
"With effect from June 2015, registration of foreign employers in the e-migrate system has been made mandatory," he said. Also, irrespective of the nature or category of employment, the women must be above the age of 30 years.
Shelter homes have been set up in countries like Bahrain, Kuwait, Malaysia, Qatar, Saudi Arabia and United Arab Emirates for distressed Indian nationals, including women workers. Funds have been earmarked from Indian Community Welfare Fund (ICWF) for repatriation of distressed workers, including female workers, the statement added.
Multi-lingual 24×7 helplines of Overseas Workers Resource Centers in New Delhi provide information and guidance on all matters and problems pertaining to overseas employment of Indian nationals. These centers are already functional in Dubai, Riyadh, Jeddah, Sharjah and Kuala Lumpur.
https://littleindia.com/various-measures-place-help-indian-women-workers-distress-abroad-govt/
-------
Muslim Women Have Been Leaders In Conservative Fashion Since Way Before It Was "Cool"
ByFATIMA NAJIMI
Her walls were lined with old Vogue magazines, ones she had been collecting since 8th grade. Even at that young age, she already knew she loved industry, but doubted it had any room left over for someone like her.
"In college, I literally picked every single major that had nothing to do with fashion because it didn't seem tangible to me," she remembers. "In 2008 when the only insight you had to fashion was Lauren Conrad in The Hills, it seemed almost impossible to get into [the industry], considering a hot-shot OC girl like her struggled".
Fast forward a few years later, when Atik started putting ruffles and zippers on scarves and tried selling them on Facebook. They all sold out. In 2010, Atik and her sister Tasneem decided to take the plunge to start their own business, and officially launched the Vela website.
Today, Atik is the co-founder of Vela, a major L.A.-based online accessories store that caters to modest Muslim women. On her website, she sells hijabs and apparel for a growing market: Muslim women who want to look on-trend while maintaining their modesty.
"The industry changed. Fashion in my time was intimidating and hard to get into. Now with social media and the idea of blogging and expressing yourself for the world to see, it's much more feasible," Atik says.
There isn't really much difference in what Muslim women seek in their clothes from non-Muslim women —if anything, the desire usually is just for something a little longer and looser. Every hijabi knows the feeling of finding the perfect maxi skirt, and then seeing that it has a slit in it. Or, like this past summer, when every nice shirt just happened to be an off-the-shoulder.
Atik is one of the many small business owners who have been catering to the growing modest fashion industry since before mainstream brands did so. Her store Vela was created to fill the void Atik saw when it came to chic, modest clothing.
According to the "State of the Global Islamic Economy Report," produced by Reuters and DinarStandard, Muslim consumers spent $243 billion on clothing in 2015. Muslim women made up 18 percent of that figure, spending $44 billion. The number is expected to double by 2021. It's no surprise: A modest customer is a dedicated one — once Muslim women decide to wear modest clothing, such as choosing to wear the hijab, they frequently stay modest for the rest of their lives, directly affecting their shopping habits.
So, it's understandable that many major brands have now tapped into this market. Marks & Spencer, a massive UK retailer, sells burkinis. DKNY, Mango, and Burberry have all released lines aimed at Muslim women. Dolce & Gabbana, a major Italian couture house, put a luxe spin on abayas — long loose dresses worn by Muslim women — and offered them to wealthy shoppers in the Middle East, Paris, and London.
Companies are also directing more of their efforts to attract millennials, a group Forbes and Elite Daily recently reported to be quite loyal to brands they love. Companies want to establish themselves as inclusive, because they know that's what millennials value, as a study from Deloitte and the Billie Jean King Leadership Initiative titled The Radical Transformation of Diversity and Inclusion: The Millennial Influenceshowed.
Bigger fashion brands launch lines or products catered to Muslim women, which then receive lots of good press and praise. For example Nike's Pro Hijab, which was recently named one of TIME's top 25 inventions, even though sports hijabs are nothing new. The TIME list says, "Unlike a traditional hijab, the Pro is made with light, breathable fabric that wicks moisture," which arguably implies that this hijab is made with new technology. However, the brand Capsters has been selling them since 2001; Ahida has been doing the same since 2004. Other Muslim-owned companies like Asiya and Sukoon Active also released sports hijabs before Nike.
Atik also finds it hard to determine how sincere bigger brands are being when they "diversify" their campaigns or product offerings.
"I believe the fact they are even giving us opportunity in ads and expressing modest fashion in their lines is a step in the right direction," says Atik. "But it still bugs me how when they have a hijabi girl in a campaign group, she's just that extra to say 'hey look we included a minority.'"
Of course, small business owners who have been creating modest apparel and accessories just don't get the same attention as huge corporations that are part of the mainstream fashion industry. While moves to include Muslim women in product offerings are greatly appreciated, the often-smaller companies that have catered to Muslim women since before it was trendy deserve part of the credit too.
Lisa Vogl is the owner of Verona Collection, a boutique that also sells modest clothing for Muslim women. Initially starting out as a fashion photographer, she noticed a need for trendy inexpensive Islamic clothing when she converted to Islam in 2011. In 2015 she launched Verona. A year later, her company opened a brick-and-mortar location in Florida, becoming one of the first stores of its kind to be in an American mall.
"A company such as Verona run by Muslims, we live and breathe the social mission to empower our community and women in general," she says. "Verona believes that women are empowered not based on whether they cover or reveal, but because they have the option. And we're here to give women that option."
"As a public figure and sports ambassador, I found myself doing a lot of speaking engagements domestic and abroad, often in front of large audiences. I wanted to modest in my dress, but also express myself through what I wore," she says.
Muhammad made history and headlines in 2016 as the first woman to compete in a headscarf for the U.S. Olympic team. Tired of having her choices limited to the more expensive, oversea options in modest clothing, her brother suggested making a cheaper alternative. Today, she owns Louella, which creates modest clothing in Los Angeles, and uses the services of solely female owned and operated manufacturers.
"I was tired of layering and mostly tired of modest fashion not having a proper seat at the table," says Muhammad. "The lack of representation was clear and I felt it time fill the void for millennials out there who wanted to be fashionable without jeopardizing their desire to be modest."
Brands like Verona, Louella and Vela design their clothes with experiences of hijabi Muslim women in mind. Their market research starts within the designers' own closets and shopping habits. They will always have a more in-depth knowledge of their customer base then bigger fashion brands will.
These women were here when no one else was. With their dreams of global expansion and brick-and-mortar stores, we know they'll always stay major players in the modest fashion game.
https://www.bustle.com/p/muslim-women-have-been-leaders-in-conservative-fashion-since-way-before-it-was-cool-7662550
-------
Tunisia working with UAE on terrorist threat from female jihadist returnees
Mohamed Argoubi
TUNIS (Reuters) - The UAE, which angered Tunisia by banning Tunisian women from its passenger flights, has intelligence that female jihadists returning from Iraq or Syria might try to use Tunisian passports to stage terrorist attacks, a Tunisian government official said.
Tunisia had demanded the United Arab Emirates apologize for the travel ban - saying that the UAE had provided no explanation - and on Sunday it suspended the Dubai-based airline Emirates from operating at Tunis airport.
Since then, SaidaGarrach, an advisor at the Tunisian presidency, told local radio Shems FM that the UAE had "serious information over the possibility of terrorist acts as part of returning fighters leaving Iraq and Syria," and that the two countries were now working together to address the threat.
"There are terrorist plots in several countries," Garrach said in an interview conducted on Monday and posted on the station's website.
"What concerns the United Arab Emirates is the possibility of terrorist acts committed by Tunisian women or by Tunisian passport holders," she said.
Garrach criticized the way the threat had been communicated to Tunisia.
"We are fighting terrorism together with the United Arab Emirates and we are coordinating to solve this problem. But we cannot accept the way Tunisian women are treated and don't accept what has happened to Tunisian women at airports."
Tunisia is among the countries with the highest per capita number of militant Islamists, a problem linked to widespread radicalisation among disillusioned youths and a loosening of security controls after Tunisia's 2011 uprising.
The military defeat of the Islamic State group in most of Syria and Iraq this year has prompted many foreign militants and their families to go home. Islamic State has also lost its main stronghold in Tunisia's neighbor Libya.
More than 3,000 Tunisians are known to have traveled abroad to wage jihad, according to the interior ministry. A year ago the interior minister said 800 had come back to Tunisia, where they have been jailed, monitored or put under house arrest.
https://www.reuters.com/article/us-tunisia-emirates/tunisia-working-with-uae-on-terrorist-threat-from-female-jihadist-returnees-idUSKBN1EK0WB
URL:
https://www.newageislam.com/islam-women-feminism/haj-mehram-rule-change-leads/d/113704