New Age Islam News Bureau
28 September 2022
• Faezeh Hashemi, Former Iranian President Akbar Hashemi Rafsanjani's Daughter, Arrested for 'Inciting Riots'
• Kuwait Central Bank Appoints Sahar Al-Rumaih as Its First Female Deputy Governor
• Dr. Farah Shaheera Roslan, Malaysian Female Doctor Created the First-Ever Surgical Hijab
• Hyderabad: Exhibition of Muslim Women Achievers At Salar Jung Museum
• Burqa Killing: Hindu Woman Converted To Islam for Love-Marriage, Husband Stabbed Her over Burqa
• 11 Young Saudi Women Obtain Marine Driving License
Compiled by New Age Islam News Bureau
URL: https://newageislam.com/islam-women-feminism/hadis-najafi-iran-unscarved-hair/d/128054
--------
Hadis Najafi, an Iran Woman Shot Dead After Viral Video of Unscarved Hair: Report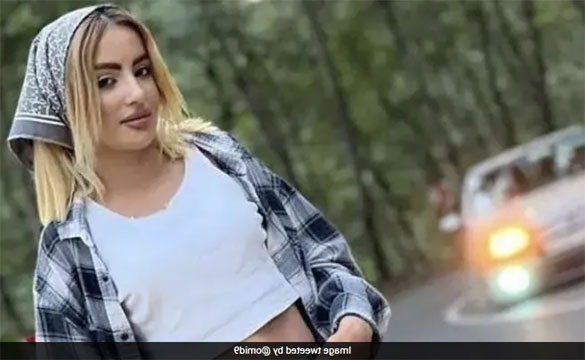 According to reports, she was shot in the abdomen, neck, heart and hand.
-------
September 28, 2022
Tehran: Hadis Najafi, a young Iranian woman, whose video of tying her unscarved hair back and boldly stepping into the middle of a protest went viral, was allegedly shot dead in the country, according to reports.
A video of her funeral has gone viral, which shows people weeping over a photo of her on a freshly dug grave.
According to reports, she was shot in the abdomen, neck, heart and hand.
Deadly unrest has rocked Iran for more than a week. It broke out after 22-year-old Mahsa Amini collapsed while in police custody, having been arrested for "improper" hijab, a headscarf women must wear by law.
This 20 Yr old girl who was getting ready to join the protest against the murdering of #MahsaAmini got killed by 6 bullets.#HadisNajafi, 20، was shot in the chest, face and neck by Islamic Republic's security forces.
Be our voice.#مهسا_امینیpic.twitter.com/NnJX6kufNW
— Masih Alinejad 🏳️ (@AlinejadMasih) September 25, 2022
Hundreds of people also protested in London this weekend over the death of Mahsa Amini. Amini died on September 16.
Medical evidence shows the young woman from the Iranian province of Kurdistan suffered several violent blows to the head, which put her into a coma. However, Iran's authorities claim she "suffered a sudden heart attack," reported Euronews.
Following the 1979 Islamic Revolution, women must wear the hijab by law in Iran. The policy is largely unpopular, with Iranian women commonly wearing the headscarf loosely around their ears or letting it drop to the neck.
When the rule was implemented in 1981, it triggered mass demonstrations, which have continued sporadically ever since, reported Euronews.
The regime wants to prove that they didn't use any violence (against Amini) by using violence against protestors," said Mohammad Hoshr, a lawyer. "It does not make any sense."
"They (Iran's authorities) are coming onto the TV and saying that nobody even touched this woman in custody, while at the same time they are shooting people on the streets," he added.
Some 35 people have been killed since protests broke out in Iran last week. The vast majority of these deaths have come from security forces violently suppressing demonstrators, using live ammunition in some cases. Hundreds of people have also been detained by security forces, reported Euronews.
The UK government has sharply condemned the "killing" of Mahsa Amini, alongside other western countries, though there has been criticism over the fact that Iranian President Ebrahim Raisi was not publicly challenged on the issue during a recent UN meeting in New York.
Many policies of Iran, such as the compulsory hijab, are deeply unpopular among large sections of the Iranian population. Economic issues, especially inflation and a hugely devalued currency fuelled by sanctions, have only increased their frustrations.
Chants against Iran's supreme leader and the Islamic Republic have been a regular feature at this week's demonstrations, with many Iranians shouting "down with the dictator," reported Euronews.
Source: ND TV
https://www.ndtv.com/world-news/woman-whose-video-over-iranian-womans-death-went-viral-shot-dead-report-3384233#pfrom=home-ndtv_m_topscroll
--------
Faezeh Hashemi, Former Iranian President Akbar Hashemi Rafsanjani's Daughter, Arrested for 'Inciting Riots'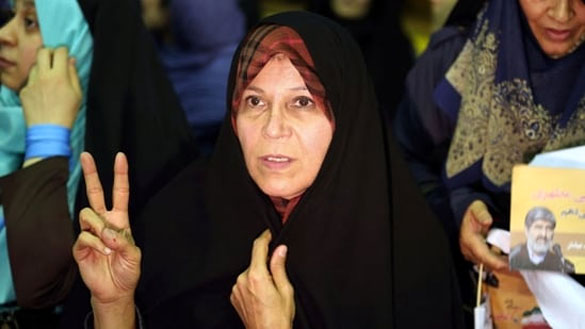 Iran Anti-Hijab Protests: Faezeh Hashemi, daughter of Iran's former president Akbar Hashemi-Rafsanjani. (AFP File)
-----
Syed Zafar Mehdi
28.09.2022
The daughter of former Iranian President Akbar Hashemi Rafsanjani was arrested Tuesday evening for allegedly "inciting riots" in the wake of the death of a 22-year-old woman in police custody.
A report by the semi-official Tasnim news agency said Faezeh Hashemi was arrested by a security agency for "instigating riots in east Tehran," adding the "provocations" failed to bring people to the streets.
Tehran and other major Iranian cities have been rocked by angry protests since Mahsa Amini's death in police custody last week after she was detained by the country's morality police for "dressing inappropriately."
In recent days, the protests have taken a violent turn, leaving at least 41 dead, including civilians and police officers. Hundreds of people have also been arrested, including activists.
Hashemi, a 59-year-old prominent women's rights activist, has a history of run-ins with Iran's security agencies for alleged "anti-government" activities.
In July this year, she was charged with "propaganda activity against the Islamic Republic" over her comments in an interview on the removal of the Islamic Revolutionary Guard Corps (IRGC) from the US State Department's list of foreign terrorist organizations.
She also reportedly said that Islam's Prophet Muhammad spent the money of his "businesswoman wife" Khadija, which the judicial authorities said amounted to "blasphemy."
However, it was not clear whether she was taken into custody after the indictment.
In September 2012, Hashemi spent six months in a Tehran jail on charges of "propaganda activities" after she reportedly referred to Iran's judiciary as "thugs and hoodlums who target people" in an interview.
Before that, she was arrested a few times during the unrest of 2009, which was triggered by the disputed election of then-President Mahmoud Ahmadinejad.
Her father served as the country's president between 1989 and 1997. A reformist, he also held many other important positions during his eventful political career before passing away in 2017.
Source: Anadolu Agency
https://www.aa.com.tr/en/middle-east/former-iranian-presidents-daughter-arrested-for-inciting-riots/2696417
--------
Kuwait Central Bank appoints Sahar Al-Rumaih as its first female deputy governor
September 27, 2022
RIYADH: The Central Bank of Kuwait has named Sahar Al-Rumaih as its deputy governor in a first-ever such appointment of a woman to this position in the Gulf state.
Al-Rumaih, who was the deputy CEO for corporate banking at Ahli Bank of Kuwait, replaced Yousef Al-Obaid as his term had expired, according to Bloomberg.
With this new appointment, the central bank's board now includes two women.
This comes following a similar development in Saudi Arabia in June when the Kingdom's Central Bank named Sheila Al-Rowaily, who worked as a financier with Saudi Aramco, as its first woman board of directors.
In recent years, Saudi Arabia's Vision 2030 has focused on women's empowerment and workforce, with efforts directed towards increasing female employment in diplomatic and governmental services.
Women joining the workforce in Saudi Arabia has been a key development of the Kingdom's Vision 2030 social and economic reforms, which has seen their participation jump from 19 percent in 2016 to 33 percent last year.
Source: Arab News
https://www.arabnews.com/node/2170556/business-economy
--------
Dr. Farah Shaheera Roslan, Malaysian Female Doctor Created the First-Ever Surgical Hijab
SEPTEMBER 28, 2022
According to the United Nations list of country classifications for 2022, Malaysia is technically still a developing country, or a third-world country as others might call it. So, whenever there is news about Malaysians making it in other countries, it's a proud moment for all of us collectively.
Muslim women have been subjected to criticism when it comes to the topic of their hijab. This particular individual is one of many Muslim women who managed to overcome her problem. The surgeon, Dr. Farah Shaheera Roslan, is the innovative Malaysian medical student who introduced the world to the first-ever disposable surgical hijab!
Back in 2018, the 28-year-old was kicked out of the operation theatre in Queen's Medical Centre, for not wearing a surgically-approved hijab. The event burned into the back of her mind and she finally decided to do something about it. After extensive work with her superior and mentor, surgeon Gill Turney, the surgical hijab was born.
The NHS Trust was the first hospital to offer disposable hijabs for healthcare staff after Roslan and Tierney collaborated with them to publicise their design. The disposable, sanitary hijabs do not cost very much, but Tierney claims that the impact they will have on the women who wear them will be life-changing.
Before, the Malaysian doctor would wear the traditional headscarf all day, which she noted was not particularly the best choice as it wasn't technically as sterile as the standard head caps. Worried that the hijab might be a potential source of infection, she was not able to partake in any surgical work within the operation theatre.
It has been 3 years since the introduction of the surgical hijab. Now you can clearly see that Dr. Farah is allowed to be in the operating theatre. She even stated in the caption that she was the one to operate independently on the emergency pediatric case. She even managed to finish the operation in less than 20 minutes which is less than the average time. Dr. Farah continues to impress even to this day.
Now thanks to the efforts of this incredible individual, all Muslim doctors all around the world are able to operate safely without the risk of infections and still remain within the rules of Islam. Dr. Farah Sheera Roslan, you are the best! To learn more about how the young doctor was able to do it, check out this video:
Source: Hype
https://hype.my/2022/294631/this-malaysian-female-doctor-created-the-first-ever-surgical-hijab/
--------
Hyderabad: Exhibition of Muslim women achievers at Salar Jung Museum
27th September 2022
Hyderabad: Women are the largest untapped reservoir of talent in the world. There is no limit to what they can accomplish. Now, one can learn all about the achievements of Muslim women at a two-day exhibition being organised at the Salar Jung Museum on October 1 and 2 by the Intellectual Learning Methodologies (ILM) Foundation in association with the Shaheen Group of Educational Institutions, Islah and Asli Talbina.
Maulana Khalid Saifullah Rahmani, general secretary, All India Muslim Personal Law Board, will inaugurate the exhibition which showcases the achievements of 40 women in different fields. Details of their accomplishment will be explained through posters, said Dr Lateef of ILM Foundation.
The main objective of holding the exhibition is to inform the common man about the achievements of women, particularly Muslim women.
A study of early Islamic history showed that women enjoyed the freedom of movement and took an active part in all walks of life. They excelled as rulers, warriors, nurses, scholars, jurists, teachers, traders and companions of the Prophet (Sahabiat).
In fact, they defined success on their own terms and proved that they are the real architects of society. When he started working on the subject some one-and-half years ago, Dr Lateef said, he stumbled upon the names of at least 10,000 women who had made immense contributions in their chosen field of activity.
These details he accessed through four books. They are Al Muhaddthat written by Oxford scholar of Indian origin, Dr Akram Nadvi, Muslim Women Biography Dictionary of Aisha Bewley, Great Women of Islam written by Mehmood Ahmed Ghazanfar and Achievements of Muslim Women in Religious and Scholarly Field by Maulana Qazi Athar Mubarakpuri.
Some of the well-known names whose exploits and achievements are being showcased include Hazrath Aisha, wife of the Prophet Muhammed, who made an enormous contribution to the cause of Islam through her intelligence and scholarship. Besides being an important narrator of Prophetic traditions (Hadith), she proved to be more learned than many men of her period.
Many male companions of the Prophet used to approach her for clarification of Hadith. Similarly, Hazrath Zainab, daughter of Hazrath Ali, was also a great scholar. Eminent Islamic scholar, Ibn Hajar, is stated to have studied under 53 women while Al Suyuti is under 33 women. All this is history now. Other prominent women are Queen Zubaida, Princess Razia Sultana, Durru Shehvar, and Princess Niloufer.
These women could leave their indelible marks as Muslim society gave them their fundamental rights to education and self-development.
"Lives of early Muslim women represent exemplary models, transcending time and boundaries. And they are a great source of inspiration," Lateef said.
Organisers plan to take the exhibition to other parts of the country after Hyderabad. The exhibition on the inspiring women achievers is the result of the hard work put in by two talented girls -Juveria Sabir and Zoha Ansari. The latter is working at Edventure Park, a start-up incubator.
The two-day exhibition is being held in the eastern block of the Salar Jung Museum from 11 am to 5 pm. Entry is free.
Source: Siasat Daily
https://www.siasat.com/exhibition-of-muslim-women-achievers-2422064/
--------
Burqa Killing: Hindu Woman Converted To Islam for Love-Marriage, Husband Stabbed Her over Burqa
Sep 27, 2022
In a shocking incident, a 36-year-old man stabbed his wife to death after she refused to follow Islamic tenets or wear a `Burqa`, the police said on Tuesday. The incident occurred on Monday in Tilak Nagar where the accused, Iqbal Shaikh, his former Hindu wife Rupali Chandanshive, who converted and was named as Zara, and their two-year-old son Ali resided.
According to the police, the couple had a love marriage three years ago. But of late, they had been frequently quarreling over domestic issues, particularly after Zara declined to wear a `Burqa` while going out in the neighbourhood. This led to their separation with Zara living with her parents and their minor son living with his father Shaikh for the past several months.
Since sometime, Zara shifted with her female friend to a rental accommodation in Chembur and late on Monday, some locals informed her family that she had been attacked. When her parents rushed there, they found Zara in a pool of blood with stabs on her neck and hands. They rushed her to the Rajawadi Hospital in Ghatkopar, where she succumbed to her injuries.
Based on the accounts of some eyewitnesses, the police have arrested Shaikh after lodging a murder case against him.
Source: Zee News
https://zeenews.india.com/india/mumbai-burqa-killing-hindu-woman-had-converted-to-islam-for-love-marriage-husband-stabbed-over-burqa-2515121.html
--------
11 young Saudi women obtain marine driving license
September 27, 2022
RIYADH — Governor of Yanbu Saad Al-Suhaimi gave away certificates of driving licenses for marine vehicles to 11 young Saudi women from the Yanbu governorate after they passed the theory and practical tests of the training program.
The ceremony was held at the Yanbu Cooperative Society for Fishermen, in the presence of the Assistant Commander of the Border Guard Sector in Yanbu Col. Abdullah Al-Balawi, Deputy Governor of Yanbu Faisal Al-Mutairi, and President of the Cooperative Society for Fishermen in Yanbu Hamed Al-Juhani.
Representatives of the fisheries sector, Agricultural Development Fund, and Private Training Department at the Technical and Vocational Training Corporation (TVTC) in Yanbu also participated.
For his part, Al-Juhani said that the training program is one of the objectives of the Fisherman Program under the Vision 2030, which aims to enable young Saudi women to join and integrate into the marine business, paving the way for the Saudization of marine tourism professions.
It is noteworthy that the young women passed all the theory and practical tests that were carried out by the Border Guard Command in the Madinah region, under the supervision of female military cadres trained to carry out such tests.
Source: Saudi Gazette
https://saudigazette.com.sa/article/625475
--------
URL: https://newageislam.com/islam-women-feminism/hadis-najafi-iran-unscarved-hair/d/128054
New Age Islam, Islam Online, Islamic Website, African Muslim News, Arab World News, South Asia News, Indian Muslim News, World Muslim News, Women in Islam, Islamic Feminism, Arab Women, Women In Arab, Islamophobia in America, Muslim Women in West, Islam Women and Feminism