New Age Islam News Bureau
22 May 2013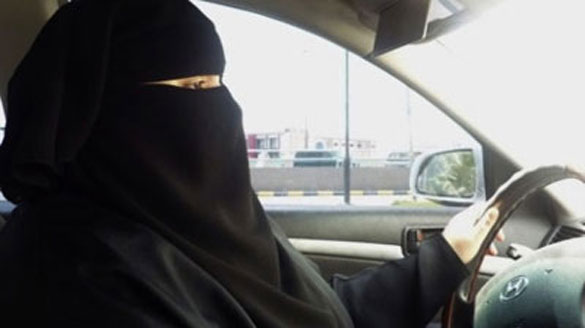 An Oman delegate said that wearing a niqab while driving should be a traffic violation. (File Photo: Reuters)
----------
• Woman Arrested after Cutting Friend's Genitals
• Oman Mulls Ban on Niqab for Women Drivers
• Pakistani Woman Officer Pays the Price of Resistance
• Feminizing stores that sell women's fashion has a price
• Schoolgirls' Raise £8000 for Charity to Gaza and Syria
• Saudi Debates Access to Stadiums for Women
• Sabah agency to probe rapist's marriage with child victim
• South Sudan Initiative Aims to Keep Young Girls in Primary School
• King Khalid University Hospital Focuses On Saudi Nursing Skills
• Factory Setting Example to Employ Saudi Women in Farm Sector
• Lahore High Court Demands Action over Woman's Burning
• More Allocation for Poor Expectant Mothers Sought in Bangladesh
• Lebanese Designers Grace the Red Carpet at Cannes
• Female Everest Climber Happy To Change Views on Saudi Women
• Students in Afghanistan Protest Women's Rights Decree As Un-Islamic
• Sanam Fakir Determined To Serve Despite Losing Elections in Pakistan
Compiled by New Age Islam News Bureau
URL: https://newageislam.com/islam-women-feminism/gulf-women-drivers-reject-idea/d/11676
----------------
Gulf Women Drivers Reject the Idea of Removing Veil
FOUZIA KHAN
22 May 2013
A proposal to make it illegal to drive vehicles in the Gulf States while wearing the veil could hamper efforts by Saudi women to drive cars in the Kingdom.
The Directors General of the Gulf Cooperation Council, in its 13th meeting on Monday in Jeddah, considered the draft from Gulf traffic departments as part of a larger effort to outline more specific unified traffic violations for all Gulf States.
While the draft is not a blanket ban on the veil, its passage into law would make it illegal for drivers to cover their faces in front of traffic police officers.
The Oman municipal traffic departments initially brought the issue to the GCC's interior ministries. The proposal, described as the Gulf Traffic Act, specifies the "burqa," "Algshawh" or "face veil" as illegal attire to wear while driving. GCC Council members tabled the discussion until its next meeting.
If adopted as a uniform law by the GCC traffic departments, the issue may have a significant impact on Saudi women's attempts to drive cars anywhere in the GCC. But it would in particular affect potential female drivers in Saudi Arabia since a large portion of the female population wear the veil. Saudi women already drive cars in other GCC countries.
While speaking with Arab News, several Saudi women said it's their right to drive a vehicle with or without the veil.
Buhi Mohammed Khalid cultural adviser at Royal Saudi Embassy in UAE said that more than 50 percent women in UAE drive their own cars.
"I myself drive while covering my face; most of the women drivers, I find here, cover their faces, especially the old aged women drivers," Khalid said.
"Though the youngsters don't like to cover their faces, most Arab women cover their faces and drive, so it is not possible that they can put any ban on veil while driving."
Ala'a Mohammed, another driver, said that women have the right to cover themselves.
"In Saudi Arabia we are not allowed to drive at all," Mohammed said. "For this reason when Saudi women go to any Gulf country or abroad they drive the car. It totally depends on them whether they drive with the veil or without. Putting a ban on it will not be right."
Khaloud Asmari, a Saudi student, said that traffic departments should look for a solution to this problem, but not put a ban on the veil.
"It will hurt our culture and traditions," Asmari said. "Many women were riding horses in Prophet's era, riding on camels, but we are not allowed to drive our own car."
Abu Ahmed, a Saudi motorist, said it's wrong for traffic departments to issue traffic violations to veiled women.
"There are a number of benefits of women driving their own cars as they can do their work by themselves instead of paying half of their salary to drivers every month," Ahmed said.
Among other proposed traffic violations, the GCC would make it illegal to use a speed detection device that warns drivers of law enforcement speed radars. Vehicles that have a large accumulation of dirt that distorts the vehicle's appearance and reading while drive also would be illegal.
Brig. Saleh Ahmed, head of the delegation for Kuwait, recommended during the meeting that delegates unite the "irregularities" in the GCC countries by monitoring them through an electronic link. He suggested connecting the driver's licenses, vehicle ownership and technical maintenance and irregularities to eliminate forgeries among all GCC drivers.
Saudi Arabia and the United Arab Emirates have agreed to pilot an electronic link between the two countries to monitor traffic violations as the first stage of the process, which will lead to linking all GCC countries if the program is successful.
Traffic accidents in the GCC cost about $ 19 billion annually in losses, representing 3.7 percent of the total global losses.
http://www.arabnews.com/news/452489
----------------
Woman Arrested After Cutting Friend's Genitals
May 21, 2013
A woman who slashed her friend's genitals after he forced her to have sex with him was arrested by police on Monday.
"The perpetrator and the victim were not in a relationship — they were just friends. The two made plans to meet in Pamulang [in Tangerang] and hang out," Pamulang police chief Comr. M. Nasir said on Tuesday.
Nasir said that the perpetrator, identified as a 22-year-old woman with the initials N.N., was forced by her friend Abdul Muhyi, also 22, to have sexual intercourse. They knew each other for four months prior to the incident, and this was only the second time they had met up.
"He was not her boyfriend, not her muhrim [lawful spouse or male relative], but he asked her to have sex. It made her upset," Nasir said. "She was forced [into it] and she probably could not reject him."
The two had sex twice in different locales in the Sawangan area. Afterward, they ate fried rice on Jalan Lamtoro, Sawangan.
"The perpetrator found a blade when they were eating fried rice," Nasir said. "She kept it behind her veil."
As they were going home, the perpetrator asked Abdul to see his genitals.
The victim opened up his trousers, and N.N. proceeded to slash him with the blade.
"She cut it off all at once. The victim did not shout, probably because he was ashamed," Nasir said.
N.N. did not run away afterward.
"She wanted to go to the hospital with the victim," the police chief said. "The victim refused to let her come, though. She got in a public minivan and took the victim's phone."
N.N. is being charged under Article 351, Subarticle 2 on violence that results in a serious injury and Article 361 on theft. She faces a maximum of seven years in prison.
http://www.thejakartaglobe.com/news/woman-arrested-after-cutting-friends-genitals/
----------
Oman Mulls Ban on Niqab for Women Drivers
22 May 2013
The Associated Press
A Saudi online newspaper says Oman is proposing that women be banned from wearing face veils when driving.
Al-Watan said Tuesday Oman made the proposal at a meeting of Gulf Cooperation Council police traffic department heads. It singled out the niqab, a mask that covers a woman's face, leaving only a slit for her eyes.
The Oman delegate said that wearing a niqab while driving should be a traffic violation, indicating that the garment restricts vision and represents a hazard.
The traffic police chiefs met in Jeddah, Saudi Arabia to discuss unification of traffic laws. They are referring proposals back to their governments.
In Saudi Arabia itself, such a regulation would have no immediate effect as women are forbidden to drive there.
http://english.alarabiya.net/en/News/middle-east/2013/05/22/Gear-shift-Oman-mulls-ban-on-niqab-veils-for-women-drivers.html
----------------
Pakistani Woman Officer Pays the Price of Resistance
May 22, 2013
ISLAMABAD: Caretaker Minister for Industries and Production Shahzada Ahsan Ashraf Sheikh has transferred a grade-20 officer for resisting illegal appointments and corruption in the explosive department and other wings of the ministry, the Express Investigation Cell (EIC) has learnt.
According to sources, the grade-20 officer, Nilofer Hafeez, opposed two summaries forwarded by the caretaker minister. Infuriated by the officer's move, Sheikh transferred Nilofer on April 16 from the ministry without giving a reason.
After taking up her case with the Islamabad High Court, the transfer order was reversed on April 29. The court directed concerned authorities to treat Nilofer's case on merit, and said that she may join her post in the department.
However, Sheikh refused to abide by the court's orders and barred Nilofer from entering the ministry.
Speaking to EIC, Sheikh denied harassing Nilofer, but conceded on writing a letter to the Establishment Division for surrendering the female officer. He also rejected allegations of corruption.
"I never harassed Nilofer Hafeez, but as a minister, it was my authority to surrender any officer if he or she in my views does not meet a certain level of performance," the minister said.
Nilofer is reputed to be a hardworking and honest officer. After the instalment of the caretaker setup, Nilofer raised issues pertaining to corruption and irregularities in key appointments. One such appointment was of Javed Malik, who was wanted by the National Accountability Bureau (NAB) in at least four corruption cases.
Orders from the Supreme Court in the Anita Turab case entail that the competent authority cannot transfer/remove any government official without providing a solid reason.
Sheikh allegedly contacted the Establishment Secretary Ahmed Bux Lehri more than once, asking him to ignore court orders in Nilofer's case. According to sources, Lehri delayed the implementation of court's orders for a couple of weeks. Lehri, sources said, did not disappoint the minster and delayed implementation of the court's orders for a couple of weeks.
Shifting the department
The minister is also responsible for shifting the Explosives Department from Islamabad to Karachi.
Sources say Secretary Shahid Aziz did not resist pressures from the minister in this regard and did not remind Sheikh that it is not a caretaker minister's jurisdiction to shift the Explosives Department.
Explosives Department chief Hussain Channa is allegedly pooling money from different organisations and individuals to buy the decision of shifting Explosives Department. Channa, however, denies the allegation.
Shahid Rashid expressed ignorance about growing corruption in the department. He claims his ministry was following all cases on merit, including shifting of the explosives department.
"Before coming to any conclusion for shifting of explosives department, I have sought views of the concerned section and this would be followed by a series of meetings with the stakeholders to take their input on this important issue," Rashid said.
http://tribune.com.pk/story/552675/transferred-woman-officer-pays-the-price-of-resistance/
----------------
Feminizing stores that sell women's fashion has a price
May 22, 2013
TRADERS in women clothes and accessories are unanimous that ensuring their shops are staffed by women only by July 10 will raise prices by 30 to 50 percent. They justified this huge price rise by pointing to the fact that work in their shops can only be covered in two shifts, while women can only work for one shift.
They said in this case they would have to employ two women for the same job instead of one. Therefore, their salary bill will double, thus increasing prices.
Speaking recently at the Jeddah Chamber of Commerce and Industry (JCCI), the traders said they would not be able to implement the decision of the Labor Ministry within two months. They asked the ministry to extend the period and to launch an awareness campaign to change the work ethics of the majority of Saudi families.
What will the ministry do especially as it has been burdened with too many assignments? It has been reported that the ministry will not back off from its decision and that it is now considering the mechanisms of implementation in a manner that will not harm the merchants and manufacturers and at the same time fulfill the core objectives of the government to provide enough working opportunities for the Saudi women.
However, the minister has to listen to the merchants who have so far not been able to source sufficient numbers of qualified women to work in their shops. The merchants are also afraid that after training, many women may drop out looking for better jobs.
The ministry's campaign should be termed the "job nationalization" campaign instead of the feminization of jobs in women's fashion shops. The nationalizing of jobs means the provision of work opportunities for both Saudi men and women.
This is a God-given right to the Saudis whether they are men or women. The foreign men have been selling in these shops for many years without problems when we suddenly decided to take away their jobs. Can this trade be feminized?
If this is true, why do we not also feminize the maternity hospitals, the shopping malls and other places? We should not insist on making work in women's fashion shops women-only, as half of society is made up of men and the other half of women.
Today, working as a salesman or a saleswoman is not a priority for the Saudi youth. However, the system should not impede men if they decided to work as salesmen.
The young males are looking for income from honest jobs. Unlike women, the young men are ready to work two shifts.
http://www.saudigazette.com.sa/index.cfm?method=home.regcon&contentid=20130522166806
----------
Schoolgirls' Raise £8000 for Charity to Gaza and Syria
21st May 2013
By Asian Image reporter
Girls from Preston Muslim Girls High School and Abrar Academy joined forces with the community to raise £8000 for charity.
Fundraisers say £3500 will be sent to Gaza through Interpal and £4500 will be sent to Syria through Islamic relief.
The events run by volunteers were an overwhelming success.
Organisers wished to thank Gafoor Poultry; H Musa and sons Halal Meat; Kashmiri Watan Grocers; Barakat Grocers and The Royal Piri Piri Restaurant. A Preston Muslim Girls' School spokesperson said, "All businesses should think of donating towards a good cause as an opportunity to invest in the hereafter.
"Our Beloved Prophet PBUH never turned the beggar away empty handed and we too should consider charity to be a blessing that increases our capital rather than one that decreases it as mentioned in the Holy Quran.
"To this end we have created a challenge for Preston and anybody else who would like to be part of this project to open their hearts and give to those who need our help most at this moment in time: The people of Syria."
http://www.asianimage.co.uk/news/10432157.Schoolgirls__raise___8000_for_charity/
----------------
Saudi debates access to stadiums for women
AFP | May 21, 2013
RIYADH: Saudi Arabia is debating whether to allow access to women in sports stadiums after an official backed the idea, triggering a storm in the ultra-conservative Muslim kingdom where female sports are severely restricted.
"Women would be authorised in the stadiums soon," said Saudi Football Federation chief Ahmed Eid.
Eid raised the possibility of allocating 15 per cent of the capacity of a stadium being built in a sports complex in the western city of Jeddah to family booths where women could attend football matches.
The stadium is due to be completed in 2014.
His remarks have triggered a wide debate, mostly opposing the idea, in Saudi media forcing Eid to clarify that what he said was his "personal opinion".
Saudi Arabia applies a strict version of Islamic sharia law which prohibits the mixing of men and women in public and limits women's access to public places.
Full report at:
http://timesofindia.indiatimes.com/world/south-asia/Saudi-debates-access-to-stadiums-for-women/articleshow/20174544.cms
----------------
Sabah agency to probe rapist's marriage with child victim
MAY 22, 2013
KOTA KINABALU, May 22 — The Sabah Welfare Services Department (JPKA) has been directed to study the possibility of challenging the validity of marriage involving a man and his underage rape victim.
In making the call, State Minister of Community and Consumer Affairs Datuk Jainab Ahmad said her ministry took a serious view of the matter as it involved public interest, especially in protecting children's future.
In this regard, she ordered JPKA director to study the case in all aspects including the possibility of taking or giving protection to the girl under the Child Act 2001.
"We want the Welfare Services Department to challenge the marriage and put her under protection even though she has married the alleged rapist, that is why we still questioning the validity of the marriage.
Full report at:
http://www.themalaysianinsider.com/malaysia/article/sabah-agency-to-probe-rapists-marriage-with-child-victim/
-------------
South Sudan Initiative Aims to Keep Young Girls in Primary School
Mark Tran
22 May 2013
Bridget Nagomoro used to get up at five in the morning to fetch water from the stream, cook breakfast for the family, then walk the five miles to school. In the evening, she would eat at 10pm having cooked dinner, done the household chores and completed her homework.
It's a familiar routine for girls in South Sudan, but Nagomoro was a trailblazer. She was the first girl from Ibba County – a community of 90,000 people – in landlocked Western Equatoria state to finish primary school. Being the only girl at her school was hard.
"Some of the boys used to threaten me because I got better results than them," said Nagomoro last week during a visit to Britain. Now a local government commissioner in Ibba county, she wants to make it easier for girls to get an education by setting up a boarding school for girls aged 10 and above – the point at which most drop out because of the competing pressures from family, household chores, childcare and early pregnancy.
Full report at:
http://www.guardian.co.uk/global-development/2013/may/22/south-sudan-girls-primary-school
----------------
King Khalid University Hospital Focuses On Saudi Nursing Skills
22 May 2013
King Khalid University Hospital (KKUH) is focusing on developing skills of its nurses and trying to attract more Saudis to the profession, according to a hospital administrator.
Mubarak Al-Faran, dean at KKUH's college of medicine, said here on Monday: "We are always evaluating the performance of nurses and seeking to improve services. Our nurses are aware of quality improvements and new technologies to upgrade their skills."
Al-Faran was speaking at the inauguration ceremony of the hospital's annual Nursing Day 2013 entitled "Technology, Innovation and Informatics: Equipping Nurses for Efficiency."
He praised KKUH administration and the nursing department for helping to make the event successful.
Full report at:
http://www.arabnews.com/news/452480
----------------
Factory Setting Example to Employ Saudi Women in Farm Sector
22 May 2013
The largest fruit and vegetable factory has opened its doors to Saudi women for the first time, hiring 100 female employees and aiming to hire 300 more in the coming two years.
The factory's Executive Chairman Saifullah Sharbatly said they took the initiative of hiring in line with labour market regulations to create jobs for Saudi women in the private sector across the Kingdom.
"There is ample opportunity for women here to work in the industrial and agriculture sectors. Around 86 percent of Saudi women have registered with the incentive program. It is also important to create a suitable working environment for Saudi women according to Islamic law and the country's tradition," he added.
Full report at:
http://www.arabnews.com/news/452481
----------------
Lahore High Court Demands Action over Woman's Burning
May 22, 2013
LAHORE: The Lahore High Court complaint cell sought report about an incident where a husband burnt his wife alive for being unable to bear a child. The LHC on Tuesday took notice over a news report and directed the Sessions judge, Kasur to probe the matter and submit a detailed report within a week regarding steps taken by the local police along with his own comments. Muhammad Boota and Seema Bibi, residents of Patoki, got married four years ago but had no children. Due to this, their relations remained tense. One day Muhammad Boota lost his temper, sprinkled petrol on his wife and set her on fire. She was burnt badly and brought to Jinnah Hospital in a critical condition where she succumbed to her injuries. The victim's family alleged that Muhammad Boota and his three brothers burnt their daughter alive. Police registered a case and arrested the accused.
http://www.dailytimes.com.pk/default.asp?page=2013\05\22\story_22-5-2013_pg13_4
----------------
More Allocation for Poor Expectant Mothers Sought in Bangladesh
May 22, 2013
Speakers yesterday urged the government to increase the budgetary allocation for social safety net programmes so that health and nutrition-related services for underprivileged expectant mothers can be ensured.
Praising the government's efforts in the existing activities for underprivileged expectant mothers' welfare, they also suggested increasing the maternity allowance.
The suggestions came at a roundtable on "an evaluation on gender based- Social Assisting Program for Non-Asseters (SAPNA) centred on maternity allowance".
Power and Participation Research Centre (PPRC) and Development Organisation of the Rural Poor (DORP) organised the programme in the capital.
Dr Hossain Zillur Rahman, executive chairman of PPRC and former adviser to a caretaker government, said if pregnant women do not receive proper nutrition, the children carry the effects for a long time.
Currently, over 1 lakh underprivileged mothers receive maternity allowance of Tk 350 monthly for 24 months.
http://www.thedailystar.net/beta2/news/more-allocation-for-poor-expectant-mothers-sought/
----------------
Lebanese designers grace the red carpet at Cannes
21 May 2013
Lebanese designers have made a fashion statement at the 66th Cannes Film Festival this week.
The star-studded list of attendees wore dresses by designer-veterans Elie Saab and Zuhair Murad as well as Lebanese newbies to the fashion scene, such as Georges Hobeika, the son of a seamstress who studied civil engineering, according to his official website.
American actress Eva Longoria wore a beige, backless gown by Zuhair Murad. The dress was accented with silver baroque embroidery which enveloped the floor-length gown.
Meanwhile, French actress, and Princess of Savoy, Clotilde Courau wore an Elie Saab spring-summer 2013 dress from his haute-couture collection.
Full report at:
http://english.alarabiya.net/en/life-style/fashion-and-beauty/2013/05/21/Lebanese-designers-grace-the-red-carpet-at-Cannes.html
----------------
Female Everest climber happy to change views on Saudi women
21 May 2013
The Associated Press, Kathmandu
The first woman from Saudi Arabia to scale Mount Everest said she doesn't intend to inspire a movement, but would be happy to change people's opinions of Saudi women and Saudi women's opinions of themselves.
Raha Mobarak told reporters in Katmandu on Tuesday after returning from the mountain that her next goal is to climb the highest peaks in all seven continents. She said she has already scaled five of them.
Full report at:
http://english.alarabiya.net/en/sports/2013/05/21/Female-Saudi-Everest-climber-happy-to-change-views.html
----------------
Students in Afghanistan protest women's rights decree as un-Islamic
May 22, 2013, Associated Press
KABUL, AFGHANISTAN – Hard-line Islamist students are protesting in the Afghan capital demanding the repeal of a presidential decree for women's rights that they say is un-Islamic.
More than 200 male students protested in front of Kabul University on Wednesday against the decree, which includes a ban on child marriage and forced marriage, makes domestic violence a crime and says rape victims cannot be prosecuted for adultery.
Protester Fazel Hadi, 25, said the decree was "imposed by foreigners" and violates Islamic Shariah law.
Full report at:
http://www.foxnews.com/world/2013/05/22/hard-line-students-in-afghanistan-protest-women-rights-decree-as-un-islamic/
----------------
Sanam Fakir Determined To Serve Despite Losing Elections in Pakistan
May 22, 2013
SUKKUR: Sanam Fakir was not courting the people for votes alone, she genuinely cares for them.
The president of a social welfare association named after her, Fakir proved this by visiting Civil Hospital, Sukkur, and distributing juices and hand fans among the patients. Fakir, a candidate from PS-1 Sukkur, said that the election fever is now over and while she is not against those celebrating their victory but they should not forget the people.
She said that the purpose of her visit is to highlight the issue of prolonged outages and draw the attention of the government. Load-shedding has badly affected routine life and protests have been of no avail, Fakir added. She said at least hospitals and schools should be exempted as the patients are already in pain due to lack of alternative arrangements.
Full report at:
http://tribune.com.pk/story/552516/helping-hand-sanam-fakir-determined-to-serve-despite-losing-elections/
----------------
URL: https://newageislam.com/islam-women-feminism/gulf-women-drivers-reject-idea/d/11676