New Age Islam News Bureau
14 Feb 2014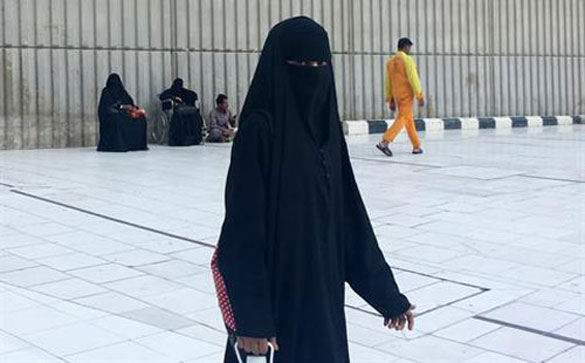 In this Monday, Dec. 9, 2013 file photo, a veiled woman walks in Mecca, Saudi Arabia. (AP Photo/Aya Batrawy, File)
-----------
• 'Saudi Women Cannot Go To Male Doctors Alone' - Top Saudi Cleric
• Grand Mosque Library: No Entry for Women
• Church of England Fast-Tracks Law for Female Bishops
• Somali Radio Run by Female Staff on Air
• Law passed: Pak Punjab to have commission on status of women
• Pakistan Women's Issues: Media Urged to Show Gender Responsiveness
• Abortions In Israel: Is The Law As Liberal As They Claim?
• V-Day Sparks Jokes among Egyptians on Social Media
• Emirati Woman Weightlifter: Help Me Get To Olympics
Compiled by New Age Islam News Bureau
URL: https://newageislam.com/islam-women-feminism/gujarat,-hub-rent-womb-industry/d/35758
------------
Gujarat, a Hub of Rent-A-Womb Industry in India
February 14, 2014
Presence of many IVF clinics and surrogates in Gujarat has ensured that surrogacy has picked up majorly in the state.
Papiaben, a surrogate mother from Anand, dispels the myths surrounding the process of surrogacy.
Every month Andrea, a US citizen from California makes a tentative call to small town Anand. In a conversation of two sentences, Andrea asks, "Daksha, you fine?" to which a voice replies back, "Daksha fine". Though cryptic, this is all the reassurance that Andrea-an 'intended parent' who is expecting a child from a surrogate mother back in Anand, home to a fledging rent-a-womb industry in India, needs. In a first, the process of surrogacy shed the veil of stigma attached to it and went public as many such stories came out in a public forum in a panel discussion led by Nayna Patel-Obstetrician, Gynaecologist and Medical Director of Kaival Hospital Pvt Ltd & Akansha Infertility and IVF Clinic known as 'Surrogacy pioneer' of Anand along with her embryologist Harsha, three surrogate mothers Manisha, Papia and Jyotsna and three intended parents. The unusual panel threw open the topic of 'Surrogacy: Past, Present and Future' on the first day of the 3-day International Communication Management Conference (ICMC-2014) hosted by premier communications management institute-Mudra Institute of Communications(MICA) on Wednesday.
The story is not too different for Canada-based lawyer couple Seema and Aly Kanji, who spoke about their trial and tribulations with four failed IVF treatments and the legal hassles related to adoption until they stumbled upon Oprah Winfrey's interview with Patel in 2007 and are proud parents to a baby girl who was born via surrogacy just 20 days back. "Before opting for surrogacy, we thoroughly grilled the surrogate beforehand and ensured that she is doing it out of her own will and had a willing partner and met her last May…Even after birth, the surrogate mother 'Chandrika' comes to see our daughter and so does her entire family. We have decided to communicate to our daughter right from the beginning about her surrogate mother and will ensure that she keeps in touch with her. We hopefully will bring our daughter to meet her," says Seema.
Even with an impending Surrogacy bill to be passed in the Indian Parliament, presence of many IVF clinics and high availability of surrogates in Gujarat has ensured that surrogacy has picked up majorly in Gujarat, especially in Anand, which has earned the reputation of a 'baby farm'. Exchanging her sojourn into surrogacy was Manishaben; a two-time surrogate mother and currently a nanny who hails from a village in Anand.
"I lost my husband in 2008 and was left with three young daughters. A close female relative told me about surrogacy and said your life will be made. I didn't even know the meaning of the word back then. I became a surrogate mother in 2009 to a couple who were married for 21 years and could not bear a child and delivered a healthy baby for them. With the money I bought a house for myself and educated my daughters. Today my eldest is working in a children's nursing home and the two others are studying in an English-medium school and I plan to educate them further. I learnt the job of a nanny at the surrogate hostel and can today eke out a living. The respect I have garnered because of my economic independence has increased. My in-laws who would not speak to me after I decided to become a surrogate started calling me up after I got a bank balance," she says about the stigma attached to surrogacy.
Papiaben, another surrogate who delivered twins for an American couple spoke about buying a rickshaw for her husband who now earns a livelihood out of it. Speaking about the pain of the separation from the child they bear for nine months, she says, "The intended parents of the twins I delivered came four months after the child was born and I almost wanted to keep them as we get emotionally attached to the child. But, when the couple came they cried a lot and were very elated. I felt bad when I had to give it up and cried too. Due to constraints I have to give up the child (Majburi ke hisaab se dena padta hai). But looking at the joy of the parents I feel that now it is their job to take care of the child and they will do it best."
Even as last week Gujarat CM and NDA's PM elect Narendra Modi spoke at a public rally about how Gujarat contributes 40 per cent to India's surrogacy industry, Patel reveals that her clinic has delivered 735 babies through IVF treatment in 11 years and has atleast 75 ongoing surrogacies at any given time at her clinic in Anand, for couples from all over the world. However Patel laments the business tag associated with surrogacy. "People relate surrogacy to business due to lack of awareness and think that Westerners come and exploit poor women and liken the process to selling babies. However it is a very good arrangement whereby a couple who is unable to carry their child can have one via surrogacy. It is often the last option for them to have a child. However medical and legal supervision is necessary to ensure that agents do not siphon off compensation intended for surrogates or that the couple is not blackmailed and that there are no medical complications for these women… Even after so many cases of successful surrogacies, the child is never a product. We always counsel the intended parents to love the surrogates as it is more important than the money they pay them to bear their child."
Even as all three intended parents who spoke about the issues surrounding post-surrogacy process where it takes at least 45 days to complete the mandatory DNA tests and legal requirements required by governments of both countries to take the baby back home; Aly Kanji is all hopeful as he says, "Having a baby through surrogacy s not any different from adopting a child… Our baby girl is just 20 days old, but we can keep staring at her all day long."
http://indianexpress.com/article/india/india-others/gujarat-a-hub-of-rent-a-womb-industry-in-india/
------------
'Saudi women cannot go to male doctors alone' - Top Saudi cleric
February 14, 2014
Riyadh: A top Saudi cleric has scolded women who visit male doctors without being accompanied by a male guardian, claiming that is prohibited by Islam, Al Hayat daily reported on Thursday.
His remarks follow the death of a university student last week after paramedics were denied access to her campus because they were not accompanied by a male guardian, or close relative, a must according to the strict segregation rules in the Muslim kingdom.
"Women are becoming negligent in consulting doctors without a mahram (male guardian), and this is prohibited," Al Hayat quoted Shaikh Qays Al Mubarak, a member of the Council of Senior Ulema (Muslim scholars), as saying.
A medical check-up could include "a woman showing parts of her body to a doctor. This is not permissible ... unless urgent," he said.
Women "must seek help from a male doctor only when a female medic is not available. When this happens, they must not be alone and the doctor must only look at the pain" part of the body, he said.
The Council of Senior Ulema is the highest religious authority in the ultraconservative kingdom.
Al Hayat said the religious police in Eastern Province have enforced restrictions on women entering several private medical centres without a male guardian.
"Members of the Commission for the Promotion of Virtue and Prevention of Vice have entered a health and diet centre and prevented women from consulting a male dietitian without the presence of a mahram," Al Hayat reported, referring to the religious police.
AFP could not immediately verify these allegations.
In 2002, 15 girls died after a fire broke out at their school in the holy city of Makkah and religious police blocked their evacuation because they were not dressed in keeping with Islamic codes.
Witnesses said male civil defence workers were kept at bay because, in their haste to escape the flames, the 12-to-14-year-olds had not put on their black abaya.
Saudi Arabia imposes a strict interpretation of Islamic laws, notably a segregation of the sexes, and does not allow women to work or travel without the authorisation of a male guardian from her family. It is also the only country in the world that bans women from driving.
http://gulfnews.com/news/gulf/saudi-arabia/saudi-women-cannot-go-to-male-doctors-alone-cleric-1.1290735
------------
Grand Mosque library: No entry for women
February 14, 2014
I went to the Grand Mosque the other day. While I was searching for a place to sit, "The Library" sign caught my eye. I never knew there was one inside the Grand Mosque until I saw the sign. I was happy. I thought I should check it out. I went straight to the library, located on the second floor, only to discover that women are not allowed in there. There was a big sign on the door "No entry for women". I was shocked.
I don't understand why the Presidency of the Two Holy Mosques would put up a sign inside the Grand Mosque banning female visitors from setting a foot in the library. I can't wrap my head around such a ban.
And why are men, on the other hand, allowed to go in there and have access to the rich resources the library offers? It is really frustrating and disappointing that female Umrah performers, especially those coming from outside the Kingdom, cannot visit this important place. It would have been a good memory for them to take home and cherish.
The Grand Mosque is supposed to be the only place where visitors, male and female alike, should not feel they are being discriminated against. They should be treated equally. After all, Muslim men and women of all colors and races circle around the Ka'aba (the large cuboid building at the center of the Grand Mosque) together and at any time they like during the day or the night.
I also wonder why the praying areas designated for women inside the Grand Mosque are smaller than the areas for men. Most women bring in their children with them when they go there. They need a lot of space because a smaller space can be annoying to some women as the praying areas can get filled quickly. Why are women who want to pray in the second floor in order to get away from crowd denied this right while men are allowed to do so?
I can understand that such procedures are taken because the second floor gets crowded during prayers and this might bother the women. But I don't understand why women are not allowed to enter the library although it is in an area that is not crowded.
http://www.saudigazette.com.sa/index.cfm?method=home.regcon&contentid=20140214195677
-----------
Church of England fast-tracks law for female bishops
Kounteya Sinha,TNN | Feb 13, 2014
LONDON: The General Synod of the Church of England has fast-tracked the legislative process to enable women to become bishops which is to be completed this year.
A synod member applauded the decision and warned the church that it "urgently" needs to ordain its first women bishops because it has effectively run out of male clerics.
He added that the "shallow pond" of suitable male candidates had already been "overfished".
Bishop of Rochester Rev James Langstaff, chair of the steering committee, moved the debate on consecration and ordination of women. After much debate, the motion which requiring a 75% majority of the whole synod was approved by 358 votes against 39 with 9 abstentions.
The legislation now goes to the dioceses for approval.
If the majority approves it by the May 22 deadline the General Synod will be able to hold the final approval debate in July, less than 20 months after the failure of the earlier legislation to secure the necessary two-thirds majorities in November 2012.
If passed the legislation would then go to the parliament for approval and could be in force before the end of the year.
In his presidential address, the Archbishop of Canterbury Justin Welby spoke of the need for "massive cultural change" within the Church of England so that people can flourish together despite deeply held differences on issues such as sexuality and women bishops.
Tim Allen, member of synod said women bishops were "long overdue" to end a perception of the Church as an "out-of-date, old fashioned and bigoted organization".
The Church said in a statement, "The General Synod of the Church of England has today approved a package of measures as the next steps to enable women to become bishops in the Church of England".
Prime Minister David Cameron recently suggested the first women bishops in the Church of England could be fast-tracked.
"I strongly support women bishops and I hope the Church of England takes this key step to ensure its place as a modern church, in touch with our society," he said.
http://timesofindia.indiatimes.com/world/uk/Church-of-England-fast-tracks-law-for-female-bishops/articleshow/30307172.cms
------------
Somali radio run by female staff on air
February 14, 2014
A radio station run by female staff has started working in Somalia on the World Radio Day, Press TV reports.
Women in Somalia, one of the dangerous countries for journalists, have established Aman Radio in the capital Mogadishu.
The radio station aims to help women's voice be heard in a country where rape and domestic violence are widespread.
"When you start working on something, there is bound to be challenges. This happened to us too as we worked on this. People asked us why we were doing this because girls have never done it before," said Farhiyo Farah Aoble, the station manager of the radio.
"We have proved them wrong and now we have created the platform to air the voice of Somali women," she added.
Instead of discussing politics, the radio focuses on social issues like education, community development and healthcare that affect the society.
"I want to speak for the disadvantaged and those whose voice has never received attention. We rarely discuss politics. We focus on the community, women, healthcare, education and the rebuilding of the country," Aniso Abdullahi, the editor of the radio, said.
Most people in Somalia use radio to receive the latest news and listen to programs and music. According to statistics, there are more than 28 radio stations operating in Mogadishu alone.
February 13 is the World Radio Day. The theme for 2014 is "Gender Equality and Empowerment of Women through Radio".
"Without the voices of more than half the world's population, how can we understand the whole story?" said Irina Bokova, the director-general of the UN Educational, Scientific and Cultural Organization (UNESCO), in her message for the day.
http://www.presstv.ir/detail/2014/02/14/350602/somali-radio-run-by-female-staff-on-air/
------------
Law passed: Pak Punjab to have commission on status of women
February 14, 2014
LAHORE: The Punjab Assembly passed The Punjab Commission on the Status of Women Bill 2013 on Wednesday.
According to the bill, the commission aims at empowering women, expanding opportunities for their socio-economic development and eliminating all forms of discrimination against them.
Speaker Rana Muhammad Iqbal Khan presided over the session. Chief Minister Shahbaz Sharif was present during Wednesday's proceedings. The treasury benches defeated the nine amendments to the bill moved by opposition members and passed the bill with a majority.
Law Minister Rana Sanaullah Khan said it would take a lot more than legislation to empower women. He said the province would celebrate Women's Empowerment Day on March 8. He said the chief minister had constituted a committee a few weeks ago to identify areas such as inheritance laws which required amendments. He said that government would call an assembly session on Women's Empowerment Day. He said and members would be briefed on laws and articles of Constitution that empower women. He invited all female members to join him in the cafeteria on Thursday to devise a strategy for the observance of the Women's Empowerment Day.
Law and Parliamentary Affairs Director Syed Mohsin Abbas told The Express Tribune that under the bill all women related issues would be discussed at the commission on the status of women. He said earlier no such platform had been available at the provincial level.
The commission on the status of women will consist of a woman chairperson with 15 years of experience in women's issues, female members from each division of the Punjab, a female member from a minority group, secretaries of Law, Finance, Planning and Development, Home and Women's Development Departments. The government will appoint the chairperson and members on the search committee's recommendations.
Functions
According to the bill, the commission will examine the policy programmes and other measures taken by the government for gender equality, empowerment of women, their representation and political participation. It will also assess implementation and make suitable recommendations to the concerned authorities.
It will review laws affecting the status and rights of women in the Punjab, and suggest amendments or new legislation to eliminate discrimination in accordance with the constitution and international covenants. It will also sponsor research to maintain a database on gender issues for provincial policy.
The commission will inquire into the violation of women's rights, and exercise powers through civil courts under the Code of Civil Procedure 1908 to inspect any jail where women or girls are kept. The commission aims to lobby for coalition building and networking to facilitate women's participation in all spheres.
The commission will hold at least four meetings in a year. The commission will appoint an executive committee as well. A fund for the commission will also be set up. The fund shall consist of grants in aid made by the government, donations, and income through investment by the commission.
The speaker adjourned the session till Thursday morning.
http://tribune.com.pk/story/671007/law-passed-punjab-to-have-commission-on-status-of-women/
------------
Pakistan Women's issues: Media urged to show gender responsiveness
February 14, 2014
ISLAMABAD: Renowned poet Kishwar Naheed has urged both print and electronic media to play a responsible role while highlighting women issues.
She was speaking at the launch of the Pakistan Women Media Complaint Cell (PWMCC) on Thursday.
The PWMCC is a joint effort of the National Commission on the Status of Women (NCSW) and the Uks Research Centre to monitor, promote and ensure gender responsiveness within the media.
Initially, the cell will start functioning from March 1 as a trial run for three months and may be extended afterwards. The cell will be an independent body and entertain complaints from the public against print and electronic media.
"Both electronic and print media should treat women with respect, dignity and honour regardless of their profession, caste and creed," Naheed said.
She expressed displeasure at some of the media outlets which promote a negative image of a woman associated with the fashion and film industries and sensationalist newspapers that use objectionable words while reporting on women.
"The print media need to be very careful and selective while using words to highlight a woman as slight irresponsible use of a word could tarnish her image in the society," she said.
She said that NCSW is currently working with various national and international partner organisations for women empowerment in Pakistan.
Uks Research Centre Executive Director Tasneem Ahmer said that the PWMCC aims to respond to the 2010 Global Media Monitoring Project's (GMMP's) findings on the perpetuation of gender-biased media, gender stereotyping and women's significant underrepresentation in the Pakistan's news media.
"The GMMP results show that there is growing concern for gender responsiveness in journalistic practices," she said adding "Now is perhaps the best time to put forward a forceful and persuasive advocacy planning to strengthen gender-sensitive portrayal of women in content as well as gender balance in representation.
http://tribune.com.pk/story/671557/womens-issues-media-urged-to-show-gender-responsiveness/
------------
Abortions in Israel: Is the law as liberal as they claim?
February 14, 2014
Israel's recent health-basket reform may make abortions more affordable, but hardly more accessible. Part one of a two-part series.
Imagine you're a woman in Israel facing an unwanted pregnancy. If you're lucky and wealthy, you could pay for an illegal, private, no-questions-asked abortion, setting you back between NIS 2,099-2,912 ($600 and $830), depending on the stage you're at and whether it's a surgical or medical termination.
If you're less well off, you could go the legal route. But then you'll have to jump through a series of bureaucratic hoops, since abortion in Israel is only legal if you receive permission from a Pregnancy Termination Committee (consisting of two doctors and a social worker) and fulfill one of four criteria: you're under-18 or over-40, pregnant as a result of criminal or extra-marital relations, your fetus is likely to have a physical or mental defect, or your pregnancy poses a danger to your life or could cause you physical or mental harm. If you don't meet the criteria, you could lie - but this is risky.
All women in Israel - rich or poor, citizens or non-citizens - lack control over one of the most intimate decisions connected to their bodies: reproduction. Instead of having full reproductive autonomy, lawmakers, doctors and social workers decide who can and can't end her pregnancy.
True, there have been a few positive steps of late: On Tuesday, a Knesset debate was to take place on abolishing Termination Committees; and last month, the Cabinet approved the health-basket committee's decision to begin paying for legal abortions for women aged 20 to 33, regardless of circumstance.
As Prof. Jonathan Halevy, the head of the health-basket committee and director of Shaare Zedek Medical Center, explains, the women set to benefit from the expanded abortion benefits will be those who need it most: single women, young women unable to ask their parents for the funds, or those pregnant as a result of an extramarital affair but financially dependent on their husbands.
"This is a very important decision that we think opens a door for future progressive decisions regarding reproductive rights," Orly Hasson-Tsitsuashvilli, the Executive Director of Ladaat, a family planning education and counseling center in Jerusalem, told me. "We, along with a coalition of women's feminist organizations, were among those who led and pushed for this change. I believe that financing this procedure allows every woman to realize her right for health."
The changes also complement some other liberal aspects of abortion in Israel: A woman can undergo the procedure up to 40 weeks gestation, a minor does not require parental consent, doctors performing illegal abortions are very rarely prosecuted (despite half of all abortions reportedly taking place illegally), and the committees approve virtually all applications - 96.4 percent from 1990-2011, based on my calculations of Central Bureau of Statistics data.
Criteria, committees and campaigning
But while it appears Israel is heading in the right direction, we mustn't get carried away. A recent Times of Israel article declared, "Israel's abortion law now among world's most liberal," with a Haaretz article published Wednesday echoing the claim. Sadly, this is wishful thinking. Despite the positive elements, women in Israel must still surmount a series of obstacles to obtain legal abortions: criteria, committees, and campaigning anti-abortion organizations.
In order to fulfill the criteria, some women are forced to lie, especially married women, who must claim they're mentally ill or pregnant due to extramarital sex. This can have dangerous repercussions given that religious authorities have exclusive jurisdiction over marriage and divorce in Israel. It's not surprising that most women undergoing illegal abortions are thought to be married women aged 19 to 40. This goes to show that requiring women to fulfill certain criteria can compromise their honesty, further undermine their marital rights or risk their health.
The committee process also hinders access. It results in time delays, there is a lack of uniformity in how the committees function, and though all hospitals with gynecology departments are required to provide abortions, many do not, according to Jacqueline Portugese, who has written extensively about fertility policy in Israel. The approval rates are also misleading; since it's likely those who don't fit the criteria don't apply. Hasson-Tsitsuashvilli believes "the way the committees work now is a burden on the system and on women."
Facing an abortion committee can also be a shameful experience. Medical sociologist Yael Hashiloni-Dolev regards it as a "ceremony of shame and guilt" in which women have to "confess their sins or explain very intimate details about themselves to total strangers." Health journalist Judy Seigel-Itzkovich told me in 2009 that she thinks 50 percent of abortions performed illegally are women seeking to avoid this embarrassment.
Another problem is the state's toleration of the activities of anti-abortion organizations. One of these, Efrat, which offers funding and baby equipment to women considering terminations for financial reasons, has been accused of ambushing and manipulating vulnerable young women. Hasson-Tsitsuashvilli told me she thinks Efrat uses fear and guilt tactics to exploit pregnant women's vulnerabilities, uses their bodies for ideological purposes, gives out false information, and disappears from a woman's life about a year after the birth. She thinks "the work of organizations like Efrat is damaging to women as well as to society, from a human and feminist point of view."
Efrat rejects these accusations as "false, unfounded and libelous," and told me that in the almost four decades of its work it has "assisted over 56,000 new mothers" and has "never received a single complaint or notification that one of the people assisted had regretted having their new child." Efrat also says it "gives support for up to two years" and refers women to other welfare organizations if additional assistance is needed.
Yet there remain reasons to be skeptical. The gender specialists L. Ariella Zeller and Elana Maryles Sztokman argue that "Efrat is an anti- abortion, anti-women's-empowerment movement that wants to appear pro-choice and pro-woman." And my research has suggested that there are other, demographic motivations that underpin Efrat's work, and which may compromise their willingness or ability to help all women equally. Efrat's 2012 billboards declared "Ultimately, the birth rate will determine our existence as a Jewish state," and when I interviewed Efrat's director, Dr Eli Schussheim, in 2009 for my doctoral research, he proudly told me, "This is the simplest way to make aliyah (Jewish immigration to Israel)." When I asked him whether Efrat would support non-Jewish women seeking terminations for financial reasons, he oscillated. First he said it would and does, and then he explained that as a constitutionally Jewish organization, Efrat is technically barred from doing so. But, "Barukh Hashem (Thank God)," he said, "we do not have any [such] cases."
The upshot of these criteria, committees and campaigning anti-abortionist organizations is to undermine women's reproductive rights in Israel. MK Zehava Gal-On told me "Women in Israel do not have any reproductive autonomy - the state robbed them of this right the moment it made abortions an illegal activity and decided to allow them only under very specific circumstances and only after passing a special committee for approval."
Regrettably, the recent health basket reform does not address any of these problems. As Hasson-Tsitsuashvilli puts it, the reform "goes far, but not [far] enough."
So before we wax lyrical about how liberal Israel's abortion law is, it's worth considering what it's really like to face an unwanted pregnancy in Israel and be confronted by the triumvirate of criteria, committees and campaigning anti-abortion organizations.
Is this really women's liberation?
In her next blog post, Dr Rebecca Steinfeld will look at the historical context behind Israel's restrictive abortion law, and ask whether the time has come to reform it.
Dr Rebecca Steinfeld is a Visiting Scholar in the Department of History at Stanford University, and a BBC New Generation Thinker. She researches the history and politics of reproduction in Israel. She tweets @beccasteinfeld
http://www.haaretz.com/jewish-world/the-jewish-thinker/.premium-1.574039
------------
V-Day sparks jokes among Egyptians on social media
February 14, 2014
Egyptians never miss an opportunity to celebrate and laugh, and Valentine's Day has been no exception.
The impending Feb. 14 holiday caused a surge of sarcastic jokes, comics and funny memes on social media about the annual celebration for lovebirds.
Facebook pages "Tammat al Tarjama" and "Asa7be Sarcasm Society" posted numerous pictures teasing the way girls dress up around the romantic day as well as featuring caricatures of the stereotypical lonely singles.
A meme being shared around the social network site included a famous former Egyptian footballer with the caption "Careful that Valentine's Day doesn't make you forget the goal I scored during the World Cup," making fun on the player's incessant talks about his 1990 goal.
Other popular posts included a prominent personality within the political Islamic movement. Instead of his famous quote, "There will be booby-trapped cars and explosions," Facebook jokers inserted "teddy bears" instead of cars.
Egyptian Twitter users also got in on the fun, even creating new hash tags to discuss the quixotic holiday.
One user wrote if "you see someone with his girlfriend on Valentine's, go and tell him you're a prince – every day I see you with a different one!"
A short 'mock-umentary' entitled "It's Valentine Walid" also circulated social media, mocking how each class within Egyptian society celebrates Valentine's Day.
Mohammad Salama, the director and scriptwriter of the short film, told Al Arabiya that he wanted to highlight how Egyptian people celebrate from each socioeconomic class and condense it into a short, five minute long piece.
Love and food
The relationship between love and food was omnipresent on the "Sexy Food" Facebook page which specialized in recipes and the best restaurants to take your significant other to.
The page also suggested buying meaningful gifts instead of the pedestrian teddy bears and flowers typically gifted on Valentine's Day. The page suggested, "Instead of getting her flowers, get her two sandwiches. Believe me she will love you more!"
http://english.alarabiya.net/en/life-style/art-and-culture/2014/02/14/V-Day-sparks-jokes-among-Egyptians-on-social-media.html
------------
Emirati woman weightlifter: Help me get to Olympics
February 14, 2014
Dubai: Amna Al Haddad's dream of becoming the first Emirati woman weightlifter to take part in the Olympics has hit a roadblock. The 24-year-old, who is hoping to represent the UAE in the 2016 Rio Olympics, is desperately looking for sponsors to fund her participation in international tournaments on the road to the Olympic Games.
Speaking to XPRESS the Dubai girl said: "To find sponsors for my sport hasn't been easy. I had to wait till the last moment to raise funds. Luckily, I found people who support my ambition and I thank them for that. But I have a long way to go as their contributions will barely cover the expenses of of my next two competitions."
No Team
She is scheduled to take part in tournaments in the US and Thailand but her training has been hampered by reasons beyond her control. "For some time, I trained with the women's UAE national team, but unfortunately there is no team now. I believe if I go to these competitions it will help the federation and also bring the UAE into focus," she said.
Amna, who hopes to qualify for the 53kg category at Rio Olympics, says she will only get to know at the end of this year where she stands vis-à-vis qualification.
"I think after the IWF world championships, which is the qualification competition for the Rio 2016 Olympics taking place at the end of this year, I will be more confident to answer that question, Inshallah," she said.
As for whether she sees herself as an inspiration for fellow Emirati women, Amna said: "As a woman who started the sports of weightlifting at the age of 22, had nothing to do with sports or had a family with a sports background and who started her journey by walking around Safa Park to now taking part (Inshallah) in the Olympic Games, I think I should leave the women and men of this country to answer
http://gulfnews.com/sport/other-sports/emirati-woman-weightlifter-help-me-get-to-olympics-1.1290257
------------
URL: https://newageislam.com/islam-women-feminism/gujarat,-hub-rent-womb-industry/d/35758