New Age Islam News Bureau
31 March 2014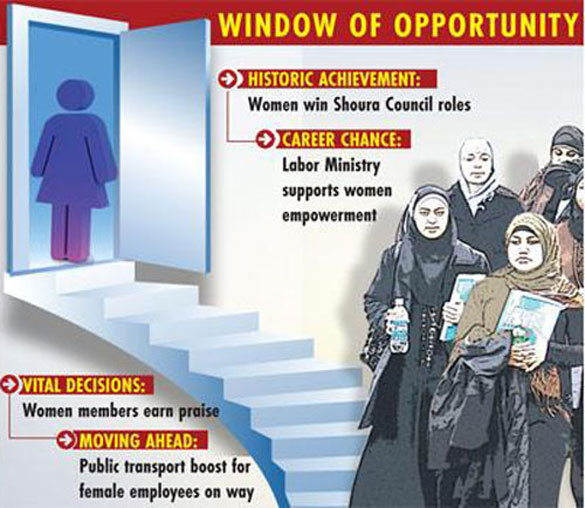 Photo: Saudi Women 'Ready For Top Cabinet Roles'
----------
• Jihadists Seize 'Brides' From Syrian Schools
• Femen Stages Bare-Breasted Protest against Turkish PM
• Video of Egyptian Schoolgirl Dancing Goes Viral
• Tanzania: Educating Girls Protects Them from Early Pregnancy
• Bill Related To Child Marriages Generates Heated Debate in Pakistan
• Saudi Women 'Ready For Top Cabinet Roles'
• Late Marriages Plague War Weary Kashmir
• How A 12-Year-Old Homeless Girl Helped More Than 400 Children Find Safer Shelter
• Months after Escaping Entrapment, Pak Women Await Justice
• 'Enslaved' Sri Lankan Housemaid gets SR22, 600 in Unpaid Wages
• Are Female Students Safe In Egyptian Universities?
• Specialisations up Wages of Female Expat Teachers
Compiled by New Age Islam News Bureau
URL: https://newageislam.com/islam-women-feminism/grave-site-girls-slain-honour/d/66351
------------
Grave Site of Girls Slain For Honour in Pakistan Found
March 31, 2014
SUKKUR: The investigating officer has finally found the spot where two girls, belonging to the Mahar tribe, were buried after they were killed for 'honour' in Shikarpur.
On Saturday, the investigating officer – Crime Branch Sukkur DSP Abdul Qudoos Kalwar – found the spot where the two girls were dumped after being killed on March 2. A letter has been written to the district and sessions judge in Shikarpur to order the formation of a medical board and appoint a judicial magistrate to exhume the bodies.
The victims, Shani and Reema, both daughters of a schoolteacher, Abdullah Mahar, were residents of Qasim Mahar village. After their murder, a jirga allegedly presided over by MNA Ghous Bux Mahar was held at Mahar House in Wazirabad. The jirga imposed a fine of Rs2.4 million on two men of the Jagirani tribe for kidnapping the girls and keeping them in illegal detention. It did not, however, include the murder charges in the verdict.
Later, a case was registered against 13 men including, MNA Ghous Bux, the girls' father Abdullah Mahar and his cousin Sanaullah Mahar and others. Abdullah and Sanaullah were arrested by the police and handed over to DSP Kalwar, who was appointed as the investigation officer by the apex court after Chief Justice Tassaduq Hussain Jilani took suo motu notice.
During the interrogation, the accused informed the police that both the girls have been buried in an agricultural land belonging to Rehmatullah Mahar near the Kamil Mahar village situated in Jehan Khan police limits. Once the grave was spotted, the police set up a checkpoint at the site and are waiting for the court's permission before they exhume the bodies for post-mortem, DSP Kalwar told The Express Tribune.
http://tribune.com.pk/story/689295/shikarpur-jirga-grave-site-of-girls-slain-for-honour-found/
----------
Jihadists Seize 'Brides' From Syrian Schools
March 31, 2014
Jihadists are seizing girls from Syrian schools and colleges to serve as "brides", claim activists.
In the town of Raqqa, northern Syria, liberal rebels have been driven out, and fighters from the Islamist groups Islamic State of Iraq and al-Sham (ISIS) hold sway.
Many are foreign-born, and are promised brides by recruiters in return for fighting under the black flag of jihad.
A number of foreign women, sometimes accompanied by their children, have joined the jihadist groups, but men still greatly outnumber them, and some have started to "recruit" brides from the local community, seizing girls against their will.
One of these was 21-year-old Fatima Abdullah, from a tribal area outside Raqqa, whose brother joined ISIS, and promised her to a Tunisian fighter. She resisted, but her family backed the union, and she killed herself with rat poison.
Five activists confirmed the story to the Sunday Telegraph.
One local woman told the newspaper that she had gone to a jihadists' recruiting office to speak to a unit of female jihadists. Among them was a divorced Frenchwoman who had come to Syria with her 12-year-old daughter and four sons to join the militants.
"I went inside their headquarters, which used to be the Christian church," she said. "I asked what the conditions were to join. They said you have to be 18-25, unmarried, and you would earn 25,000 Syrian pounds.
"But if you joined you had the opportunity to marry one of the foreign fighters. However, they make sure you are a real jihadist."
French TV last week broadcast shocking footage of a brigade of about 20 French and 20 Belgian ISIS fighters, who boast of slaughtering "apostates" and film blood-soaked civilian corpses.
Since early January rival rebels groups including western-backed militias loyal to the Free Syrian Army have pushed ISIS back from territory it had taken in northern Syria.
They have succeeded in driving extremists from Idlib province while in Aleppo province ISIS have been forced into towns to the east.
In the town of Azaz, between Aleppo and the Turkish border, ISIS fighters beheaded four prisoners from rebel groups before retreating, and put their heads on a plinth in the middle of the town's main square.
One prisoner, Ahmed Primo, described how he narrowly avoided their fate.
"I heard a voice calling my name for execution," he said. "Then suddenly there was the sound of an explosion. The guards and the emir, the militia leader, were injured, and carried away. The next day the prison was liberated and I escaped."
Primo had been previously held prisoner by the Syrian army loyal to President Bashar al Assad, and was asked whether the treatment he had received from them was worse than that meted out by the jihadists. He said that both forces had beaten him, blindfolded and bound him for weeks at a time, and electrocuted his testicles.
"It is not a question of better or worse. It was exactly the same," he said.
He said that when the uprising began in 2011, he had believed the west would provide military support to secularist rebels, and could not have imagined that country would have been a battleground for brutal factions, many foreign-born.
"When I started out I could never have imagined anything like this," he said. "These people, they do not have our way of life, or of thinking.
It's very strange to us. I didn't expect it would turn out this way."
http://www.ibtimes.co.uk/jihadists-seize-brides-syrian-schools-1442571
------------
Femen stages bare-breasted protest against Turkish PM
March 31, 2014
Femen activists on Sunday staged a bare-breasted protest against Turkish Prime Minister Recep Tayyip Erdogan, who has come under fire over an Internet crackdown, during crucial local elections.
The two women, who had the words "Ban Erdogan" written across their chests, were quickly covered up and arrested after flashing their breasts in the Istanbul polling station where Erdogan had been due to vote.
The conservative premier had already opted for a different ballot location after Femen had announced plans for the protest at the elementary school on the Asian side of the city where Erdogan has voted in the past.
The Ukraine-based feminist group had staged earlier actions against Erdogan's decision to block Twitter after the social media service was used to spread damaging corruption claims against him and his allies.
In an earlier photo shared on Twitter, a Femen activist had written across her bare chest Google DNS codes that allow users to circumvent the block, along with the Twitter hashtag #DirenTwitter (Resist Twitter).
Last July, after a Turkish police crackdown on anti-government protesters that left eight dead and thousands wounded, a Femen activist was arrested after flashing her breasts in an anti-Erdogan protest at an Istanbul airport.
http://english.ahram.org.eg/NewsContent/2/8/97869/World/Region/Femen-stages-barebreasted-protest-against-Turkish-.aspx
------------
Video of Egyptian Schoolgirl Dancing Goes Viral
March 31, 2014
The last time a clip of a schoolgirl dancing attracted attention was probably something to do with Britney Spears.
Now, a video of an Egyptian schoolgirl shaking her hips has erupted online and it's far from the pigtails and crop tops you might imagine.
Tying her waist with a wrap and belly dancing to Egyptian techno-pop music, the girl was filmed in what appears to be an empty school classroom.
Commenting on the clip to daily newspaper Al Ahram, Egyptian education minister Dr. Mahmoud Abu al-Nasr said the student belonged to a dance school and was showing off her skills in a "professional manner."
It was also revealed the video was filmed five years ago, but has only gone viral now.
The minister did not identify the school the student was filmed in, nor did he reveal whether it was a government or a private school.
http://english.alarabiya.net/en/variety/2014/03/30/An-Egyptian-Britney-Video-of-schoolgirl-dancing-goes-viral-.html
------------
Tanzania: Educating Girls Protects Them From Early Pregnancy
March 31, 2014
STATISTICS that a total of 5,157 girls dropped out of primary schools due to pregnancies last calendar year, mean so much to little Glades Mtiro.
Being a daughter of subsistence farmers, she grew up at Kange in Tanga, a flat and sparsely populated area. At 15, she met a man twice her age and cultivated a relationship. She then got pregnant.
After the man could not look after her and their baby girl, she moved to Dar es Salaam as she had dropped out of school due to her pregnancy. Now 17, Ms Mtiro is a single mother without an education, earning her living as a house cleaner, on a wage that barely feed her and her one year -old daughter.
"I had to stay at home to look after my younger brothers but my parents had something else in mind for me and here I am now," she said, shaking her shoulders while her infant wailed.
Because of the slanted societal perception about the worth and abilities of the girl child, it is important that a deliberate and continued action is taken to counter forces that denigrate their potential. It is, for instance, disturbing that 57 per cent of girls still miss at least three days of school time per month because of absence of and unaffordability of sanitary facilities (SNV survey 2013).
And because majority are psychologically young to deal with this biological change, some drop out of school altogether. The resultant effect of school drop-out is early child marriage.
The Child Act stipulates the rights of the child to education, protection from harmful customary practices and places responsibilities for child protection on parents, guardians, local governments and all persons charged with child care.
It is, therefore, important that the implementation of pro-child laws is effectively done to save the girl-child from early marriage and all children from all forms of abuse.
Otherwise, if we continue making condemnations without definitively and consistently acting against perpetrators of early child marriage and abuse, the flag for the future, which our children hold, will be torn before tomorrow. Following the unfortunate scenario of school pregnancies, the number of girls in secondary schools has decreased from 48 per cent in 2004 to 45 per cent in 2009.
It is the reason the Ministry of Education and vocational Training recently organised a charity to support schools build hostels. The event aims at raising funds to set up 30 hostels in the country in a quest to accommodate primary schools girls.
"The charity walk is one of the government's strategies to help schoolgirls from early pregnancies and marriages," said Dr Shukuru Kawambwa. He added that the shortage of dormitories in primary and secondary schools also contributes to poor academic performance among schoolgirls.
On the other hand, Dr Kawambwa said that the government will review the policy on girls' education in a bid to come up with better ways of helping pregnant schoolgirls to continue with education. He, however, said that the victims are allowed to seek secondary education informally by registering as private candidates.
He said that the charity walk organized by Tanzania Education Authority (TEA) would enable the government to build hostels in eight regions. Tanzania has been cited as one of the countries with the highest number of child pregnancies, with 16,999 girls dropping out of school in 2006 to 2009.
According to the Minister for Community Development, Gender and Children, Sophia Simba, school truancy among girls has increased from 11,264 girls in 2009, which is equivalent to 36.2 per cent to 48,026 in 2010, which is equivalent to 72.7 per cent.
She said that these challenges and many more have contributed to the dwindling number in girls who perform well in school, saying that in last year's form four examinations, only 7 per cent of girls passed. She said that the society is supposed to invest heavily in girls' education, saying this is a proven way of tackling poverty in most developing nations.
"By educating a girl child, it is one way of saving her from child pregnancy, because experience shows that each year of educating girls give them more chances of making good decisions," she said.
She said that the government will continue taking strict measures against people who impregnate young girls, because according to the law, it is an offence for a man to involve himself in a sexual relationship with a girl who is under 18 years.
The deputy minister said that according to a 2009 report by UNICEF, three out of 10 girls experience sexual abuse before they reach the age of 18 years.
According to this survey, 49 per cent of these abuses take place at home, 23 per cent while the girls head to and from school while 15 per cent takes place in schools. He said that statistics indicate that 10 million girls are forced into early marriages while in developing countries one out of three girls gets married before they reach the age of 18.
"The aim of this campaign was to improve the living conditions of girls and give them an equal opportunity in education, basic studies and protect them against gender violence," he said.
He said that among other things, the campaign will also work to increase skills, knowledge and awareness of girl's vulnerability to gender based violence within family, school and communities.
Like many other African countries, Tanzania is struggling with providing equal education for their girls and because there is a lack of education in the community, girls end up suffering much more than the boys. TAMWA, through support from Foundation for Civil Society, seeks to change the status-quo.
http://allafrica.com/stories/201403310052.html?viewall=1
----------
Bill Related To Child Marriages Generates Heated Debate in Pakistan
March 31, 2014
The tabling of Child Marriage Restraint (Amendment) Bill 2014 in the National Assembly by PML-N MNA Marvi Memon and some other members has triggered a fresh controversy while the dust raised after the recent findings given by the Council of Islamic Ideology (CII) concerning certain sections of the Muslim Family laws Ordinance 1961, including polygamy, has yet to settle.
CII chairman Maulana Mohammad Khan Shirani has criticised the bill, stating that the council had already given its recommendations over the Child Marriage Restraint Act (CMRA) and the bill should not have been tabled in the assembly. The CII in its meeting had ruled on March 10 that laws related to minimum age of marriage were against Islamic teachings and that children of any age could get married if they had attained puberty.
The bill tabled by Ms Memon seeks several amendments to the colonial era law of CMRA 1929 which are mostly aimed at raising the prohibitory age for a girl child to 18 years; making punishments for the persons responsible for child marriage much harsher; and to clearly spell out the jurisdiction of the court in this regard.
Interestingly, last year a member of the Khyber Pakhtunkhwa Assembly, Ms Munawar Sultana, belonging to Awami National Party, had tried to table an identical bill, but she had to face resistance even from her own party members as at that time the coalition of ANP and Pakistan Peoples Party was ruling the province. In the assembly session, on Jan 10, 2013 when Ms Sultana tried to table the Child Marriage Restraint (Amendment) Bill, 2013 her party leaders as well as other members opposed it terming it "NGO-centric". Following resistance from both the treasury and opposition, Ms Sultana had to withdraw the bill.
Presently, CMRA has turned into a useless piece of legislation which has not been implemented in any of the four provinces.
The controversy concerning this law mostly relates to the definition of a "child". The CMRA defines a "child" as a person who, if male, is under 18 years of age, and if female, is under 14 years of age. Through Section 12 of the Muslim Family Laws Ordinance, 1961, the age of a girl was raised to 16 years. However, during the military government of Gen Ziaul Haq the Section 12 was omitted through Ordinance No 29 of 1981.
Section 8 of the said Act provides that no court other than that of a magistrate first class shall take cognizance of, or try, any offence under this Act. Under the law, the court may, if satisfied from information laid before it through a complaint or otherwise that a child marriage in contravention of this Act has been arranged or is about to be arranged, issue an injunction against any of the persons responsible for child marriage including: a male adult above 18 years of age marrying a child; Whoever performs, conducts or directs any child marriage; and parents or guardians in a child marriage.
The CMRA provides nominal punishments for the offence of child marriage as with the passage of time amendments have not been introduced in it. The law provides whoever performs, conducts or directs any child marriage shall be punishable with simple imprisonment which may extend up to one month, or with fine of up to Rs1,000, or with both, unless he proves that he had a reason to believe that the marriage was not a child marriage.
Furthermore, where a minor contracts a child marriage, any person having charge of the minor, whether as parent or guardian or in any other capacity, lawful or unlawful, who does any act to promote the marriage or permits it to be solemnised, or fails to prevent it from being solemnised, shall be punishable with simple imprisonment which may extend up to one month, or with fine of up to Rs1,000, or with both: provided that no woman shall be punishable with imprisonment.
The issue of child and forced marriages of children was also discussed by the UN Committee on the Rights of the Child in 2009 while examining the 3rd and 4th periodic report of Pakistan submitted under the Convention on the Rights of the Child. The committee had recommended that the State party "strengthen its efforts to effectively implement the Child Marriage Restraint Act (1929) and amend it with a view to ensuring adequate punishment and to raising the minimum age of marriage for girls to 18 years."
"This law could not be implemented due to different reasons, including the procedure given for the court to take cognizance of the offence," said advocate of high court Shahnawaz Khan, adding that child marriage in different areas was a deep-rooted customary practice against which people were shy of raising their voice.
Mr Khan said that child marriage was a non-cognisable offence as the police could not interfere in it and only the court of a magistrate could take cognizance of the issue only after filing of a complaint by a union council or any authority designated by the provincial government in this regard. He believed that the law required several amendments, especially for enhancing the punishments.
http://www.dawn.com/news/1096802/view-from-courtroom-bill-related-to-child-marriages-generates-heated-debate
------------
Saudi Women 'Ready For Top Cabinet Roles'
March 31, 2014
Saudi women are capable of holding top positions like ministers of education, health, information and social affairs, said Hanan Al-Ahmadi, a member of the Shoura Council.
"Appointment on women to the Shoura Council is one of the important decisions taken in the history of Saudi Arabia," she said.
In comments published in the Arabic press, she urged female Shoura members to rise up to the expectations of Custodian of the Two Holy Mosques King Abdullah who took the historic decision to induct them to the consultative body.
"We have to do our best to make this experiment a big success."
Abdulelah Saaty, dean of the College of Business in Rabigh, supported women's demand to get top ministerial positions.
"We have a large number of educated and capable women with high leadership qualities and they deserve such positions to play a major role in the country's development process," he told Arab News while praising the king's decision to appoint Nora bint Abdullah Al-Fayez as the country's first deputy education minister.
Al-Ahmadi, who was placed 8th in a list of 30 powerful Saudi women published by Arabian Business, said women play a significant role inside the Shoura to take vital decisions concerning the society in general.
"Women members have been getting good support at the Shoura," she said.
"The voice of women members had a big impact on social, educational and health issues," she said, adding the media covers only a small portion of the Shoura discussions.
She, however, admitted that female Shoura members, like other Saudi women, have been facing several challenges like the need to get permission of male guardians to travel and apply for passport.
"This makes us more determined to challenge the rules and regulations that obstruct women empowerment."
Al-Ahmadi backed the government's move to employ Saudi women at lingerie and female garment shops, saying it was instrumental in creating more jobs for them.
"It also helped in correcting a major problem in our markets — the presence of salesmen in lingerie shops," she said.
The Labor Ministry said it was starting the third phase of employing women in shops that sell women's materials.
"The third phase will cover jobs at shops selling women's perfumes, shoes, gowns, bags and materials of mother and child care and will be implemented gradually in 48 months," it said.
http://www.arabnews.com/news/548541
------------
Late Marriages Plague War Weary Kashmir
March 31, 2014
SRINAGAR: Thirty-one-year-old Raqeeb (name changed) has spent a lot of money on telephone bills, restaurant cheques and on many other things as he often 'dates a woman he wants to marry'. He earns around Rs 29000 a month in a private company, but his parents believe that he is too young to get married as yet; and that he doesn'tearn enough to support a family.
Years into his job now, the young man has developed a rebellious attitude towards his elders. "The parents who do not care about the biological and psychological needs of their children have no right to claim any parenthood," he says.
More and more youth in Kashmir valley are crossing their marriageable ages becoming victims of some serious (as well as some trivial) issues which have emerged, of late, in the valley. The result is an army of young men and women in their mid 30s without a life partner.
What Raqeeb's parents are ignoring was very much understood by the family of Arshid Ahmad, a Kashmir University pass out working in a corporate office. Married immediately after coming out of the University, his life seems smooth. Although earning less in comparison to his unmarried mates and friends, he has no regrets from life. Apart from his satisfaction from work, his parents are happy with him. He gives time to his family, relatives and friends in complete contrast to his bachelor friends. More and more youth in Kashmir valley are crossing their marriageable ages becoming victims of some serious (as well as some trivial) issues which have emerged, of late, in the valley. The result is an army of young men and women in their mid 30s without a life partner. According to a study by the sociology department of University of Kashmir, the average marrying age in the Muslim dominated valley has
moved to 30s from early 20s a decade ago. Prominent sociologist Professor Bashir Ahmad Dabla, who conducted the study, reveals that the average marriageable age of the female has shot up from 21 to 28 years. "As far as the males, the age of marriage has gone up to 32 years
from 24 years in normal times," the study states. According to a study by the sociology department of University of Kashmir, the average marrying age in the Muslim dominated valley has moved to 30s from early 20s a decade ago.
'Causes' Dabla blames some 'unavoidable conditions' which erupted in the valley in the past two decades. "Turmoil, acute poverty, increasing unemployment, practice of dowry, attainment of modern education are the reasons for the emergence of
late marriages," Dabla reveals. Many youngsters, like Rakeeb, hold their parents responsible for their delayed marriage. The cultural practices of extravagance in marriages coupled with ostentatious attitudes are also to be blamed. "It is but natural that one needs a partner for his physical, biological and emotional needs once he or she attains maturity. Our elders think that
today's youth have become besharam (shameless). But let me remind our parents that their parents married them in their teens… thus they never had experience the pangs of desire like today's youth who have to wait for decades for getting married," feels Javaid Ahmad (29), a businessman.
Turmoil, acute poverty, increasing unemployment, practice of dowry, attainment of modern education are the reasons for the emergence of late marriages "So, unlike us, awakening of any biological desire among them immediately found an outlet in very early years of their maturity," he says.
Quite strangely, a young man or woman is considered employed in valley only when he has a government job. It took two years for Gowhar Amin, a JRF qualified research scholar in Kashmir University, to find a match. "Although I have been getting good remuneration for my research, besides a good prospect of getting a job, many times I was rejected. It
was so traumatic that at one point of time I felt the orderly in our department was better than me as he had a govt. job," Gowhar states. Not only the parents but the changing preferences of modern youth have also resulted in this social crisis. Youth, despite being educated and
earning handsomely in private sector, want to get married only after 'proper employment'. Fayaz Ahmad Zaroo Prominent Islamic scholar, who runs a marriage counseling cell aimed at simpler marriages, rues the prevalent customs and attitude of youth towards them. "There is an increasing tendency among our boys and girls to attain higher education. With the result, they
find themselves over-aged in the marriage," Fayaz says. There is an increasing tendency among our boys and girls to attain higher education. With the result, they find themselves over-aged in the marriage. "What follows is even more pathetic. A highly educated and employed person demands to marry another highly educated and employed spouse
resulting in even more delays," he says. Jan Mohammad, an entrepreneur, believes that the declining spiritual and religious attitudes among youth were also the reason. "The public opinion in valley, off late, has put a burden on the prospective bachelors of the material needs after marriage. What we forget is that every child brings
her (or his) fortune along with her," he says. "This is something which is written and no asbaab (means) could reverse the good or bad, almightywishes for his creation," he states. 'Dangerous consequences' Late marriages have resulted in an imbalance in society: in its Social, Biological, Moral, Health related and Economic aspects. Gynecologists
say that the declining fertility rate among Kashmiri women was directly related to late marriages. "The first consequence of late marriages among women is conception problems. As their age advances, egg formation in females reduces and hence leads to infertility," states Dr
Shugufta, a gynecologist with health department. "Almost 50 percent of the women who have conception problems in valley are over the age of 35," she observes. "And not only that a woman in mid 30s has more chances of complicated pregnancy. Besides osteoporosis and cesarean-delivery are very common among them," the doctor
informs. Health specialists state that children born to late married couples have higher chances of carrying congenital diseases or birth defects. Apart from health aspects, the trend has worried the ethical and religious watch dogs of society.
"On one hand, the late-marriage trend has challenged our traditional fabric and on the other it has created many social problems. There's an increase in cases of mental disturbances, suicides, divorces, immorality, pre-marital sexual relationships and other such things," Prof Dabla stresses.
Almost 50 percent of the women who have conception problems in valley are over the age of 35. And not only that a woman in mid 30s has more chances of complicated pregnancy. Besides osteoporosis and cesarean-delivery are very common among them.
"Modernization gave rise to materialistic outlook and highlighted the hinge side of early marriage. But absence of a partner results in the crimes and drug addiction," he says. Fayaz Ahmad Zaroo agrees with Dabla. "The most obvious effect of late marriages is moral waywardness among our young generation. Besides
when there is pressure for extravagance, people tend to take bribes resulting in corruption," Fayaz says. "Crimes and suicides among youth are also the consequence, among others, of late marriages," he feels. 'Ignored' And the most ignored aspect of late marriages is mental health. "Depression, anxiety, frustration, irritation and even suicidal tendencies
are common among young men and women who have crossed the age of marriage," states Meer Zafar Iqbal clinical psychologist heading the composite regional center of rehabilitation psychology in Kashmir under ministry of social justice and empowerment, government of India.
"Although people want the girls to be married early but at the same time expect dowry, a big feast and ostentatious celebrations on the occasion of marriage. The young men and women get crushed in between these hypocritical extremes of the society," he says.
"What is more worrying is that our elite-class 'bachelors' marry late with young women resulting in disturbed physical relations in later years. The result is obvious extra marital affairs and divorce."
http://freepresskashmir.com/repeat-late-marriages-plague-war-weary-kashmir-054931/
------------
How a 12-Year-Old Homeless Girl Helped More Than 400 Children Find Safer Shelter
March 31, 2014
The idea of having to navigate cockroaches, mice, no heat and sexual predators before you even leave for school is not something any child should go through. Yet, this is the daily life for hundreds of children living in two shelters in New York City and Brooklyn. They are part of the more than 22,000 children that make up New York City's homeless population.
Now, after more than a decade of repeated citations for deplorable conditions, more than 400 children and their families are being moved from the city-owned facilities – all because of a determined 12-year-old girl.
Chanel couldn't afford the luxury of buying water in a bottle. When the water with the fancy name started arriving in the bodegas of her Brooklyn neighborhood, she felt that it represented a certain status in life she could never imagine. When her first child was born a short time later, she gave her the name Dasani, with the hope it would give her a chance in life.
Twelve years later, Dasani would be standing on stage at the swearing in of the 109th mayor of New York City and be the subject of a major profile in The New York Times.
"Invisible Child: Dasani's Homeless Life" by Andrea Elliott was a five part series published in December 2013. It chronicled the daily life of Dasani, her parents and her seven siblings. The ten of them all lived in a single room in the Auburn Family Residence in the Fort Greene neighborhood of Brooklyn. Converted to a family shelter in 1985, it was designed to be a temporary stop for those who found themselves homeless. Three decades of changing political and economic policies that have made the cycle of poverty even more dire has turned the shelter into a permanent stop for many.
Dasani's family had been living there for three years.
The New York Times series, which profiled the family's up and downs for a year, brought much needed attention to the life of the city's poor and to the Auburn shelter. The article detailed the deplorable conditions which included mice in the walls, cockroaches, rooms without kitchens and some without running water. Bathrooms are communal, which children and adults use often without the watchful eye of security, leaving women and children at risk for the sexual predators that were often among them.
The article also got the attention of then Mayor-Elect Bill de Blasio.
The timing of the article was particularly poignant considering that the policies of outgoing Mayor Michael Bloomberg were among the myriad of reasons why Dasani's family – and the hundreds of families at Auburn – had found themselves barely surviving. For nearly 15 years, the city gave priority to homeless families for permanent housing available for federal subsidy programs. From 1990-2005, the city provided permanent housing for 53,000 homeless families. Bloomberg ended the program in 2005 and replaced it with a short term rent subsidy program that ended in 2011. By the time he left office, the city had more than 52,000 homeless – the highest in the city's history.
Bill de Blasio easily won the election on the message of paying attention to the people Bloomberg forgot. Dasani's story highlighted the two cities he talked about on the campaign trail. Chanel and Dasani were invited to the inauguration. On January 1, 2014, Dasani held the Bible while Leticia "Tish" James was sworn in as New York City's public advocate – and first in line in succession to the mayor. Tish James held Dasani's hand during her speech. James was born on assistance, lived on food stamps and had been evicted in her lifetime. Dasani stood next to her, representing the little girl James once was, looking at the woman she could be.
Without knowing it, Dasani was already making a difference.
Last month, the city began moving families with children from Auburn and another shelter, Catherine Street shelter in lower Manhattan. Officials are trying to find permanent subsidized housing or safer temporary housing. Amid increased security at both facilities, they are first removing families from Auburn. As of February, 42 families had already been removed, with more being moved in June to avoid disruption for children's school attendance. A dozen families have already been removed from Catherine Street, with hopes the remainder will be in permanent or temporary housing by the fall. In all, more than 400 children will be removed from the facilities to safer conditions.
The facilities will be converted to adult only shelters.
By the time of the inauguration, Dasani and her family had already left Auburn. After the death of an infant, Auburn was under increased scrutiny and officials were pressured to remove families with infants and disabled children. Dasani's family had both. In October, her parents were given just a few hours to move out to a new shelter. By the end of the day, the family of ten was living in a shelter in Harlem – an apartment with two bedrooms and a kitchen.
The Department of Homeless Services is still trying to find the family permanent housing for vulnerable families which also have on-site support services. Their story is going to be included in a book, written by the same journalist who wrote the article, which will focus on the larger plight of child poverty. When notified of the changes happening at Auburn and their own situation, Dasani's mother Chanel replied, "It takes all of this for something to happen? Why was it so hard to do this three years ago?"
Hopefully for the more than 22,000 homeless children in New York, they won't have to wait so long.
http://www.truth-out.org/opinion/item/22758-how-a-twelve-year-old-homeless-girl-helped-more-than-400-children-find-safer-shelter
------------
Months after Escaping Entrapment, Pak Women Await Justice
March 31, 2014
ISLAMABAD: They dreamed of landing jobs that would enable them to support their families. Instead, these girls found themselves trapped in commercial sex work.
After four years, when they finally escaped the harrowing ordeal, their brother was killed, their sister's husband tortured by the police in a "trumped-up" theft case, and they were told acid attacks awaited them.
Despite the odds, the two sisters Z, 20, and S, 21, have been struggling for justice for the last year-and-a-half, but the political clout of their opponents has left their hopes dwindling.
"I was 15 and lived in Faisalabad when, almost five years ago, a neighbour we knew as Ayesha 'baji' visited our house. She told her parents that she will get me and my sister jobs at her salon in Dubai," said Z talking to The Express Tribune.
Her poverty-stricken parents agreed, and there, their troubles began.
Ayesha's husband forged documents for the girls before they were taken to the United Arab Emirates. The girls were just 15 and 16 at the time.
Only after reaching the city of golden dreams did then learn what they would really be doing. "We had to sell our bodies," said one of the sisters, with tears streaming down her cheeks.
Their two 'agents'- the couple comprising Ayesha and her husband – took them to a flat in a high rise on Kuwait Street in Bur Dubai, where they were kept for four years and tortured whenever they refused to partake in their new profession. The agents charged around AED3,000, the equivalent of Rs80,000, for a 90-minute appointment.
S pulled up her sleeve to show a large, partially-healed burn on her arm. "Ayesha put a heated iron on my arm when I refused to do the job."
The girls were occasionally allowed to return to Pakistan, but only one at a time. Why didn't they tell someone when they were in their home country?
"Ayesha said they would kill my brothers and father," said Z, explaining that they couldn't tell anyone as long as the other was still in captivity.
The couple allegedly 'hired' girls by using false promises, and kept them at work using blackmail. Every new girl was first filmed doing the deed, with the recordings an additional source of blackmail. Threats to relatives' lives were also part of their standard operating procedure.
When the alleged criminal couple was coming to Pakistan for a vacation, they chose to bring both girls along for the first time. Seeing a chance to escape, the girls asked if they could both go to see their parents.
The couple relented, trusting that the girls had developed an affinity for them, and would not squeal on them.
The girls rushed over to their parents and revealed all.
Since then, they have filed a case with the police, for which they have faced death and acid attack threats. One of their brothers was allegedly killed by the same people to put pressure on the family to retract the case.
According to Qamar Sajjad, the victims' older sister, the local police and an MPA's son-in-law have allegedly thrown their support behind the culprits and have kept her husband, Muhammad Sajjad, in detention, without registering an FIR. They physically and mentally tortured him for 18 days in a theft case that the traffickers had registered against them. "During the time my husband was detained, I and my sisters stayed in a public park due to fear of being kidnapped," Qamar added.
Later, Z was shot thrice in the leg, allegedly by the same suspects. Now the family keeps moving around, due to the fear that one of them could be murdered or fall victim to an acid attack. Although a case was registered at Ghulam Muhammad police station in Faisalabad, the girls claim the police tampered with the FIR.
Multiple factors are involved in the delay of justice for the sisters, said their lawyer Zulfiqar Ahmed Bhutta. The police and FIA are both under pressure due to the involvement of influential people. The suspects are at large and threatening to kill the petitioner, despite having non-bailable arrest warrants issued in their names. The lawyer also hinted at the role of the police and a political leader in the human trafficking operation.
A source in the FIA corroborated each of Bhutta's claims.
Bhutta said it is common for influential people in Punjab to register two or three FIRs in their respective police stations as insurance in case someone actually tries to challenge them over their misdeeds. "They insert the names of their accusers in the already written report and put them behind bars in false cases. The same happened with the victims' family when they took up the case."
The Express Tribune tried to approach the people who had accused the girls' brother-in-law in the FIR using the phone numbers listed in the document, but the calls were not entertained despite repeated attempts.
Meanwhile, the FIA has failed to properly follow up on the case, with no effort made to approach the Interpol for help. "Under the circumstances, a writ petition is the only appropriate remedy," says a progress report prepared by the agency.
http://tribune.com.pk/story/689000/flesh-trade-months-after-escaping-entrapment-women-await-justice/
------------
'Enslaved' Sri Lankan Housemaid gets SR22, 600 in Unpaid Wages
March 31, 2014
RIYADH — Police here helped a Sri Lankan maid, who was made a virtual slave by her Saudi employer, get financial compensation totaling SR22,600 for the three years she was kidnapped and forced to work without pay, Al-Riyadh daily reported.
When the maid arrived in the Kingdom three years ago, her employer picked her up from King Khaled International Airport and took her to his car. She was instructed to wait until he finished some paperwork. After he left her alone, a Saudi woman opened the car's door and forced her to come along with her. New and naïve, the maid went with the woman to a big house where she was forced to work for three years without any financial compensation.
Throughout the period of her stay, she was not allowed to use the phone. She tried in vain many times to run away, but recently she managed to go to the Sri Lankan Embassy where she recounted her story to the officials. The embassy reported the kidnapping to the police and an investigation was launched.
In a short time, the Saudi woman's house was located and she was arraigned. She was asked to pay all salaries due to the maid. Her case will be reviewed by a local court.
On July 15 last year, the Kingdom announced new rules to protect the rights of domestic helpers. The new rules require employers to pay domestic helpers "the agreed monthly salary without delay, and give them a day off each week." Employers are also required to provide domestic helpers with "suitable accommodations, as well as granting them time to rest for at least nine hours each day."
Under the new guidelines, workers are entitled to paid sick leave and a one-month paid vacation after putting in two years of work as well as end of service compensation equal to one month salary after four years.
The employer has no right to compel domestic helpers to do a job that does not come under the purview of the labor contract. The regulations also prevent the employer from forcing the worker to do any jobs that are harmful to his/her health. Employers should respect the workers' honor and not compel them to work under anyone else.
http://www.saudigazette.com.sa/index.cfm?method=home.regcon&contentid=20140330200283
------------
Are female students safe in Egyptian universities?
March 31, 2014
On April 6, Gaber Nassar, president of Cairo University, is to sign a cooperation protocol with the "Shoft Taharosh" movement (Arabic for "I've been a witness to harassment") which was founded in Cairo in 2012.
According to the group's coordinator Fathi Farid, the protocol would allow members of the movement to be constantly present across Cairo University's grounds to document cases of sexual harassment and to conduct surveys with female students about previous experiences of sexual harassment by male colleagues.
"The Ministry of Higher Education, the university president, and university security have to facilitate the movement's job and cooperate with volunteers who would be raising awareness on campus about the dangers of harassment and ways to fight it," Farid said in a press interview.
The protocol is to be signed between Nassar and movement representative Azza Kamel. According to Nassar, members of the group are to obtain special IDs that will enable them to enter the campus. "They will soon come to my office to complete the necessary paperwork in order to start their work on university grounds," he said in a TV interview.
Pink top, blonde hair
This news comes in the aftermath of a sexual harrassment incident against a female student on campus which made international headlines. The movement, which identifies itself as "a pressure group that works on monitoring and documenting sexual harassment crimes against women," was the first to report the incident.
According to the statement it issued, dozens of male students surrounded a female student near Cairo University's School of Law on March 16 and harassed her. "They first harassed her verbally then started touching her and attempted to strip her of her clothes," said the statement.
"The girl had to hide in the ladies room until security personnel were able to save her and get her out of campus." While media reports and the university president referred to the incident as unprecedented, the movement stressed in the same statement that "this is not the first incident of its kind" and that female students have always been subjected to different forms of sexual harassment on campus.
The incident triggered angry reactions among intellectuals and rights activists not only due to the nature and context of the incident, but also due to many of the responses that followed. The most controversial response was that of Nassar himself when he gave a phone interview live on TV a day after the assault took place.
According to Nassar, the girl, who is shown in the video wearing black pants and a pink top, was wearing a loose garment and took it off upon entering campus.
"University security does not admit students wearing improper clothes," he said. "Students' clothes have to be in line with society's traditions and we will never allow otherwise to happen."
Blaming the victim
Responding to Nassar in the same talk show, Farid expressed his shock at the university president's push to blame the victim instead of acknowledging his moral responsibility for her and objected to his statement about the university administration's intention to take disciplinary action against the girl and the men who assaulted her.
He also refuted Nassar's allegations about the incident being a first.
"A year ago a student from the School of Engineering was sentenced to a month in jail and this was in the press and everyone knew about it," he said. "He is clearly not doing his job properly at the university."
Farid added that the movement receives dozens of complaints from female students who are harassed by their male colleagues and sometimes by their professors.
On March 19, Nassar issued a statement in which he fully condemned the harassment incident. "The perpetrators of this crime have to be penalized and the victim is not to be blamed at all," said the statement. "There is nothing that justifies such a crime."
Nassar apologized for his comments on the victim's clothes, which he attributed to the tension caused by the magnitude of the incident. "I also want to stress that the girl is not to be subjected to any disciplinary action. She will only be summoned to give her testimony about the incident." He also called in a TV interview upon all students who were witnesses to the incidents to give their testimony and pointed out that students involved in the assault could be subject to dismissal from the university.
While Nassar's change in stance was welcomed by women rights organizations, which had earlier described his initial response as "regressive," the reaction of male students interviewed by several media outlets was considered shocking.
Public opinion
In a survey conducted by the Egyptian daily independent al-Shorouk, one of the students, while stressing that the victim was not wearing a loose garment on top of her clothes as claimed by Nassar, blamed university security for admitting her into campus "in such improper clothes." He also said that what the boys did should not be considered harassment.
In another survey conducted by the news website Veto Gate, a student who witnessed the incident blamed the victim for her "extremely provocative outfit." When asked if he ever thought of reporting the incident to the dean, he said: "Why should I report it? She had it coming. She provoked the people." Another student blamed the victim's parents "for allowing her to go out like this."
The most shocking response, however, was that of TV talk show host Tamer Amin who referred to the victim's outfit as "seductive," "revealing," and "slutty" and to the attackers as "sexually frustrated" and "miserable" while also blaming both her parents and university security.
Amin criticized the university administration for not being firm enough with the girl and argued that clothes are not a matter of personal freedom. "She is free to wear whatever she wants or not to wear anything at all when she's out spending the night at bars and whorehouses, but not in state-supervised institutions," he said. "She was obviously going to campus for another reason that is not related to education."
Victim's fear
"If there ever was a case that demonstrated the senselessness of victim-blaming in sexual harassment, it is that of Egypt," wrote Hannah Somerville in The Independent last week.
In her article entitled "Sadly, this poor woman's experience at Cairo University is all too common in Egypt," Somerville noted that a recent U.N. survey revealed that almost 99% of Egyptian women have been subjected to sexual harassment. She, however, expresses her surprise at the lack of official records for the number of harassment incidents owing to women's fear of exposure.
"Strikingly, the majority of data on the topic comes from NGOs and international organizations, for the simple reason that many women do not report such events to the police," she added.
In an article entitled "The streets belong to them - women should stay at home," published in al-Masry al-Youm on March 19, writer Rania Ibrahim linked the Cairo University incident to the general allocation of space between men and women in the Egyptian society.
She recalls seeing a group of young men celebrating New Year's Eve in the streets while she, driving back home at the same time, made sure she locked her car door so that none of them would be able to assault her.
"While men are out celebrating, thousands of women are at home for fear of going out and being harassed and very few take the risk," she wrote.
"The city's nightlife belongs to men because they can do whatever they want without being assaulted or intimidated." The Cairo University incident, Ibrahim argued, proves that the spaces women have been "allocated" by Egyptian society are getting more and more limited.
"Women are now threatened not only in the streets or in public transportation, but also in their work or study places," Ibrahim said, adding that women in Egypt are seemingly allowed to practice their rights while in reality they are being deprived of them.
"It's as if women are allowed to leave their homes under unspoken societal terms: you can work and get an education, but be prepared to bear the consequences if you are humiliated or sexually assaulted while doing so."
http://english.alarabiya.net/en/perspective/analysis/2014/03/30/Are-female-students-safe-in-Egyptian-universities-.html
------------
Specialisations up Wages of Female Expat Teachers
March 31, 2014
JEDDAH — Salaries of female expatriate teachers have increased by 120 percent following the end of the rectification period. This is due to the scarcity of female Saudi teachers who are fluent in English and qualified to teach science.
Expatriate teachers are also given medical insurance and asked to sign binding contracts according to the conditions set by the Ministry of Labor, Makkah daily reported.
A member of the international schools committee at the Jeddah Chamber of Commerce and Industry (JCCI), Dakheelallah Al-Suraisiry, said not only have the salaries of foreign teachers increased, but schools are expected to pay for medical insurance, Ministry of Labor fees reaching SR2,400 per year and visa and recruitment fees.
Al-Suraisiry said JCCI's private schools committee has sent letters to the Ministry of Labor to exempt female expatriate teachers from transfer of sponsorship so that schools can sign internal contracts with teachers who are in the Kingdom as dependents. Currently, dependents cannot work in the Kingdom and most women are reluctant to transfer their sponsorship due to the fear of being bound by official contracts.
Al-Suraisiry claimed that the salaries of female expatriate teachers have doubled, mainly due to a shortage of Saudi teachers who are fluent in English and a delay in the recruitment process of female teachers from abroad.
Chairman of JCCI's private schools committee, Malik Talib, said unlike local private schools, many of which are facing closure because of their inability to pay Saudi teachers a minimum salary of SR5,600 per month as stipulated by the Ministry of Labor, international private schools face a different crisis: acquiring land for their schools. Talib urged the government to help private school owners identify plots of land that are being sold at reasonable rates so owners can build and develop school complexes as required by the government.
http://www.saudigazette.com.sa/index.cfm?method=home.regcon&contentid=20140331200370
------------
URL: https://newageislam.com/islam-women-feminism/grave-site-girls-slain-honour/d/66351