New Age Islam News Bureau
7 March 2015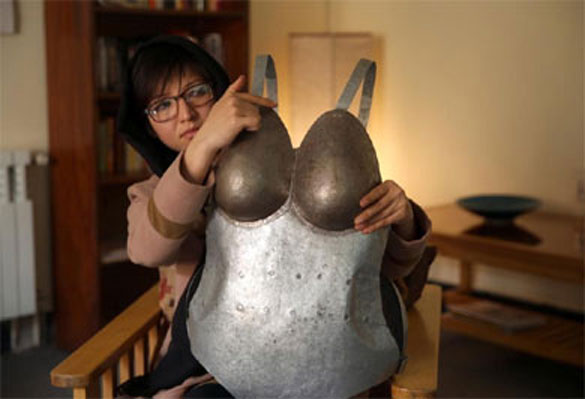 In this Thursday, March 5, 2015 photo, Afghan performance artist Kubra Khademi talks about her art piece, a suit of armour during an interview with The Associated Press in Kabul, Afghanistan.
----------
• Govt Can't Stop Marriage of Minor Muslim Girls: Plea in Madras High Court
• Canadians Collect $52,000 for Hijabi Woman Victim of Discrimination
• Jordan's Queen Rania: ISIS 'Bunch of Crazy People'
• Afghan Female Artist Dons Armour to Protest Street Harassment
• Case in KP: Girl to Move PHC against 'Light' Sentences For Rapists
• Child Marriage Law in Pakistan Given More Teeth
• Harper's Niqab Ban Plays Dangerous Politics
• Jezebel's Feminist Fantasies Glorify Muslim Pirate Wonder Woman
• Motherhood V Career: The Malaysian Mother's Dilemma
• Domestic Violence Advert Stirs Up Storm in South Africa
• Women Underrepresented in Turkey's Top State Posts
Compiled by New Age Islam News Bureau
URL: https://www.newageislam.com/islam,-women-and-feminism/new-age-islam-news-bureau/govt-can't-stop-marriage-of-minor-muslim-girls--plea-in-madras-high-court/d/101856
-----------
Govt Can't Stop Marriage of Minor Muslim Girls: Plea in Madras High Court
Mar 7, 2015
MADURAI: Even before ink could dry on the Madras high court order refusing to be a party to child marriages in the name of religion, another PIL saying government officials should not interfere with marriages solemnized under Muslim personal law has been filed in the court.
In a landmark ruling on Thursday, Justice C T Selvam had disallowed marriage of a 15-year-old Muslim girl, saying, "This court cannot, and would not, pass an order by virtue of which little girls become child brides. When there is a legislative ban on child marriages, the courts cannot go out of their way to help the promoters of child marriages."
On Friday, Madurai-based advocate M Mohamed Abbas filed a PIL faulting government officials who had foiled the marriage of a 16-year-old girl, daughter of Syed Abuthakir of Maharajapuram village in Virudhunagar district.
Though officials said they were forced to take custody of the girl and hand her over to the district child welfare committee, the PIL said the action of social welfare officials had offended the basic tenets of Islam. The department prevented a lawful marriage under Mohammedan Law, and confined the Muslim bride in a home, the petitioner said.
He said officials did not produce the girl before the judicial magistrate concerned, and the parents were prevented from seeing the girl. Noting that the petition had been filed for the overall welfare of the Islam community, the petitioner sought the court's direction to the government to handover the girl to her parents, and award 10 lakh compensation to the family.
When the matter came up for admission, a division bench of Justice S Tamilvanan and Justice V S Ravi directed the government to produce the girl before the court on Monday.
http://timesofindia.indiatimes.com/india/Govt-cant-stop-marriage-of-minor-Muslim-girls-Plea/articleshow/46481240.cms
-----------
Canadians Collect $52,000 for Hijabi Woman Victim of Discrimination
6 March 2015
Rania El Alloul (pictured), a Muslim Canadian woman from Montreal was denied access to the Canadian legal system because she was wearing the Islamic veil.
The single mother of three, who emigrated to Canada from Kuwait twelve years ago, went to a court in the Quebec province because her car was impounded by Quebec's automobile insurance board when her son was caught driving with a suspended driving license.
Little did she know however, a provincial judge told her that she would not hear her case until she removes her Hijab (head scarf).
As soon as the news made it to several Canadian media outlets, Nouman Ahmad of Toronto and Rayan Rafay of Vancouver set an online campaign on fundraising website GoFundMe to raise funds for Rania to purchase a new vehicle.
Their initial goal was set at $20,000. However, the goal was met in only one day, and more than $50,000 has been raised.
Moved by Rania's story and the fact that their country's Charter of Rights and Freedoms was being compromised, many Canadians throughout the North American country donated to the campaign. Others, including prominent politicians such as the conservative Canadian Prime Minister, have voiced their dismay to the judge's decision not to hear Rania's case.
http://www.moroccoworldnews.com/2015/03/153210/canadians-collect-52000-hijabi-woman-victim-discrimination/
-----------
Queen Rania: ISIS 'bunch of crazy people'
7 March 2015
Jordan's Queen Rania on Wednesday branded the Islamic State of Iraq and Syria (ISIS) militant group a "bunch of crazy people" who were staining the name of Islam.
The wife of King Abdullah II urged the international community not to focus on the religious claims of the militants and said ISIS should drop the 'I' from their name "because there is nothing Islamic about them."
"This fight is a fight between the civilized world and a bunch of crazy people that really want to take us back to mediaeval times," she said in a conversation with media mogul Arianna Huffington at a session of the Future of Work conference in London late Wednesday, organized by the Berggruen Institute and the World Post.
She warned against letting ISIS "hijack" the identity of Islam, arguing that it would allow them to set up a "battle of civilizations."
"People call them ISIS, I would love to drop that first 'I' because there is nothing Islamic about them. They have nothing to do with faith and everything to do with fanaticism," she said.
"They want to be called Islamic because it gives them legitimacy and also it means that any action taken against them would automatically be called a war against Islam.
"They want that clash of civilization that people talk about," she added.
The 44-year-old queen warned ISIS that their much-publicized displays of violence, such as the burning to death of Jordanian pilot Maaz al-Kassasbeh, only stiffened the resolve of moderates.
"The scare tactics that these terrorists were using backfired because it just angered Jordanians," she told the Huffington Post founder.
"Instead of making them scared, it made them want to fight."
Kassasbeh was captured by ISIS in December after his F-16 crashed in Syria while on a mission for the U.S.-led coalition against the Sunni extremist group.
http://english.alarabiya.net/en/News/middle-east/2015/03/07/ISIS-bunch-of-crazy-people-Jordan-s-Queen-Rania.html
-----------
Afghan Female Artist Dons Armour to Protest Street Harassment
March/07/2015
KABUL: Afghan performance artist Kubra Khademi was just 4 years old the first time she was molested by a stranger on the street, and recalls thinking one thing: "I wish my underwear was made of iron."
So more than 20 years later she donned a suit of armour with large breasts and buttocks and wore it on the streets of Kabul to protest Afghanistan's endemic harassment.
The eight-minute performance was not well received: She is now in hiding and afraid for her life.
But after a lifetime of being pinched and prodded on the streets, and being told to keep quiet about it, the 27-year-old is determined to break her deeply conservative society's silence on sexual harassment.
Women, even those who wear the all-encompassing burqa, regularly endure verbal abuse and unwanted touching in Afghanistan, where the fight for gender equality is still in its infancy.
After more than a decade of activism, girls are still sold into marriage, domestic violence goes largely unpunished and few women occupy positions of public responsibility.
Khademi was four when a stranger touched her bottom while she was walking to a shop near her family's home in Quetta, where they had joined a tide of refugees fleeing war and the brutal rule of the ultra-conservative Taliban.
She was molested in the streets on many other occasions throughout her life, including one instance shortly after she had returned to Afghanistan in 2008 to take entrance exams to study fine arts at Kabul University.
On that occasion, she screamed, assuming someone would come to her aid. Instead, the crowd turned on her.
"All the people stared at me and even started yelling at me: 'You whore! How dare you scream! Did you enjoy it? "' Khademi told The Associated Press. "Nobody saw that man. Maybe he was among the people shouting at me. This stuff happens daily and I see it. But if I am a 'good girl' I shouldn't say it, not to my mother, not to my brother, I shouldn't say it in public. But I will say it."
The repeated harassment and other deeply personal experiences inform her exhibitions, which can take years to evolve and yet last just minutes.
A late 2013 performance at a Kabul gallery, which many viewers found distressing, consisted of her slapping both sides of her own face for almost an hour.
She said she wanted to highlight her country's tolerance of violence after more than 30 years of war.
Ahead of her Feb 26 suit of armour performance, she spent four months interviewing women about sex, sexuality and identity.
Many stories were about cruelty and loss, but none of the women seemed to own their own experiences, she said. "What I felt was the same: women do not have the right to enjoy, and should not have the right to enjoy. It's like food, you desire to eat, but good women should not talk about it, good women should not enjoy it, good women should not have the right to think of it as her right," she said.
There undoubtedly have been improvements since the US-led invasion toppled the Taliban in 2001.
Billions of dollars in aid have poured into projects aimed at cutting maternal mortality rates, boosting women's access to health care and schooling, and educating police and the judiciary in enforcing constitutional guarantees of equality.
Khademi said the angry reactions from both men and women to her performance, including death threats and accusations that she is an American spy, are proof that Afghan society is changing.
But change is slow, and fear of change remains deeply entrenched.
When she put on the suit of armour and returned to the crowded Kabul neighbourhood where she had been harassed in 2008, the crowd turned on her again.
People threw stones and threatened to beat her, and after just eight minutes she declared the performance over and returned to her car, which was surrounded and damaged by the angry mob.
But amid the melee at least one person seemed to understand the message.
"Look at that girl," she recounted a boy saying who was about 10, not much older than she had been on that distant day in Quetta. "She doesn't want to be touched."
http://www.dawn.com/news/1167997/afghan-artist-dons-armour-to-protest-street-harassment
-----------
Case in KP: Girl to move PHC against 'light' sentences for rapists
March/06/2015
MANSEHRA: A teenage girl, who was gang-raped last year, has expressed reservations about 'light' sentences awarded by an anti-terrorism court to the convicted rapists and decided to move the Peshawar High Court to seek the award of death or life sentence to them.
The girl's lawyer, Ghulam Mustapha Khan, announced on Friday that the sentences given to rapists didn't ensure dispensation of justice to his client, who demanded execution or life sentence for them.
Read: Head of seminary, 2 others convicted in rape case
"We are going to move the high court to seek the change of light sentences for rapists and acquitted girl to death or life sentence," he told reporters here.
An anti-terrorism court in Abbottabad on Thursday convicted a cleric and two others of gang-rape of the girl, a first-year student, in a moving car on May 12 last year and sentenced two of them to 14 years rigorous imprisonment and the third, the car driver, to 10 years detention.
Insists justice not done by anti-terrorist court in the case
However, the co-accused in the case, a girl, was acquitted.
The lawyer for the rape victim said despite strong evidence and statement of his client, the court didn't appreciate evidence judicially and according to the facts, the offence was of serious nature under the Anti-Terrorism Act.
"Clause 6 of the ATA states that an act or crime, which creates so much sense of fear among public that they avoid sending their children, especially girls to schools or out of home, is liable for capital punishment but the ATC didn't follow it," he said.
The lawyer said evidence, DNA tests and medical reports confirmed the gang-rape but the punishment awarded to convicts didn't match the crime and that justice was not done in the case.
He said he would move the Peshawar High Court bench in Abbottabad next week to seek capital punishment or life imprisonment for convicts and the acquitted girl.
"I am going to submit a revision petition seeking capital or life sentence for convicts and the acquitted co-accused," he said.
AGREEMENT ON PRICE LIST: The district administration and traders on Friday settled a dispute over punishment for the violation of the official price list.
Under the agreement, traders will strictly follow the price list issued by the district price control and review committee.
"We want end to artificial inflation. If traders follow the official price list, we will neither act against them nor will we fine them," deputy commissioner Aamir Khattak told traders with a meeting in his office.
The traders had observed a shutter-down strike on Wednesday after the district administration fined 52 traders over profiteering.
President of the traders body Hafiz Ijazur Rehman said the district administration should respect traders and treated them as respectable citizens.
He also said traders not following the official price list should be fined instead of being taken to the police stations.
The deputy commissioner said the administration would continue cracking down on artificial inflation and hoarding.
He said trades should exhibit price list at prominent places in shops and stores and strictly follow it. Khattak said both the district price and review committee and district consumer protection councils would be expanded by induction of more members.
He announced Rs3 million for the city's cleanliness and Rs1.5 million for the expansion of slaughterhouse.
Traders assured the deputy commissioner that they would follow the official price list.
Meanwhile, the Mansehra municipal committee on Thursday fined eight butchers for selling 'unstamped' meat.
http://www.dawn.com/news/1167955/case-in-kp-girl-to-move-phc-against-light-sentences-for-rapists
-----------
Child Marriage Law in Pakistan Given More Teeth
7 March 2015
Islamabad — The Punjab Assembly on Friday approved a bill proposing an amendment to the Child Marriage Restraint Act 1929 under which parents and clerics who allow the marriage of underage children will face greater penalties than they had under previous versions of the law.
Under the Punjab Marriage Restraint (amendment) Act 2015, the penalties have been enhanced for contracting a marriage with a child in order to curb child marriages while saving women from exploitation.
Among the revisions to the law are the imposition of a six-month prison term and a fine of Rs50,000. In addition, there will be a prison sentence and fine imposed on the cleric overlooking the marriage ceremony.
Previously, parents faced a month-long prison sentence and a fine of Rs1,000, while clerics were not penalised in any way. The changes have been made after the Punjab Assembly had, earlier this year, discussed the possibility of amendments to the law.
The Sindh Assembly passed a Child Marriage Restraint Act in 2013, making it the first provincial assembly to do so.
As per the newly amended legislation on Muslim Family Laws, it will be mandatory for Nikah registrar to ensure all sections in Nikahnama are filled to avoid exploitation of the rights of a bride.
The Punjab Muslim Family Laws (amendment) Act 2015 protects women from exploitation, as well as facilitates speedy resolution of family disputes. Under the said law, union councils shall grant licenses to Nikah registrars for registration of marriages.
In December last year, Justice Shaiq Qazi had emphasised the need for clarity regarding child marriage legislation.
"It is stated that whoever indulges in child marriage is a criminal. But then who is that really? The parents or guardians? The Qazi who performs the nikah? The guests at the wedding? Who? It is important to define who that criminal is because you cannot offend the people, you need their cooperation to implement the law. So more work is needed here," he had said.
He also warned against citing religious precedent concerning the marriage of minors and touched up on the need for ensuring the law is followed.
news@khaleejtimes.com
http://www.khaleejtimes.com/kt-article-display-1.asp?xfile=data/international/2015/March/international_March170.xml&section=international
-----------
Harper's Niqab Ban Plays Dangerous Politics
Mar. 06 2015
Gerald Caplan is an African scholar, former NDP national director and a regular panelist on CBC's Power and Politics.
Meet Zunera Ishaq. I'm sure you've heard about her already though you may not place the name.
Zunera Ishaq hails from Pakistan where she was a high school teacher, lives in Mississauga, Ont., is 29 and has 3 kids. She came to Canada in 2008, passed her citizenship test five years later with flying colours, and is now ready to take the oath of citizenship. She's been "imagining [this moment] for so long" because she's anxious to be a full and active member of Canadian society. She and her husband chose Canada over other countries, she says, because "It is especially important to me to live in a country of religious freedoms since I am a devout Muslim."
She's already a volunteer at her eldest child's school – a public school – and at a local women's shelter, and once she becomes a citizen she is determined to have an active say in her country's future. Her lawyers, Lorne Waldman and Naseem Mithoowani, have been impressed by her feistiness, independence and determination. Zunera Ishaq would be, from all accounts, a model Canadian.
Yet if it were up to the Prime Minister of Canada, Ms. Ishaq would have to settle for "imagining" her citizenship until hell freezes over. Why? Because she wears a niqab, which covers her entire face except her eyes. Ms. Ishaq says in a court affidavit that "I first started wearing the niqab when I was approximately 15 years old….After I had done research….I came to the conclusion that the niqab is mandatory to my faith." While many Muslims disagree, each is free to make these decisions for herself.
It's perfectly legal, harms no one, but is providing ammunition for Stephen Harper's election campaign.
The story begins in 2011, when then-immigration minister Jason Kenney arbitrarily decreed that faces couldn't be covered at citizenship oath-taking ceremonies. This was a direct blow to Ms. Ishaq. She is prepared to unveil herself in private to an official before taking the oath, but will not appear unveiled at the public ceremony. She approached the University of Toronto's legal aid clinic who put her in touch with Lorne Waldman, one of Canada's top-notch immigration lawyers. Mr. Waldman went to court to challenge the government and won. In his words, "The Court found that the policy of requiring a woman to remove her facial covering, where there is no question of identity or security, was illegal. The government is required to follow the law."
Well, not so fast. Never mind the law. We're talking about politics here. The government has decided to appeal the ruling against them, as just one of their battery of pre-election attacks against Muslims here and abroad. For what I believe are crassly political motives, they are deliberately inflaming Canadians against each others. Now we know what Conservatives mean by "Canadian values."
Ms. Ishaq has been personally singled out for the national spotlight by no less than Stephen Harper himself. In fact the entire government of Canada seems obsessed by this one woman, while the Conservative Party of Canada actually rushed out a fund-raising appeal based on Ms. Ishaq's apparently mortal threat to the Canadian Way of Life.
Quite simply, the Conservatives have decided that she is a useful weapon in their re-election campaign. By scapegoating her while introducing their much-criticized new anti-terrorism bill, they hope to convince frightened voters that the Conservatives are their best hope against dangers of all kinds. But in doing so, they are instead actually jeopardizing the country's security. Stephen Harper and his minions are actually subverting the work of our security forces by alienating much of the Muslim community.
CSIS and the Mounties badly need the co-operation of the Muslim community to provide information about security risks among them. Yet even moderate Muslims – the large majority – are outraged by the way the government has, among other things, been picking on this one harmless Muslim woman, and in the process mocking the right of all Muslims to follow their religion in the way they want. Out of sheer political opportunism, Stephen Harper is undermining that community's trust in official Canada while very likely estranging and radicalizing some Muslims, perhaps dangerously. How can he possibly not understand this?
Other Canadians are also guilty of this reckless behaviour, further angering all Muslims and in particular alienating younger ones. Far too many of these provocateurs are from Quebec, people with responsible positions as political, community and judicial leaders. They are not merely bigoted and intolerant. They are also divisive and destructive. They are playing into the hands of ISIS. As they surely must understand, they are sending an unmistakable message to every Muslim in the land: You are not one of us and we don't trust any of you. And that message is being heard loud and clear by Muslims everywhere, with predictable repercussions.
Is it really too much to expect the Prime Minister of Canada to act responsibly at a time like this? It seems it is. Politics trumps all, even if it means turning other Canadians against Muslims and turning Muslims against official Canada. The consequences of both remain to be seen.
http://www.theglobeandmail.com/news/politics/harpers-niqab-ban-plays-dangerous-politics/article23340295/
-----------
Jezebel's Feminist Fantasies Glorify Muslim Pirate Wonder Woman
6 Mar 2015
Jezebel contributor Laura Sook Duncombe has discovered a "Cinderella story of unusual satisfaction" in a sixteenth-century female Muslim piracy organizer. Writing for the feminist blog Jezebel, Duncombe's Orientalist fantasy "of an independent and beautiful woman" in Morocco who terrorized non-Muslims shows how deluded and self-hating Western political correctness has become.
Duncombe recounts the life of the "last Islamic queen," a woman only known to history by her title Sayyida al-Hurra. As the Moroccan historian Fatema Mernissi explains in her book The Forgotten Queens of Islam, al-hurra means "free woman" in Arabic while sayyid/sayyida mean "master, lord"– or, in modern usage, Mr./Mrs. Al-Hurra was born in Granada in 1485 but had to flee with her family to Morocco in 1492 when Christian forces completed their Reconquista of the Iberian peninsula and overthrow Muslim rule established by invaders centuries earlier.
Duncombe notes that Al-Hurra married "Abu al-Hasan al-Mandri, a man many years her senior to whom she'd been promised to as a child" and ruler of the town of Tetouán. As others have elaborated, al-Hurra was 16 and al-Mandri 30 years older when they entered a marriage that at least does not shock modern sensibilities like the child marriages existing throughout Islamic history. Unmentioned in Duncombe's tale of al-Hurra's "life full of adventure and romance," al-Mandri could have theoretically consummated his marriage when al-Hurra was nine. Islam's Muhammad, whose biography has a canonical status, consummated in his mid-50s a marriage with a nine-year-old, Aisha. Al-Hurra is also cryptically referred to as al-Mandri's "chief wife," raising the possibility that she was not his only companion under Islamic laws of polygamy and concubines.
Upon al-Mandri's death in 1515, Mernissi describes prosaically, al-Hurra became "Hakima Tatwan (governor of Tetouán). Tetouán "accepted her as governor without demur," Mernissi explains, because al-Hurra's "husband decidedly older than herself… lost his sight at the end of his life." This led to the "precocious involvement of his wife in political affairs" and the "community grew accustomed to seeing her exercise authority." (In an alternative theory left open by scant historical records, al-Hurra married not al-Mandri senior, but his son al-Mandri II, who recognized his wife's abilities and left her in charge during his travels.)
In subsequent years, al-Hurra developed Tetouán into a leading Muslim pirate base, continuing in a centuries-old tradition that had long scourged the Mediterranean's non-Muslim communities. Al-Hurra's depredations appear as righteous revenge for expulsion from Granada during a woman's "transformation from refugee to Queen" in Duncombe's overactive imagination. "I can picture her as a tiny child, face streaked with tears, watching the lights of her home fade away from the deck of a ship, promising to herself to make those who had taken her life from her pay." Al-Hurra and other Andalusian exiles "could never shake off the feelings of shame and fear" for losing "their Granadan homeland" and therefore a "desire for revenge" led to a "holy war against the Catholics."
Yet historical facts belie Duncombe's narrative of aggrieved Muslims retaliating. Mernissi recounts how al-Hurra's family and other Andalusian Muslims "decided to return to North Africa after the fall of Granada." Arab Muslims, after all, were not originally indigenous to the Iberian Peninsula or North Africa, for that matter, but took root there as a result of jihad conquests. Mernissi writes that al-Hurra "found no better way to ease the humiliation of defeat than… piracy." Islamic doctrine overlooked by Duncombe has historically justified such aggressive Islamic holy war on land or at sea in the form of piracy without any prior grievance.
Duncombe rejoices strangely in al-Hurra's "ruthless pirate fleet" that dominated the western Mediterranean, once raiding Gibraltar, and took captives for either enslavement or ransoming, including the Portuguese governor's wife. "Hostage negotiations went through" al-Hurra, "everything having to do with piracy went through her." The "money she stole from Catholic coffers… revitalized her new hometown" Tetouán and compensated property lost in Granada; "everyone was benefiting from her labors."
Mernissi, upon whom Duncombe and others rely for their knowledge of al-Hurra, analyzes how her name indicated Muslim society's stark inequality. Al-hurra "described the legal wife, often of aristocratic descent, as opposed to the jarya, who was bought by the master on the slave market." "Hurr in Arabic has no democratic or popular connotation," but "is what distinguishes a person from being a slave, from being inferior," a "concept intrinsically linked to sharaf, the aristocracy."
A "sparsely documented" historical record leaves Duncombe and others with little knowledge of Al-Hurra's end. Most likely the stepson of Duncombe's "beloved Queen and fierce pirate" from her second marriage to Morocco's king deposed her in 1542, and "after that, she disappears from history altogether." Muslim female political leaders throughout history, Mernissi observes, were often "poisoned or stabbed. Rare were those who died peacefully in their beds." Muslim historians often pass over these women with "disdainful silence."
Notwithstanding her rejection of "holy wars and revenge vendettas," Duncombe finds bizarrely in Al-Hurra "virtues valuable to all women" counteracting "dangerously prejudicial" modern images of the "Muslim woman." While President Barack Obama has inaccurately condemned the Crusaders as mere criminals and warned against a Christian "high horse," his follower Duncombe lauds a female predecessor of modern jihadists, both male and female. Duncombe and Obama's historical understanding of Islam would be funny if it were not so serious.
http://www.breitbart.com/national-security/2015/03/06/jezebels-feminist-fantasies-glorify-muslim-pirate-wonder-woman/
-----------
Motherhood V Career: The Malaysian Mother's Dilemma
BY JENNIFER GOMEZ
7 March 2015
Working in the service industry, the 33-year-old from Kuching has to do eight-hour shifts around the clock and wished her company had a policy where she could transfer to another department to be able to cope with family needs.
"There are other departments which could offer me the stability of working from 9 to 5pm, but I would need some training.
"Unfortunately, there is no such policy, so I need to get out," she said.
Mother-of-two Pauline Teo, who joined multinational company BASF Asia Pacific Service Centre last year, chose to return to work after a seven-year career break and decided to pursue a different line.
Formerly in the pharmaceutical line for eight years, she is now a human resource analyst and works four hours a day under a job-sharing arrangement, which means that Teo shares the responsibility of what is typically one job with another person.
"For me, the reason for going back to work was for self-fulfillment and to focus on myself.
"In fact, the thought of going to work was relaxing after full-time motherhood duties," she said.
Teo said she wished more companies would offer training programmes for people like her, who want to return to work but prefer to take on different fields than what they previously used to do.
According to Maybank group chief human capital officer, Nora Abd Manaf, the bank offers its employees a wide range of flexible working arrangements (FWA) including, flextime, telecommuting and reduced hours.
Women made up 58% of the workforce in Maybank as of last year, and their representation in senior management grew from 11% in 2008 to 35% in 2014.
But while select companies have begun to realise the importance of facilitating women, TalentCorp chief executive officer Johan Mahmood Merican said that in Malaysia currently, only one-third of public listed companies have some type of flexible working arrangements for women who have to find a balance between home and job.
This essentially means that many mothers are forced to choose between a fulfilling career, and spending more quality time with their families.
Johan said that another concern with women dropping off work was that it usually involves high performing individuals, given that they had to work hard and as such were unable to find a work-life balance.
"But these are the ones we want to retain in the workforce so that they can be future leaders," he said.
Facilitating work-life balance for women a business case
Given that women make up 70% of those enrolled in public universities in Malaysia, getting women to stay on in the workforce and facilitating returnees was a business case to access the country's talent pool.
"Therefore, if companies do not figure out how to attract and retain women in the workforce, there will naturally be a talent crunch," Johan told The Malaysian Insider.
TalentCorp's goal now is to to achieve a "double peak" profile for the labour workforce made up of women in Malaysia.
Malaysia currently has a "single peak" profile, Johan (pic, left) explained, where for gender participation according to age, the graph peaks once when women are in their 20s and gradually drops off, never to peak again.
He added that national statistics show that this was because women leave the workforce to fulfil traditional gender roles, such as motherhood.
"But in other countries like Korea and Japan, there is clear double peak profile, which means that those who leave the workforce, eventually come back, creating the second peak," he added.
While more and more companies are beginning to reach out to women returning to work, many are still resistant to the idea of FWA, claiming that it was costly and complicated to implement.
Johan Khoo, managing director at Accenture Strategy Communications, Media & Technology, said that what was most needed among Malaysian employers was a change in mindset.
He added that traditional workplace was evolving and Malaysian companies must evolve as "millennials will demand it".
Khoo said that getting the Malaysian corporate sector to look into offering flexiblities for the workforce was imperative, as failure to do so would make the country uncompetitive regionally as well as globally.
As it is, Malaysia's women labour force participation rate was one of the lowest, at 52.4%, among Asean countries, according to a survey by TalentCorp.
"Flexiblity should be for everyone but we are focusing on women because that is the largest untapped pool of talent currently in Malaysia," Khoo told The Malaysian Insider.
He said the government was the first to offer staggered working hours more than two decades ago, then to solve the traffic congestion at government offices in Jalan Duta, Kuala Lumpur.
"So if the government can implement something as simple as that, why can't Malaysian corporates (do it)?
"It is not hard, it's a question of a little trust, they need to realise that if you lend trust to employees, they will give it back to you," Khoo said. – March 7, 2015.
http://www.themalaysianinsider.com/malaysia/article/motherhood-vs-career-the-malaysian-mothers-dilemma
-----------
Domestic Violence Advert Stirs Up Storm in South Africa
07 Mar 2015
An image of a battered woman in a tight-fitting gold-and-white dress has caused a social media storm in South Africa and around the world.
The picture was published in local newspapers on Friday as part of a Salvation Army campaign highlighting the scourge of the abuse of women in South Africa.
The church group's advert shows a blonde woman wearing a copy of the dress that recently generated a huge online debate as to whether it was white and gold or black and blue.
The woman wearing the dress in the Salvation Army picture has dark bruises visible on her face and body.
The caption reads "Why is it so hard to see black and blue? ... One in six women are victims of abuse. Stop abuse against women."
'The Dress' returns in powerful campaign against domestic violence for Salvation Army http://t.co/Elr6XTkzNO
— The Stream (@AJStream) March 6, 2015
The best hijacking of online culture I've seen recently. Bravo to the Salvation Army. pic.twitter.com/Lx3dWzlv2k
— Andrew Blakeley (@ABlakeley) March 6, 2015
With over 3,000 tweets in the space of an hour, the abuse picture went viral on Twitter, as users expressed different views about the message behind the dress.
The Salvation Army website said that within a few hours of its publication more than 16 million people had seen it via online media.
Although the message struck a chord among many in a country with one of the highest cases of domestic violence, others were dismissive.
Carin Holmes, Salvation Army spokesperson, said the church was "enormously encouraged that so many people on social media appear to be passionate about fighting the abuse of women".
http://www.aljazeera.com/news/2015/03/domestic-violence-advert-stirs-storm-south-africa-150307071152148.html
-----------
Women Underrepresented in Turkey's Top State Posts
March/06/2015
Women continue to be underrepresented at Turkey's top-level state positions, according to recent research released by a Turkish NGO working on women's representation.
On the eve of International Women's Day, which is celebrated each year on March 8, the Association for the Support and Training of Women Candidates (KADER) released its eighth annual report about the representation of women in Turkey's top state positions.
While 77 of 535 MPs are women, the ratio of female to male ministers in the cabinet is just one to 25. In addition, only two of Turkey's 81 provincial governors are women and only one of its 25 undersecretaries are women.
While only one head of Turkey's top judicial bodies is a woman, three of 300 metropolitan municipality mayors and 14 of 174 university rectors are women, according to the KADER report.
It all adds up to picture in which women barely exist in decision-making positions in the Turkish state.
KADER Head Gönül Karahanoğlu said on March 6 that Turkey was making little progress regarding the representation in women in the state's top positions.
"Women, who constitute 50 percent of society, also need to be represented at 50 percent in parliament. The ratio of 14.39 percent of women in parliament means that women don't have their voices heard and don't get equal-rights legislation passed," said Karahanoğlu.
She also added that there were no women deputies in 43 of Turkey's provinces, and expressed the hope that this would change with the general elections on June 7.
http://www.hurriyetdailynews.com/women-underrepresented-in-turkeys-top-state-posts.aspx?pageID=238&nID=79311&NewsCatID=341
-----------
URL: https://www.newageislam.com/islam,-women-and-feminism/new-age-islam-news-bureau/govt-can't-stop-marriage-of-minor-muslim-girls--plea-in-madras-high-court/d/101856