New Age Islam News Bureau
1 Jan 2013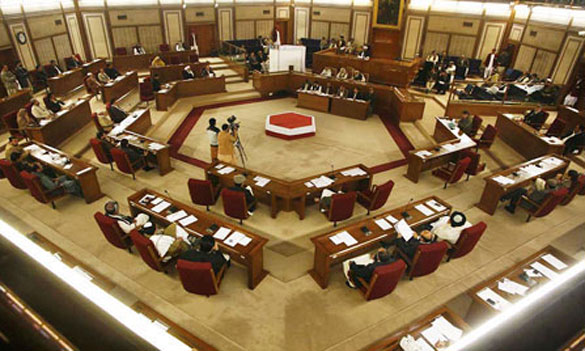 • Doctors yet to confirm rape of the Murdered Woman in Kolkata
• Armed Men Gunned Down a Woman in Quetta
• Hyderabad: Osmania University student found dead
• Balochistan Elects First Woman Deputy Speaker
• Laws Hurting Bangladesh Women Linger on the Books
• Yemeni Girls Keep Up With Fashion in Cold Weather
• Teacher clobbered for slapping a female student
Compiled by New Age Islam News Bureau
Photo: Balochistan Elects First Woman Deputy Speaker
URL: https://www.newageislam.com/islam,-women-and-feminism/new-age-islam-news-bureau/government-run-girls'-school-dynamited-by-militants-in-khyber-agency/d/9844
------------
Government-Run Girls' School Dynamited By Militants in Khyber Agency
January 01, 2013
Khyber agency - A government-run girls middle school was dynamited by militants here in Baqarabad area of Tehsil Jamrud, official and local sources said Monday. Sources said late on Sunday night an explosive device planted by militants at Government Girls Middle School
Moweez Kaley went off with a bang. Sources claimed that blast razed the school building to ground burring the watchman, Munir, under debris.The local administration rushed to the scene soon after the blast and shifted the body to hospital, besides gathering evidence for investigation, sources added. It is important to note that the number of demolished school in Khyber has reached 66 now.
http://www.nation.com.pk/pakistan-news-newspaper-daily-english-online/national/01-Jan-
2013/girls-school-dynamited-in-jamrud
------------
Doctors yet to confirm rape of the Murdered Woman in Kolkata
By Sanjib Chakraborty
Jan 1, 2013,
BARASAT: Even after 48 hours of the alleged gang rape and murder of the 45-year-old woman from Barasat, police are yet to make any breakthrough in their probe.
A five-member team led by Puspendu Sengupta, the superintendent of Barasat district hospital, conducted the post-mortem on the victim on Sunday. According to sources, the medical team did not reach any conclusion whether the woman was raped. "Initially, it was not confirmed in the autopsy that she was raped. It is also difficult to confirm whether a 45- year-old woman, who has spent a long married life, was raped or not. A forensic test will also be conducted to confirm whether there was any rape," a senior official of the hospital authorities said.
Meanwhile, the CID officially took over the case on Monday. "According to the state government's order, we have taken over the Barasat case and an investigation has already been started by a team," said Shibaji Ghosh, ADG, CID.
Though police have arrested one Ichha Morol, a resident of Sarberia in South 24-Parganas, in this connection but are yet to ascertain whether Morol had masterminded the attack
on woman and her husband. Morol is a worker of the same brick kiln where the victim and her husband also worked. Police arrested him on Sunday following an initial statement of
Mahashin Ali, the victim's husband who is still undergoing treatment at R G Kar hospital.
"The investigation is on. We are exploring all possible angles. An accused has already been arrested and more persons are being interrogated. We are also waiting for the final statement of the victim's husband who is undergoing treatment. The raids are being also conducted to nab the others involved in the crime and the arrested person is being interrogated in this connection," said Sugato Sen, SP, North 24-Parganas.
Alfaz Ali, the victim's elder son, said: "Police are frequently visiting our place for interrogation. We are also co-operating. We want the miscreants, who raped and murdered my mother, to be punished."
After recovering two weapons from the murder spot police are also investigating whether it was pre-planned. Police recovered a hammer and a blood stained dagger from the water body, where the victim's naked body was found lying in a pool of blood on Saturday evening.
"Several deep injury marks were found on the victim's head while after a preliminary investigation we suspect that she was hit hard with both sharp and blunt weapons. We are also investigating whether any enmity could have led the murder," an investigating officer said.
http://timesofindia.indiatimes.com/city/kolkata/Barasat-Doctors-yet-to-confirm-rape/
articleshow/17837999.cms
------------
Armed Men Gunned Down a Woman in Quetta
January 01, 2013
QUETTA: Unidentified armed men gunned down a woman in Musa Khel district, police said on Monday. Police said that unidentified gunman entered a house in Kangri and fired on a woman, killing her on the spot before fleeing. Police shifted the body to a nearby hospital for postmortem. app
http://www.dailytimes.com.pk/default.asp?page=2013\01\01\story_1-1-2013_pg7_10
----------
Hyderabad: Osmania University student found dead
January 01, 2013
A 23-year-old student of Osmania University was found dead under mysterious circumstances at the house of her classmate in Chatrinaka area of Old City in Hyderabad, police said on Tuesday.
The young woman was suspected to have been strangled to death on Monday night. Her body has been sent for postmortem, they said.
The body was found lying at the house of Shiv Kumar, who is a Ph.D student at the Osmania University, police said.
Chatrinaka Police said Shiv Kumar was absconding since the incident.
An autopsy was being conducted on the girl's body and only after the report more details will be clear about the incident, police added.
http://www.hindustantimes.com/India-news/Hyderabad/Hyderabad-Osmania-University-student-found-dead/Article1-983519.aspx
------------
Balochistan elects first woman deputy speaker
January 01, 2013
* JUI-F's Syed Matiullah Agha and BNP-Awami's Fouzia Marri elected as speaker, deputy speaker of Balochistan Assembly
QUETTA: The Balochistan Assembly on Monday elected Dr Fouzia Marri as its deputy speaker, the first woman to be elected to the position.
The leader of Jamiat Ulema-i-Islam (Fazl) Syed Matiullah Agha was elected as speaker. It is for the first time in the parliamentary history of the Balochistan Assembly that a female legislator has been elected unopposed as deputy speaker in the provincial legislature. The slot of speaker fell vacant after the House adopted with majority a no-trust motion against former speaker, Muhammad Aslam Bhootani, on December 26.
The session of Balochistan Assembly teed off with Deputy Speaker Matiullah Agha in the chair for the elections of speaker and deputy speaker. While there was no other agenda other than the election, Agha, being a candidate for speaker, left the speaker's seat and the assembly was later chaired by Dr Fouzia Marri, member of Panel of Chairmen of the House.
Full report at:
http://www.dailytimes.com.pk/default.asp?page=2013\01\01\story_1-1-2013_pg1_3
------------
Laws Hurting Bangladesh Women Linger on the Books
By Aruna Kashyap
December 26, 2012
(WOMENSENEWS)--Sitara S. (she and the other women requested anonymity) is a Muslim woman living in Bangladesh. She gave her husband her earnings so he could get a driver's license, earn a better income and support the family. Soon after he learned to drive and got a job as a chauffeur, he vanished. She contacted the police and was shocked to learn that her husband had summarily divorced her. They showed her a copy of a divorce notice that he supposedly served her.
Now Sitara struggles to pay rent and feed her children. "I work in homes and beg them to give me something to eat and bring back leftovers for my children," she said.
Namrata N., a Hindu woman, gave her life savings to her husband to start a business. He misused the money and turned violent when she demanded that it be returned. He later tricked her into drinking acid.
Today, Namrata cannot eat or drink. She is fed through a feeding tube inserted into her intestine. Namrata is strong and wants to divorce her husband, but Hindu family laws in
Bangladesh do not permit divorce.
Full report at:
http://womensenews.org/story/law/121221/laws-hurting-bangladesh-women-linger-the-
books#.UOKtduRthm4
------------
Yemeni Girls Keep Up With Fashion in Cold Weather
Ashraf Al-Muraqab
31 December 2012
With cold weather comes the opportunity for Yemeni women to branch out of the all black
Abaya and add some flavour to their wardrobe with colourful sweaters and sweatshirts.
Ranging from toned-down, elegant cardigans to loud, zip-up sweatshirts trimmed with fur and covered in rhinestones, there's a sweater for every personality.
While also keeping you warm, sweatshirts provide cover for those wanting to express their fashion sense.
"Under the pretext of cold weather, we have deviated from the imposed norms and succeeded in making our society accept this," said Najwa Al-Qaisi, a private sector employee.
University students, Hayam Noman and Noha Al-Qadasi, go winter shopping to find suitable clothing for Sana'a's chilly season. While keeping them warm, fashion is an important calculation for these young women.
"Girls are looking for trendy, fashionable clothing," said Noman.
Noman, a seasoned shopper, said that Sana'a's bustling clothing stores are teeming with options at price ranges suitable for anyone's budget.
The black Abaya, black Niqab combination is so ubiquitous in Yemen that women across social, cultural and economic classes follow the unofficial dress code. There is no law enforcing the dress, but that hasn't made it any less popular for university students, government workers and sex workers alike.
According to university student Asma Al-Amri, the trend towards colorful sweaters on top of the black dress is new.
Full report at:
http://www.yementimes.com/en/1638/report/1799/Yemeni-girls-keep-up-with-fashion.htm
------------
Teacher clobbered for slapping a female student
January 1, 2013
The relatives of a female student allegedly beat up a schoolteacher in Charghat Upazila on Sunday for slapping the girl in classroom about a month ago.
Monwar Hossain, assistant teacher at Joypur Government Primary School and resident of
Pasundia village, suffered bruises all over his body. He was admitted to Rajshahi Medical College Hospital.
The school's headmistress said 11-12 men clobbered Monwar with hammers and bamboo sticks at the school playground. Monwar was quoted as saying he slapped a class V student for not doing homework.
Full report at:
http://www.thedailystar.net/newDesign/news-details.php?nid=263383
------------
URL: https://www.newageislam.com/islam,-women-and-feminism/new-age-islam-news-bureau/government-run-girls'-school-dynamited-by-militants-in-khyber-agency/d/9844