New Age Islam News Bureau
29 Aug 2018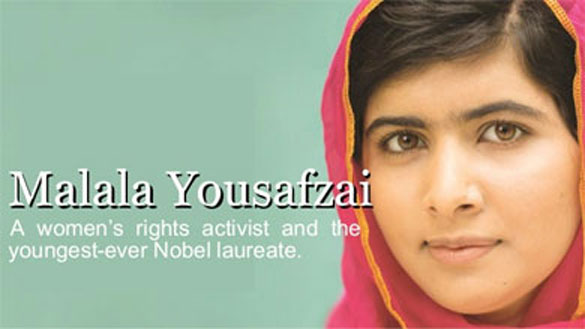 Malala Yousafzai: Global Effort on Girls' Education Defeating Taliban's Purpose
-----
• Egypt's Top Muslim Authority Condemns Harassment of Women
• UP Women Slam Cleric for Objecting To Them Tying Rakhis to Cops
• Saudi Women Entrepreneurs Grow Their Ventures at US Incubator
• 'Save Me:' Nigerian Schoolgirl Kidnapped By Boko Haram Pleads For Freedom
• Saudi Arabia's New Female Bosses: Our Goal Is to Keep Pace with Vision 2030
• Saudi's Jeddah Plans Women Valets for Restaurants
• No Law against Senior Women Judges, Senate Told
• Human Rights Lawyer Nasrin Sotoudeh Faces Three New Charges
Compiled by New Age Islam News Bureau
URL: https://www.newageislam.com/islam-women-feminism/global-effort-girls-education-defeating/d/116229
--------
Global Effort on Girls' Education Defeating Taliban's Purpose: Malala
29 AUGUST 2018
Las Vegas, Aug 29 Taliban's efforts to keep girls away from education in Pakistan was defeated by their very action of shooting her, says Malala Yousafzai, the world's youngest Nobel laureate.
"The result is that today millions of people all over the world are speaking out" and taking action against keeping young girls away from the liberating influence of education, she told an audience of several thousand techies here on Tuesday.
She was invited by VMware for their VMworld 2018 conference to talk about her rising from the near-death experience to become a leading voice in the world on educating young girls.
Malala was shot in the head by a Taliban member in 2012 when she defied the diktat of the Sunni Islamic fundamentalist movement, which was entrenched in Afghanistan.
She was interviewed on the stage by Sanjay Poonen, Chief Operating Officer of VMware.
Born in Swat Valley of Pakistan, Malala said her life was as normal as could be and she was lucky to have a father who believed in her and in educating girls.
"We could not then believe that something like the Taliban could happen, as you cannot today, here, that someone would come with guns and take away your right to education."
She was repeatedly greeted with applause from an appreciative audience as she told her story of defiance.
She said she had to fight against the mindset of people -- manifested by the Taliban men -- who were against educating girls, or even allowing them to move out of their homes alone.
"They were against education because they knew that it would empower women to be independent."
Men with guns first banned music, and then they stopped women from going out and finally prevented the girls from being educated.
Malala did not remember the incident leading up to her shooting in the Swat Valley as she recalled the moment when she woke up in a hospital in Birmingham, UK, where she stayed for two and a half months.
She was conferred the Nobel Prize for her courage and became an activist and a symbol of defiance against the Taliban's brand of politics.
Poonen sought to know why she had forgiven the person who sought to kill her. She said he was a young Taliban follower who was told that he had to kill a "blasphemous" person. He thought he was a doing good in a twisted thinking about Islam -- a religion, she said, which spreads the message of kindness, tolerance and peace.
She said she hoped that the person gets education and realises the true meaning of the religion he was following. She also did not want to hold on to the anger. "Hate and anger is a waste of energy and I did not want to waste my energy", and so she moved on to "forgive" the person who had attacked her.
She told the audience that she was named after Malalai of Maiwand who had defied the British troops in the 1880 Battle of Maiwand in Afghanistan, who was one of the few women known in history from the area, because traditionally women "did not have names", as they were confined behind Burqas or head-to-toe-covering.
"They were called either someone's daughter or sister," not having a name of her own.
Talking on a lighter note at the conference, she said she was overwhelmed by "too many acronyms" used by the techies, bringing the house down. She spoke about her love of cricket and how she tried to explain to Westerners that it "was okay" to play a game for five days which was exciting and not boring as many thought.
She spoke about the need for India and Pakistan to have good relations, "but when it comes to cricket we are rivals". She said it did not matter who got the cricketing World Cup as long as Pakistan won against India.
Poonen, of Indian origin, and who is responsible for worldwide sales, services, alliances, marketing and communication at VMware said that the two nations were united in their love for the game.
Malala also spoke about doing everything to ensure that girls get educated since 150 million of them worldwide did not get the "liberating influence" which would give them freedom and independence.
She works to raise money for her foundation which works in several countries towards that goal.
She told the 100 students invited to the conference from two schools that they should "believe in themselves" and speak up about things they believe in.
"There is no such thing as young age for taking up causes," she told a student who posed a question on behalf of the others, pointing to her own age of 10 or 11 when she took up the fight against the Taliban.
Poonen announced Dell Technologies' - VMware's parent company - plan to provide the invited students' school with computers, and he urged his colleagues (some 23,000 of them) to donate to Malala's foundation for which the company would provide matching funds.
(Hardev Sanotra is in Las Vegas at the invitation of VMware for its VMworld 2018 conference. He can be reached at hardev.sanotra@ians.in)
https://www.outlookindia.com/newsscroll/global-effort-on-girls-education-defeating-talibans-purpose-malala/1371899
--------
Egypt's Top Muslim Authority Condemns Harassment of Women
AUGUST 29, 2018
BEIRUT, Aug 28 (Thomson Reuters Foundation) - A statement by Egypt's highest religious authority denouncing sexual harassment could be a turning point in efforts to crack down on abuse against women, activists said on Tuesday.
Al-Azhar, which has huge influence over Egypt's mostly Muslim population and trains most of the country's imams, took to Facebook and Twitter this week to denounce the practice of harassing women, including over their behaviour or clothing.
Activist Lobna Darwish said the al-Azhar statement would create debate around the issue, even if it did not immediately change minds.
"They have the ability to promote this language against sexual harassment everywhere in Egypt ... So they can at least change part of the culture," she told the Thomson Reuters Foundation by phone from Cairo. "We hope this is a new beginning or a step, a decision, a political commitment to working on sexual harassment," said Darwish, gender and women's rights officer for the Egyptian Initiative for Personal Rights.
Cairo was named most dangerous megacity for women in an international perception poll carried out by the Thomson Reuters Foundation last year.
Women's rights experts said the treatment of women in the Egyptian capital had worsened since a 2011 uprising seeking social change, with harassment a daily occurrence.
Suad Abu-Dayyeh, a Middle East expert with global advocacy group Equality Now, said it was "significant that al-Azhar has denounced sexual harassment because people in Egypt, or in our region, depend so much on the religious scholars".
But she said both government and civil society needed to do more to change people's views on how women should be treated.
https://af.reuters.com/article/egyptNews/idAFL8N1VJ61G
--------
UP Women Slam Cleric for Objecting To Them Tying Rakhis to Cops
Aug 28, 2018
MUZAFFARNAGAR: After a large number of Muslim women celebrated Raksha Bandhan at police stations on Sunday under UP Police's #RakhiWithKhaki campaign, some Deoband-based clerics slammed them for their actions. "Putting a tilak on the forehead or tying rakhi is not permitted in Islam. There is advice in religious books that states that if someone does follow the customs of other religions, it means he or she is not a Muslim," said Deoband-based Maulana Nafees Qasmi.
The cleric's statement drew sharp reactions from Muslim women in the region. "It is wrong to connect the festival with Islam," Rehana Adeeb, who runs a social organization called Astitva, said.
"There is nothing wrong in trying rakhi to a Hindu man. I sent some members of my NGO to police stations on Sunday," she added.
Sana Thanvi, 20, who was appointed as the SHO of a police station for a day on Sunday, said, "Policemen protect us all the time. What is wrong in trying them rakhi? The festival of Raksha Bandhan can be understood by a girl and her brother. Those who have an objection with it should at least not link it to Islam."
In an attempt to instill confidence among women, who continue to be targets of some of the most heinous crimes in the state, UP Police on Sunday, on the occasion of Raksha Bandhan, launched a special campaign titled #RakhiwithKhaki. During the course of the day, cops deployed in all police stations, ranging from SHOs to sub-inspectors, got rakhis tied by girls and women residing in areas under their jurisdiction.
https://timesofindia.indiatimes.com/city/meerut/women-slam-cleric-for-objecting-to-them-tying-rakhis-to-cops/articleshow/65584354.cms
--------
Saudi women entrepreneurs grow their ventures at US incubator
August 29, 2018
Washington, Aug 29 (AFP) Reem Dad, a 22-year-old from Saudi Arabia, is developing a platform for pilgrims and tourists to experience a virtual reality tour of Medina, one of Islam's holiest sites.
Heba Zahid, 37, is working on GreenDesert, a venture that would be one of the first to help create a recycling culture in the Middle Eastern country.
Dad and Zahid were among 14 young women social entrepreneurs from the ultra-conservative kingdom who recently attended an intensive program at Halcyon, a Washington-based business incubator, to turn their ideas into reality.
The initiative comes after Saudi women were given the right to drive in June, among reforms backed by Crown Prince Mohammed bin Salman raising hopes for greater gender equality despite an ongoing crackdown on women's rights activists.
"Everything is changing now… There is space for females everywhere," said Dad, whose virtual reality program is called Taibah VR.
"If a man wants to establish a company or wants to start up something, there's a process they go through — the same process we also go through. So I feel we are equal," she told AFP.
Other projects include an Arabic-language app to help autistic children communicate, matching employers and workers to reduce unemployment and underemployment, as well as a video game to motivate youths to engage in community service.
The Saudi government's Vision 2030 aims in part to promote local businesses, including those run by women, whose participation in the workforce is expected to grow from 22 per cent to 30 per cent by the end of the next decade.
That's still far behind most other nations. In the United States, where large gaps remain between women and men's employment rates, wages and job positions, around 60 per cent of women participate in the labour force, according to the Brookings Institution.
Halcyon fellow Asmaa Alabdallah, 22, founded BitGo, a Pokemon Go-like augmented reality game that uses gamification techniques to encourage community service.
"Of course, we have a lot of challenges… but the most important thing is that you will never give up," she said, insisting like Dad that her greatest obstacle lay not in being a woman entrepreneur in Saudi Arabia as much as in finding local programming talent.
The training was funded in part by Medina-based Taibah University, which launched a competition with support from the Saudi consulate in New York.
During their two-week stay, the women fine-tuned their business pitches, built up their strategic networks and participated in workshops on negotiations, sales and vulnerability.
They got advice from large companies like Amazon Web Services, other startups and consultants such as Deloitte.
The program ended with the women presenting their fledgling ventures to some 150 investors, philanthropists, as well as international organization and embassy representatives.
Despite the optimism, numerous challenges remain in Saudi Arabia.
Topping the list is the kingdom's guardianship system that prevents women from carrying out major decisions — including travelling abroad, getting married or divorced and signing contracts — unless they get permission from a male guardian like a husband, father or brother.
"In a country like Saudi Arabia especially that has historically not been open to women getting access to these kind of opportunities, the fact that they were willing to do this program with all-women founders was very welcome," said Halcyon director of policy and international programs Josh Mandell.
"We expect these women to return to Saudi Arabia not just as future leaders for their country and their region, but to start successful ventures." The women got workspace and housing at one of Washington's most illustrious addresses in the tony Georgetown neighborhood, Halcyon House, a sprawling red brick mansion with a sweeping view of the Potomac River.
Since its inception in 2014, Halcyon Incubator's full-time fellowship has supported 61 ventures it says have raised more than USD 56 million and created some 500 jobs positively impacting 675,000 people.
Last year, Halcyon became an independent non-profit organization that also encompasses public policy and the arts.
It was launched by Kate Goodall and Japanese American biochemist Sachiko Kuno, a co-founder of Sucampo Pharmaceuticals and a driving force behind the Washington-based, female-led investment fund WE Capital. (AFP) RUP
http://www.india.com/news/agencies/saudi-women-entrepreneurs-grow-their-ventures-at-us-incubator-3262303/
--------
'Save Me:' Nigerian Schoolgirl Kidnapped By Boko Haram Pleads For Freedom
28 August 2018
A Nigerian Christian schoolgirl abducted by Boko Haram in February has called on the government to secure her release, local media said Tuesday, citing a purported audio recording of the hostage.
Leah Sharibu, 15, was among more than 100 schoolgirls abducted from their hostel in the town of Dapchi in the restive northeast on February 19.
The only Christian among the hostages, she remains in captivity months after all the other girls were released.
In an unverified recording the jihadist group sent to local media late Monday, Sharibu made a passionate plea to the government of President Muhammadu Buhari to work towards her freedom.
"I plead with... the government and the president to have pity for me and save me from my situation," Sharibu said in the Hausa language widely spoken in the north.
Sharibu faltered and repeated herself in the recording, suggesting she was reading from a prepared text.
If verified, it would be the first evidence that Sharibu was alive since she was kidnapped.
The audio was accompanied by a picture of Sharibu clad in a light brown hijab revealing only her face, sitting on a mat in an undisclosed location.
The government said it would work to verify the authenticity of the recording.
"The secret service is analysing the voice. Our reaction will follow the outcome of the investigation," Buhari's spokesman Garba Shehu said on his Twitter page.
"For President Buhari, nothing will be spared in bringing all our girls home. He will not rest until all of them are freed," he added.
Fighters believed to be loyal to an IS-affiliated Boko Haram faction led by Abu Mus'ab Al-Barnawi abducted the girls after storming the Government Girls Science and Technical College in Dapchi in Yobe state.
The incident evoked memories of the April 2014 kidnapping of 276 schoolgirls from the town of Chibok in neighboring Borno state.
Although more than 100 Chibok girls have been freed or rescued, some 112 are still missing.
The jihadists returned 110 Dapchi girls to the town on March 21, following negotiations with the government.
Both the government and the jihadists claimed no ransom was paid, but a UN report earlier this month said Nigeria paid huge sums for the girls' release.
Some of the released girls said five of their schoolmates died in captivity while Sharibu was held back for refusing to forsake her Christian faith for Islam.
Sharibu's captivity has stoked tensions particularly among Christians who have accused the government of insensitivity and not doing enough to secure her release.
Nigeria is roughly evenly divided between Muslims and Christians and religious tensions lead to occasional flareups.
Sharibu's captivity has become a political issue with Buhari seeking a second term in office in February elections.
https://english.alarabiya.net/en/features/2018/08/28/-Save-me-Kidnapped-Nigerian-schoolgirl-pleads-for-freedom-.html
--------
Saudi Arabia's new female bosses: Our goal is to keep pace with Vision 2030
29 August 2018
The recently appointed women municipality heads of Sharafiya, Dhahban and the women's municipality branch in Jeddah started their first day of work with inspection tours of districts in their jurisdictions on Tuesday.
They said their focus will be on developing municipal services so as to achieve the goals of the Kingdom's Vision 2030.
Women's municipality branch head Maryam Abu Al-Ainain said this is an extension of the work of the general administration for women's services. It will provide services to businesswomen in Jeddah like issuing commercial licenses, conducting field inspections of women's commercial facilities.
Supervisory teams monitor the health cards of female workers, who have to wear their uniforms. There are now 5,000 female commercial firms.
Head of Dhahban municipality Shadah Al-Mohanna is thankful for the trust reposed in her.
"We are striving to improve performance and meet the demands of the residents of the area," said Sharafiya municipality head Hiba Al-Bluwi.
https://english.alarabiya.net/en/features/2018/08/29/Saudi-Arabia-s-new-female-bosses-Our-goal-is-to-keep-pace-with-Vision-2030.html
--------
Saudi's Jeddah Plans Women Valets for Restaurants
29 August 2018
Restaurant-goers in Jeddah could soon have their car parked by a woman valet under a new scheme proposed by city's chamber of commerce.
Arabic newspaper Makkah cited the chairman of the chamber's hospitality committee, Adil Mekki, as confirming the project on Tuesday.
It is intended to end the problem of finding parking near restaurants and will involve the construction of new complexes, according to the publication.
"The project will also help employ a number of the qualified women who carry official licenses to park cars," he was quoted as saying.
The plans reportedly came about after an investor complained that the municipality closed his restaurant due to a shortage of parking space.
The lifting of the kingdom's female driving ban on June 24 is expected to provide its women workforce with new job opportunities.
Read: Saudi women expect new job opportunities after lifting of driving ban
However, those wishing to work as drivers will face tough restrictions on the passengers they can transport.
Read: Saudi to grant licences to family taxi cabs driven by women, but female passengers are a must
Data from a June YouGov survey released on Tuesday showed 24 per cent of women in the kingdom have already applied for a driving licence and 61 per cent intend to apply.
Nearly four in five (78 per cent) of those who intend to drive plan to buy a car, according to the findings.
http://gulfbusiness.com/saudis-jeddah-plans-women-valets-for-restaurants/
--------
No Law against Senior Women Judges, Senate Told
Aug 29, 2018
ISLAMABAD: There is no bar on the appointment of women judges in the Supreme Court or high courts, Prime Minister's Advisor on Parliamentary Affairs Dr Babar Awan said on Tuesday.
Answering a question by Senator Samina Saeed in Senate during the question hour, he said no female judge was working in the Supreme Court of Pakistan currently. There is no specific quota reserved for female judges in Supreme Court of Pakistan.
Meanwhile, Minister for Law and Justice Dr Farogh Naseem said constitutional amendments were required to ensure representation of women in the judiciary's top positions. Appointments in judiciary should be made on merit without caring about gender, Naseem said.
The minister said there are six female judges in various high courts, including Justice Ayesha A Malik (Lahore High Court); Justice Aalia Neelam (Lahore High Court); Justice Ashraf Jehan (Sindh High Court); Justice Kausar Sultana Hussain (Sindh High Court); Justice Musarrat Hilali (Peshawar High Court); Justice Syeda Tahira Safdar, chief justice of the Balochistan High Court.
https://www.pakistantoday.com.pk/2018/08/28/no-law-against-senior-women-judges-senate-told/
--------
Human Rights Lawyer Nasrin Sotoudeh Faces Three New Charges
28 August 2018
Three new charges against human rights lawyer Nasrin Sotoudeh have been brought to the fore by the Iranian judicial authorities in Evin Prison. The detained human rights lawyer was informed of three new charges; "urging a referendum", "assisting the formation of home churches", and "organizing protest rallies."
On August 27, 2018, her husband, Reza Khandan announced that in addition to five previous charges, the authorities have now opened three new cases against Nasrin Sotoudeh.
"In my meeting with Nasrin in prison today (August 26), she gave me the news that because she had refused to appear at a hearing, the assistant prosecutor in the case, and two other judicial authorities spoke to her in the Women's Ward in Evin Prison and informed her of the three new charges," he said.
According to Reza Khandan, after refusing to appear at the Prosecutor's Inquiry, the Prosecutor, along with the Prison Supervisor and the Head of the Office of Implementation of Sentences in Evin Prison, went to the Women's Ward to complete her case.
The interrogator referred to three new charges against Ms. Sotoudeh: "urging a referendum", "assisting the formation of home churches" and "organizing protest rallies."
Mr. Khandan expressed his surprise at the three new charges against Nasrin Sotoudeh and said he did not know where the charge of "assisting the formation of home churches" came from.
Ms. Sotoudeh, a lawyer and human rights activist, went on hunger strike on August 25, 2018, in protest to the authorities' lack of response to her correspondences.
This is the fourth time the human rights lawyer Nasrin Sotoudeh is on hunger strike while in detention.
She has declared that the main reason for her hunger strike this time is to protest against the harassment and pressures by the judiciary against her family and friends.
"Given that my correspondences with the authorities have not born any results, I have been compelled to go on a hunger strike beginning on August 25, 2018, in protest to my own arrest and numerous judicial pressures on my family, relatives and friends," she wrote in a note posted by Mr. Khandan on Facebook.
https://women.ncr-iran.org/iran-women-news/5440-human-rights-lawyer-nasrin-sotoudeh-faces-three-new-charges
--------
URL: https://www.newageislam.com/islam-women-feminism/global-effort-girls-education-defeating/d/116229
New Age Islam, Islam Online, Islamic Website, African Muslim News, Arab World News, South Asia News, Indian Muslim News, World Muslim News, Women in Islam, Islamic Feminism, Arab Women, Women In Arab, Islamophobia in America, Muslim Women in West, Islam Women and Feminism