New Age Islam News Bureau
11 Dec 2014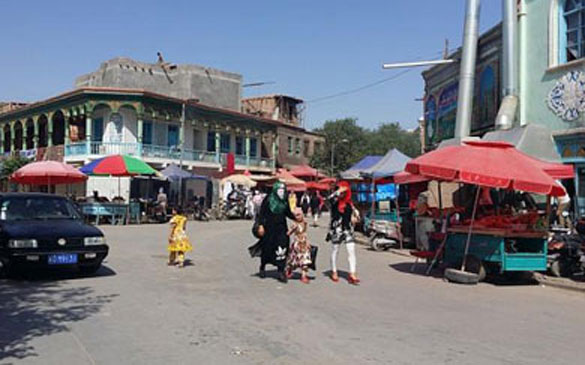 Photo: Saudi Female Employees Ordered To Comply With Official Working Hours
------------
• Spiralling Divorce Rates Face Saudi Govt Scrutiny
• For Yazidi Women, Escaping ISIS Doesn't Mean the Ordeal Is Over
• As Malala Received Nobel Prize, KP Assembly Returned Resolution Congratulating Her
• CAIR Files U.S. Supreme Court Brief in Oklahoma Head Scarf Case
• New Report on UK Sharia 'Marriages' Exposes Vulnerability of Muslim Women
• Ethiopian Who Stabbed Sleeping Child Beheaded In Saudi
• Saudi Female Employees Ordered To Comply With Official Working Hours
• Rural Women in Morocco: a Call for Empowerment
• Non-Implementation of Laws on Women's Rights in Pakistan Bemoaned
Compiled by New Age Islam News Bureau
URL: https://www.newageislam.com/islam,-women-and-feminism/new-age-islam-news-bureau/glad-an-indian-and-a-pakistani-can-unite-for-rights--malala/d/100436
---------
Glad an Indian and a Pakistani Can Unite For Rights: Malala
11 Dec, 2014
(IANS) Malala Yousafzai, Pakistani activist espousing education for girls said Wednesday that she was glad she received the Nobel Peace Prize together with India's Kailash Satyarthi because it showed the world that an Indian and a Pakistani could work together for children's rights.
"I am also honoured to receive this award together with Kailash Satyarthi, who has been a champion of children's rights for a long time... I am also glad that we can stand together and show the world that an Indian and a Pakistani can be united in peace and together work for children's rights," said Malala in her acceptance speech here.
She dedicated her award to the "voiceless" children of the world "who want change". "This award is not just for me, but for those forgotten children who want education."
"We decided to raise our voice and tell the Taliban that in the Quran it is mentioned that if you kill one person, you kill humanity. Neither their ideas nor their bullets could win. Since then, our voices have grown louder and louder. I tell my story not because it is unique, but because it is not."
She said modernisation and development have not meant the same for the entire world. "Today, in half of the world, we see rapid progress, modernisation and development. However, there are countries where millions still suffer from the very old problems of hunger, poverty, injustice and conflicts.
"Indeed, we are reminded in 2014 that a century has passed since the beginning of the First World War, but we still have not learnt all of the lessons that arose from the loss of those millions of lives a hundred years ago," Malala said.
She called for the world leaders to unite and make education their top priority.
The Nobel Prizes are presented every year Dec 10, the death anniversary of Alfred Nobel.
https://in.news.yahoo.com/glad-indian-pakistani-unite-rights-malala-150006644.html
-----------
Spiralling Divorce Rates Face Saudi Govt Scrutiny
11 Dec, 2014
The Ministry of Justice plans to launch a study that would determine the reasons for the spiralling divorce rate in the country, and devise an awareness campaign to warn couples of potential pitfalls.
Nasser Al-Awd, adviser to the justice minister on community programs, told Arab News on Tuesday that ministry researchers would ask couples 10 questions on the reasons for their decision to divorce.
Researchers and family welfare professionals would analyze the data to determine causes, and then formulate solutions to counter this new social plague, said Al-Awd.
He conceded that it would be hard to get personal information from couples, but the data gathered would provide some evidence for researchers to develop a counter strategy. The project would focus on the ages of couples, cultural and educational background, customs and traditions of their families, attitude toward life and intellectual compatibility. Researchers would also look at their financial state, dowry and marriage expenses, their type of residence, the women's work, and the men's acceptance or disapproval of their wives joining the labor force.
The researchers would also attempt to determine whether the women were allowed to spend their money without interference from their husbands.
The ministry would take a close look at whether differences in age have an impact on divorce rates. It would also gather information on the number and ages of their children; and whether they had been married previously.
Al-Awd said the ministry wants to gather accurate information on divorce rates and their impact on society and the judiciary. The ministry wants to publish a guidebook to warn couples on potential threats to their marriages.
http://www.arabnews.com/featured/news/672346
-----------
For Yazidi Women, Escaping ISIS Doesn't Mean the Ordeal Is Over
11 Dec, 2014
Barzan is a young Yazidi man, with sad blue eyes. His mother, five of his sisters and his niece are being held by the so-called Islamic State, taken when the extremist group swept through the Sinjar area of northern Iraq in August.
They are seven of some 5,000 Yazidis still being held by the extremist Sunni group. The Iraqi women are enslaved and sold for sex.
His sixth sister is home with him now. She is just 15 and she was raped. To protect her identity we're only using Barzan's first name.
"She told me they held her hands down and they raped her once. She could barely tell me the story, she just cried and cried," he said, speaking to us in a strip mall in the northern Iraqi city of Dohuk.
It's an extremely rare admission in a community whose entire fabric has been shredded by this tragedy.
The Yazidis, a small ethno-religious minority concentrated in Iraq's north, already were a conservative, insular community. Now, families are torn between empathy for the suffering women and generations of tribal codes of honor that have never faced such a test.
Even if ISIS is defeated tomorrow, the women will suffer the aftermath of sexual trauma. And children born from these rapes will have an unknown fate.
Barzan's sister is not pregnant. But he worries about the others who are still missing.
"If all of them come back and all of them were pregnant, it's not their fault," he said. "Even if my sisters want to have the baby it's OK; if she wants to have an abortion it's also OK. I will take care of the child."
But he knows others won't be as accepting in a country where the ideas of honor and shame are so entrenched.
Also, abortion is illegal in Iraq unless a woman's life is endangered by giving birth. So women resort to clandestine abortions from doctors willing to do them illegally.
It's what he'll do, he says, if he has to.
It's a problem that no one really wants to talk about. The community does discuss the nightmare that ISIS has unleashed on it: massacres and rapes of girls and women.
But many of the girls who are returning from captivity deny rape, at least publicly, telling stories of fighting off their captors. Activists do acknowledge privately that women are coming back pregnant, but it's rare for anyone to acknowledge it publicly.
Ambivalence toward Traumatized Women
Khalida Khalid is a Yazidi adviser to the speaker of the Parliament in the autonomous Kurdish region in northern Iraq. She is working on the cases and says there have been instances of pregnancy. But no one wants to talk about it outside the community, she says.
"The Kurdish community is conservative and within that circle is the Yazidi community and that is even more conservative," she says.
It's also a traumatized minority that has faced mass displacement by ISIS and feels betrayed by both Arab and Kurdish Muslims.
Khalid says the women who have escaped ISIS need protection when they return. The estimated number of escapees varies from 50 to nearly 300 women and girls.
"As a community we have societal rules. Some of these families have accepted the reality, the de facto situation they've been put in," she says. "We're more concerned about what will happen later to these women, will they face discrimination or violence from their families."
The Kurdish Parliament in the autonomous north is discussing laws that would protect them. One would legalize abortions for victims of rape by ISIS.
"It's very difficult to have the babies of terrorists," Khalid says. "People can't accept that."
Nayef al-Mandekan agrees. He is a leader of a tribe that has suffered greatly: In one village, 420 members of his tribe were killed, including his four sons and his brother.
He is now displaced, living in Dohuk in a home that he has opened to survivors from his tribe, including seven young women and girls who escaped ISIS.
He speaks to us in his formal living room with the seven young women nearby. They look down and say very little but do say they were able to fight off attempts at rape by their captors.
"The women who come back are innocent. They did nothing wrong; they were raped," Mandekan says. "We will accept them."
But when it comes to pregnancy, that's something he and his tribe cannot accept, he says.
In this case, abortion would be preferable.
He is uncomfortable discussing the topic and ends the conversation.
"It's too early to discuss these things, there are no cases of this in this room," he says. "Every tribe and every family will have to make their own decisions."
Dealing With Issues of Honour and Shame
Right now, publicly, Yazidi leaders are saying all the right things — the women will be welcomed back as innocent victims, they will not be shunned or punished.
But already, health authorities are administering so-called virginity tests to Yazidi women who return from captivity. Kurdish officials say they're voluntary and done at the request of the victim or by the court as part of an effort to document what they're calling a genocide against Yazidis.
But health and rights groups call the tests scientifically useless and traumatic for rape victims. They also worry that the tests could be used against women who don't want to acknowledge the rape to their family or community out of shame or fear.
"Virginity tests can re-traumatize the victims," says Sherizaan Minwalla, women's protection and empowerment coordinator at the International Rescue Committee. She is based in Irbil.
"These are women and girls who have suffered, in many cases, sexual violence. And even if they haven't, it's an assault on their body really, it's invasive, and many of them may not want to have it done but may feel pressure to in order to prove that they haven't been raped."
She says issues of honour and shame dominate the Yazidi and larger Iraqi society.
So far, there has been no documentation of violence against these women and girls. And in every interview, activists, Yazidi families and officials say the women who escaped are embraced when they return.
But Minwalla says a few have been ostracized. She worries that as more escape or are freed, they could come back and face a life of rejection or scorn from their own communities.
"They feel like they can't hold their heads up," she says. "Some are refusing to go live in the [displacement] camps because they don't want the whole community looking at them and talking about them and making them feel bad about themselves. It's very hard for them to re-integrate."
Copyright 2014 NPR. To see more, visit http://www.npr.org/.
http://wqcs.org/post/yazidi-women-escaping-isis-doesnt-mean-ordeal-over
---------
As Malala Received Nobel Prize, KP Assembly Returned Resolution Congratulating Her
11 Dec, 2014
PESHAWAR: Khyber Pakhtunkhwa Assembly speaker returned a resolution praising Malala Yousafzai with observation that the resolution was not a matter of national or provincial interest.
The youngest Nobel Peace laureate comes from Swat Valley of Khyber Pakhtunkhwa, who was hailed the world over for her bravery and courage. The Pakistan Tehreek-e-Insaf, the party that rules the province and dominates the provincial assembly, never recognised her struggle and achievements.
Last year, a function at the University of Peshawar arranged for launching her book 'I am Malala' was banned by the provincial government. Her nomination for the Nobel Peace Prize was not celebrated by the government.
Jafar Shah, an Awami National Party lawmaker from Swat, had submitted a resolution in the Khyber Pakhtunkhwa Assembly to congratulate her on winning the Nobel Peace Prize and praise her struggle for girls' education.
The resolution was returned to me," Jafar Shah told The News. "It says the resolution was not in consonance with rule 1, 2 and 3 of the Rules of Procedure," he said. The lawmaker said he was conveyed the resolution on Malala was not a matter of national or provincial interest.
Jafar Shah had moved the resolution on October 13, a few days after Malala was nominated for the Nobel Peace Prize. On one occasion when Nighat Orakzai, a PPP female lawmaker, wanted to move the resolution along with Jafar Shah, Jamaat-e-Islami's Muhammad Ali objected to it. The JI MPA, who hails from Upper Dir, said such a resolution should also call for the release of Aafia Sadiqui from US jail. Speaker Asad Qaiser directed them to draft a joint resolution.
However, a few days later, Muhammad Ali brought a separate resolution in favour of Aafia Sadiqui which was not only allowed by the speaker but was also adopted by the House.
Jafar Shah lobbied for his resolution and convinced the speaker to bring it on the agenda. "He promised with me that he would allow the resolution," Jafar Shah said. The ANP lawmaker also persuaded Jamiat Ulema-e-Islam and Pakistan Muslim League-N to support the resolution.
"I am directed to inform you that your resolution, attached with this letter, is inadmissible under rule 1, 2, and 3 of provincial assembly's rules of procedure 1988 and is therefore returned," Jafar Shah quoted the letter from an assistant secretary of the assembly secretariat.
The lawmaker said subject to the said rules any member may move resolution relating to a matter of general public interest. Explaining general public interest under the said rules, he said, "A general public interest means a matter of interest at provincial or national level and does not include development projects for which resources, feasibility report and other technical requirements are pre-requisite." Speaker Asad Qaiser and assembly secretary were not available for comments.
http://www.thenews.com.pk/Todays-News-7-289398-As-Malala-received-Nobel-prizeKP-Assem
-----------
CAIR Files U.S. Supreme Court Brief in Oklahoma Head Scarf Case
11 Dec, 2014
The Council on American-Islamic Relations has filed a brief with the U.S. Supreme Court in a case involving a retailer that denied employment to an Oklahoman after she wore a religious head scarf to a job interview.
The Tenth Circuit Court of Appeals had ruled that an applicant or employee must provide direct, explicit notice of their religious observance or practice to trigger protections under the Civil Rights Act of 1964.
In 2008, Samantha Elauf, 17, applied for a job at the Abercrombie Kids store in a Tulsa shopping mall. She didn't get the job after she wore a black hijab to the interview.
http://www.tulsaworld.com/homepage4/cair-files-u-s-supreme-court-brief-in-oklahoma-head/article_2d47c1c3-60f7-545d-9ed3-f6bdf27b18b4.html
---------
New Report on UK Sharia 'Marriages' Exposes Vulnerability of Muslim Women
11 Dec, 2014
A report by a human rights group has exposed the vulnerability of Muslim women living in Islamic 'marriages' in the UK.
The report finds that the widespread practice of polygamy has left Muslim women without legal rights upon 'divorce', entirely dependent on their 'husbands' for financial support, and often unable to leave sham 'marriages' for fear of social ostracism or bringing "shame" to their family.
According to the report, written by AURAT, a charity which supports victims of honour-based violence, many Muslim women are unsure of their legal rights and some women were even left believing that 'marriage' ceremonies were valid simply because they had taken place in the UK.
The report was welcomed by the National Secular Society, which has expressed concern that the rise of Sharia is creating a "parallel legal system" within Britain's Muslim community.
Stephen Evans, NSS campaigns manager, said: "Islamic 'marriages' and Sharia courts are quasi-legal systems operating within Muslim communities, and, as the report shows, both discriminate against women, who sometimes have little knowledge of their legal rights and are unable to access support services and are therefore all-too-often becoming trapped in insular religious communities."
The report cites examples from women who told their stories to AURAT, including many women who were married, by their parents, to men who later turned out to have as many as three 'wives' living in different households. One woman told how she was left claiming benefits simply to pay the mortgage on her 'husband's' house when he refused to support her. He had three other wives living in different houses.
In her foreword to the report, Baroness Cox writes that the shocking situation described in the research is "just the tip of the iceberg". Cox says that "there are, literally, countless more women in similar predicaments" as the women who volunteered their testimony.
Cox draws attention to the role of "Sharia law principles" in exacerbating the situation, worsening the "plight of women in Islamic communities." Although women from many backgrounds may suffer abuse or "other problems associated with dysfunctional families", Cox writes, Sharia law makes these situations much worse for women. Cox says that discrimination against women and girls is "inherent" in Sharia law.
The report notes that "in mainstream Islam, a husband does not have to undertake the same process as the wife when seeking a Talaq (an Islamic 'divorce'). He merely has to say 'I divorce you' three times, whereas a wife must meet various conditions and pay a fee."
The report found that women married under Nikah (Islamic 'marriage' ceremonies) "can suffer significant disadvantages because they lack legal protection". One woman, named as Rafa in the report, "realised she had no rights to the family home" after her husband walked out on her. Rafa's husband had "made sure the property was in his sole name" and this left her with "no recourse to recompense from the property because their marriage was not legally recognised" in the UK.
Of the fifty women interviewed for the qualitative research, 46 identified themselves as being married. Only ten percent of those marriages were legally recognised by English law. Though the sample size was small given the "limited resources" available, Baroness Cox writes that she believes there is "much truth" to the report and calls for a "systematic investigation" into the problem.
Over half of the women interviewed were unaware that they had fewer legal rights in their unrecognised religious 'marriages'. Two thirds of the women had been married in the family home, and "assumed that, because the ceremony had taken place in the UK, it automatically counted as a valid marriage."
Two thirds of the 'married' women said that their 'husband' had more than one wife. 22 of the women reported that their 'husband' lives "with his other wife/wives part or full-time." According to the report, "nearly all" of the women whose 'husband' had additional wives were not supported financially by their husbands. Three quarters of this groups relied on state benefits to survive.
One of the major underlying problems the research found was that the broader Muslim community would not support women who 'divorced' their 'husbands'. There were also significant financial costs for women who wished to have an Islamic 'divorce'. The research found that almost half of the married women said "the Muslim community would not support them if they sought a Talaq."
The report noted that "there is a growing concern that many Muslim women in Britain today are suffering severe gender discrimination but lack knowledge of their rights under British law. Moreover, seeking help from non-Muslim professional and legal sources may be strongly discouraged as it may be deemed to incur 'shame' on Muslim families and communities". The research concluded that "vulnerable women are often inhibited from getting the help they really need."
AURAT is now calling for Mosques and Muslim community leaders to inform families about the diminished rights women have under religious marriages that remain unrecognised by the state. It also urged professional and public bodies to be made more visible to Muslim women who may not be aware of the support services available.
In June 2014 Justice Minister Simon Hughes told the House of Commons that "The Government is committed to the protection and promotion of the rights of women, families and children. This includes raising awareness of the legal consequences of 'religious only' marriages and encouraging mosques to register in order to be able to carry out legally recognised marriages in their various facilities."
http://www.secularism.org.uk/news/2014/12/new-report-on-uk-sharia-marriages-exposes-tip-of-the-iceberg
-----------
Ethiopian Who Stabbed Sleeping Child Beheaded In Saudi
11 Dec, 2014
An Ethiopian woman who stabbed a small Saudi girl 30 times in her sleep was beheaded by the sword Tuesday in the conservative Muslim kingdom, the interior ministry said.
Khadija bint Mohammed Isa was executed in Hafar al-Batin, northeast Saudi Arabia, it said in a statement carried by the official Saudi Press Agency (SPA).
She had "killed three-year-old child Aljazi bint Mohammed bin Fahd al Harbi... by stabbing her 30 times while she slept in her parents' room," the ministry said.
The suspect fled but was later captured and convicted, it said.
Local media said Isa was a maid, although SPA did not clarify her employment status or say what led to the killing.
Working conditions of more than 2.4 million foreign maids in Saudi Arabia and other Gulf countries have been widely criticised.
Saudi Arabia last year passed new rules that grant maids one day of rest a week and guarantee the payment of their salaries.
Isa was the latest of 78 foreigners and Saudis -- most of them men -- executed in the kingdom this year despite international concerns over the number and judicial process.
The kingdom "is keen to protect security and justice", the interior ministry said.
Authorities also executed a convicted Saudi drug dealer on Tuesday, it said.
Nasser bin Amiq Ali al-Inzi was found guilty of trying to smuggle "a large amount" of amphetamines into the country.
He was beheaded in the northern Jawf region.
The interior ministry said last week that authorities had seized more than 41 million amphetamine tablets during the Islamic calendar year that ended in October.
Rape, apostasy and armed robbery are also punishable by death under the kingdom's strict version of Islamic sharia law.
http://www.dailymail.co.uk/wires/afp/article-2867187/Ethiopian-stabbed-sleeping-child-beheaded-Saudi.html
-----------
Saudi Female Employees Ordered To Comply With Official Working Hours
11 Dec, 2014
The Ministry of Education has ordered all administrators, supervisors and employees at the ministry to adhere to the official working hours from 8 a.m. to 2:30 p.m.
The ministry, in a memo circulated to the concerned employees, said the decision will be effective starting next Sunday and penalties will be leveled against those who fail to comply.
The deadline for arriving to work is 7:30 a.m. and delayed attendance will be calculated thereon. A ministry source said the decision will be extended to include schools later.
Meanwhile, the decision has irked the employees who say that it should only be applied to administrators as the majority of the employees are working mothers with family commitments.
http://www.arabnews.com/saudi-arabia/news/672296
-----------
Rural Women in Morocco: a Call for Empowerment
11 Dec, 2014
Fez – Although Article 19 of the 2011 Constitution states that men and women should enjoy equal rights and freedoms in all civil, political, economic, social, cultural and environmental matters, Morocco is ranked 131 out of 142 countries for equal gender rights, according to the Global Gender Gap Report of 2014. The situation is even worse for rural women in Morocco.
Societal problems, stereotypes, and lack of income sources stand in the way of rural women's path to progress. As a result, they resort to marriage at an early age and depend mostly on their husbands to survive.
Indeed, Morocco is among the worst countries for women, according to a recent report from the World Economic Forum. In rural areas, 83 percent of women marry when they are minors, and some are as young as 13 years old. These girls should be at school instead. They are neither physically nor mentally able to shoulder responsibilities such as caring for their husbands and bearing children.
Poverty and a lack of education contribute to the social degradation of women in rural areas where there is slow economy and limited opportunities. Schools are often far from home, and families are reluctant to send their daughters to study due to the high expenses. Moreover, in such areas, tradition and norms dictate women's roles. They are to get married, do household chores, and raise kids. Frequent interaction with men in public or being single is socially stigmatized. That is why girls are monitored and raised to fit in with these socially imposed roles.
In rural areas, honour there is sanctified, and girls must show chastity. They rarely go out outdoors and they must show obedience to strict social norms. By doing this, girls brighten their ancestry and protect their ''honour''. A girl who breaches these rules may bring shame to her family. As a result, families keep their daughters at home as soon as they reach puberty in order to avoid any problems that may affect their reputation.
Women in rural areas are suffering, but society is oblivious. To empower them, we have to change our habits and strengthen them socially, economically and culturally.
As a first step, Morocco must start an effective project to help involve rural areas in sustainable development, taking into consideration the exceptional circumstances of women. Lack of education further exacerbates the situation, as it promotes stereotypes and deprives women of their basic rights.
In this respect, building enough schools and facilitating access to them would guarantee a better future for girls, as it will instigate change by displaying models of successful women in the Moroccan and international context. Mass media is also invited to play its role in making people aware of the importance of women's participation in social life. This latter should be explained through campaigns, radio programs, and short TV ads.
Muslim scholars, who find great legitimacy among the people in rural areas, can be sent on special missions to help end stereotypes. There are various convincing stories from the Prophet's life that honour women and praise their participation in social development. Preaching such ideas is critical to decreasing gender gap and giving new impetus to gender equality.
Morocco needs each citizen to take part in developing the economy. Women are part of this project. Hence, their empowerment is a must, and it is the responsibility of all Moroccans.
Empowering women in rural areas will be effective if Morocco succeeds in changing the areas' patriarchal way of thinking. Women should be aware that they are not under the control of men. They are independent entities that can contribute to society the same way men can. Morocco's dream is to witness the perfect partnership of men and women.
http://www.moroccoworldnews.com/2014/12/146449/rural-women-in-morocco-a-call-for-empowerment/
-----------
Non-Implementation of Laws on Women's Rights in Pakistan Bemoaned
11 Dec, 2014
ISLAMABAD: During the last few years, many significant laws have been passed by parliaments in the country; however they could not be implemented effectively.
Civil society and women's rights activists expected notable change in the situation of women in Pakistan. The facts are other way round. Thousands of women are still tortured or face one or another kind of violence. These views were expressed by Rabeea Hadi, Director Advocacy, Aurat Foundation, during a public solidarity event titled 'Apno Ki Yaad' on International Human Rights Day, December 10, 2014.
Giving a situation analysis of violence against in Pakistan she said that during the nine month period i.e. January – September 2014, 1543 cases of kidnapping / abducting women were reported i.e. 4 women per day; 1256 women were murdered i.e. 3 women per day; 1149 women were raped and gang-raped i.e. 3 women per day which shows 17% increase compared to last year; 708 women committed suicide at the rate of 2 women per day; 604 women were killed in the name of 'honour' i.e. 2 women per day; and 392 cases of domestic violence were reported during the period i.e. 1 case per day.
Similarly, despite the passage of The Criminal Law (Third Amendment) Act, 2011(the laws which deals with the anti-women customary practices like wanni, swara etc), forced marriages and child marriages still being made e.g. during the nine month period 22 cases of forced marriages and 7 cases of child marriage were reported. Thus, a total of 7450 of violence against women were reported during the nine months i.e. January to September, 2014, sufficient to realize the increase in violence against women in Pakistan. Asyia Nasir, Member National Assembly, JUI-F, during her address to the public rally, condemned the forced conversions of minority women and girls and their forced marriage to Muslims. She said that 'women's rights' shall be valued, respected and implemented as 'human rights'. In order to end domestic violence from each and every home, we need an effective legislation on domestic violence, she further emphasized. Each religion honours and respects women's rights. She said that for effective implementation of women friendly laws, the government, law enforcement agencies, human rights organization and civil society organizations shall work hand-in-hand.
While giving the key findings of the events under '16 Days of Activism to End Violence against Women', Ms Feroza Zahra, Nataional Programme Manager, AAWAZ Programme, Aurat Foundation, said that women, religious and ethnic minorities and persons with disability are the main focus of AAWAZ Programme. Giving details of the activities with its partner communities in 450 UC's of 45 districts, she said that data from 26 districts shows that more than 14,823 people attended these activities out of which 10,051 were women; 128,464 signatures/hand prints are received from 39 districts which pledged to 'Stop domestic violence, early and forced marriages'; 'Apno ki yaad' memorial in each district at UC level to commemorate the women of that particular area who died and lost their lives due to violence were also held.
'Meet our sisters / Meri hamjoliyan' were arranged in 45 districts visits to Dar-ul-Aman, shelter homes, jails, meeting HIV aid patients, persons with disabilities to discuss the issues and challenges of these intuitions and people living there; 'Meeting with legislators / Siyasi Bethak' meetings arranged where representatives of various political parties, lawyers, media etc. were invited for a discourse on need of legislation for stopping early child and forced marriages was initiated at district level. Provincial conferences on need of legislation for stopping early child and forced marriages were held in Peshawar, Lahore as well.
http://www.dailytimes.com.pk/islamabad/11-Dec-2014/non-implementation-of-laws-on-women-s-rights-bemoaned
-----------
URL: https://www.newageislam.com/islam,-women-and-feminism/new-age-islam-news-bureau/glad-an-indian-and-a-pakistani-can-unite-for-rights--malala/d/100436