New Age Islam News Bureau
17 Nov 2015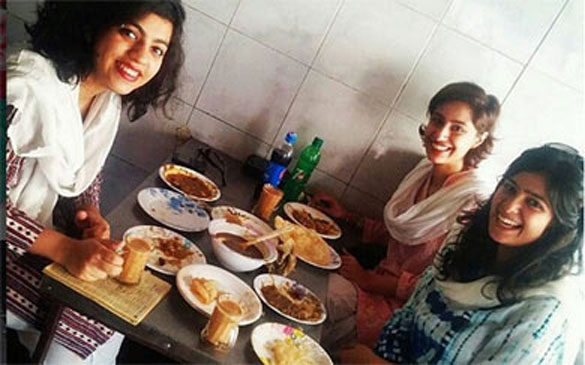 An image of three women shared on the #GirlsAtDhabas social media account Photo: Instagram/GirlsAtDhabas
------
• GirlsAtDhabas: Pakistani Women Take Selfies in 'Male' Spaces To Promote Gender Equality
• Court Refrains from Taking Any Stand on Entry of Women in Haji Ali Dargah, Mumbai
• Obama pledges more than $100 million towards girls and women of color
• Russia: Women plotted "hand cream" bombing before Sochi
• American Woman Who Dropped Out Of University at 19 Is Now Worth $9 Billion
• Afghan Women's Cycling Team in National Geographic's Adventurers Of 2016
Compiled By New Age Islam News Bureau
URL: https://www.newageislam.com/islam,-women-and-feminism/new-age-islam-news-bureau/girlsatdhabas--pakistani-women-take-selfies-in--male--spaces-to-promote-gender-equality/d/105307
---------
GirlsAtDhabas: Pakistani women take selfies in 'male' spaces to promote gender equality
By Radhika Sanghani
16 Nov 2015
Women in Pakistan are taking over public areas and activities typically reserved for men such as roadside cafes, street cricket and climbing trees.
The movement has been documented on Twitter with the hashtag #GirlsAtDhabas – a Dhabas is a roadside café that serves just Chai and chicken, and is usually male-dominated.
It started a few weeks ago, when a few women, including 25-year-old Natasha Ansari who studied in America, decided to 'venture out in the city' and 'reclaim public spaces' for women.
And on Eid we dressed up a bit but went out of our usual way to have best chai. #girlsatdhabas #Karachi
A photo posted by @girlsatdhabas on Aug 14, 2015 at 4:08pm PDT
They started taking selfies with the hashtag #GirlsAtDhabas and it quickly spread on social media.
There's a Tumblr blog, an Instagram account with 795 followers, as well as a Facebook page which has more than 5,000 likes.
Now, women all over Pakistan have joined in - photographing themselves partaking in traditional male activities, such as driving rickshaws, riding motorcycles and cycling.
The images they submit are then shared by the official #GirlsAtDhabas accounts.
Many of the women accompany their images with messages such as one from Tahira: "I always wanted to learn how to ride a bike.
A photo posted by @girlsatdhabas on Sep 12, 2015 at 7:23am PDT
"When boys in my neighbourhood used to ride a bike, I wished I could have been them – free on bicycles."
There are also a number of photos of girls playing cricket on the dusty streets.
The boys vs. The girls. #ithadtohappen #girlsplayingstreetcricket #GirlsatDhabas #Karachi
A video posted by @girlsatdhabas on Sep 5, 2015 at 9:29am PDT
Sadia Khatri, 24, is one of the movement's founders and told the Sunday Times: "Most of us could narrate instances of childhood where we were either told by the boys playing street cricket that we can't play with them or were discouraged or not allowed by parents.
"Cricket on the streets is something girls aren't supposed to do, so it seemed like a natural step to take, after going to dhabas.
Glimpses from today's match. #girlsplayingstreetcricket #GirlsatDhabas #Karachi
A photo posted by @girlsatdhabas on Sep 5, 2015 at 9:19am PDT
"We hope this next evolves to other traditionally male-dominated domains."
The accounts are also used to spread messages about women fighting sexual harassment and femininsm.
They post memes such as: "Just because I move through public space doesn't mean by body is public space" and "'you shouldn't be walking alone at this time of night' – no actually people shouldn't f****** attack other people at any time of day."
http://www.telegraph.co.uk/women/womens-life/11998104/GirlsAtDhabas-Pakistani-women-take-selfies-in-male-domianted-spaces.html
-------
Court Refrains from Taking Any Stand on Entry of Women in Haji Ali Dargah, Mumbai
All India | Press Trust of India
November 17, 2015 15:59 IST
MUMBAI: "This is an era of intolerance", the Bombay High Court observed today while indicating that it will not decide on religious matters like the ban on entry of women in the sanctum sanctorum of the iconic Haji Ali Dargah in Mumbai.
A division bench of Justices VM Kanade and Revati Mohite Dere was hearing a petition challenging the rule imposed by the Haji Ali Dargah trust which bars entry of women in the 'sanctum sanctorum' of the Dargah which houses the tomb of the 15th century Sufi saint Haji Ali.
"Today the atmosphere is such that everything is taken in another way. This is an era of intolerance. When it comes to religious matters people become very sensitive," Justice Kanade said.
The court urged the parties involved to try resolving the issue outside of court.
"Earlier in a similar matter where the Parsi Panchayat had banned entry of Parsi women who married out of their caste inside their Fire Temple we (court) did not take any decision and asked them to go for an out of court settlement. The aggrieved women then approached the Supreme Court and got some relief," the bench said.
The court has now posted the petition for further hearing on December 15.
Earlier, the trustees of the Haji Ali Dargah had told the court that entry of women in close proximity to the grave of a male Muslim saint is considered as a grievous sin in Islam.
The trust told the court last month that a meeting had been convened after the HC asked the trust to reconsider its decision and it had been again unanimously decided by the trustees not to allow women in the sanctum sanctorum.
The trust argued that the bar on entry is meant to protect women from "uncomfortable situations" and is restricted only to the sanctum sanctorum.
The petitioners, however, claim that gender justice is inherent in Quran and the norm at the Dargah contravenes the Hadiths, which say that women are not prohibited from visiting tombs.
The restriction emanates from "a very conservative and extremist Salafi ideology" and in future "there may be an order banning the entry of women in the Dargah complex and banning the non-Muslims wholly," the petition argued.
http://www.ndtv.com/india-news/court-refrains-from-taking-any-stand-on-entry-of-women-in-haji-ali-dargah-1244339
------
Obama Pledges More Than $100 Million towards Girls and Women of Colour
Christian Science Monitor by Cathaleen Chen
November 17, 2015
The White House has pledged more than $100 million toward the economic prosperity of girls and women of color.
Announced at a summit Friday, President Obama's investment echoes his 2014 "My Brother's Keeper" initiative that poured $200 million into charities and private institutions to support young men of color.
It has long been known that those young black men are at a higher risk for incarceration, death by homicide, and dropping out of high school. Less well known is that women face similar risks and discrepancies.
For instance, young black women are much more likely to be arrested in school than their white peers. They face disproportionate rates of teen pregnancy and experience the widest pay gaps – 60 cents to every dollar that a white man makes.
Although there has been progress in the overall success of women of color, the White House said in a press release, there is still a long way to go.
"The growth in the number of businesses owned by black women outpaces that of all women-owned firms. Teen births are down, and high school graduation and college enrollment rates are up," the statement reads. "However, opportunity gaps and structural barriers still remain."
The solution: A five-year funding initiative called Prosperity Together that devotes $100 million to low-income women, and an additional $18 million from a collection of research institutions called the Collaborative to Advance Equity through Research to continue studying the living conditions of women and girls of color.
Friday's summit featured an all-day panel forum with 30 speakers from various organizations. The forum, called "Advancing Equity for Women and Girls of Color," took place at Wake Forest University and in conjunction with the release of a report with the same name by the the Council on Women and Girls. In the report, advocates cite the different opportunity gaps girls and women face in the United States, such as low participation in STEM (Science, Technology, Engineering, and Math) fields.
The report outlines five main goals on which the White House initiative is to focus, including reducing exclusionary school discipline practices such as suspension, offering emotional support to victims of abuse and trauma, incentivizing STEM education, sustaining reduced rates of teen pregnancy, and tackling economic obstacles.
At 12 percent, black girls are suspended twice as often as white boys and six times more than white girls. Research has shown that punitive punishments such as at-home suspensions can cause lower graduation rates.
Black girls also comprise a disproportionate number of arrests, many of which are the consequence of what's known as "the sexual-abuse-to-prison pipeline." To combat this issue, the report suggests more trauma-sensitive programming at youth organizations.
As one of the guest speakers, Streetwise and Safe's Andrea Ritchie also shed some light on the inordinate police misconduct that minority women and LGBT communities face.
"In 2010, sexual misconduct was the second-most reported form of police misconduct against women or LGBT people of color," she said. "Many of those violent acts take place in the context of calls for help."
President Obama has spoke out against the inequalities of minority women before, addressing the Congressional Black Caucus in September.
"When women of color aren't given the opportunity to live up to their God-given potential, we all lose out on their talents; we're not as good a country as we can be," Obama said.
"So we're going to have to close those economic gaps so that hardworking women of all races, and black women in particular, can support families and strengthen communities and contribute to our country's success."
http://news.yahoo.com/obama-pledges-more-100-million-towards-girls-women-182148027.html
------
Russia: Women Plotted "Hand Cream" Bombing Before Sochi
November 16, 2015
MOSCOW -- A senior Russian official on Monday revealed the thwarting of a possible attack before the 2014 Winter Olympics in Sochi, saying female suicide bombers had planned to smuggle explosives onto an aircraft in hand cream.
Deputy Foreign Minister Oleg Syromolotov, who has responsibility for counter-terrorism, said the suspected attackers were detained in Austria and France.
"The female suicide bombers who were in France had plans showing where they were supposed to put the explosives," Russian news agencies quoted him saying during an appearance before the upper house of Russia's parliament. "Their explosives were in hand cream."
The reports didn't specify where the suspects were when they were detained or whether they were trying to board a flight.
Syromolotov, a veteran of Russia's FSB security service who took up his Foreign Ministry post this year, stressed that international security cooperation had helped to keep the Sochi Olympics safe.
His appearance Monday followed the deadly attacks in Paris and came as Moscow has been urging the West to join forces with Russia in the fight against international terrorism.
The Olympic Games in Sochi, a Black Sea resort in southern Russia, were held amid high concern that insurgents from nearby restive Caucasus republics, including Chechnya and Dagestan, were planning attacks. Russia imposed exceptionally heavy security measures that were nicknamed the "ring of steel" around Sochi.
FSB director Nikolai Bortnikov said in July that many countries had helped to prevent an array of attacks at the Olympics, primarily Austria, France, Germany, Georgia and the U.S. But no details were given.
Last year, Russian security officials were hunting down "several" potential female suicide bombers ahead of the Sochi Olympics. CBS News confirmed eyewitness accounts from Sochi that police left posters and leaflets about the potential suicide bombers in the area of the Olympic venues. A police letter said that one of them, Ruzanna Ibragimova, a 22-year-old widow of an Islamic militant, was at large in Sochi.
CBS News national security analyst Juan Zarate noted that Chechen rebels are famous for using "black widows" - widows of fighters who become suicide attackers. Zarate pointed out that women brought down two airliners in 2004 (one, ironically, was headed to Sochi) and a woman is believed to have been involved in a bombing attack in the southern Russian city of Volgograd that killed more than 30 people.
cbsnews.com/news/russia-women-plotted-hand-cream-bombing-before-sochi-olympics/
-----
American Woman Who Dropped Out Of University At 19 Is Now Worth $9 Billion
By Khaama Press - Mon Nov 16 2015
An American woman is worth $9 billion after she started a biotech company, 12 years after she dropped out of Stanford University School of Engineering.
The 31-year-old Elizabeth Holmes has made headlines with her company – Theranos, which plans to revolutionise venipuncture by offering 200 blood tests through just the prick of a finger.
With a usual dressing of a black turtleneck similar as Steve Jobs, Ms Holmes was named by Forbes the world's first self-made billionaire and president Barack Obama made her a US ambassador for global business.
She was also brought on the board of fellows of Harvard Medical School, besides appearing in Time's list of the year's 100 of most-influential people.
In a report by New York Times magazine, she was described as a character that may be changing "the health-care paradigm as we know it".
According to the Forbes, Ms Holmes, then 19-year-old, started the company in early 2004 which was a Silicon Valley start-up with a non-Silicon Valley focus on an integral, but staid part, of the health care experience, the blood test.
Based on work that she had been doing in an Stanford lab on testing blood for the SARS virus, she concluded that she could adapt technology to allow for multiple tests to be run on much smaller quantities of blood than the conventional tests did and a quicker and more efficient turn around of results (to doctors and patients).
However, Theranos story started to come apart on October 16, when Wall Street Journal revealed in a report that of the 200 tests which the company boasts, only the herpes test used microsample technology.
http://www.khaama.com/american-woman-who-dropped-out-of-university-at-19-is-now-worth-9-billion-1696
---------
Afghan Women's Cycling Team in National Geographic's Adventurers Of 2016
By Khaama Press - Nov 17 2015
The Afghanistan Women's Cycling Team has been listed by the National Geographic for the Adventurers of the Year 2016 vote contest.
Honored as 'The Boundary Breakers', the Afghan Women's Cycling Team is among the 10 Adventurers contesting in People's Choice Vote – Adventurers of the Year 2016.
The Afghan team is among the 10 adventurers contesting in Adventurers of the Year 2016 which includes American rock climbers Tommy Caldwell and Kevin Jorgeson, U.S.-Brazil kayaking team of Ben Stookesberry, Chris Korbulic, Benny Marr, and Pedro Oliva, Pasang Lhamu Sherpa Akita, one of Nepal's rising climbing stars.
The Wilderness Protector led by South African biologist Steve Boyes, American ski mountaineers Chris Davenport and Christy and Ted Mahon, the wildlife heros – biologist Arthur Middleton and photographer Joe Riis, German sea kayaker Freya Hoffmeister, trail runner Scott Jurek, and the Swiss Solar Pilots Andrés Borschberg and Bertrand Piccard.
The Afghan Women's Cycling Team has been honored as Passionate cyclists who become the first Afghan women to compete internationally and spark a cultural shift in the process.
According to the NAT GEO, in February 2013, Marjan "Mariam" Sadequi pedaled her racing bicycle down a rural highway on the outskirts of Kabul, Afghanistan. Her teammates on the Afghan Women's Cycling Team followed behind. Sadequi was a month out from her first international cycling race, the Asian Cycling Championships, held in New Delhi, India. On training rides, motorists often honked to lend support. On this day, the dark realities of being a woman in a nation that has struggled with human rights since the rise and fall of the Taliban were crystallized.
A group of male motorcyclists pulled alongside Sadequi and began to taunt her. The last thing Sadequi remembers was one of the men purposely veering his motorbike into her, knocking her from her bicycle, and sending her flying to the side of the road, where her teammates found her unconscious moments later. Sadequi was rushed to the hospital, but she was able to rejoin the team in time to travel to New Delhi, where she and her teammates became the first Afghan women to race on the international stage.
The Kabul-based Afghan Women's Cycling Team was originally formed in 1986, but was scuttled by Soviet and then Taliban rule. In 2011, Abdul Sediq, then the coach of the Afghan National Cycling Federation, fielded an interesting question from his teenage daughter. She asked if she could try cycling.
Even after the fall of Taliban rule in 2001, extreme cultural and religious conservatism remains strong outside of urban, intellectually forward clusters. In a country where only a decade ago women were commanded to stay indoors and avoid spending time in public, women simply didn't ride bikes. Many viewed it as obscene for a woman sit atop a bicycle seat.
Sediq encouraged his daughter to try the sport. He began to build a women's cycling team that has consisted of ten to as many as 40 women from Kabul. To avoid unwanted attention during training rides, team members forgo the standard cycling kit of tight-fitting spandex and wear pants, loose-fitting shirts, and hijabs beneath their helmets. These days about a dozen women are on the team.
According to former National Geographic Adventurer of the Year Shannon Galpin, who has worked extensively in Afghanistan on women's rights, these women are among the first to ride bikes in Afghanistan.
"This is about inspiring the next generation of girls in Afghanistan to follow their dreams, fight for equality, and gain independent mobility," says Galpin, who volunteered as a coach back in 2012 and has helped connect the team with American cycling companies willing to donate gear to the team.
The New Delhi race in 2013 could have been discouraging—the team's contingent simply couldn't keep up with the other riders who trained full time, and the women failed to complete the course. Instead, the women used it as a launching point to continue racing internationally, first in Pakistan in 2013 and again at the Asian Cycling Championships in Kazakhstan in spring 2014 and South Korea in summer 2014. As a result, women's cycling has taken root in Afghanistan. There is now another team based out of the city of Bamiyan and an informal group that rides in Kabul.
The team has high hopes for the coming year; the women plan to visit the U.S. to participate in a series of training camps and community events at the U.S. Olympic Training Center before heading to Rio De Janeiro to observe the cycling events at the 2016 Summer Olympics. A feature-length documentary, Afghan Cycles, set to be released in 2016, tells the story of the team and its women, providing the capstone of the team's evolution.
http://www.khaama.com/afghan-womens-cycling-team-in-national-geographics-adventurers-of-2016-1694
---------
URL: https://www.newageislam.com/islam,-women-and-feminism/new-age-islam-news-bureau/girlsatdhabas--pakistani-women-take-selfies-in--male--spaces-to-promote-gender-equality/d/105307