New Age Islam News Bureau
18 May 2012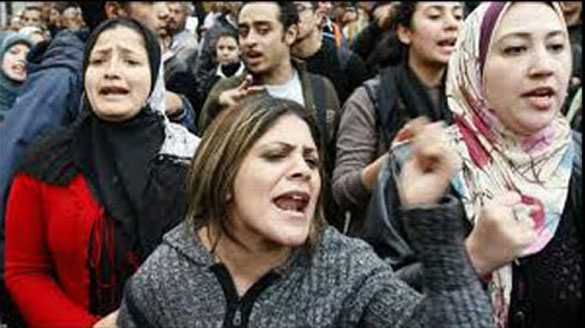 • Egyptian revolution has failed women
• Women in Tunisia have diverse opinions on Islamic dress
• U.S. First Lady's 1776 message guides Arab sisters
• Women protesters in Tunisia and Egypt forge forward for human rights
• Women in rural areas of U A E assert independence
Complied by New Age Islam News Bureau
Photo: Egyptian revolution has failed women
URL: https://www.newageislam.com/islam,-women-and-feminism/new-age-islam-news-bureau/girls-should-stay-with-mothers-until-marriage/d/7365
---------
Girls 'should stay with mothers until marriage'
Haneen Dajani
May 18, 2012
ABU DHABI // Divorced mothers should retain custody of their daughters until they marry if doing otherwise would be damaging for the child, the federal supreme court has ruled.
The judgement came in the case of a 13-year-old girl in Sharjah. While article 156 of the Personal Affairs Law states that a mother maintains custody of her sons until they are 11 and daughters until 13, it allows this to be extended - until puberty for boys and marriage for girls - if it is believed to be in the youngster's best interests.
The court explained that custody takes into consideration the rights of the father, the mother and the child. If those clash, the child's welfare takes priority.
The girl's father had filed a lawsuit at the Sharjah personal affairs court to take over custody of his daughter from his ex-wife, as the girl had reached the age of 13.
The lower court ruled in his favour, a decision upheld on appeal. The federal Supreme Court, however, reversed the decision, ruling that the mother's custody should be extended.
It did not say why this was in the daughter's best interest, only that she was at an age where she could not leave her mother's custody. Moreover, nothing in the case files proved the mother was incapable of maintaining custody.
hdajani@thenational.ae
http://www.thenational.ae/news/uae-news/courts/girls-should-stay-with-mothers-until-marriage
---------
Egyptian revolution has failed women
May 18, 2012
Women have been big losers so far in the Egyptian revolution. Thousands of brave woman – from educated professionals to veiled housewives - turned out in Tahrir Square. But only a handful were included amongst the council revolutionary youth leaders. To add insult to injury, male leaders of new political parties, including liberals, placed women so low on party lists in parliamentary elections that they won only 2 per cent of the seats.
"Women are now being marginalized not just by the SCAF ( the transitional military council ruling Egypt) or by the Muslim Brotherhood, but by the patriarchal mindset of our society," says Dalia Ziada, a dynamic young social activist and executive director of the Ibn Khaldun Center, which promotes dialogue and democracy.
"Men don't believe women are an essential part of democracy," she says. "But there will be no Arab Spring without women." When she ran for parliament on the ticket of a liberal party called Al Adl, or Justice, its leaders insisted a woman could not head the list in her district. "It doesn't make sense," she says, "to marginalize 50 per cent of the population and claim to have a democracy." Too true.
Ziada has long campaigned against circumcision of young girls – a practice still widespread among all classes in Egypt. The practice is African, not Arab or Islamic in origin, she says, but its cultural hold is so strong that her mother had it done to her, even though her father opposed it.
Ziada is angered that members of new Islamist parties, which together hold a majority in parliament, have defended FMG (female genital mutilation). Islamist parlimentarians have also discussed rescinding a law that makes it easier for a woman to get a divorce. She worries about what will happen to women if an Islamist candidate wins upcoming presidential elections.
But Ziada believes that, since the revolution, Egyptian womens' rights groups are getting stronger, propelled by their outrage at being pushed out of the democracy arena. She hopes Western governments will offer training courses for Egyptian women that will help them learn to campaign more effectively. She is fighting on.
http://www.philly.com/philly/blogs/trudy-rubin/151956705.html
---------
Women in Tunisia have diverse opinions on Islamic dress
Lotfi Radhouane Chebil
May 18, 2012
Recently at a university in Tunis, a female student approached her professor after class and told him that she had decided to wear the Niqab, which covers the female body, face and head, to class. After some discussion on the topic, the professor said that he respected her decision and emphasised that university laws would need to change to accommodate her decision, as all public institutions in Tunisia ban wearing the Niqab.
Similarly, Tunisians across the country are debating whether or not the ban on wearing the Niqab in public institutions should be revoked and what consequences that would have for universities – an on-going debate that has been covered extensively in the media.
While in this case, after some discussion and introspection, the student decided against wearing the niqab, this issue would not have developed into such a well-known concern had a few female students not decided to wear the niqab on campus. Now all parties must find a way to resolve it.
During the Tunisian revolution, attitudes about religious attire shifted, and a number of women in Tunisia began to wear the niqab. Before the revolution, women were not allowed to wear it in public institutional settings, such as when applying for a national identity card, passport, or government job. There was also fear of police harassment, which normally resulted in imprisonment.
After the revolution, people began to experiment with the restrictions on religion in public life, but the ban on "confessional attire" in public institutions remained. Accordingly, when women have worn the niqab on university campuses it has caused strong reactions, even leading to clashes like those seen at Manouba University where a female student "in niqab" was prevented from entering campus.
Universities have been approaching this issue with great care since the revolution. While discussions are taking place publicly, until a decision is made by the Ministry of Higher Education universities are simply waiting.
Opponents of the niqab maintain that a professor cannot properly address a student whose face he cannot see, and that the ban is motivated by security concerns. Students wearing the niqab defend their position by saying that the issue is one of personal and religious freedom, and that wearing it on campus does not hinder the learning process. They suggest that to fulfil security concerns, they could reveal their face to a female colleague.
University officials believe that elements affiliated with extremist movements are responsible for the problem and are sowing seeds of dissent on campus. Women wearing the niqab, and their supporters, defend wearing it on campus and believe that university deans are intentionally escalating the problem due to personal beliefs.
These differences of position have led to the current tense situation.
The tensions need not escalate, but rather what is needed is for students wearing the niqab and university officials to sit around a negotiating table to find common ground, and move beyond ideological or political concerns.
Parties from outside the university could be involved to help foster a neutral dialogue. The issue is a sensitive one with religious considerations, as the wearing of the niqab is a subject of discussion and disagreement even among religious scholars. But within the framework of a constructive dialogue, participants can consider the diversity of views among both religious scholars and university administrators.
It is also imperative now, more than at any other time, to ensure credibility through the participation of university authorities, religious leaders and intellectuals known for their integrity, and civil society representatives, in order to arrive at a consensus.
A dialogue that involves all these parties can solve this dilemma.
www.commongroundnews.org. Copyright permission is granted for publication.
http://womennewsnetwork.net/2012/05/12/college-women-tunisia-islamic-dress/
---------
U.S. First Lady's 1776 message guides Arab sisters
Dalila Mahdawi
May 18, 2012
Beirut: In 1776, the First Lady of the United States, Abigail Adams, wrote a letter to her husband John and to Congress, imploring her countrymen not to overlook women's interests.
"Remember the ladies," she urged, adding with considerable defiance: "If particular care and attention is not paid to the ladies we are determined to foment a rebellion and will not hold ourselves bound by any laws in which we have no voice or representation."
More than 230 years later and thousands of miles away in tiny Lebanon, Adams' words have gained renewed urgency. In mid-June, after five months of intense negotiations, Prime Minister Najib Mikati finally unveiled his new Cabinet. Not one of the 30 appointments he made is a woman.
"Women hold up half the sky", as the Chinese proverb goes, but in many parts of the world they are still forgotten by the governments that are supposed to represent them.
While the absence of women from political life is less unusual in other Arab countries, like Saudi Arabia, Lebanese women have enjoyed at least symbolic representation in their government since being given the right to vote in 1952. Before the previous government was brought down in January, there were two women in Cabinet, holding the finance and state portfolios, and four women among 128 parliamentarians. Though this figure amounts to a paltry 3.1 per cent, most activists were optimistic it would, with time, gradually increase.
If being deprived a share of the Cabinet wasn't bad enough for Lebanese women, their role in society has been further called into question by the disappointing comments of the country's most senior Sunni leader. Grand Mufti Mohammad Qabbani recently condemned efforts to introduce legislation protecting women from domestic violence as a Western plot against Muslim family values.
These seem like strange words indeed when one recalls Lebanese citizen Charles Malik's pioneering role in drafting the 1948 Universal Declaration of Human Rights – a document firmly committed to ending gender discrimination and one that the Lebanese have enshrined in their Constitution. Qabbani seems to have overlooked the fact that Lebanon helped articulate those very values he now accuses of being foreign and which many other Muslim figures would call an integral part of their religious beliefs.
Unfortunately, the masculinisation of Lebanon's government is just the latest in a string of major blows to women's political participation in the Arab world as a whole. Although women were at the helm of the uprisings in Tunisia, Yemen and Egypt, only one has been appointed to the new 27-member cabinet in Cairo and the plans for a woman's quota introduced last year have been abandoned. In Tunisia, where women formerly held over a quarter of parliamentary seats, they have also been slighted, heading only two of 31 ministries now. Developments in Lebanon thus may well herald the beginning of retrogressive steps on women's rights throughout the region.
These steps backward, however, increasingly go against the grain of global attitudes towards women, whose participation in decision-making is now an internationally recognised marker of social progress and is on the rise every year. The United Nations has, since 2000, led initiatives to mainstream women's active role in the public life of their countries, issuing several resolutions in this regard. Lebanon should embrace its historical role as a defender of human rights and implement those resolutions in good faith, especially at a time when it is serving as a rotating member of the Security Council.
Without women, Lebanon's political jigsaw is glaringly incomplete and calls for transformative change will go unanswered. As one local group put it recently, "How can we arrive at social justice for all when we exclude half of society in the decision-making process?" Women must become an integral part of decision-making bodies if Lebanon wants to enjoy real democracy and truly serve the needs and aspirations of its people.
The political participation of women is a matter of justice, not a privilege they should have to fight for. The sisters of Abigail Adams must not wait any longer for their rights to be heeded.
_______________________
Dalila Mahdawi is a Palestinian-British journalist working between London and Beirut with a focus on political and human rights issues, particularly the rights of women and minorities in the Arab world. In July 2010, Mahdawi was named a finalist in the Samir Kassir Awards for Freedom of the Press. In addition to Women News Network – WNN her work has been syndicated and has appeared in several publications including the BBC News (UK), Common Ground News Service (online), Hurriyet (Turkey), Electronic Intifada (online), The Guardian (UK), IRIN (UN), Inter Press Service (Italy), Al Jazeera English (Qatar) Philadelphia Inquirer (US), Pittsburg Post-Gazette (US) and UNFAIR (UAE)), among others.
____________________
©Women News Network – WNN
WNN welcomes discussion. Opinions in WNN commentaries have been released to allow open discussion and do not necessarily reflect the opinions of WNN. This op-ed has been brought to you through a WNN partnership with CGNews. No part of this commentary may be reproduced without prior permissions from WNN &/or the author.
http://womennewsnetwork.net/2011/10/06/first-lady-abigail-message-arab-sisters/
---------
Women protesters in Tunisia and Egypt forge forward for human rights
Lakshmi Eaasey
May 18, 2012
As women across the MENA (Middle-East and North Africa) region experienced victory and discouraging setbacks with political participation and human rights for all in Egypt and Tunisia women activist leaders look back to reflect on what has gone wrong and what has gone right for the women who have pushed so very hard for change.
On the anniversary of the uprisings in Tahrir Square The Global Fund for Women, along with the Arab Cultural and Community Center in San Francisco, California (U.S.), hosted a special evening of analysis and reflection to give insight to the progress for women's rights during the Arab revolution.
As a catalyst in the global women's rights movement since 1987 mobilizing nearly 85 million dollars from 20,000+ diverse individuals and institutions the Global Fund for Women has provided grants to 4,200 groups in 171 countries. In 2010 alone their efforts reached 125,000 women and girls who went on to benefit thousands of others.
Full report at:
http://womennewsnetwork.net/2012/02/23/women-protesters-tunisia-egypt-human-rights/
---------
Women in rural areas of U A E assert independence
Vivian Nereim
May 18, 2012
RAS AL KHAIMAH // Duaa Murad arrived in Rafaq after a two-hour drive, rumbling up a rocky road past a goat. The sun was blazing. The electricity at Rafaq School for Basic Education had cut out.
Still, she found a classroom of more than 20 women waiting to hear her advice.
"We wanted to see what this is," said Ayesha Saif, 32, a mother of five from Ras Al Khaimah. "We like learning."
The three-day workshop about economic and social empowerment was the first of four arranged by the General Women's Union and the United Nations. The course, which began last Tuesday, aims to help rural women become more independent - whether through a job or projects at home.
"The challenge for them is not just attending the training," said Ms Murad, who led the workshop. "It is to communicate and convince the masculine members of their families that what they are doing is worthwhile."
Women in remote areas of the UAE face unique challenges, said Mohammed Ibrahim Mansour, an adviser for the General Women's Union.
"Rural areas, their opportunities are very low compared to cities," Mr Mansour said. "We are trying to fill this gap through building capacities."
The General Women's Union hopes to reach about 100 women through the workshops, teaching them ways to contribute to their local economy.
"Without knowing certain skills, they cannot build self confidence," Mr Mansour said.
Full report at:
http://www.thenational.ae/news/uae-news/women-in-rural-areas-assert-independence
---------
URL: https://www.newageislam.com/islam,-women-and-feminism/new-age-islam-news-bureau/girls--should-stay-with-mothers-until-marriage---judge-in-sharjah/d/7365