New Age Islam News Bureau
23 Apr 2020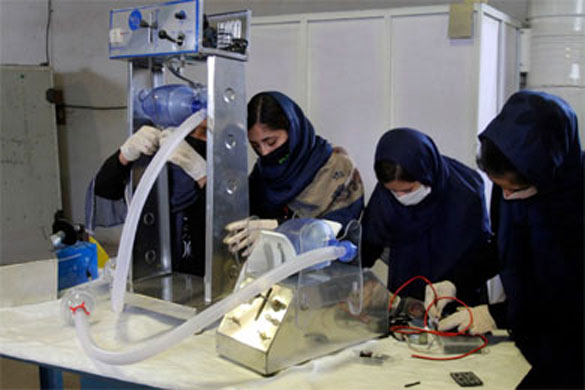 Ventilator from old car parts? Afghan girls pursue prototype
--------
• Girls' Robotics Team in Afghanistan Building Ventilator Prototype from Old Car Parts
• Nigerian Scholar Encourages Muslim Women to Fast
• Videography Competition for Women to Be HeldIn Pakistan
• No Room for Religious Intolerance In UAE: SheikhaHend Al Qassimi
• Salaga: 50 Vulnerable Women Receive Food Items from UK Based Muslim Women
• For Saudi Women, In Isolation Lies Economic Opportunity
• Iran Sentences Christian Woman To 3 Months in Prison, 10 Lashes for Protesting Regime
• Iraqi Women Call for Urgent Action Against Rising Violence
• Iraq Urged to Introduce Domestic Violence Law After Young Woman's Death
• Women Group Feeds 2,000 Indigent Muslims in Celebration of Ramadan
• Humanity First Distributing Working with Muslim Women's Organization to Make and Distribute Masks
Compiled ByNew Age Islam News Bureau
URL; https://www.newageislam.com/islam-women-feminism/girls-robotics-team-afghanistan-building/d/121652
-------
Girls' robotics team in Afghanistan building ventilator prototype from old car parts
April 20, 2020
KABUL, Afghanistan — On most mornings, Somaya Farooqi and four other teenage girls pile into her dad's car and head to a mechanic's workshop. They use back roads to skirt police checkpoints set up to enforce a lockdown in their city of Herat, one of Afghanistan's hot spots of the coronavirus pandemic.
The members of Afghanistan's prize-winning girls' robotics team say they're on a life-saving mission — to build a ventilator from used car parts and help their war-stricken country battle the virus.
Their pursuit of a low-cost breathing machine is particularly remarkable in conservative Afghanistan. Only a generation ago, during the rule of the Islamic fundamentalist Taliban in the late 1990s, girls weren't allowed to go to school. Farooqi's mother was pulled from school in third grade.
After the US invasion of Afghanistan in 2001, girls returned to schools, but gaining equal rights remains a struggle. Farooqi is undaunted. "We are the new generation," she said in a phone interview. "We fight and work for people. Girl and boy, it does not matter anymore."
Afghanistan faces the pandemic nearly empty-handed. It has only 400 ventilators for a population of more than 36.6 million. So far, it has reported just over 900 coronavirus cases, including 30 deaths, but the actual number is suspected to be much higher since test kits are in short supply.
Herat province in western Afghanistan is one of the nation's hot spots because of its proximity to Iran, the region's epicenter of the outbreak.
On a typical morning, Farooqi's father collects the girls from their homes and drives them to the team's office in Herat, zigzagging through side streets to skirt checkpoints. From there, another car takes them to a mechanic's workshop on the outskirts of the city.
In Herat, residents are only permitted to leave their homes for urgent needs. The robotics team has a limited number of special permits for cars.
So far, Farooqi's father hasn't been able to get one, but the girls are in a hurry. "We are concerned about security driving out of the city but there is no other option, we have to try to save people's lives," Farooqi said.
At the workshop, the team is experimenting with two different designs, including an open-source blueprint from the Massachusetts Institute of Technology. The parts being used include the motor of a Toyota windshield wiper, batteries and sets of bag valve masks, or manual oxygen pumps. A group of mechanics helps them build the frame of a ventilator.
Daniela Rus, a professor at MIT, welcomed the team's initiative to develop the prototype. "It will be excellent to see it tested and locally produced," she said.
Tech entrepreneur Roya Mahboob, who founded the team and raises funds to empower girls, said she hopes Farooqi's group will finish building a prototype by May or June. In all, the team has 15 members who work on various projects.
The ventilator model, once completed, would then be sent to the Health Ministry for testing, initially on animals, said spokesman Wahid Mayar.
Farooqi, who was just 14 years old when she participated in the first World Robot Olympiad in the US, in 2017, said she and her team members hope to make a contribution.
"Afghans should be helping Afghanistan in this pandemic," she said. "We should not wait for others."
https://nypost.com/2020/04/20/ventilator-from-old-car-parts-afghan-girls-pursue-prototype/
--------
Nigerian Scholar Encourages Muslim Women To Fast
April 20, 2020
The don encouraged them to observe fasting as prescribed by the holy Qur'an and according to their ability.
Alaro gave the advice while fielding questions ahead of the upcoming Ramadan from the News Agency of Nigeria in Ilorin on Monday.
He reminded the faithful that fasting was compulsory for all Muslims during the month of Ramadan, excluding the aged, sick, travellers and few other special exceptions.
The scholar however emphasised that Almighty Allah has exempted some categories of people from fasting, while some were given the opportunity not to fast if they do not have the ability to fast.
"A sick person may decide not to fast, as it may cause more problem for him, but if the sick person knows that fasting will not affect his health condition, he can proceed with the fasting.
"A woman in her menstural period and a woman who just delivered and still experience blood flow is completely exempted from fasting," he explained.
Alaro said that there are several others mentioned in the holy Qur'an that are not expected to fast, but they are of two categories.
"Pregnant women and breast feeding mothers belong to the first category; if a woman feel she is strong enough to fast, then she can go ahead and fast, except otherwise.
"The same with sick people and travellers, except if the fasting will be difficult for them to observe, but there is no compulsion in fasting or not fasting for this category of Muslim," he said.
The scholar said that it was unfortunate that some women took the opportunity of pregnancy and breast feeding as their license not to fast, which he said is very wrong.
Alaro added that there are some principles guiding those that were exempted from fasting for certain reasons, saying that some of them have to pay back the fasting they omitted after the month of Ramadan.
"There are some set of people exempted from fasting and will not have to fast again, rather, may need to do other things, while some other exempted from fasting will have to pay back the omitted ones.
"Among the set of people that were exempted from fasting and will not pay back are the old people, the incapacitated ones, (like those that have serious health condition, without an end to it).
"These set of people are advised to feed the needy every day of the Ramadan, and it can be one person per day or more than one person, depending on the person's ability.
"Another set of people are the temporary sick ones, travellers, mesturating women, nursing mothers that just delivered and still experience blood flow will all pay back their omitted fasting after the month of Ramadan," he said.
The scholar however noted that there were four different opinions regarding pregnant women and breast feeding mothers who could not fast during Ramadan, saying that the first opinion is that if it is based on her health issue, she will pay back after Ramadan.
"The second opinion is that, if it is because of the health condition of her unborn child, or temporary sickness, she will pay back and also feed a needy person.
'The third opinion is that the woman in question have the opportunity of either to pay back the omitted Ramadan fasting or feed the needy every day of the Ramadan.
"And the fourth opinion is deduced from the holy Qur'an, where it is emphasised that those that have temporary sickness should pay back their Ramadan fasting when they are healthy, while those that have a permanent health condition should feed the needy," Alaro said.
He however said that the fourth opinion is more safe, saying that anything that is mentioned in the holy Qur'an should be given more consideration over any other prescription.
The scholar said that the temporary sickness mentioned in the holy Qur'an can be linked to those that were sick as a result of pregnancy and recovered after delivery, adding that these set of people should try and pay back their omitted fasting after Ramadan.
https://nnn.com.ng/ramadan-scholar-encourages-muslim-women-to-fast/
-----
Videography Competition For Women To Be Held In Pakistan
April 23, 2020
Lahore: The Punjab Women Development Department has announced a videography competition among women during the lockdown, open to both professional and amateur women. A video in non-professional category will be of 1-5 minutes duration and in professional category between 5-15 minutes duration.
The topics of the competition are: role of mother in promoting peace, woman as agent of peace in society, peace and conflict, ethics of disagreement, together we are Pakistan, community resilience for peace building and stress and anger management.
Minister for Women Development Ashifa Riaz Fatyana hoped that engaging women in videography on their own role would bring forth an understanding of right to difference of opinion in society and make people reflect on what builds resentment and anger in women. This is a step towards decreasing gaps and creating more awareness among people, the minister said.
Women Development Department Secretary Ambreen Raza said this competition is only for women who have Punjab's domicile. Cash prizes will be awarded to top three videos and certificates to the producers of top 10 videos. The best videos will be played on national channels.
https://www.thenews.com.pk/print/648514-videography-competition-for-women-to-be-held
--------
No Room For Religious Intolerance In UAE: SheikhaHend Al Qassimi
Ashwani Kumar
April 22, 2020
She said the need of the hour is for everyone to focus on containing the Covid-19 pandemic.
Religious intolerance and hatred have no place in the UAE, an Emirati businesswoman and philanthropist has reiterated. SheikhaHend Al Qassimi, who has been in the news for slamming Islamophobic social media posts, said she was surprised to find Indian names behind some of these posts.
A prejudiced section of social media users have targeted Muslims over a congregation of Tablighi Jamaat in New Delhi that reportedly led to an increase in the number of Covid-19 cases in India. As Khaleej Times reported earlier this week, SheikhaHend shared screenshots of Islamophobic tweets from a now-deactivated account and warned: "Anyone that is openly racist and discriminatory in the UAE will be fined and made to leave."
The Emirati told Khaleej Times on Tuesday: "When I first reacted to the tweet, I didn't really know what Tablighi Jamaat was. I am sorry, but I grew up with Indians and they don't talk like this . When I saw the tweet, what I said was what any Emirati would - that this hatred is not welcome."
The fact that some of the accounts from which the hatred was posted were real "shocked" her even further. "Unfortunately they are (real). They even put the name of their companies. Nobody denies that we (Emiratis) depend on Indians, but trust me, nobody wants to do business with this category of people."
SheikhaHend underlined that she respected all religions, but she won't take nasty jibes. "There is obviously hypocrisy in ... many religions. Al Qaeda promises 72 virgins and heaven, but they don't go out themselves, but send young idiots."
She said the need of the hour is for everyone to focus on containing the Covid-19 pandemic. "We should put more energy in how we can get out of this coronavirus situation."
Referring to Indian Prime Minister Narendra Modi's tweet against giving religious angle to the spread of Covid-19, SheikhaHend said: "Many people said he reacted because of me, but I don't want to take the credit. Maybe, I was the first to react and things snowballed."
SheikhaHend recently returned from India as she practises yoga at an ashram in Bangalore. She hopes the situation will return to normalcy and better sense prevails. "I found a new tweet which said that by December 2021, there will be no more Muslims or Christians in India. This sounds like the most un-Indian thing. I only wish I could help. I don't know how."
Meanwhile, Emirati poet and author Khaled Al Dhanhani said the Covid-19 situation is an opportunity to overcome differences and reject paths of violence and extremism.
"Coronavirus is not threatening any particular country, but rather it has crossed borders. It doesn't see any race, religion, colour or creed. We must act in cooperation with each other and solidarity. This is not a time for fanaticism and to trade accusations between sects, religions and nations," Al Dhanhani said. "What is required of us is to put united efforts to confront this virus, in addition to creating more awareness, taking precautions and having the right approach to overcoming this malicious virus. We must also not be drawn by rumours or to believe lies that contribute to frightening people and communities."
https://www.khaleejtimes.com/news/general/no-room-for-religious-intolerance-in-uae-sheikha-hend--
--------
Salaga: 50 Vulnerable Women Receive Food Items From UK Based Muslim Women
22.04.2020
Some 50 vulnerable women in Salaga in the East Gonja Municipality of the Savannah region have received food items worth Thousands of Ghana Cedis from a UK based Muslim Women Association.
This is the second time in a week the Association; Federation of Muslim Women (FOMWA) has donated to vulnerable individuals in the Municipality.
The Amira of FOMWA-UK, SarauniyarHajiaHajaraShardow in an interview explained, the donation forms part of efforts to reach out to the vulnerable in the wake of the novel Corona Virus.
She indicated, the vulnerable are always the worse hit group in times of emergencies and so the need for the association to swiftly come to their aid.
"Let me say that it is a plus to all stakeholders including individuals in East Gonja municipality for their strict compliance to the protocols laid out for the prevention of Covid-19" she noted.
She called on the Muslim community to use the period of Ramadan to pray for Allah's mercies on Ghana and the world in the wake of the pandemic.
https://www.modernghana.com/news/997077/salaga-50-vulnerable-women-receive-food-items.html
--------
For Saudi women, in isolation lies economic opportunity
Madison Clough
06 April 2020
This week, the world continues to grapple with the coronavirus disease (COVID-19)-induced isolation that has given rise to both unimaginable loss and moments of resilience.
In the Gulf, daily life has been reshaped by restrictions that few could have predicted. Saudi Arabia, which acted quickly to suspend travel, implement remote work, and close restaurants, stores, and malls out of concern for public safety, has been hailed for its thorough response.
The Kingdom recognized that the earlier it mandated these measures, the more severe economic disruption it might face in the immediate term. The public's welfare took priority, nevertheless, with the aim of shielding the Kingdom from a more devastating outbreak down the line.
Now, with most citizens and residents at home, some may see opportunity in isolation. Saudi women in particular may use these challenging times to identify ways to enter a market that will shift almost entirely online.
Saudi Arabia is likely to see an increase in homebound women selling goods and services online. For those who are otherwise not working or studying remotely, the shuttering of physical storefronts can boost sales for businesses run from the home.
In February 2020, Saudi Minister of Commerce Majid Al-Qasabi stated that e-commerce in Saudi Arabia represented SR80 billion ($21.3 billion) in services and products, with the Kingdom boasting over 45,000 shops and e-commerce platforms.
These figures are likely unsurprising to many Saudi women, who have long found creative ways to generate income from their homes, using social media and word of mouth to sell goods as diverse as traditional foods, custom-designed abayas, handmade jewelry, perfume, and more.
In fact, women owned nearly half of the 27,000 online shops registered on the Ministry of Commerce's Maroof portal last year.
Some of these women have faced difficulties entering the traditional workforce due to personal or cultural factors, including family concerns over gender mixing at work and a higher likelihood of starting a family while young. In recent years, these barriers have in part lowered due to Crown Prince Mohammed bin Salman's reform drive.
Under the National Transformation Program, the government aims to raise Saudi women's economic participation from 17 to 25 percent. Progress has been extremely promising so far: In early 2019, the number of women working increased by more than 280 percent, from 156,000 in 2018 to 596,700 only one year later.
In the coming days, it is likely that even more Saudi women will embrace opportunities to work as independent businesswomen from the privacy and comfort of their homes.
We may also see a rise in women as service providers, from teachers to language tutors, life coaches, counselors, and consultants. Should these women one day decide to scale their pursuits into larger enterprises, they will be able to take advantage of the lightning-quick time it takes to process a business license in the Kingdom, which the Saudi Arabian General Investment Authority (SAGIA) cut from 53 hours to 4 hours in 2018.
A question worth asking, then, is what the Saudi workforce might look like when the situation eventually stabilizes and normalcy returns to daily life. The country as a whole will benefit if Saudi women who become engaged in e-commerce during the COVID-19 crisis can maintain their economic participation.
Income-earning women produce societal and economic rewards for all. With more gender-inclusive economic growth, a diversified range of goods and services often appears to meet the public's tastes. At the family level, working women can contribute to empowered households where financial decision-making is more equitably spread.
Greater female inclusion can also lead to higher spending power among women who give back to the national economy. One World Economic Forum study noted that achieving greater gender balance in the workforce could increase GDP by approximately 35 percent, leading to higher productivity and pay for both men and women.
The Saudi government and business community can take a number of steps to encourage women who are now wondering how to monetize their pursuits from home. For example, SAGIA can release an online business toolkit tailored to women seeking to initiate small enterprises. Prominent female business owners can also share their success stories and practical advice in virtual workshops and coaching sessions with aspiring entrepreneurs. Most practically, Saudi Arabia's Small and Medium Enterprises General Authority (Monsha'at), which has facilitated millions of riyals in new business funding and online training for entrepreneurs, can also consider a new round of online outreach campaigns targeted towards women.
Well suited to innovate in these challenging circumstances, Saudi women deserve the financial assistance and professional mentorship necessary to raise their economic participation at a time when it is needed most.
Without a doubt, the road to economic recovery will be long and arduous. The public will find, however, that while Saudi Arabia stays at home, women's economic ambitions will not be limited by four walls.
• Madison Clough is a strategic communications professional residing in the Gulf. She holds a master's degree in international security from George Mason University and specializes in communications on geopolitical and cultural issues.
https://www.arabnews.com/node/1653826/saudi-women-isolation-lies%C2%A0economic%C2%A0opportunity
--------
Iran sentences Christian woman to 3 months in prison, 10 lashes for protesting regime
APRIL 22, 2020
Iranian Christian convert and human rights activist Mary Mohammadi has been sentenced to three months in prison and torture for protesting the government's downing of a Ukrainian passenger plane in January.
The 21-year-old took to social media on Tuesday to provide a case update for her followers.
"After suffering many types of torture and 46 days in jail in the terrible conditions of Vozara detention and Qarchak [women's] Prison, I have been sentenced to 3 months and 1 day in prison and 10 lashes," Mohammadi wrote on Instagram.
Mohammadi was arrested in January during an anti-government protest over the Islamic Revolutionary Guard Corps' downing of Ukrainian Airline Flight 752 in which 176 people were killed.
She had already served over one month in prison before being released on bail in February and charged with "disrupting public order by participating in an illegal rally."
In her Instagram post, Mohammadi said she was sentenced because she had protested "against the slaughter of human beings" and because she showed "sympathy for the families of those who perished on the Ukraine airline crash."
Mohammadi's added that her sentence was suspended for one year depending on her conduct. However, Mohammadi contends that there was never any evidence against.
"So I ought to have been acquitted, but instead I was sentenced not only to imprisonment but also flogging," she wrote. "And of course, even before the verdict was handed down, I was forced to endure all kinds of torture, none of which is sanctioned by law, and which ought to be considered crimes in themselves."
Mohammadi explained in her post that she and her legal team have refrained from appealing the verdict because "the appeal courts have turned into affirmative tribunals."
"I'm proud of attending and sympathizing with human beings in the real harsh environment of streets, this is my conviction and the costs," Mohammadi assured.
According to the United States-based persecution watchdog group International Christian Concern, the Iranian regime has attempted to quash all criticisms of its actions after its forces launched two missiles at the passenger jet, killing everyone on board.
After her arrest in January, ICC reports that Mohammadi "disappeared" for almost one month before she was discovered at Qarchak Prison. ICC notes that the prison has developed a "reputation for various types of gender abuse."
ICC notes that a judge questioned Mohammadi during her hearing on April 17 about her conversion to Christianity even though the charges she faced did not relate to her faith.
"The sentencing of Mary Mohammadi is alarming, but unfortunately, not surprising," ICC regional manager Claire Evans said in a statement. "Iran's government does not want human rights activism, and they do not want Christians exercising their voice publicly. Mary Mohammadi is an example of courage and bravery to us all. We must continue calling on Iran to respect human rights and allow its citizens to voice their convictions of conscience."
Mohammadi is no stranger to the Iranian prison system. She spent over six months in the women's ward of Evin Prison after she was arrested in 2017 during a raid on an underground house church meeting.
Open Doors USA's 2020 World Watch List ranks Iran as the ninth-worst country in the world when it comes to Christian persecution.
As Iranian society is governed by Islamic law, Christian converts face severe persecution from the government. Meanwhile, Christians are forbidden from sharing their faith with non-Christians.
Christian converts who attend underground house churches risk arrest and torture and many converts are forced to keep their faith a secret.
Despite the persecution, the underground church in Iran continues to grow. Open Doors estimates that there are more than 800,000 Christians in the Shia-dominated country.
Iran has for years been labeled by the U.S. State Department as a "country of particular concern" for engaging in egregious religious freedom abuses.
https://www.christianpost.com/news/iran-sentences-christian-woman-to-3-months-in-prison-10-lashes-for-protesting-regime.html
--------
Iraqi women call for urgent action against rising violence
APRIL 22, 2020
IRAQI women are demanding urgent government action to enshrine protection from sexist violence in law, warning that the lives of millions of women and young girls are in danger.
The Iraqi Women's League, which has played a leading role in the revolutionary movement pressing for deep political change in the country, said that violence against women is increasing due to the current emergency measures to contain coronavirus.
Iraq's lockdown and curfew have been accompanied by "ever more forms of atrocity and brutality, defying all ethical and humanitarian norms," the group told the Star.
Government agencies are weak in dealing with the issues facing women in Iraq. There is a lack of adequate legislation and the country has failed to fulfil its international obligations under the Convention on the Elimination of all forms of Discrimination Against Women.
The treaty was adopted by the United Nations general assembly in 1979 and has now been signed by more than 50 countries, including Iraq in 1986.
But the situation has deteriorated since the two US-led invasions and subsequent occupation, with the women's-rights situation now said to be at its worst in the country's history.
Major official violations of women's rights include a law requiring rape victims to marry their attacker, rather than punishment for the rapist, and article 41 of the Iraqi penal code, which allows a husband to beat his wife to "discipline" her.
It also called for urgent government measures to build "a society free from violence, injustice and exploitation, ensuring safety and security for its women and girls and respect for their human rights."
https://morningstaronline.co.uk/article/w/iraqi-women-call-for-urgent-action-against-rising-violence
--------
Iraq urged to introduce domestic violence law after young woman's death
22 April 2020
Human Rights Watch urged Iraqi lawmakers on Wednesday to act amid the coronavirus pandemic as lockdown measures and curfews have led to rising rates of domestic abuse worldwide.
"Domestic violence has always plagued Iraq," said Belkis Wille, HRW's senior crisis and conflict researcher.
"We see case upon case of women and girls dying at the hands of their families, but Iraq's lawmakers have not done enough to save those lives."
Last week, 20-year-old Malak Haider al-Zubaidi died in the southern city of Najaf after being set on fire.
Videos circulated online of Zubaidi screaming in pain at a hospital, her face swollen from burns and her entire body bandaged.
Louai Al-Yasiri, the governor of Najaf, told HRW that authorities had launched an investigation into her death and arrested her husband, father-in-law and husband's uncle.
Zubaidi's mother told HRW that she had been severely beaten by her husband and poured gasoline over herself and threatened to light herself on fire if he kept beating her.
"I still don't know if he lit her on fire or she did it herself, but she told me she burned for three minutes while he just watched, and finally his father, a policeman, came in and put out the fire.
"She begged them to take her to the hospital but they waited for over an hour before doing so. Her father-in-law then pretended to the police that he was her father and said to them the fire had been an accident," she said.
The New York-based rights group called on Iraqi authorities to issue protections for domestic violence survivors amid the coronavirus pandemic, during which many are trapped at home with abusive spouses.
"It should not take a global pandemic for Iraqi legislators to address the other deadly pandemic of domestic violence, but failure to do so will cost more lives," Wille said.
Although the Iraqi constitution prohibits "all forms of violence and abuse in the family", only within the autonomous Kurdistan region in northern Iraq is there a law that specifically targets domestic abuse.
Iraq's criminal code includes an article that allows a husband to "punish" his wife, in addition to affording parents the right to discipline their children "within limits prescribed by law or custom".
It also provides for reduced sentences for violent acts, including murder, that were committed for so-called "honourable motives".
A 2019 draft legislation proposal included provisions for restraining orders and services for domestic violence survivors, but also had holes that would allow the continuance of domestic abuse.
Wahda Jumaili, a member of the parliament's human rights committee, told HRW that some lawmakers blocked the law because "they do not believe that the state should punish honour killings or parents' corporal punishment of their children".
https://www.middleeasteye.net/news/hrw-iraq-urged-pass-domestic-violence-law-after-young-woman-death
--------
Women Group Feeds 2,000 Indigent Muslims in Celebration of Ramadan
April 23, 2020
In commemoration of this year's Ramadan, an Ilorin-based non-governmental organisation, Pious Muslim Women has commenced distribution of food items worth millions of Naira to 2,000 indigent Muslims across nine Muslim states in Nigeria under its annual Ramadan Feeding Programme.
The group also congratulated all Nigerian Muslims on this year's holy month of Ramadan.
The Founder of Pious Muslim Women, Dr. Hamdalat Yusuf, in a statement, described Ramadan as one of Allah's special favours for humanity and for which humanity can hardly express sufficient appreciation.
According to her, "we members of the Pious Muslim Women therefore enjoin Muslims worldwide to abide by the scripturally prescribed tenets of fasting during Ramadan so we can all reap the benefits".
Yusuf added that as part of the group's appreciation to Allah, it has therefore announced its decision to feed about 2000 Muslims across nine states during this year's Ramadan fast, pointing out that this year was the sixth in the series since 2014 when the group was established.
Yusuf said: "Every year, we organize our Ramadan Feeding Programme. It is one of our many programmes aimed at benefiting the vulnerable in the society. Our Ramadan Feeding programme is a succor to widows, orphans and indigent Muslims in our community.
"We cover the major towns of nine states in Nigeria in which most of our members reside. The states are Kwara, Lagos, Osun, Ogun, Oyo, Kaduna, Kano, Niger and Rivers States.
"Our usual practice is to give raw food stuff such as rice, beans, garri, wheat, semovita and groundnut oil, amongst others. However, because of the COVID-19 pandemic, this year, we decided to give a sum of N5,000 to each of our beneficiaries.
"The target is to feed about 2,000 people across these states. The distribution is as follows: Lagos 150–N750,000; Ogun 100–N500,000; Osun 250 –N1, 250, 000; Kwara 250–N1, 250, 000; Rivers 37–N185, 000; and Oyo 160–N800, 000."
She stated that Northern states of Kaduna, Kano and Niger which would account for the balance of N850,000 would be done in due course.
Yusuf explained that the distribution of the Ramadan food support to indigent Muslims began on Wednesday April 22, 2020, noting that "this year's feeding exercise will gulp about N10 million to feed 2,000 people."
She added that Pious Muslim Women generates the bulk of its funds from the contributions of members not only in several states of Nigeria but also in countries like Canada, UK, South Africa, Ghana, Dubai, etc.
The founder stressed that the organisation, whose activities are mostly online, was founded primarily to improve on the spiritual development of its members, adding that it has expanded its focus to accommodate welfare of the indigent ones especially the vulnerable in the society.
Some of its programmes according to her, include youth empowerment through the free training of youths at its fashion training institute; and providing support for entrepreneurial efforts of no fewer than 50 widows every year; scholarship grants to about 20 orphans at the three levels of education as well as ownership and maintenance of an orphanage where it takes full responsibility for 10 orphans from age infancy to age ten.
https://www.thisdaylive.com/index.php/2020/04/23/women-group-feeds-2000-indigent-muslims-in-celebration-of-ramadan/
--------
Humanity First Distributing Working With Muslim Women's Organization to Make and Distribute Masks
4/22/2020
(MENAFN - Newswire) BALTIMORE, April 22, 2020(Newswire.com) - Humanity First USA and Ahmadiyya Muslim Women's Auxiliary (AMWA) USA are collaborating on a national level to launch the 'Make-A-Mask' Campaign. This 'sew-at-home' initiative of non-surgical face masks is a response to the COVID-19 pandemic and the CDC's latest recommendation that everyone should try to wear masks in public.
Currently, the USA is facing an unprecedented global situation. Most of the public is making an effort to mitigate the fallout from this virus. People are working from home, self-isolating, staying indoors and increasing handwashing. However, we need to think about the front-line workers, the doctors, the nurses, the paramedics and people providing essential goods and services. Humanity First needs to find further ways to protect their workers so they can protect others.
Keeping this in mind Humanity First has partnered with AMWA, who has a robust organizational structure within the Ahmadiyya Muslim Community. AMWA consists of local branches linked with regional and national management. This women's network is present in almost every major city of the United States. They have always been at the forefront of serving humanity with many local humanitarian relief efforts.
The masks made by AMWA will be distributed to people in dire need around the nation. This will include front-line workers, essential workers, the elderly and immune-compromised, who are in need of PPE.
This campaign is part of Humanity First USA's greater campaign of 'HFWECARE', which is providing direct humanitarian relief in response to COVID-19. Under this campaign, they are running food pantries, collecting PPE for front-line workers and organizing nationwide.
Humanity First USA is a registered 501(c)3 non-profit organization that has served in human development areas and disaster crises across America and internationally since 2004. Humanity First has responded to many disasters, including the famine in Northeast Africa, the Japanese Tsunami, Haiti Earthquake, Hurricane Katrina, Hurricane Sandy, Pakistan Floods, Tornadoes in Moore, Oklahoma, and Texas. In the post-disaster phase, Humanity First engaged in community development projects to build local infrastructure and alleviate poverty in these areas. Humanity First is a non-political, non-sectarian international relief and development agency that works with communities around the globe to improve the quality of life for some of the world's underserved and vulnerable individuals.
https://menafn.com/1100065921/Humanity-First-Distributing-Working-With-Muslim-Womens-Organization-to-Make-and-Distribute-Masks
--------
URL: https://www.newageislam.com/islam-women-feminism/girls-robotics-team-afghanistan-building/d/121652
New Age Islam, Islam Online, Islamic Website, African Muslim News, Arab World News, South Asia News, Indian Muslim News, World Muslim News, Women in Islam, Islamic Feminism, Arab Women, Women In Arab, Islamophobia in America, Muslim Women in West, Islam Women and Feminism