New Age Islam News Bureau
17 Jun 2015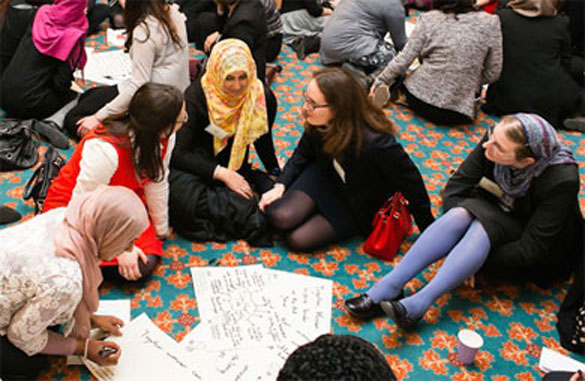 Muslim and Jewish participants in a new interfaith initiative during its launch at the Jewish Museum in the London Borough of Camden, June 9, 2015 (Yakir Zur)
-----------
• In Britain, Jewish and Muslim Women Connect Over Mitzvah Day
• Michelle Obama in London to Promote Global Education Drive for Girls
• Saudi Women 'Rising To the Top with Confidence'
• 20 Saudi Women File Nomination for Civic Poll
• Africa to Fast-Track Women Empowerment
• Young Saudi Woman Entrusted With Security of Major Factory
• 'Rich Kids of Tehran' Highlights Lavish Lifestyle of Iran's Ruling Elite
• Children Build Up To Month Long Ramadan Fast
Compiled by New Age Islam News Bureau
URL: https://www.newageislam.com/islam,-women-and-feminism/new-age-islam-news-bureau/girls-not-brides-calls-for-renewed-action-to-end-child-marriage-in-africa/d/103537
----------
Girls Not Brides Calls For Renewed Action to End Child Marriage in Africa
17 June, 2015
To mark the Day of the African Child, 16 June 2015, Girls Not Brides: The Global Partnership to End Child Marriage is calling for renewed action to end child marriage across Africa.
The theme chosen by the African Union to commemorate Day of the African Child 2015 is "25 Years after the Adoption of the African Children's Charter: Accelerating our Collective Efforts to End Child Marriage in Africa".
Once a taboo issue, child marriage has finally been recognised by the African Union and many African governments. In addition to a regional campaign to end child marriage and the increasing number of national initiatives, more African leaders are committing to end the practice. It is now time for them to walk the talk and translate their declarations into actions.
"Africa has made great progress in its efforts to end child marriage, and we applaud the African Union and government leaders who have shown their commitment to this cause. However, if we do not turn these commitments into sustained action, the number of child brides in sub-Saharan Africa will double by 2050." said Girls Not Brides Executive Director, Lakshmi Sundaram.
Girls Not Brides calls for renewed action to end child marriage in Africa.
Girls Not Brides is calling on all African governments to develop and implement national strategies and action plans that are comprehensive and well-resourced. These should include initiatives to empower girls, mobilise families and communities as agents of change, provide adequate services (particularly health, education and justice services), and provide a legal framework that protects girls from marriage and its negative consequences. They should also work closely with civil society and other actors to protect all girls at risk and support married girls.
Child marriage: jeopardising Africa's future
Child marriage is still a reality for millions of girls across Africa. The African continent is home to 15 out of the 20 countries with the world's highest rates of child marriage. Worldwide, approximately 15 million girls every year are married before they reach the age of 18. That is the equivalent of the entire population of Zimbabwe or Mali.
Child marriage jeopardises efforts to improve maternal and infant health and has devastating consequences for the girl, her family, and her future children. Child brides face higher risk of death and injury in pregnancy and childbirth, with girls under 15 being five times more likely to die in childbirth than women in their 20s. Their children are at risk too: when a mother is under 20 her baby is less likely live beyond its first birthday.
"I was only 15 when I had my first child and was nearly forced into getting married. I stood my ground and said no, and I went back to school" said Isatou Jeng, Project Officer at The Girls' Agenda, a Girls Not Brides member based in The Gambia. "I was able to take control of my own fate, and now I work to create an Africa where all girls can do the same".
There is a perception that the impact of child marriage is limited, but that is not the case. This practice curtails Africa's development and economic prosperity by denying millions of girls the education and opportunities that would have empowered them to lift themselves and their families out of poverty. Over 60% of child brides in developing countries have received no formal education. The persistence of child marriage has also hindered Africa's efforts to achieve six of the eight Millennium Development Goals.
Through effective partnership, Africa can lead the way to global change
Given the scale and complexity of child marriage, this practice cannot be ended by politicians alone. All actors, from lawmakers and community leaders, to the media and civil society actors and the girls themselves, have a role to play in making child marriage history.
Through the power of partnership, Girls Not Brides brings together members working in sectors as varied as health, education, poverty alleviation, human rights and humanitarian response in Africa and beyond. Members are developing innovative and effective programmes to prevent child marriage and mitigate its effects on child brides.
Françoise Kpeglo Moudouthe, Head of Africa Engagement for Girls Not Brides, said: "What happens in Africa matters to the rest of the globe. Our continent can become a model for other regions on how to end child marriage in a generation. But we can only lead the way and fulfil our responsibility for the welfare of our children by working together, in partnership with governments, civil society, community and religious leaders, families, and with the children themselves."
To emphasise the urgent need for immediate action to end child marriage in Africa, Girls Not Brides will be encouraging supporters to endorse its call to action by tweeting #EndChildMarriageNOW!
http://www.mareeg.com/girls-not-brides-calls-for-renewed-action-to-end-child-marriage-in-africa/
---------
In Britain, Jewish and Muslim Women Connect Over Mitzvah Day
17 June, 2015
Good deeds can be contagious. Just ask Laura Marks, a British Jew who is widely credited with creating one of her community's most widely celebrated new traditions: an annual Mitzvah Day, now in its 11th consecutive year, in which thousands of British Jews perform charity work in retirement homes, homeless shelters, hospitals and even neglected cemeteries.
Inspired by the custom of some American Jewish communities, including in Los Angeles and Detroit, Marks thought the activity not only promised to brighten people's lives but would give American-style confidence to a community where "many feel being Jewish is slightly embarrassing," as Marks put it.
The idea took off — and its scope has reached far beyond the Jewish community. In 2010, inspired by Mitzvah Day, Britain's Hindu community launched a date of good deeds called Sewa Day. And in March, the Muslim community held its first Sadaqa Day.
"I took the inspiration and the model completely from what Laura is doing, and I have no hesitation in saying that," said Julie Siddiqi, director of the Islamic Society of Britain and the founder of Sadaqa Day.
Marks facilitated the creation of Sadaqa Day, and the cooperation between the two women gave birth to a new interfaith initiative that launched last week with an event at the Jewish Museum in the London Borough of Camden attended by 100 women.
In working together to adapt Mitzvah Day to the Muslim community, Siddiqi, a British-born convert to Islam, and Marks "realized charity and social action were an effective basis for strengthening women's involvement in communal life in both communities," Marks said.
For Muslim men and women, "Sadaqa Day's a good way to show what their faith is about as opposed to what people think and read about Islam," Siddiqi said. For Muslim women especially, she added, "it's a way to do something self-led in a way that they are not given, or feel they're not given, the opportunity to do normally in their male-led faith communities."
Muslims and Jews unite around Mitzvah Day in Detroit, where members of both communities hold joint charitable activities each year. But Muslim-Jewish relations are far more strained in Britain, where Jews last year were the target of at least 1,168 anti-Semitic attacks, of which many are believed to have been perpetrated by Muslims over Israel's actions last summer in Gaza.
Across Europe, interfaith dialogue took a hit in recent years as Jewish communities reported attacks at record levels. In France, the French Council of the Muslim Faith pulled out of the annual dinner in February of its Jewish counterpart, CRIF, an umbrella of French Jewish communities and groups, after CRIF's president said that most anti-Semitic attacks were the handiwork of Muslims. And in the Netherlands, the Jewish-Moroccan Network was disbanded amid fights over Israel.
"It's true that when something happens in Gaza, people all over social media talk about it and it becomes very toxic," Siddiqi said. But while politics can sometimes poison relationships, "Mitzvah Day and social action are apolitical, helping to form friendships that will hopefully stop the dynamic in the next round of violence," she added.
At the interfaith event, participants divided into four tracks — sports, culture, business and social action — to brainstorm and draw up plans for interfaith work in those fields.
Women especially have the potential of changing the dynamic, according to Rabbi David Rosen, the England-born, Israel-based director of interreligious affairs at the American Jewish Committee.
"Despite the setbacks, interfaith dialogue is expanding and is actually more robust now than it has ever been," Rosen said. He cited Vatican initiatives and a host of joint Jewish-Muslim actions to curb the radicalism that led to the slaying of 12 people in three attacks on Jewish targets in France and Belgium by Islamists since 2012.
In this context, Rosen added, the development of women's initiatives "has great potential because it expands interfaith beyond the male-dominated establishment" of Muslim and Jewish communities, "reaching new audiences"— an elusive goal for interfaith activists seeking to extend beyond their own progressive circles to compete for the rank-and-file's hearts and minds.
"The contribution of women, who, I think we can all agree tend to be more sympathetic, can be profound," Rosen said.
Back in London, Marks and Siddiqi's new initiative is already bringing down barriers for Nicola Gee, a London Jewish mother of four who, despite having many Muslim friends, has never visited a mosque in Britain.
"Instead of writing 13 emails to arrange a tour or whatever, I called one of the women I met last week at the launch," she said. "I'm going to the mosque Friday."
http://www.jewishjournal.com/lifestyle/article/in_britain_jewish_and_muslim_women_connect_over_mitzvah_day
---------
Michelle Obama in London to Promote Global Education Drive for Girls
17 June, 2015
Michelle Obama kicked off a two-day visit to London on Tuesday with a tour of an inner city school as part of the U.S. First Lady's drive to support education for girls around the world.
Obama arrived in London on Monday evening with her daughters Malia and Sasha and her mother Marian Robinson, and will later meet Queen Elizabeth's grandson Prince Harry and Prime Minister David Cameron.
The First Lady will visit a school in east London, Mulberry School for Girls, where she will discuss her Let Girls Learn initiative which aims to reduce the number of girls who do not go to school in an effort to improve their financial stability, health and independence.
Writing in the Financial Times newspaper, Obama described the 62 million girls who do not attend school as suffering a heartbreaking injustice that deprives them of a chance to develop their potential.
"I intend to use my remaining time as First Lady - and beyond - to rally leaders across the globe to join us in this work," she said.
"Because every girl, no matter where she lives, deserves the opportunity to develop the promise inside of her."
https://english.alarabiya.net/en/variety/2015/06/16/Michelle-Obama-in-London-to-promote-global-education-drive-for-girls.html
---------
Saudi Women 'Rising To the Top With Confidence'
17 June, 2015
LONDON: There are hundreds of powerful and successful women in Saudi Arabia, contrary to the perception of people in the West, a prominent Saudi businesswoman said here recently.
Afnan Al-Shuaiby, secretary general and chief executive officer of the Arab British Chamber of Commerce, based in London, made these comments recently at a GW Global Series meeting, organized by George Washington University.
The packed audience hall included ambassadors, business leaders and alumni. The GW Global Series provides an opportunity for alumni considered as leaders in their fields to share their insights and experiences with top executives and professionals. George Washington University President Steven Knapp hosted the event.
Al-Shuaiby said she was sometimes frustrated by the continued stereotyping of Saudis and Arabs, particularly in Western countries. She said many people still believe that Saudis travel on camels.
There was also the perception that people from Saudi Arabia can only be successful if they grow up in the West. She said she was proud of her Saudi identity and that there are hundreds of fellow women in the Kingdom who are educated and successful.
She said that many of the 15,000 Saudis studying at universities in the United Kingdom are women. However, she believes many women still have to work twice as hard as men to gain recognition. "What gentlemen in the room only have to do once, I have to do twice." she said.
Al-Shuaiby said a good leader has to listen and observe, and understand people from different walks of life and cultures. In addition to education, strong family support was vital to develop the confidence to take up leadership positions, she said.
Al-Shuaiby recalled how nervous she was in 2009 facing a panel of six examiners who quizzed her on her PhD dissertation. She recalled waiting outside and worrying about what she would say to her family if she failed.
When the examiners called her back and addressed her as Dr. Al-Shuaiby, she first thought her father, also a doctor, had come into the room. It was only when she picked up her diploma later that the realization sunk in, she said.
Born, raised and educated in Saudi Arabia, she graduated with a degree in English literature from King Saud University in Riyadh. She went on to complete a Master of Arts in Educational Administration at the American University in Washington before gaining her PhD in Leadership Administration from the same institution. She also holds a certificate in Peace and Conflict Resolution from the School of International Service at the American University in Washington, and has a certificate in Executive Education from the Harvard Kennedy School.
She has worked as an adviser to the president of the US Saudi Arabian Business Council in Washington DC. She was named 'Diplomat of the Year' for the Middle East in 2011, recognizing her achievements as a foreign diplomat in London. She also received an award from The International Alliance for Women in 2011.
http://www.arabnews.com/saudi-arabia/news/763226
---------
20 Saudi Women File Nomination for Civic Poll
17 June, 2015
JEDDAH: A number of businesswomen are preparing to participate in the different stages of the election process to select members of municipality councils.
So far about 20 candidates from Jeddah and Makkah have applied for nominations, and the number is likely to increase in the coming weeks, local media reported.
According to Naila Attar, an activist and coordinator of the Baladi Initiative in Jeddah, the initiative intends to launch an awareness campaign on the details and nature of the municipal elections during the month of Shawwal.
"The plan will also include programs to familiarize participants with the election process and show them how to choose and vote for those who will best represent them," she added, noting that the plan will involve other programs to qualify the candidates on how to run an election campaign.
Attar said the awareness campaign will focus on introducing data and information about the elections and the 11 committees of the municipal council, some of which include the infrastructure, tourism and investment, financial and lands, and the outreach committees.
She said the awareness plan involves knowing the cognitive aspects in relation to taking decisions, drafting the election platform, addressing the public, dealing with constituencies, mechanisms of communicating with the relevant bodies and how to deal with infringements and rumours.
"The Ministry of Municipal and Rural Affairs should consider allocating seats for women by appointing qualified women and experienced leaders in this field in particular," she pointed out.
On a related issue, the General Committee for Municipal Elections started preparations for the kick-off of the third municipal elections in the Kingdom on the 7th of Dhul Qadah by holding training workshops to familiarize the public with the two phases of registering voters and candidates.
Workshops aim to train people within local committees so they, in turn, can train the heads and members of committees at election centres, within the scope of each local committee across the Kingdom. The number of local committees stands at 16.
Judai Al-Qahtani, spokesman for the General Committee of the Municipal Elections, said the number of trainers participating in the workshops amounted to 113.
"The training workshops held in Riyadh for five days discussed two basic pillars of the election process: the registration of voters and candidates. The discussions focused on explaining the organizational provisions and the procedural rules for registering voters and candidates, the terms and conditions governing the voter and candidate processes, prohibitions on the nomination, the forms and tables used, and other details," said the spokesman.
He said the workshops also explained the mechanisms on how to register handicapped and ailing people.
http://www.arabnews.com/saudi-arabia/news/762751
---------
Africa To Fast-Track Women Empowerment
NANCY MWAPE, Johannesburg
17 June, 2015
THE 25th African Union (AU) summit has closed with a strong reaffirmation to fast-track women empowerment, abolish child marriage and to fight gender-based violence (GBV).
And AU chairperson Robert Mugabe says Sudan is a member of the AU and its President Omar Al-Bashir has every right to attend its meetings.
Speaking when closing the summit on Monday, Mr Mugabe said the meeting deliberated over a wide range of issues over the past two days.
"The summit has endorsed the first 10-year plan of agenda 2063, which is our flagship project to spur economic growth in Africa," he said.
Mr Mugabe, who is also Zimbabwean President, said the summit also resolved to dialogue on violence and condemned terrorism in some parts of Africa.
Briefing journalists shortly after midnight, Mr Mugabe said South African President Jacob Zuma assured that he would not allow the intended arrest of Sudanese President Omar Al-Bashir.
"Zuma told me that one of the NGOs went to court, and I am quite sure they were used by outsiders.
"This is not the headquarters of the International Criminal Court (ICC), we don't want it in this region at all. There is a view that we should withdraw from the ICC, unfortunately the treaty that set up the court was not signed by the AU, but by individual countries," Mr Mugabe said.
President Bashir departed for Sudan on Monday, despite a high court order preventing him from leaving South Africa sending mixed reactions across the country, with opposition parties accusing the government of violating a court order.
And AU commission chairperson Nkosazana Dlamini-Zuma said there was no issue at the AU about Mr Bashir attending the summit.
"Sudan is a member of the AU and he [Mr Bashir] always attends. I do not know what the fuss is all about. When a country prepares to host, it signs an agreement with the AU on what is expected of it and the country hosts according to the requirements of the AU," she said.
She said the AU has no relations with the ICC but with states which are parties to it.
https://www.daily-mail.co.zm/?p=33393
---------
Young Saudi Woman Entrusted With Security of Major Factory
17 June, 2015
JEDDAH — A Saudi woman has become responsible for the security and safety of a major factory in Jeddah.
Asthma Al-Ghamdi, 28, was a production-line worker but worked her way up to reach her current position at Mahmoud Saeed Glass Factory, reported Al-Madina on Monday.
She has received rigorous training on safety and security affairs by a number of specialists before becoming a pioneering Saudi woman in this field. Al-Ghamdi said she had faced some difficulties at the beginning of her career.
She said: "Earlier I never thought that I would take a fire extinguisher in my hands.
"But this work is easy for me now."
Al-Ghamdi said she is directly responsible for all safety tools in the factory including fire extinguishers, water boxes, smoke detectors and warning bells. She said her work also covers the entire buildings, halls and rooms of the factory.
"I take all the dangerous things including plastic materials, cloth and wood away from the furnaces to avoid fires," she said.
Al-Ghamdi is also supervising all women workers in the factory to make sure that the clothes they are wearing are not against safety and security rules. "The women workers should not wear open shoes so they are not injured by shattered glass," she said.
Al-Ghamdi said she also makes sure that all sensitive areas in the factory are supplied with enough fire extinguishers. "I also test the machines to make sure that they are properly operating and easily opening and shutting," she said.
Al-Ghamdi said there are about 150 fire extinguishers in the factory for which she is responsible.
Al-Ghamdi said she believes that had it not been for her loyalty and the trust of her superiors in what she was doing, she would never have been promoted.
http://www.saudigazette.com.sa/index.cfm?method=home.regcon&contentid=20150617247493
---------
'Rich Kids Of Tehran' Highlights Lavish Lifestyle Of Iran's Ruling Elite
17 June, 2015
While the Rich Kids of Tehran Instagram account caught the attention of international media in 2014, the page continues to highlight the discrepancy between the saturated elite and those living below the poverty line in Iran.
The account features designer bags, fancy cars and young men and women hanging out together in attire more revealing than would usually be permitted in Iran's public spaces.
Although seven young Iranian received suspended prison sentences and 91 lashes for posting their rendition of Pharrell William's "Happy" music video, the repercussions the Rich Kids of Tehran are likely to face are apparently non-existent.
"Most of them have fathers who are untouchable," an IT consultant in Tehran told The Times in London. "If they get in trouble it will disappear."
In response to Rich Kids of Tehran, users started an account called "Poor Kids of Tehran," in effort to highlight the gap between the ruling elite
The account showcases how life is for Iran's other residents in Tehran.
A 2011 study showed that almost half of Iran's urban population lives below the poverty line, according to U.S. news channel PBS.
https://english.alarabiya.net/en/2015/06/17/-Rich-Kids-of-Tehran-highlights-lavish-lifestyle-of-Iran-s-ruling-elite.html
--------
Children Build Up To Month Long Ramadan Fast
17 June, 2015
With regret, 8-year-old Lujaine Sadoun admitted that she broke her fast just before the end of the day during Ramadan last year.
She had fasted before, but a whole day was a long time.
"I fasted for the whole day — not the whole day," Lujaine said. "Like five minutes before, I ate a pepper."
Vegetables, of all things, did her in before sunset.
"I'm not sure if it was five minutes exactly," Lujaine clarified. "But we had somebody over, and my mom was slicing the peppers, and I just took one and stuck it in my mouth."
Many Muslims begin fasting Thursday for the month of Ramadan, which is the ninth month of the Islamic calendar and based on the sighting of the crescent moon.
Children, along with individuals who are elderly, pregnant or have a medical condition, are exempt from the practice included in the Five Pillars of Islam. Despite that, kids still try the fast, abstaining from food and drink from dawn to sunset — or at least for a few hours.
At the summer program at Al Huda Islamic School, 2800 E. River Road, Rania Kanawati, the school board's chairwoman and treasurer, asked students how long they would fast this year.
Days, said some. Weeks, said others. "One hundred million!" shouted one boy.
On Monday and Tuesday, the final days of the summer program, students ages 5 to 13 learned about Ramadan.
"My daughter last year fasted the whole Ramadan, and my son, he tried to fast three days," said Fatma Fahim, a school volunteer and mother of an 11-year-old girl and 8-year-old boy. She reminded her son he did not have to fast. "But he said: 'No, I want to be with you. I will eat with you at the end of the day.' "
Fahim rewards her children with a dollar or two for every day they participate. Children are encouraged to start small, adding an hour at a time to their fast.
Sarah Hemzawi, Kanawati's daughter, remembers when she began fasting for the whole month around fifth grade. She wanted to join her parents and older friends. Most children begin fasting for the duration of the month around the age of 13 or 14, Kanawati said.
Now 20 and a May graduate from the University of Arizona, Hemzawi led much of the summer program, showing students how to make paper lanterns. Some will hang at the Islamic Center of Tucson, 901 E. First St., where many families will gather for the iftar, the breaking of the fast at the end of each day.
Even for children who don't skip meals, Ramadan means a month of nightly community get-togethers, decorations, food preparation and a big celebration — including gifts — when Eid al-Fitr concludes the holy month.
But beyond the festivities, the month encourages piety and self reflection, along with an empathy with the poor.
"One of my best friends was a refugee from Afghanistan," Hemzawi said. Spending time with her friend taught her about difficult experiences. Ramadan gave her a way to understand, at least a little.
"You feel like how the poor people feel, and you feel weak, and you're close to Allah," said Lujaine. After that, food tastes "yummy!"
http://tucson.com/lifestyles/faith-and-values/children-build-up-to-monthlong-ramadan-fast/article_f46a0aa8-56e2-575e-a46c-56885915956c.html
---------
URL: https://www.newageislam.com/islam,-women-and-feminism/new-age-islam-news-bureau/girls-not-brides-calls-for-renewed-action-to-end-child-marriage-in-africa/d/103537